This easy beef stew recipe cooked stove top is perfect for freezing for a quick and comforting weeknight dinner. Heat the hearty stew and serve it spooned over mashed potatoes for a delicious meal even on your busiest night.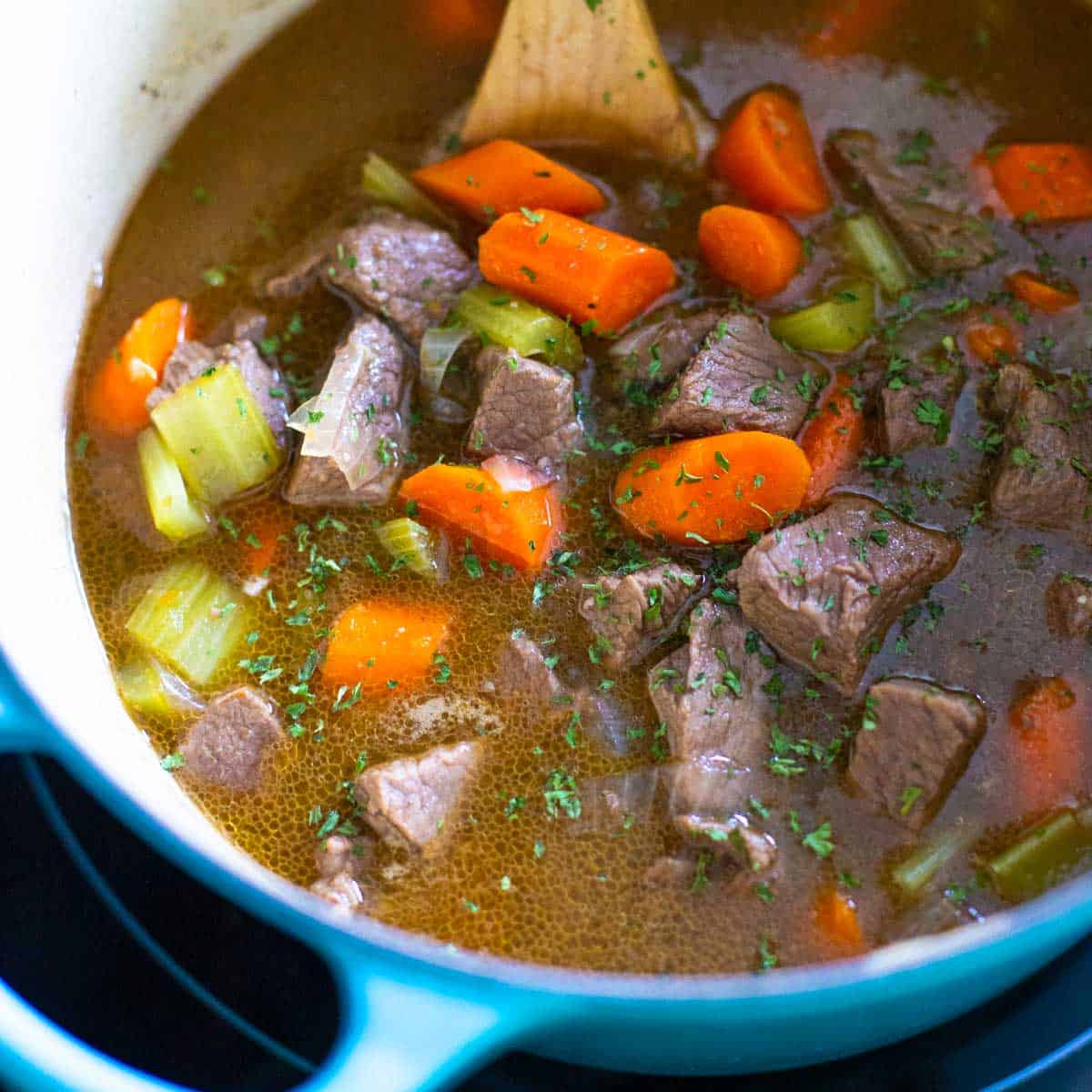 Looking for an easy recipe to use a package of beef stew meat? This delicious slow cooked beef stew is loaded with veggies and comes together in just minutes.
Let the pot simmer on your stovetop while you get everything else you need done. In just a couple hours you'll have a delicious homecooked meal to enjoy with your family.
Want to plan ahead? Make this dish on the weekend and freeze it in smaller portions for easier reheating on the busiest of school nights. Keep a package of prepared mashed potatoes from the refrigerated section of the grocery for an easy heat-and-serve dinner you can grab in a pinch.
Jump to:
Why This is the Best Recipe
Cozy comfort foods are the best when the weather gets chilly but I think this is the best stovetop beef stew recipe because:
One Pot: The whole dinner is made in just one pot. I love my dutch oven for this recipe!
Freezer Friendly: Even if you're only feeding 1 or 2 people, make the whole recipe because you can freeze it and reheat it later. I love to store it in small containers for easy dinners.
Rich with Flavor: Browning the beef first and layering in the right sauces and seasonings gives this easy recipe so much flavor.
No Potatoes: While many beef stew recipes are thickened with potatoes, this one actually doesn't have any potatoes in it. I think that's a huge pro because you could then choose how you want to serve it: over mashed potatoes, over wavy egg noodles, with a loaf of fresh bread for dunking, or as a low carb dinner by itself.
Ingredients
The beef stew ingredients are very wholesome and easy to prepare.
Beef Stew Meat: I buy the pot roast beef that is already cut into stew sized chunks at the grocery store. You could trim it yourself, but this is an easy way to save time.
Celery
Carrots
Onion
Worcestershire Sauce
Paprika
Cloves
Bay Leaves
Minced Garlic: You could substitute fresh garlic cloves if you prefer to chop them yourself.
Canola or Olive oil
Cornstarch
See recipe card for quantities.
Tools You'll Need
To successfully cook a tender beef stew on the stove top, you will need a thick-bottomed soup pot or dutch oven.
I definitely prefer my enameled cast iron dutch oven by Le Crueset but there are also more affordable models available at retailers online.
You can read about my favorite cooking tools here.
Brown the Beef
The first step is to brown the stew meat on all sides.
Add the cooking oil to a large stew pot, I love my deep Le Creuset dutch oven for this recipe but any large soup pot will work.
Place it over an oven burner set to medium-high heat.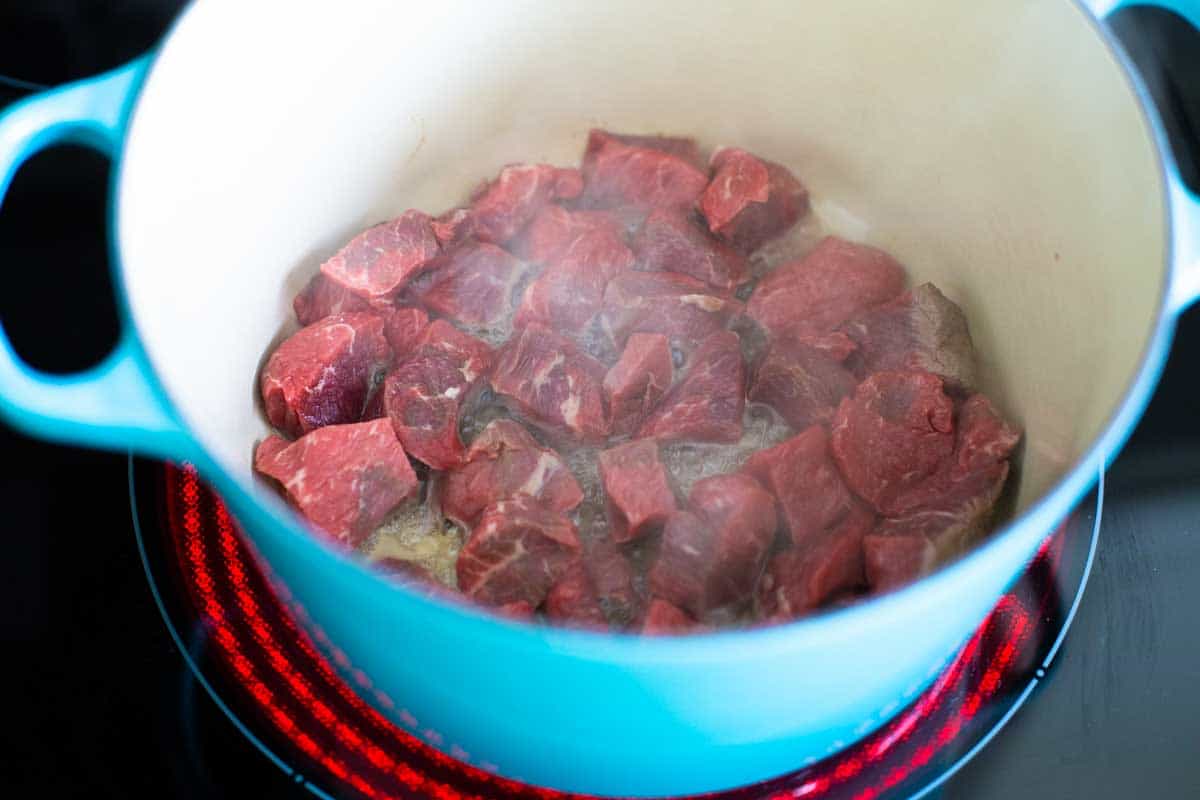 Add just enough chunks of beef to the pot so that they cover the bottom in a single layer and don't overcrowd the pot.
For 2.5 pounds of stew meat, I had to work in three separate batches.
Turn the beef so that it browns on all sides, about 3 minutes per side.
Remove the browned beef to a clean dinner plate while you work on the remaining stew meat.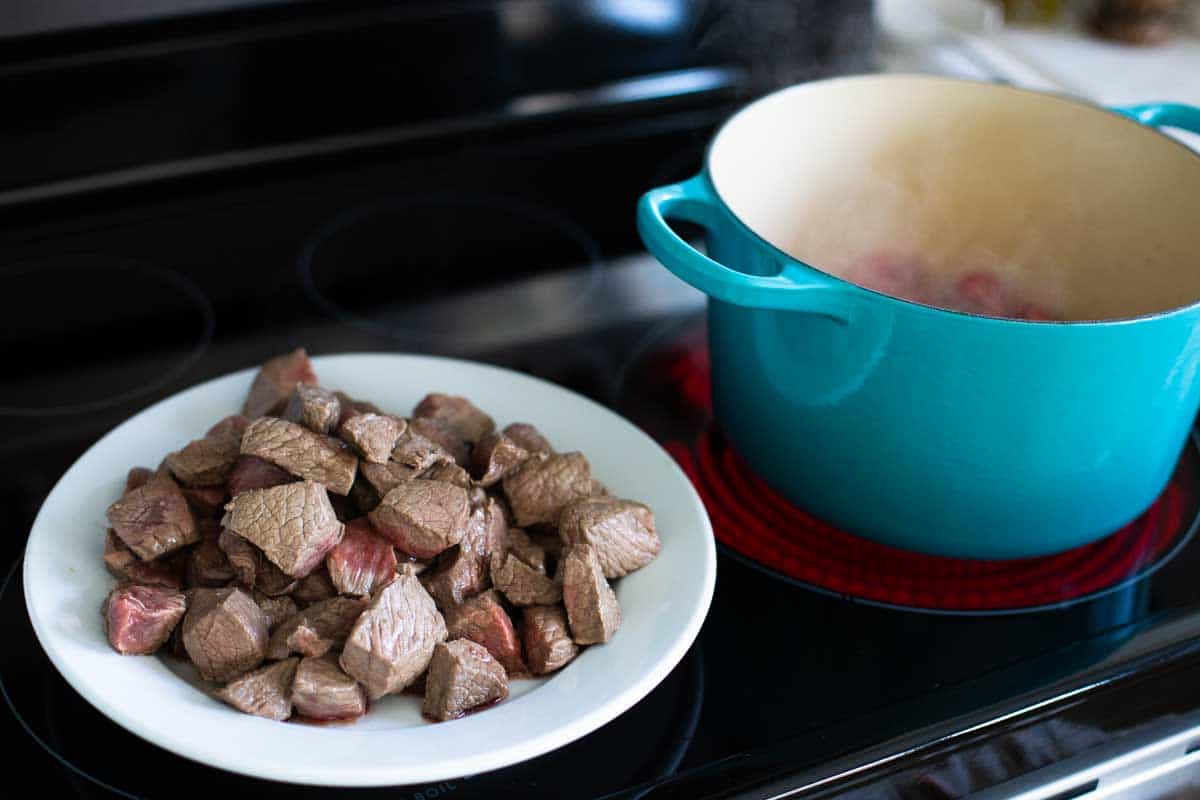 This is the most time consuming portion of the recipe. Once your beef is browned, the rest of the stew is going to be easy peasy.
Build the Beef Stew
Return all the browned beef back to the soup pot or dutch oven.
Add water, garlic, all the seasonings, the bay leaves, sugar, and a sprinkle of salt and pepper, and stir it together.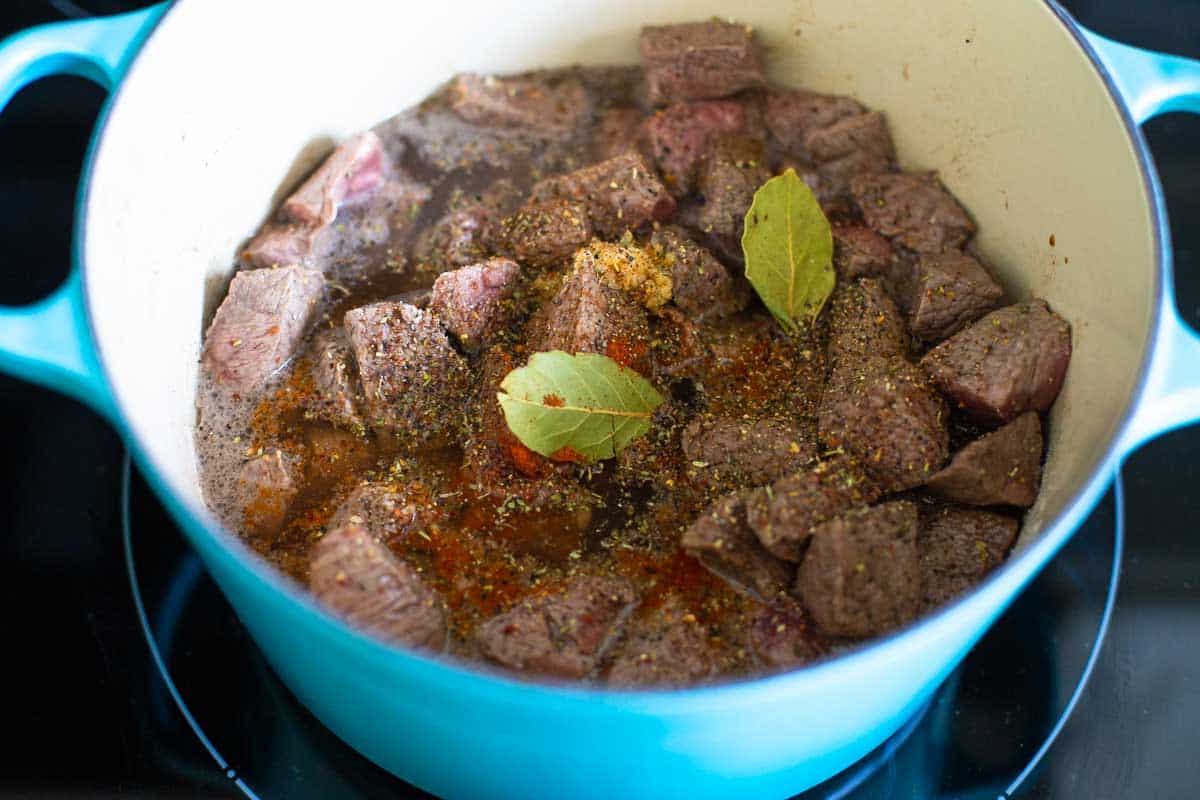 Slice the onion and add it to the pot.
Simmer the Stew
This is my favorite part: Place the lid on the pot, turn the heat to Medium-Low and let the beef simmer for 1 ½ hours.
The rest of the dinner is mostly hands-off!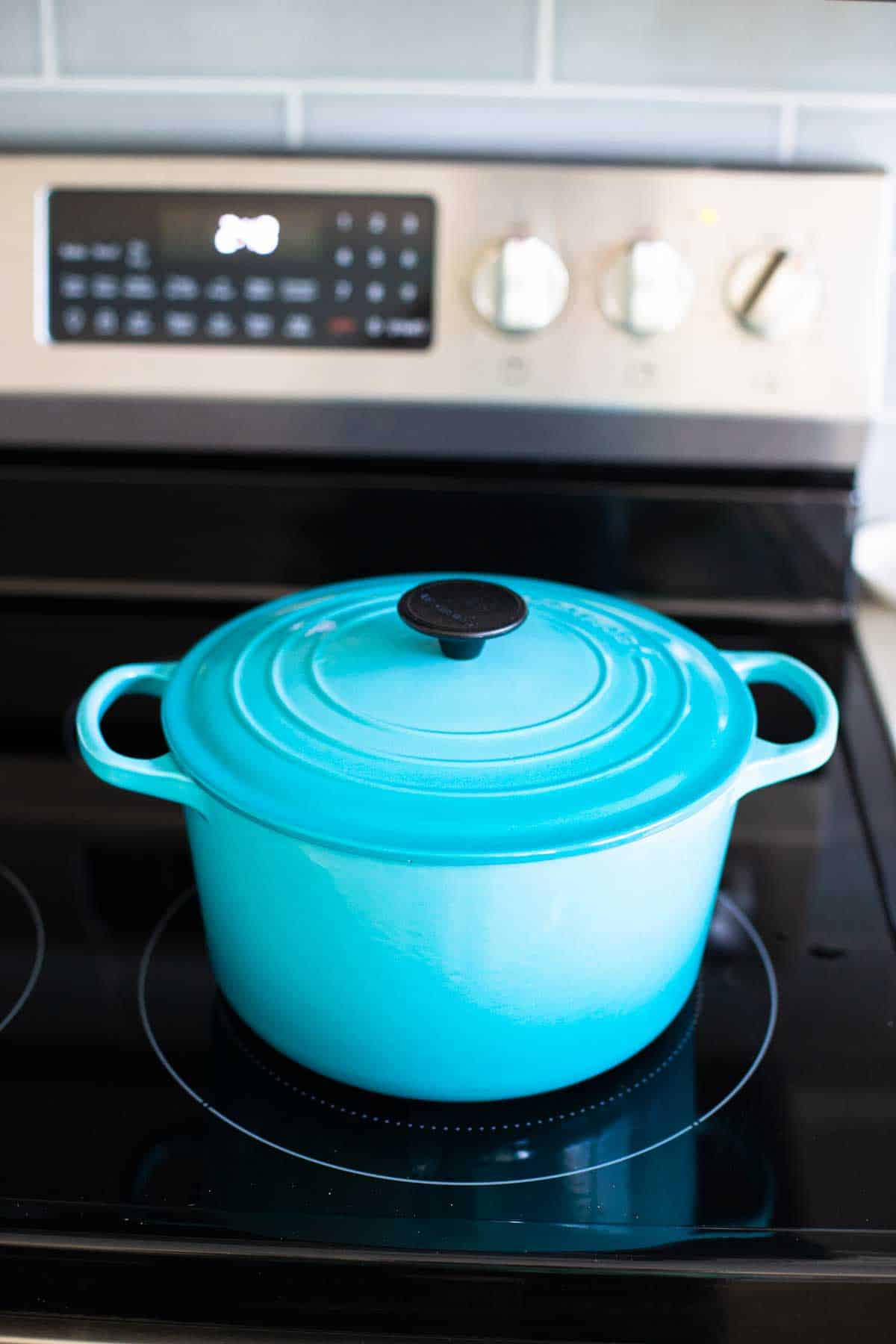 Prep the Veggies
While the beef cooks, when you have a moment, peel and chop the carrots and celery.
Just place them in a bowl next to the stove top so they're ready to be added when it is time.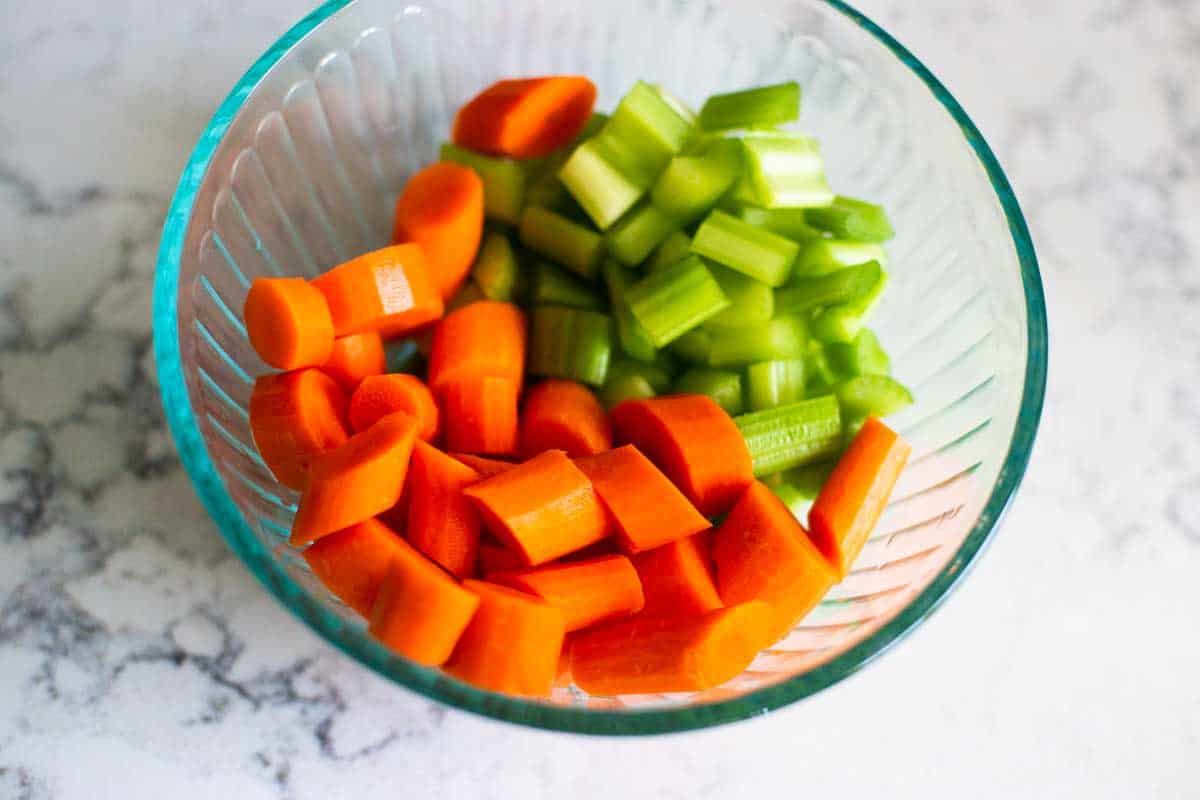 Once the timer goes off, stir the carrots and celery into the pot.
Cover the pot again and continue to cook for another 30 - 40 minutes or until the veggies and beef are very tender.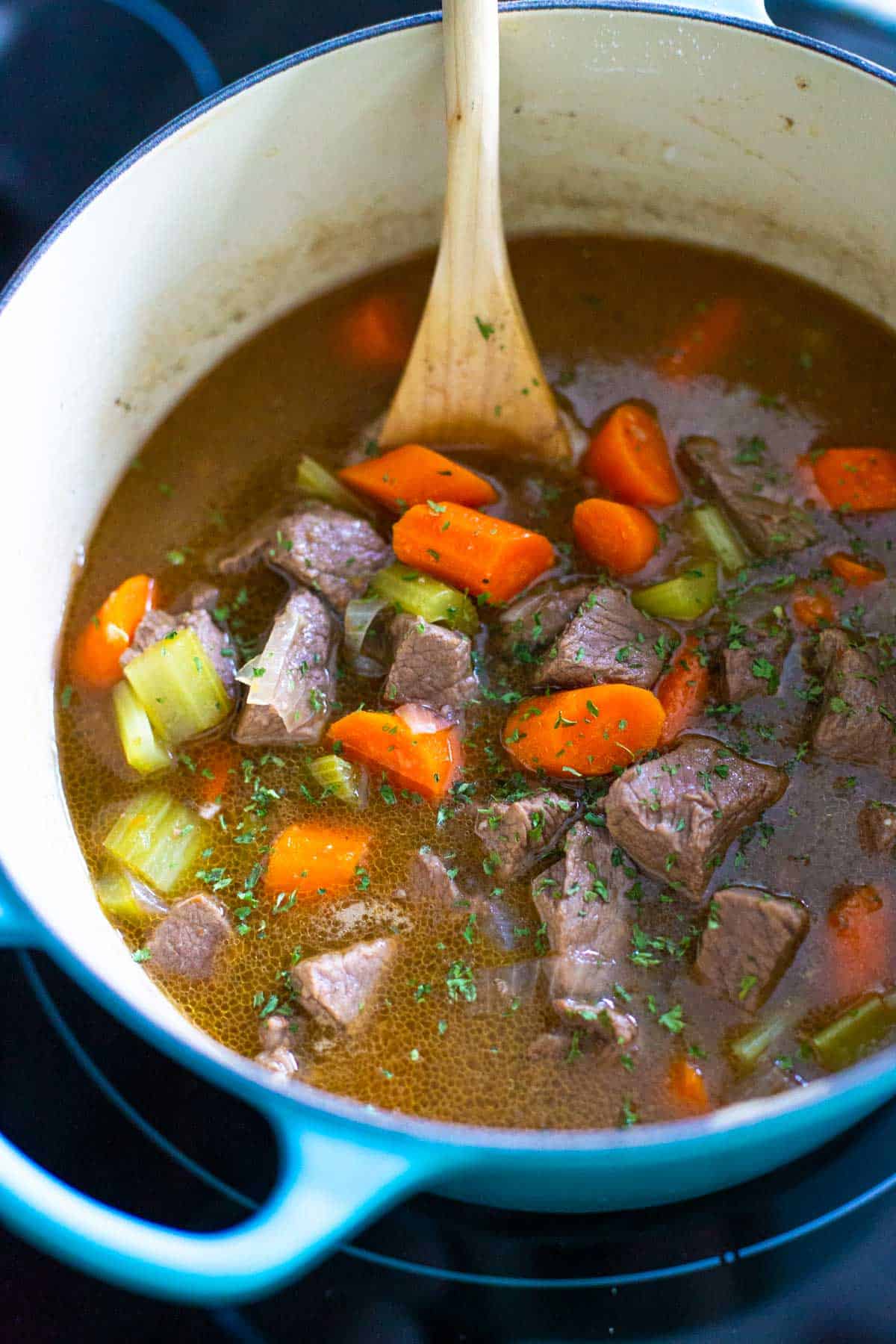 How to Thicken Beef Stew
If you prefer your beef stew to have a very thick, gravy-like sauce, you can thicken it at this point with a little cornstarch.
Mix the cornstarch into a small bowl of water and then pour the mixture into the stew. Stir and let simmer for a few minutes until the broth thickens.
Make Ahead and Freezer Tips
The beef stew reheats wonderfully in the microwave and will last for 3 - 5 days if stored in the fridge in an airtight container.
Beef stew also freezes really well.
I love to store it in smaller, individual-sized portions so we can reheat just a serving or two for lunches or a quick dinner.
Let the frozen stew thaw in the fridge overnight and then just gently reheat it in the microwave or in a saucepan on the stovetop.
This easy beef stew recipe is just one of my favorite meals to freeze and reheat:
Serving Suggestions
The beef stew goes perfectly with a scoop of mashed potatoes.
I often buy the container from the grocery store refrigerated section but the Crockpot mashed potatoes are so easy you could do that, too!
More Dutch Oven Recipes
If you loved how the beef stew turned out in your Dutch oven, you will also love these delicious recipes:
📖 Recipe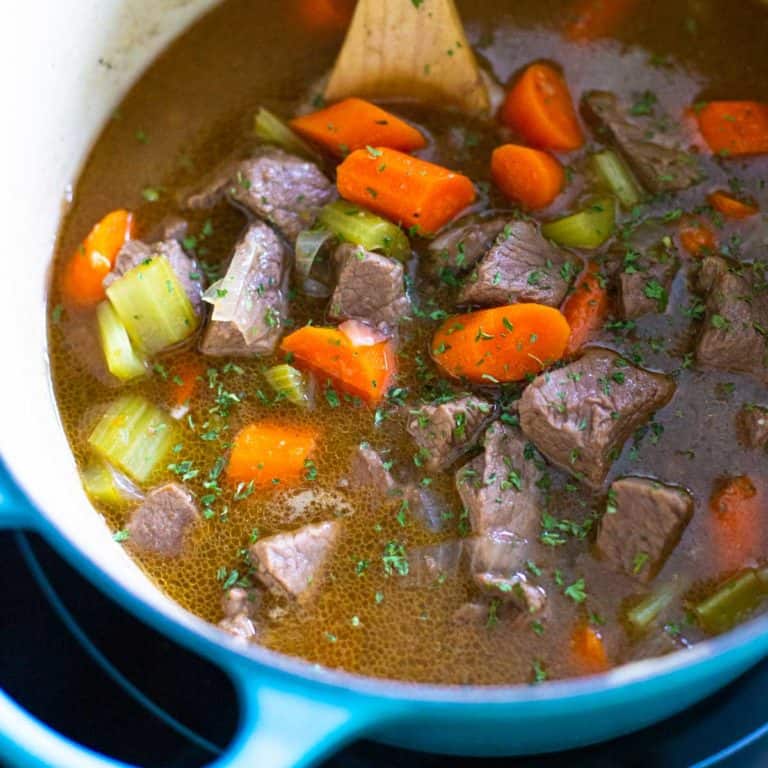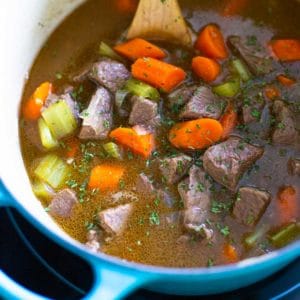 Easy Weeknight Beef Stew
This easy beef stew only takes a few minutes of hands-on time to cook and can easily be frozen for busy weeknights.
Ingredients
2

lb

stew beef

2

tablespoon

vegetable oil

2

cups

water

1

tablespoon

Worcestershire sauce

1

teaspoon

minced garlic

2

bay leaves

1

onion

sliced

1

teaspoon

salt

1

teaspoon

sugar

½

teaspoon

pepper

½

teaspoon

paprika

Dash of cloves

3

large carrots

peeled and sliced into chunks

3

ribs celery

chopped

2

tablespoon

cornstarch
Instructions
In a large dutch oven, add the oil and heat it over medium-high heat. Brown the meat on all sides in the hot oil, working in batches if you need to not crowd your pan.

Add the water, Worcestershire sauce, garlic, bay leaves, onion, salt, sugar, pepper, paprika, and allspice to the pot. Cover and simmer over medium-low heat for 1 ½ hours.

Remove the bay leaves and add the carrots and celery. Cover the pot again and cook for 30 to 40 minutes longer.

To thicken the gravy, remove 2 cups hot liquid. Using a separate bowl, combine ¼ cup water and the cornstarch until smooth. Mix with a little hot liquid from the pot and return mixture to the stew. Stir and continue to cook until the stew is bubbly.

Serve over mashed potatoes.
Recipe Notes
This recipe freezes perfectly. Store it in smaller containers so you can reheat single portions for busy evenings or quick lunches.
Save This Recipe to Your Recipe Box
Find this delicious recipe next time you visit by saving it to your very own recipe box on my site. All your favorites stored in one easy place!