Getting ready for the big game? Don't miss this awesome list of 60+ appetizer ideas including our newest favorite sausage rolls recipe.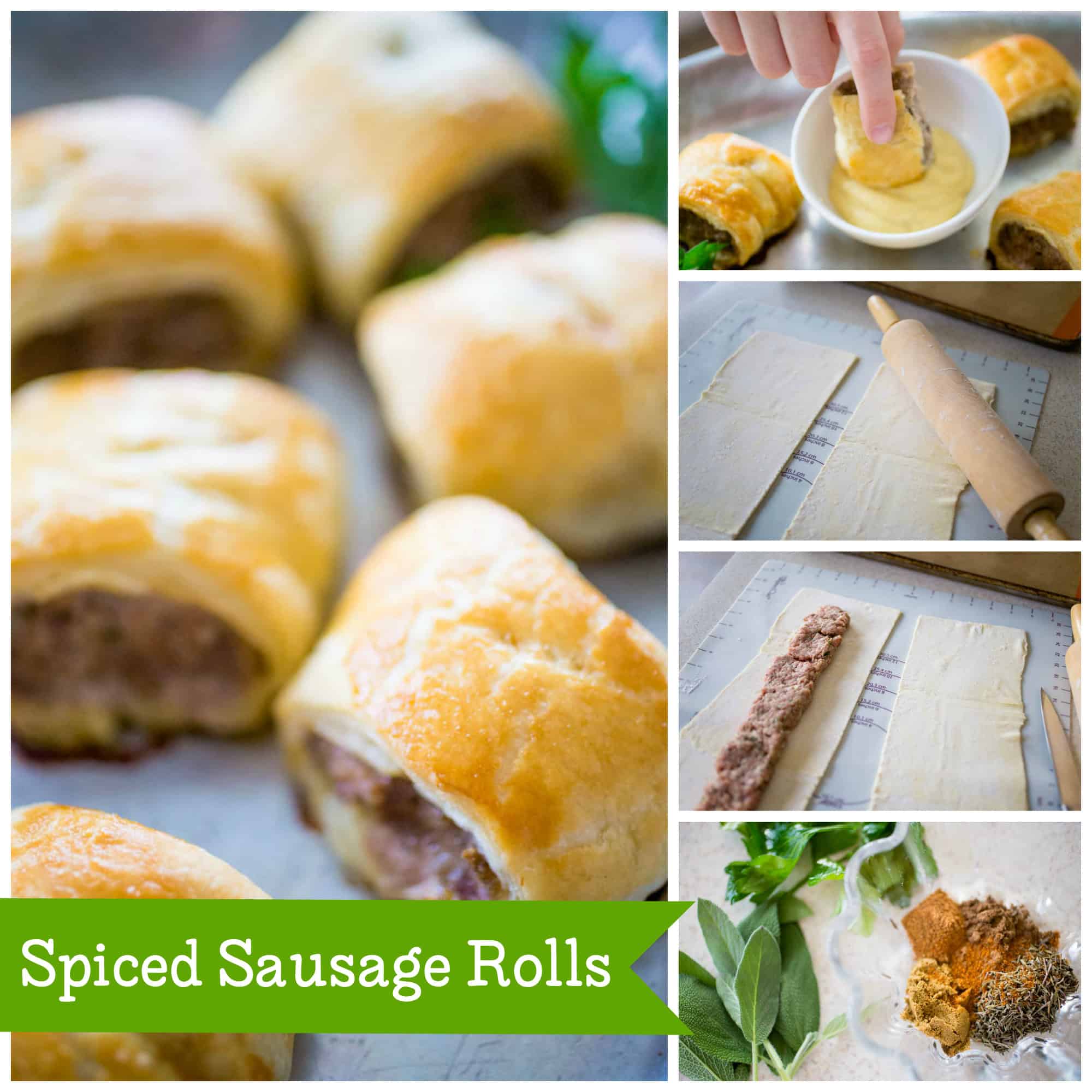 With the football season coming to a close, it's time to start thinking about Big Game parties and inevitably, the recipes you will make and bring to yours! In preparation, I've teamed up with my football blogger friends in one final collaboration to bring you some brilliant Big Game recipe ideas. We've made appetizers, entrees, desserts and even drinks. Prepare to be inspired, and be sure to check out their links at the bottom of this post.
First up, I want to share my contribution to the party, our newest favorite Sausage Rolls recipe. When I was doing research into traditional British foods after we got our shocking DNA test results the other week, sausage rolls popped up over and over again. They reminded me of everything Handyman Tim has ever loved: spiced meat wrapped in dough and baked. We had to try them.
I found a base recipe over on The New York Times and then simplified it for a busy mom chef like myself. Instead of making the dough from scratch, I used frozen store bought puff pastry and it worked like a charm!
You spice up two pounds of ground pork, form it into a long log and chill it. Once firm, you wrap it in thawed puff pastry, slice into sections and glaze with an egg wash. Bake it up and serve with a mustard dipping sauce, BAM! Party food!

I think you could easily play with the seasonings the recipe calls for and do many variations on this appetizer: an Italian one with marinara sauce, a Greek one with tzatziki, or a more Mexican flavored one with salsa. We stuck with the more straight up British route and the mustard gave it just the right zing.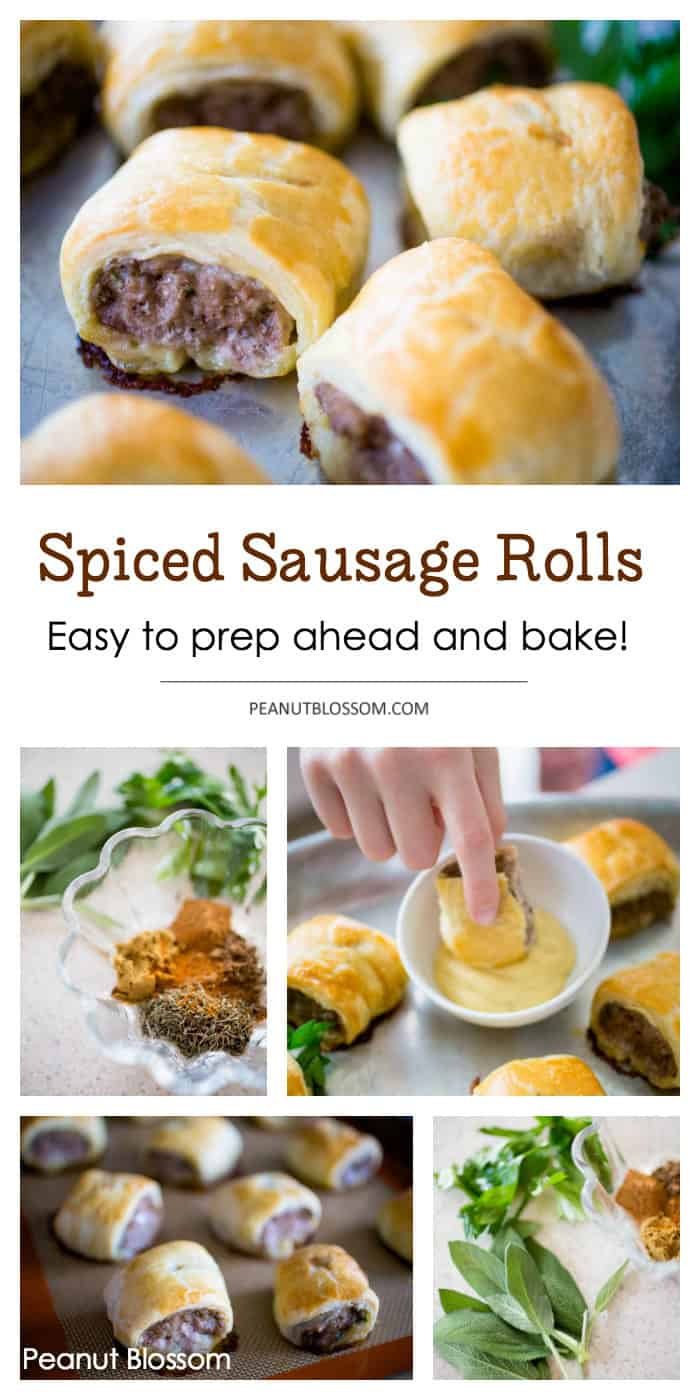 Now don't forget to check out the other 60+ awesome football party recipes below. You'll find everything you need for watching the big game!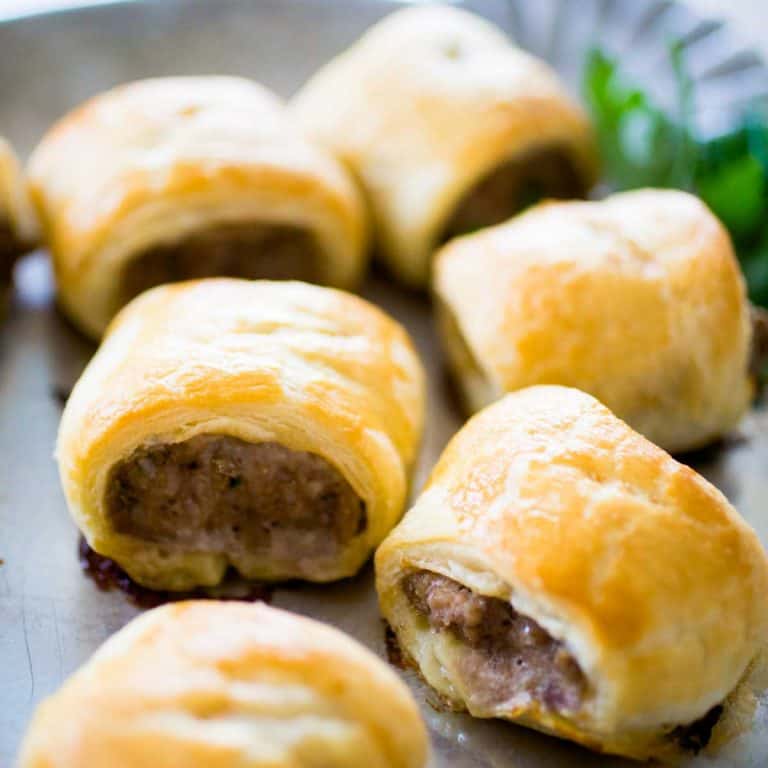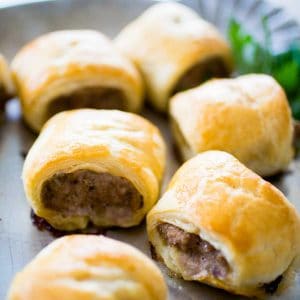 Spiced Sausage Rolls
These delicious sausage rolls are a fun football party appetizer or perfect for a British themed party.
Ingredients
1

package

2 sheets of frozen puff pastry, thawed

2

pounds

lean ground pork

2

teaspoon

kosher salt

½

teaspoon

black pepper

¼

teaspoon

cayenne

½

teaspoon

cumin

¼

teaspoon

nutmeg

¼

teaspoon

allspice

1

teaspoon

dried thyme

2

tablespoon

chopped fresh sage

2

tablespoon

chopped fresh parsley

1

egg beaten with 1 tablespoon water for egg wash
Instructions
Make the sausage filling:
In a large mixing bowl, add the pork with all the seasonings. Using your hands, gently mix together to combine. Divide into 4 equal portions and roll each section into a 9 inch log. Place on a tray and refrigerate for 30 minutes.

Preheat the oven to 375°F.
Prepare the dough:
Roll one sheet of the puff pastry out so that it is 9 inches tall by 11 inches long. Slice lengthwise to make 2 pieces that measure 4.5 inches tall by 11 inches long.

Place one sausage log on each of the pastry sections. Roll up and pinch the seam to close. Place with seam side down and cut each into 6 equal pieces. (I trimmed the loose ends to make them neat.)

Repeat with second sheet of pastry dough so you have 24 pork rolls in all.

Place the rolls on a parchment covered baking sheet. Cut a small slit on the top of each roll to vent the pastry. Brush the tops with the egg wash.

Bake for 25 minutes or until pastry is crisp and golden and sausage is cooked to temperature. Cool for 5 minutes before serving.
Save This Recipe to Your Recipe Box
Find this delicious recipe next time you visit by saving it to your very own recipe box on my site. All your favorites stored in one easy place!