Tzatziki sauce for gyros is easy to make at home and tastes great as a Greek yogurt dip with cucumber and raw veggies or crispy pita chips for dunking.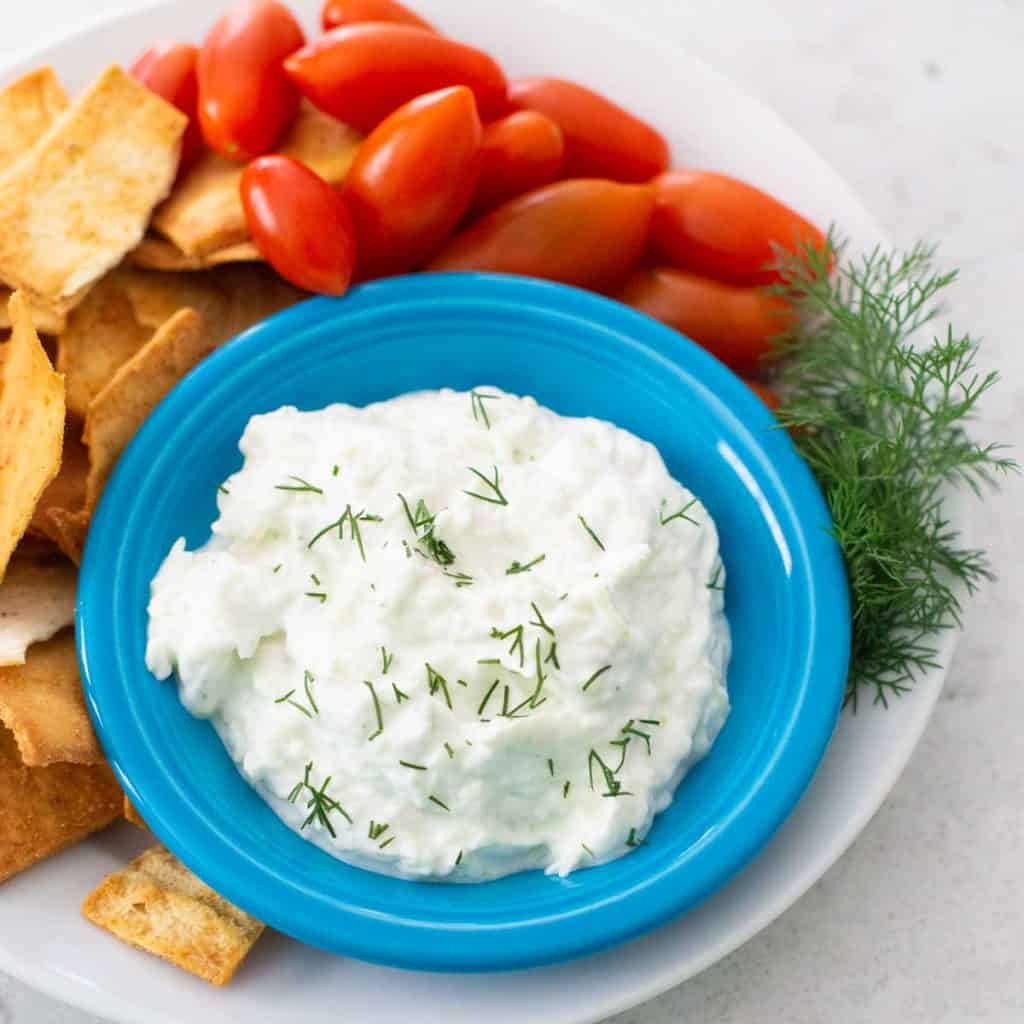 The first time I had a gyro, I was confused about the little cup of white sauce the restaurant served alongside my sandwich.
But with one taste, that delicious creamy cucumber sauce became an essential partner to every gyro I've enjoyed since.
I love it so much, I often ask for an extra serving because I love to dip my veggies or fries in it, too!
Homemade tzatziki sauce for gyros we make for dinner is one of my favorite things to keep in the fridge this time of year.
It pairs so well with fresh raw veggies for a veggie platter or even crispy pita chips for a protein-heavy snack. Here are more dips with the veggies inside you'll often find in my fridge while the kids are home for summer.
Jump to:
Why This is the Best Recipe
Yes, you could buy tzatziki at the store in a prepared tub, but making your own homemade takes just a few minutes and tastes so much better.
The prepared yogurt tzatziki, even from the best places, has an odd tang to it that I can only attribute to the preservatives.
My homemade version is better because:
Whole, Easy Ingredients: Check out the ingredients list below, you only need a short list of things and you probably have most of them in your pantry or fridge right now.
Adjust the Garlic: If you like things SUPER garlicky or you only like a hint, you can adjust the level of garlic to your family's preferences.
Adjust the Lemon: I like mine nice and zippy but if you prefer a more creamy, cool flavor, you can reduce the lemon juice.
Play with Herbs: Traditionally tzatziki does not have any fresh herbs mixed in but I personally love a little fresh dill or chopped chives.
Ingredients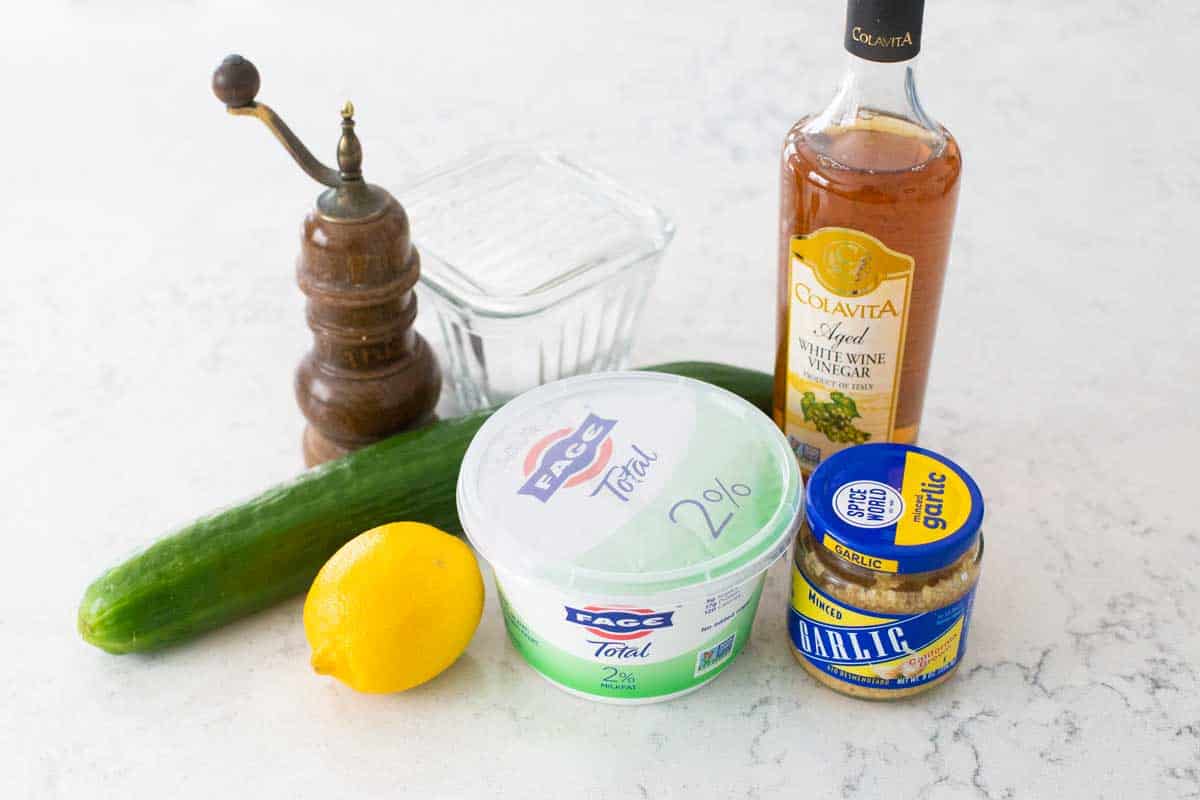 Look at that easy pile of ingredients! All you need to make this recipe is:
Greek Yogurt: I love to use a lighter 2% yogurt but you can use whole yogurt or fat-free if you prefer.
Fresh Cucumber: Grab an English cucumber or a hothouse cucumber because they are seedless.
Minced Garlic: I use this ingredient because it is so convenient. You could substitute fresh garlic if you prefer.
Lemon
White Wine Vinegar
Salt & Pepper
Tzatziki Sauce with Sour Cream
One of the easiest variations you can make for this gyro sauce is to substitute sour cream for the Greek yogurt.
I usually use the Greek yogurt because it is naturally thicker than sour cream and holds up well to the addition of lemon juice, vinegar, and cucumber.
However, if you prefer to use sour cream, there are two options:
Thinner Gyro Sauce: If you use sour cream straight from the container, your tzatziki sauce will have a thinner, saucier consistency than the yogurt version. This is an excellent choice if you plan to drizzle the tzatziki over a gyro or a Greek pizza.
Strain the Sour Cream: If you want to use sour cream but you still want a thicker sauce, you'll need to strain some of the liquid from the sour cream by lining a colander with clean cheese cloth and placing it over a bowl. Let the sour cream sit on the cloth in the fridge overnight and some of the liquid will separate and be collected in the bowl below. Discard that liquid and use the thickened sour cream in place of the yogurt in the recipe below.
In either case, it is a 1:1 ratio for substitution. Simply use the same amount of sour cream as is called for Greek yogurt.
How to Grate the Cucumber
The most important step in making homemade tzatziki sauce for gyros is to properly prepare the fresh cucumber.
Cucumbers naturally have a LOT of liquid in them. If you grate the cucumber and add it immediately to the yogurt, you risk having a watery yogurt sauce.
To avoid that, simply start by grating the cucumber with a box grater over a clean plate.
I use the medium-grate side.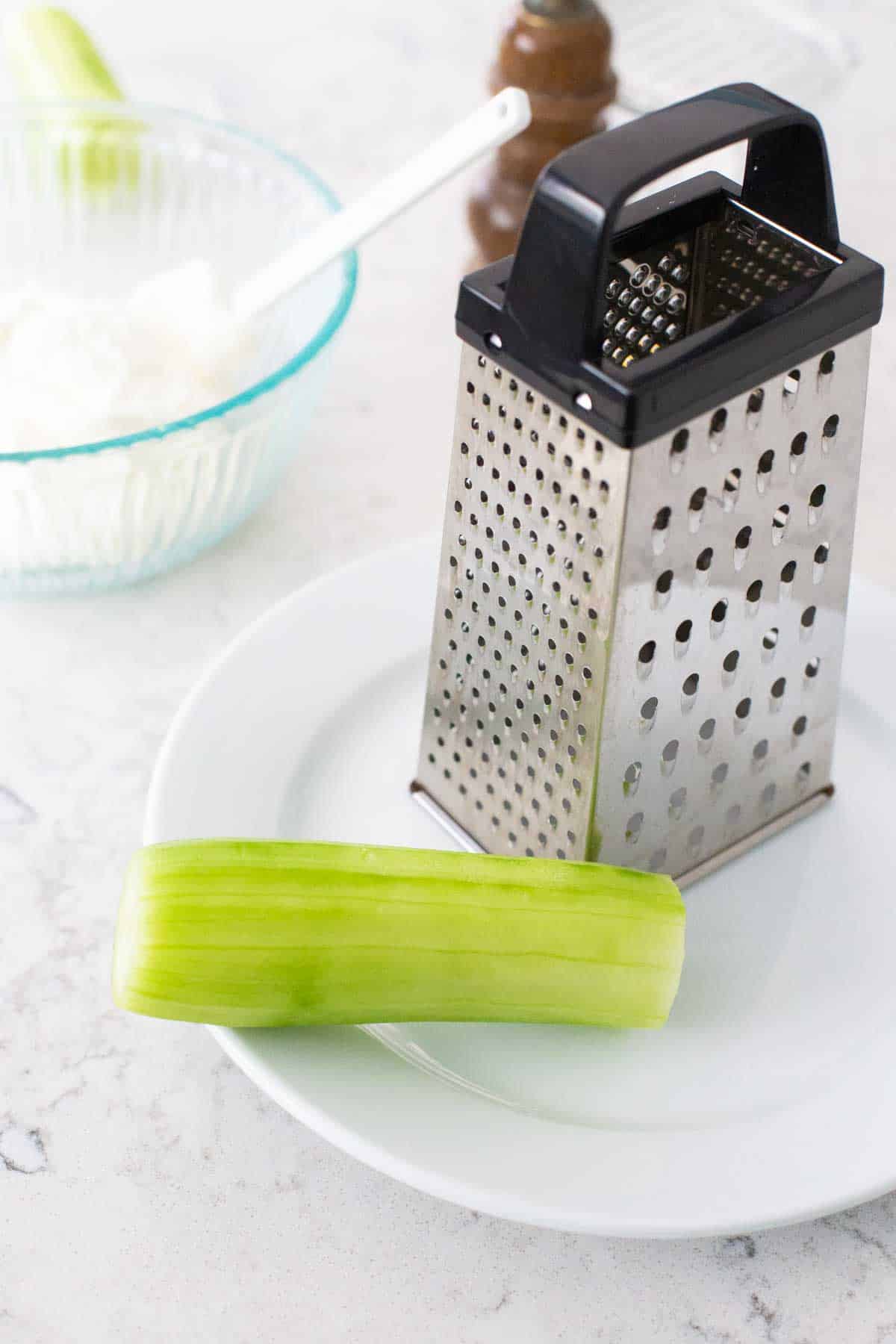 Look at how much liquid collects on the plate just when I finished the grating process: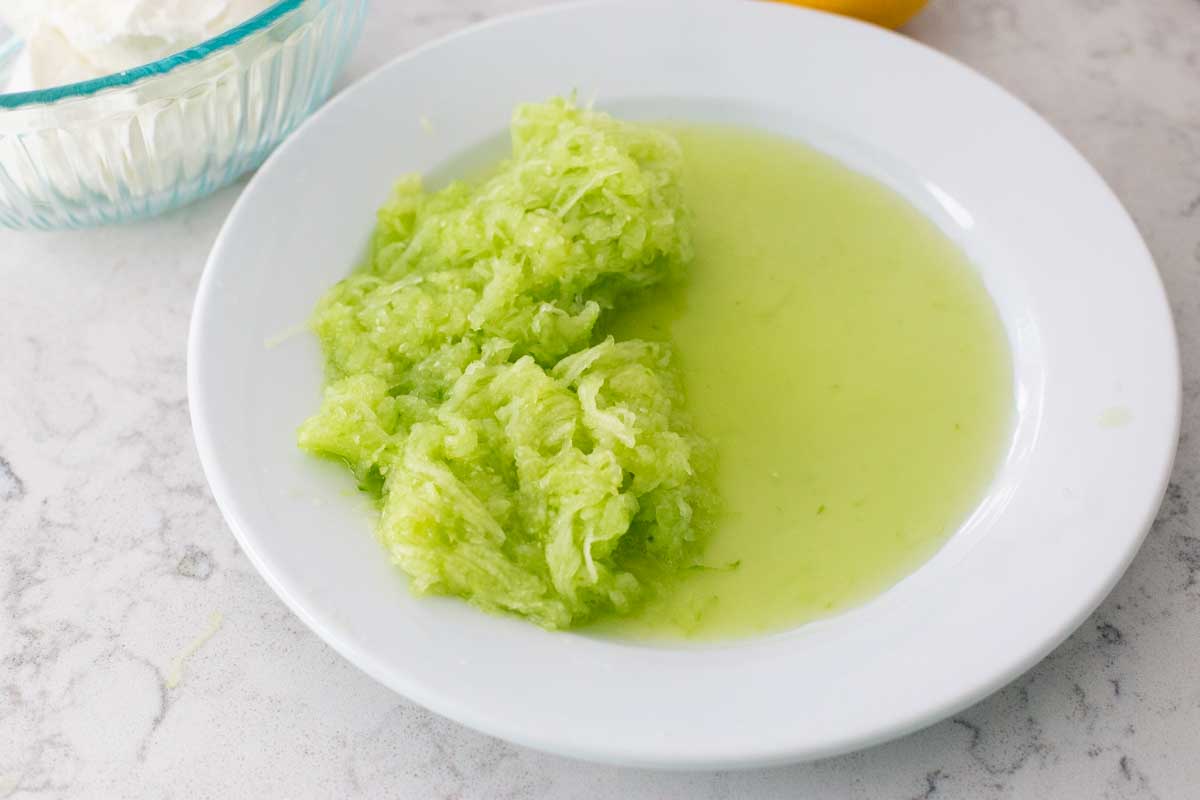 I carefully drain off the liquid from the plate into the sink, holding the grated cucumber in place with my hands.
Then, firmly press the cucumber against the plate squeezing as much liquid off of it as you can: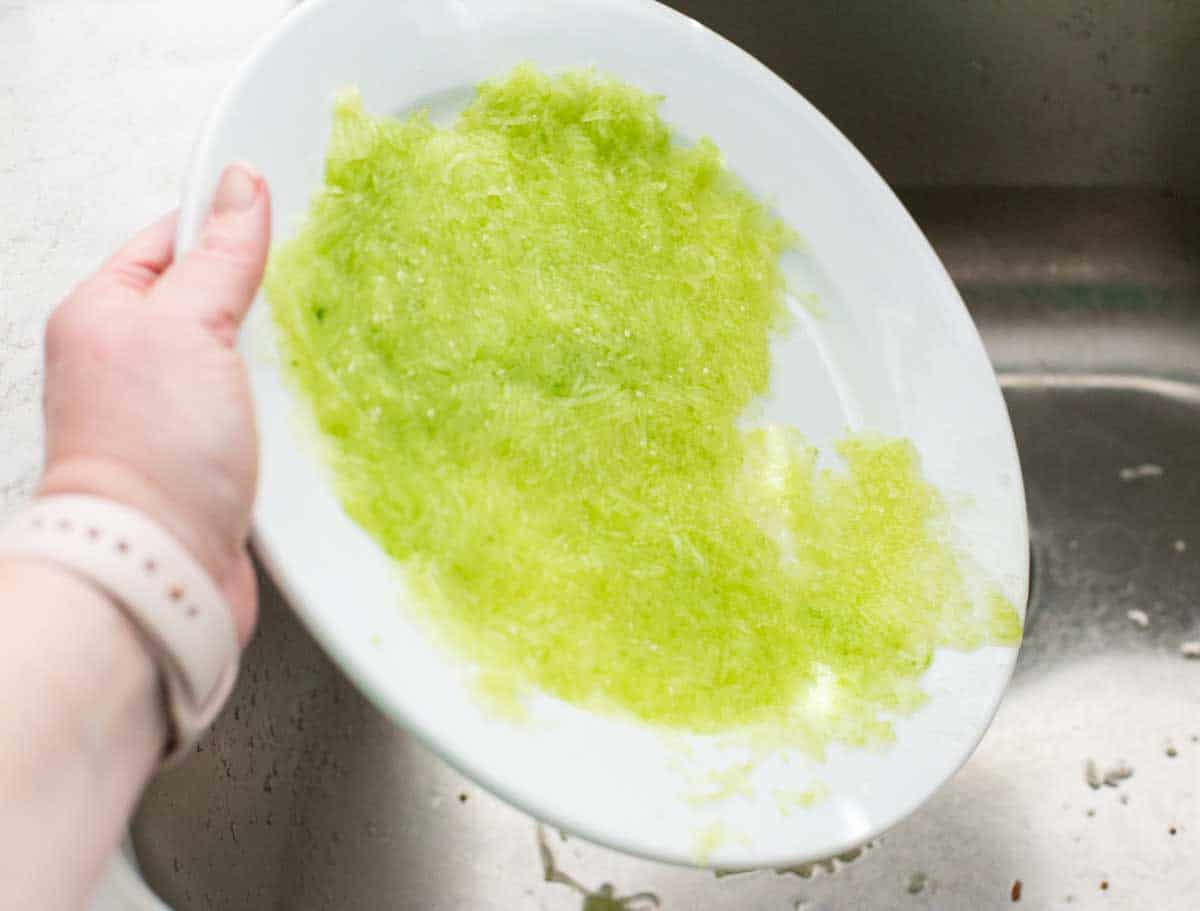 Then, I fold a paper towel into several layers and add the cucumber on top. Wrap the paper towel around the grated cucumber and squeeze. This will get the last of the liquid to drain.
Make the Sauce
The final step is the easiest: simply mix everything together!
In a medium mixing bowl, add the Greek yogurt or sour cream.
Then add the garlic, lemon juice, white wine vinegar, salt and pepper and stir.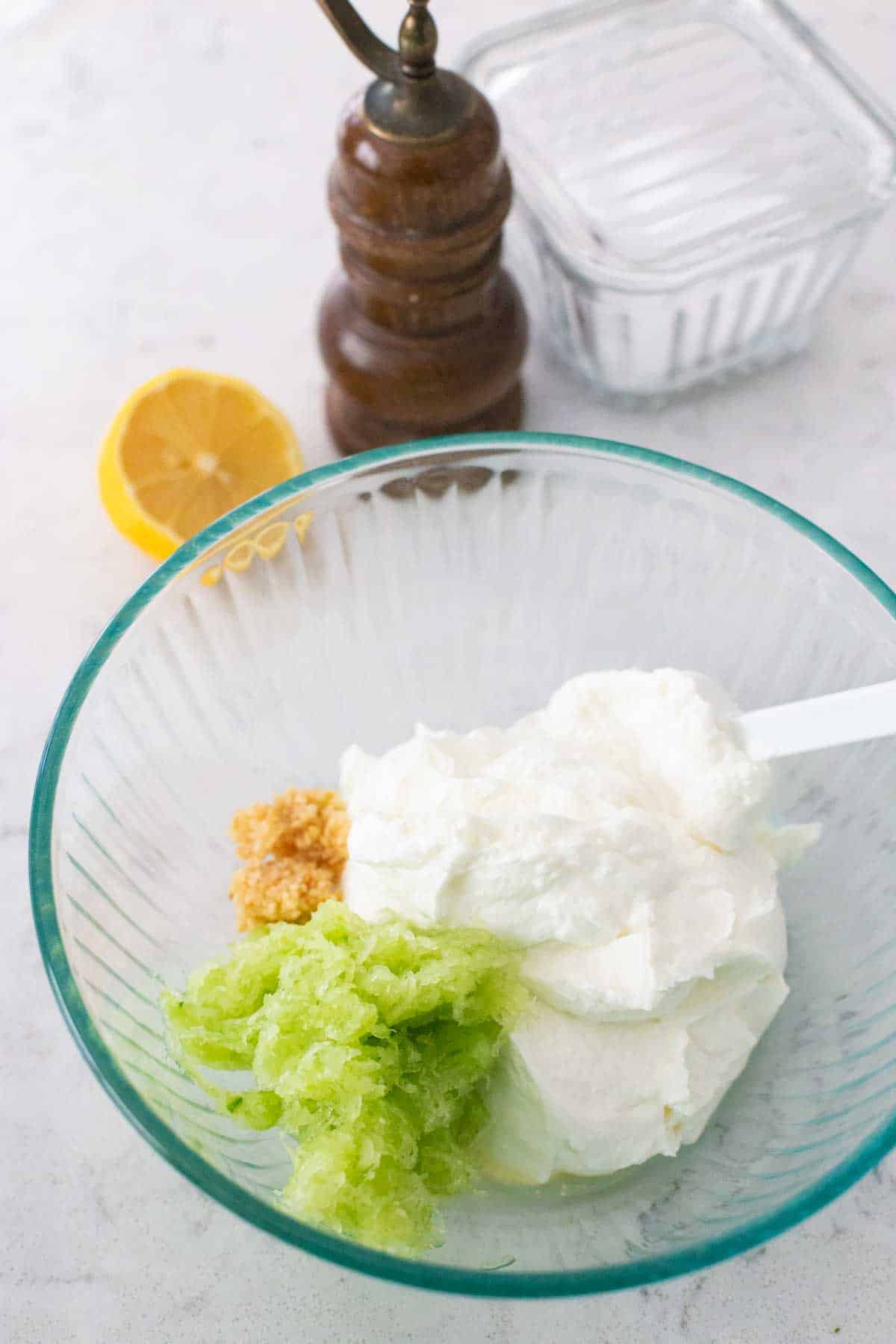 If your tzatziki sauce is still too thick for your liking, you can always add a little drizzle of extra lemon juice or a touch of olive oil to thin it out.
Serving Suggestions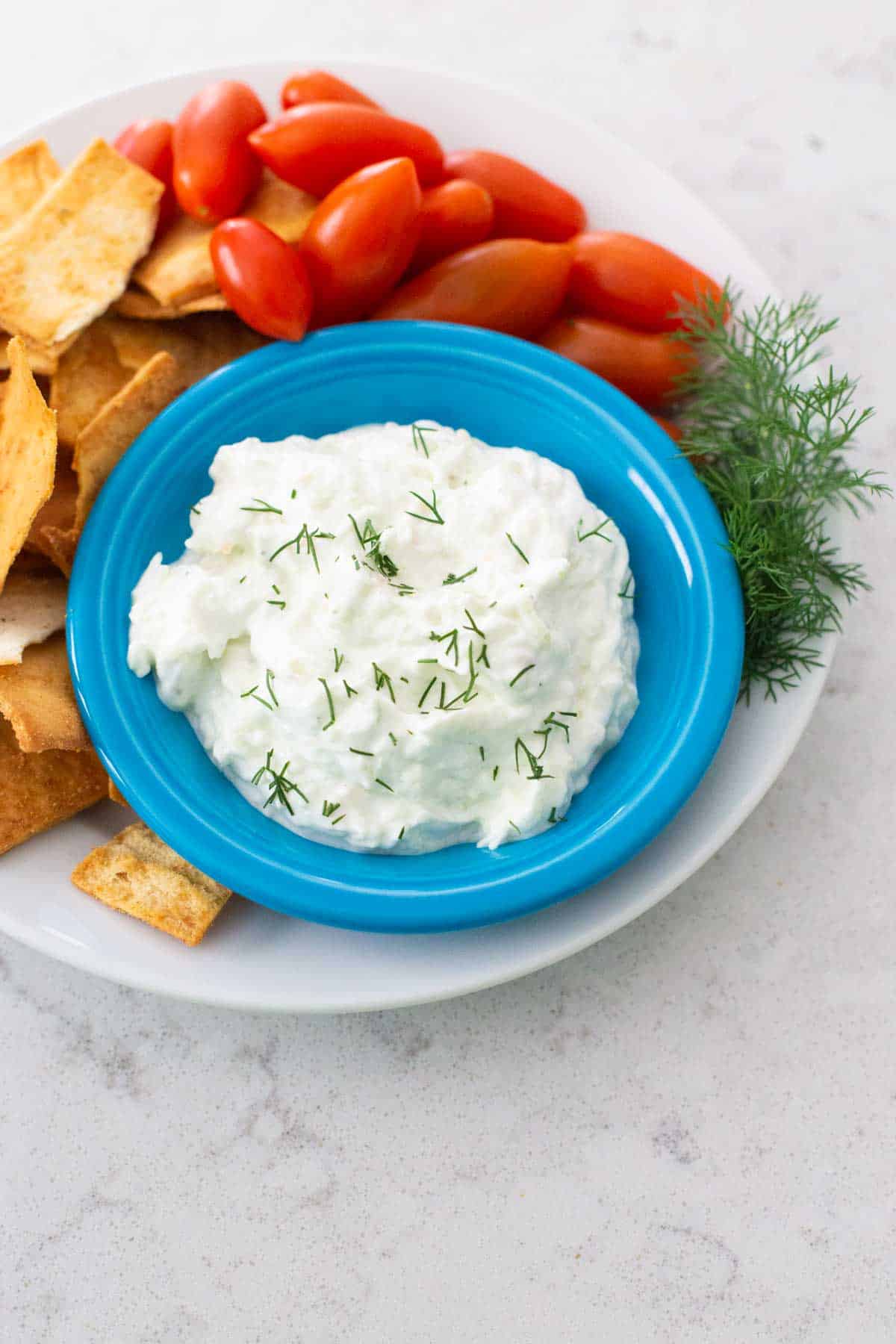 📖 Recipe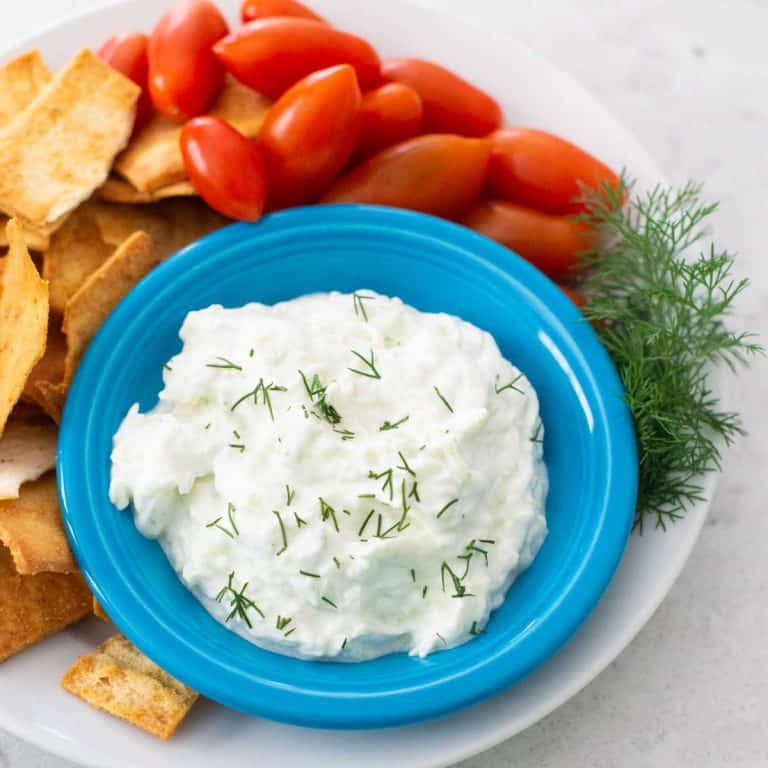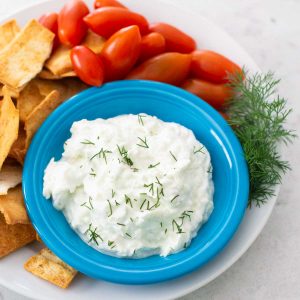 Tzatziki Sauce
This easy tzatziki sauce for gyros can also be used as a veggie dip or served with crispy pita chips for a cool and creamy appetizer.
Ingredients
16

oz

plain Greek yogurt

3

teaspoons

minced garlic

1

teaspoon

white wine vinegar

Sprinkle of salt and pepper

Drizzle of olive oil

1

teaspoon

fresh dill

optional

¾

English cucumber

seedless, peeled

½

fresh lemon
Instructions
Carefully open the container of Greek yogurt, you will see the liquid has slightly separated at the top. Pour any liquid off, using the paper covering on top to hold the yogurt in place.

Add the yogurt, garlic, white wine vinegar, salt and pepper to a medium sized mixing bowl and set aside.

Grate the peeled cucumber on a box grater over a plate. Gently pour off as much liquid as you can. Press the grated cucumber against the plate to remove more water, letting it drain over your sink as you press. Transfer the cucumber to paper towel that has been folded over several times. Squeeze as much of the remaining liquid out of the cucumber as possible.

Add the drained cucumber to the mixing bowl. Squeeze half of a fresh lemon over the bowl.

Stir to combine all the ingredients. Add a drizzle of olive oil and the fresh dill if using, stir to combine.

Let chill in the fridge, covered, for a couple hours for the flavors to mingle before serving.
Recipe Notes
Tzatziki will keep in the fridge, covered, for up to 5 days.
Save This Recipe to Your Recipe Box
Find this delicious recipe next time you visit by saving it to your very own recipe box on my site. All your favorites stored in one easy place!