Easy broiled chicken tenderloins are the perfect protein for adding to pasta, salads, sandwich wraps, quesadillas, and other easy chicken recipes for fast dinners. The broiler gives a grilled taste to tender juicy chicken in under 15 minutes.
Being able to make easy broiled chicken tenderloins is an essential cooking skill any family chef should have.
This easy recipe makes perfectly tender and juicy cooked chicken in 15 minutes or less and is perfect for anyone who loves a grilled flavor but doesn't have or want to use the actual grill.
Instead, fire up the broiler right inside your oven for cooking chicken tenderloins that have a little bit of that delicious grilled char to the edges.
You can serve the broiled chicken as a main dish with veggies and sides or chop it up for tossing into pasta dishes, salads, sandwich wraps, topping a pizza, or tucking inside a quesadilla.
This versatile recipe will be your new favorite way to cook chicken quickly for the kids.
Jump to:
Why This is the Best Recipe
I've been using this method for cooking chicken since my kids were tiny. I believe it is the best recipe for chicken tenderloins because:
FAST: The chicken cooks in under 15 minutes.
Tender & Juicy: The hot broiler locks in the juices and makes the perfect texture for chicken.
Flexible: The method works for seasoned chicken with spices or marinated chicken. You can season the chicken any way you want and it will work.
Healthy: The broiler takes very little oil to cook the chicken so it is healthier than frying or sauteing.
Easy Clean-Up: Use my aluminum trick and the pan is a breeze to wash at the end.
Ingredients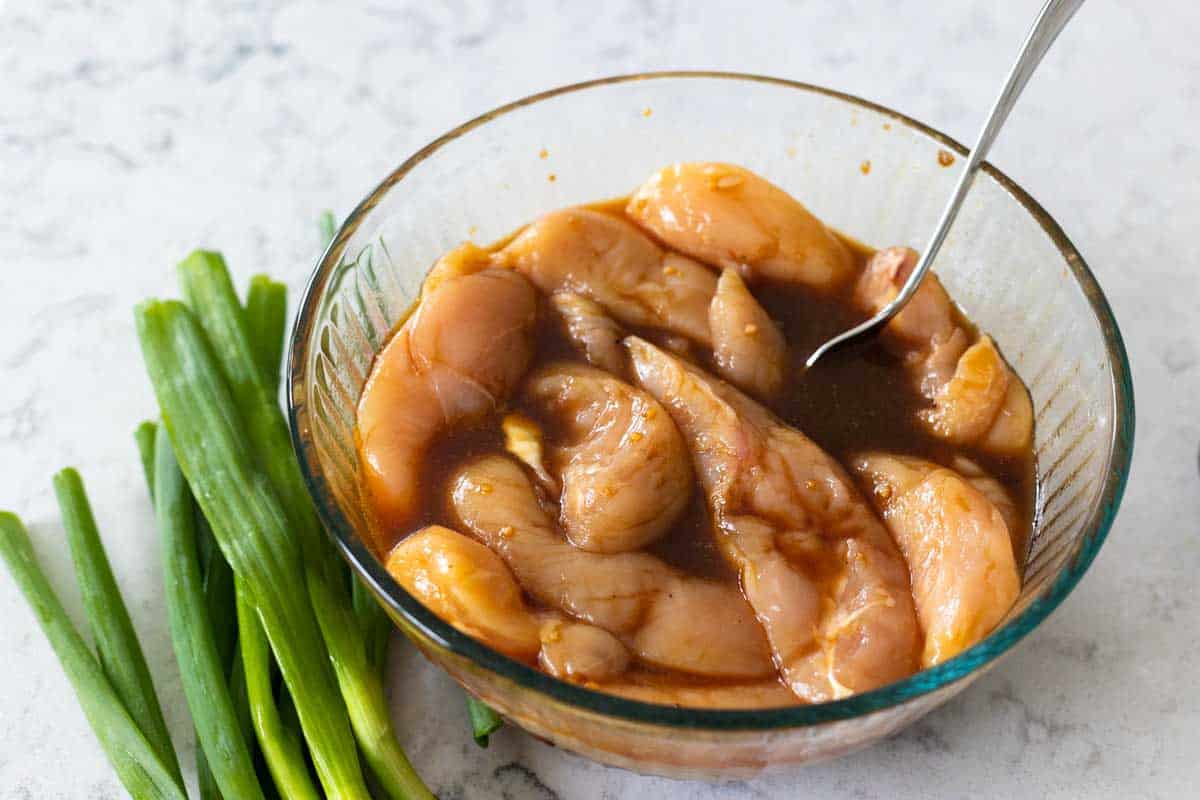 Broiled chicken tenderloins can be used for countless chicken recipes and seasoned however you want.
To make them, all you need is:
Boneless Skinless Chicken Tenderloins: These are perfect for cooking under the broiler because they are even shaped and cook quickly. If you want to use boneless skinless chicken breasts, you will want to cut them into longer tenderloin-shaped strips before cooking them under the broiler.
Chicken Marinade OR Olive Oil and a Seasoning Blend: There are dozens of different ideas you could use right in your pantry. I have several suggestions listed below to get you started.
Spice Rubs for Chicken
If you want to use a dry seasoning blend, you'll want to place the chicken tenderloins in a mixing bowl and drizzle them with 2 tablespoons of olive oil. Use a fork to toss them to coat.
Then sprinkle on a chicken seasoning and toss to coat again. The olive oil will help it to stick to the chicken.
Some of my favorite spices for chicken include:
Cajun Chicken Seasoning
Dry BBQ Seasoning
Italian Herb Blend
Seasoned Salt with a pinch of Cayenne
Greek Seasoning
Lemon Pepper Blend
Fajita Seasoning with a squeeze of Lime Juice
Chicken Marinades
If you have at least 30 minutes extra of prep time and really want to deeply flavor your chicken, a chicken marinade is an excellent idea.
You can even start to marinate the chicken the day before and it will be ready to go at dinner time.
Just place the chicken in a mixing bowl and pour the marinade over the top. Use a fork to toss the chicken to coat. Cover and refrigerate for 30 minute or up to 24 hours.
Some of my favorite chicken marinades include:
How to Broil Chicken Tenderloins
Once you've seasoned your chicken for dinner, all you need to do now is broil it. This last bit goes so quickly.
Prepare the Broiler and Oven Rack
First, preheat the broiler with the top oven rack 6 inches away from the broiler.
On my oven, this means I just hit the "Start" button for the broiler setting to turn it on. Some ovens may ask you for a temperature. My oven broils at 550°F.
The broiler is the heating element that is coiled at the top of the inside of your oven. It works a little bit like a toaster for your meat.
So you need to place the oven rack close enough to it that the meat will brown but not so close that the meat actually touches the coil. It does not cook with direct contact like a grill or stovetop.
Prepare the Broiler Pan
A typical broiler pan has two pieces:
A bottom pan that looks a little like a 9x13-inch baking pan
A flat top piece with ridges and air slits punched throughout the top
If your oven did not come with a broiler pan, you can purchase a very affordable one right here.
Broiler pans are made to withstand the very high heats of a broiler and improve the air flow of the meat you're trying to broil. You can use the pan for chicken, fish, beef, and pork.
Remove the flat top part of the set and place a sheet of aluminum foil in the bottom part of the pan.
This helps with easy clean-up since the meat will drip fat and juices into the bottom of the pan as it cooks and the juices will likely burn and char due to the very high heat.
Place the top part over the aluminum foil and spray with cooking spray.
Arrange the chicken tenderloins in an even layer with room between each tenderloin for air flow and even browning.
I was in a bit of a hurry and needed to cook two packages of chicken at one time when I shot this photo. The chicken cooked perfectly, but you wouldn't want to crowd the pan any more than this.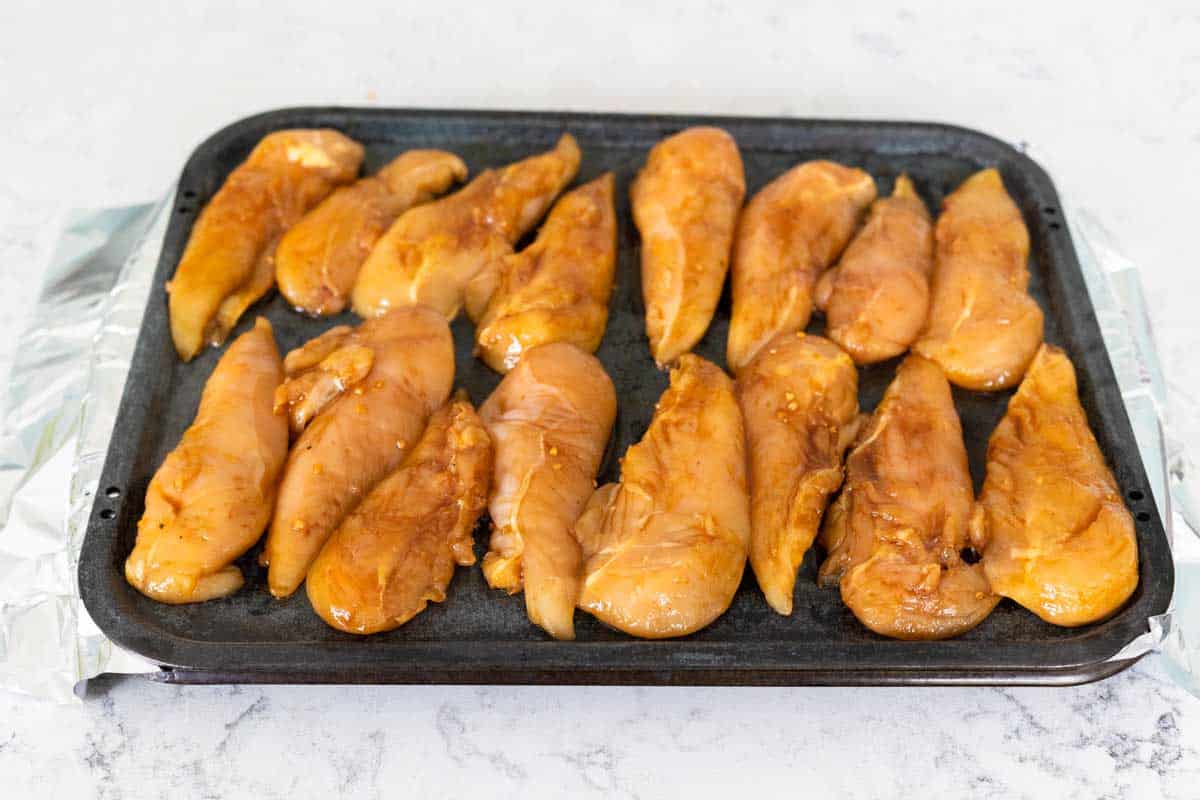 Broil the Chicken
Place the pan of chicken under the broiler on that top oven rack.
Since the pan itself is about 3 inches deep and the chicken is another 1-inch high or so, the top of the chicken will likely be about 2 - 3 inches away from the broiler element but should absolutely not be touching the broiler.
You do not need to close the oven door while the meat broils but you can if you want. I usually leave the oven door cracked open a couple inches so I can keep an eye on the chicken as it cooks.
When you use the broiler, food can burn very quickly, so you do not want to leave it unattended. This is especially true if your marinade has a high sugar or fruit juice content since those ingredients burn quickly.
Broil the chicken for 7 minutes on this first side.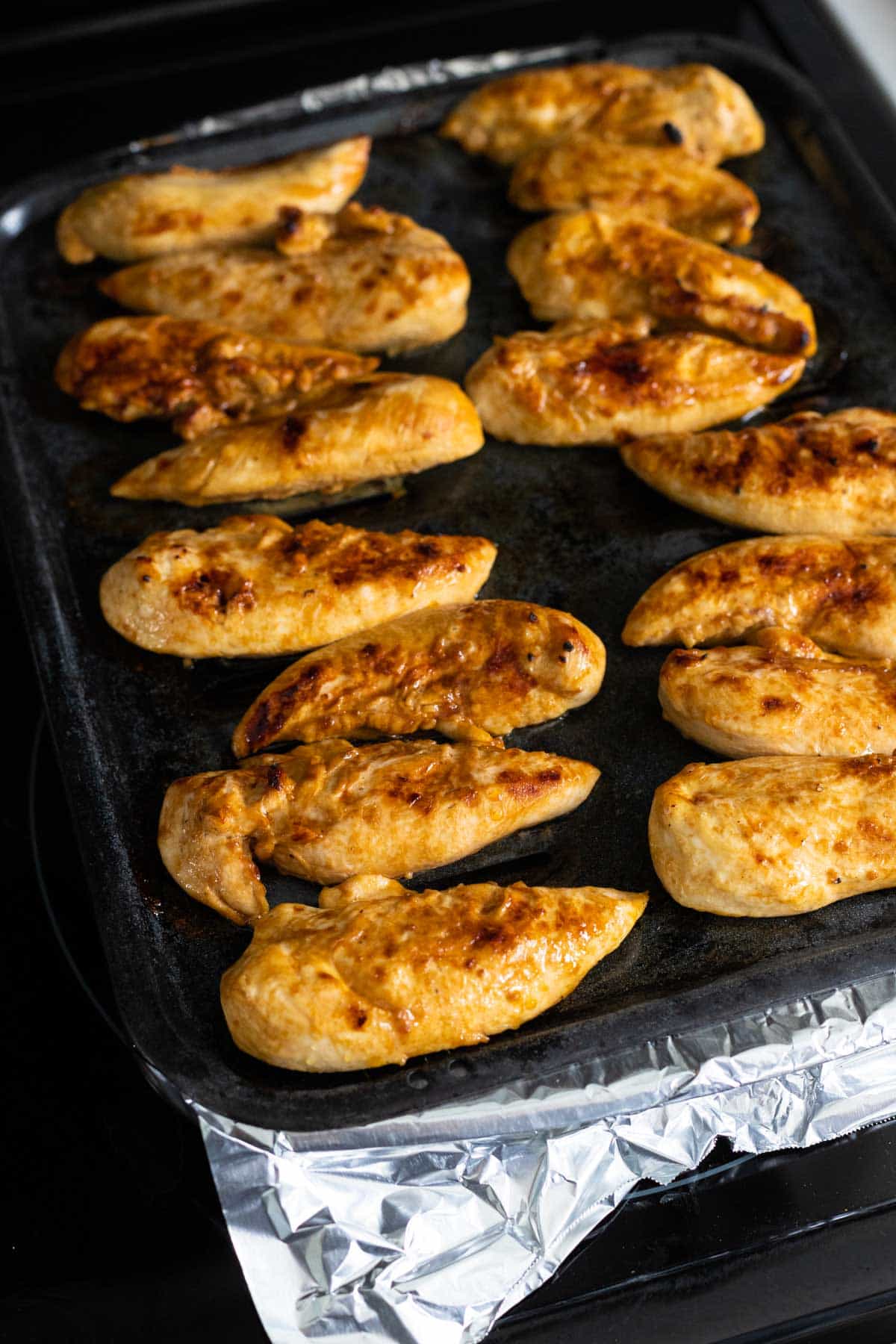 Remove the pan from the oven. Use a pair of tongs or a fork to flip the chicken over.
Return the pan to the broiler and cook for an additional 5 minutes or until the chicken reads 175°F at the thickest part of the tenderloin.
Tips for Perfect Browning
Chicken tenderloins are such a lean protein, they will not get that attractive golden brown color unless they've been coated with a touch of olive oil or a marinade.
Since the broiler works so similarly to a toaster, you will find that some spots under the broiler cook more quickly and hotly than other spots do.
To ensure even browning, I keep an eye on the chicken as it cooks and if I notice pale spots, I rotate the broiler pan to move the more undercooked chicken into the hotter spots.
Even just rotating the entire pan half way through cooking will help if the front or the back of the broiler is cooking hotter than the other.
Serving Suggestions
Broiled chicken tenderloins are so tender and juicy yet still have that delicious crispy char along the edges like you would have from grilled chicken.
This makes them an excellent choice for chopping up to tuck into a variety of delicious dinner ideas:
Of course the broiled chicken could make a delicious dinner all by itself if you just want to pair it with a few easy side dishes, too.
Steam a bag of frozen veggies in the microwave and serve the chicken alongside or on top of an easy pasta dish like my lemon butter pasta with fresh chives.
You could add a scoop of baked red rice or herb butter rice. Roasted sweet potatoes pairs really with with broiled chicken, too.
📖 Recipe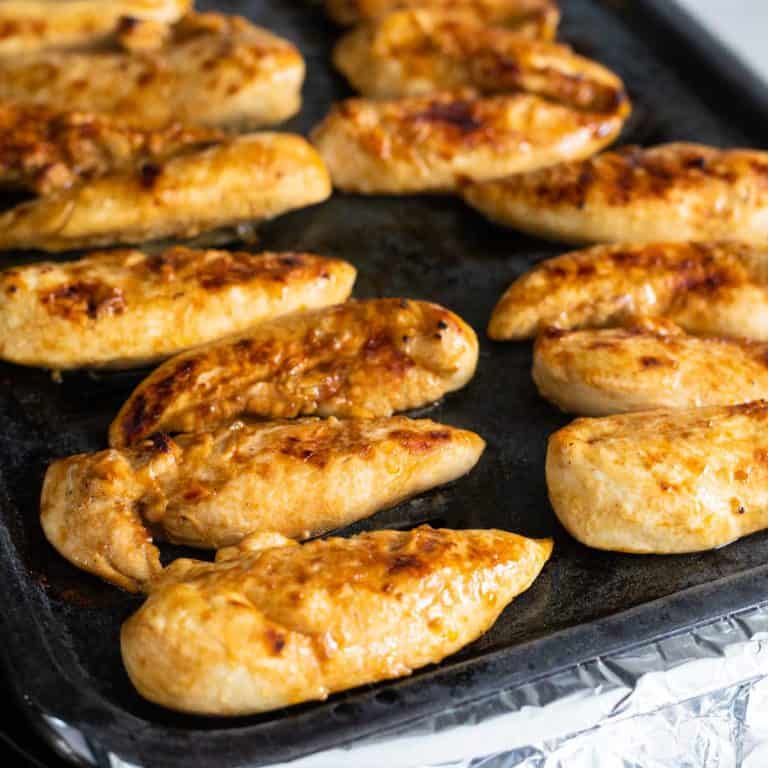 Easy Broiled Chicken Tenderloins
Learn how to make easy broiled chicken for a quick dinner with easy side dishes or for making cooked chicken to add to pasta salads, quesadillas, or sandwich wraps. You can marinate or season the chicken with countless flavors for mixing and matching into any chicken dinner you have planned.
Ingredients
1.5

pounds

boneless, skinless chicken tenderloins
Seasoning Option #1
2

tablespoons

olive oil

1

tablespoon

spice blend of your choice
Seasoning Option #2
1

cup

marinade of your choice
Instructions
Season the chicken by first placing the chicken tenderloins in a medium sized mixing bowl. For Seasoning #1: Drizzle the olive oil over them and toss to coat. Sprinkle the seasoning over and toss to coat. For Seasoning #2: Pour the marinade over the chicken and toss to coat, let marinate for 30 minutes minimum.

Place the oven rack 6 inches from the broiler. Preheat the broiler while you prepare the pan.

Line the bottom of a broiler pan with aluminum foil for easy clean up. Place the top part of the pan over the foil and spray with cooking spray.

Arrange the seasoned or marinated chicken in a single layer on the top of the broiler pan. Leave a bit of space between each tenderloin for even browning and air flow.

Place the broiler pan under the broiler and cook the chicken for 7 minutes. Remove from the oven and use a fork or tongs to flip the chicken over. Cook for an additional 5 minutes under the broiler to brown the other side.
HELPFUL TOOLS
Save This Recipe to Your Recipe Box
Find this delicious recipe next time you visit by saving it to your very own recipe box on my site. All your favorites stored in one easy place!