Make this Copycat Chick-Fil-A sauce recipe for using right at home as a dip for your favorite frozen chicken nuggets or frozen waffle fries!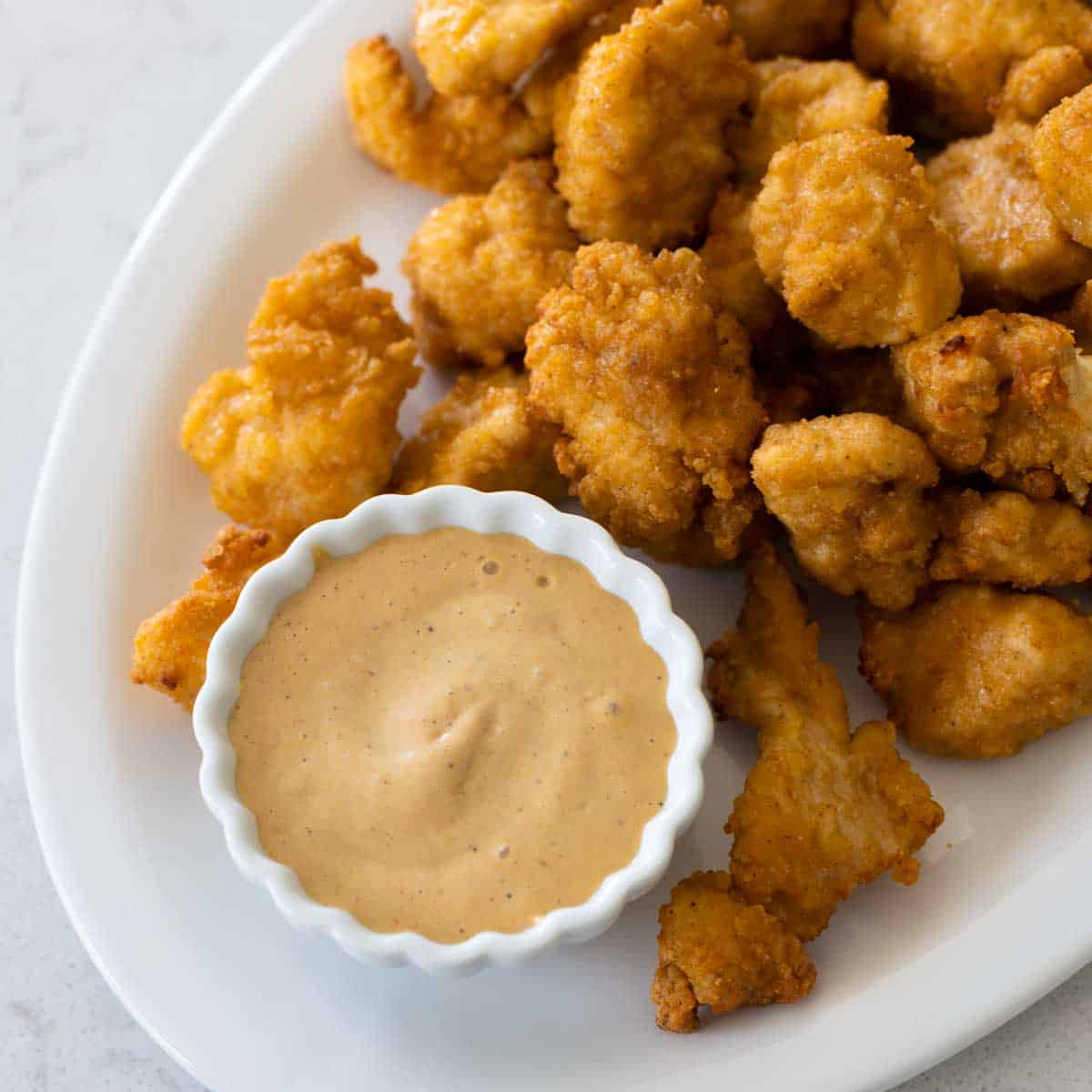 We have a standard family joke after Sunday Mass that never fails to get my kids:
"Hey! Who wants to go to Chick-Fil-A for lunch today??"
First there's a delighted gasp, then there's a frustrated groan as they realize that on Sundays they have to go without their favorite fried chicken with a cup of Chick-Fil-A sauce to dunk it in.
Because it goes without fail -- the times you really want chicken nuggets and Chick-Fil-A sauce are always going to fall on a Sunday when they're closed.
So after one too many not-so-funny-anymore-mom jokes, I finally decided to treat my kids to a copycat Chick-Fil-A sauce at home with our own chicken nuggets and fries for a special treat.
Jump to:
What Is Chick-Fil-A Sauce?!
It's crazy to think back but we first moved to the South, I'd never eaten at a Chick-Fil-A let alone knew what Chick-Fil-A sauce is.
We quickly became familiar with this southern favorite fast food chain, the only one I can think of that closes on Sundays.
Known for delicious fried chicken nuggets and fried chicken sandwiches, Chick-Fil-A also has their own signature sauce that everyone loves to use as a dip for their trademark waffle fries.
Chick-Fil-A sauce is creamy dip that is a mild orange-red color that comes from a blend of mustard and barbecue sauce. It pairs perfectly with fried chicken and fries.
Haven't eaten at a Chick-Fil-A yourself? It wouldn't take long before you'd be part of their legions of fans.
This parody video is eerily close to the actual experience. The Chick-Fil-A near my house has actually been known to bring supplies out to the car accident victims in the crazy intersection nearby:
Why This is the Best Recipe
My youngest daughter is obsessed with Chick-Fil-A sauce and it is a standard part of our drive-thru order whenever we go.
I tested this recipe on her with a platter of baked chicken nuggets and got a hearty two-thumbs up.
This is the best copycat recipe because:
Only 6 Ingredients: You probably have everything in the fridge right now!
Easy to Tweak: Want it a little spicy? Want it more mustardy? You can make this just how you love it.
Keeps for a Week: You can prep it in advance and use it as a condiment for dinner all week long.
Kid-Friendly: This would be a sure-fire way to get your kids to try roasted potatoes or new veggies at home when served as a familiar dip for a new food.
Ingredients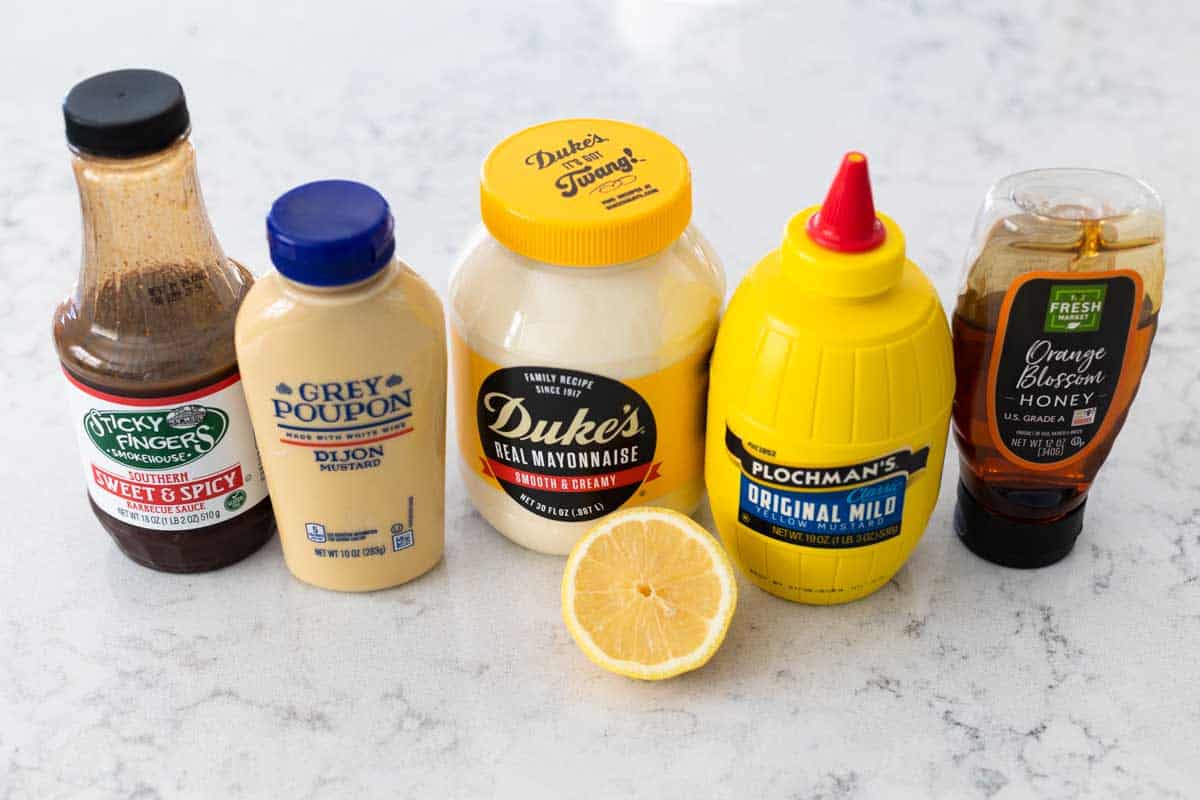 This chicken nugget or fry dip is so easy to make with a short list of ingredients you already have on hand:
Mayonnaise: For true southern flavor, use Duke's. For a lighter dip, use a mayo lightened with olive oil.
Dijon Mustard & Yellow Mustard: Yes, you'll need both.
Barbecue Sauce: Pick a vinegar-based or tomato-based bbq sauce, a mustard-based bbq sauce would be mustard overkill.
Honey: Traditionally, you'd use a sweet honey like orange blossom or wildflower. But if you want your dip to have a little kick, consider a hot honey infused with chili peppers. You can read all about my favorite hot honey recipes here.
Lemon: I love the flavor of a freshly squeezed lemon but in a pinch you could substitute white wine vinegar.
Mix the Sauce
Add both mustards, mayo, bbq sauce, honey, to the mixing bowl.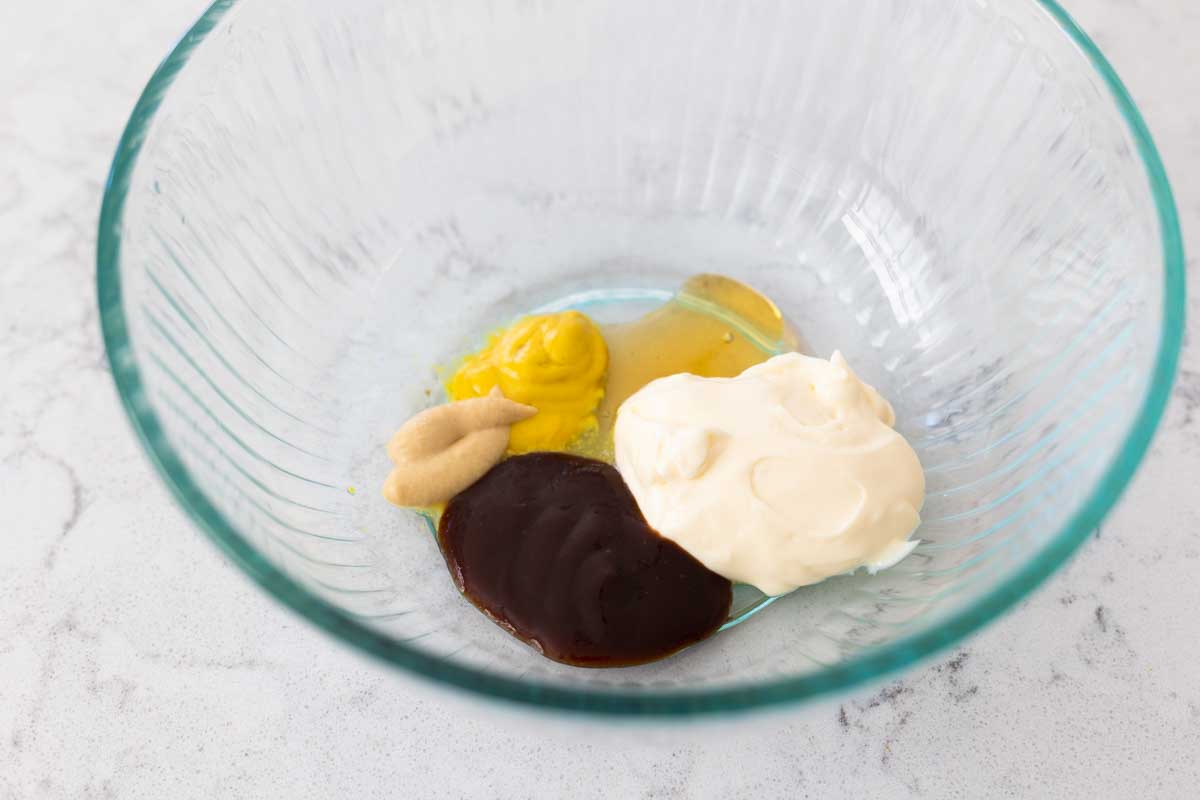 Whisk it all together and then squeeze the juice from half of the lemon over the top and whisk again.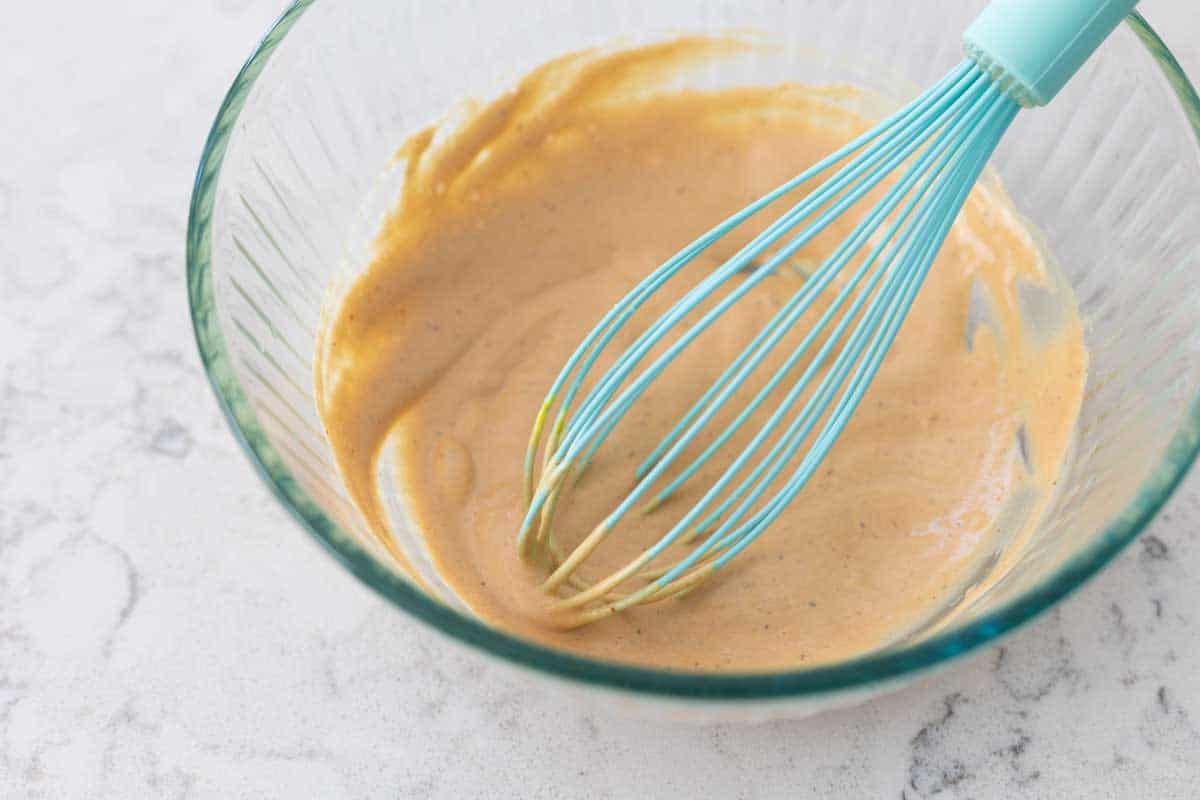 You could serve it immediately but the Chick-Fil-A sauce will taste better after the flavors have had a chance to mingle in the fridge for at least 30 minutes.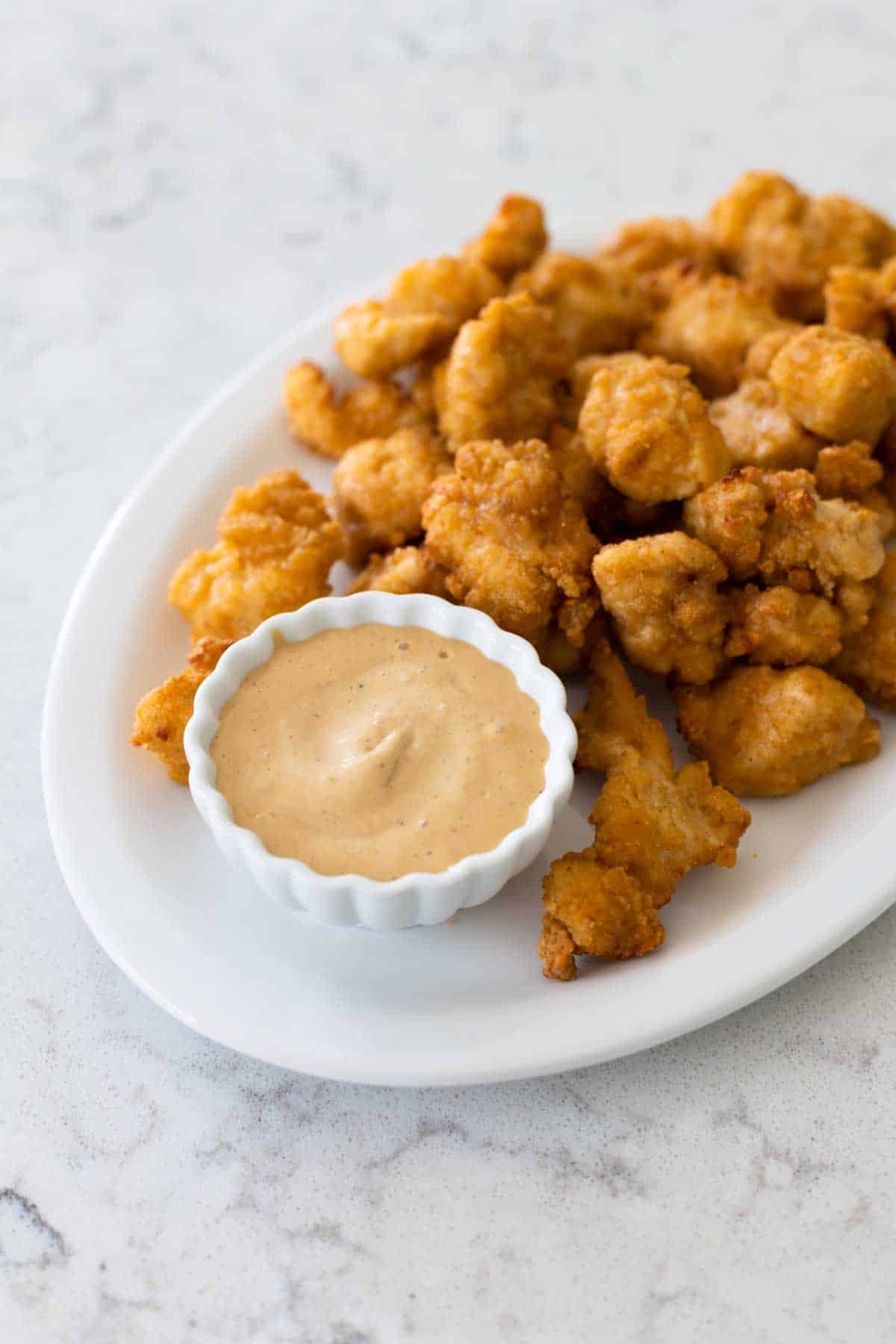 Make Ahead & Storage Tips
This homemade sauce can be stored in an airtight container in the fridge for up to 1 week which makes it the perfect make-ahead recipe for dinner.
Do not try to freeze the sauce, the texture will not keep during the thawing process.
It is much better to just mix up a batch as you need it!
Serving Suggestions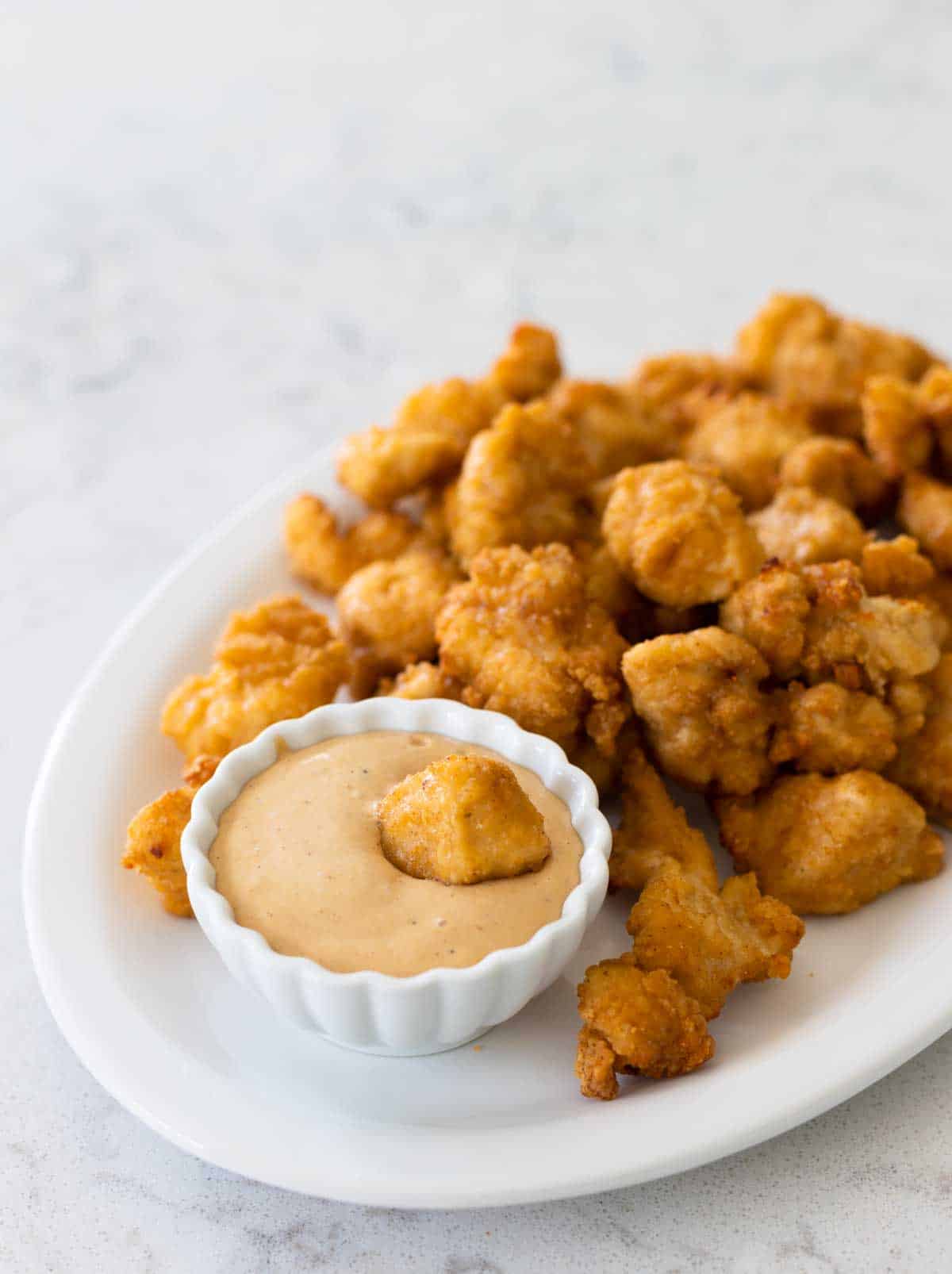 Serve this copycat Chick-Fil-A sauce just as you would if you were eating the Lord's Chicken itself:
I dumped a big serving of the best frozen chicken nuggets into our air fryer and served them with a cup of the Chick-Fil-A sauce on the side.
This creamy sauce is also a perfect partner to a sheet pan of your favorite frozen french fries baked in the oven or air fryer.
Want to get truly authentic?? Be sure to buy frozen waffle fries for the perfect Chick-Fil-A touch!
📖 Recipe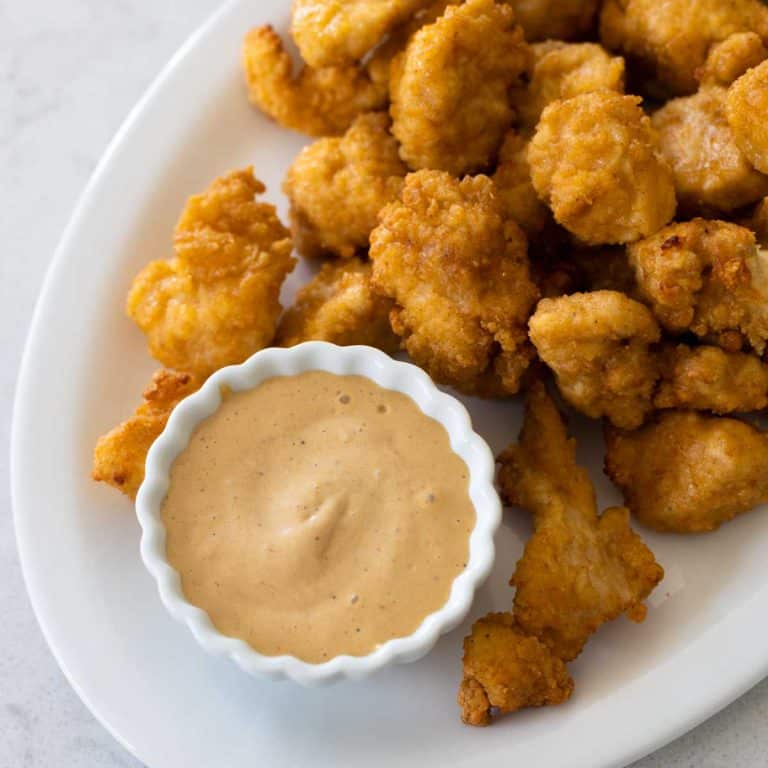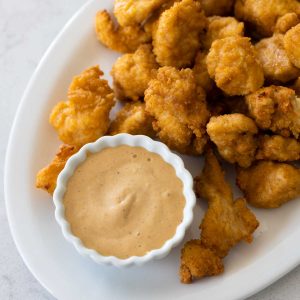 Copycat Chick-Fil-A Sauce
Make the deliciously famous chicken nugget and french fry dip everyone adores with this easy copycat Chick-Fil-A Sauce recipe that uses easy pantry ingredients you have right at home.
Serve the sauce chilled from the fridge with a warm fresh batch of oven baked or air fried frozen chicken nuggets or your favorite baked french fries or potato wedges.
Ingredients
½

cup

mayonnaise

¼

cup

honey

regular or spicy honey like Mike's Hot Honey

2

tablespoons

yellow mustard

2

tablespoons

Dijon mustard

¼

cup

BBQ sauce

½

lemon
Instructions
Add the mayonnaise, honey, yellow and Dijon mustards, and BBQ sauce to a small bowl.

Squeeze the juice from the lemon into the bowl and stir to combine everything together.

Cover and chill for 30 minutes before using. Serve cold or at room temperature.
Recipe Notes
Flavor Variations
Traditional Chick-Fil-A sauce is not at all spicy but if you love a little kick with your chicken nuggets, use a hot honey that has been infused with chili peppers. The sauce won't be too spicy but will have just an awesome depth of flavor.
For the BBQ sauce, you can use your favorite already in the fridge. A vinegar-based or tomato-based barbecue sauce will give you the most traditional flavor. I suggest avoiding a mustard-based barbecue sauce because it won't complement the yellow and dijon mustards already in the recipe.
Save This Recipe to Your Recipe Box
Find this delicious recipe next time you visit by saving it to your very own recipe box on my site. All your favorites stored in one easy place!