Charleston red rice or Savannah red rice, whatever you call this easy baked rice with bacon, is one of my favorite recipes on the local beach restaurant menus! Serve it as a side dish for chicken, fish, or your favorite seafood dish.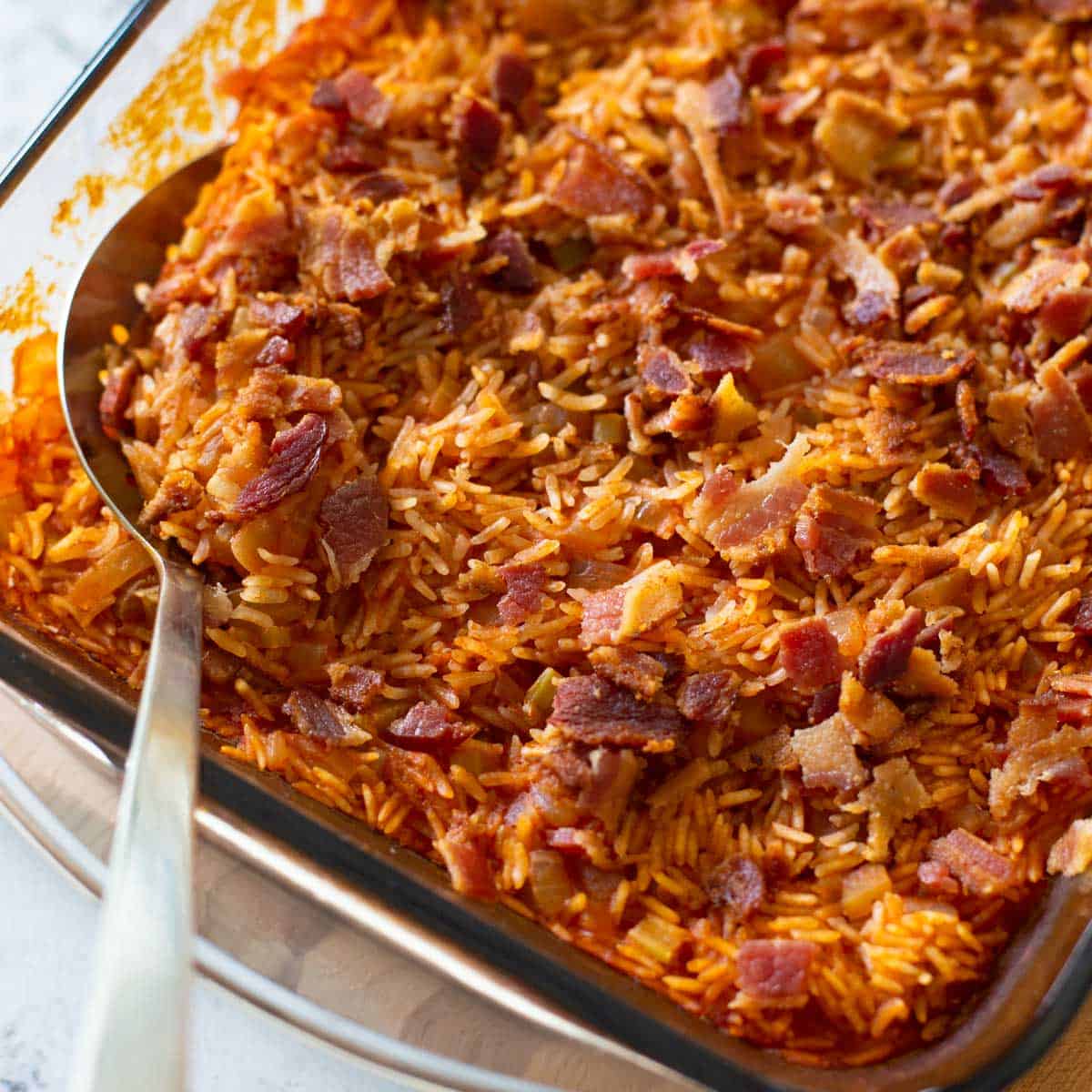 One of my very favorite things to do during our annual family beach vacation is to dine at local seafood restaurants and fill up on crab, shrimp, and all the grilled fish I can handle.
I get downright giddy when I spot "Savannah red rice" or "Charleston red rice" on the menu for a side dish.
This savory tomato-based red rice dish features a spicy sauce and crispy bacon.
It is often served in individual baking dishes at the crab shacks we visit, but you can bake a 9 x 13 pan of it so easily at home for a family dinner.
Jump to:
Ingredients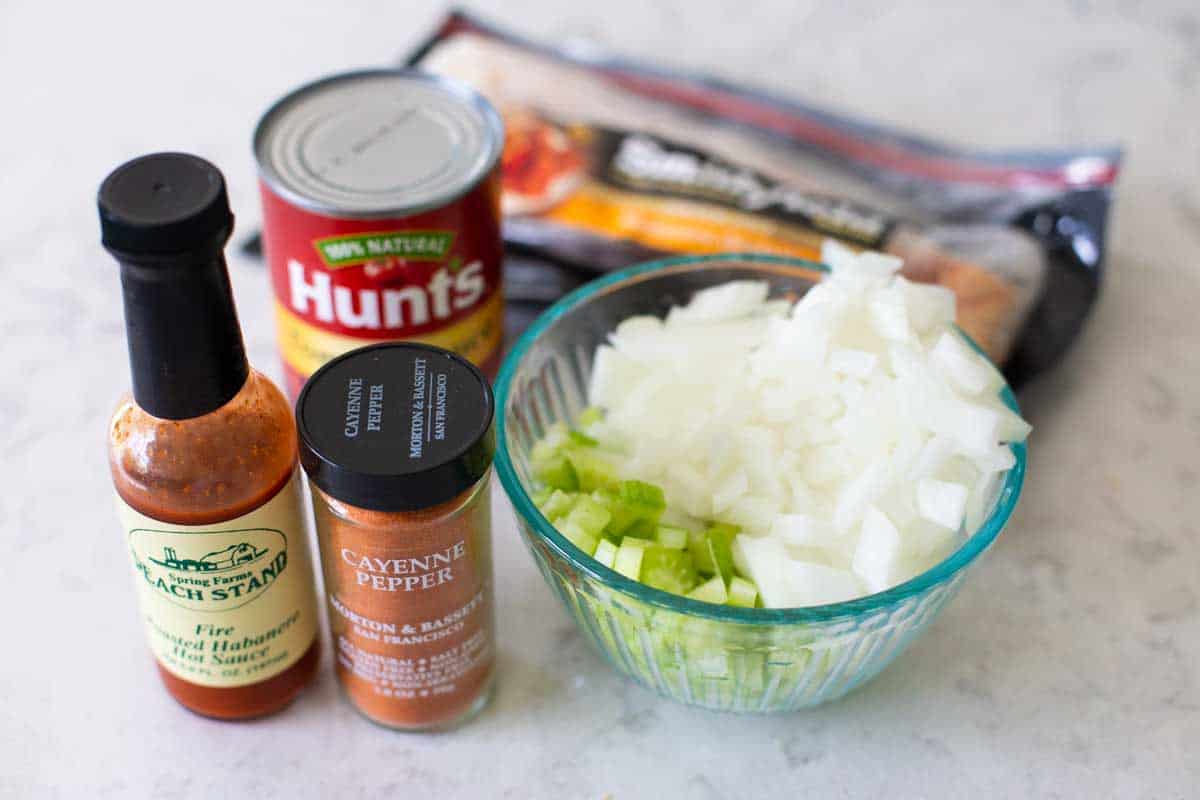 The ingredients to make homemade red rice are so easy. All you need is:
Long-Grain White Rice: I often use jasmine, too.
Bacon
Onion
Celery
Canned tomato sauce
Chicken Broth or Stock
Hot Pepper Sauce: Read why we prefer Texas Pete here.
Cayenne Pepper
How to Prep the Rice
The first step to making red rice is to fry up your bacon. I prepped it in a skillet but you could make my peppered bacon in the oven if you prefer.
Transfer the crispy bacon to a plate with paper towels to drain while you prep the veggies. You'll reserve the bacon for sprinkling over the top of the dish to keep it crispy.
Saute the onion and celery in the skillet until tender.
Add the tomato sauce, chicken broth, dry seasonings, and hot sauce and stir to combine.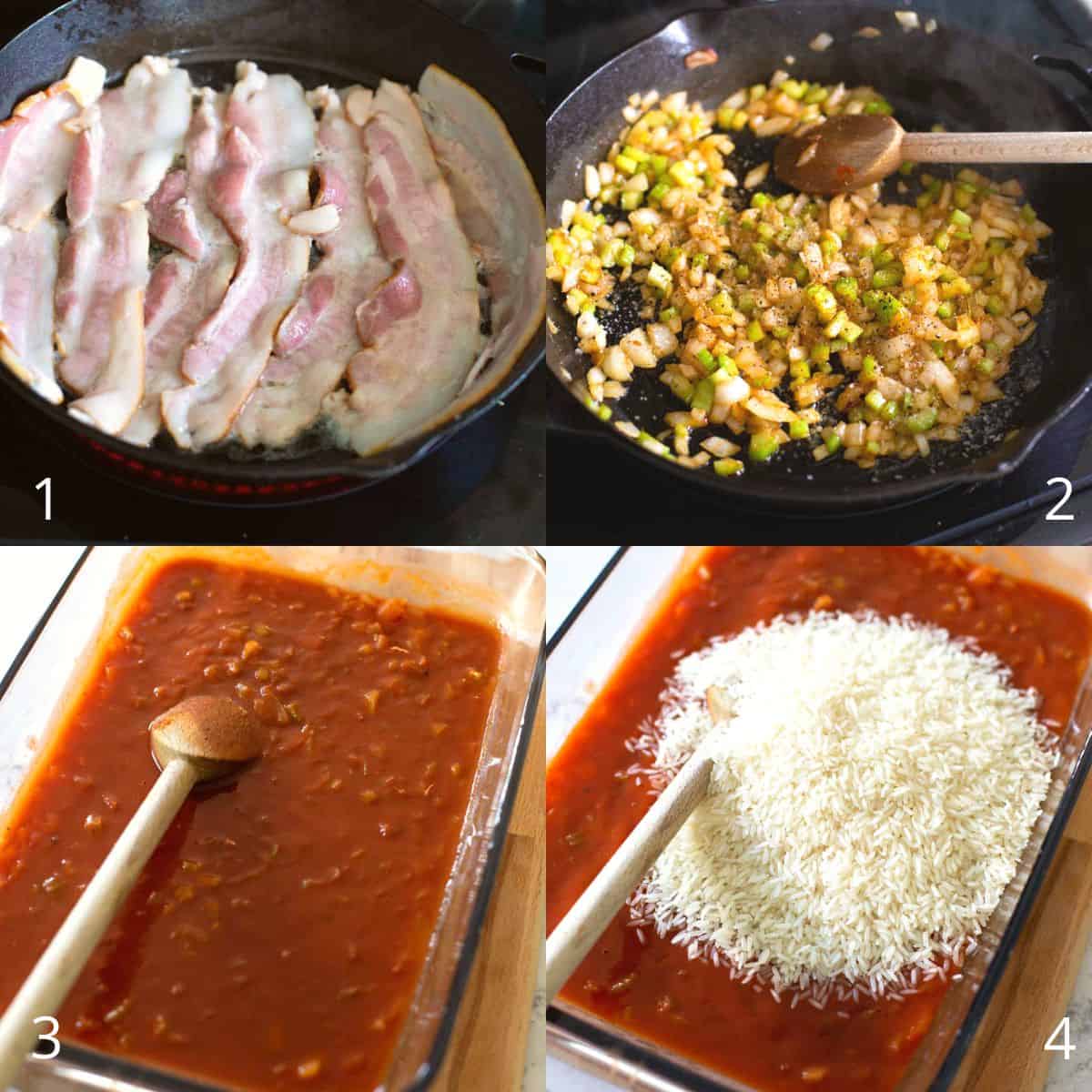 If your skillet is large enough, you can finish the entire dish right in the skillet. Mine wasn't large enough so I transferred the mixture to a 9 x 13-inch baking dish.
Add the rice and stir it in.
Bake the Red Rice
Cover your baking dish tightly with aluminum foil.
Bake at 350°F for 35 minutes or until the liquid has been absorbed.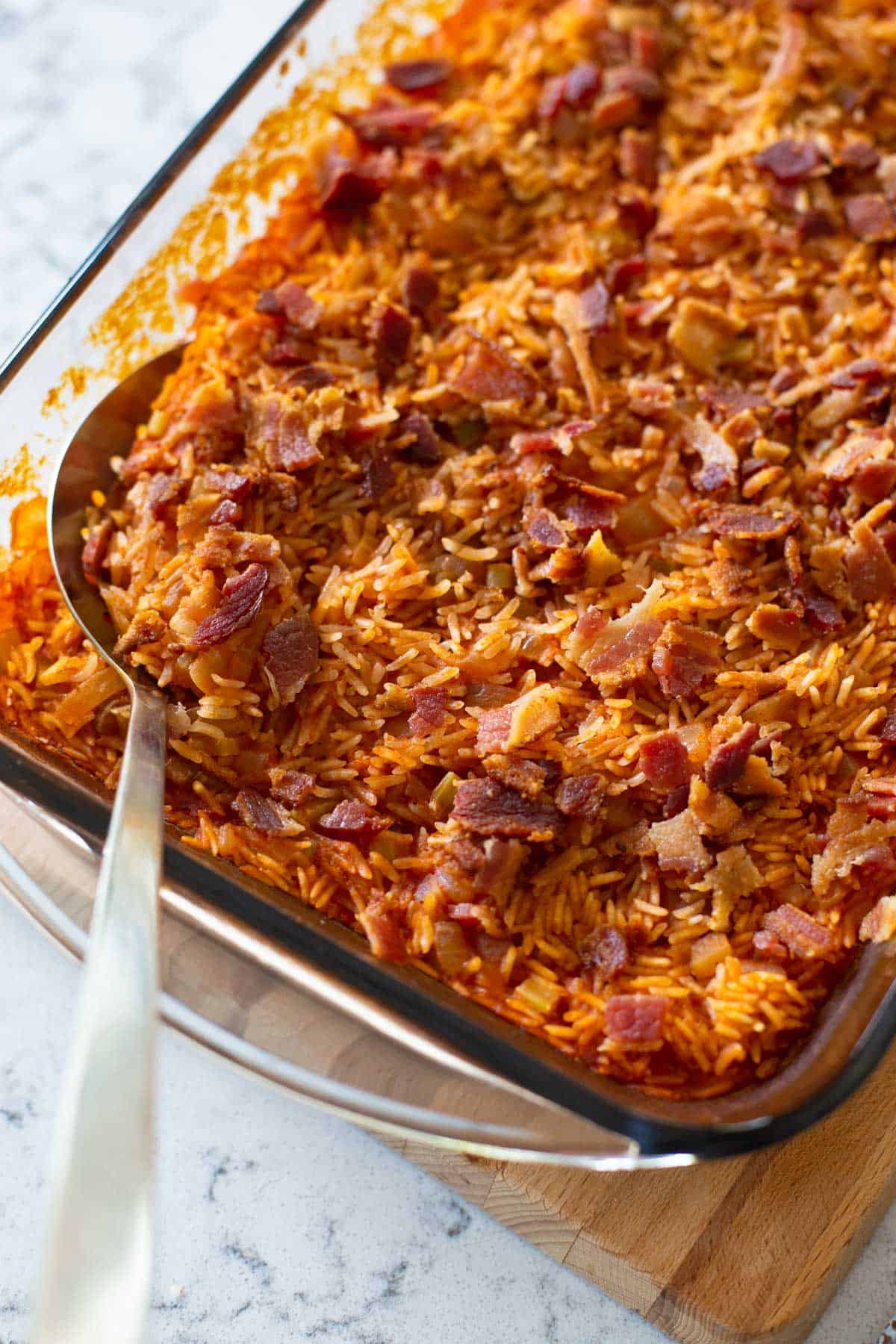 Crumble the reserved bacon strips and sprinkle them over the top of the dish before serving.
Prep Ahead Tips
This recipe is best when served right after baking it fresh.
If you want to prep it ahead, you have to choices:
1. Use Pre-Cooked Bacon
To save time preparing this recipe, it helps to have pre-cooked bacon.
You could bake a batch of my peppered bacon recipe in the oven and it will shave at least 10 minutes off your prep time.
If you don't want to reserve some of the bacon fat from the cooking process, simply substitute a bit of olive oil to your skillet for sauteing the vegetables.
2. Prepare the Tomato Sauce
You could prep the recipe right up to the point just before adding the rice. Store the tomato sauce mixture in your fridge in an airtight container and simply heat it up before stirring in the rice and baking.
I recommend storing the bacon separately and heating it up in the microwave before crumbling it over the casserole.
Serving Suggestions
Southern red rice with bacon is an amazing side dish with your favorite seafood recipes. I love it most with my seasoned grilled tilapia.
We love it with oven baked salmon or easy shrimp dinners like my seasoned boiled shrimp or this 5-minute spicy shrimp.