Easy oven roasted salmon is the perfect 15-minute dinner. Seasoned with butter and a sprinkle of our favorite Chef Paul seasoning, this is a huge family favorite dinner. Add a couple of quick stovetop sides to make a perfect busy night meal.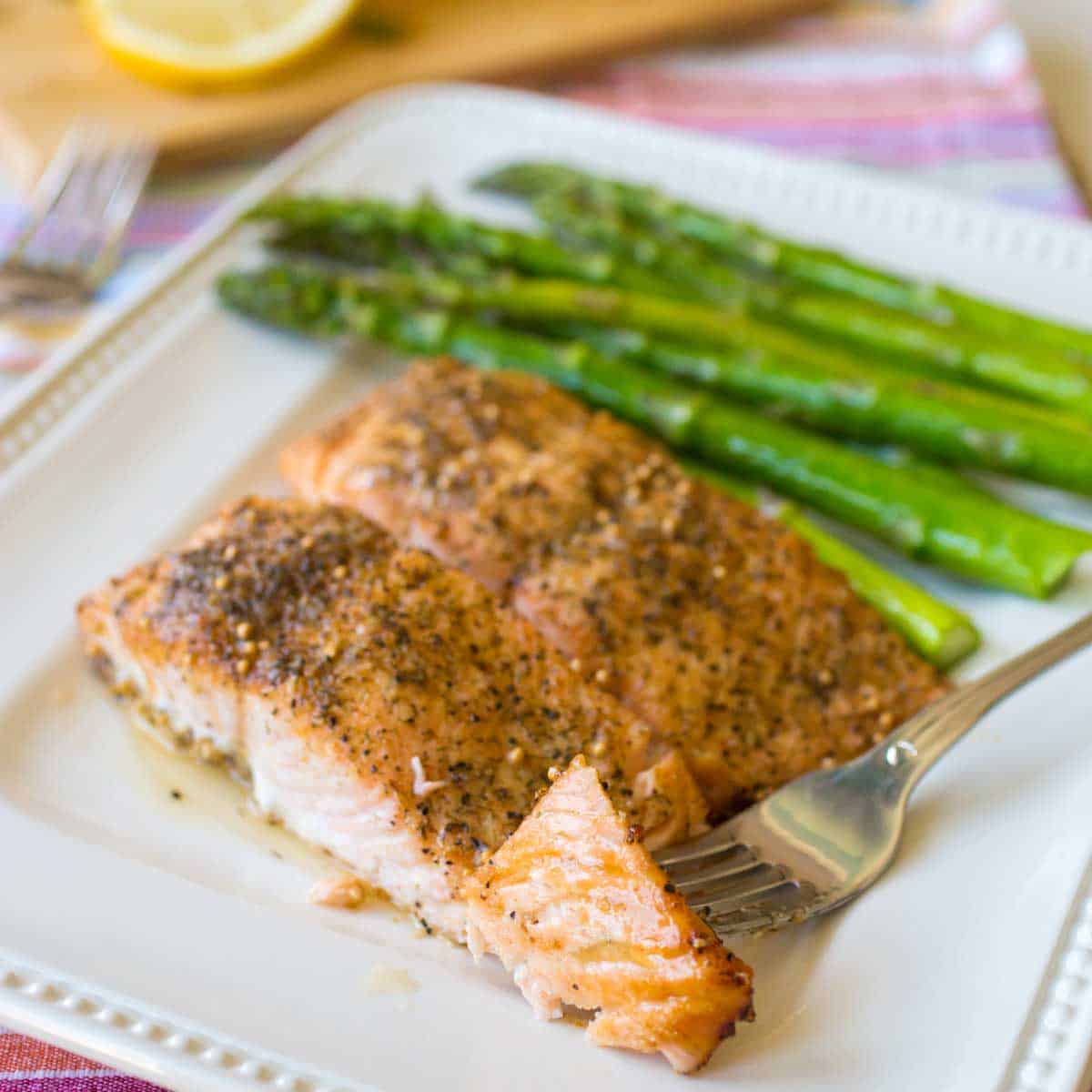 I was never a big fan of seafood growing up. When we got married, we moved to Providence, Rhode Island for a couple of years. Being surrounded by some of the very best seafood in the country during that time finally won me over.
But there's a big difference between eating fish in a restaurant and attempting to make it yourself at home.
As a new cook, I was super nervous to try cooking fish in our little apartment but I knew it was such a healthy dinner option for us.
One of the very first recipes I ever tried, an easy roasted salmon, made its way permanently into our dinner rotation. I've made it several times a year for the last nearly 20 years.
Pair it with a simple herb butter rice and a citrus salad for an easy meal.
Jump to:
Why This is the Best Recipe
As much as we love salmon of all kinds, I think this is the best oven baked salmon recipe because:
Just 3 Ingredients: It includes just the salmon and two additional ingredients.
Quick Dinner: It is finished in 15 minutes (maybe 20 if your salmon is extra thick.)
Fool Proof Recipe: Even newbie cooks can nail it right from the first try.
Kid-Friendly: It is very kid-friendly, my daughters call this "pink fish" and love when it hits the rotation.
Fun Fact: This dish is so easy, I take it on the road with me when we go to our annual beach vacation. It is a perfect thing to cook in a rental kitchen because it is so easy.
Get all the details on the week of beach house recipes here.
Just 3 Ingredients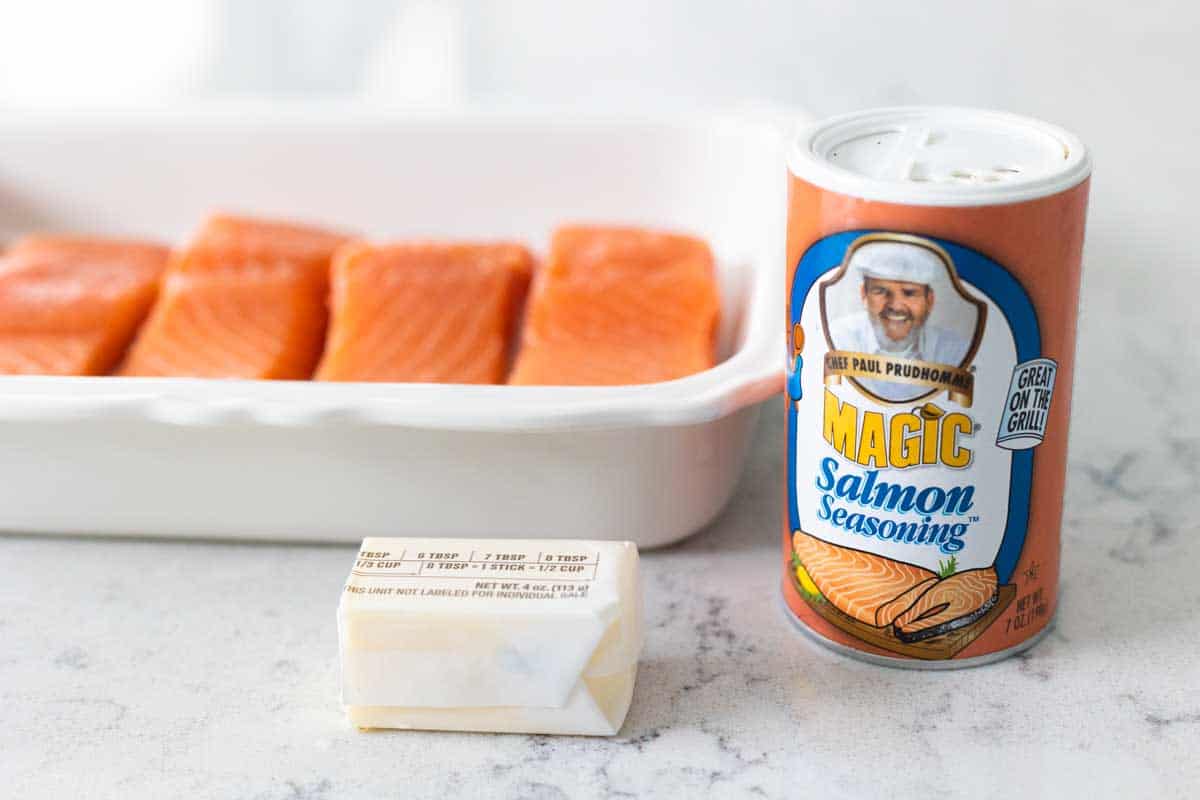 I promised just 3 ingredients. All you need to make this recipe is:
Center Cut Salmon Fillets: Ask your fish seller to remove the skins for you to make it even easier.
Butter
Salmon Seasoning
The Best Salmon Seasoning
This simple salmon is made with melted butter and our favorite seasoning blend for salmon. The butter gives the fish lovely crispy edges and is what we love most about the dish.
The salmon seasoning blend we have used for all these years is Chef Prudhomme's Magic Salmon Seasoning.
I've found it in every state we've lived in from New England, to the midwest, to the south.
If you can't find it at your local grocery store, you can order it on Amazon right here.
Prep the Salmon
Line the salmon fillets up in a 9 x 13-in baking dish.
Brush the tops and sides with melted butter.
I like to lift each fillet and let some of the melted butter drizzle underneath the fish, too.
This helps avoid the need for cooking spray for your pan.
Then, give a generous sprinkle of seasoning over the fillets.
Try to get some on the sides of each piece, too.
I never really measure, I just sprinkle until it looks seasoned enough, but I bet there is about ½ - 1 teaspoon of seasoning per fillet.
Our meal looked like this before I baked it: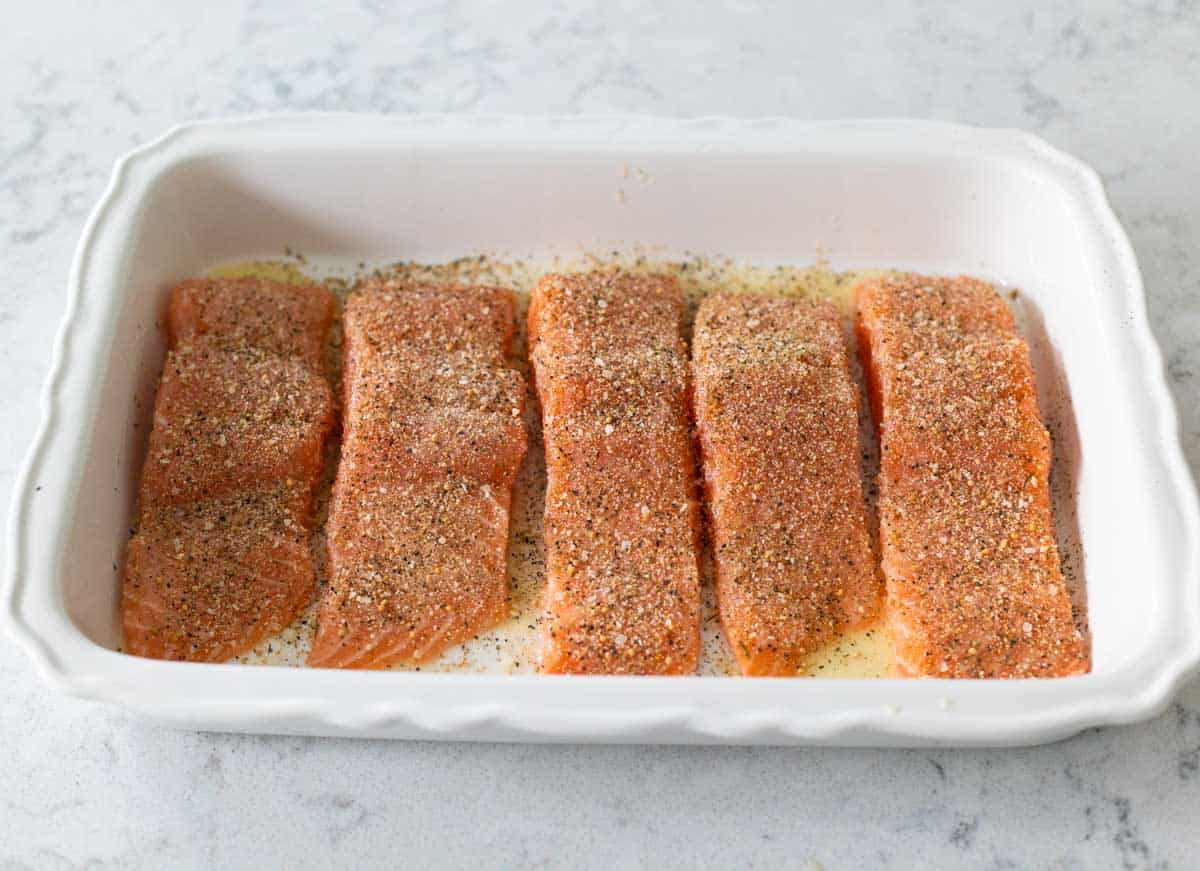 Baking Instructions
Preheat the oven to 450°F.
Bake the salmon for about 15 minutes or until it flakes easily with a fork at the thickest part.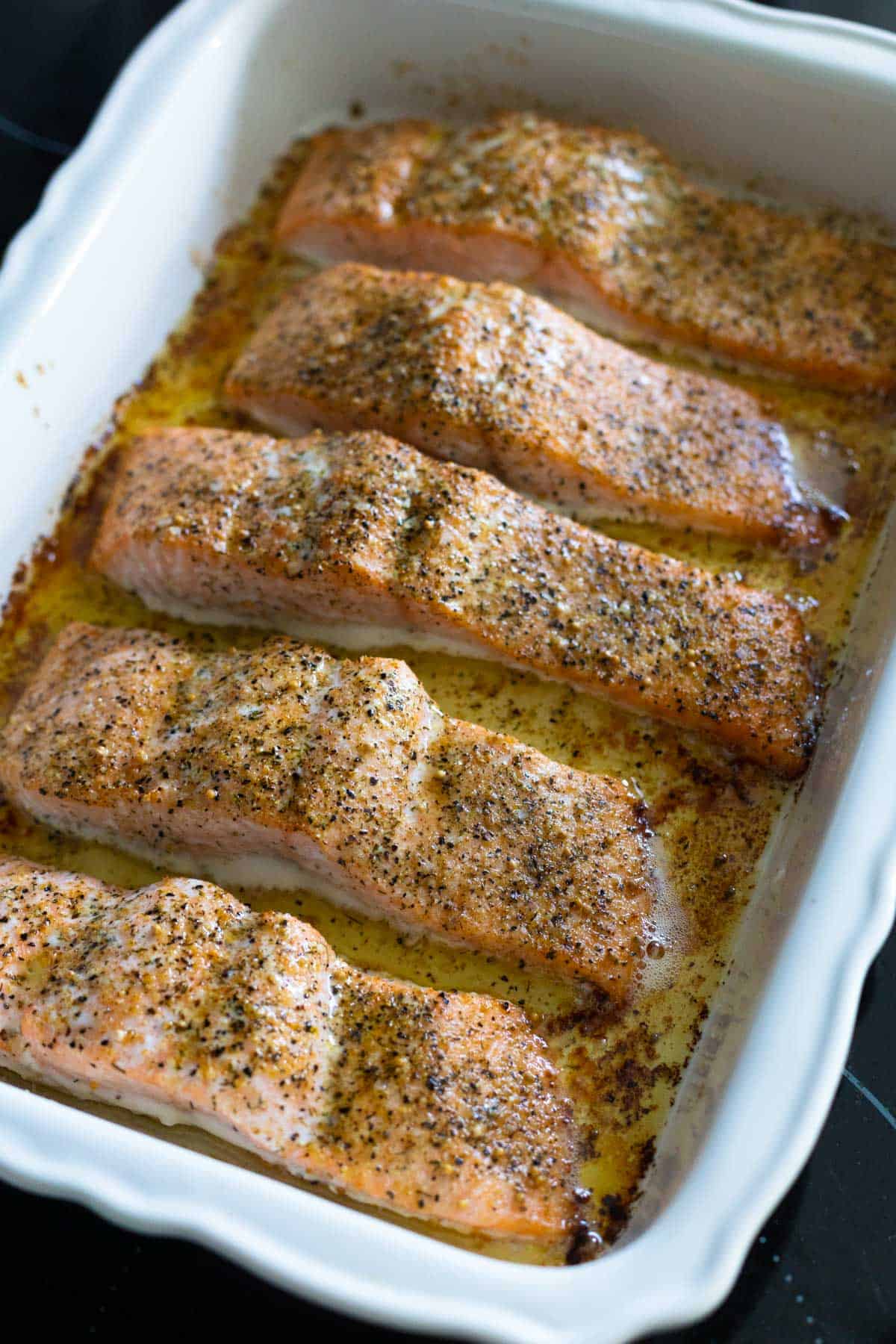 How to Tell if it is Cooked Through
When we dine out, most restaurants serve salmon medium well and I find that to be a little under done for my taste.
At home, we always make our salmon well done. I find it flakes easier and is more palatable for my family.
To ensure your salmon is cooked through without having to break it open with a fork, you can test the temperature with a probe thermometer.
It should read at least 145°F.
Make Ahead Tips
You could butter and season the salmon fillets in a baking dish and just store it covered in plastic wrap in the fridge for up to 12 hours.
Then just bake as directed.
You can freeze salmon, but we prefer to eat it fresh the day we purchase it. I find it has a much better texture and flavor.
Leftover cooked salmon makes an excellent sandwich filling or salad topping the next day.
Just be sure to eat your salmon within 36 hours of baking it, after that it is best to just discard it.
Serving Suggestions
Even if you don't enjoy cooking, you can serve your family this fresh roasted salmon for dinner and look like a total rock star.
The salmon takes less than a minute to prepare.
While it roasts in the oven, you can switch your attention to simple stovetop side dishes to finish the meal.
We've switched up our favorites over the years, but each of these side dishes are the perfect easy dinner solution and taste great with the salmon seasonings.
If you're looking for something to whip together super quickly, here are a few of my go-to pantry items:
Simple Side Dishes to Serve with Salmon
Packaged rice mix:
My kids swoon over chicken-flavored Rice-A-Roni but Ben's wild rice is fantastic, too. Don't have those on hand? Just make whatever rice you love. Most cook in 15 minutes or less. If you have an Instant Pot, my herb butter rice takes just 3 minutes!
Packaged pearl couscous:
NearEast makes a package of pearled couscous in an olive oil and garlic flavor my husband LOVES. Even if you don't think you like couscous, I'd highly recommend trying it. The grains are much larger than regular couscous and the seasoning in this package is very savory. This cooks in 5 minutes or so.
Frozen potato pierogis:
You can find frozen potato and onion pierogis at your grocery store. I melt a few tablespoons of butter with 1 - 2 tablespoons of olive oil in a large skillet and simply brown up the pierogis on both sides over medium heat. Just flip them over, back and forth until they are nice and golden brown. This takes about 15 minutes.
Bagged salad mix:
For your veggies, just toss together your favorite bagged salad. It only takes a couple extra minutes to make this delicious citrus salad.
Frozen vegetables:
Another veggie option is to pop a bag of peas, mixed veggies, asparagus, or broccoli in the microwave. If you have an air fryer, don't miss these easy green beans.
Salsa corn:
A fun way to mix up the veggies is to microwave a bag of yellow sweet corn and stir in fresh pico de gallo or a bit of prepared fresh salsa.
📖 Recipe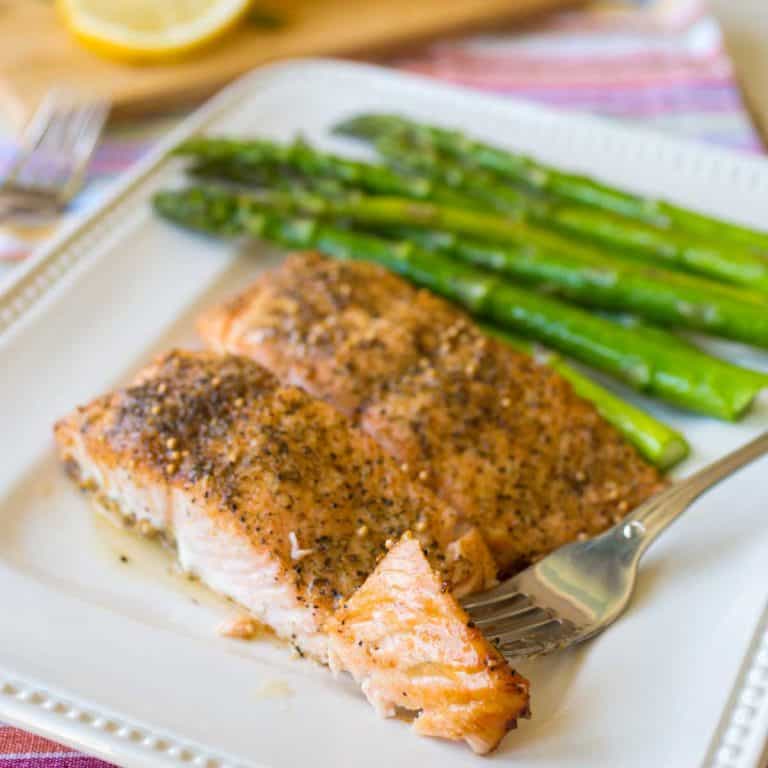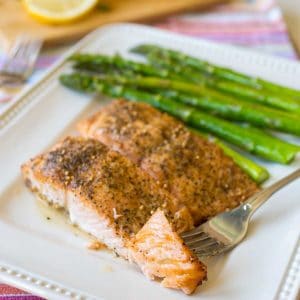 Oven Baked Salmon
This simple oven baked salmon is perfect for beginner cooks or for a busy weeknight. Just 3 ingredients and 15 minutes to a delicious and healthy dinner.
Ingredients
6

center cut salmon fillets with skin removed

2 - 3

tablespoon

butter

2 - 3

tablespoon

of Chef Paul Prudhomme's Magic Salmon Seasoning
Instructions
Preheat the oven to 450°F.

Spray a 9 x 13 dish with cooking spray and lay the salmon evenly in the dish. Be sure to leave room between each piece so the sides can brown up properly.

Put the butter in a microwave-safe bowl and melt on HIGH for 20 seconds. Brush the melted butter all over the tops and sides of each piece of salmon. Pour any remaining butter over the top.

Sprinkle the Magic Salmon Seasoning heavily over the top of each piece of fish. You'll use about 2 - 3 tablespoon of the seasoning in total.

Cook for 15 minutes or until the fish easily flakes with a fork at the thickest part of the fish.
HELPFUL TOOLS
Save This Recipe to Your Recipe Box
Find this delicious recipe next time you visit by saving it to your very own recipe box on my site. All your favorites stored in one easy place!