This fresh and healthy mustard glazed salmon with arugula and oranges is a great family dinner for a busy weeknight.
My goal for the new year was to get the family to eat more veggies. I've been quietly working on this over the last few weeks with mixed success. I don't want to point fingers or anything, but there is one very tall member of our family that has been the biggest challenge.
This weekend we had a major breakthrough. Major.
I was thumbing through my new copy of Everyday Food Light (highly recommended!) while Tim ate his breakfast. He happened to glance over and saw a picture of this arugula salad.
"What's that?"
My mouth DROPPED. He has never shown interest in a salad before. I continued paging through the book looking for an entree and he stopped me.
"No, go back, what's in that?"
What?! Who are you and what have you done with my husband.
The short end of this story is that this entire meal was based on Tim's interest in this salad. Each element on their own is good, but all together? Recipe magic.
Tim's review is what really matters here though:
"This arugula and endive are a little disturbing but the dressing and the oranges overpower them and make them tolerable. The salmon is fantastic. Please make this again."
Music to my ears!
As for me, my tastebuds were singing. I stored the leftover salad (minus the dressing) in the fridge and ate it for lunch the next day with some leftover salmon. It makes an amazing salad if you want to serve the salmon right on top because the dressing ingredients are very similar to the salmon glaze. For dinner, we served with a side of couscous, easy peasy!

Mustard glazed salmon: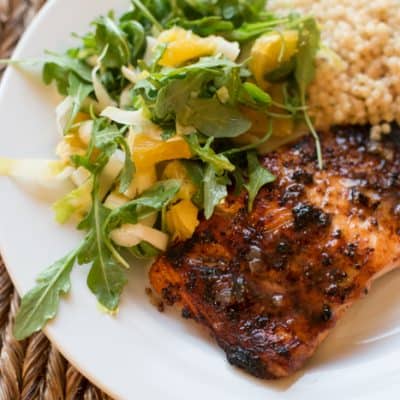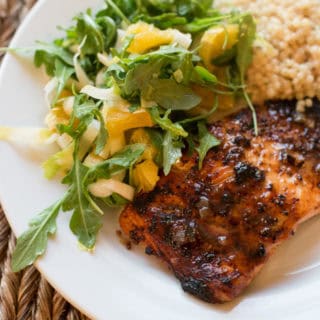 mustard glazed salmon
Sweet and sticky mustard glazed salmon is a simple seafood entree for families.
Ingredients
1 tbsp olive oil
½ small onion, minced
¼ cup red wine vinegar
¼ cup whole grain mustard
¼ cup packed brown sugar
salt and pepper
8 fillets of salmon, skin removed
Instructions
Heat the broiler with rack in top position. In a small saucepan, heat the olive oil over medium-high. Saute the onions until translucent. Add vinegar and cook until nearly evaporated. Add the mustard and brown sugar and heat through. Season with salt and pepper and remove from heat. Put half of the glaze into a small bowl, reserve the rest.
On a cookie sheet lined with parchment paper, line up the salmon fillets. Brush the fish with the glaze you separated into the bowl. Be sure to get the sides. Broil until the glaze is bubbling but watch so that it doesn't burn. It happens quickly because of the sugar! Fish should be opaque throughout. Roughly 5 - 10 minutes depending on the thickness.
Remove pan from broiler and brush with the reserved glaze.
Serve with the salad and couscous. Makes excellent leftovers.
Arugula and oranges salad with mustard vinaigrette: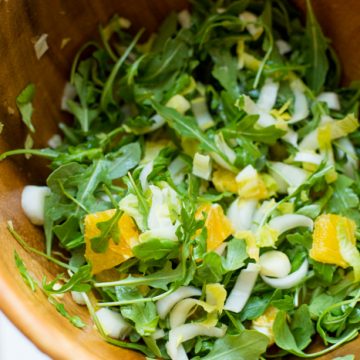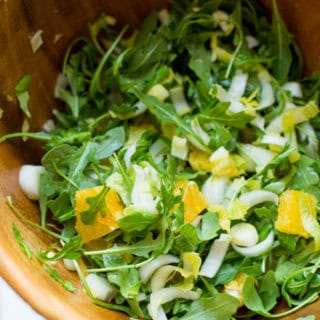 arugula and oranges salad with mustard vinaigrette
This peppery salad features fresh arugula and sliced fresh oranges for a zippy side dish. The savory mustard vinaigrette is the perfect topping. Serve with your favorite fish or chicken dinner.
Ingredients
For the salad:
2 oranges, peeled, quartered, and sliced
4-6 heads of Belgian Endive, sliced crosswise
5-6 cups of arugula
For the dressing:
2 tbsp red-wine vinegar
1 tbsp whole grain mustard
2 tbsp olive oil
3 tbsp fresh orange juice
salt and pepper
Instructions
Whisk together the dressing until thickened and combined.
In a large bowl, toss the salad ingredients with the dressing. Serve immediately.
(Or, make the salad mix but store separately from the dressing for leftovers!)
Both recipes inspired by Everyday Food Light. Love that book because it has very helpful nutritional information on each recipe and every one is 500 calories or less. We'll be cooking almost exclusively from it for a few weeks and I can't wait!