Learn how to cook salmon in an air fryer for an easy dinner recipe. Pair it with healthy fresh green beans and a sprinkle of seasoning for a one-pot recipe with easy clean-up.
Busy nights require fast meals but they can still be totally healthy!
When you need to get dinner on the table fast but don't want to feel guilty about what's going on the plate, this delicious seasoned salmon cooked in an air fryer is the perfect fix.
Fresh salmon fillets are brushed with a bit of butter and seasoned to perfection. Toss in some fresh green beans and let them all air fry together for a one pot meal.
Need more salmon? You can leave the green beans out and fill the space with up to four salmon fillets at one time.
Jump to:
Ingredients
I'm including everything you need to know to cook salmon in the air fryer, with or without the green beans as a healthy side dish.
Fresh Salmon Fillets: Ask your butcher to remove the skins for easy cooking. Each fillet is roughly 2 inches wide.
Fresh Green Beans: I love to buy the pre-washed bag for quick cooking, but you can wash and trim your own beans if you prefer.
Olive Oil
Butter
Minced Garlic
Salmon Seasoning: You can use whatever salmon seasoning your family prefers but our forever-favorite is Chef Paul Prudhomme's Salmon Magic. It has a mixture of mustard and brown sugar with the seasonings. You could make your own glaze using this mustard salmon recipe if you prefer.
Be sure to see the recipe card for quantities.
Instructions
Lay the salmon fillets on a plate or prep tray. Melt the butter in a microwave-safe container and brush it over the tops and sides of each fillet.
Sprinkle the seasoning over the top. Set aside.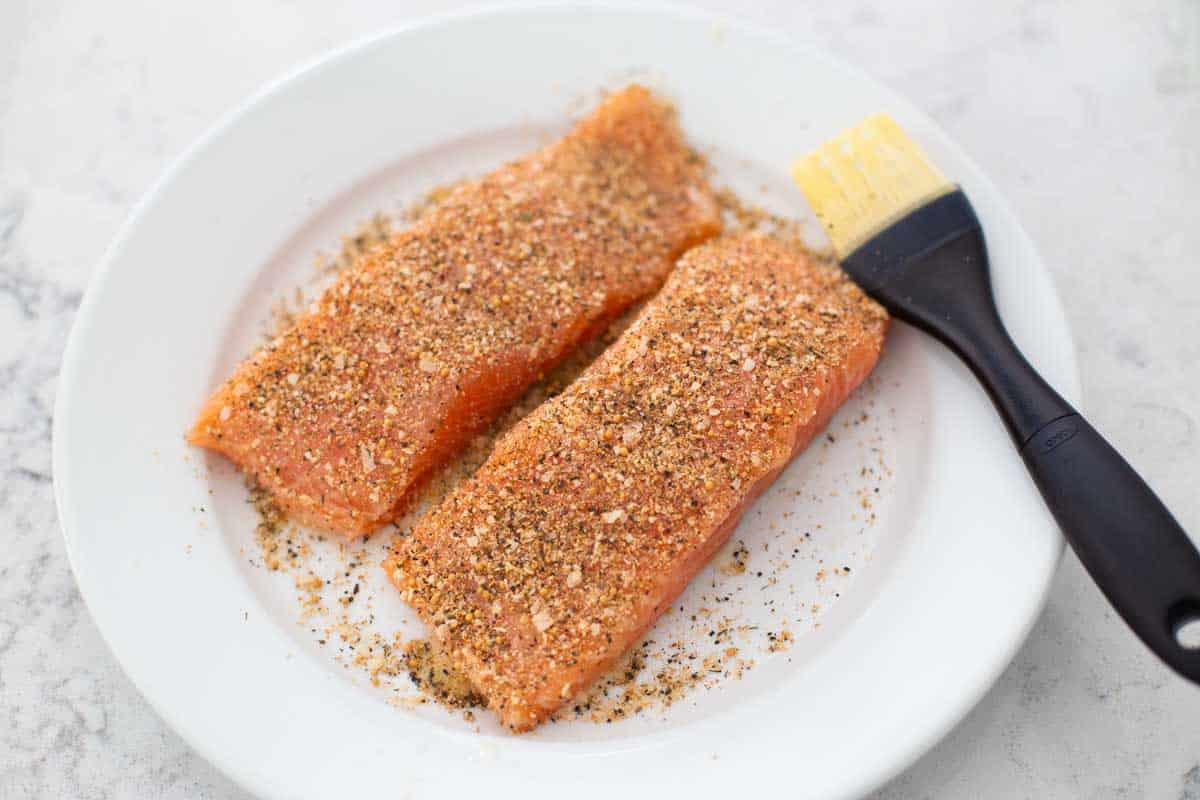 In a mixing bowl, toss the green beans in olive oil.
You can leave the green beans plain or you can season them with a bit of salt & pepper or another spice blend you love.
Something with a hint of citrus would be especially tasty.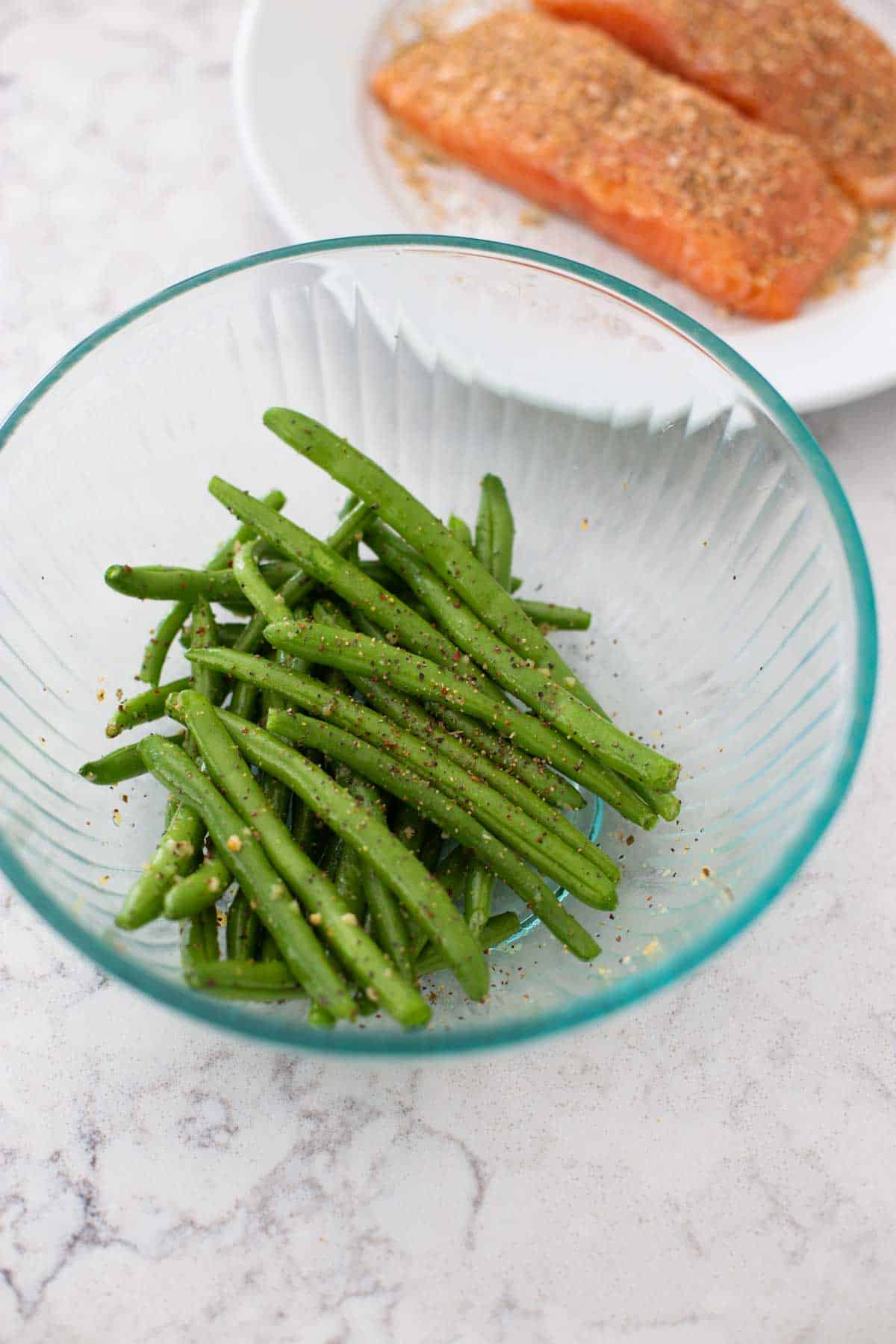 Place the salmon and green beans near the air fryer.
Turn your air fryer on and let it run empty to preheat at 400°F for 5 minutes.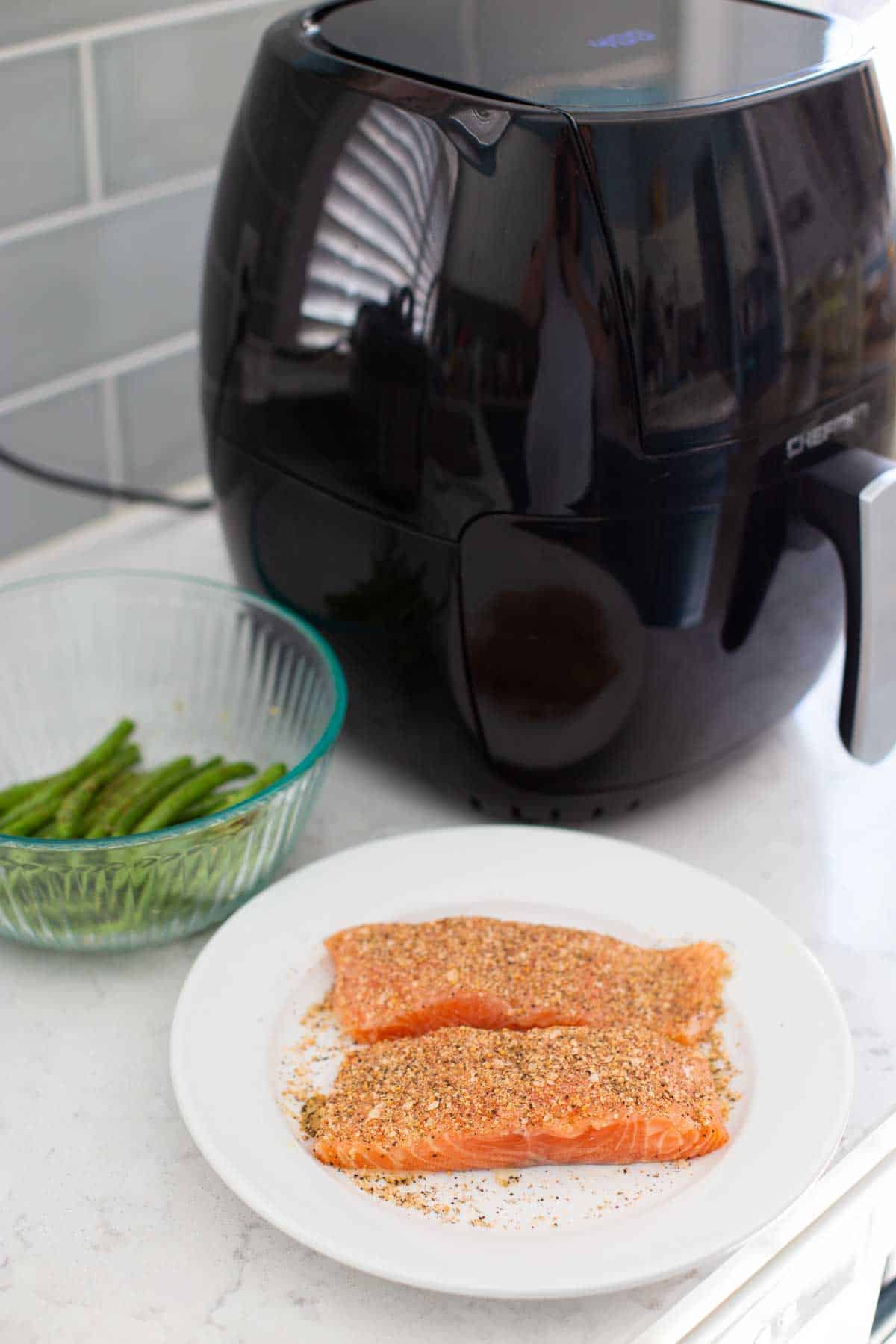 SAFETY TIP: The air fryer basket will get very hot. Be very careful when you add the food to the basket so you don't burn yourself.
Use a silicone pair of tongs or spatula to place the salmon and beans in the air fryer basket so you don't scratch the non-stick surface.
Place the salmon on either end of the basket and sprinkle the green beans along the other open surfaces. Everything should be in a single layer.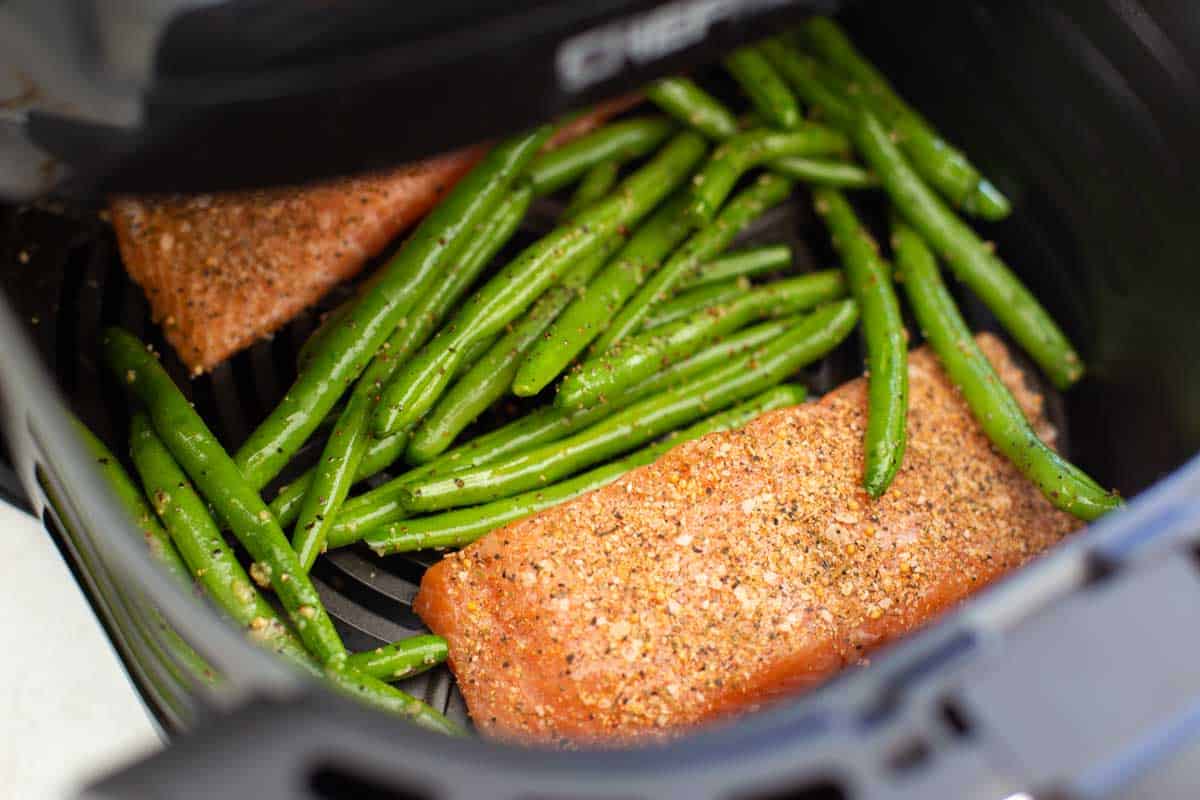 Close the basket and cook the salmon for 10 - 12 minutes.
IMPORTANT TIP: The thickness of your salmon fillets can affect the cook time. If you have especially thick cuts of fish, or the fillets were trimmed wider, you may need additional time.
If the beans are finished before the salmon, you can transfer them to a clean plate and tent loosely with aluminum foil while the salmon finishes.
How to Know the Salmon is Cooked
Perfectly cooked salmon should easily flake when a fork is inserted in the thickest part of the fish.
If you have a probe thermometer, the salmon is safe to eat once it reaches 145°F.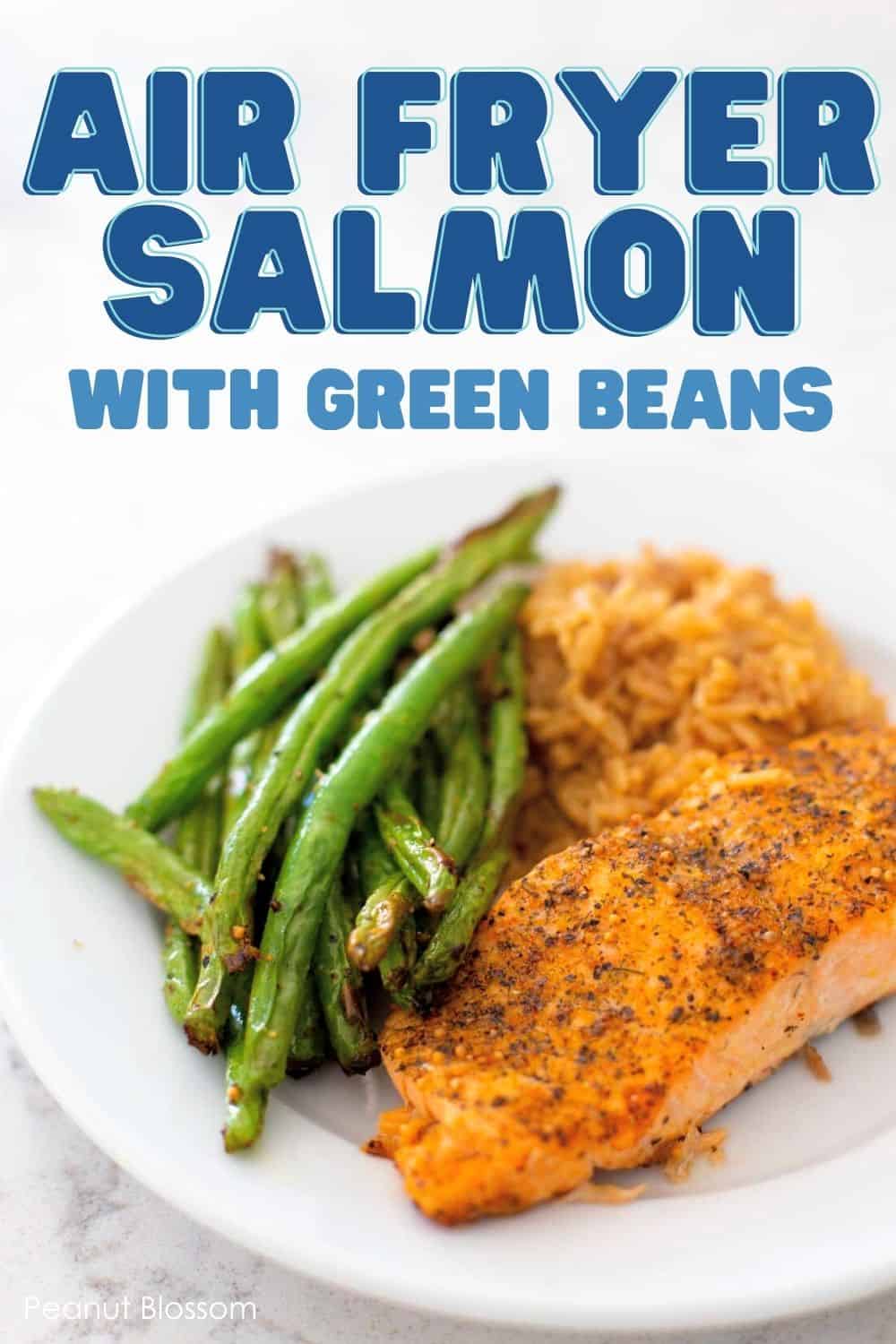 Substitutions
All Salmon: You can leave the vegetables out altogether and cook up to 4 - 6 salmon fillets at one time, depending on the size of your air fryer.
Veggie Substitutions:
If you don't prefer green beans, these veggies would also cook wonderfully in the air fryer:
Bell Peppers and Onions
Broccoli florets
Asparagus
Sugar Snap Peas
More Air Fryer Recipes
Not sure about salmon for dinner? You can make the green beans on their own or mix them with one of these delicious air fryer chicken recipes. Pair them with our favorite Instant Pot sticky butter rice for an easy dinner in minutes.
If you've tried this air fryer salmon and gren beans or any other recipe on PeanutBlossom.com please don't forget to rate the recipe and let me know where you found it in the comments below. I love hearing from you!
FOLLOW along on Instagram @peanut.blossom as well as on  Pinterest and Facebook.