This delicious marinated chicken recipe is absolutely perfect when made in the air fryer. The Indian tandoori marinade features yogurt and seasonings but isn't too spicy for kids. Serve the chicken thighs on their own or chop them up to serve over rice or use as a salad topper.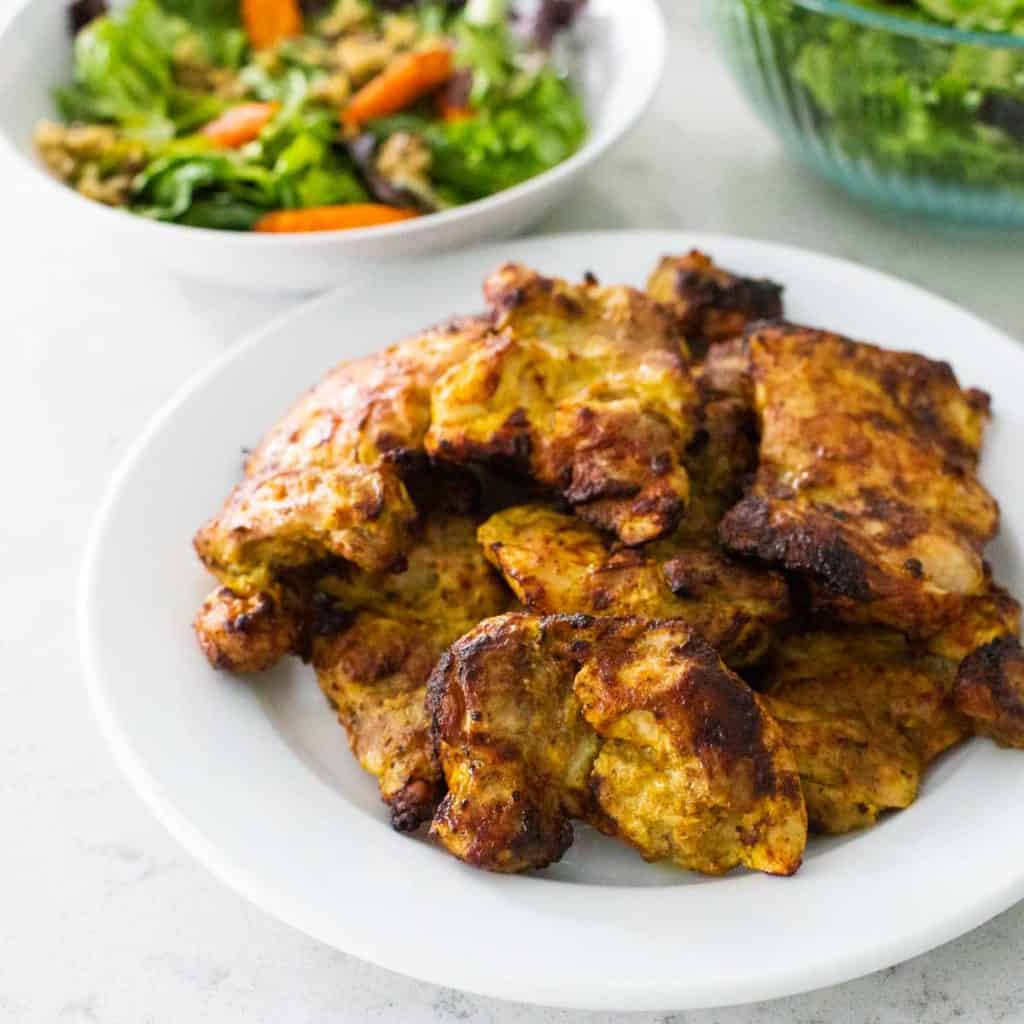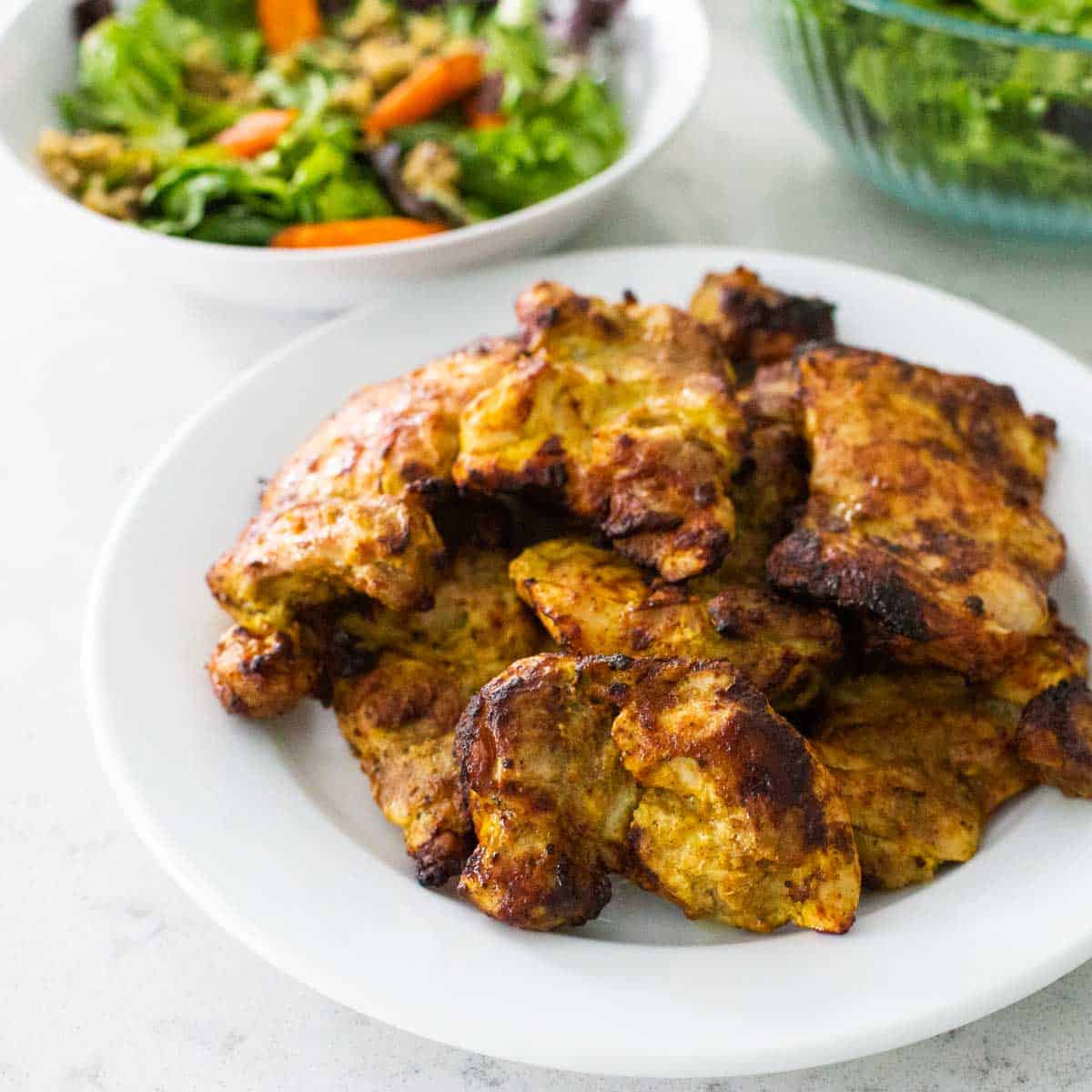 The air fryer my husband got me for Christmas has completely changed the way I cook dinner!
Gone are the days of trying to balance cooking times and temps. Now I can use my oven for roasting veggies while our meat main dish gets cooked to perfection on the counter top air fryer.
Of all the main dishes I've tried cooking in there, these marinated chicken thighs are my family's very favorite. The kids beg for "that spicy chicken" but I promise the spice blend isn't too hot for picky eaters.
I mix up the chicken marinade earlier in the day and at dinner time I simply pop the chicken into the air fryer. It leaves me so much extra time for prepping the veggies to go with the meal.
Jump to:
What Do You Need to Make This?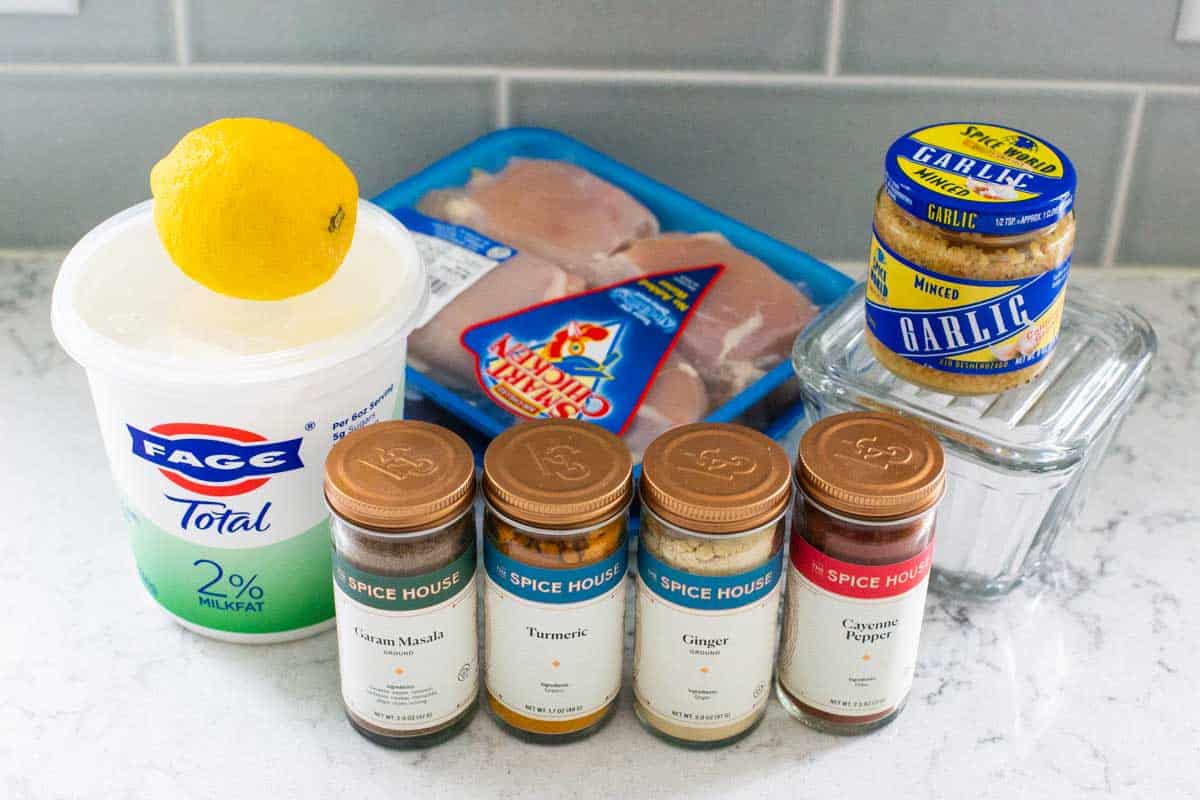 The tandoori marinade is really so very simple:
Plain Greek Yogurt: I love using the lower fat 2% greek yogurt. You could use the whole milk yogurt, it doesn't have to be Greek. Just avoid fat-free yogurts, they are too thin and watery.
Minced Garlic: I always have a jar in my fridge for ease of use.
Garam Masala Seasoning Blend: If you've never used this Indian spice blend, don't be nervous. It has a sweet, warm flavor that is heavy on cinnamon.
Turmeric: We've been using this superfood spice so much more. It's even an essential ingredient to the homemade seasoned salt I've been making lately.
Ginger: You could use fresh ginger, but I prefer dried. A little goes a long way and I tend to put less ginger in most recipes compared to what is called for.
Cayenne Pepper: This brings just a pinch of heat to the chicken marinade. You could reduce it even further, but even my youngest daughter loves the spices for the chicken.
A Fresh Lemon: For the fresh squeezed juice.
Boneless, Skinless Chicken Thighs: If you don't like cooking with dark meat, you could substitute chicken tenderloins but I highly recommend trying the thighs. The air fryer cooks them amazingly.
How to Assemble the Marinade: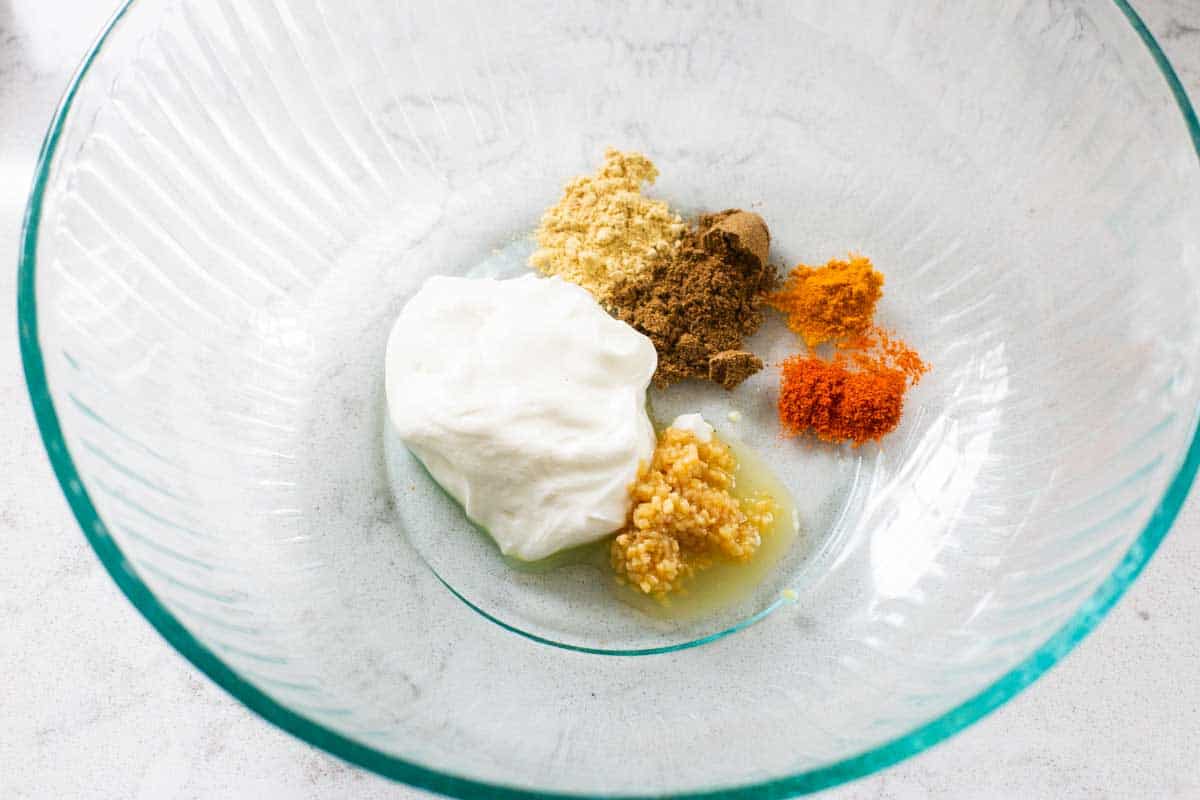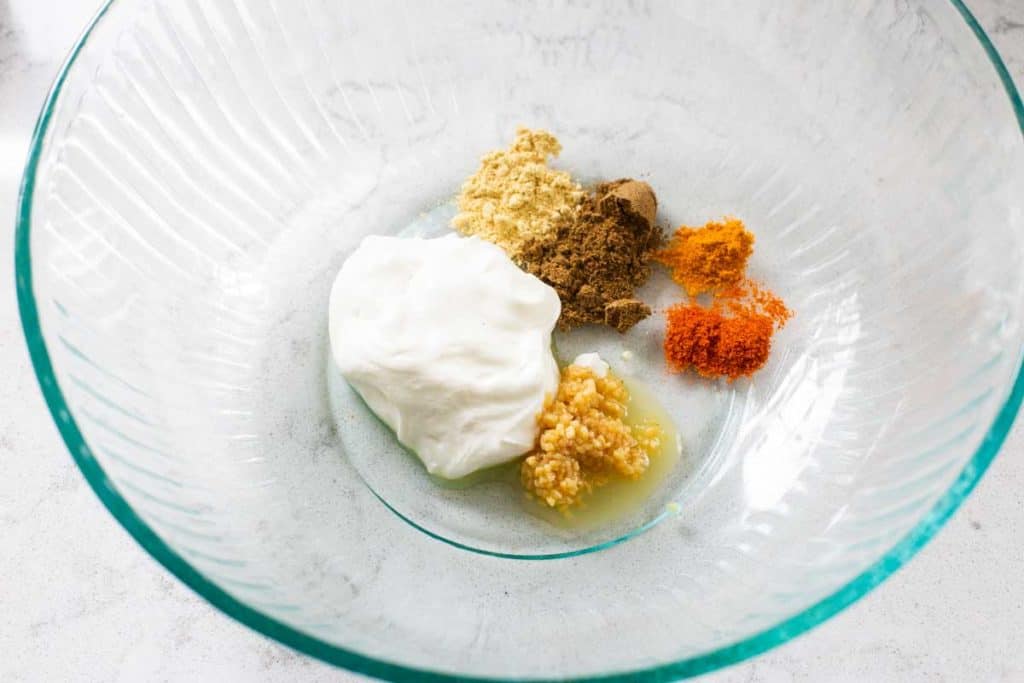 Add the yogurt, all the dried seasonings, the lemon juice, and the garlic to a large mixing bowl.
Stir together with a fork.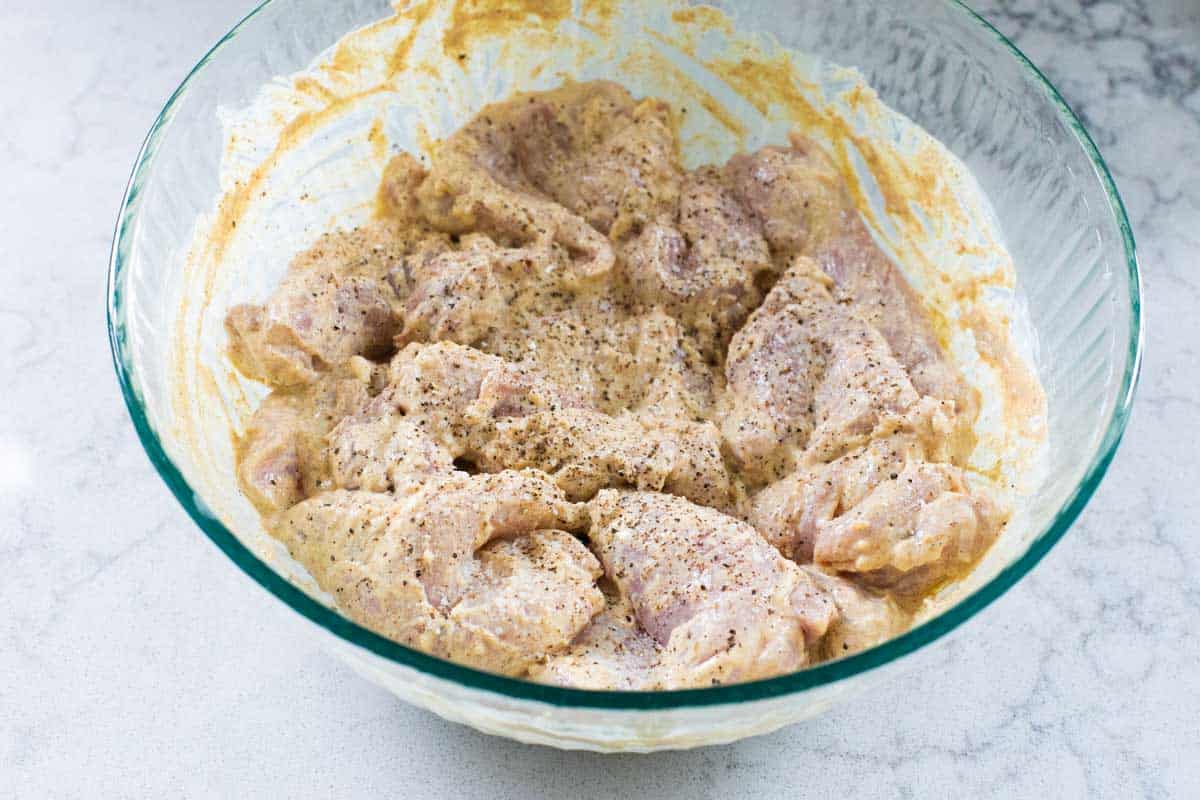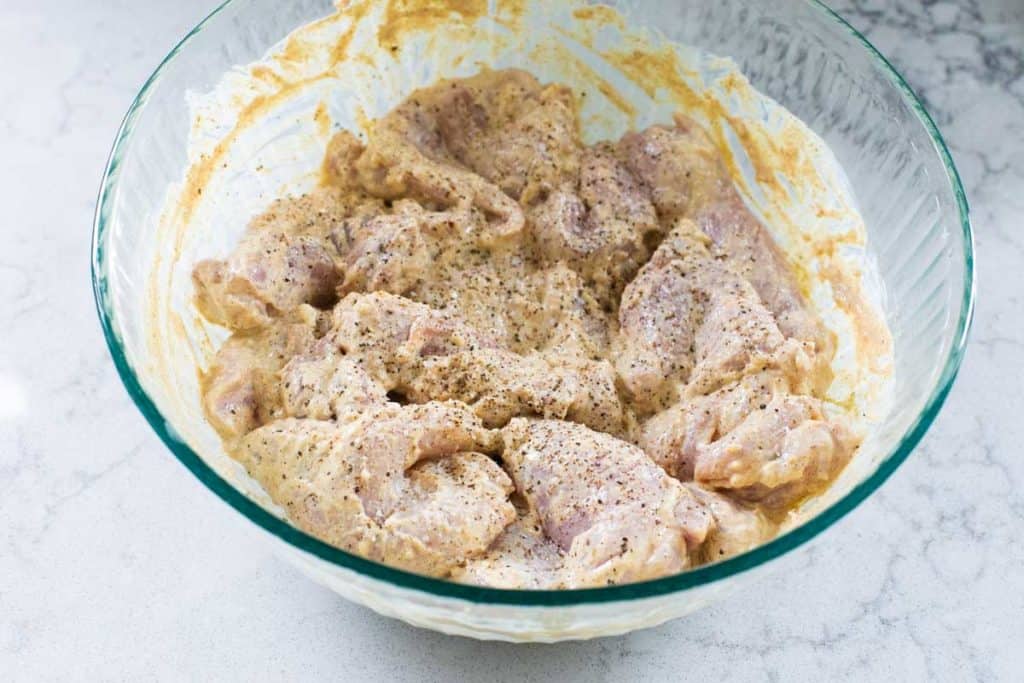 Add the chicken thighs to the marinade and turn each piece over so that it is coated in the sauce.
Sprinkle with a pinch of salt and pepper.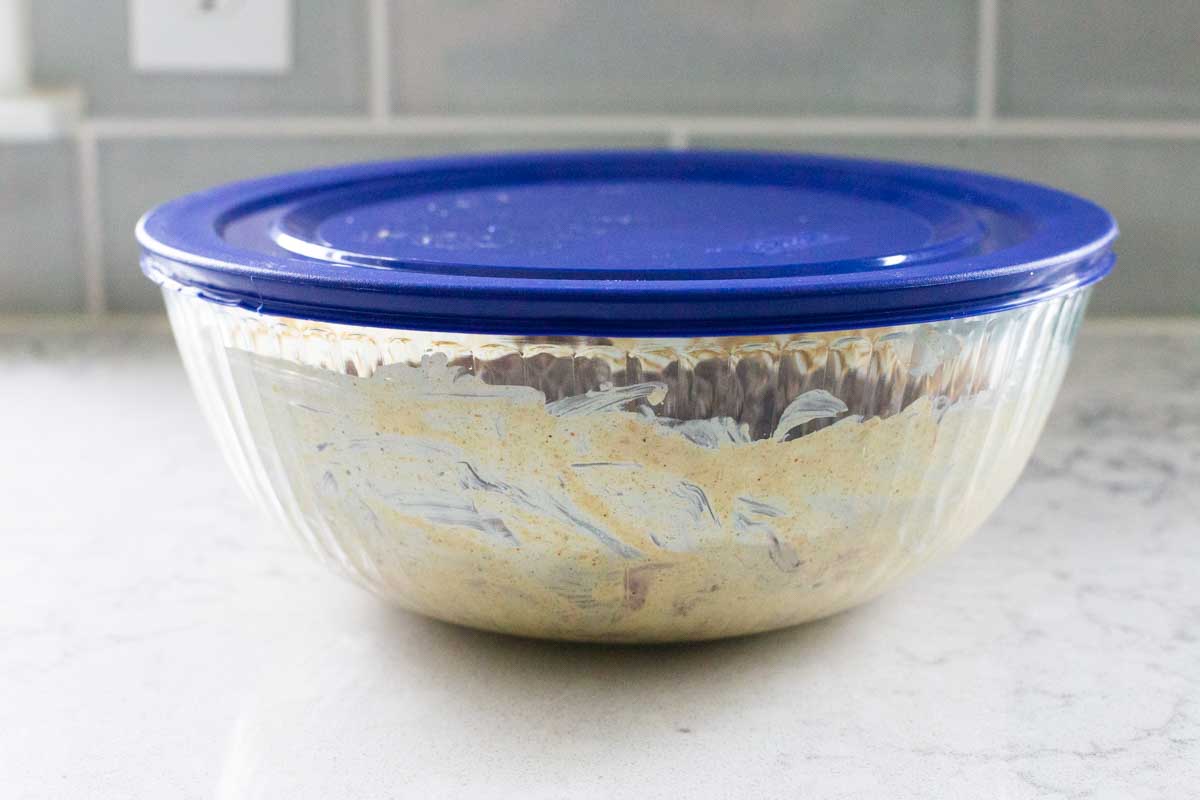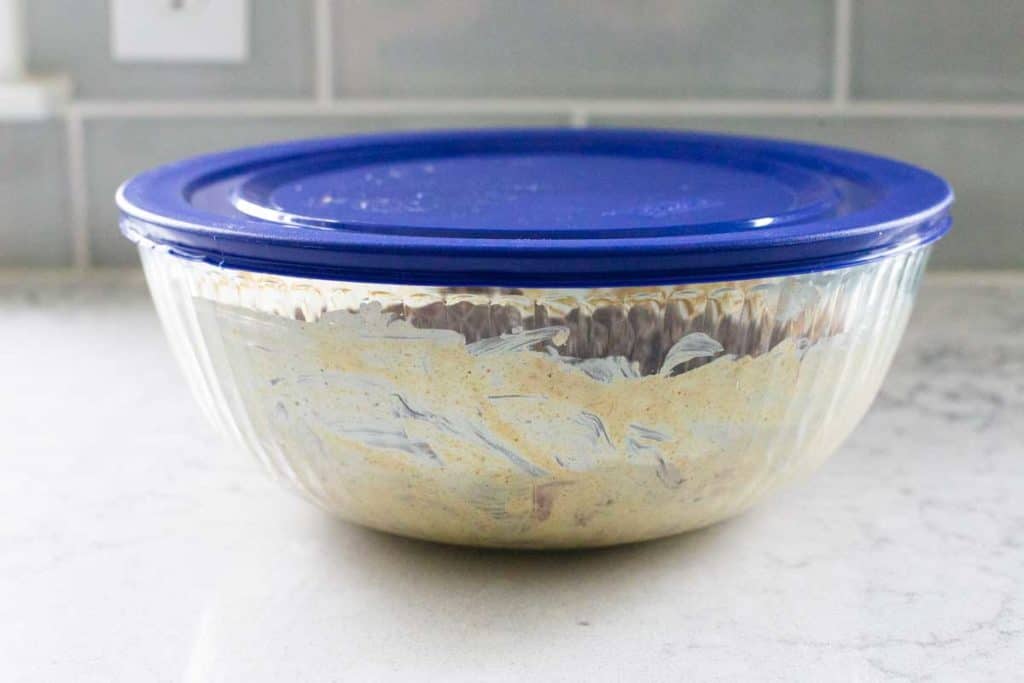 Cover the bowl and refrigerate for at least 1 hour or up to 24 hours.
I love to do this in the morning and get it out of the way.
Seriously, how easy is that??
How to Cook the Chicken in the Air Fryer: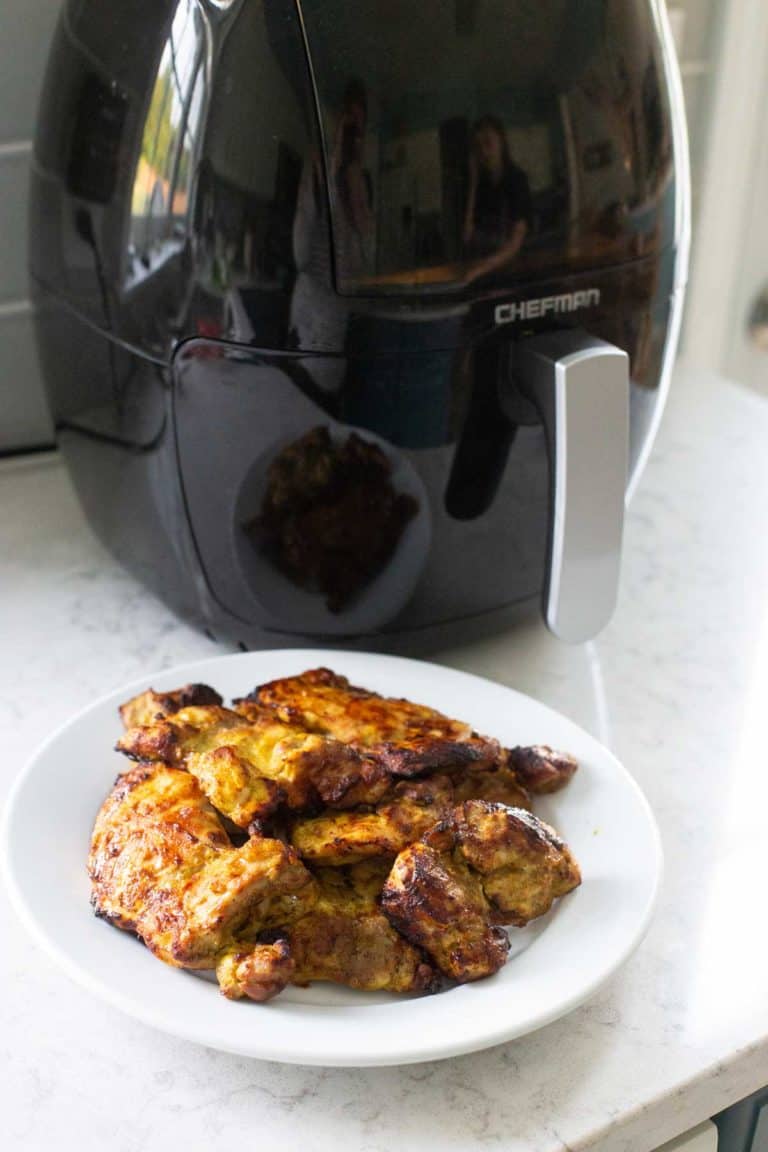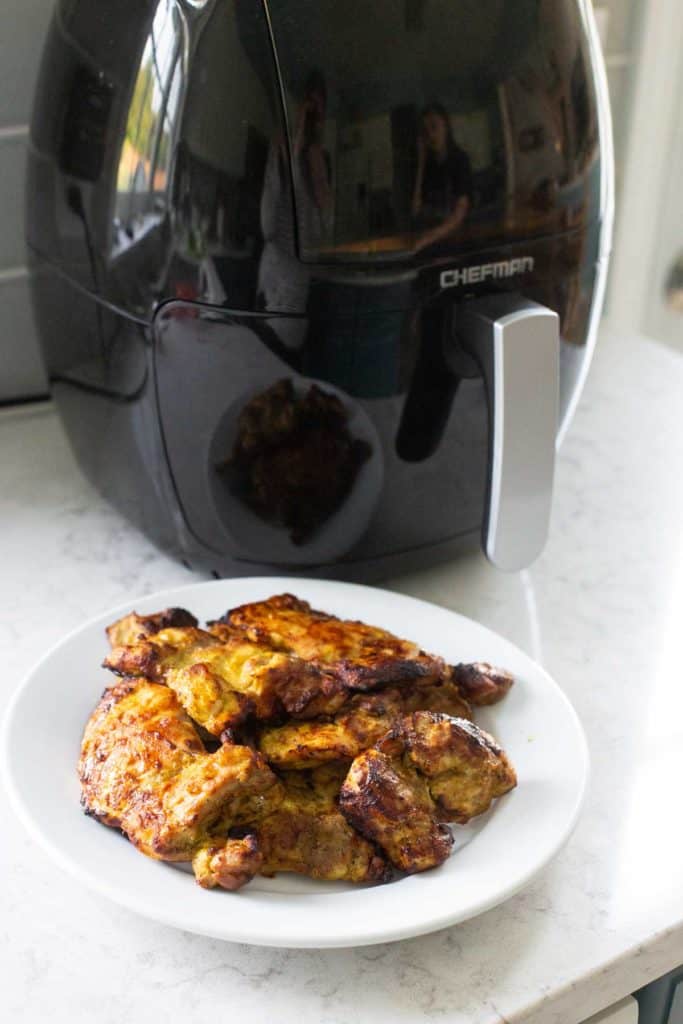 You'll need to follow the instructions on your own personal air fryer, but here are the general tips you need to know:
Preheat the Air Fryer: Ours goes up to 400°F. I preheated it for 4 minutes.
Add the Chicken in a Single Layer: I can fit up to 4 chicken thighs at one time in our air fryer basket. The important part is they are in a single layer with a little room around each one for air flow.
Cook for 7 Minutes then Flip: Our air fryer beeps when it is time to flip or shake the basket. If yours doesn't have an alarm, just set a timer.
Cook for an Additional 7 Minutes: The meat should begin to slightly char on the edges. You know the marinated chicken is done when it reaches 185°F when tested with a food thermometer.
Remove the First Batch: If you can't fit all your chicken into your air fryer at once, it is ok to work in batches. Simply place the cooked chicken thighs on a clean plate and loosely tent with aluminum foil while you prepare the second batch.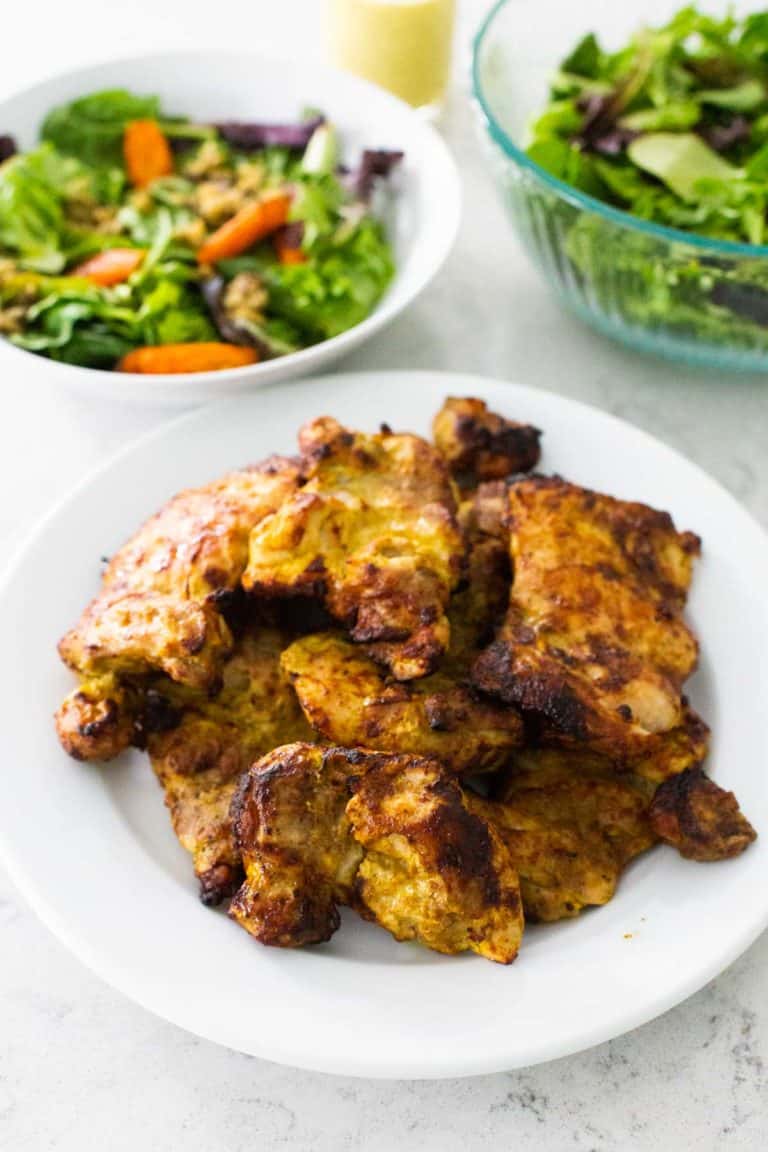 Recipe FAQs:
How spicy is tandoori chicken?
My kids call this "Spicy chicken" but that isn't exactly accurate. I think what they really mean is "full of flavor." The yogurt marinade filled with lemon juice and seasonings gives the chicken a succulent coating that melts in your mouth. It is warm and seasoned but not "spicy" as most people imagine. The main flavors we notice are cinnamon, garlic, and a tiny bit of heat from the cayenne pepper.
Can marinated chicken be cooked in an air fryer?
Absolutely! Be sure to drain off any excess marinade from the chicken before adding it to your air fryer basket. This will help reduce the dripping and potential smoking from the marinade cooking on the bottom of the appliance. Marinated chicken is actually even more tender when made in the air fryer.
How do you marinate chicken in an air fryer?
Actually, you don't marinate it in the air fryer itself, you marinate the chicken before you cook it in the air fryer. An air fryer is simply a cooking device that heats your food. Mix the marinade in a mixing bowl so you can store your meat in the fridge as it combines with the flavors in the marinade. When you're ready to cook, you transfer the chicken to the preheated air fryer.
How to Use the Chicken for Dinner:
You could serve this spiced tandoori chicken:
Over plain white rice
Chopped and served with pita bread and homemade tzatziki sauce
Serve my new favorite dinner salad with the easy elements listed below
For super-picky eaters, you could also make this plainer version of air fryer chicken tenderloins I've included for this menu:
If you've tried this marinated chicken in the air fryer or any other recipe on PeanutBlossom.com please don't forget to rate the recipe and let me know where you found it in the comments below. I love hearing from you!
FOLLOW along on Instagram @peanut.blossom as well as on Pinterest and Facebook.
Want a More Authentic Tandoori Flavor?
When I researched this history behind this Indian dish, I checked in with a good friend from our neighborhood who grew up in India.
She had an amazing suggestion for cooking this chicken and giving it a much more authentic tandoori flavor without needing an actual tandoor to cook it.
Check this out! Thanks so much for the suggestion, Sruthi!