This easy vegetable side dish is perfect for using up the last few carrots in your fridge. It can be served either hot or cold and tossed into a dinner salad. The oven roasted carrots get perfectly charred and the recipe highlights their natural sweetness, making it a hit with kids.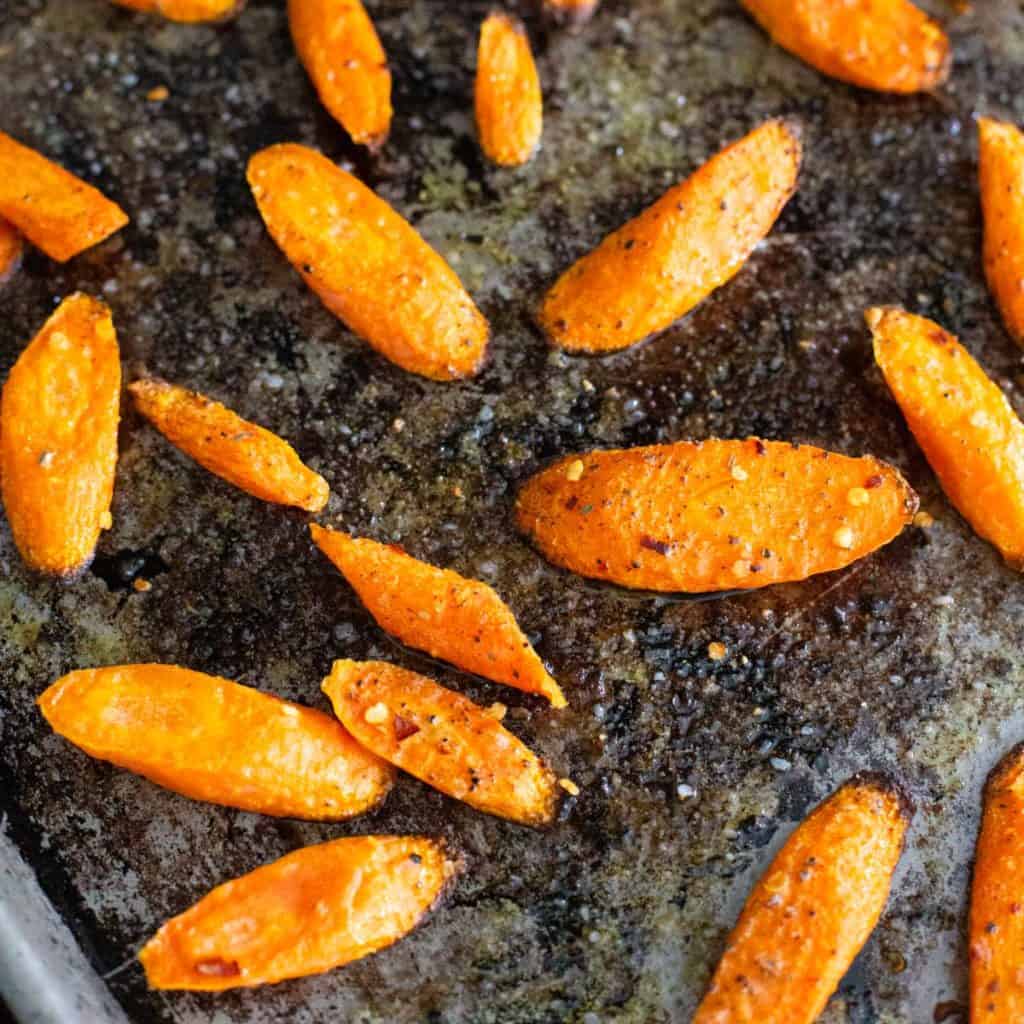 I deeply love cooked carrots. My husband and I will fight over the roasted carrots at the bottom of the pan when I make our favorite roast chicken recipe.
But for some reason, it hadn't occurred to me to bake them in the oven just on their own for a side dish.
Usually my oven is busy making other elements of our meal but ever since I got my new air fryer, I've been able to use the oven to make additional ingredients needed for more creative dinners.
I recently tossed these oven roasted carrots into my new favorite dinner salad. You can get the full instructions for the crispy wild rice salad here.
But if you've got picky eaters who would balk at all the foods touching and you prefer to make the oven baked carrots separately, I wanted to share this recipe for you here.
What Do You Need to Make This?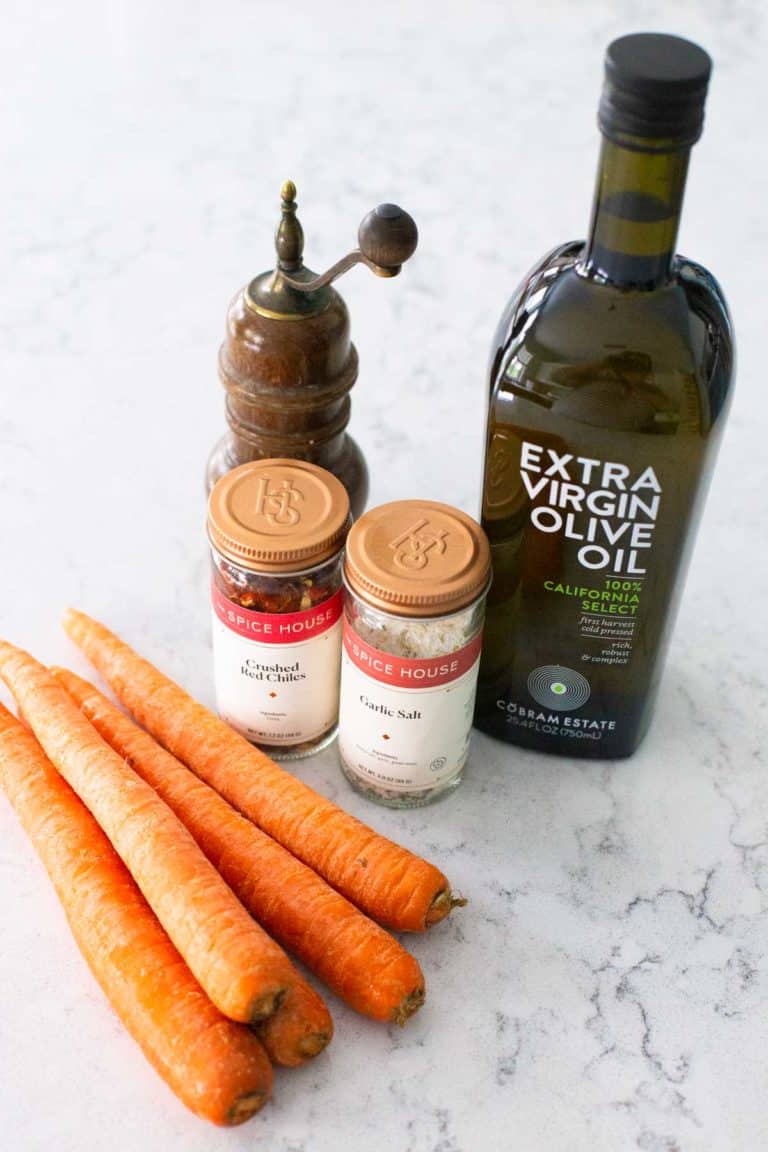 This is the best part of the recipe, you only need a few things you likely already have on hand!
4 - 6 Fresh Carrots: You can scale this recipe as needed for how you plan to serve it. Have a few more or less carrots on hand? Throw them in anyway. Just be sure you don't overcrowd your baking sheet or they'll steam instead of roast.
Good Olive Oil: Extra virgin olive oil cooks the best and has the nicest flavor for these carrots.
Garlic Salt & Crushed Red Pepper Flakes: In addition to a little sprinkle of salt and pepper, these two seasonings add a wonderful flavor to the final carrots.
How to Make This: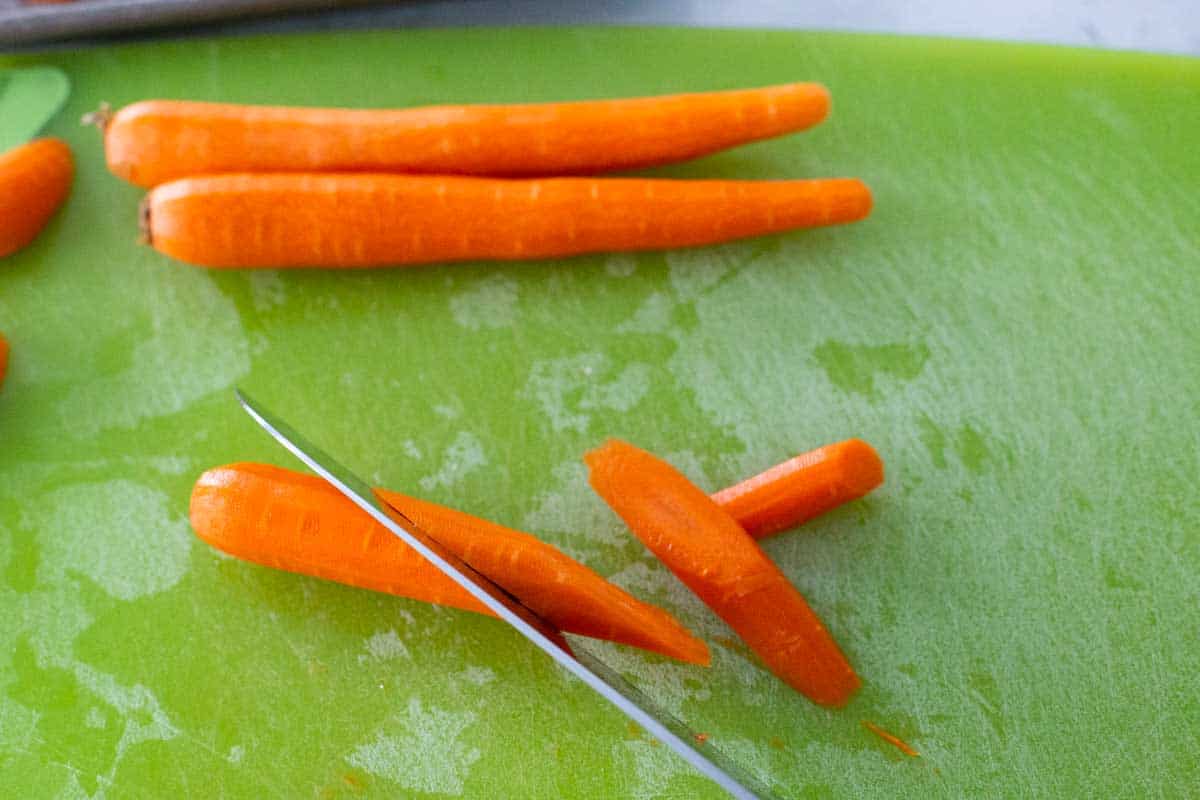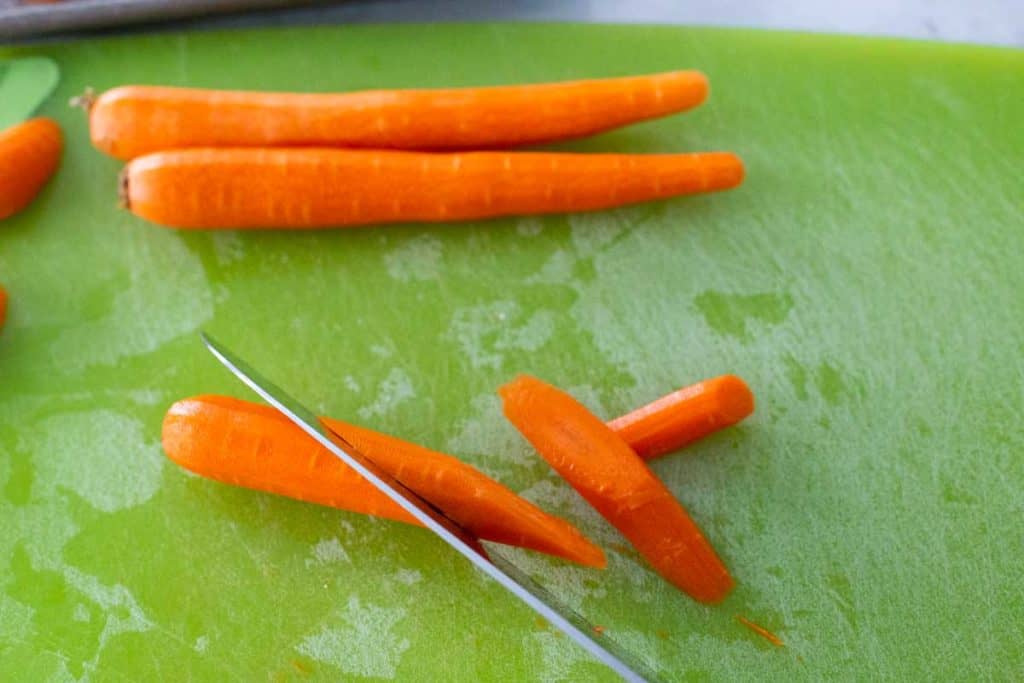 Scrub and peel the carrots.
Then, using a large chef knife, carefully cut the carrots on a long diagonal to form large "carrot coins."
This gives each piece of carrot a better surface for crisping up in the oven.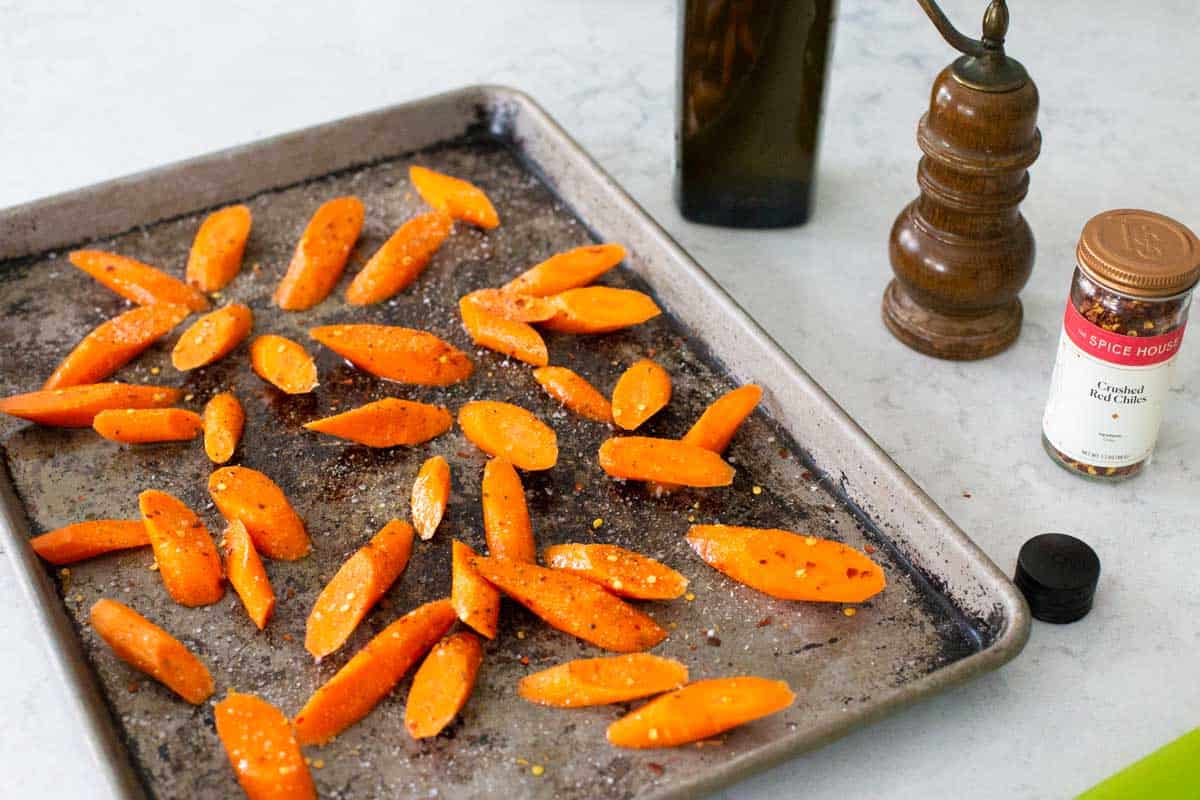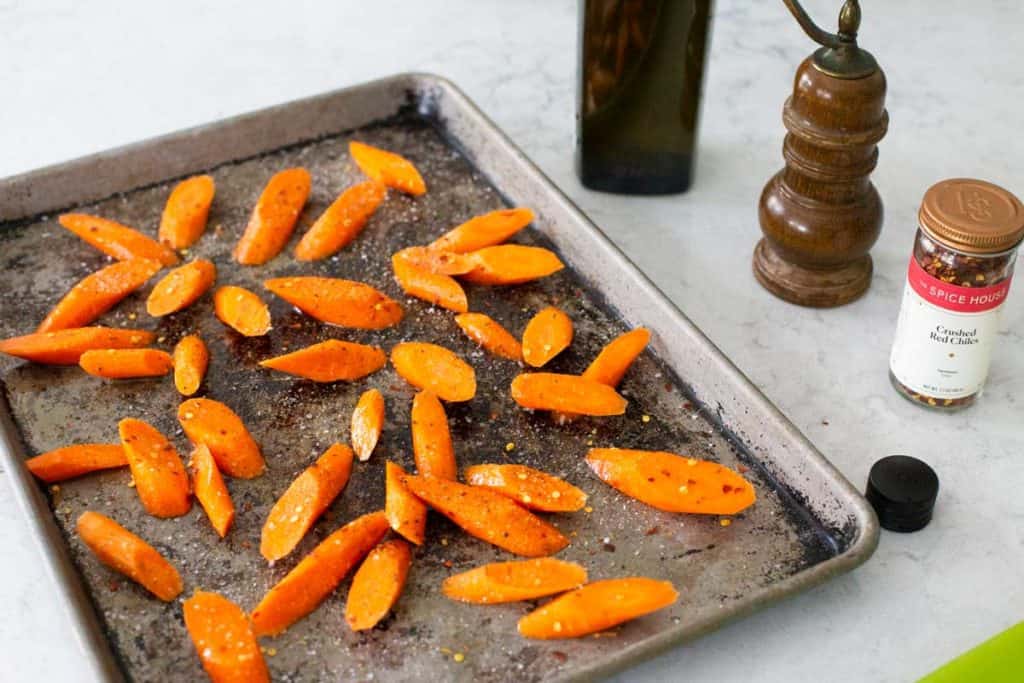 Toss the carrots with the olive oil and seasonings directly on a roasting sheet.
Spread the carrots into a single layer.
If you use more than the suggested amount of veggies, just be sure there's enough room around them for air flow.
Then simply bake for 20 minutes in an oven set to 400°F.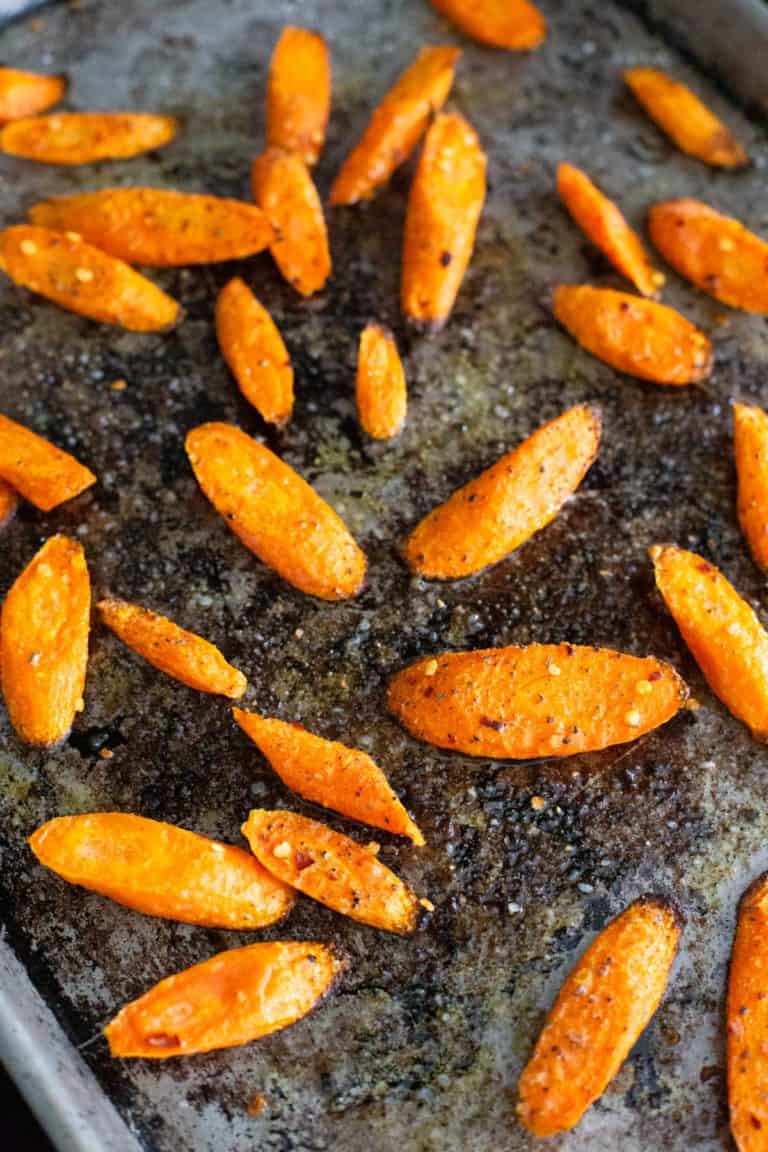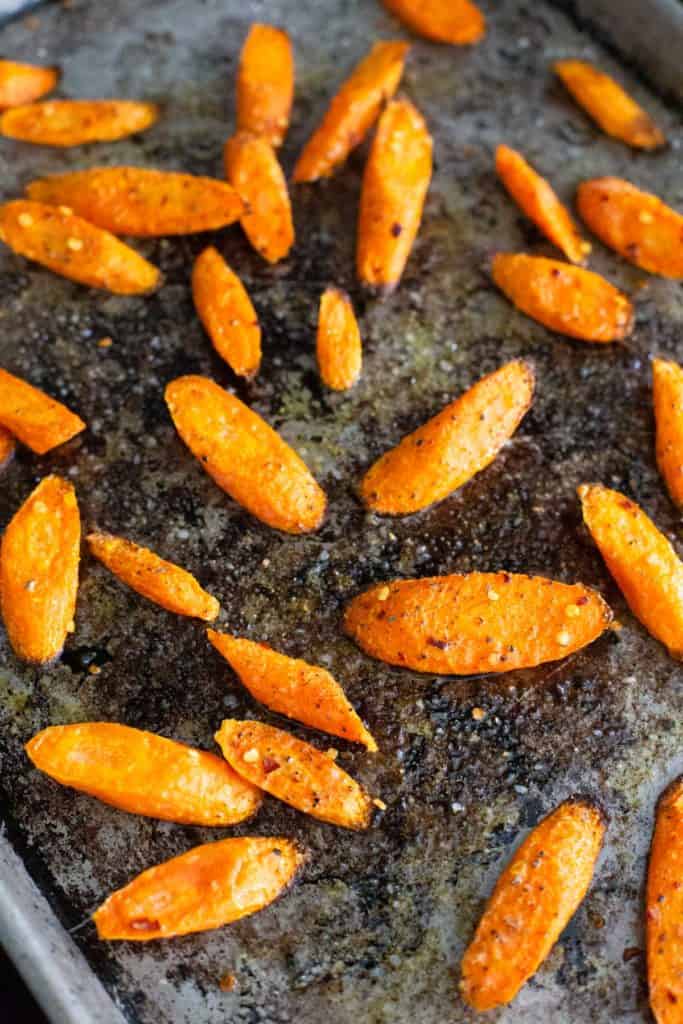 Recipe FAQs:
Can I roast baby carrots?
I prefer freshly peeled, regular carrots for roasting but real life happens. Packaged baby carrots would also work for baking in the oven. If they are wet or drippy from their bag, you may wish to dry them off before tossing with olive oil.
Are these roasted carrots spicy?
The roasted red pepper flakes add a tiny bit of heat to every other bite or so but the carrots are mostly sweet and not too spicy. If you've got a very sensitive eater, you can always omit the red pepper flakes.
How to Use the Carrots:
If you want to make my new favorite salad, you'll need these simple ingredients. But, they are also super tasty made on their own separately if you prefer!
If you've tried this oven roasted carrots recipe or any other recipe on PeanutBlossom.com please don't forget to rate the recipe and let me know where you found it in the comments below. I love hearing from you!
FOLLOW along on Instagram @peanut.blossom as well as on Pinterest and Facebook.