Got leftover wild rice hanging out in your fridge? This dinner salad is the perfect recipe for using up a bit of cooked rice that wouldn't be enough for a full side dish on it's own. Toss with fresh roasted carrots and salad greens and coat with a super-easy 3-ingredient homemade dressing.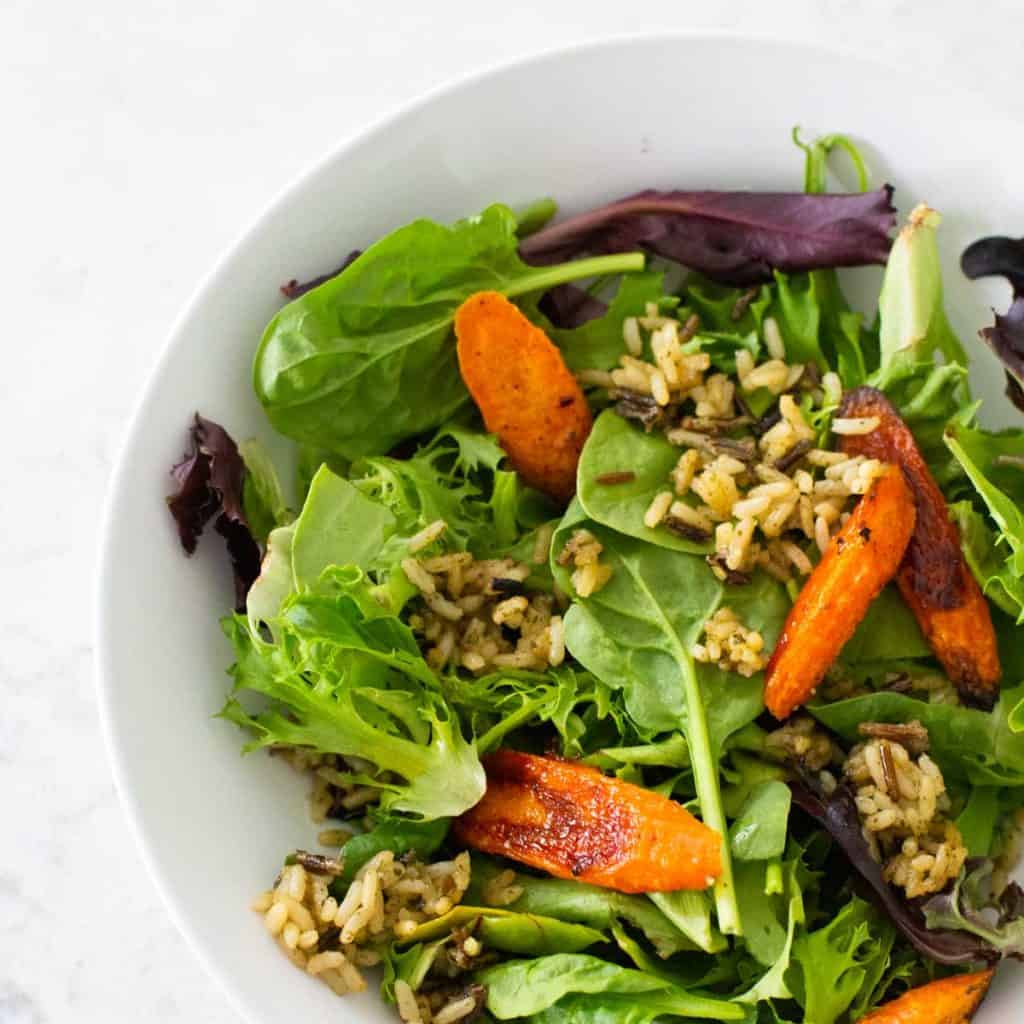 Both my girls are great salad eaters but they tend to gravitate towards Caesar salads or anything with ranch dressing.
This year, I'm trying to help them break out of that rut and explore more interesting dinner salads with easy but unique ingredients.
This is my newest, very favorite salad recipe because it combines a couple warm ingredients with a few cold ingredients and is filling enough to be a full dinner.
I had everything needed just hanging out in my fridge so it was a great way to use up tiny bits of leftovers that wouldn't have been enough for a full meal on their own.
BUT, it was so delicious, I will make this again whether I have the leftovers ready to use or not!
What Do You Need to Make This?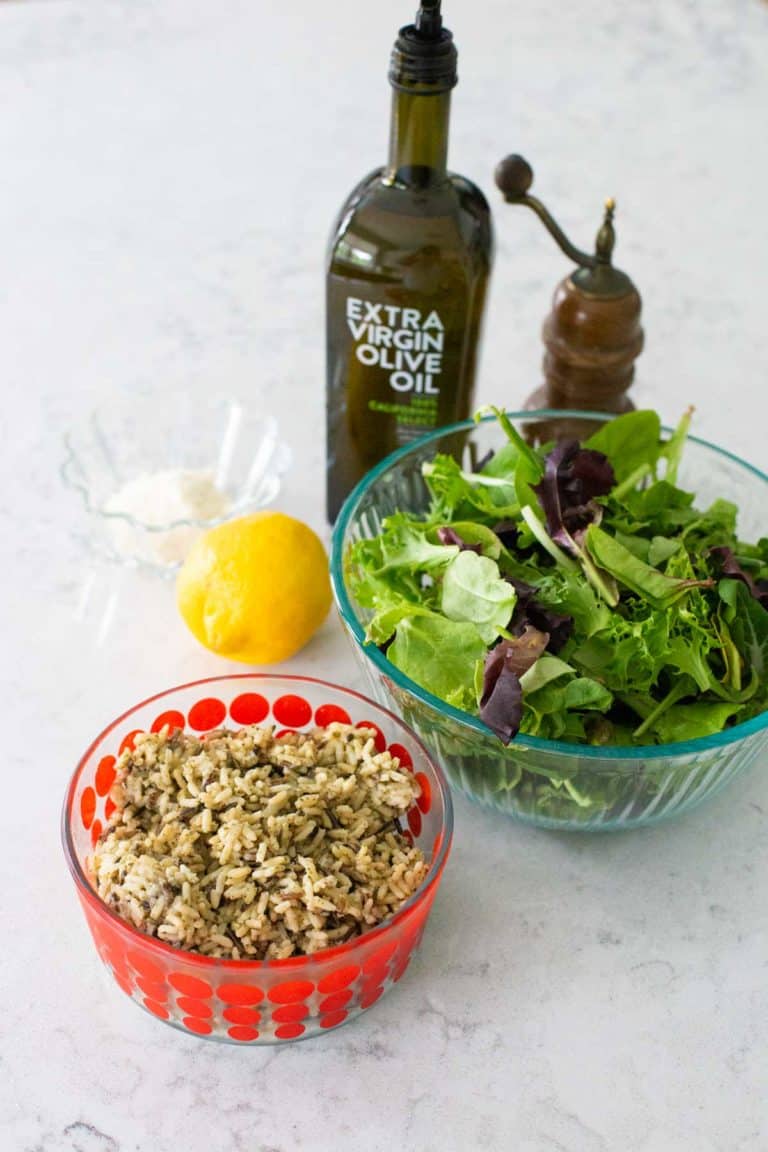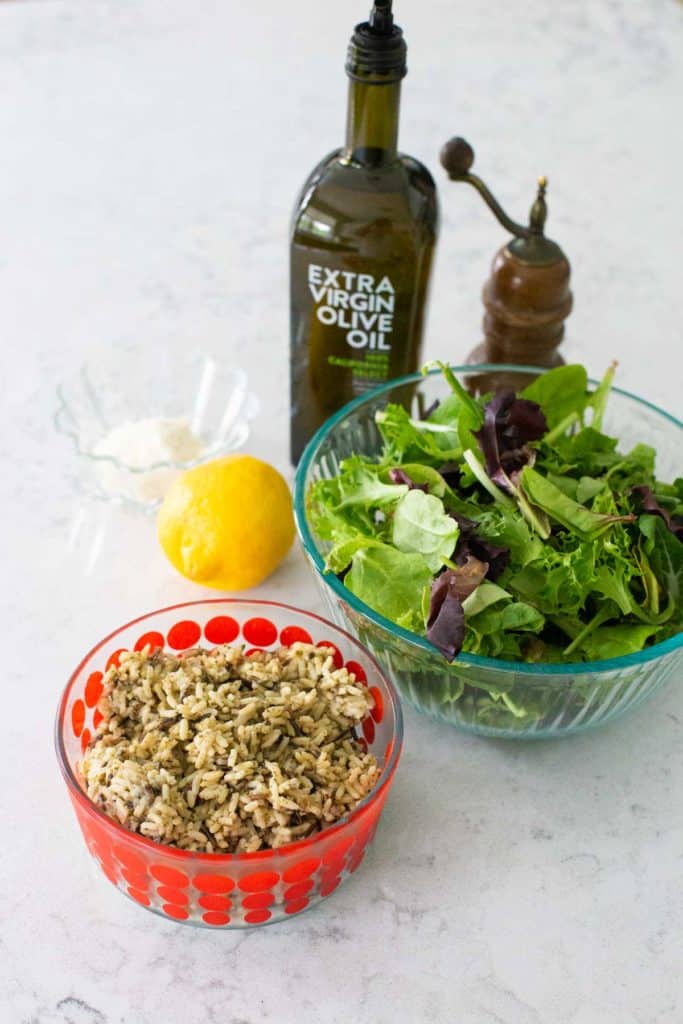 The ingredients list may seem like the salad takes a lot of work, but I promise it is super easy.
You'll need to have:
Leftover Cooked Wild Rice: I made a double batch of wild rice for a special fish dinner one night and had the leftovers in the fridge ready to go. The rice will keep for 3 - 5 days, so you don't even need to eat it on back-to-back nights.
Salad Greens: I always keep a pre-washed tub ready in the fridge for zero prep.
4 - 6 Carrots: I tend to buy big bags of carrots for making soup and other recipes and then there are the stragglers that end up going to waste. This is a perfect place to use them up.
Lemon Parmesan Dressing: This 3-ingredient homemade dressing comes together in just a minute. You can get the lemon parmesan vinaigrette recipe's full instructions here.
OPTIONAL: If you want to add some protein to your salad, I highly recommend this marinated chicken recipe or this simpler healthy chicken tenders recipe.
How to Make This: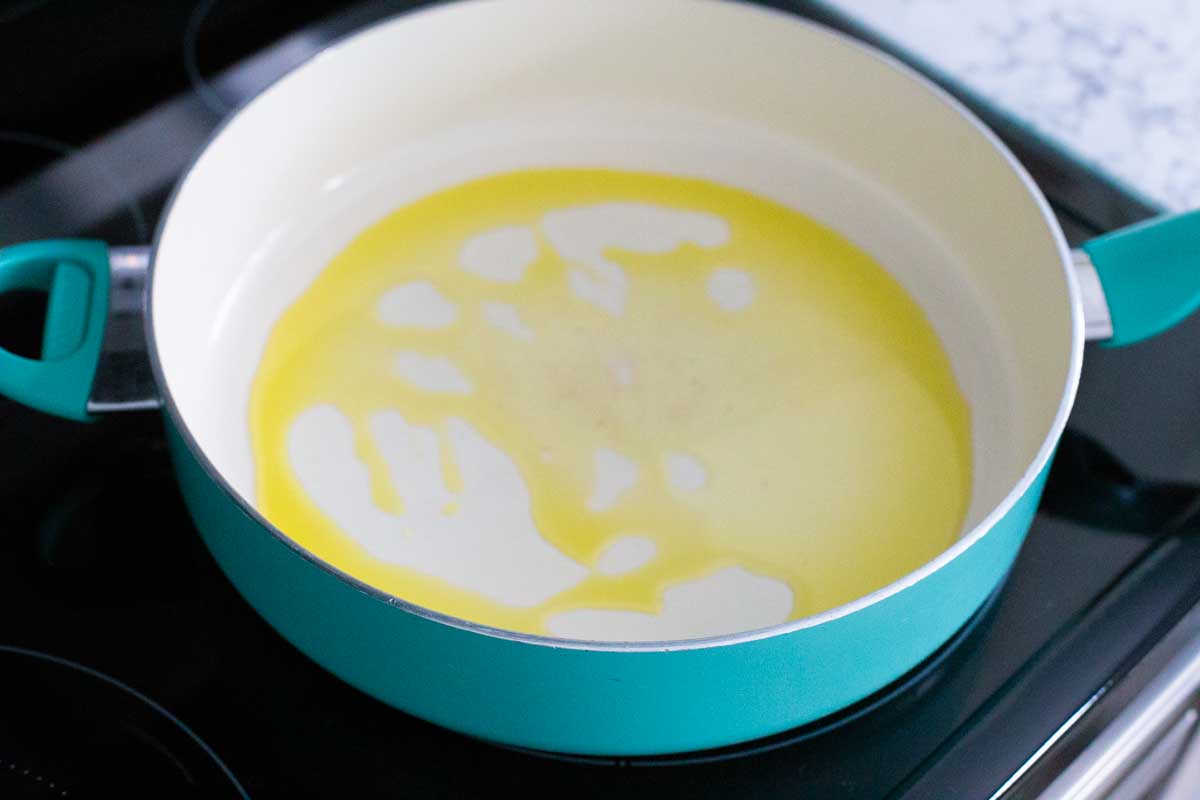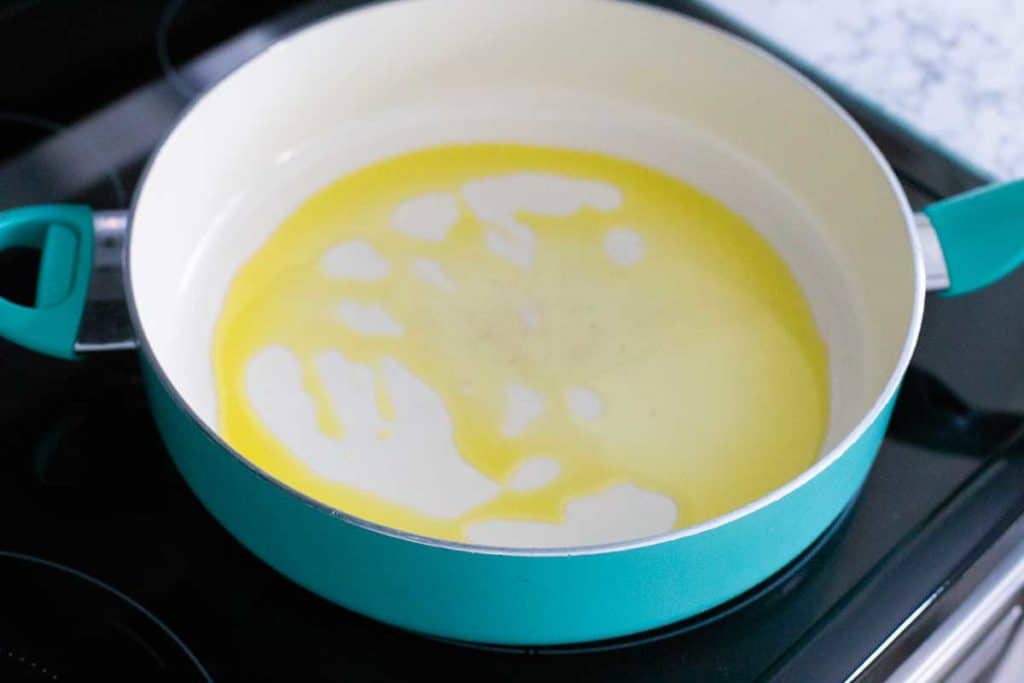 Step 1: Make the Crispy Rice
In a large skillet, heat olive oil over medium-high heat.
Add the rice and saute for 5 - 10 minutes or until the rice has started to crisp up.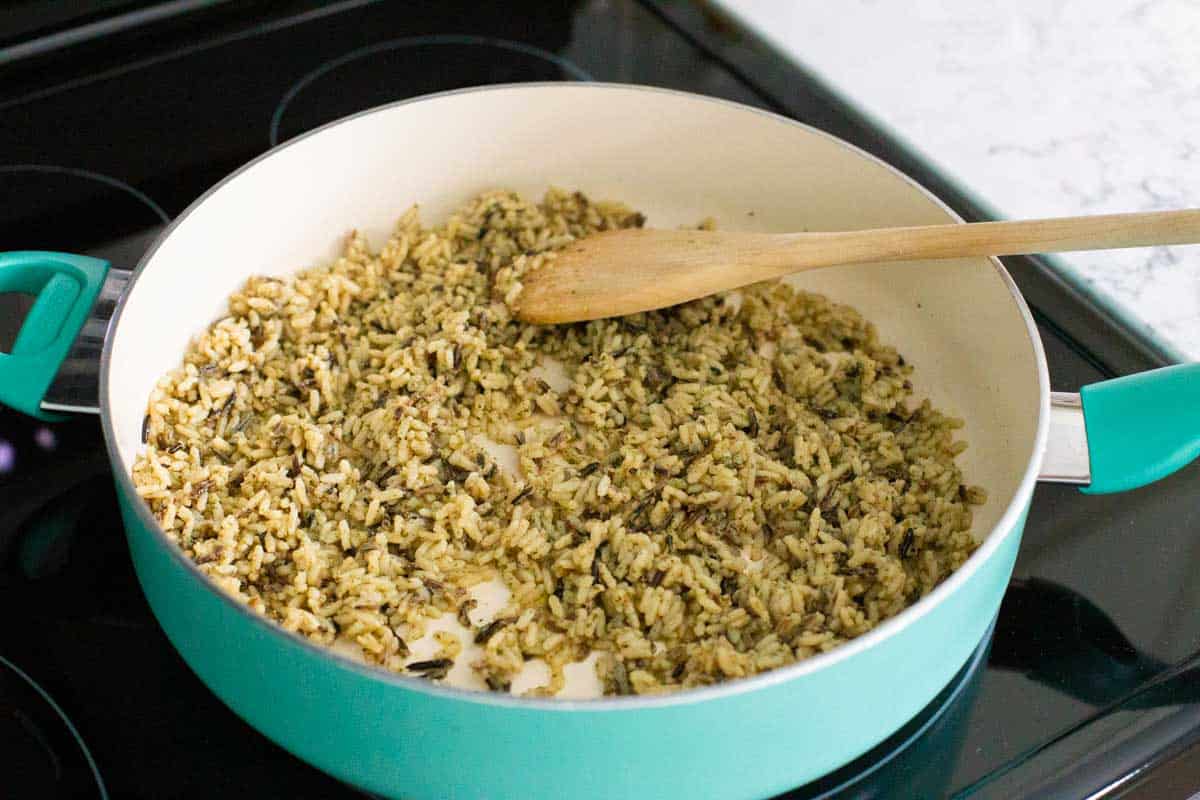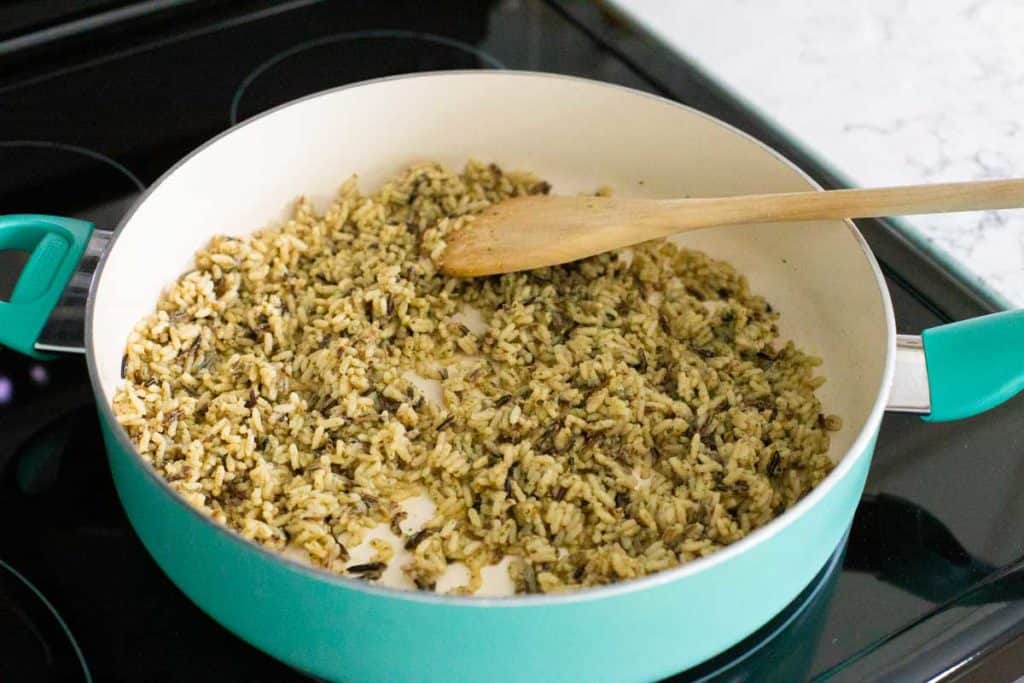 Step 2: Roast the Carrots
Meanwhile, roast the sliced carrots in your oven.
You can find the full instructions for roasting carrots in the recipe card below or in this separate roasted carrots post.
Step 3: Assemble the Salad
If you don't want your salad greens to get wilted from the heat of the rice and carrots, let both warm ingredients cool slightly before tossing together.
I found it easiest to add the salad greens to a serving bowl, then spoon the rice over the top and sprinkle the carrots.
If you're serving kids, you could also serve each item individually. But they definitely taste best altogether!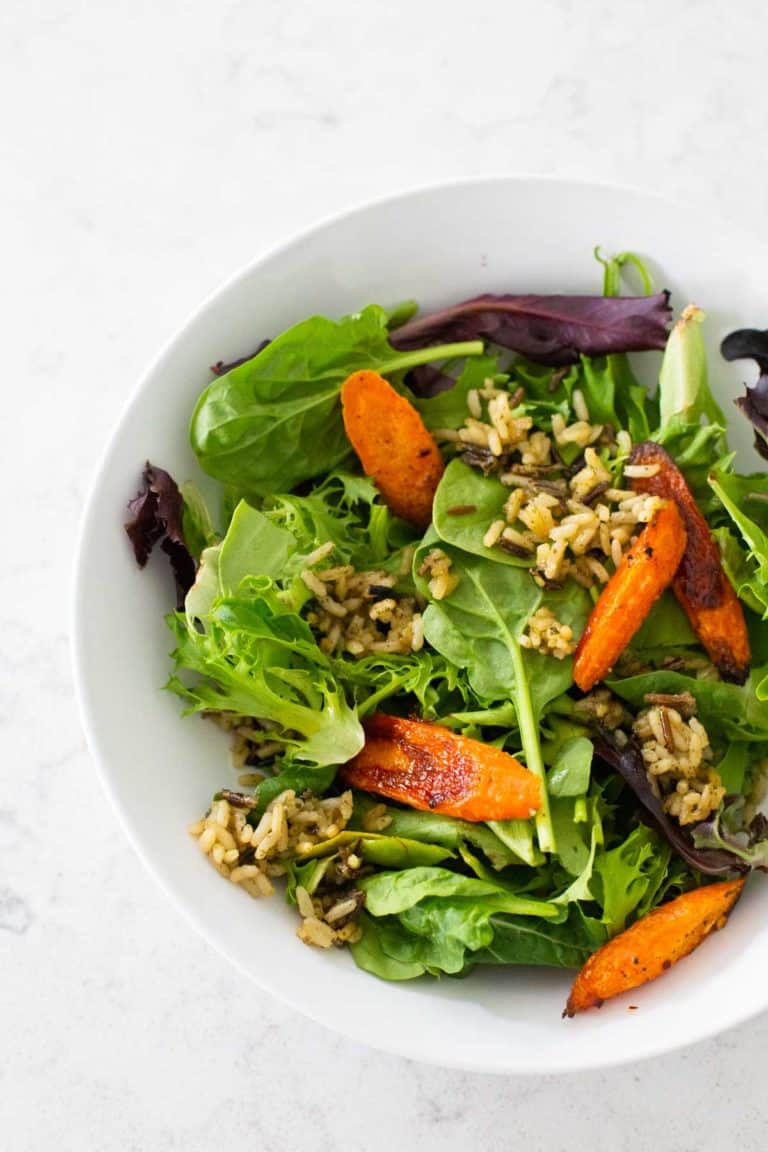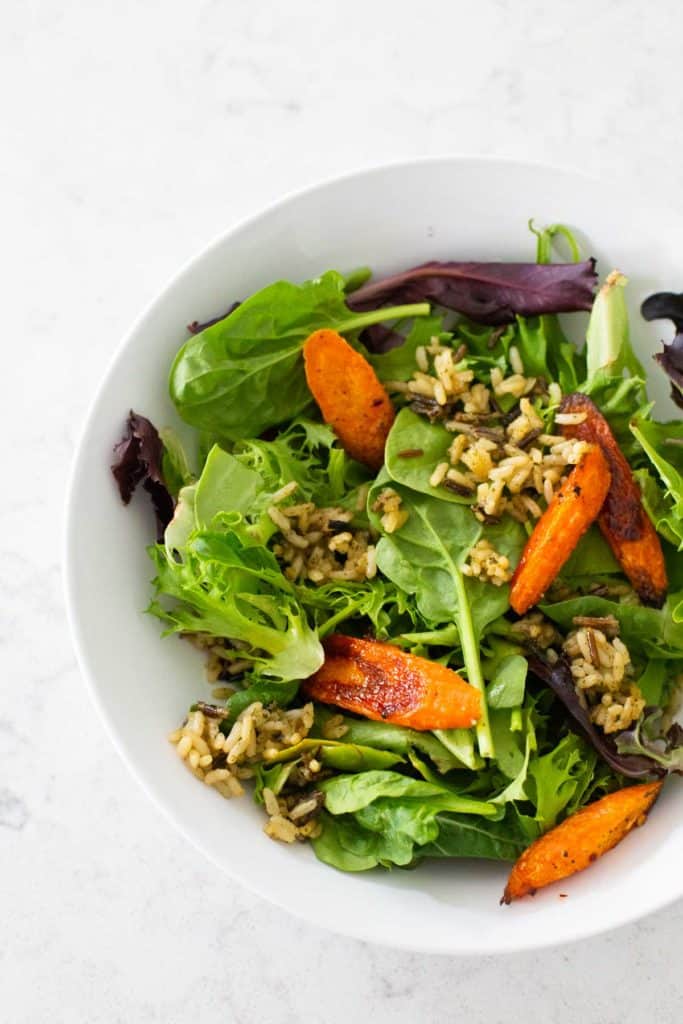 Recipe FAQs:
Which salad greens work best?
Our family loves the spring greens mix from our grocery store. You could use any combination of romaine, baby spinach, or spring greens that you love. Arugula would also be tasty but adds a much stronger peppery flavor.
Is this a warm or cold salad?
I personally love it with the warm rice and carrots and cold salad greens and dressing. But the final dish would taste great completely cold, too.
Can this be made ahead of time?
If you don't mind the entire dish being cold, you can make the recipe ahead of time. Simply store all the ingredients separately until you're ready to serve in order to keep the greens from wilting.
Tips for Picky Eaters:
Especially when cooking for kids, I understand that families like to mix and match elements of a final dish to accommodate pickier eaters. The best parts of this recipe can also be made separately:
If you've tried this crispy wild rice salad or any other recipe on PeanutBlossom.com please don't forget to rate the recipe and let me know where you found it in the comments below. I love hearing from you!
FOLLOW along on Instagram @peanut.blossom as well as on Pinterest and Facebook.
📖 Recipe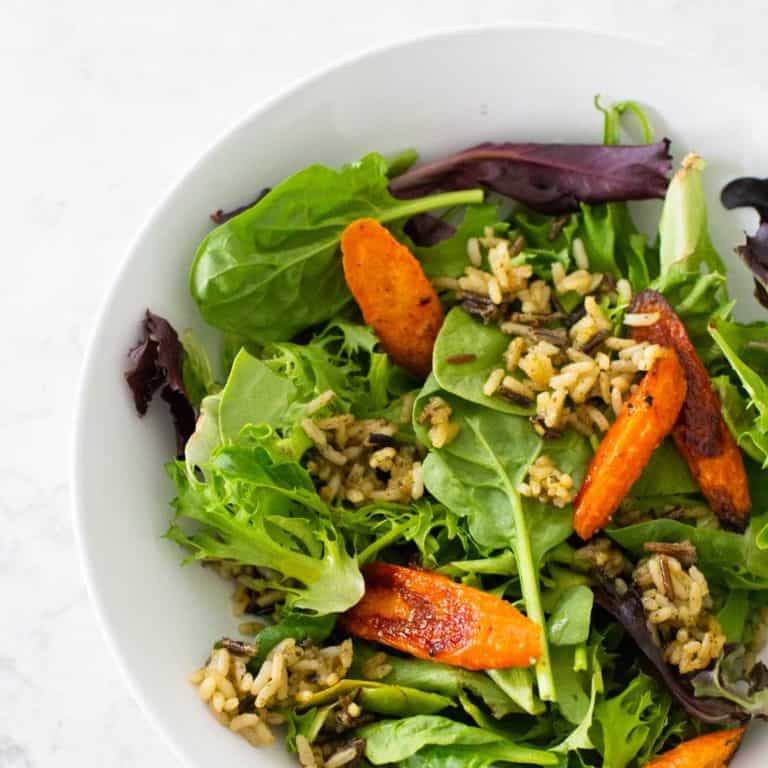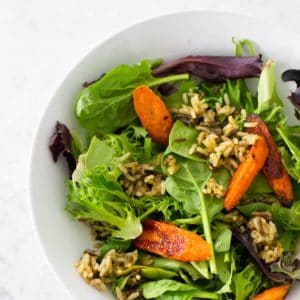 Crispy Rice Salad
Next time you make rice for dinner, double the recipe for leftovers so you can make this delicious and simple salad for another meal.
Ingredients
1

cup

leftover cooked rice

We love using wild rice for this recipe but any grain will do.

2

tablespoon

olive oil

6

cups

spring green salad mix
For the Roasted Carrots
6

carrots

peeled and sliced on the diagonal to make long "coins"

1

tablespoon

olive oil

½

teaspoon

garlic salt

½

teaspoon

roasted red pepper flakes

Sprinkle of kosher salt and fresh cracked pepper
For the Dressing
1

lemon

¼

cup

olive oil

2

tablespoon

grated parmesan

Kosher salt and pepper to taste
Instructions
Prepare the Roasted Carrots:
Preheat the oven to 400°F.

Toss the carrots with the olive oil on a large baking sheet. Arrange them in a single layer. Sprinkle the seasonings over the top.

Bake for 20 minutes. No tossing or flipping is necessary.
Prepare the Crispy Rice:
Once the carrots are in the oven, place a large skillet over Medium heat. Add 2 tablespoon olive oil to the skillet.

If your leftover rice is cold from the fridge, microwave it on HIGH for 1 minute. Add the rice to the hot oil in the skillet and break up any clumps with a spoon. Toss the rice in the oil until it is evenly coated and then let it sit and cook.

Do not over stir the rice. Spread it into an even layer over the pan and let it sit for several minutes. Then stir and spread again, letting it sit for another few minutes.

The rice will eventually start to sizzle and crisp up. When you see crunchy, browned bits of rice when stirring, remove the skillet from the heat and let the rice slightly cool. This will take about 15 - 20 minutes, depending on your rice but will likely be done before the carrots in the oven.
Prepare the Dressing:
Squeeze the juice from the lemon into a glass measuring cup. Add the grated parmesan cheese and olive oil. Use an immersion blender to whisk it together until creamy and thick. Add a sprinkle of salt and pepper and then taste the dressing with a leaf from the salad mix. Adjust the seasonings to taste.
Assemble the Salad:
If you don't want your salad greens to wilt, it is best to let the roasted carrots and rice cool slightly before assembling. (See Notes Below.)

Place the salad greens in a serving bowl. Add the carrots and rice. Toss with a drizzle of the dressing and serve.

Recipe Notes
Variation:
Spring mix salad greens are best served with cooled rice and carrots. However, if you prefer to use baby spinach, you could toss the hot carrots and rice and serve this as a warm side dish with slightly wilted greens.
Save This Recipe to Your Recipe Box
Find this delicious recipe next time you visit by saving it to your very own recipe box on my site. All your favorites stored in one easy place!