This citrus salad is the perfect easy dinner when paired with a light serving of fish or chicken. Lighten up your meal with fresh oranges, spinach, pistachios, and goat cheese and top it with our favorite homemade citrus dressing recipe.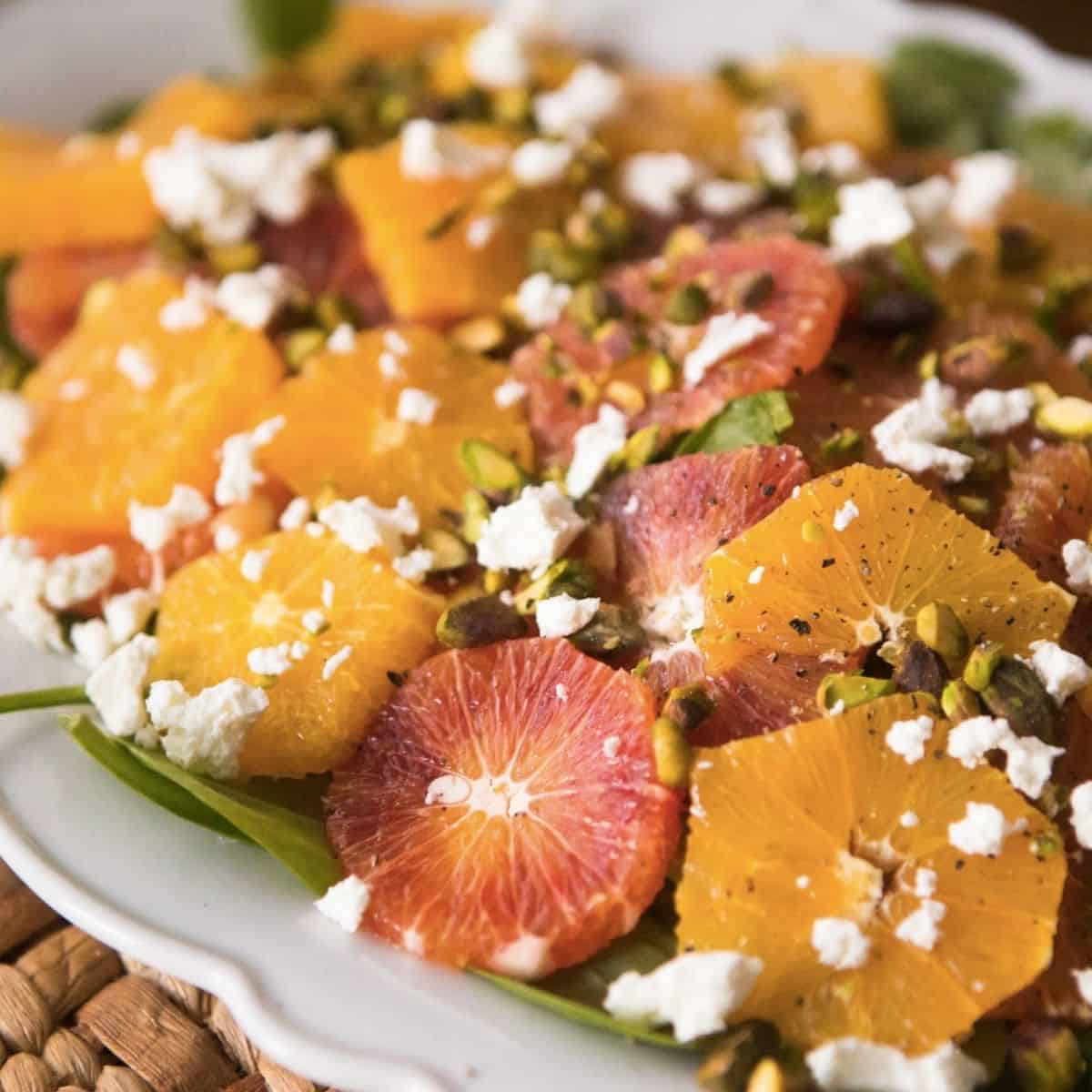 My husband Tim waits all year long for the peak of citrus season. Our fridge is always overflowing with oranges, clementines, and blood oranges because he loves to sit and peel them as a way to relax.
I'm not kidding, I've watched him take 45 minutes to peel an orange "just so." The man is obsessed.
I decided to make our family's favorite salmon recipe and pair it with a fresh spinach and citrus salad for dinner to use up some of his stash of oranges in the fridge.
Jump to:
Ingredients
This fresh and easy salad is perfect for tossing together at the last minute if you have these key ingredients on hand:
Fresh oranges: We love to use a variety of navel oranges, blood oranges, and cara cara oranges, but you can use whichever citrus your family loves most.
Baby spinach: This makes the bed of the salad but you could substitute spring mix or arugula if you prefer.
Goat cheese: I usually have some from Costco in the fridge because it goes with my favorite strawberry bruschetta.
Salted pistachios: You can shell your own, but Costco also sells an affordable bag of pre-shelled pistachios that are perfect for topping salads.
For the dressing, we always pair it with mustard vinaigrette. You can buy a bottle from the store or make an easy batch of homemade dressing.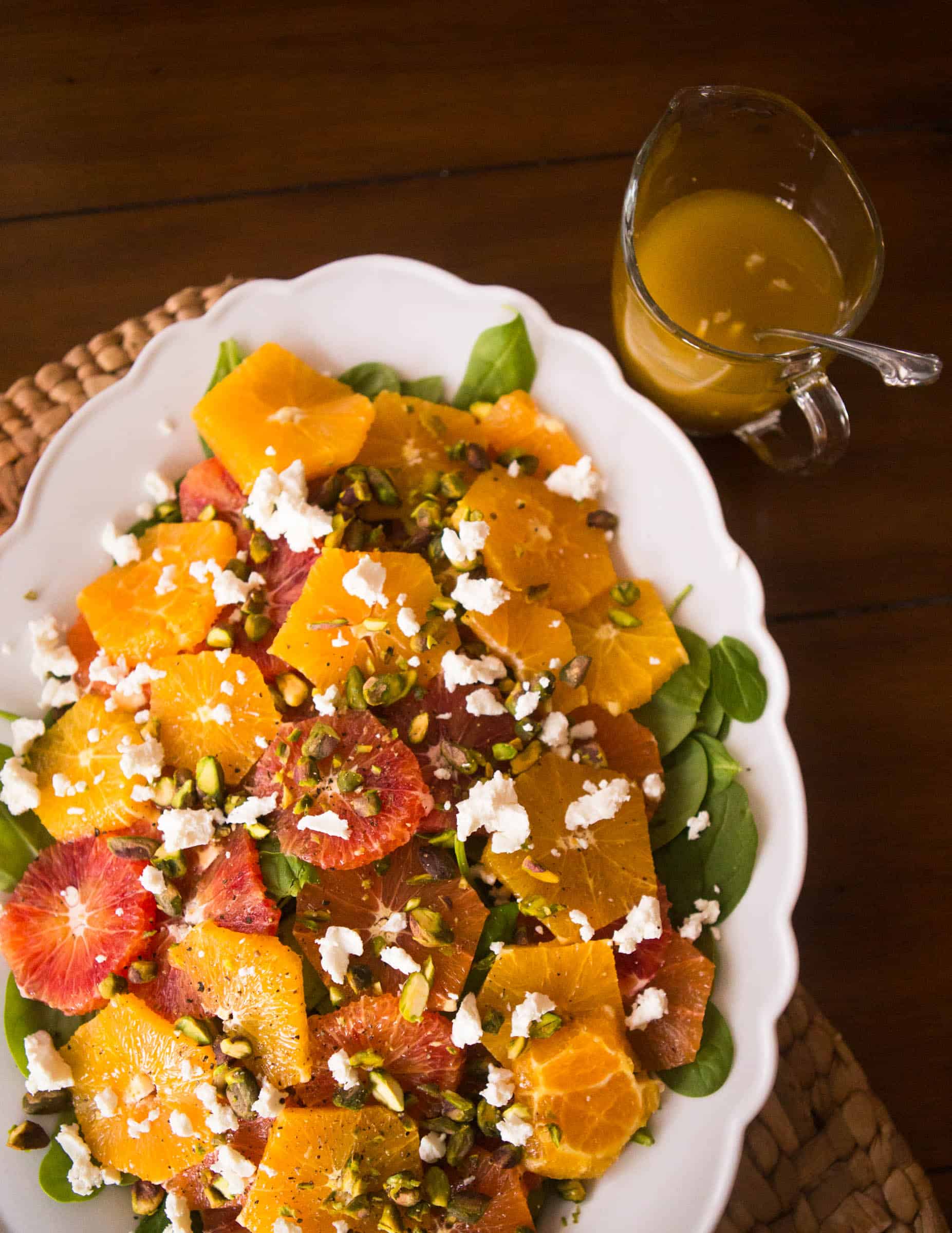 How to Serve the Salad
We usually serve this as a dinner entree with protein, but you could also serve it as a side dish for a brunch or holiday meal.
Pairs Well With These Proteins
We love roasted salmon for flaking and topping a salad. Our favorite recipe features a mustard base glaze that tastes amazing with the fresh oranges.
You could also use spicy grilled shrimp or easy air fryer chicken tenderloins cut into bite-sized pieces.
Add a Hearty Spinach Base
Pre-washed baby spinach from a bag is one of the easiest salad bases ever.
I spread the entire bag out on the platter to form the salad base.
The greens will catch all the juices from the oranges so you'll only need a very little bit of dressing.
Prep and Layer the Citrus
I recommend picking at least 2 different types of citrus fruits: navel oranges, blood oranges, cara cara oranges, or even grapefruits, add awesome variety to the flavor.
Plan about 1 fruit per person and mix and match your favorites.
Use a knife to peel the fruits so you can remove all the white pith. Then turn the fruit on its side and slice them thinly.
Layer them in pretty patterns over the spinach.
Sprinkle the Salad Toppings
Chopped pistachios and little bits of goat cheese are the perfect topping for the salad.
You can find pre-shelled pistachios in the bulk section of many grocery stores which make them extra-easy to use.
I crumble the goat cheese by hand. Simply pinch off small portions of cheese from the log and scatter them over the salad.
Dress the Salad
We used our favorite mustard vinaigrette dressing recipe but any light salad dressing you love would work just as well.
Alternatives you may enjoy:
Tips for Serving to Kids
When I set the platter down on the dinner table, both girls were highly skeptical. They are both great salad eaters, but they are more familiar with the boring lettuce, tomato, shredded carrot variety. The goat cheese in particular made them nervous.
Little Pea, after a few hesitant bites, declared this the BEST SALAD EVER! She begged for more cheese crumbles and pistachios. She preferred to eat each element separate but enjoyed all of them.
The Peanut whimpered through the salad, this was way too far out of her comfort zone. But the rest of us so thoroughly loved it, it will be making more appearances on our table and I'm confident she'll eventually come around. Mustard just happens to be one of her very favorite foods, so next time I'd just add a heavier handed splash of it in the vinaigrette.
If you are serving this salad to your own kids for the first time, I highly recommend:
Serve each salad element separately and let them eat them as individual pieces or mix and match their own small salads.
Let them skip the vinaigrette dressing and eat everything plain if they prefer.
Suggest having a flavor-pairing competition: Which tastes better together, the spinach and the oranges or the pistachios and the oranges?? Let the kids declare the next pairing and everyone at the table should join in and discuss.

Make Ahead Tips
If you want to make this citrus salad ahead of time, just store all the ingredients separately and assemble just before serving.
The juices from the oranges will wilt the spinach greens if they sit too long together. But, you can easily peel and slice the citrus earlier in the day and keep them in an air-tight container until dinner.
I think the salad tastes best at room temperature, but my husband loved it cold!
📖 Recipe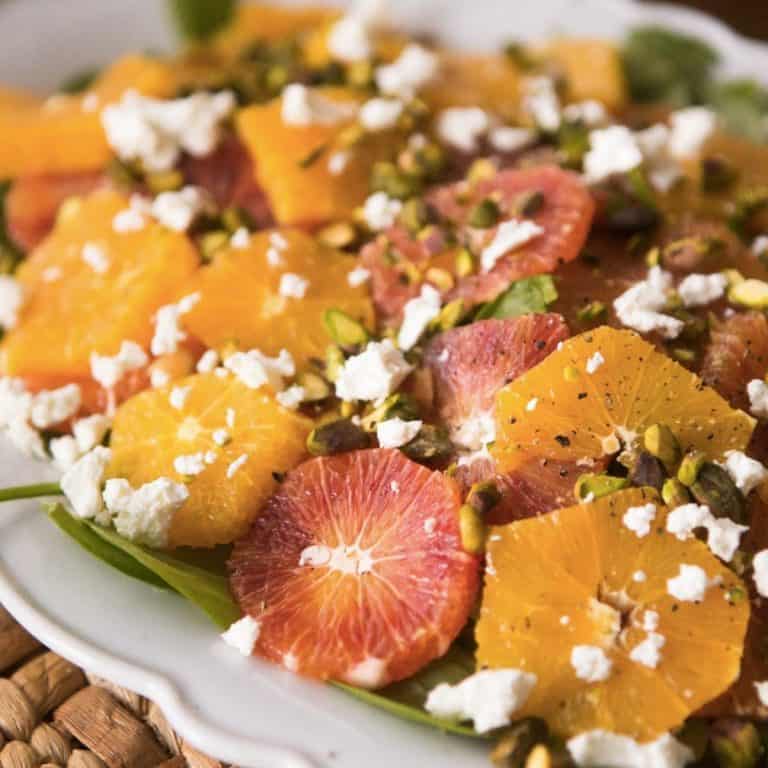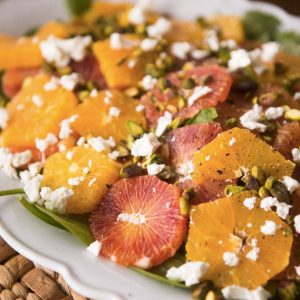 Sunny Citrus Salad
This sunny and fresh citrus salad is the perfect side dish for salmon or your favorite fish. A great healthy family dinner idea.
Ingredients
2

navel oranges

2

cara cara oranges

2

blood oranges

1

package of baby spinach

2 - 3

oz

goat cheese

¼

cup

salted pistachios
Instructions
Use a sharp knife to carefully peel the oranges. Slice the top and bottom off first so you have a solid base for holding the orange. Run the knife down the outside edge and remove the entire white pith layer. Turn the orange on it's side and slice thin circles and set them aside.

Layer the baby spinach on a platter. Sprinkle the orange slices all over the top. Pinch 2-3 oz of goat cheese into crumbles over the top. Sprinkle ¼ cup salted pistachios over the top.

Serve with vinaigrette on the side or drizzled over the top. Everything tastes best at room temperature.
Save This Recipe to Your Recipe Box
Find this delicious recipe next time you visit by saving it to your very own recipe box on my site. All your favorites stored in one easy place!