This sunny citrus salad is the perfect solution to a dreary day dinner. When the weather outside is gray, light up your meal with fresh oranges, spinach, pistachios, and goat cheese and an super easy homemade vinaigrette. If you're not already obsessed with oranges, this dish will definitely convert you!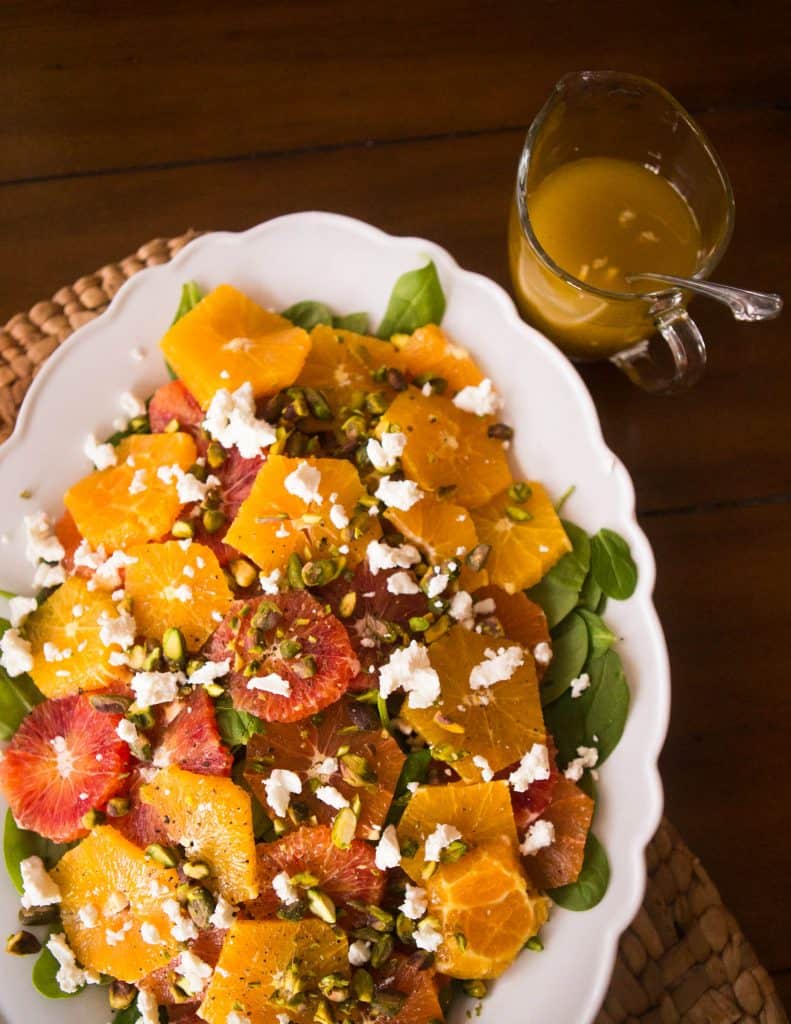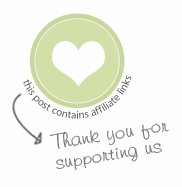 My husband Tim waits all year long for January and the peak of citrus season. Our fridge is always overflowing with oranges, clementines, and blood oranges because he loves to sit and peel them as a way to relax.
I'm not kidding, I've watched him take 45 minutes to peel an orange "just so." The man is obsessed.
Meanwhile, I have to confess that oranges are not my favorite snack. On their own I find them a little too acidic and my teeth hurt just thinking about biting into the cold wedges.
This dreary winter, I treated myself to a copy of Gaby Dalkin's What's Gaby Cooking: Everyday California Food cookbook. I've only been to California one time, but I remember being AMAZED at the quality of the produce there. For real, the fruits and veggies we ate during our visit were the most delicious I've ever had. It's enough to convince me to move to the Sunshine State.
But since a cross-country move isn't in the cards just to get some decent oranges and strawberries, I thought Gaby's book with it's focus on fresh ingredients might inspire me to use more of the fresh produce I can find locally.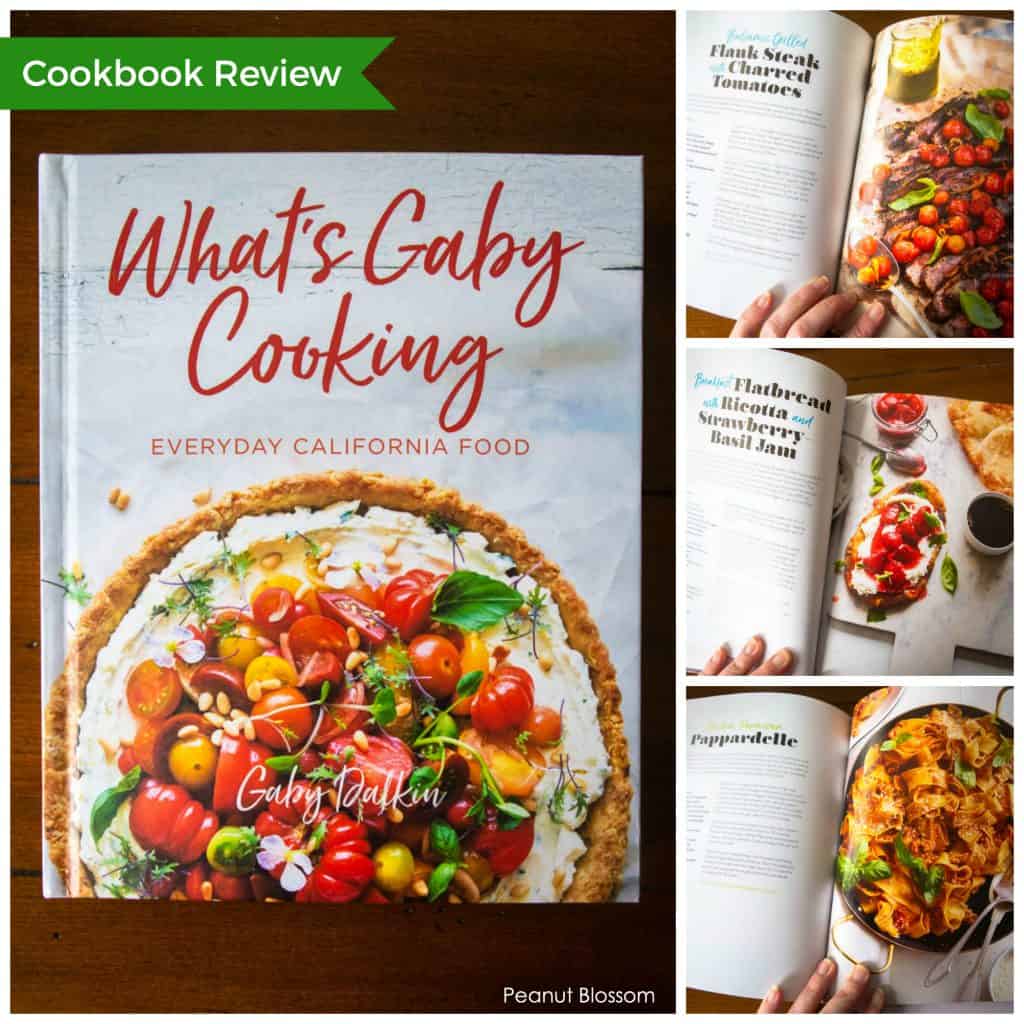 A review of What's Gaby Cooking, Everyday California Food by Gaby Dalkin:
The What's Gaby Cooking cookbook is absolutely stunning. The food photography is done by the amazing Matt Armendariz. I could sit and just drool over his images all afternoon.
The recipes have a strong emphasis on the seasonal use of produce at it's peak. The strongest chapters for what I was hoping to find include:
"Give Me All the Greens!": a clever list of salads by season
"Things to Put on the Side": unique fruit and veggie side dishes
"Carbs, Carbs + More Carbs": the most family-friendly chapter in the book
Is What's Gaby Cooking a good cookbook for families?
There are stellar recipes for feeding kids mixed all throughout the book. Recipes that really stood out to me included: Chicken Parmesan Pappardelle, several variations on pizza, meatballs with cherry tomato sauce, flank steak recipes for various fajita-style dinners, several burger and taco recipes that feature amazing fresh veggie sauces or salsas, and several chicken and salmon dinner ideas that can be paired with the fresh veggie sides.
The cookbook also has several recipes geared more towards adult entertaining or foodie adventure seeking including octopus skewers, oysters with sauces, chimichurri mussels, and tuna poke bowls.
It's a great book for satisfying an adult palette even if you have kids at home that need pleasing as well.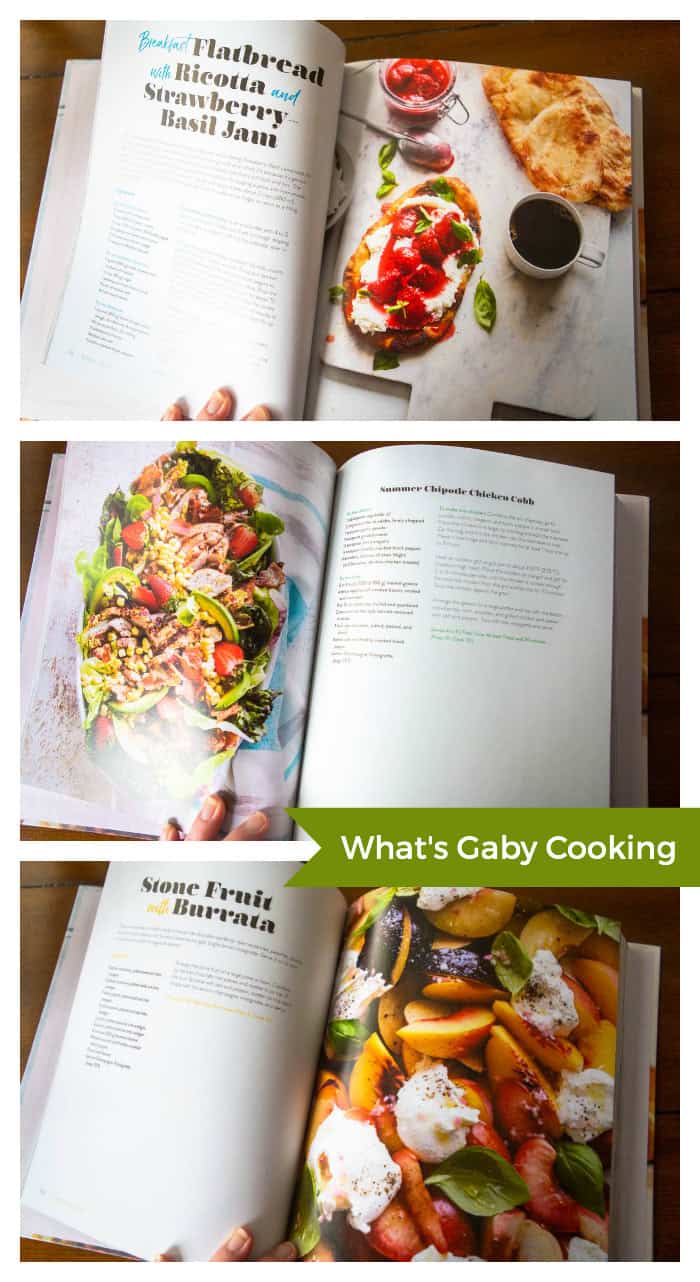 Want to read more about What's Gaby Cooking? You can find her cookbook right here.
One particularly dreary day, I flipped through her book and immediately spotted her winter citrus salad. All those gorgeous sliced oranges on a big platter immediately screamed TIM to me. I thought I'd surprise him with a side dish for our dinner that would be right up his alley. The whole thing just looks like sunshine on a plate.
I decided to make our family's favorite salmon recipe for the main dish. Since I've already turned that meal into a salad with oranges, I knew it would pair well with this citrus salad recipe. I wanted to bulk up the side dish a bit so I laid a huge container of pre-washed baby spinach on the platter before building out the rest of the salad.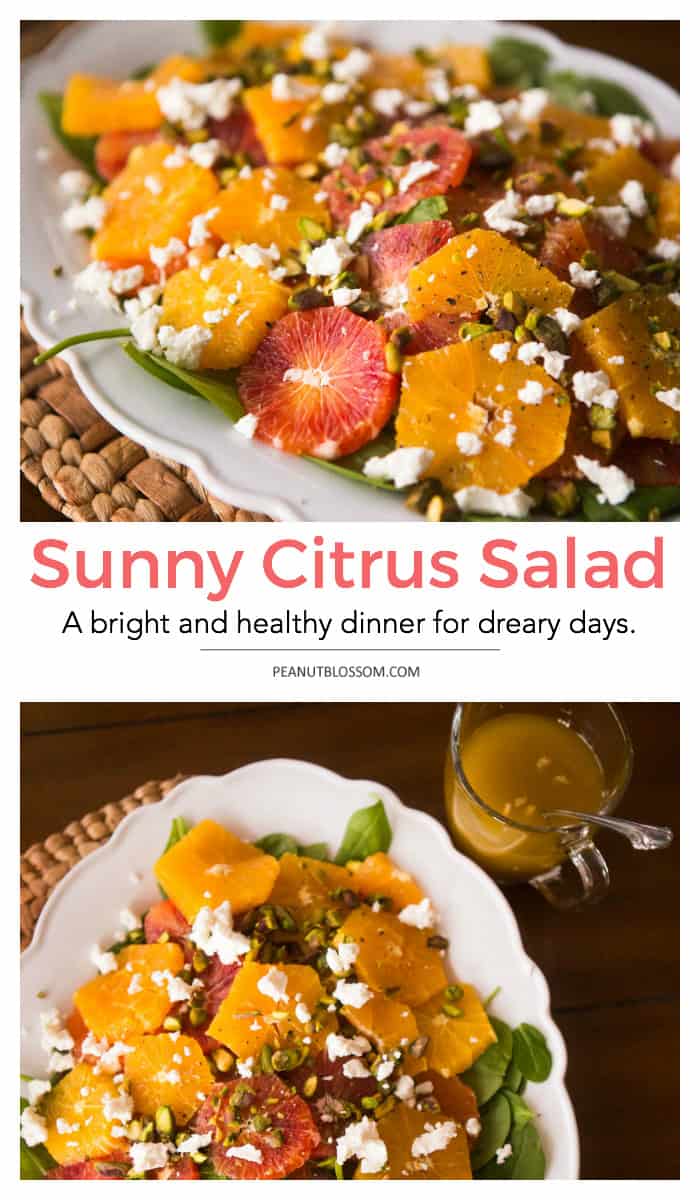 Citrus salad for kids:
When I set the platter down on the dinner table, both girls were highly skeptical. They are both great salad eaters, but they are more familiar with the boring lettuce, tomato, shredded carrot variety. The goat cheese in particular made them nervous.
Little Pea, after a few hesitant bites, declared this the BEST SALAD EVER! She begged for more cheese crumbles and pistachios. She preferred to eat each element separate but enjoyed all of them.
The Peanut whimpered through the salad, this was way too far out of her comfort zone. But the rest of us so thoroughly loved it, it will be making more appearances on our table and I'm confident she'll eventually come around. Mustard just happens to be one of her very favorite foods, so next time I'd just add a heavier handed splash of it in the vinaigrette.
The easy peasy sunny citrus salad recipe:
Tip: If you want to make it ahead of time, just store all the ingredients separately and assemble just before serving. I think it tastes best at room temperature, but my husband loved it cold!
This side dish definitely pairs really well with our mustard glazed salmon recipe here.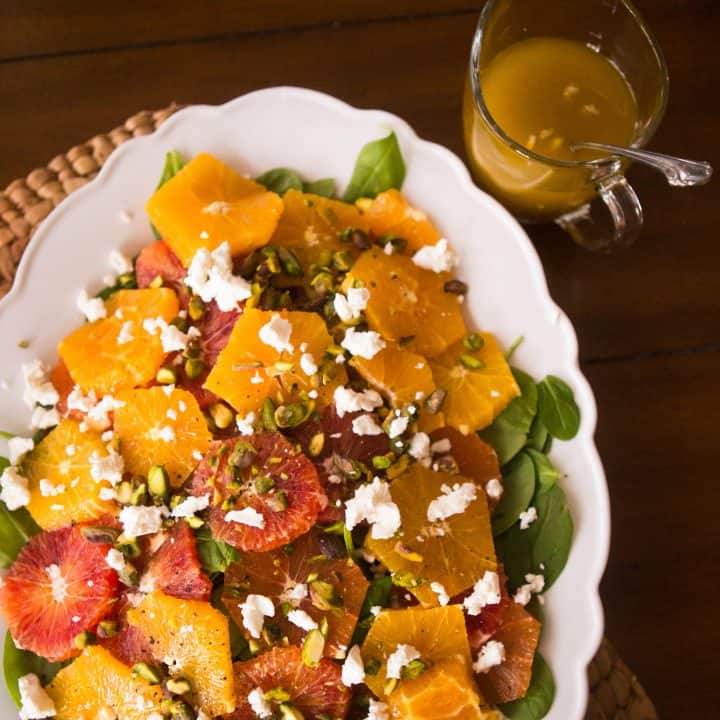 sunny citrus salad
This sunny and fresh citrus salad is the perfect side dish for salmon or your favorite fish. A great healthy family dinner idea.
Ingredients
2 navel oranges
2 cara cara oranges
2 blood oranges
1 package of baby spinach
2 - 3 oz goat cheese
1/4 cup salted pistachios
Instructions
Use a sharp knife to carefully peel the oranges. Slice the top and bottom off first so you have a solid base for holding the orange. Run the knife down the outside edge and remove the entire white pith layer. Turn the orange on it's side and slice thin circles and set them aside.
Layer the baby spinach on a platter. Sprinkle the orange slices all over the top. Pinch 2-3 oz of goat cheese into crumbles over the top. Sprinkle 1/4 cup salted pistachios over the top.
Serve with vinaigrette on the side or drizzled over the top. Everything tastes best at room temperature.