Peppered glazed pecans make any festive snack board more delicious with the balance of sweet and peppery flavor. Just 10 minutes and 6 ingredients for easy holiday baking.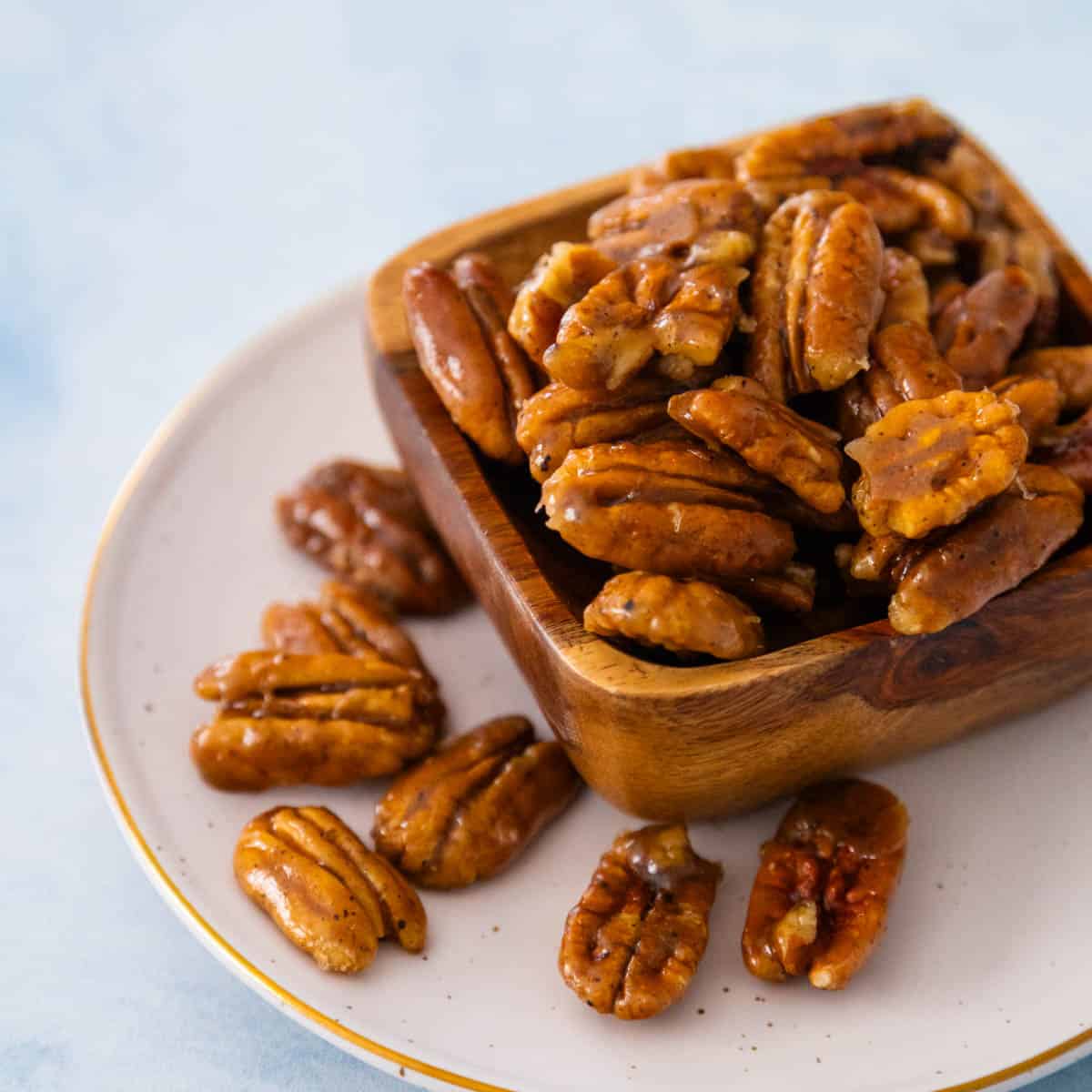 I love dessert as much as anyone but during the holidays the endless stream of sweets can be a bit much.
These peppered pecans are the perfect complement to a holiday cookie tray or snack board because they bring a strong peppery kick to counterbalance all the sweetness.
A friend of mine served these during a holiday book club party years ago and I've never forgotten them. I couldn't eat just one. I loved that strong kick of pepper in the glaze and kept reaching for another and then another!
This is such an easy treat to add to a candy dish this season. Don't miss all my serving suggestions at the bottom of the post.
Jump to:
Why This is the Best Recipe
The little details are what make any holiday feel special. I think this is the best peppered pecans recipe because:
Just 10 Minutes: You can have a homemade snack with so little effort.
Sweet and Peppery: I love that balance of the sweet glaze with the heavy kick of black pepper.
Versatile Pantry Item: While you could enjoy these as a simple nibble from a candy dish, there are some fun serving suggestions for you at the bottom that help make the holiday even more tasty.
Ingredients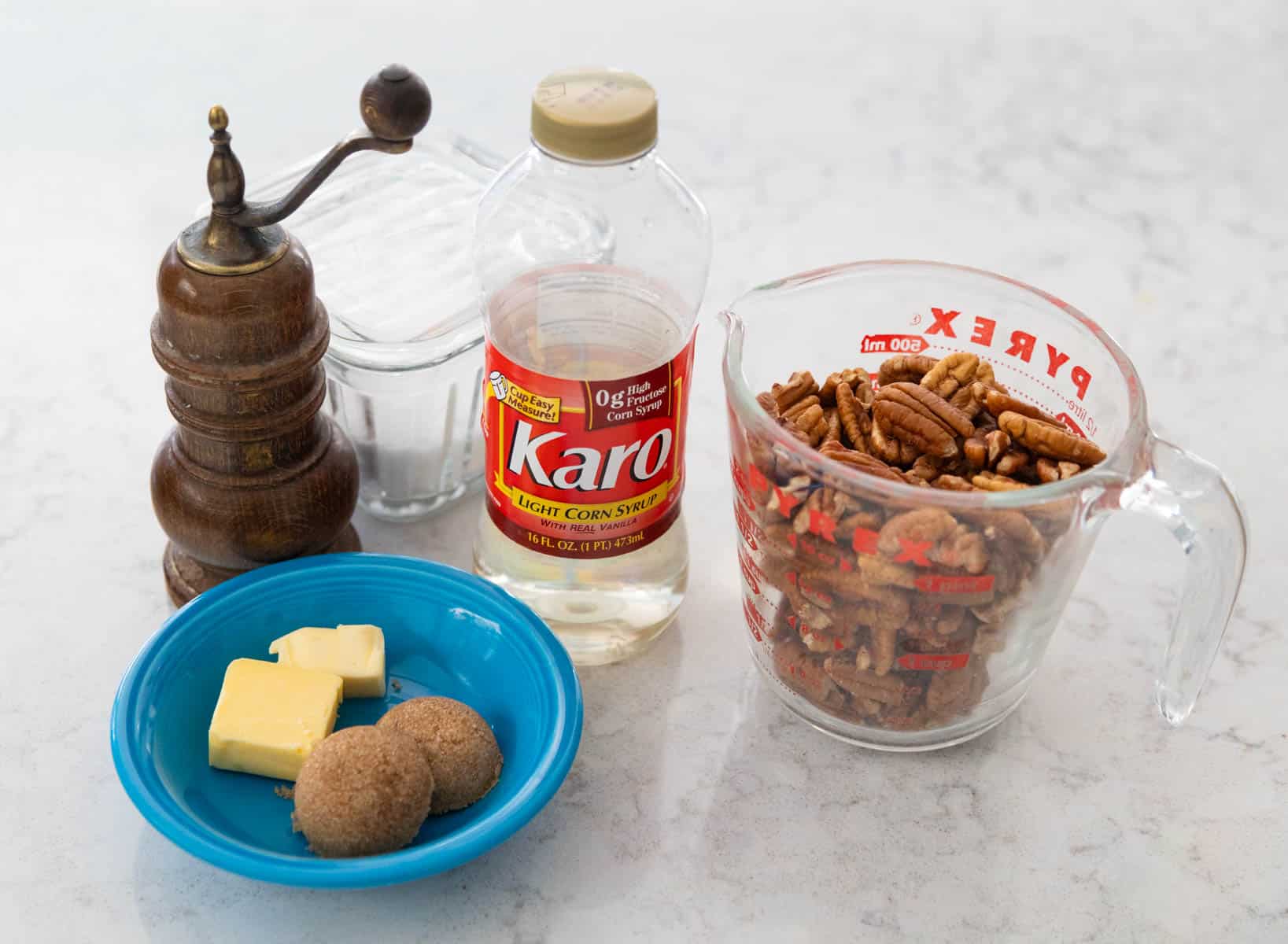 This quick and easy peppered pecans recipe only needs a few ingredients:
Pecan Halves: I buy the big bag at Costco but Trader Joe's usually has great prices, too.
Brown Sugar
Butter
Light Corn Syrup
Black Pepper: I love fresh cracked black pepper from my pepper mill but for this recipe, you will want to use just the regular black pepper from the spice aisle. It has a much stronger peppery kick in the recipe. The fresh cracked pepper has a much milder flavor in this glaze.
Salt
Make the Brown Sugar Glaze
Add the brown sugar, butter, corn syrup, salt, and pepper to a large skillet.
Melt the butter over medium-high heat and stir everything together.
Saute the Pecans
Once the glaze is smooth, add the pecans to the skillet and stir them in to coat.
Continue to stir and cook the pecans in the glaze for 5 - 7 minutes.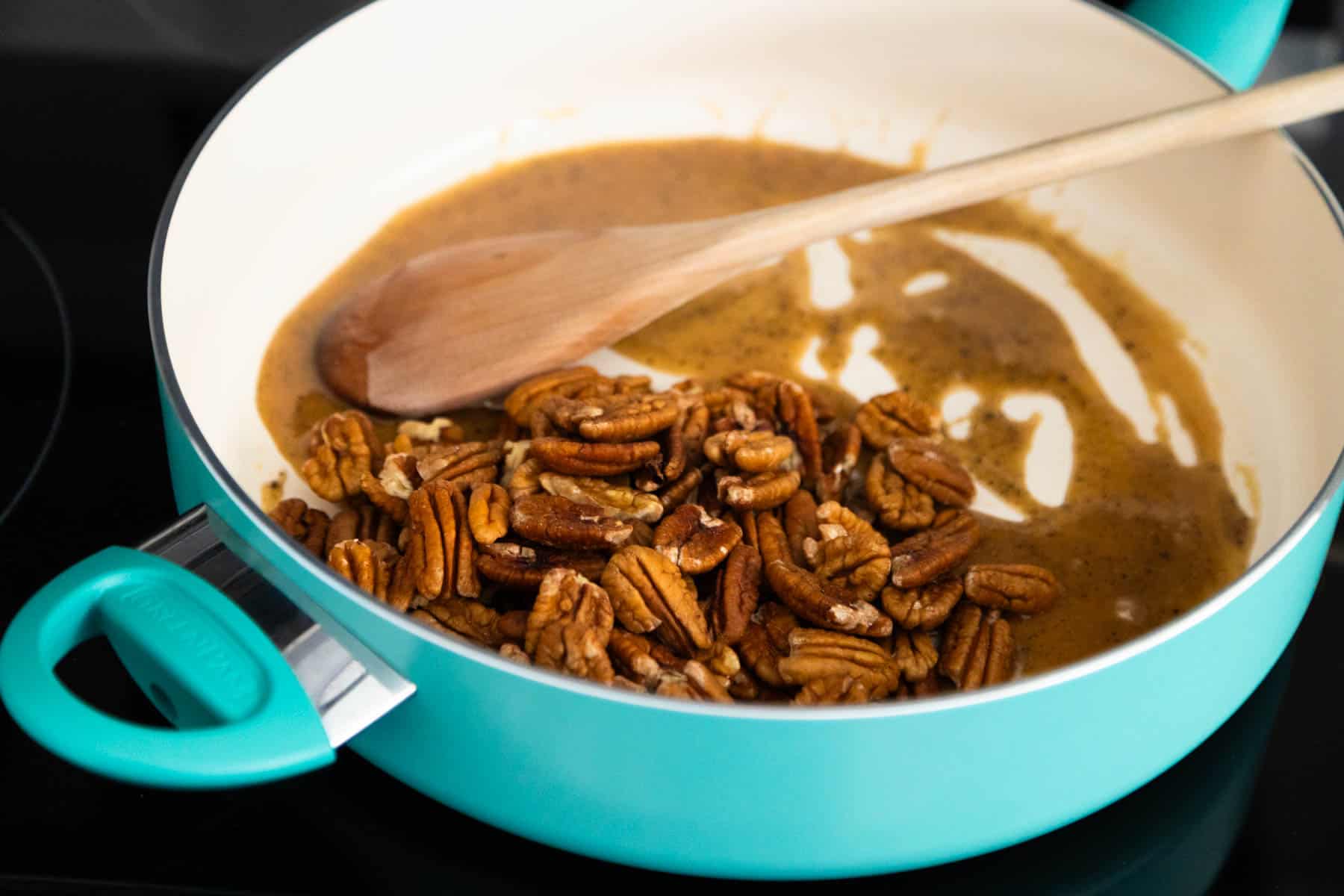 The glaze will start to cling to the nuts as they cook and the pecans will become nice and fragrant.
Continue to cook and gently stir and toss the nuts until you hear the glaze sizzling and the sauce has completely clung to the pecans.
The mixture will be quite sticky at this point.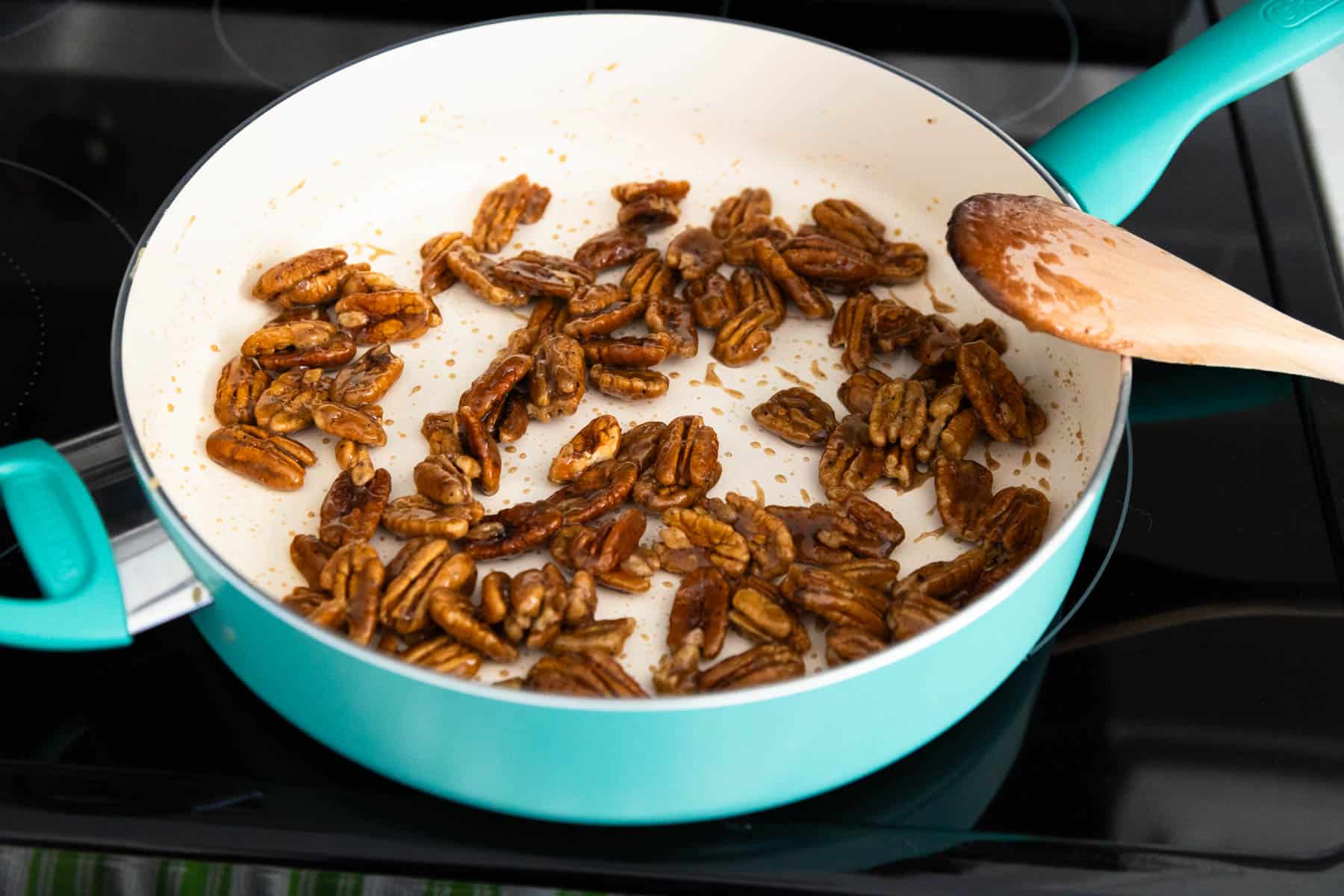 Cool the Glazed Pecans
Spread the pecans in a single layer on a baking sheet lined with parchment.
The nuts will stick together at first, but as soon as they cool down enough that you can touch them safely, you can separate the nuts into individual pieces vs. clumps.
I used two forks to help separate the nuts and spread them out on the sheet.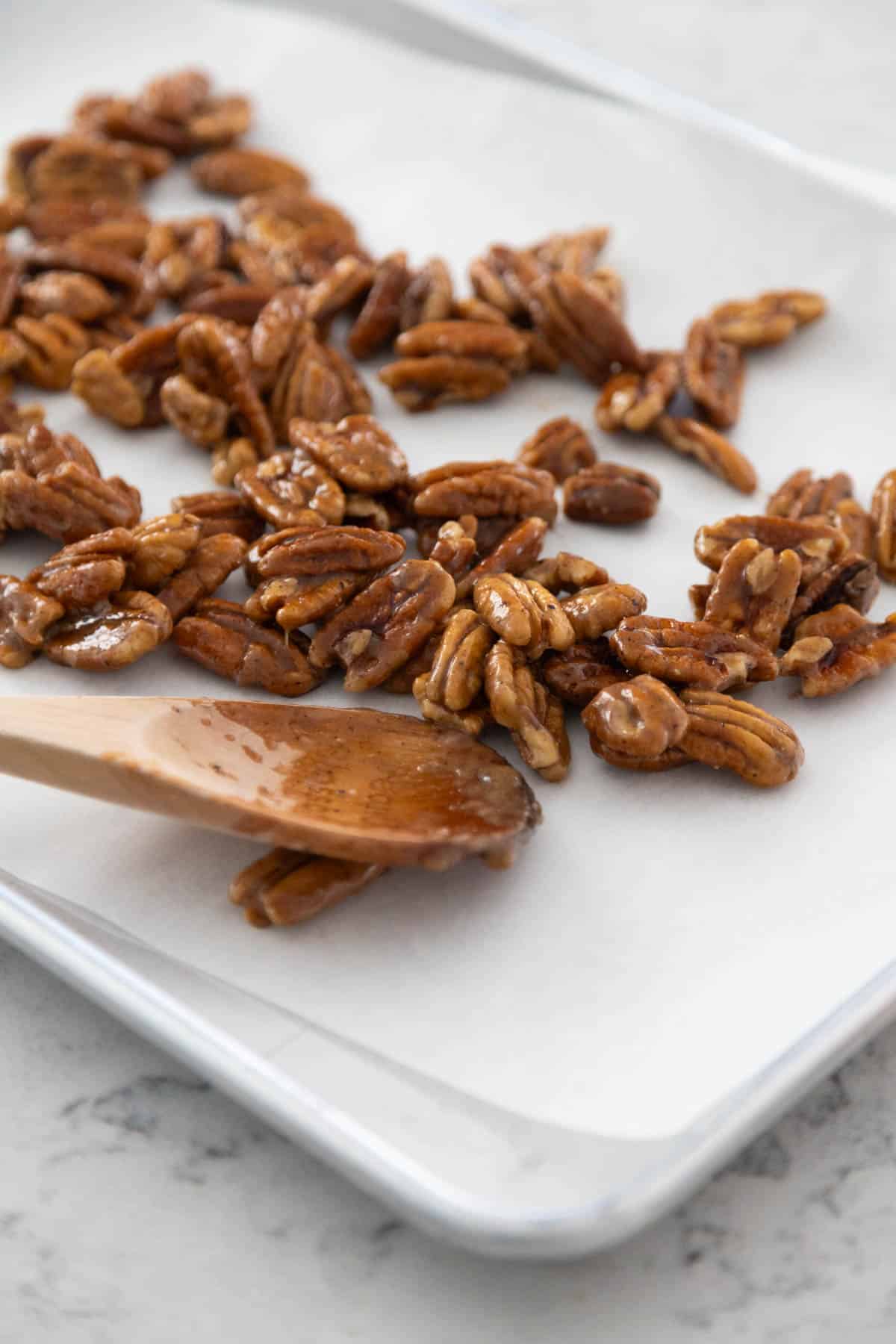 Variations
I love the mix of brown sugar and black pepper on these glazed pecans but you could also try mixing things up with these fun ideas:
Rosemary Glazed Pecans: Add 1 teaspoon dried rosemary to the glaze.
Spicy Glazed Pecans: Add ¼ teaspoon cayenne pepper to the glaze OR substitute Mike's Hot Honey for the brown sugar.
Serving Suggestions
Sweet glazed peppered pecans are perfect for filling candy dishes and snack bowls for setting out during the holidays.
They also make a fantastic homemade gift when bundled into a pretty container with a ribbon or treat bag with a bow.
Once the pecans cool completely, stir in dried cranberries and salted pretzels to make a glazed pecan snack mix.
You could add them to a cheddar snack board with fresh apples and blackberrries.
You could also chop them and sprinkle them over a festive apple pear salad for a little kick.
I used toasted pecans to top my cranberry cream cheese dip, but the peppered pecans would taste great there, too.
More Holiday Snacks
If you love offering a simple homemade snack during a holiday party, you will love these other fun nut and snack recipes for candy dishes:
📖 Recipe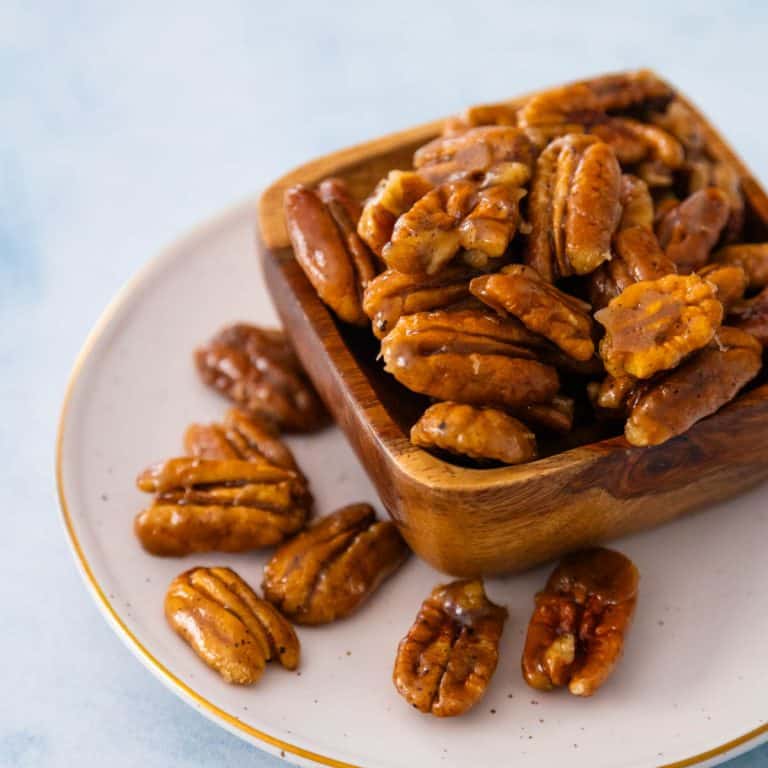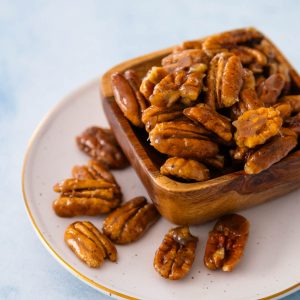 Peppered Pecans
These sweet glazed pecans pack a very peppery punch and are an excellent addition to a festive charcuterie board or used as a salad topper. Mix them with dried cranberries and pretzels for a quick and easy glazed pecan snack mix.
Ingredients
2

cups

pecan halves

2

tablespoon

brown sugar

1 ½

tablespoon

butter

1

tablespoon

light corn syrup

generously round the measure

1

teaspoon

black pepper

use the black pepper from the spice aisle, not fresh ground black pepper which has a milder taste

¼

teaspoon

salt
Instructions
Spread a large baking sheet with parchment paper and set aside.

Stir together the brown sugar, butter, corn syrup, salt, and pepper in a large skillet. Cook over medium heat until the butter is melted.

Add the pecans and cook them, stirring constantly with a wooden spoon for 5 - 7 minutes or until fragrant and well coated with glaze.

Spread the pecans into a single layer on the prepared baking sheet and let cool completely. They will be difficult to separate at first but can be separated completely once they are cool enough to touch.
Recipe Notes
NOTE: These are very peppery pecans. If you prefer less kick, reduce the pepper to just ½ teaspoon.
Save This Recipe to Your Recipe Box
Find this delicious recipe next time you visit by saving it to your very own recipe box on my site. All your favorites stored in one easy place!