Dried apple slices make an easy healthy snack and taste amazing stirred into snack mixes or sprinkled over fall salads. Learn how to dry thin apple chips in the oven with just a few minutes of prep.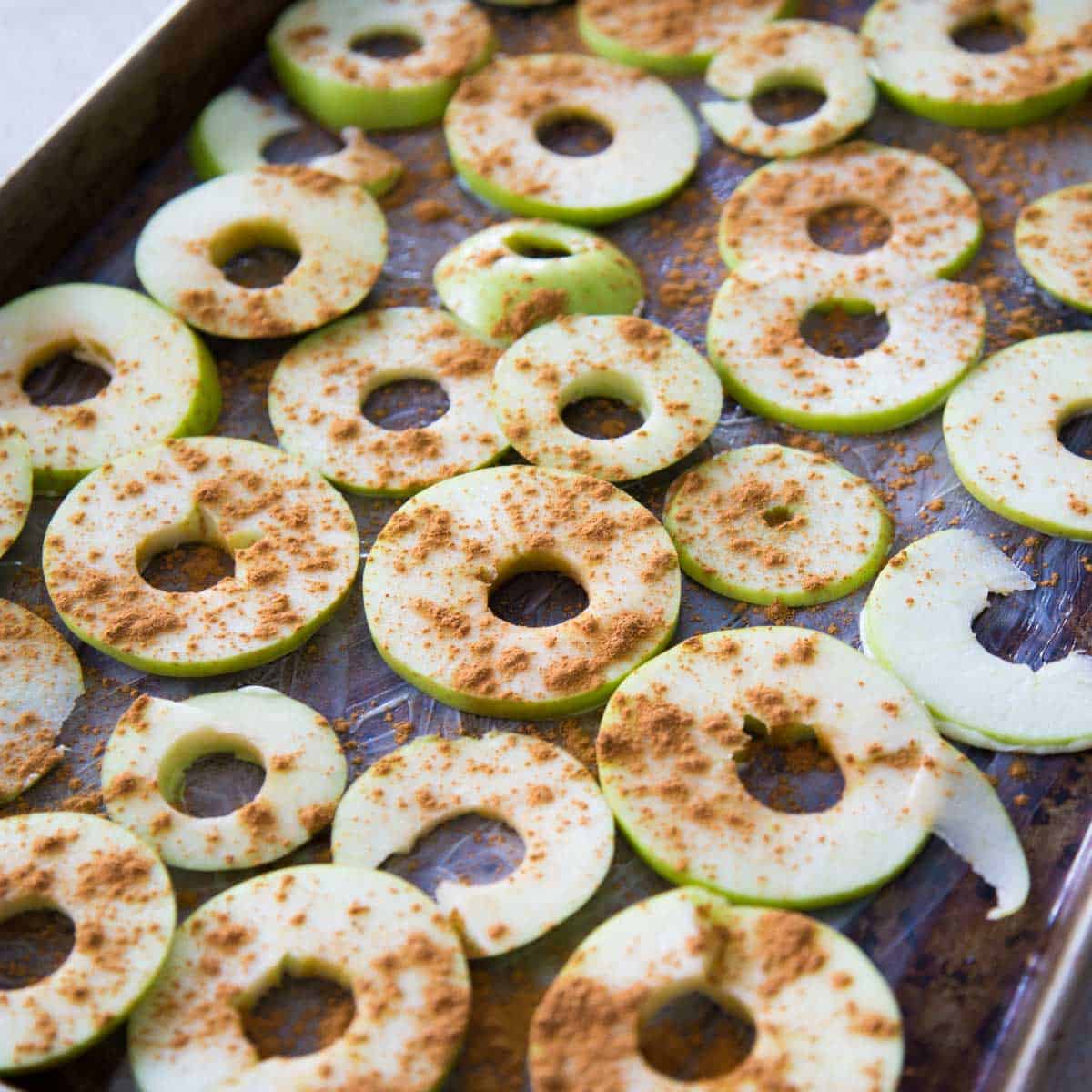 Looking for a fun an easy snack to make with the kids this fall?
If you're swimming in a large batch of apples after a pick-your-own orchard trip, try making homemade apple chips by baking dried apple slices.
The oven dried apples are so delicious on their own but we have plenty of suggestions for things to do with your apple chips besides just eating them straight off the pan!
Jump to:
Why This is the Best Recipe
I have tons of fantastic apple recipes to use after we've been apple picking each fall but I think this is the best dried apple slices recipe because:
Easy Prep: If you use my prep notes below, getting the apple slices ready for drying in the oven takes just a few minutes.
Sweet and Crispy: I love the flavor of dried apples, especially with warm and cozy apple spices on top.
Lots of Serving Ideas: Dried apple slices make a fantastic snack by themselves but I've got several fun ways to use them in other dishes, too.
Ingredients
The most beautiful thing about this healthy snack is how few ingredients you need to make it:
Fresh Apples: We prefer Granny Smith tart apples but you can use what you like.
Butter
Ground Cinnamon
Prepare the Apple Slices
Making homemade apple chips is crazy easy. You simply slice the apples super thinly and evenly.
While you could carefully core the apples and slice them by hand with a chef knife, I recommend this awesome apple peeler/slicer tool.
With just a few turns on the handle, it cuts the apples into just the right thickness for this recipe.
Your dried apple slices will look more like half-moons than full circles, but they will taste even more delicious because you'll be likely to make them a lot more often once you see how easy it is.
Baking Instructions
Preheat the oven to 250°F.
Rub the softened butter over the top of a baking sheet.
Place the apple slices in a single layer over the butter.
Dry the apples at that low temperature for an hour or so until they are nice and crispy.
Best Spices for Apples
You could enjoy the dried apple slices just plain with the butter or you can add a little warm apple spice to jazz them up.
The best choices for seasoning these apple chips would be:
Storage Tips
The baked apple slices should be cooled completely before being stored in an air tight container.
They will keep at room temperature for 3 - 5 days.
Serving Suggestions
Dried apples are so delicious with their concentrated apple flavor, they are one of my favorite apple snacks for after school.
You can eat them just as-is as a fun and healthy snack but here are some other creative ideas for using homemade dried apple slices:
Break them up into large chunks and add them to my Hot Apple Pie Chex Mix with sweet Chex and yogurt covered raisins.
Break them up and add them to my festive apple pear salad for extra crunch and to boost the apple flavor.
Add them to a fall snack board. Dried apple slices would be a perfect addition to my easy cheddar snack board.
Mix them into homemade granola and make a fall yogurt parfait with pecans and vanilla yogurt.
More Apple Recipes
If you love baking with apples in the fall like I do, you won't want to miss these delicious apple recipes:
📖 Recipe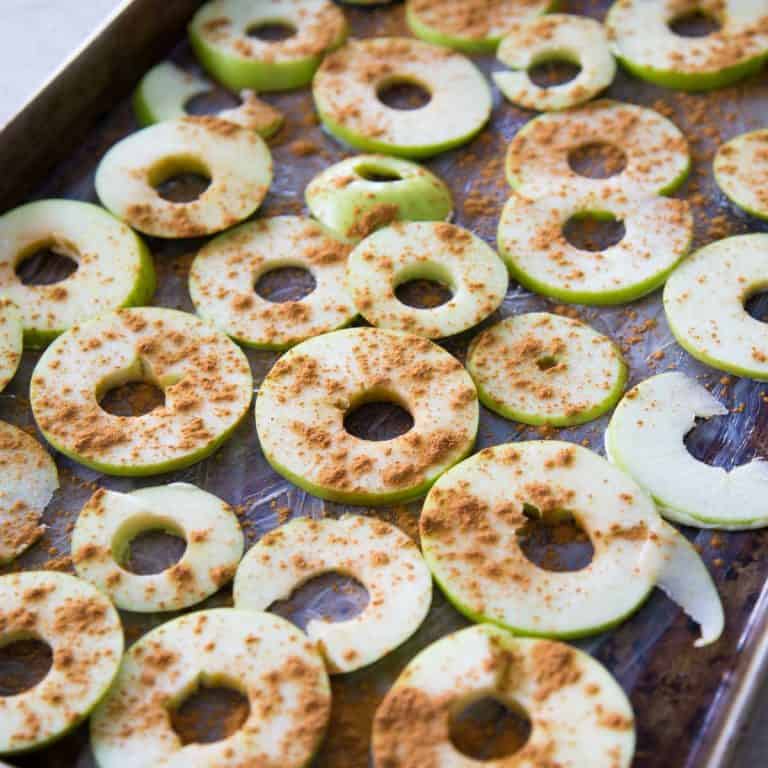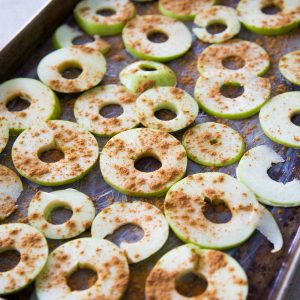 Dried Apple Slices
These sweet crispy oven dried apple slices are the perfect fall snack to bake with the kids. Use them in a snack mix, to top a salad, or to make a fall yogurt parfait.
Ingredients
1 - 2

tablespoon

butter

softened

2

apples

we prefer Granny Smith

¼

teaspoon

ground cinnamon
Instructions
Preheat the oven to 250°F.

Prepare a cookie sheet by rubbing the softened butter all over the surface, set aside.

Prepare the apples:Turn each apple on its side and use a sharp kitchen knife to very thinly slice the apples into ¼-inch rounds. Then use a small cookie cutter or paring knife to remove the inner circle of the core from each slice.

Lay the apple slices in a single layer on the prepared cookie sheet. Sprinkle them with a generous coating of the cinnamon. 

Bake for 30 minutes. Carefully flip the apple slices over onto the other side so that both sides can get a chance to crisp up. Bake for another 30 to 50 minutes or until the apples are nice and crispy. 
Save This Recipe to Your Recipe Box
Find this delicious recipe next time you visit by saving it to your very own recipe box on my site. All your favorites stored in one easy place!