Looking for a new healthy apple snacks for kids after school? These easy apple snacks can be made ahead or prepped in just a minute.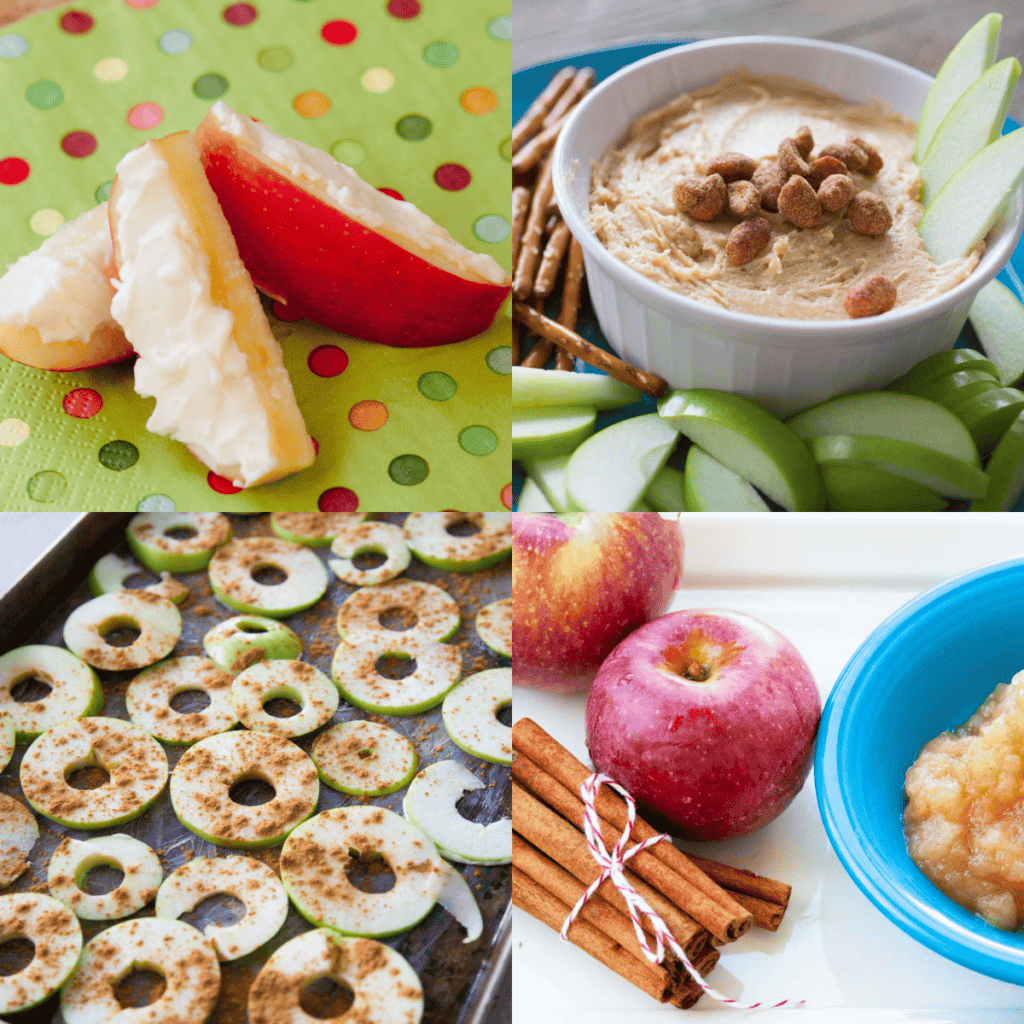 The school bus pulls up, the door flies open, and in storm my kids practically SCREAMING for a snack.
Woah Nelly! What happens at school that seems to completely and utterly drain them of all energy and reason by 4:15 p.m.?
The last few weeks have been somewhat of a challenge making sure I have something hearty for them the moment they get home.
A simple cup of pretzels doesn't seem to help stop their hunger, so I've tried a new approach with more protein in the combinations that will tide them over AND sneak in a little more nutrition.
Here during the fall, apples are exactly the right staple to be incorporating for these tiny meals.
5 Things to Do with Apples for After School Snacks
The key to an interesting apple snack is to use fun flavor pairings:
salty and sweet
creamy and crunchy
spicy and sweet
cold or hot
Whichever snack you try, your kids are sure to love one of these fun snack ideas!
1. Apples with Pretzels & Peanut Butter Dip:
Make a simple nibble plate that offers a bit of this, a bit of that:
fresh apples, sliced thinly
salty pretzels
creamy peanut butter dip
spicy roasted peanuts
My kids mix and match their bites and get some of each item in. I noticed immediately that they eat a LOT more of the apples when I cut them thinly and offer them alongside the dip than they would if I just handed them the apple itself.
2. Apples with a Wedge of Laughing Cow Swiss Cheese: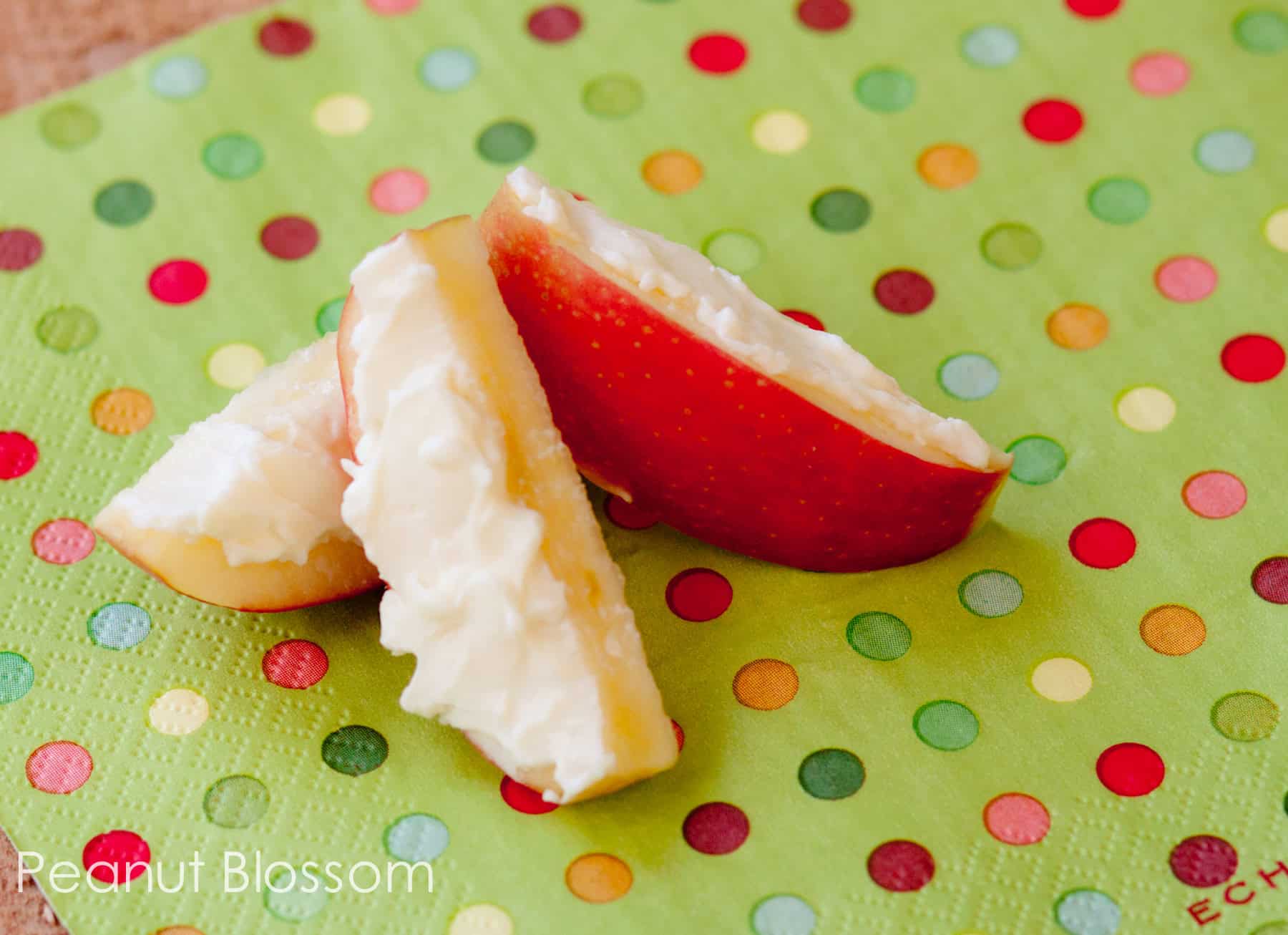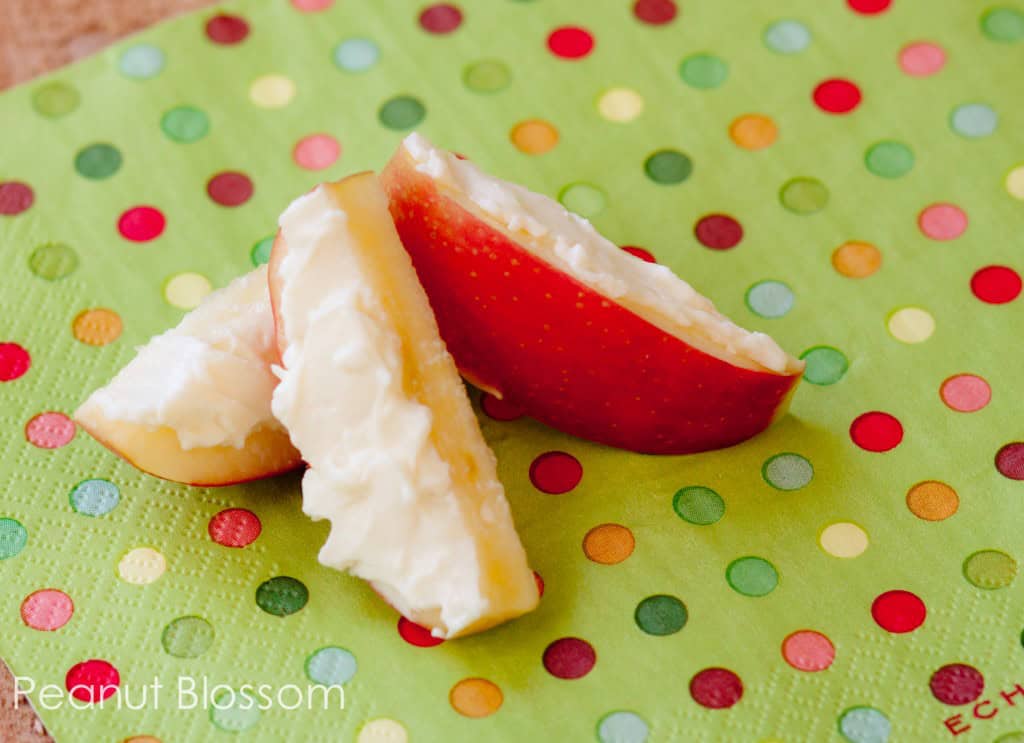 Have you tried this awesome apple snack combo yet?
It has been a LONG time favorite of mine personally. I eat pink lady apple wedges with a spread of creamy Swiss cheese spread from Laughing Cow for an afternoon snack.
The kids are still warming to the idea of the spreadable cheese, but when you pair it with a sweet apple in particular this is pure heaven.
Bonus that it is super light and protein packed.
3. Apples with Caramel and Popcorn:
In a twist on caramel corn, serve this nibble platter with:
fresh apple wedges
bowl of salty popcorn
This homemade version of caramel corn is so much better than store bought and a very little goes a long way.
4. Trail Mix with Homemade Dried Apple Chips:
Homemade apple chips are so easy to make and they are delicious! They make the whole house smell like apple pie.
Mix and match a homemade trail mix with them and your child's favorite nuts and Chex cereal. Get the instructions on the chips here.
Or, you can also used dried apples in our favorite Hot Apple Pie Chex Mix for a ready-to-go snack.
5. Homemade Applesauce in the Microwave
This homemade applesauce recipe takes just a few minutes to prep and is made easily right in your microwave!
You can adjust the seasonings, sugar level, and texture to fit your kids' preferences perfectly.
6. Apple Pie Monkey Bread: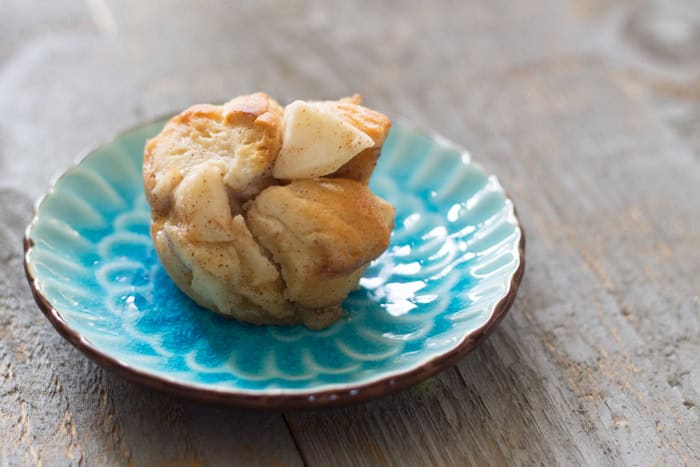 Better than a cookie, check out this apple pie monkey bread from my friend Zina over at Let's Lasso the Moon.
Made with apples and a simple refrigerator biscuit, my kids would love walking into the house with the smell of these lingering in the air!
For more great after school snack ideas, be sure to check out 30 Days of After School Snacks here.