Looking for new after school snack ideas for your kids? These fresh and tasty snacks offer options with plenty of protein and a few with a little bit of sweetness for a fun treat.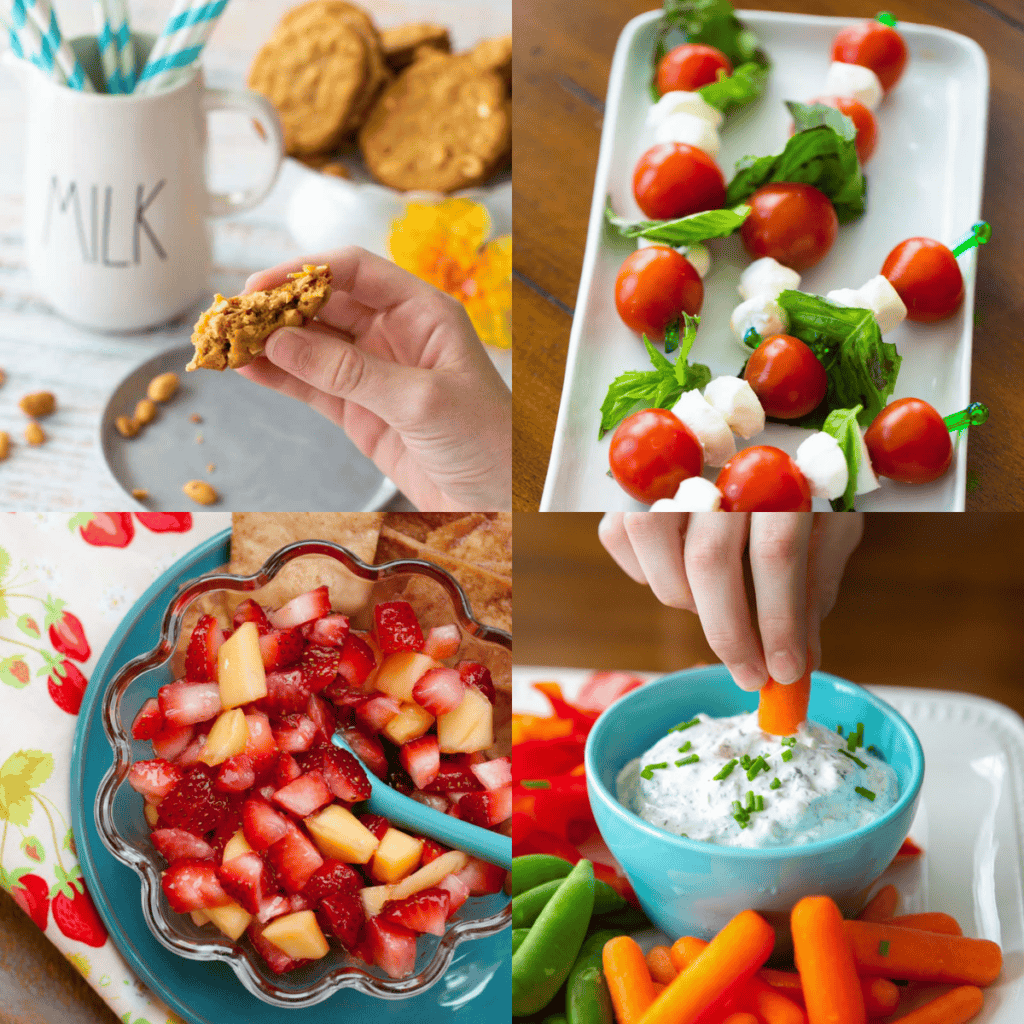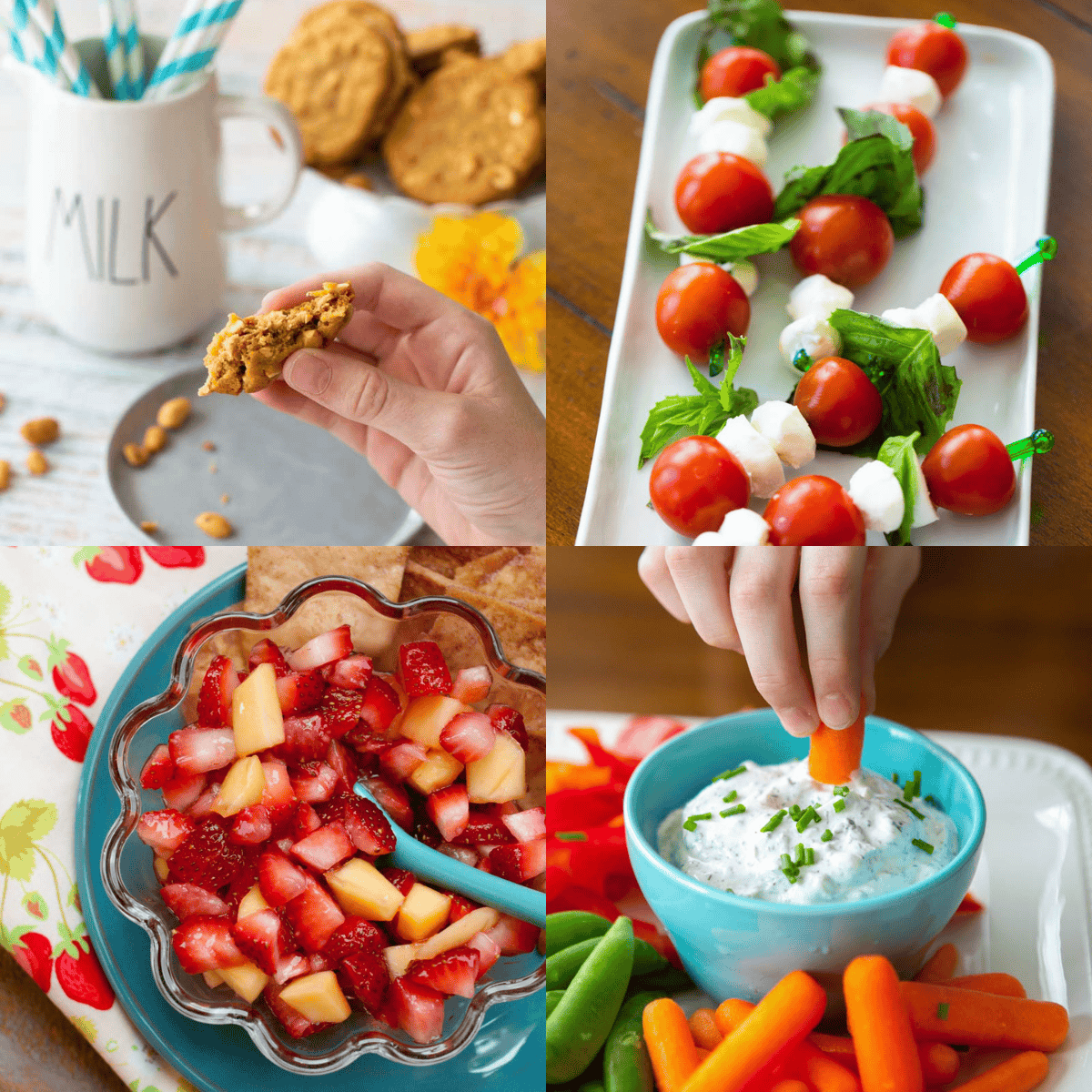 When your kids get off the bus starving, some days you need something ready to grab and go before you head to their next activity and some days you want something that feels a little more like a special treat.
However you need to welcome your hungry kids home, you're sure to find a tasty after school snack that fits the bill here.
My 30 school lunch ideas helps feed them when they're gone, but this will help tide them over before you can make one of these 30 easy school night dinners!
Happy snacking!

Easy Snacks for After School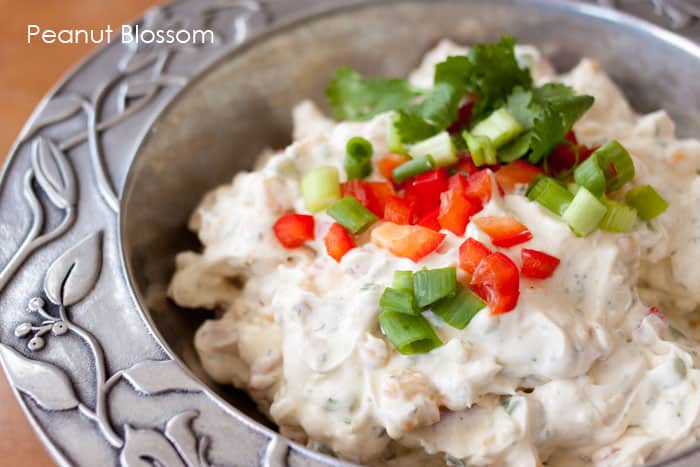 My after school snack requirements are a little unique:
1. Nutritionally must be rounded out over time. I want them to be healthy but I don't mind offering special treats here once in a while. Yes, you will see cookies listed below.
2. These recipes are NOT nut-free. We are a nut-eating family and my girls enjoy peanut butter. Since they go nut-free at school to protect their friends, we allow it to appear in other places during our day. That said, if we have friends over or will be attending a group activity I always make sure to forgo the nuts. Almost all recipes I mention below could be made nut-free if you prefer.
3. There are so many other snacks I could have mentioned, but my kids won't eat them. Hummus, guacamole, a wide variety of vegetables. Not so much. But, if your kids like them? Go for it!! This is my picky-eater approved list.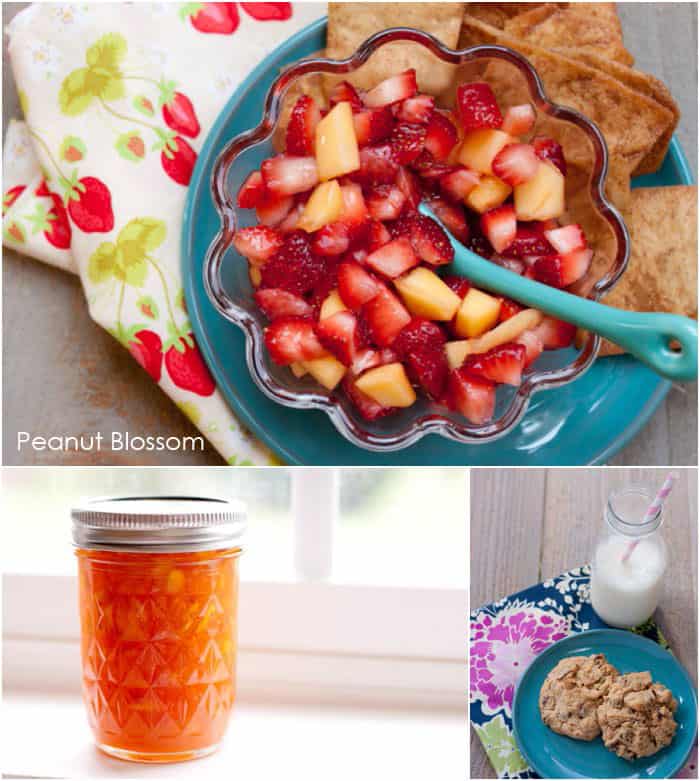 Snacks for Extra Busy Nights:
When you need to run right back out the door, these grab and go snacks are the perfect fix.
cheese slices + crackers
apples + peanut butter
homemade trailmix: raisins, nuts, chocolate covered blueberries, cheerios (Pre-mix your family's favorite blend and keep in a plastic storage container.)
sweet homemade chex mix (Lasts forever in a plastic container--that is if it lasts that long!)
celery + cream cheese + craisins
toasted mini raisin bagel + strawberry cream cheese
popcorn + apple juice box
pumpkin mini muffins (Make ahead and store in your freezer!!)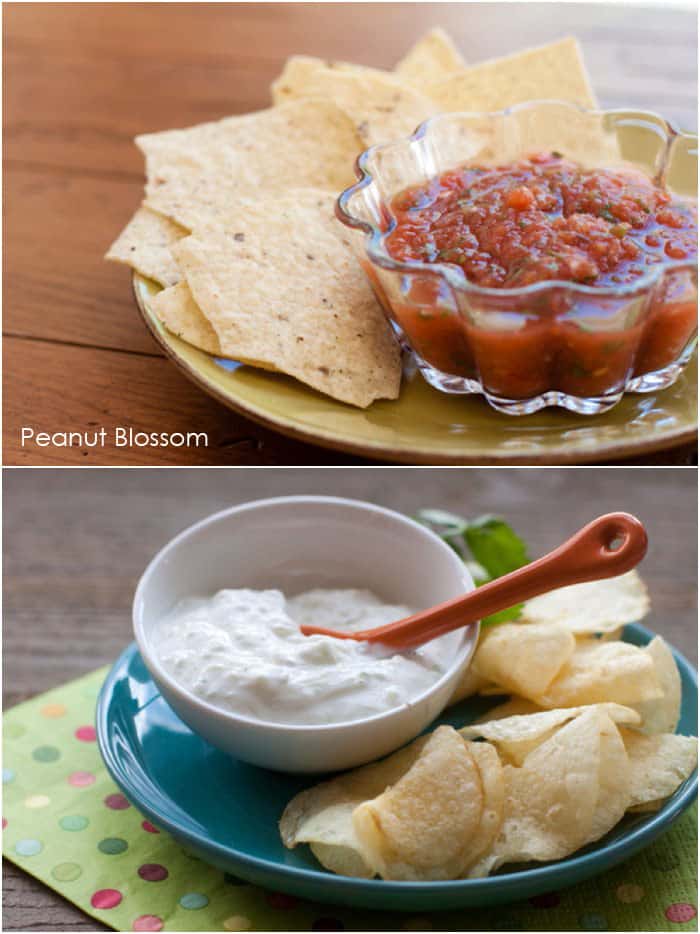 Snacks to Eat Together:
When you want to slow down and reconnect after a long day, enjoy these snacks together while you catch up on what happened at school.
grapes + fruit dip (When you're needing something a little sweet, this is perfect. Goes great with strawberries too.)
graham crackers + cookie butter
banana + yogurt
pimiento cheese + triscuits (I'm a newly southern girl and I've discovered a sick obsession with this stuff. Feel free to replace with a tub of spreadable cheese in your favorite flavor.)
apples + laughing cow
tortilla chips + salsa
pretzels + mustard dip (Mix 1 part mustard to 1 part honey, stir.)
potato chips + dip (My sneak attack way of getting veggies in when they're not looking!)
pea pods and cilantro lime dip (Careful you don't drink that dip by the cupful!)
carrots + seasoned sour cream (A new love. Combine 2 tablespoon of your favorite chip dip seasoning into sour cream.)
bagel chips + tzatziki (I can find a million uses for this dip. It is one of my all time favorites.)
Please Note: For all dips mentioned above, I make one batch with a spare minute on Sunday or Monday and use for several days in a row. If you can measure and stir, you can manage these recipes! Pinky swear!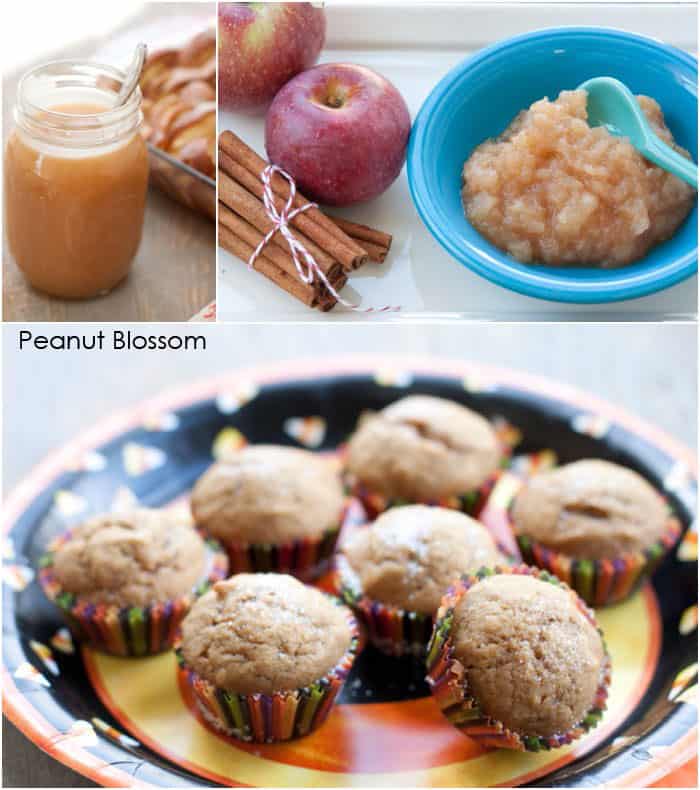 Extra-Special After School Snacks
When you want to feel like a rockstar mom and spoil your kids with something extra tasty, prep one of these delicious treats.
milk + oatmeal cookie (We can't be 100% healthy 100% of the time, but the oatmeal relieves mommy guilt! Make ahead and keep them in the freezer and they'd qualify for an easy snack!)
tortilla spread with cream cheese and grape halves, sprinkled with sugar and broiled till barely charred (RIP Everyday Food. You were my favorite magazine of all time. This little recipe trick was one of my favorites.)
pool side dip + crackers
homemade applesauce + raisin bagel chips (Store this in the freezer and reheat in a pinch. YUM.)
pineapple chunks + cheddar cheese cubes on skewers
strawberry mango salsa + cinnamon pita chips
vanilla bean & peach jam on biscuit (The jam is stored in the freezer, the biscuits come in a tube. Not hard, just looks it!)
apple + creamy peanut butter apple dip
blueberry scones (You can have the batter mixed and ready before the oven preheats. Not kidding!)
banana zucchini bread (I make this several times a year, my girls love it. It probably requires the most time of everything on this list but lasts for several days. Highly highly recommend.)