Deliciously easy strawberry cheesecake dip with graham cracker crumbles is a quick fruit dip for your next party. The base has just two ingredients and the whole recipe takes less than 15 minutes to make!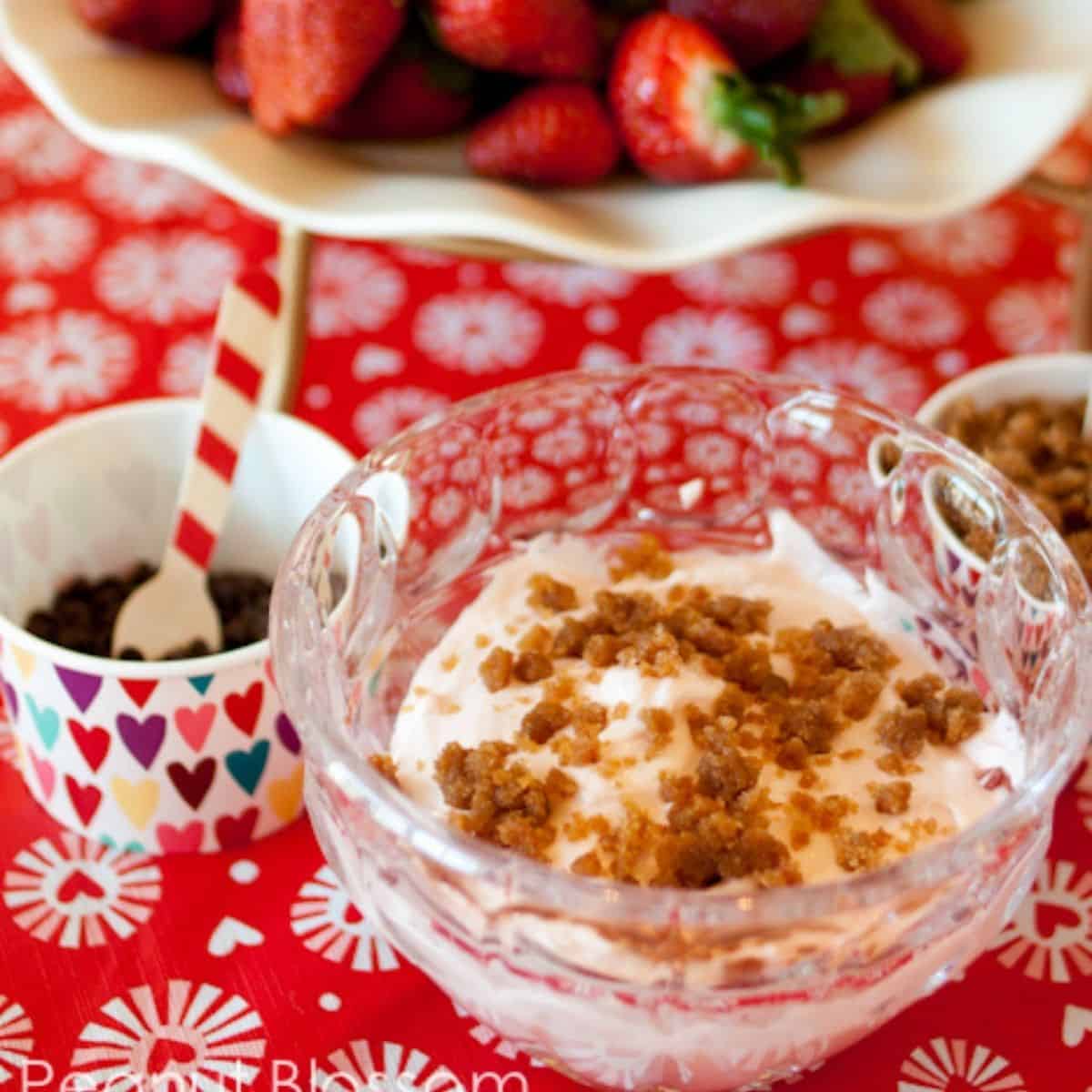 I love serving fresh fruit with a fruit dip for parties. It's a great way to encourage kids to try fruit from the party table.
The trick is making the dip look just as appealing as a dessert!
This strawberry cheesecake dip has brown sugar graham cracker crumbles sprinkled over the top. They only add another 15 minutes to the super-easy recipe and give an awesome crispy crunch to the dip.
Serve them alongside a big bowl of beautiful fresh strawberries with a smaller bowl of mini chocolate chips and a container of skewers for your guests to dunk and dip their own berries as they go!
Jump to:
Ingredients
The cheesecake dip itself has just two easy ingredients!
Strawberry Cream Cheese
Marshmallow Fluff
OPTIONAL:
The strawberry dip is delicious on it's own, but for a special treat I highly encourage you make the graham cracker crumble for sprinkling on top.
For the Graham Cracker Crumble Topping:
Graham Crackers
Butter
Vanilla Extract
Brown Sugar & Regular Sugar
Salt
For Serving:
Fresh Strawberries
Mini Chocolate Chips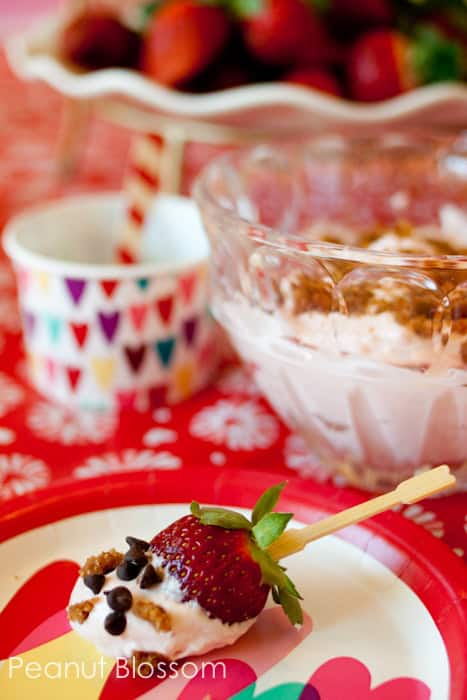 How to Make It
First, prepare the dip base.
Add the softened cream cheese to a large mixing bowl and beat until smooth with a hand mixer on medium speed. Gently fold in the marshmallow fluff until smooth.
Chill in the fridge until you're ready to serve.
Second, prepare the cracker crumble.
Preheat the oven to 350°F and spray an 8x8 baking dish with cooking spray.
Add the graham crackers to a zip-top baggie and seal. Use a rolling pin or mallet to crush the crackers into crumbs.
Add the crumbs to a bowl with the sugar and salt. Add the melted butter and vanilla. Stir everything together until the crumbs are evenly coated.
Pour into the prepared baking dish and bake for 15 minutes or until toasted brown.
Let it cool completely before breaking it up into crumbly pieces for serving on top of the dip.
Serving Tips
Keep the cracker crumbs separate from the strawberry dip until just before serving to maintain their crispy texture.
Place the mini chocolate chips in a serving bowl and let your guests sprinkle them over their strawberries as desired.
Make Ahead Tips
The strawberry cheesecake dip can be made 2 - 3 days in advance and stored in the fridge in an airtight container.
Just be sure to keep the cracker crumbs in an airtight container separately and sprinkle them over the top just before serving.
This recipe should not be frozen.
Variations
You can have fun making several variations of this popular fruit dip just by changing the base flavor of your cream cheese!
Pineapple Cheesecake Dip: Use pineapple cream cheese and serve with strawberries, blackberries, and pineapple wedges.
Blueberry Cheesecake Dip: Use blueberry cream cheese and serve with apples, graham crackers, and fresh strawberries.
Brown Sugar Cheesecake Dip: Use brown sugar and cinnamon cream cheese and serve with sliced apples, especially tart Granny Smith.
Pumpkin Spice Cheesecake Dip: Use pumpkin spice cream cheese and serve with fresh apples and graham crackers.
Honey Pecan Cheesecake Dip: Use honey pecan cream cheese and serve with sliced apples and blackberries.
More Fruit Dips
Looking for more sweet ways to serve fresh fruit at your next party? Here are some of my favorite fruit dips to try:
If you've tried this strawberry cheesecake dip or any other recipe on PeanutBlossom.com please don't forget to rate the recipe and let me know where you found it in the comments below. I love hearing from you!
FOLLOW along on Instagram @peanut.blossom as well as on  Pinterest and Facebook.