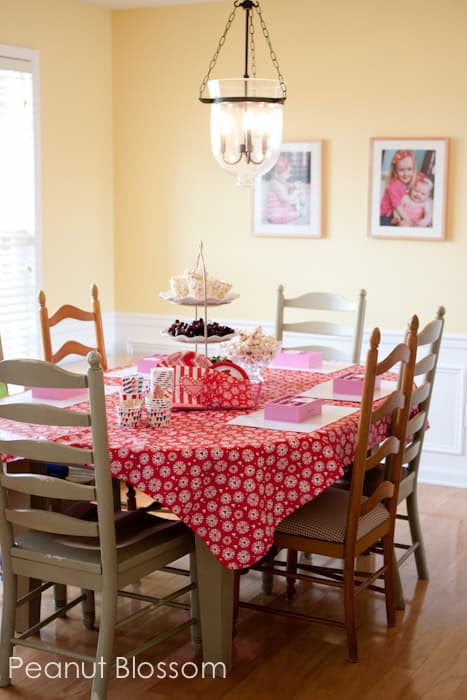 One of the hardest parts of our move has been making new friends for the family. Gone are the days where I could take the Peanut to playgroup parties I'd find on our online message board, now I'm navigating Kindergarten social waters.
When Melissa & Doug suggested I host a little Valentine's party for some friends I saw this as a perfect opportunity to invite some of the Peanut's new classmates into our home for the very first time. I love celebrating the little holidays during this time of year, they help the winter pass by so much faster but I haven't done a Valentine party since Little Pea was born 2.5 years ago!
I didn't have a lot of time to prepare for our event so everything had to come together quickly. If you follow my notes, you could easily pull this entire party together in just a day or two. You still have plenty of time to host your own Valentine's party for the little sweeties in your life!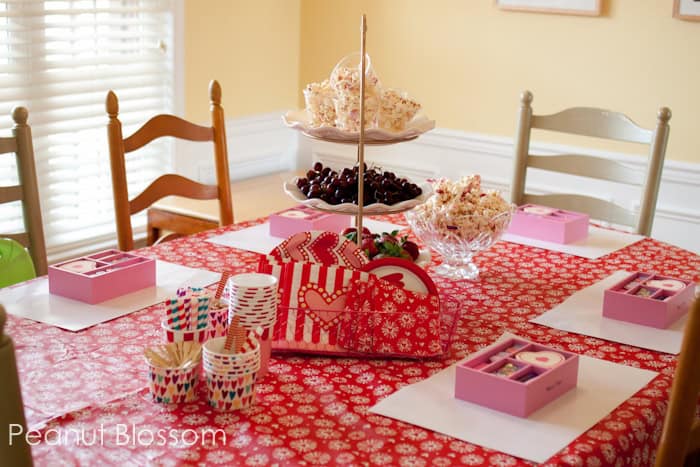 Just follow these 3 steps:
Step 1: Snag your supplies. I stocked up on festive tableware and all the food supplies in just one stop at our Super Target. If you follow my menu, everything can easily be found in one simple trip.
Step 2: Plan for the activities. At ages 5 - 7, our little friends had the most fun with our first activity--Decorate Your Own Heart Box. Absolutely everything you need for each guest's crafting is included in that one little box. It was just a matter of cutting off the outer wrapping and placing it at each spot at the table. I made makeshift placemats out of finger paint paper. Once the party started, I added bowls of water for them to rinse their brushes & paper towels for clean-up.
I also planned a "make your own jewelry" activity using striped twine and gummy Life Savers candies. As each girl finished their painting, they strung their necklaces while waiting for everyone else to finish.
Step 3: Head to the kitchen. The biggest lesson I learned from our first party with school friends is how simple kids prefer their food. My menu consisted of a revamped version of my Birthday Cake Popcorn recipe and a Strawberry Cheesecake Dip for fresh fruit. Some of the kids preferred their fruit without the dip, some preferred the popcorn plain and not coated. The recipes are both simple and delicious and are nice because you can offer the plain version to the pickier eaters in your bunch. The time it will take you to make both recipes? Maybe 20 minutes. So quick and easy!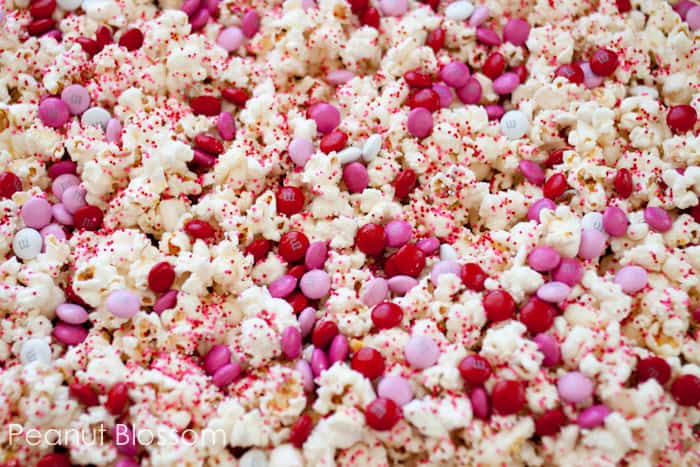 Recipe 1: "Cupid Crunch Popcorn" 
For our sized party, I would halve the recipe at this link here. I would also possibly pop a batch of just plain popcorn to have in the wings "just in case."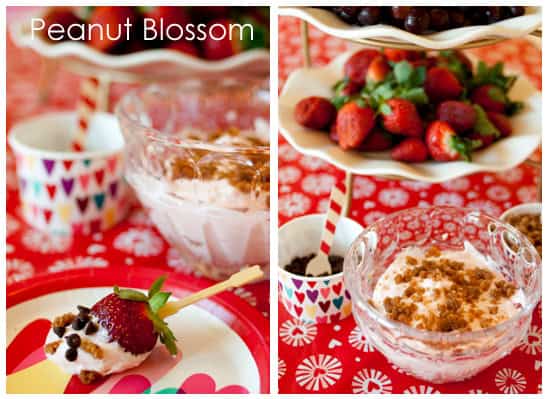 Recipe 2: Strawberry Cheesecake Dip for fresh fruit
Ingredients: 1 8oz tub of strawberry cream cheese, 1 7oz container of Marshmallow Fluff
Method: Stir to combine.
Total time: 1 minute
What made this recipe special is the little buffet bar I served it with which included a graham cracker crumble topping*, mini chocolate chips, and sprinkles. If you're just serving kids, skip the crumble topping but if you'll have some adults in the mix I highly recommend it. I can't stop eating it!! (*Recipe at bottom of this post.)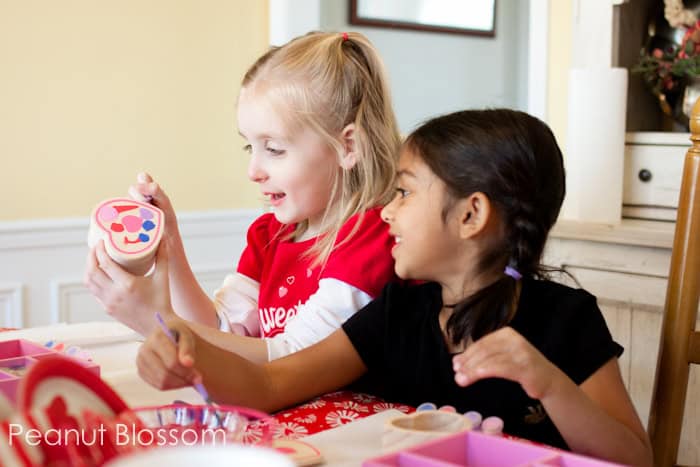 The little snackie items were just right for this kind of crafty party. I hadn't planned on the girls being so absorbed in painting their heart boxes. They took their work so seriously and I was able to just walk around the table offering little cups and plates of treats while they painted.
Little Pea had a tremendously fun time being with the big girls. I spent most of my time helping her with her painting and helping her to rinse her brush between colors while the older girls were content to do their own thing.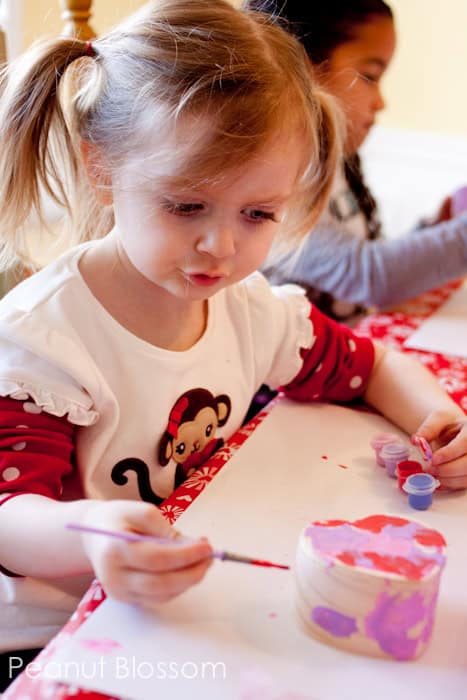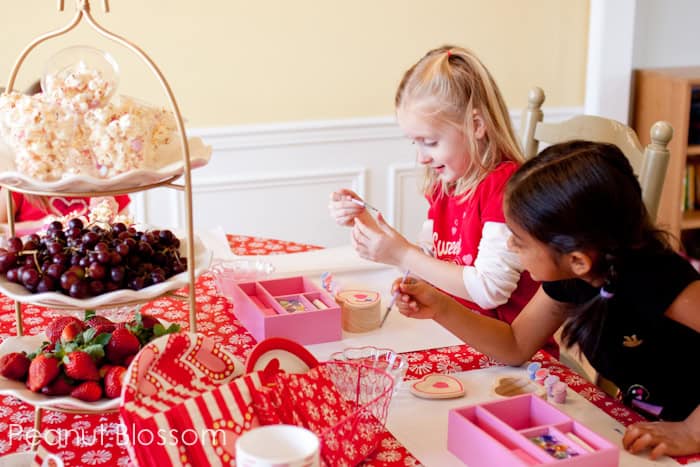 They were each so proud of their final project and couldn't wait to show them off to their moms: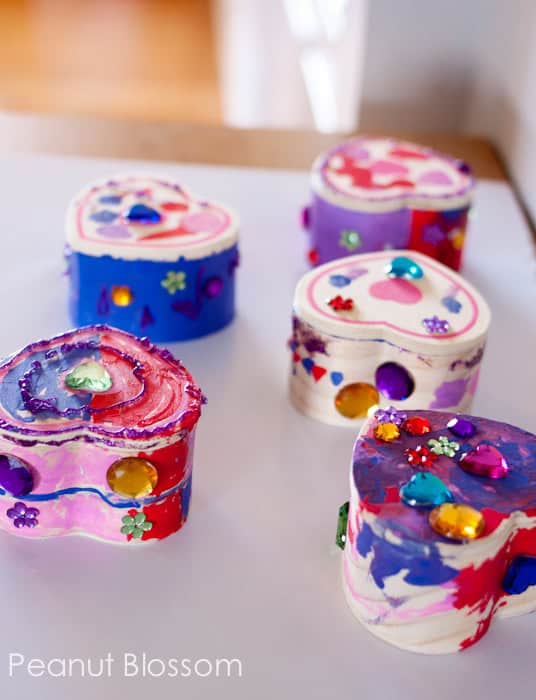 I set up a simple little photo booth in our living room using strips of crepe paper taped to the wall. Some of our friends were a little shyer than others but they all were good sports about posing for the camera.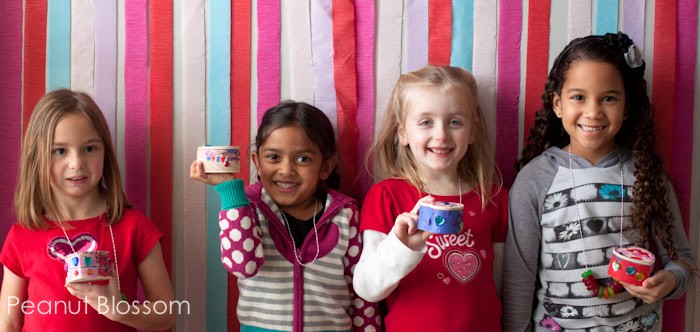 Aren't they adorable? They are so proud of their candy necklaces and painted boxes. And judging by the fits of giggles and squeals during playtime, they had a great time. The Peanut loved having her friends over and it was so nice to finally meet them myself!

____________________________________________
Graham Cracker Crumble (Would make an insanely delicious sundae bar topping as well!)
Ingredients:
4 graham crackers, crumbled
½ c brown sugar
4 tbsp melted butter
2 tsp vanilla
2 tbsp white sugar
1 sprinkle of kosher salt
Method:
Preheat oven to 350. Spray an 8x8 baking dish with cooking spray.
In a small bowl, mix together cracker crumbs & brown sugar. Combine melted butter and vanilla, then stir into the crumb mixture till everything is moistened evenly. Spread in prepared pan. Sprinkle with sugar and salt over the top.
Bake for 15 minutes or until lightly browned. Use a wooden spoon or spatula to break it into crumbly pieces for serving.
____________________________________________
This post was sponsored by Melissa & Doug. They proposed the idea of hosting a Valentine party and supplied our craft activity. I'm so grateful to them for pushing me outside of my comfort zone--this mommy still suffers from shyness--and into inviting new friends into our home. All thoughts and opinions expressed are my own.