This easy cannoli dip is ready in just 10 minutes. The cannoli cream is studded with chocolate chips and chopped pistachios for crunch and tastes even better than the traditional Italian restaurant dessert.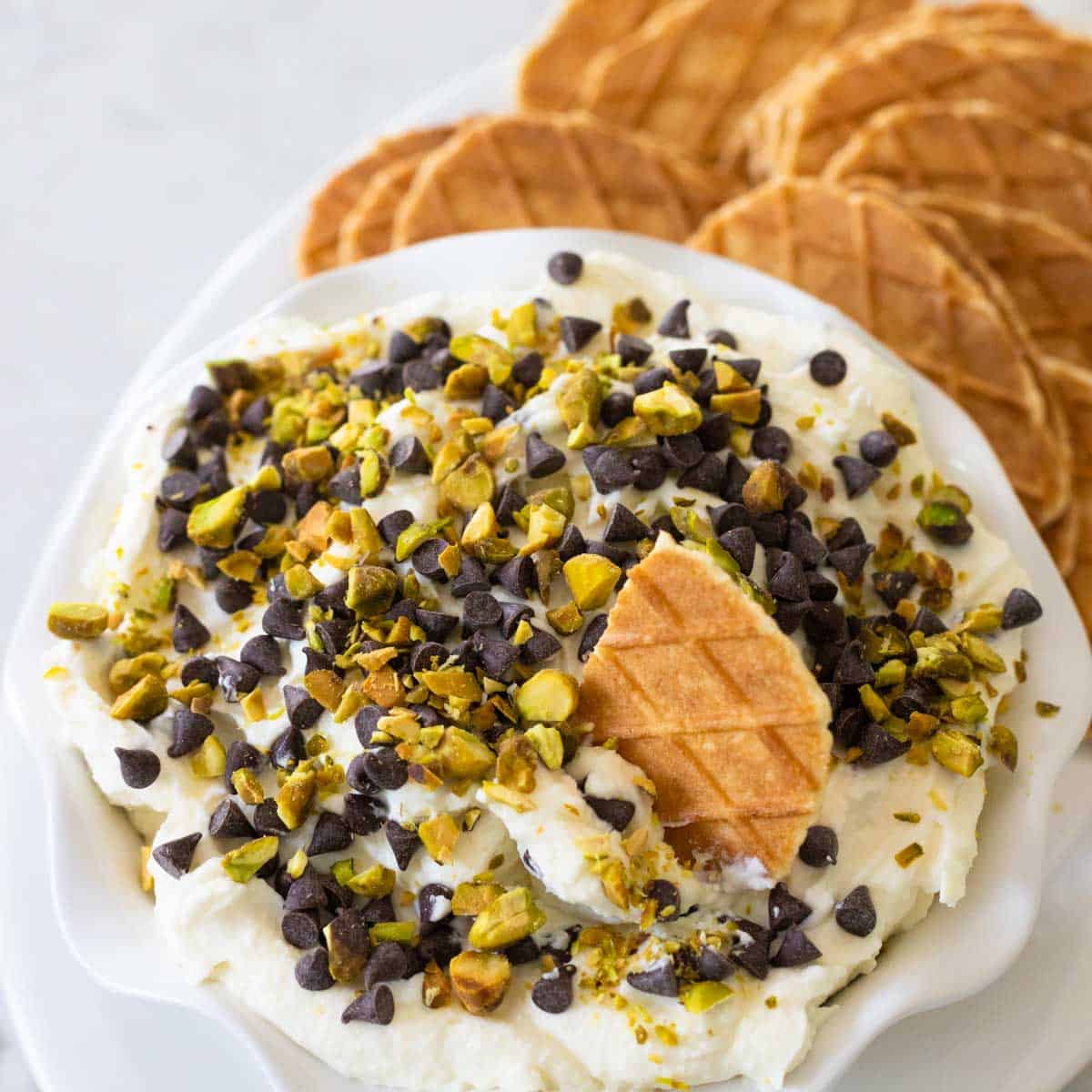 If there's an Italian cannoli on the dessert menu, for sure that is what my mom is ordering.
It's been one of her all-time favorite treats for as long as I can remember.
Who could resist that sweet crunchy cannoli shell wrapped around the cold, sweet cannoli cream filling?!
This easy cannoli dip is even better than the real thing! Now, mom can enjoy as much of that awesome chocolate chip studded dessert dip as she wants while dunking crispy buttery cookies that taste almost like cannoli shells.
Serve this no bake dessert dip with fresh strawberries and a sprinkle of crispy pistachios on top for an elegant treat your friends will never know only took you 10 minutes to make!
Jump to:
Why This is the Best Recipe
I love no bake dessert dips but I think this is the best cannoli dip recipe ever because:
Better than Real Cannoli: Let's be honest, there's never enough cannoli cream when you eat a cannoli. Now you can scoop as much of that creamy goodness as you want!
Perfect Cannoli Cream: Traditional cannoli are made with mascarpone cheese. This special ingredient gives the dip the perfect texture and flavor. But don't worry, I've got an easy substitute if you can't find it.
Authentic Flavors: Most cannoli have mini chocolate chips but the BEST cannoli also have chopped pistachios. I added a touch of orange zest to take it over the top.
10-Minutes: Such a quick and easy dessert that you can make quickly before a party.
No Bake Dessert Recipe: If you can work a mixer, you can make this recipe. This would be a perfect treat for your kids to make for a holiday, too!
Ingredients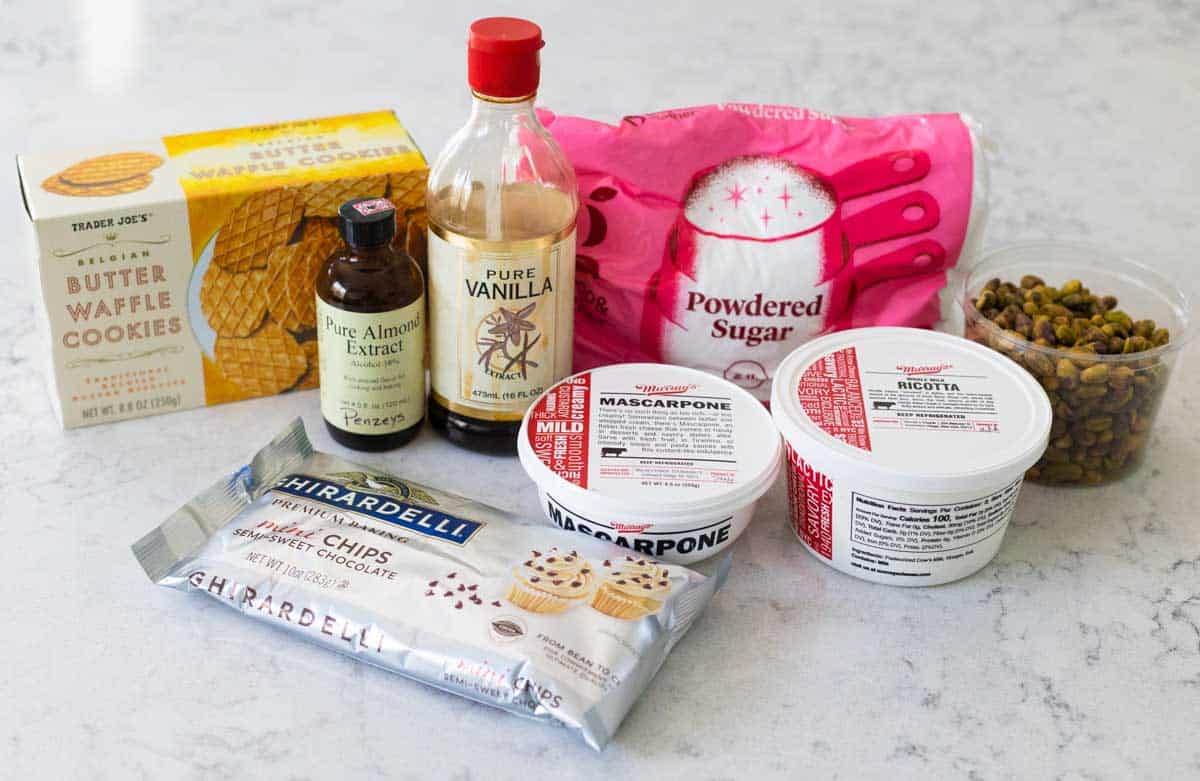 You might be intimidated by the though of making homemade cannoli filling but honestly, this recipe could not be easier.
All you need to make it is a list of fairly specific things:
Mascarpone Cheese: This is the same ingredient that is featured in my homemade tiramisu filling. If you've never used it or have questions, see my notes below.
Ricotta Cheese: Yep, the same ingredient that is featured in my sausage lasagna. Ricotta takes on sweet or savory pairings with ease. Be sure to buy the full-fat kind and the highest quality brand you can afford. It will make a big difference in the final texture of the dip.
Powdered Sugar
Vanilla
Almond Extract
Mini Chocolate Chips
Salted Pistachios
A Fresh Orange for Zesting
Cookies for Dunking: See my notes below.
Mascarpone Cheese Vs. Cream Cheese
Mascarpone cheese is an Italian-style cream cheese.
It is softer than American-style cream cheese and I personally think it is a little sweeter.
You can find it in the refrigerated case of specialty cheeses at major grocery stores or Trader Joe's, it comes in a plastic tub with a lid.
IMPORTANT NOTE:
Some brands of mascarpone cheese will have a bit of liquid in the container. It is important to strain that off the cheese before using it in the recipe so your dip isn't watery.
On the other hand, American-style cream cheese is firmer and comes in a foil-wrapped brick.
If you can't find mascarpone cheese, you can substitute a brick of American cream cheese but you should let it soften on your counter for 30 minutes before using it in the recipe so that it mixes more easily.
Drain the Ricotta
Italian ricotta cheese often has quite a bit of liquid that has separated in the container when you first open it.
In order for your dip to not be watery, you'll want to drain that liquid off.
However, I was super pleasantly surprised when I opened a container of whole milk ricotta and found it to be the perfect texture with no excess liquid: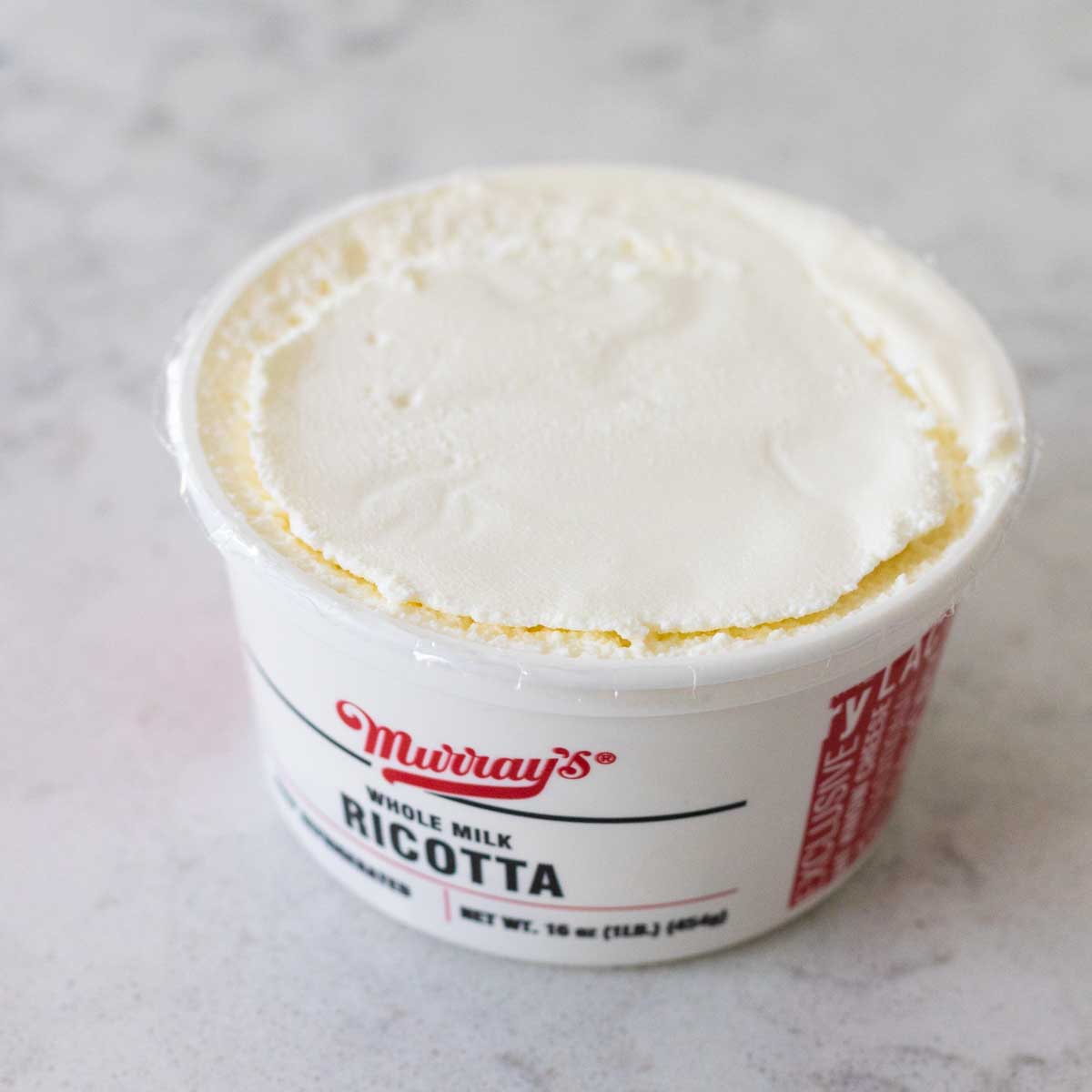 This was the most expensive brand of ricotta at our grocery store. It cost a few dollars more than the cheaper band I usually buy but the texture and lack of liquid made it 100% worth the added price.
If you are usually not a big fan of ricotta cheese, look to see if you can find a better quality brand of it at your store. I think you'll be happy you did. Especially if you're making this dip for a holiday party or special event.
Nut-Free Cannoli Dip
For awesome Italian flavor, I did add almond extract and chopped pistachios to this cannoli dip recipe.
If you have nut allergies or prefer a nut-free recipe for other reasons, it is easy enough to just leave the almond extract out and omit the pistachios completely.
Make the Cannoli Cream
Add the drained mascarpone cheese and ricotta cheese to a large mixing bowl.
Add the powdered sugar, vanilla extract, and almond extract (if using).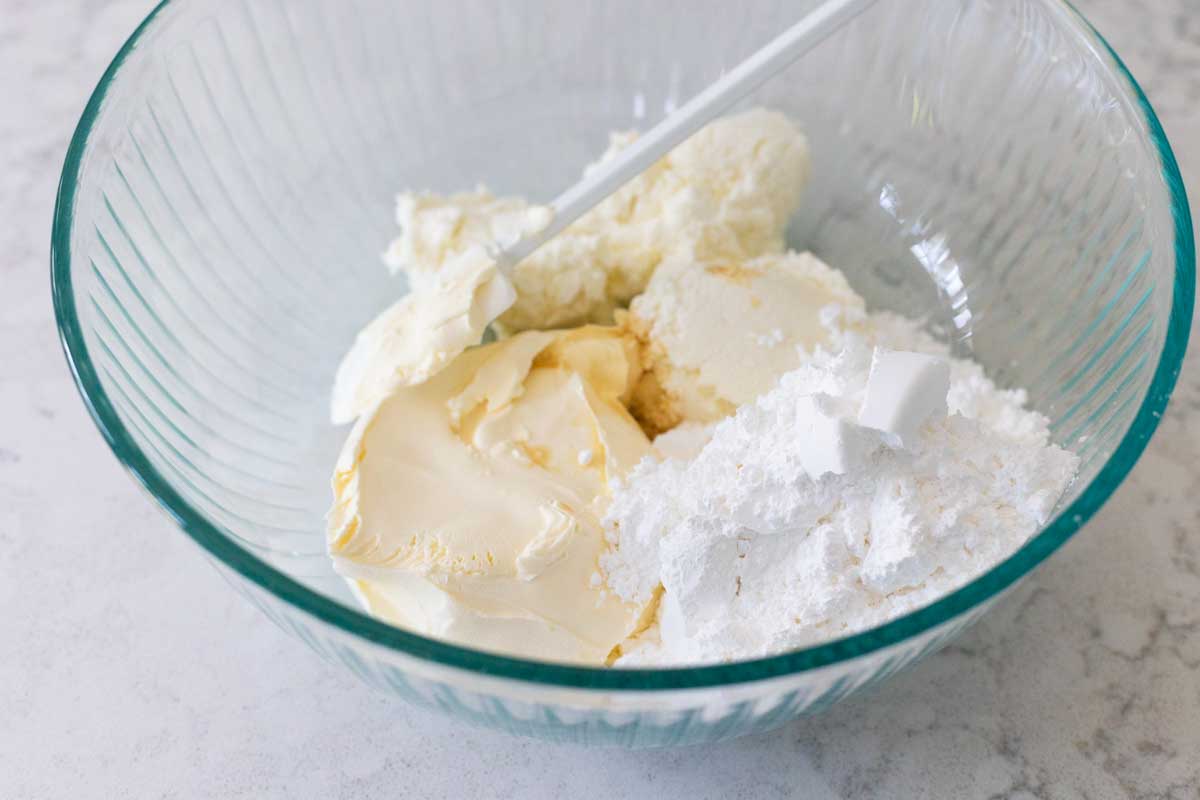 Use a hand mixer to beat the ingredients together on low speed.
Once evenly combined, raise the speed to medium-high and beat it for 3 - 4 minutes, being sure to scrape the sides of the bowl as you go.
The cream should be thick and lighter in color.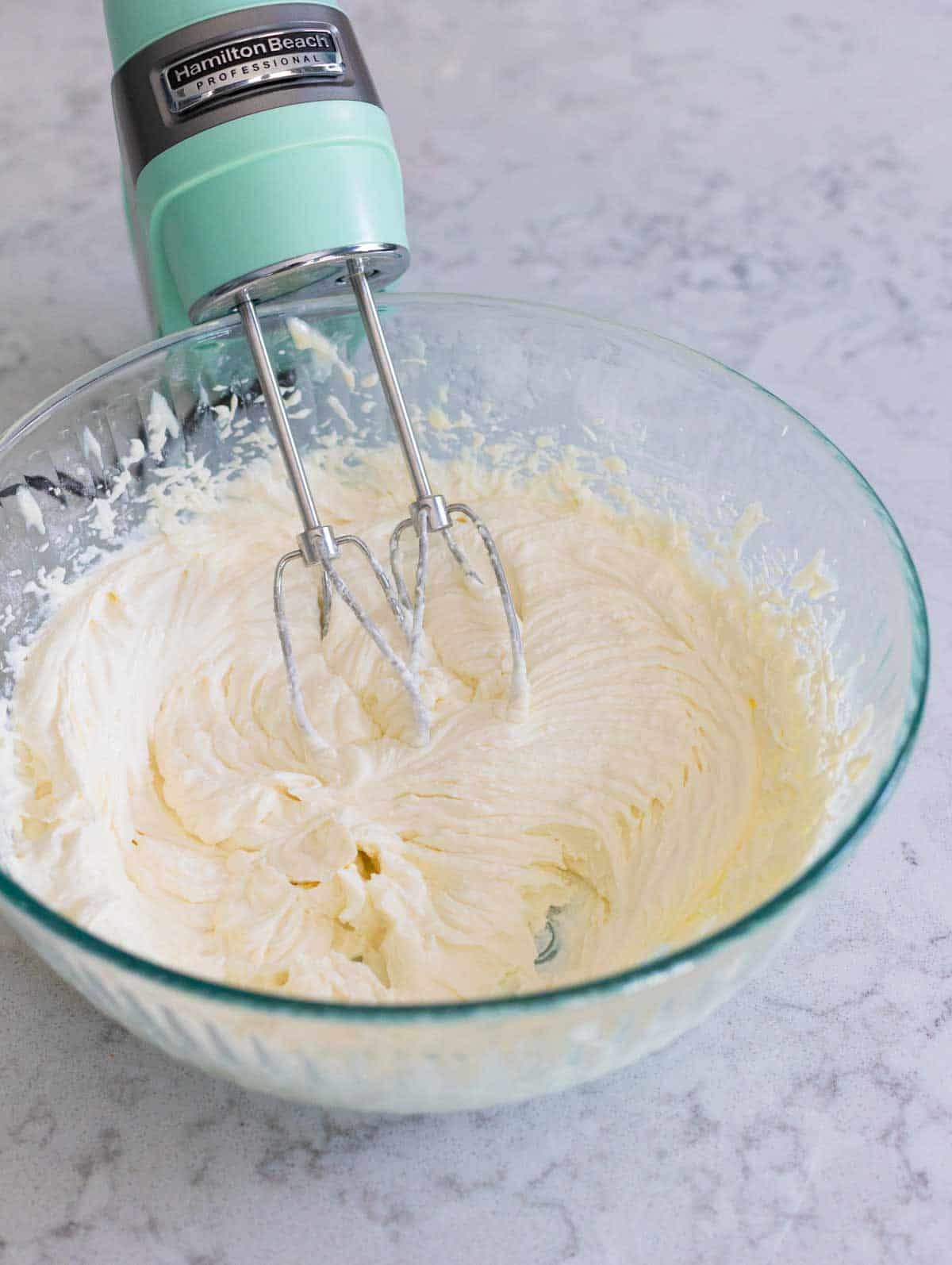 Add the mini chocolate chips and half of the chopped pistachios (if using) and gently fold them into the cannoli cream.
If you're adding orange zest to the dessert dip, add it at this point.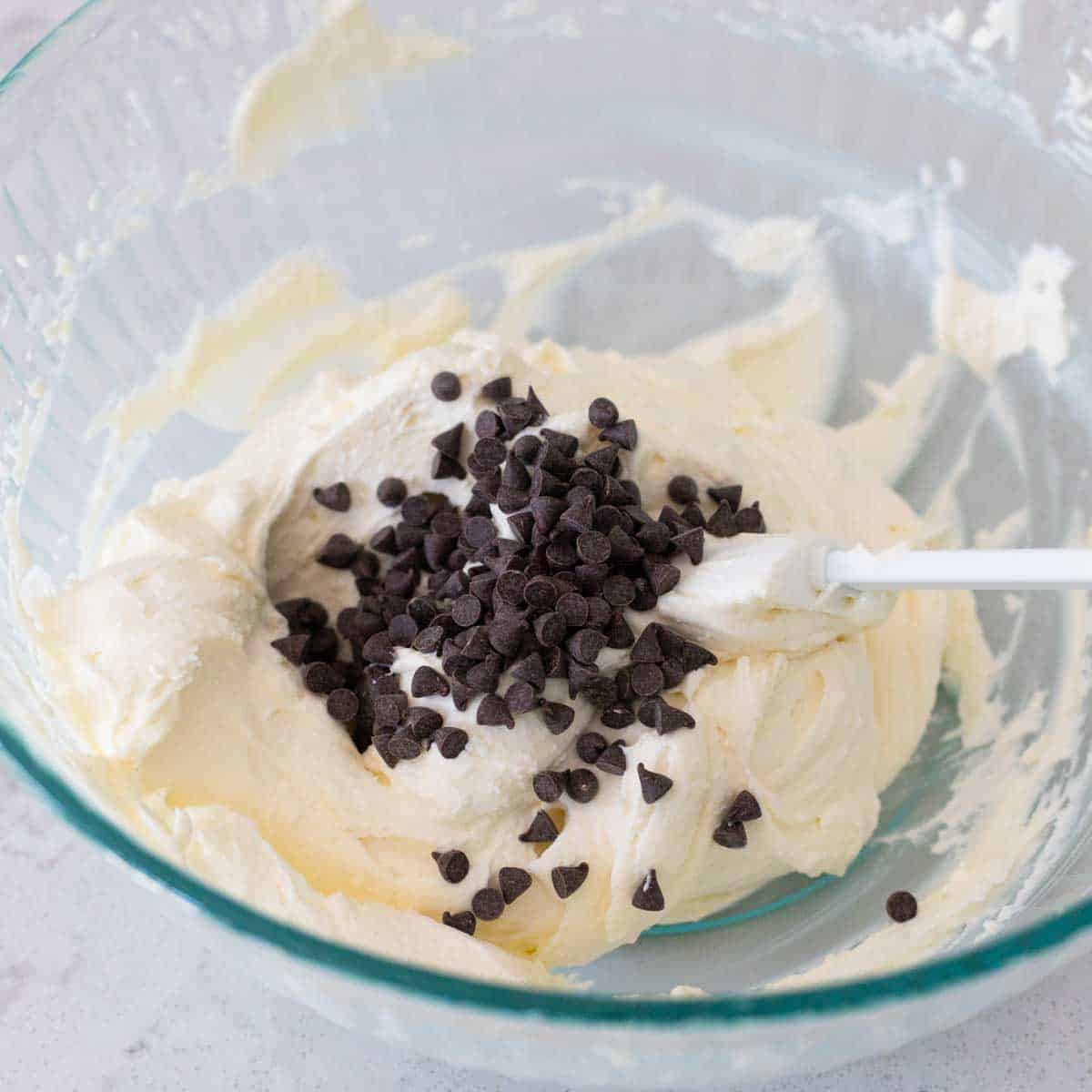 Chilling Time
Scrape the cannoli filling into a pretty serving bowl and sprinkle more mini chocolate chips on top.
Chill the dip for at least an hour for the flavors to mingle and the dip to thicken slightly.
If you're using the chopped pistachios, be sure to reserve them for just before serving. If you sprinkle them on top before chilling, they will not be as crispy as they should be.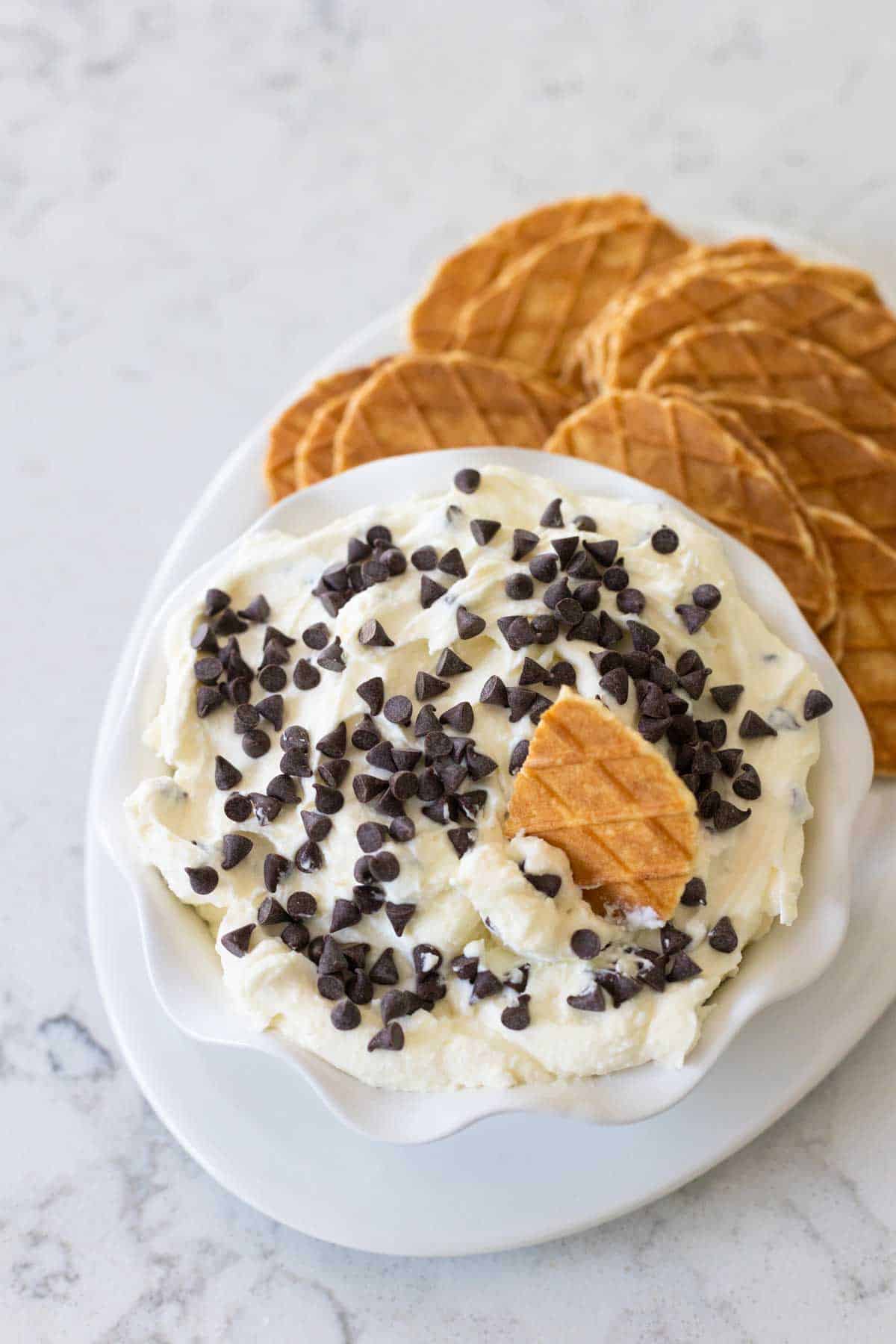 The Best Cannoli Dip Cookies
The ABSOLUTE best cookies I have found for dipping into cannoli dip are the Butter Waffle Cookies from Trader Joe's.
They taste a little like a buttery ice cream cone. While they are not the perfect match for a traditional cannoli shell, they come so close and I'd argue might even be more tasty.
If you do not have a Trader Joe's near you, there are several other options you could use for dunking:
Wafer Cookies: Thin lemon, vanilla, ginger, or chocolate wafers would all be delicious.
Waffle Cones or Bowls: Check the ice cream aisle and buy a package of the best waffle cone product you can fine. Break them up into large chunks.
Chocolate Chip Cookies: Double up on the chocolate chip factor. Try to find crispy cookies if you can.
Graham Crackers: Definitely the easiest dunker to find.
Make Ahead and Storage Tips
If you want to make the cannoli dip in advance of your special event, you can assemble the entire recipe up to 3 days in advance.
Cover the dip with plastic wrap and store in the fridge.
IMPORTANT NOTE: Be sure to reserve the chopped pistachios on top for just before serving. You want them to be nice and crispy.
They will absorb moisture from the dip in the fridge and become chewy. Just keep them in an airtight baggie until just before you serve.
Serving Suggestions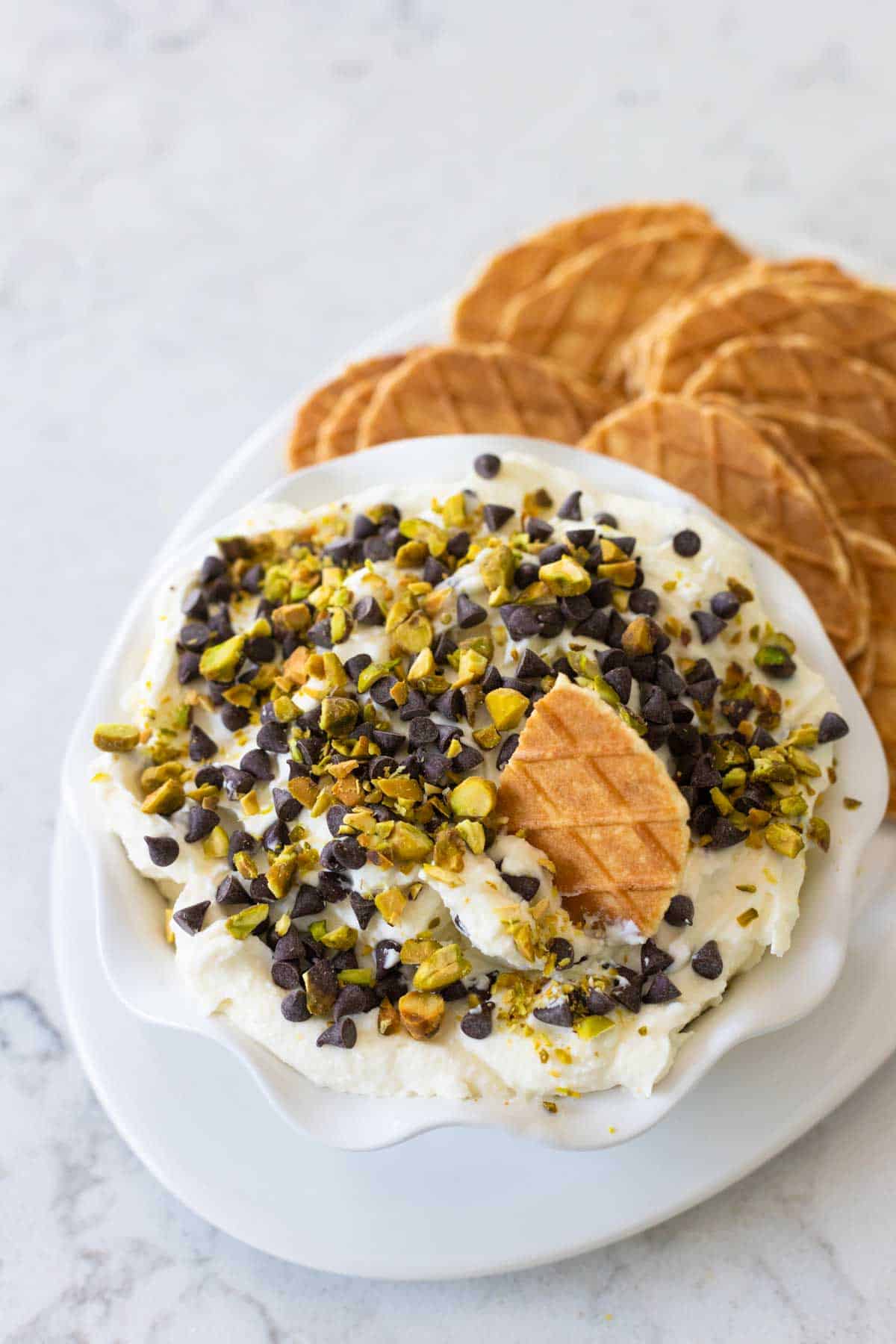 Once you've chilled the cannoli dip, simply place the pretty serving bowl on a platter alongside your choice of cookie dunkers.
I served mine with a bowl of fresh strawberries on the side and we loved how they paired with the chocolate, pistachios, and almond flavors.
You could also serve a simple mixed berry salad for a simple garnish if you prefer.
Chocolate covered orange segments with or without chopped pistachios could be a delicious dessert pairing, too.
More No Bake Dessert Recipes
When you need an easy recipe for a special event, it is hard to beat a make-ahead no bake dessert.
Here are a few of my favorite chilled dessert dips and no bake recipes:
📖 Recipe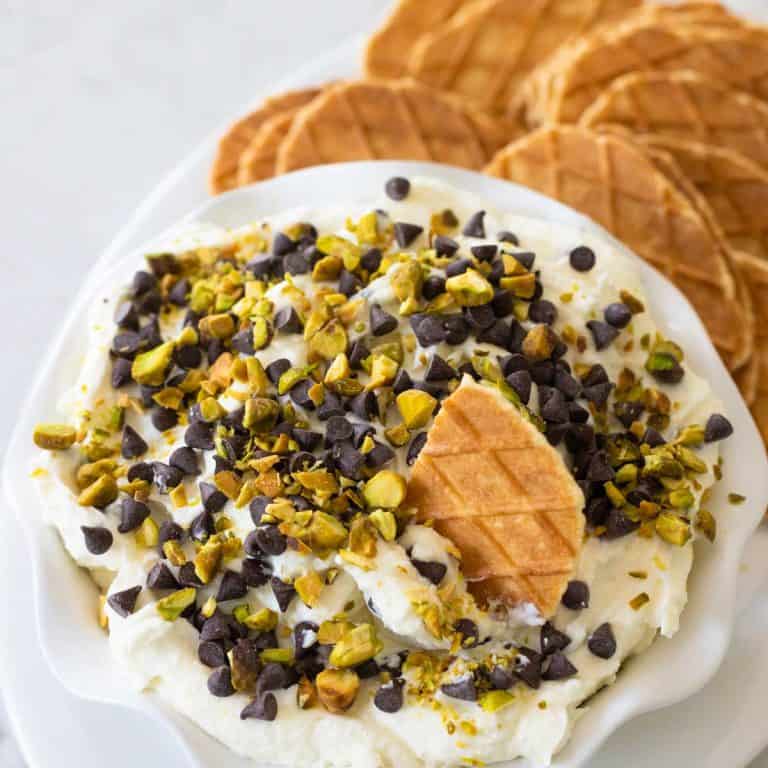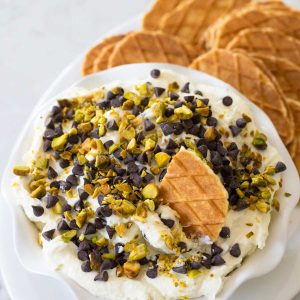 Cannoli Dip
This is the best cannoli dip ever! The authentic cannoli cream base has mini chocolate chips folded in and chopped pistachios for crunch. Serve it with buttery waffle cookies and fresh strawberries for an easy dessert dip that your family will love.
Ingredients
For the Cannoli Dip:
1

cup

(8 oz) mascarpone cheese

liquid drained off as needed

1 ½

cups

(12 oz) whole milk ricotta cheese

liquid drained off as needed

1 ¼

cup

powdered sugar

¾

teaspoon

vanilla

¾

teaspoon

almond extract

½

cup

mini chocolate chips

divided

½

cup

pistachios

chopped and divided

2

teaspoon

fresh orange zest

optional
For Serving:
Butter waffle cookies, wafer cookies, broken waffle ice cream cone bowls or cones, chocolate chip cookies, or graham crackers

Fresh strawberries

optional
Instructions
In a large mixing bowl, add the drained mascarpone and ricotta cheeses. Add the vanilla and almond extracts and measure in the powdered sugar.

Use a hand mixer to whip the mixture together on low until combined. Increase the speed to medium-high and beat until slightly thickened, about 4 minutes.

Add just 6 tablespoons of the mini chocolate chips and just half of the chopped pistachios to the bowl. Fold them into the cheese mixture with a spatula. If using the orange zest, add it at this point.

Scrape the mixture into a pretty serving bowl and smooth over the top. Add the remaining 2 tablespoons of chocolate chips sprinkled over the top but save the remaining pistachios until just before serving so that they remain crunchy.

Chill the cannoli dip for 1 hour so that it has a chance to set. Just before serving, sprinkle the remaining pistachios over the top. Place the container of dip on a platter along with your choice of dipping cookies and strawberries.
Recipe Notes
Make Ahead Tips
This is a great make ahead dessert dip for a party. Assemble the recipe as instructed but don't add the final sprinkle of pistachios. Cover the dip with plastic wrap and keep in the fridge for up to 24 hours.
Sprinkle the reserved pistachios over the top just before serving. This helps them to remain crispy.
Save This Recipe to Your Recipe Box
Find this delicious recipe next time you visit by saving it to your very own recipe box on my site. All your favorites stored in one easy place!