Classic tiramisu is a no bake dessert recipe that is so easy for a beginner baker! Simply prepare the creamy mascarpone filling and layer it with store-bought lady finger cookies soaked in instant espresso and a spinkle of cocoa on top.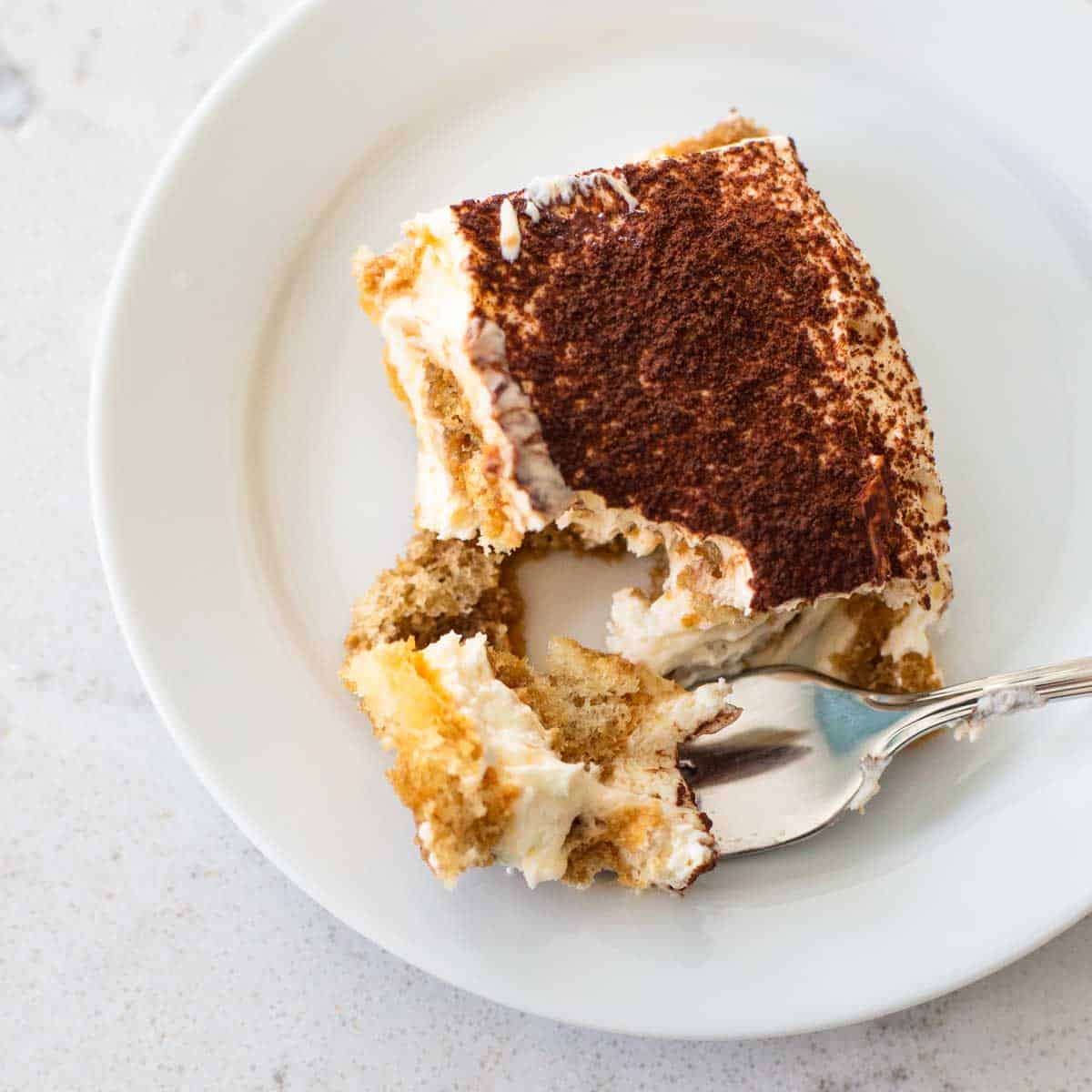 When I lived in Italy in my 20s, I wanted to make a special dinner when my dad came to visit. My Italian friend, Moira, offered to teach me her recipe for homemade tiramisu.
I thought she was crazy! Surely that recipe had to be difficult. She helped me to prepare an easy tiramisu recipe in just minutes and I couldn't believe it.
My dad insisted it was the best tiramisu he'd ever had and I felt like a baking rockstar.
The truth is, cool and creamy tiramisu is the perfect make-ahead dessert for your party. Simply layer the mascarpone filling with lady finger cookies soaked in coffee and let it chill in your fridge until you're ready to serve.
The dessert tastes even better the next day, so you'll save yourself time prepping for the rest of your party menu!
Jump to:
Ingredients
Not only is this dessert easy to make, it only requires a very short list of ingredients! Most of the items are ready to go and the majority of your "baking time" is really just assembly.
There are just two ingredients that are very particular and can be a little tricky to find:
Ladyfinger Cookies
Ladyfinger cookies, otherwise known as savoiardi in Italy, are a very crispy cookie with an airy texture. They have a light sugary dusting on the outside.
I was able to find a package of tiramisu cookies in the International Foods aisle at World Market as well as at my local grocery store.
But if you cannot find them locally, you can buy them online here.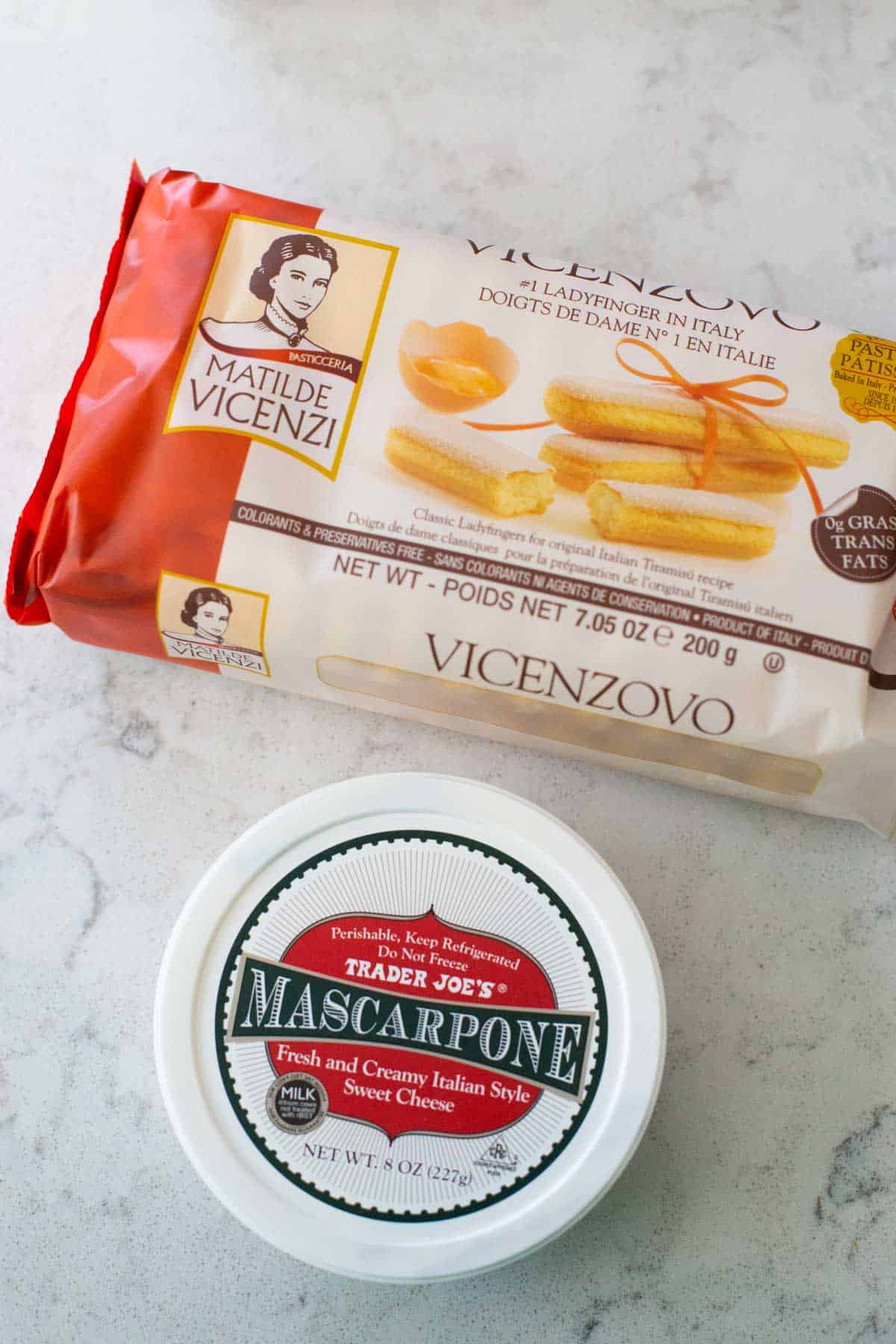 Mascarpone Cheese
The other particular ingredient you'll need to make a homemade tiramisu is mascarpone cheese.
This Italian cheese is a smoother, creamier, softer version of American cream cheese.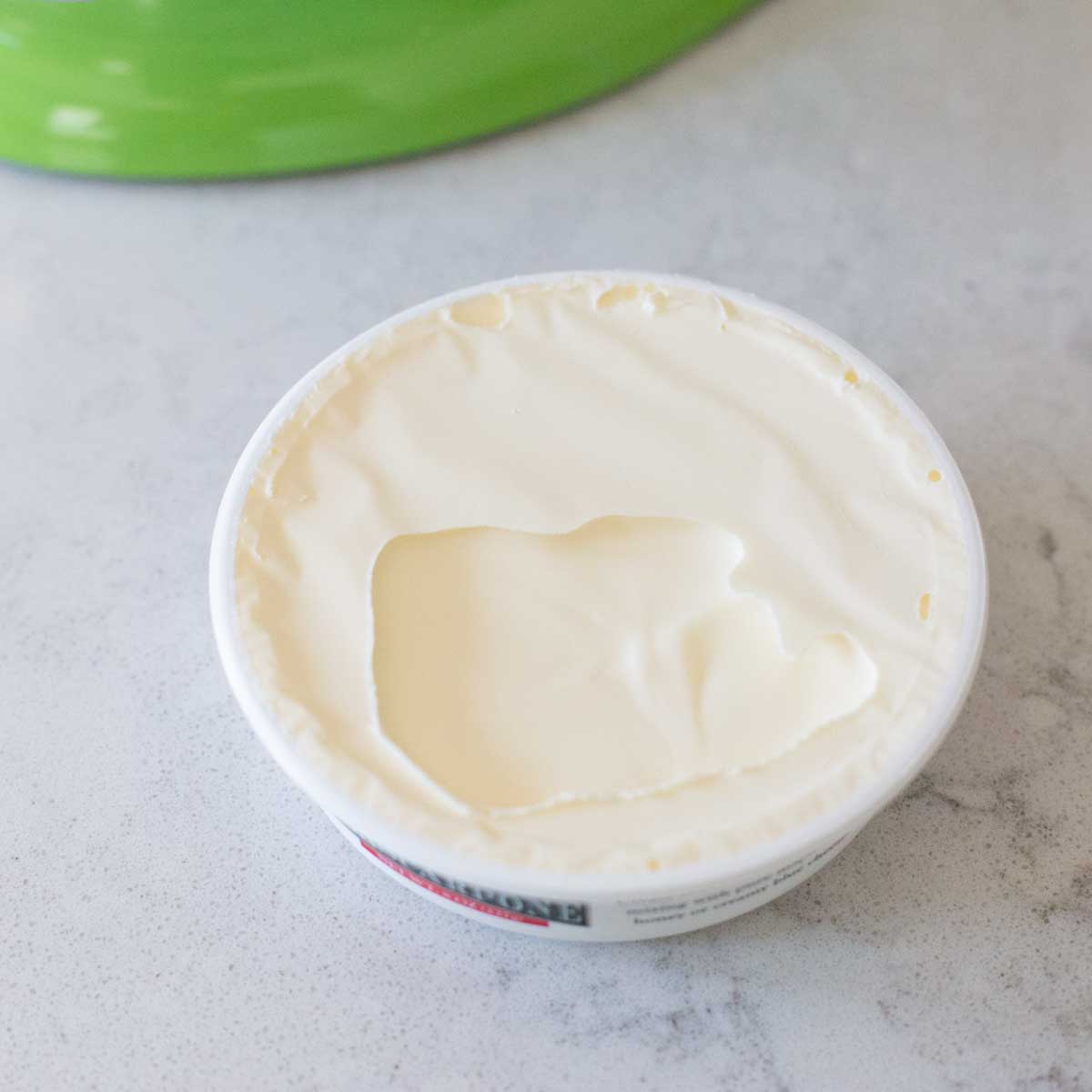 I was able to find it locally at our Trader Joe's as well as at my regular grocery store in the specialty cheese section near the deli.
If you can't find it locally, you may be able to order it on Amazon for fresh delivery here.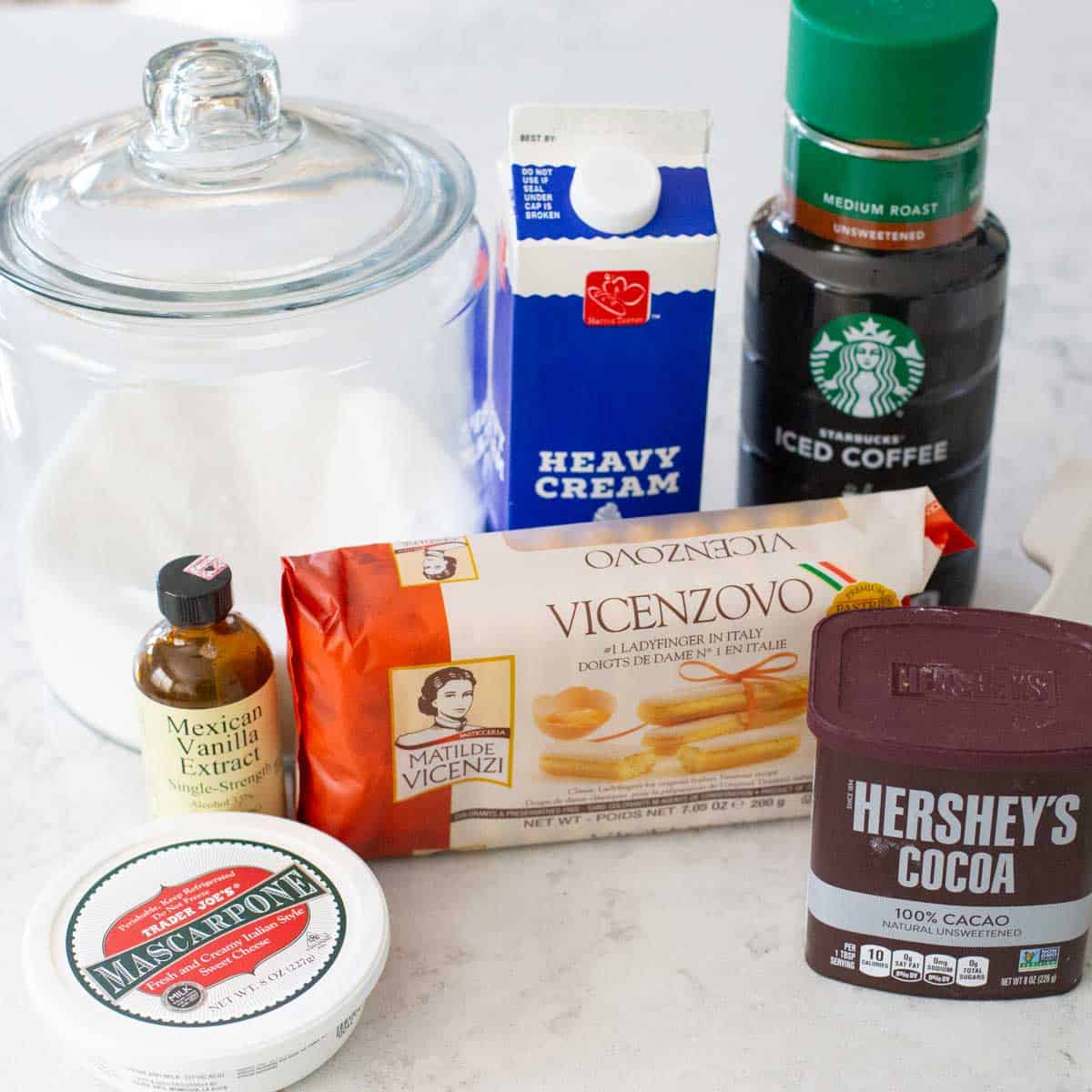 The remaining ingredients are really very easy:
Heavy cream
Sugar
Vanilla extract
Prepared strong coffee: I always keep a package of instant espresso packets in my pantry for baking. I love that I can just use one packet at a time and the rest of the espresso remains fresh. I had just used my last one on a batch of brownies so this time I substituted a strong Starbucks iced coffee beverage. Since the iced coffee is a bit concentrated to be poured over ice, it worked perfectly for this recipe.
Cocoa powder: Unsweetened Hershey's cocoa powder worked great.
Make the Mascarpone Filling
First, prepare the creamy mascarpone cheese filling for the tiramisu.
In the bowl of a stand mixer fitted with the whisk attachment, add the whipping cream and whisk on medium-high for 2 minutes.
Slowly drizzle in the sugar and vanilla and continue to whisk until stiff peaks form, about 3 minutes.
Scrape the sides of the bowl and add the mascarpone cheese. Mix just until combined and set aside.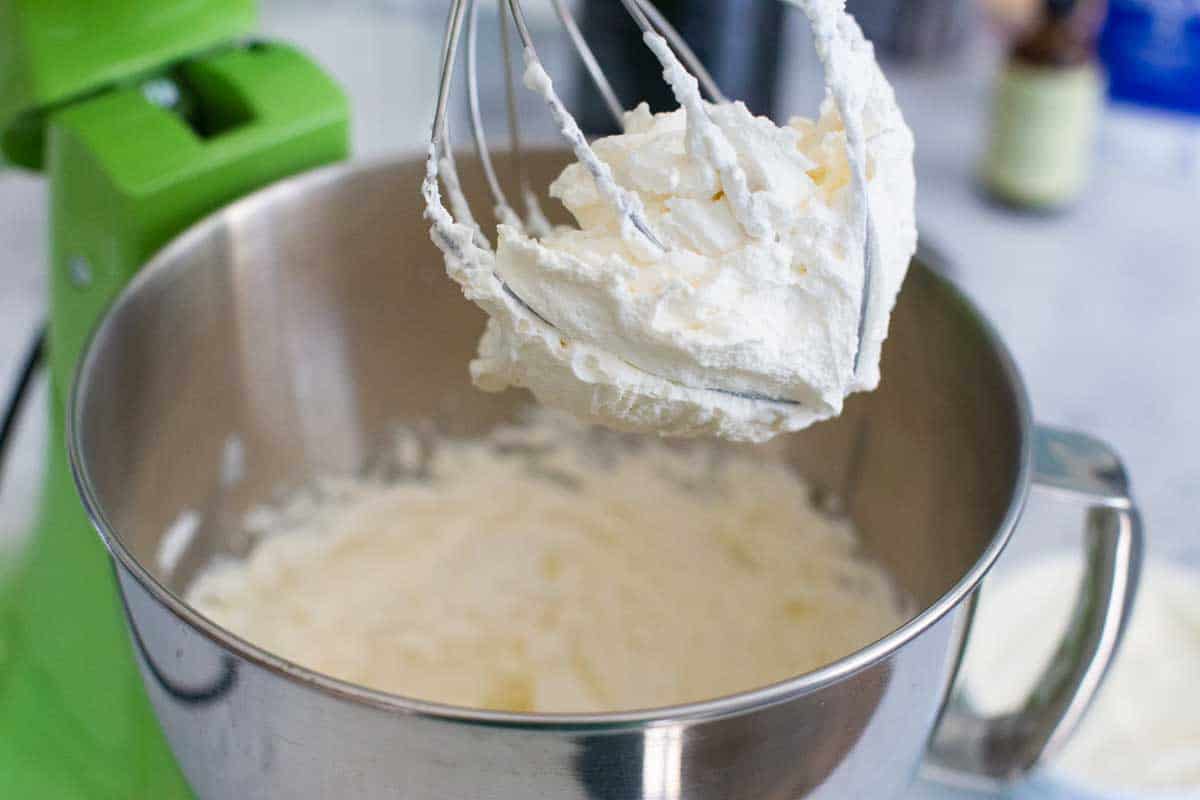 Assemble the Tiramisu
You'll want to build your tiramisu in a 2-inch deep, 8x8-inch baking dish. A larger 9x13-in dish will not allow you to have a double layer of cookies and filling. This simple baking dish or one like it would be perfect.
Pour the prepared coffee in a shallow bowl and set it right next to the baking dish.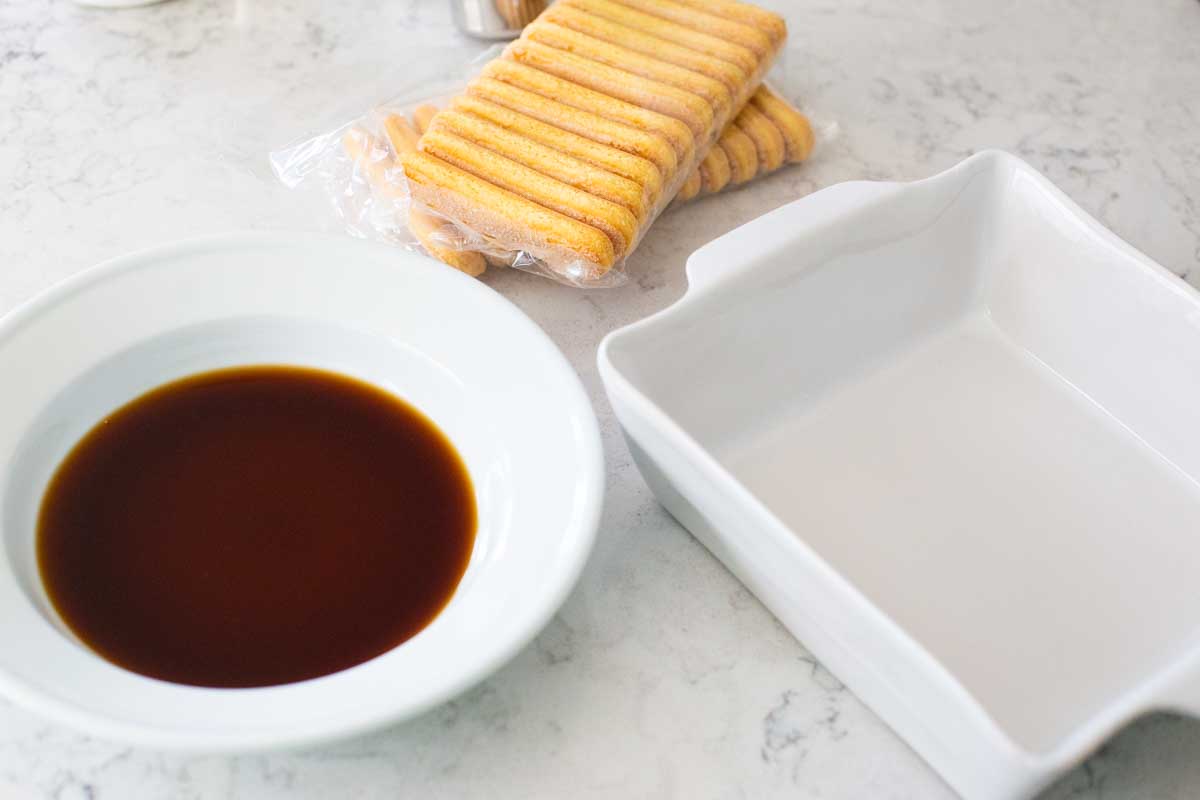 Carefully dunk each ladyfinger cookie into the coffee. Turn it once to coat both sides and let the excess drip back into the bowl.
Lay the cookies in a single layer on the bottom of the baking dish.
Do not let the cookies soak in the coffee or they will quickly fall apart in the liquid. Just a quick dunk will do.
Cover the entire bottom of the dish with cookies, you may need to break a few in half and get creative with your placement.
Then, spread half of the prepared mascarpone filling evenly over the cookie layer.
Repeat with a second layer of dunked ladyfingers. (Photo 1 below.)
Spread the remaining half of the mascarpone filling evenly over the top. (Photo 2 below.)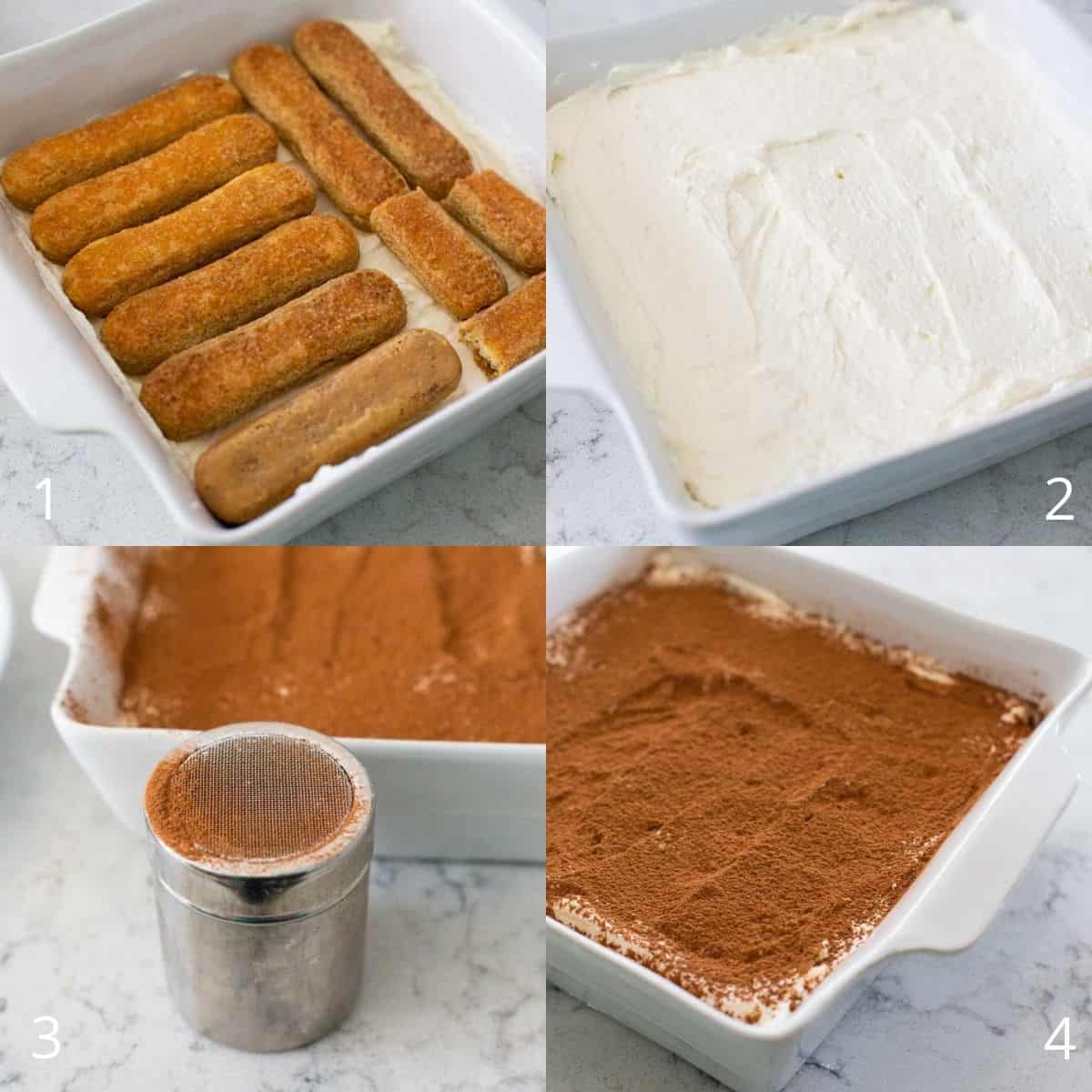 Add a couple tablespoons of cocoa powder to a fine mesh sugar duster for shaking over the top of the dessert.
I have a stainless steel sifter with lid like this one here.
Place plastic wrap over the top of the dish (but not touching the cocoa powder) and chill in the fridge for 3 - 4 hours before serving.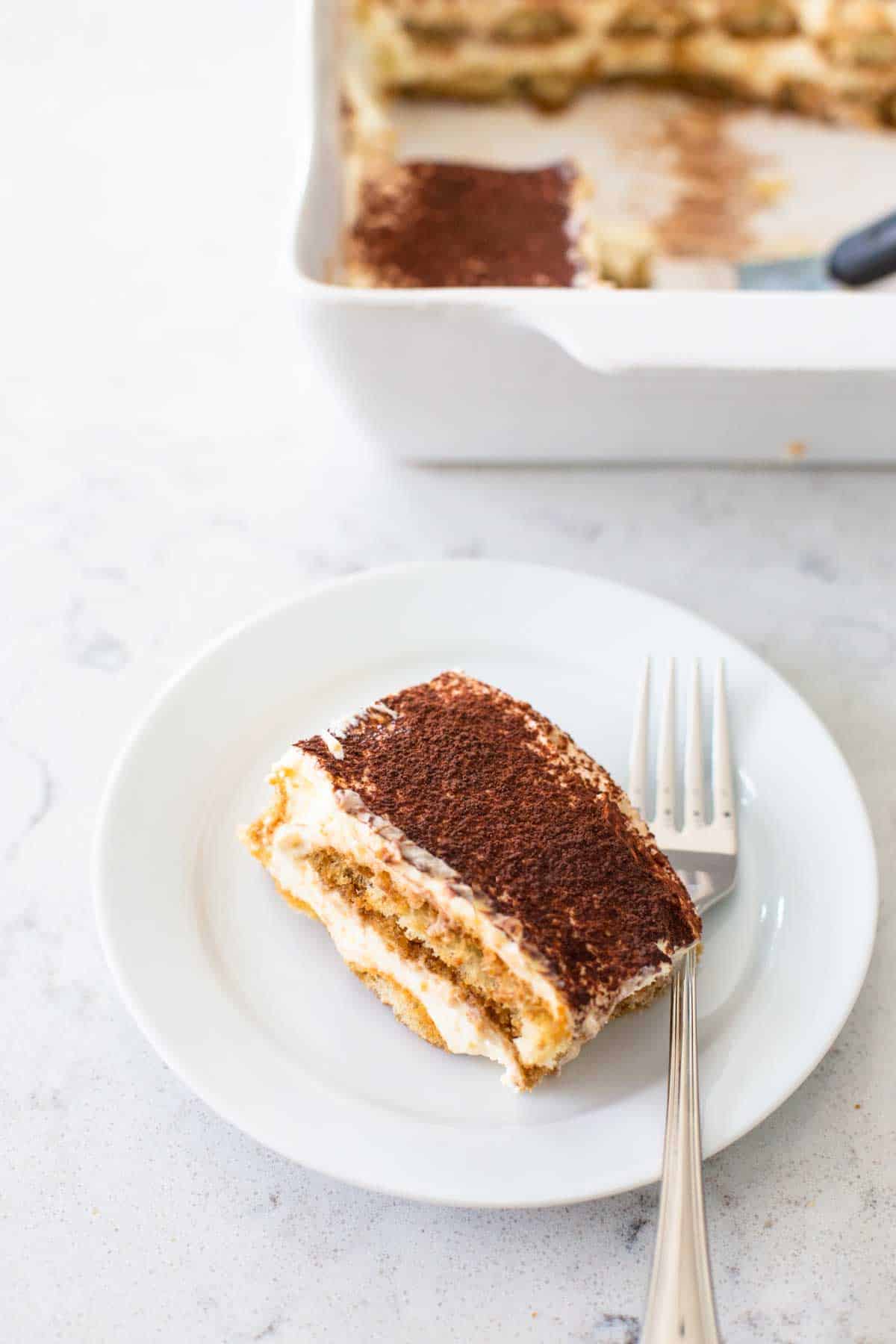 Make Ahead Tips
This tiramisu is the perfect make ahead dessert recipe.
You can quickly assemble it in the morning for a party in the evening, or you can assemble it up to 24 hours in advance as long as it is covered with plastic wrap or a lid in the fridge.
To freeze the tiramisu, skip the cocoa powder dusting and cover it well. Freeze for up to 3 months. Thaw in the fridge overnight and dust with the cocoa before serving.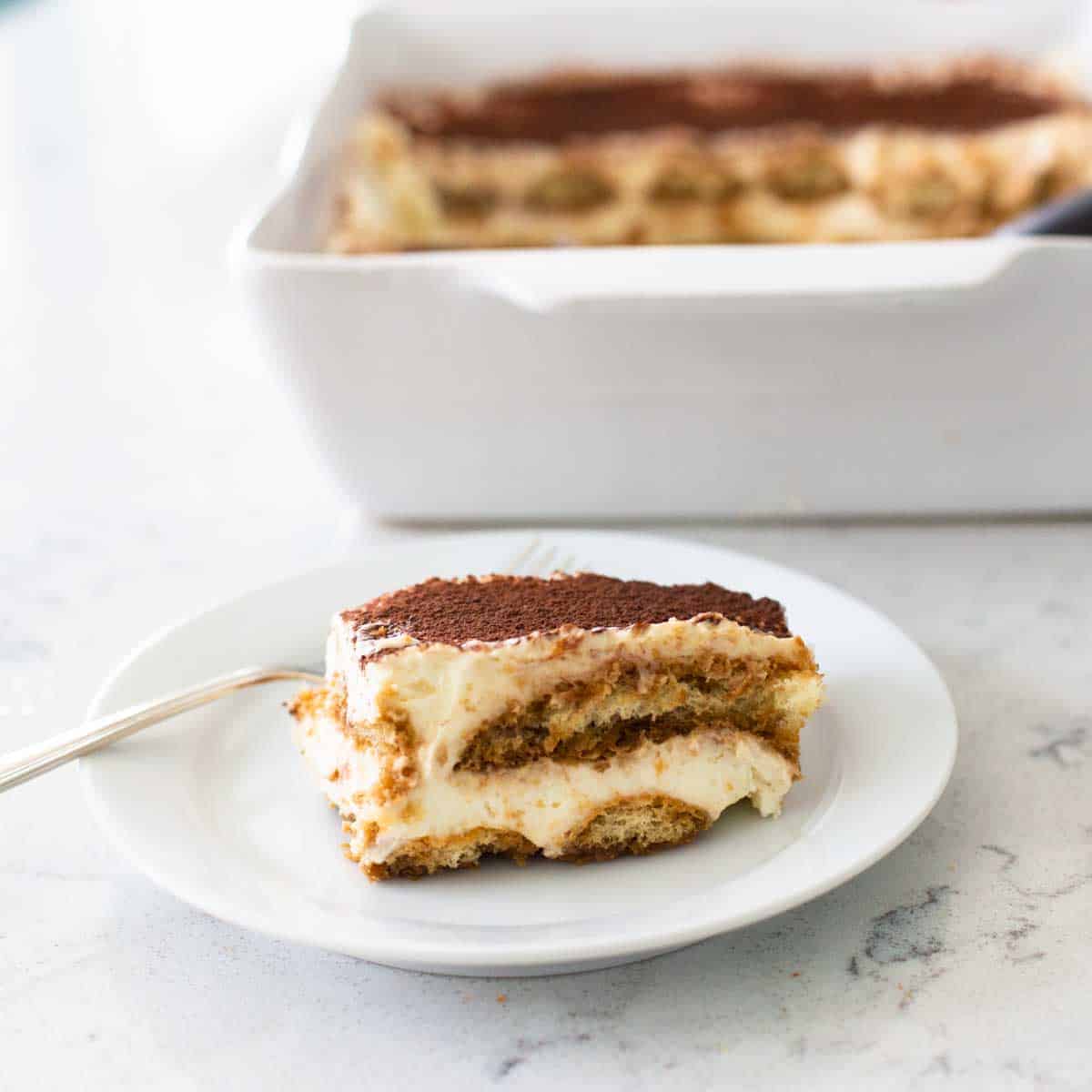 Tiramisu Cheesecake Variation
Want to make the ultimate no-bake dessert for your party? Try an easy tiramisu cheesecake.
Simply start with a store bought cheesecake. Make the mascarpone filling from this recipe and spread it right over the cheesecake top.
Sprinkle with cocoa powder and chill to set.
This is just one of my favorite cheesecake topping ideas!
More No Bake Dessert Recipes
Each of these creamy desserts can be made ahead in advance of your party: