This cool and creamy no bake dessert is perfect for springtime. Our favorite lemon torte features layers of sugar-free lemon pudding and a sugar-free whipped topping.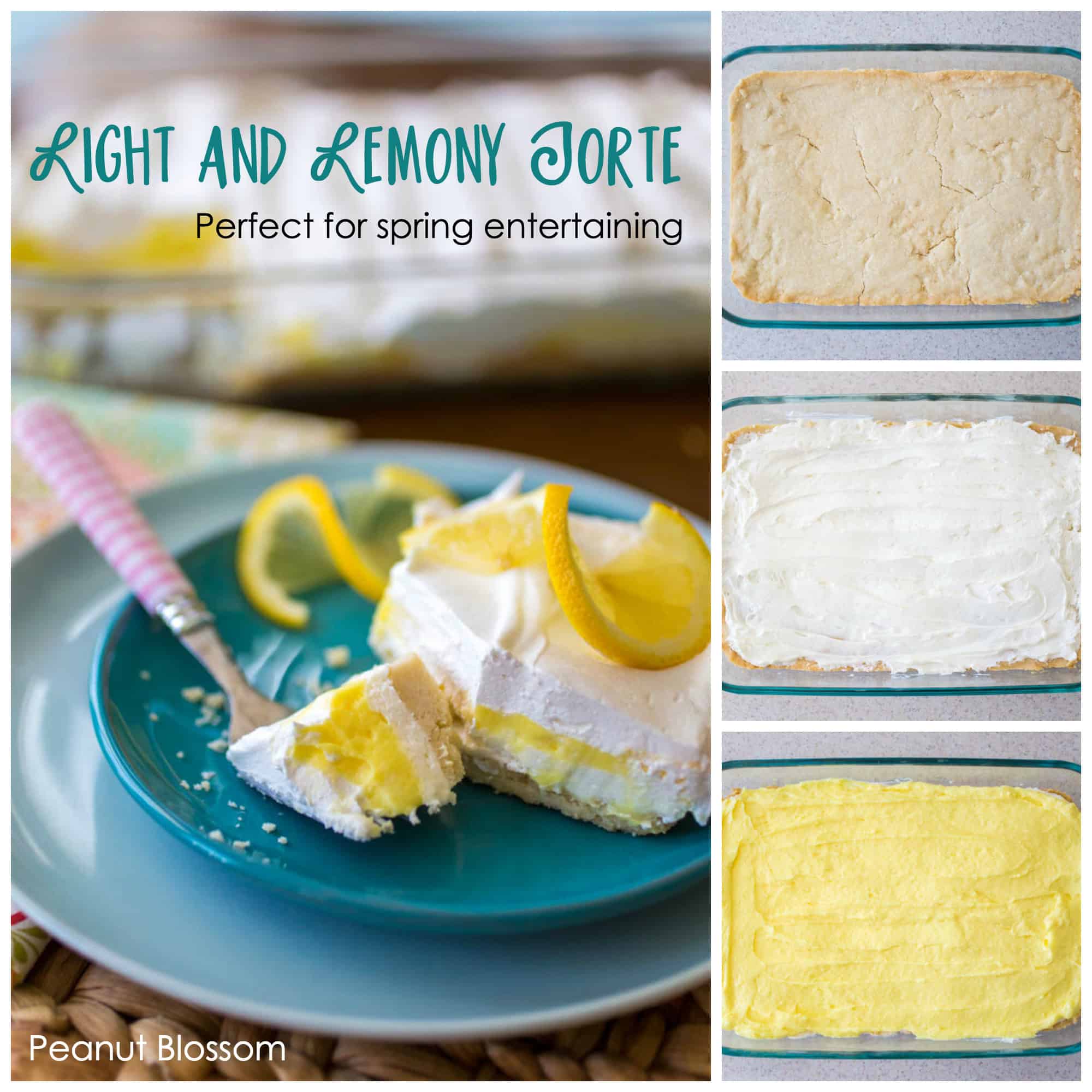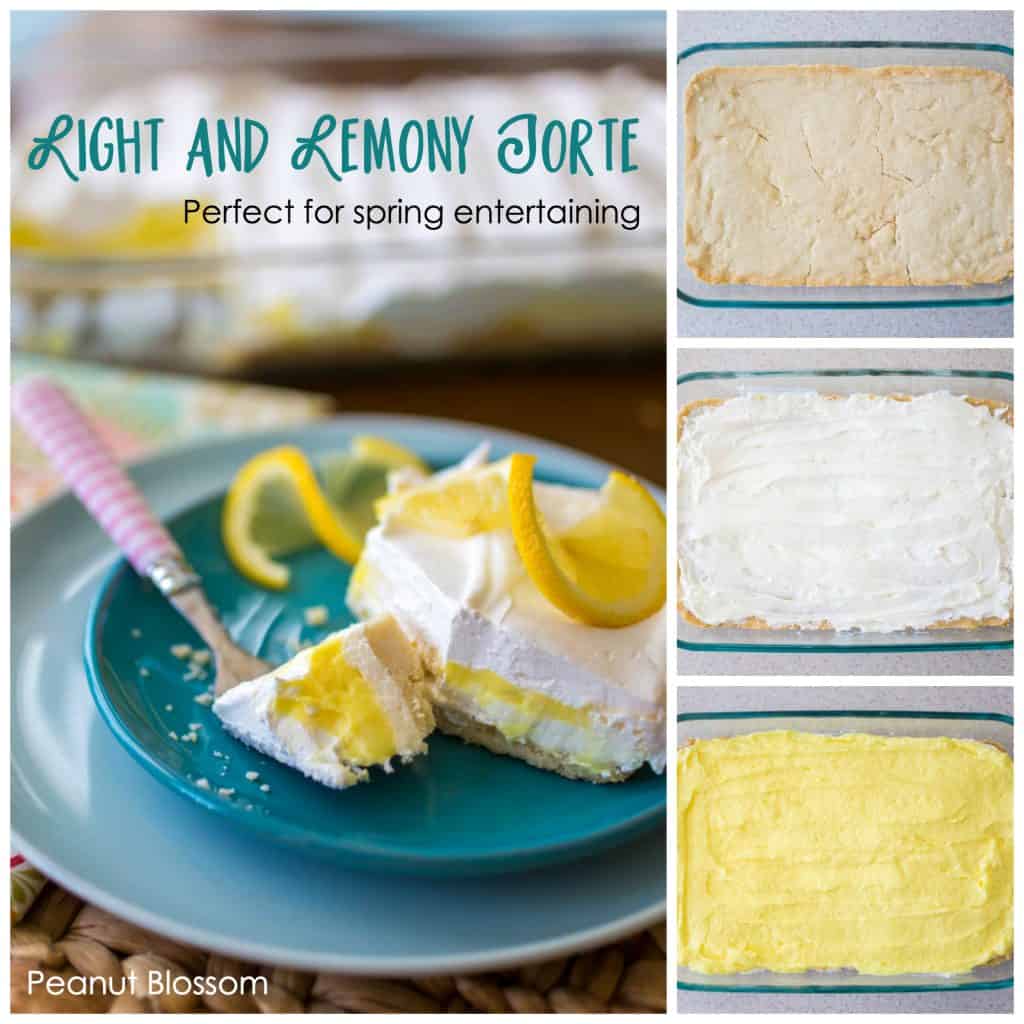 I loooooooove lemon desserts. I am totally obsessed with them this time of year. Lemon meringue, lemon bars, lemon cake. I can't get enough of that sunny yellow citrus. As we draw closer to Easter and spring entertaining, I know we are all planning treats for a wide variety of family members who will be joining us for celebrations. Do you have anyone in your family that can't eat a lot of sugar?
Early last fall, Handyman Tim changed one of his prescription medications and it really messed with his stomach. He suddenly discovered that he couldn't eat anything that had a lot of sugar in it without getting violently ill. Yogurt in the morning has been a staple of his for years and he was devastated to discover his favorite variety now caused him to be sick. On a whim, he experimented with adding a little SPLENDA® No Calorie Sweetener to a non-sweetened yogurt and found that his body responded much better to that combination.
Learning to cook (and bake!) without significant sugar has really been a challenge for me. Tim mostly just avoided desserts all through the Christmas season. Now that we are nearing Easter, I wanted to have something on the table that he could enjoy as a special treat.
I saw a similar version of this amazing lemon torte in Taste of Home and knew it would be the perfect recipe to experiment with substituting sugar for SPLENDA® Naturals Stevia Sweetener. I was curious to see how it might go over and it was a huge hit! The crust is completely sugar free, it is made with just butter and flour. Once baked, it is light and crispy with an amazing texture.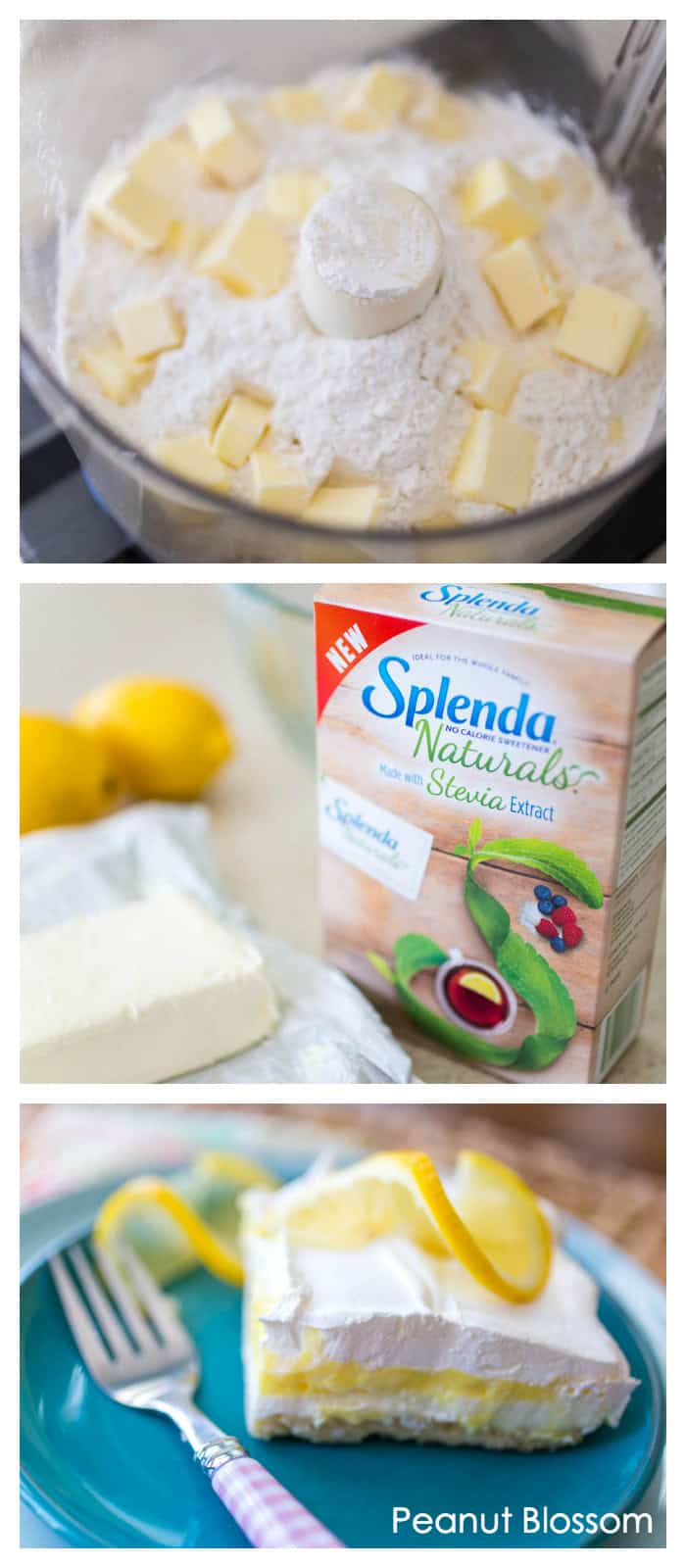 Then I beat 6 packets of SPLENDA® Naturals Stevia Sweetener into 8 ounces of cream cheese to form the first layer of the torte.
I topped it with a sugar free lemon pudding mix and then a layer of sugar free whipped topping. To keep things extra easy, I just used prepared topping from the store, but it would be even more delicious if you made whipped cream from scratch sweetened with 1-2 packets of SPLENDA® Naturals Stevia Sweetener.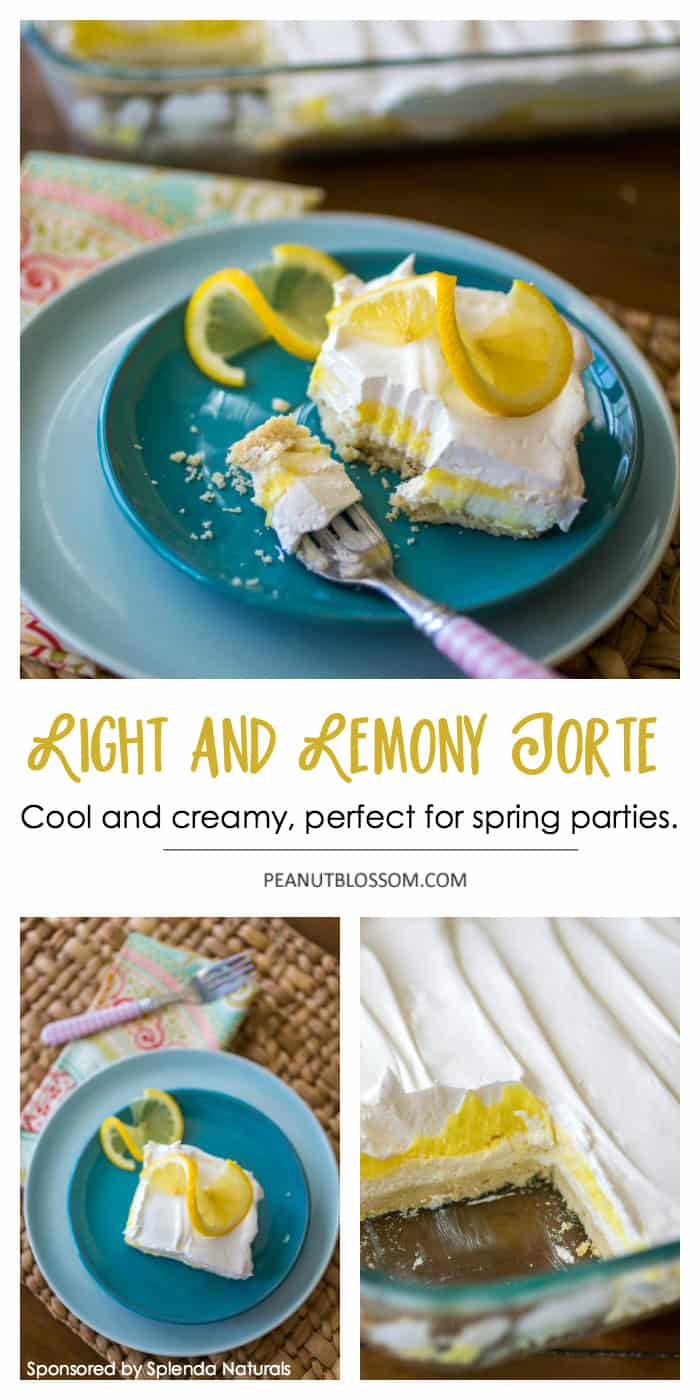 The lemon torte definitely scratched my itch for something citrusy and wasn't overly sweet. The cool whipped layers with that buttery crunchy crust was just perfect. Even better, the whole thing came together in just a few minutes. It's the perfect buffet dessert to add to your spring party!
For more information about the sweeteners we used, check out Splenda.com They have more great recipe ideas and you can grab a coupon to try it them out for yourself.

Easy Lemon Torte for Spring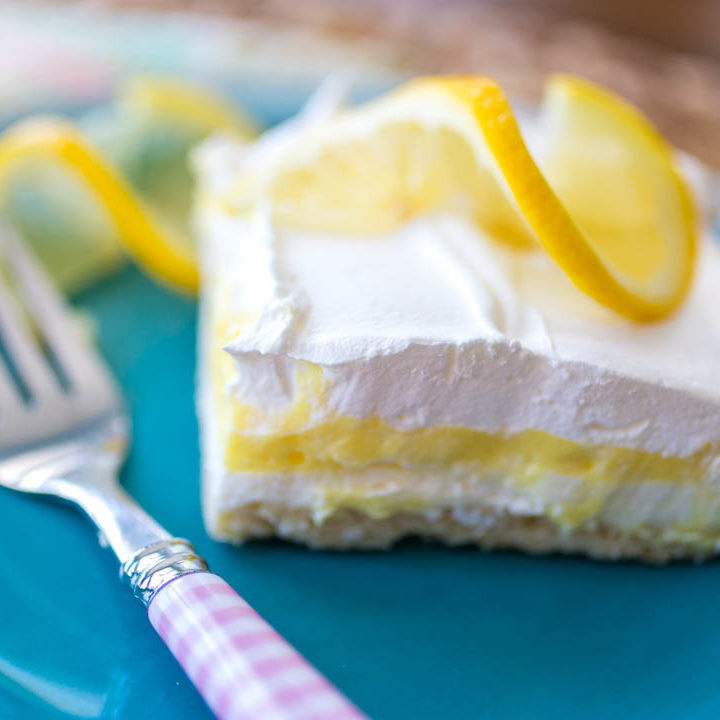 Light and Lemony Torte
Total Time:
1 hour
10 minutes
This light no-bake lemon torte recipe is perfect for warm weather entertaining. Easily adjustable for sugar-free or traditional sugar use to accommodate your guests.
Ingredients
2 sticks of cold butter, cubed
2 cups of flour
8 oz cream cheese
6 packets of SPLENDA® Naturals Stevia Sweetener
2 boxes of sugar-free lemon pudding
2 cups of milk
1 container of sugar-free whipped topping OR 1 pint of whipping cream for making homemade whipped cream sweetened with 1-2 packets of SPLENDA® Naturals Stevia Sweetener
Instructions
Preheat the oven to 350 degrees.
In a food processor, combine the butter and flour until coarse crumbs form. Press the crumbs into a 9x13 pan to form the crust. Bake for 18-20 minutes until lightly toasted in color. Let cool to room temperature.
Beat the cream cheese with SPLENDA® Naturals Stevia Sweetener using a hand mixer on high. Fold in 1 cup of whipped topping or 1 cup of homemade whipped cream. Spread evenly over the crust to form the first layer.
Beat the milk and pudding mix with a hand mixer for 2 minutes on medium-high. Spread evenly over the cream cheese layer.
Top the torte with the remaining whipped topping or homemade whipped cream. Chill for one hour before serving.