This cool and creamy no bake dessert is perfect for spring. Our favorite lemon torte features layers of sugar-free lemon pudding and whipped topping.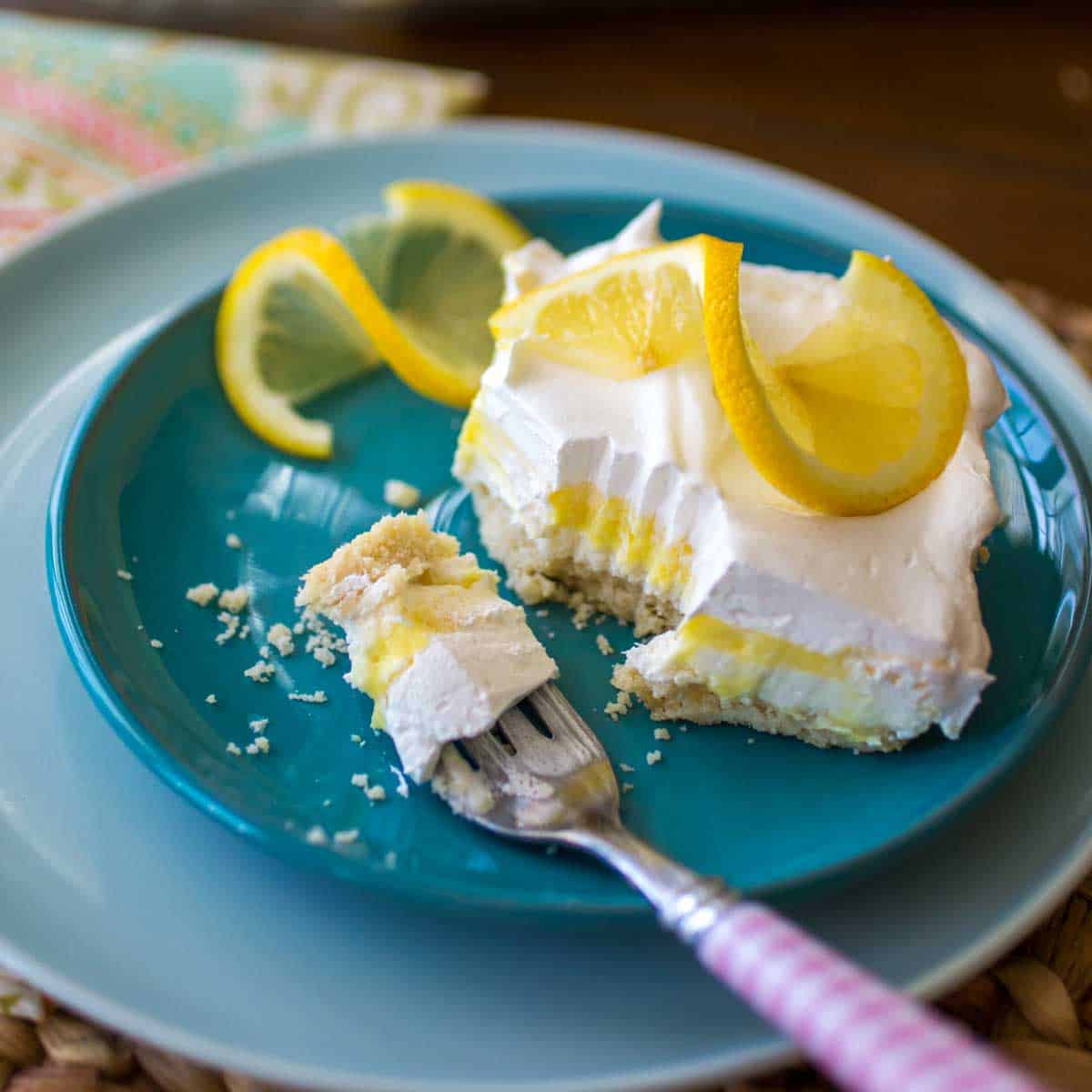 I loooooooove lemon desserts. I am totally obsessed with them this time of year. Lemon meringue, lemon bars, lemon cake. I can't get enough of that sunny yellow citrus.
As we draw closer to Easter and spring entertaining, I know we are all planning treats for a wide variety of family members who will be joining us for celebrations. Do you have anyone in your family that can't eat a lot of sugar?
Early last fall, Handyman Tim changed one of his prescription medications and it really messed with his stomach. He suddenly discovered that he couldn't eat anything that had a lot of sugar in it.
Learning to cook (and bake!) without significant sugar has really been a challenge for me. Tim mostly just avoided desserts all through the Christmas season. Now that we are nearing Easter, I wanted to have something on the table that he could enjoy as a special treat.
Jump to:
Ingredients
This easy no bake chilled torte needs only a short list of ingredients.
For the Crust:
Butter
Flour
Cream Cheese
Sugar
For the Filling & Topping:
Lemon Flavored Pudding Mix
Milk
Whipped Topping (like Cool Whip)
Sugar Free Variation
If you prefer to make a sugar-free version of this dessert, you only need a few simple swaps:
Use SPLENDA Naturals Stevia Sweetener in place of the sugar in the crust.
Select the sugar-free pudding mix and whipped topping containers.
How to Make the Torte
Preheat the oven to 350°F and set out a 9x13-inch baking dish.
In a food processor, combine the butter and flour until coarse crumbs form. Press the crumbs into the pan to form the crust.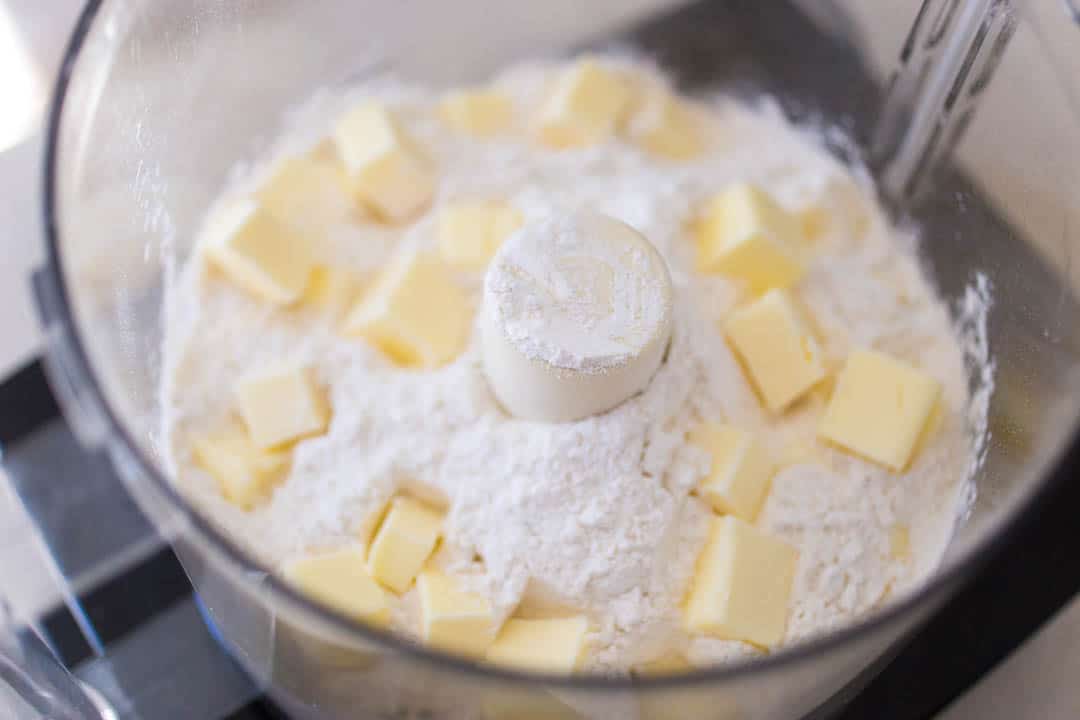 Bake for 18-20 minutes until lightly toasted in color.
Let cool to room temperature before attempting to assemble the finished lemon torte.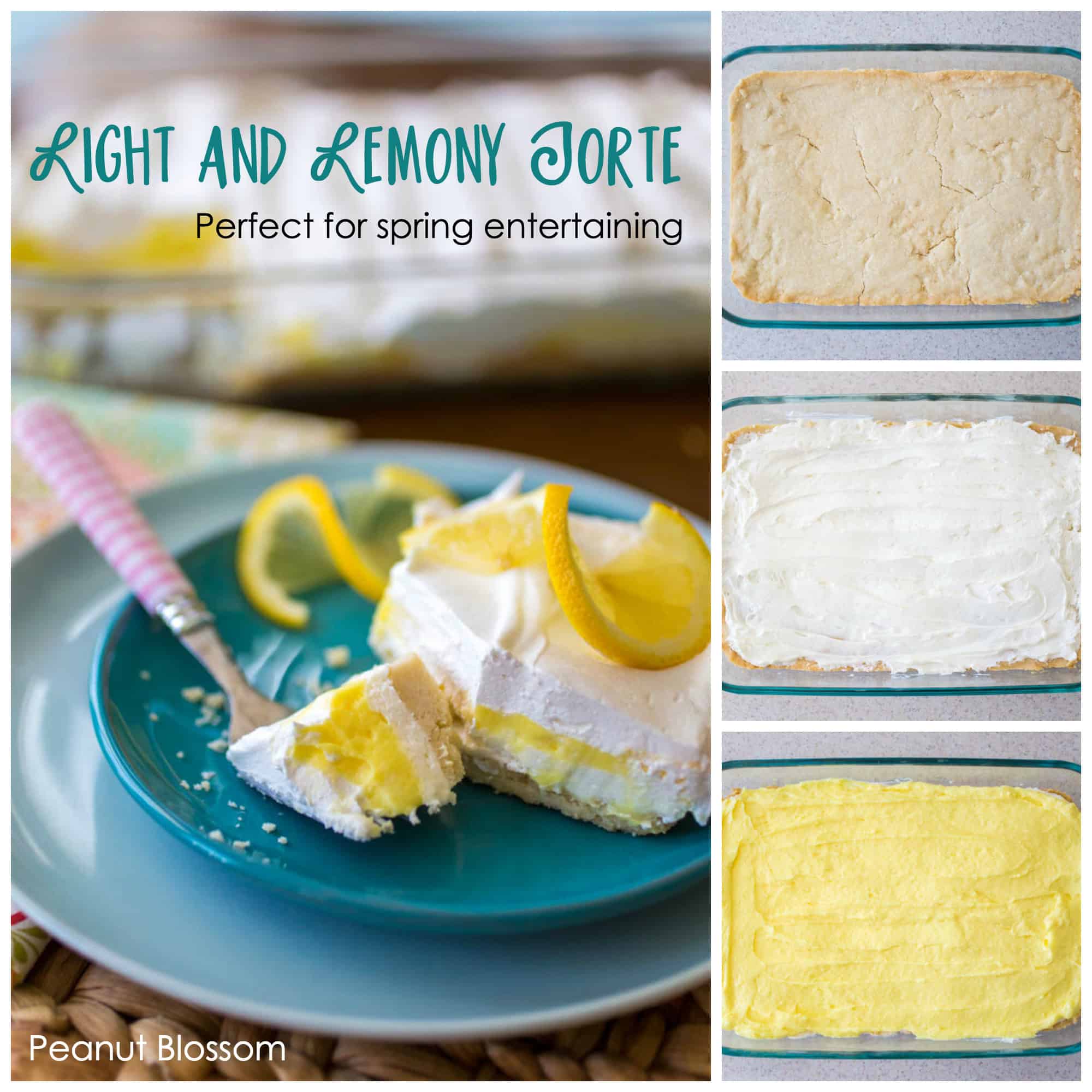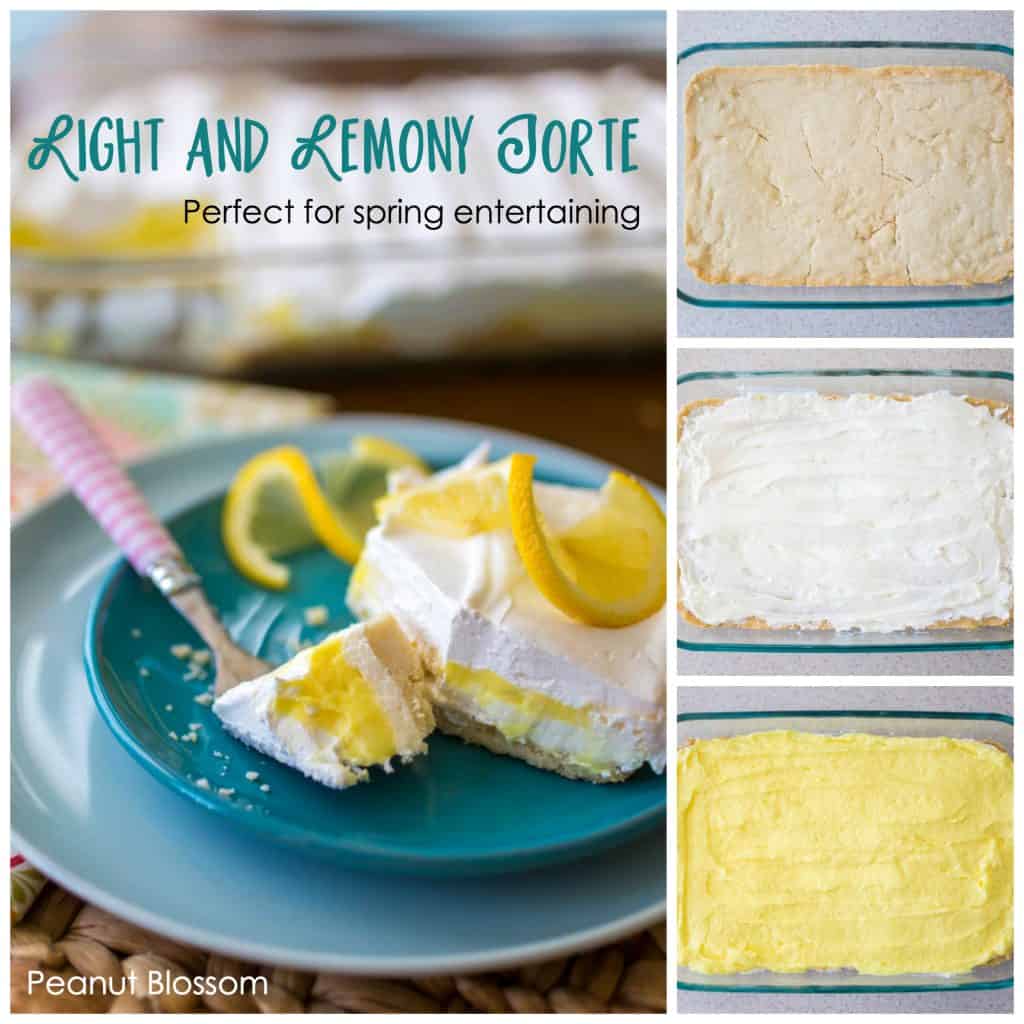 Beat the cream cheese with sugar or SPLENDA with a hand mixer on high speed. Fold in 1 cup of whipped topping or 1 cup of homemade whipped cream.
Spread evenly over the crust to form the first layer.
Beat the milk and pudding mix with a hand mixer for 2 minutes on medium-high. Spread evenly over the cream cheese layer.
Top the torte with the remaining whipped topping or homemade whipped cream.
Chill for one hour before serving.
Make Ahead Tips
The lemon torte keeps quite well in the fridge for up to 24 hours. Simply cover it with a lid or carefully with a piece of aluminum foil to keep the whipped topping fresh.
Alternatively, you could assemble the crust, cream cheese, and lemon pudding layers the day before and then just "frost" it with the whipped topping the morning of the party.
More Lemon Desserts
This lemon torte definitely hits the spot when you want something citrusy. The cool whipped layers with that buttery crunchy crust are just perfect.
Even better, the whole thing comes together in just a few minutes. It's the perfect buffet dessert to add to your spring party!
Looking for more light and lemony treats? These refreshing lemon desserts are perfect for spring or summer.