Oreo cream pie takes just 20 minutes to prep. This cool and creamy no bake pie has gorgeous layers that are SO EASY to do! Impress your family with this absolutely delicious dessert, they'll never guess how easy it was to make.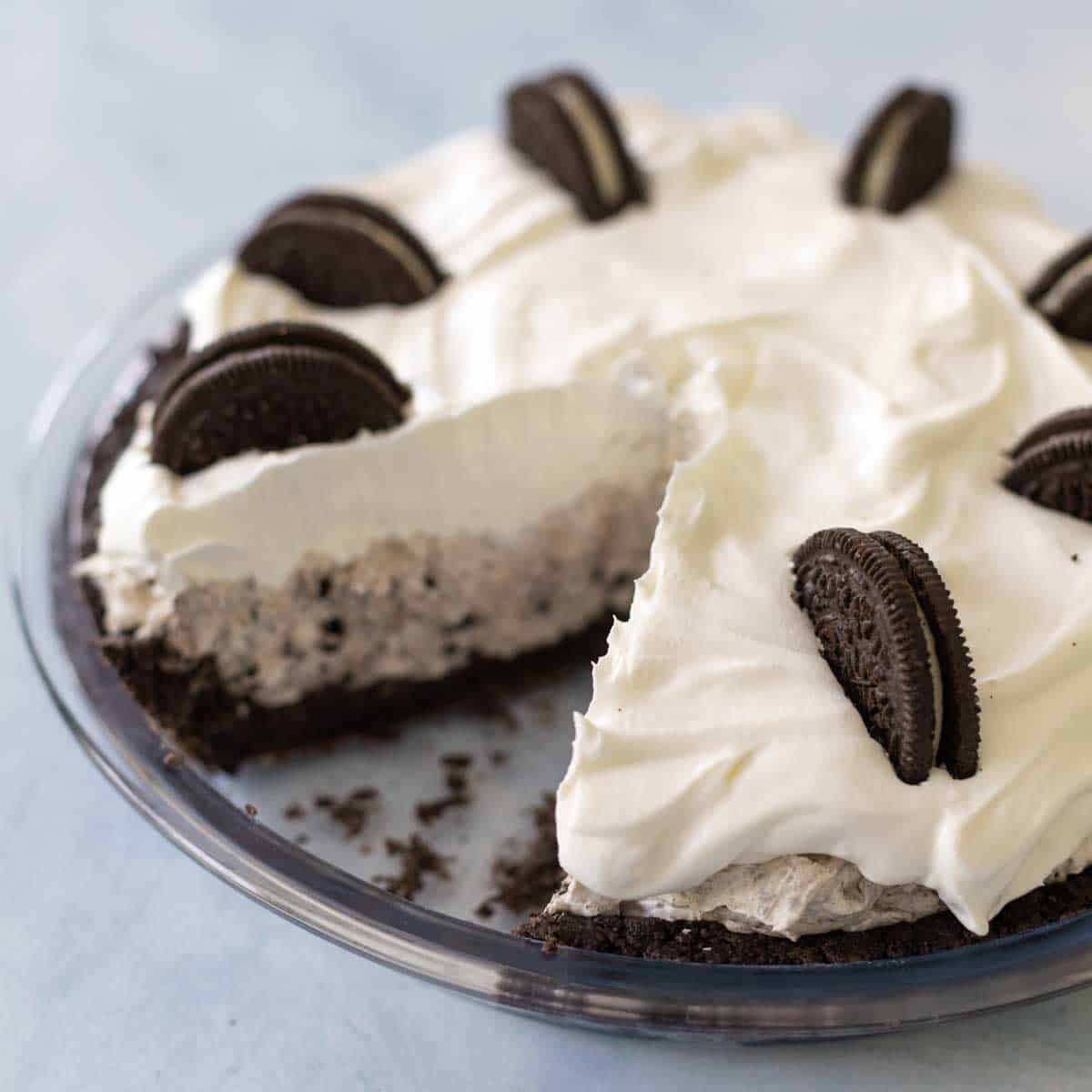 There's just something about a layered dessert like this stunning Oreo cream pie that make any gathering extra special.
But just because it's pretty, doesn't mean it is difficult!
When you slice into this delicious Oreo pie, your family will be so excited to see the thick Oreo cookie crust topped with Oreo cream filling and a simple white whipped topping frosting.
Garnish it with a few crispy Oreos on top just before serving so they retain their texture.
Jump to:
Why This is the Best Recipe
I love making a no bake dessert for special occasions and I think this is the best Oreo cream pie recipe because:
Quick Prep: The whole dessert takes under 20 minutes to make.
Awesome Cookie Crust: This recipe has the best Oreo cookie crust ever.
Pretty Layered Dessert: While some Oreo cream pies have just one layer, this recipe has 2 layers. The trick is SO easy but it looks SO impressive.
Easy Make Ahead Dessert: When you'll have your hands full with holiday prep, this is a no fail make ahead dessert you can do the day before.
Kid-Friendly: You will be the total hero if you pull this out at Thanksgiving. Not all kids like pumpkin pie or pecan pie, this is the perfect special treat that takes just a little time to make.
Ingredients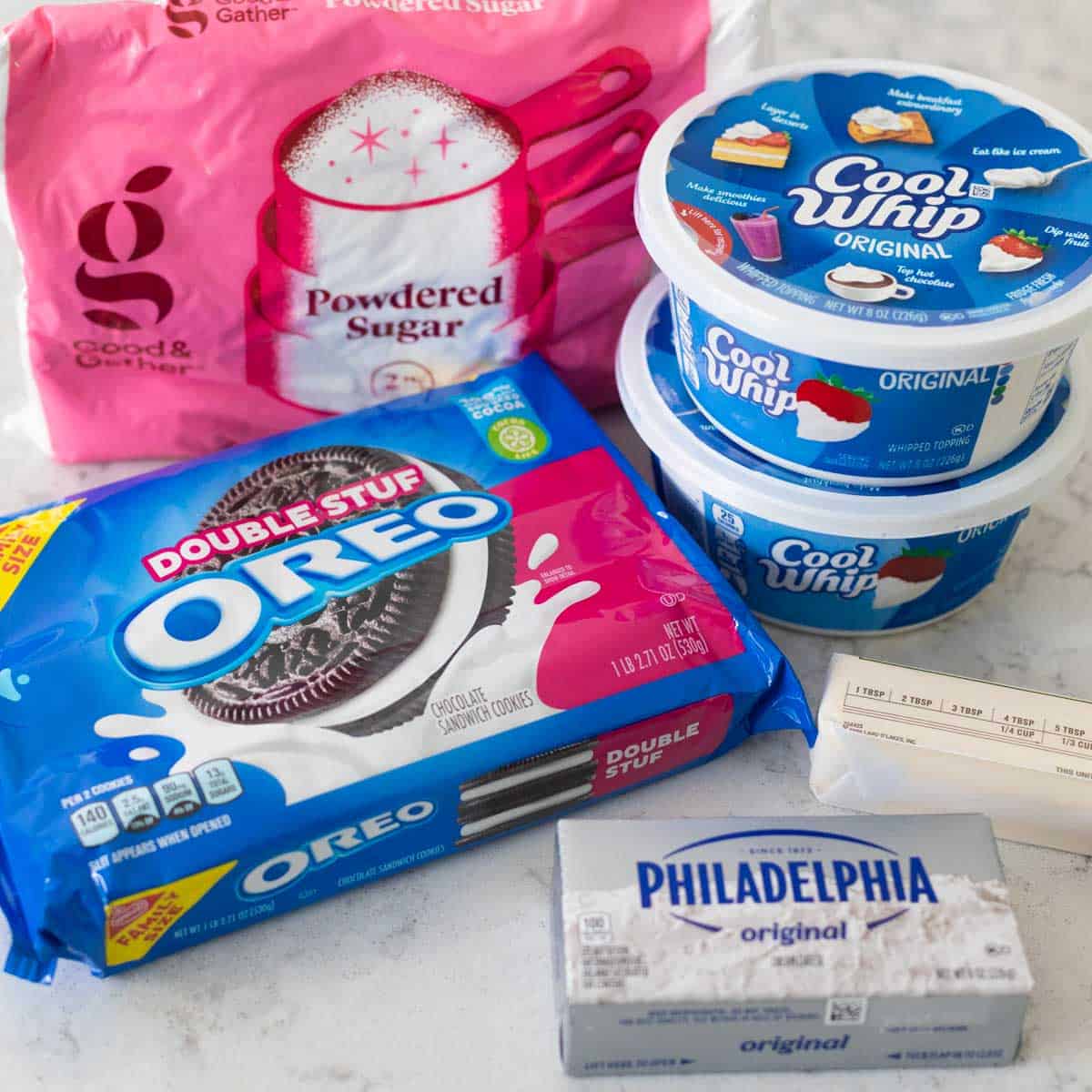 Just like all of the best no bake dessert recipes, this Oreo cream pie has a super short list of ingredients.
You only need 5 things!:
Oreo Cookies: I used Double Stuff but you can use any flavor Oreo you want!
Whipped Topping: Like Cool Whip
Cream Cheese: I suggest using full fat cream cheese because it has the best texture.
Powdered Sugar
Butter
Make the Oreo Cookie Crust
To keep this article shorter for you, I placed all the step-by-step photos and tips for making a perfect Oreo cookie crust in a separate recipe.
However, the instructions you need to do it are still in the recipe card for the Oreo cream pie so you'll have everything in one spot when you get to baking.
Once the cookie crust is ready, just keep it in the fridge chilling while you prep the filling.
This will help prevent it from crumbling when you spread the filling into place.
Prep the Oreo Cream Filling
Place the softened cream cheese and powdered sugar in a mixing bowl.
Beat them together with a hand mixer on low speed until just combined.
Raise the speed to medium-high and whip the filling for 4 minutes or until it is lighter and fluffier.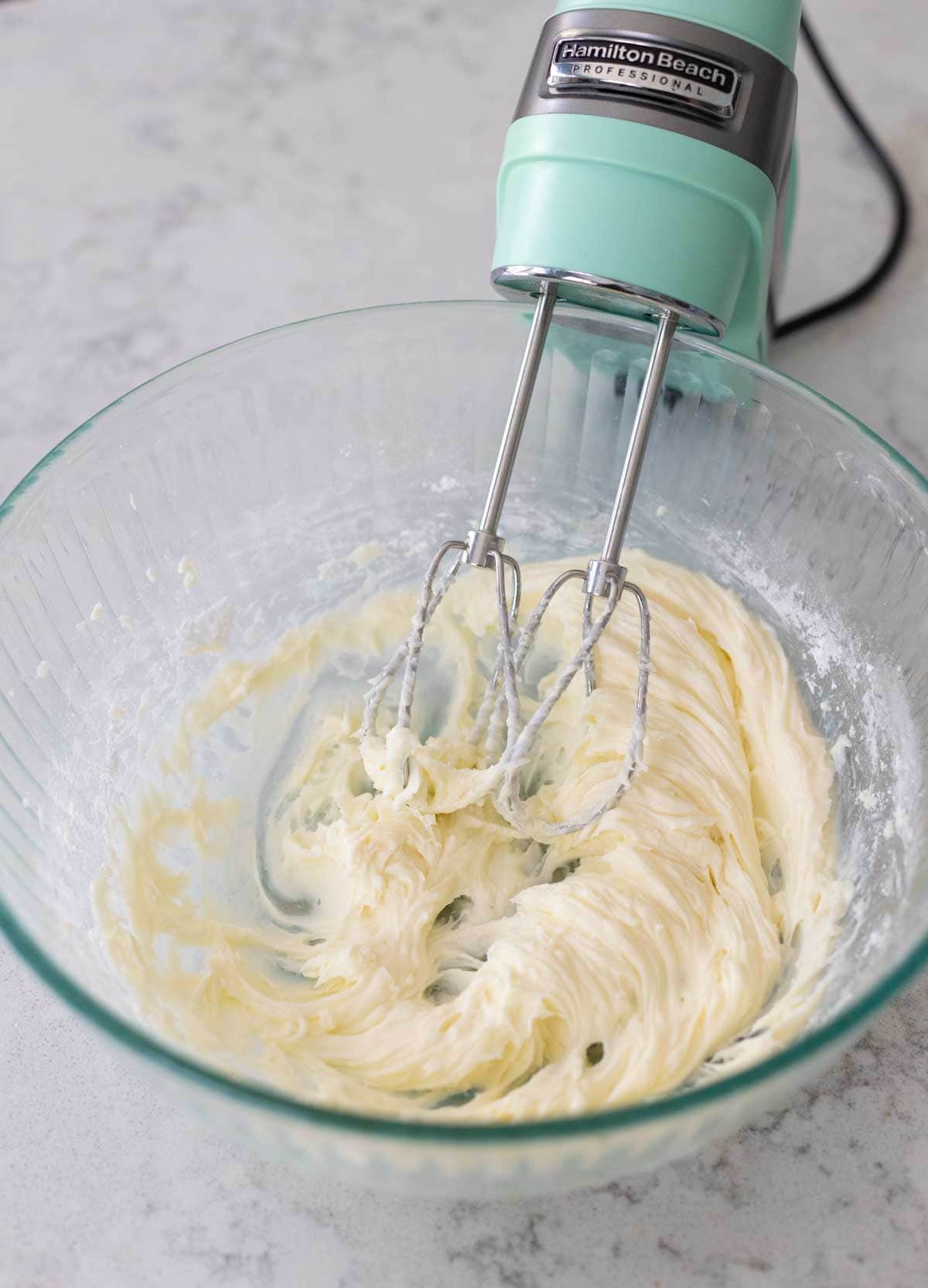 To crush the Oreo cookies, I suggest you use a food processor or blender.
Just pulse them a few times until they are fine crumbs.
You could also crush them by hand in a plastic baggie.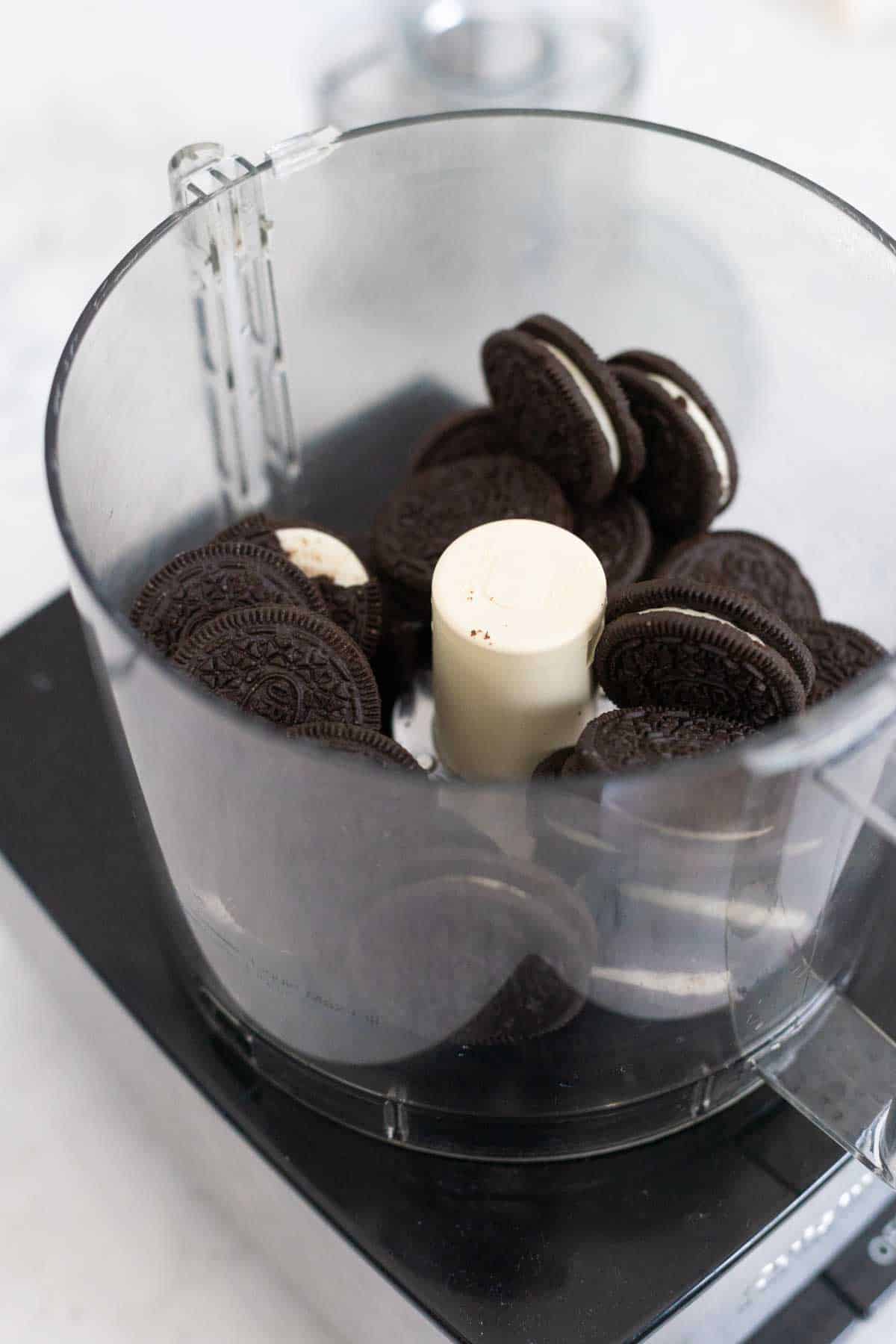 Add the cookie crumbs to the cream cheese mixture and blend them in with the hand mixer.
Don't over beat the filling at this point. You want to still be able to see flecks of cookie in the mix: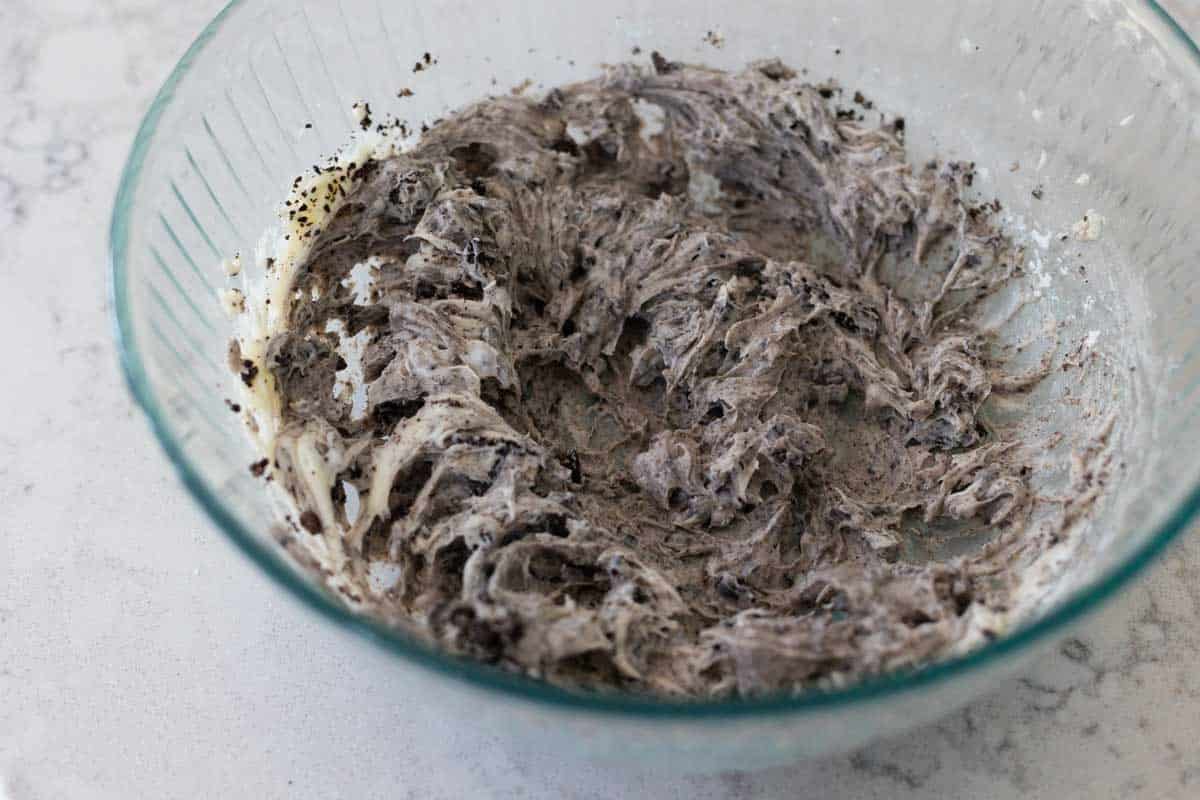 Finally, fold in just one container of the whipped topping.
Be careful to not over stir the mix. You don't want to break up the whipped topping too much.
It will keep that light and fluffy texture if you just fold gently.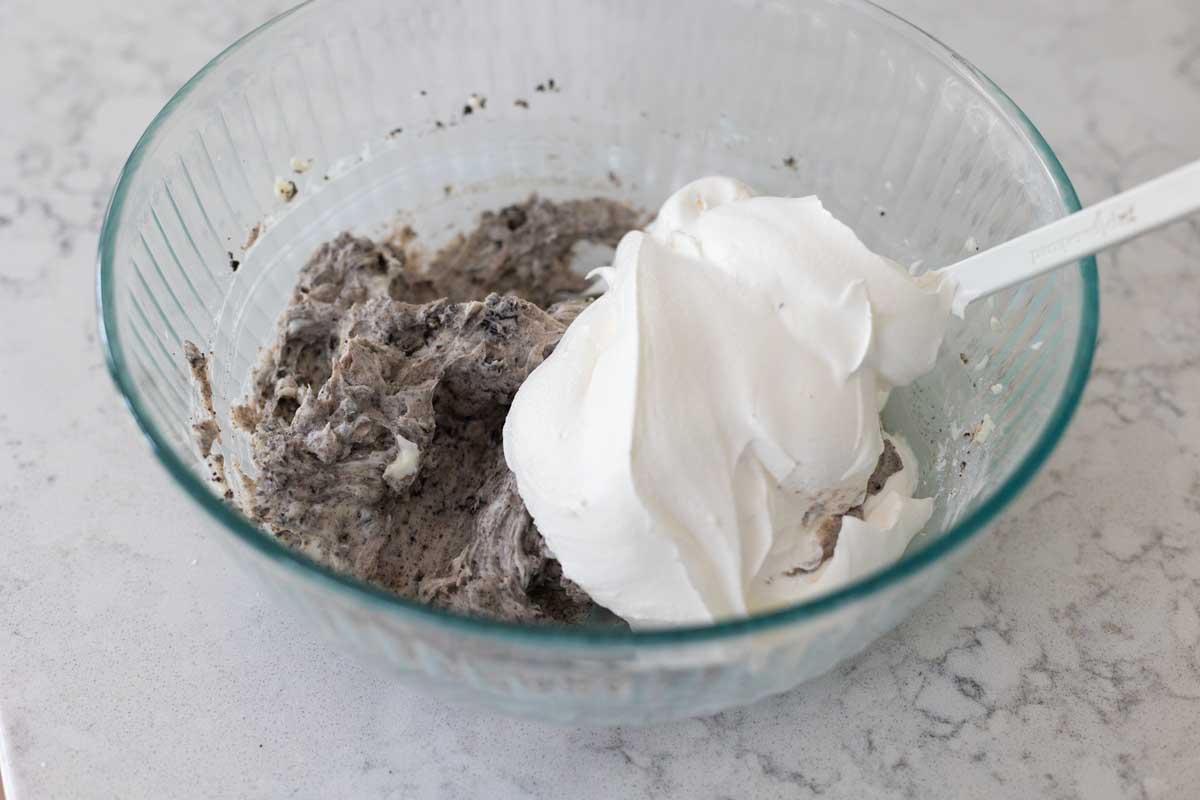 Easy Variation:
If you prefer CHUNKS of Oreo vs. Oreo crumbs, you could break the cookies up by hand into smaller pieces and stir them into the cream cheese filling with a spatula.
Assemble the Pie
Spoon the Oreo cream filling into the prepared Oreo cookie crust.
Work carefully, the crust may not be completely set at this point. If you stir the filling too hard, it could break the pie crust.
Just drop dollops of filling over and then smooth it out with a knife or spatula.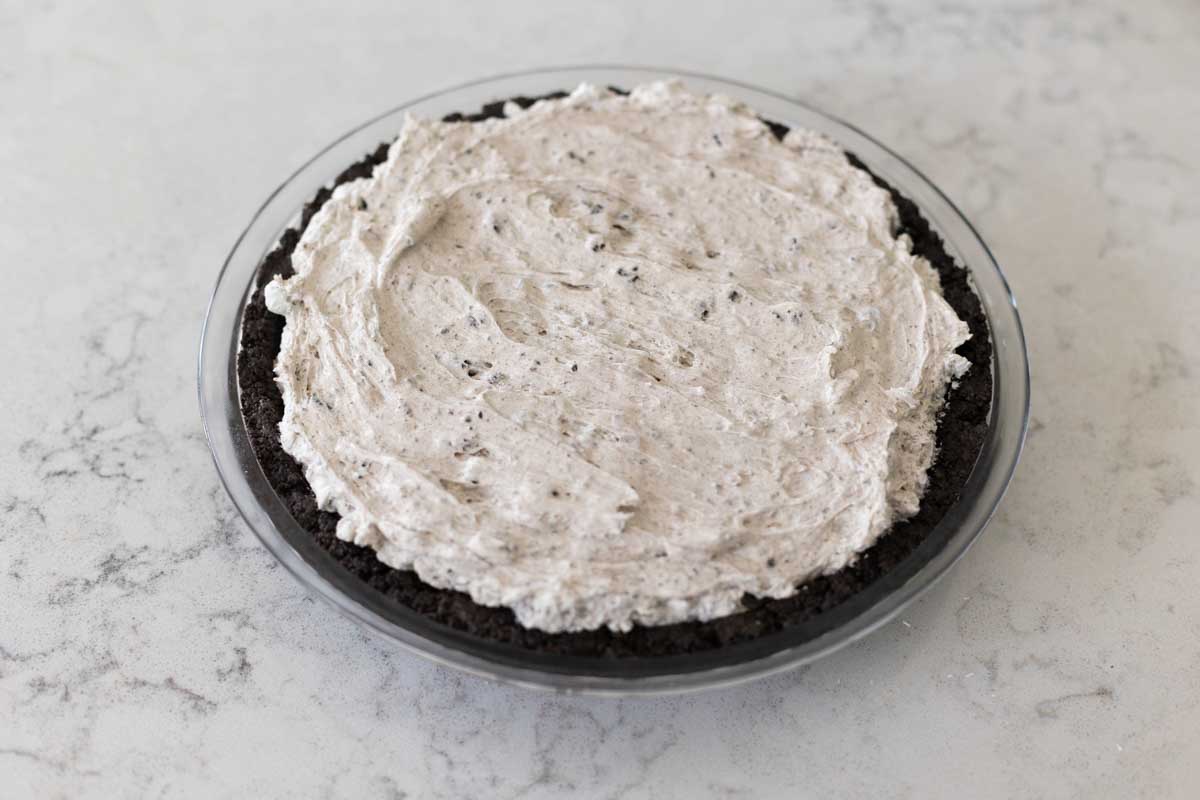 Scoop the second container of whipped topping on top of the cookie layer.
Smooth it out with pretty swirls with a knife or spatula.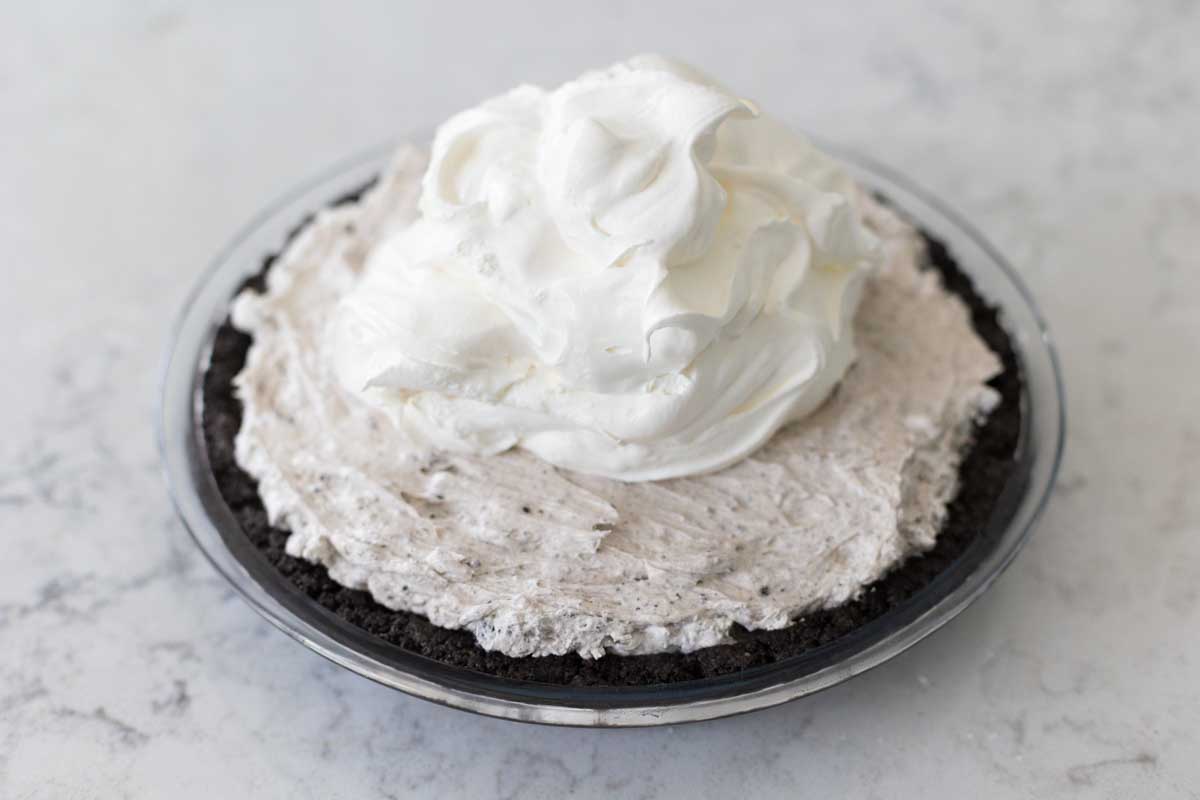 Chill the Pie
Place the frosted pie in the fridge for one hour before trying to slice and serve it.
This allows the crust to set completely so it holds its shape when you cut the pieces.
Do not garnish the pie until just before serving so that the cookie topping stays nice and crispy.
How to Garnish the Pie
At this point in the process, you probably have about 4 Oreo cookies left in the container.
To stretch them far enough to garnish the pie, slice each one in half with a chef knife: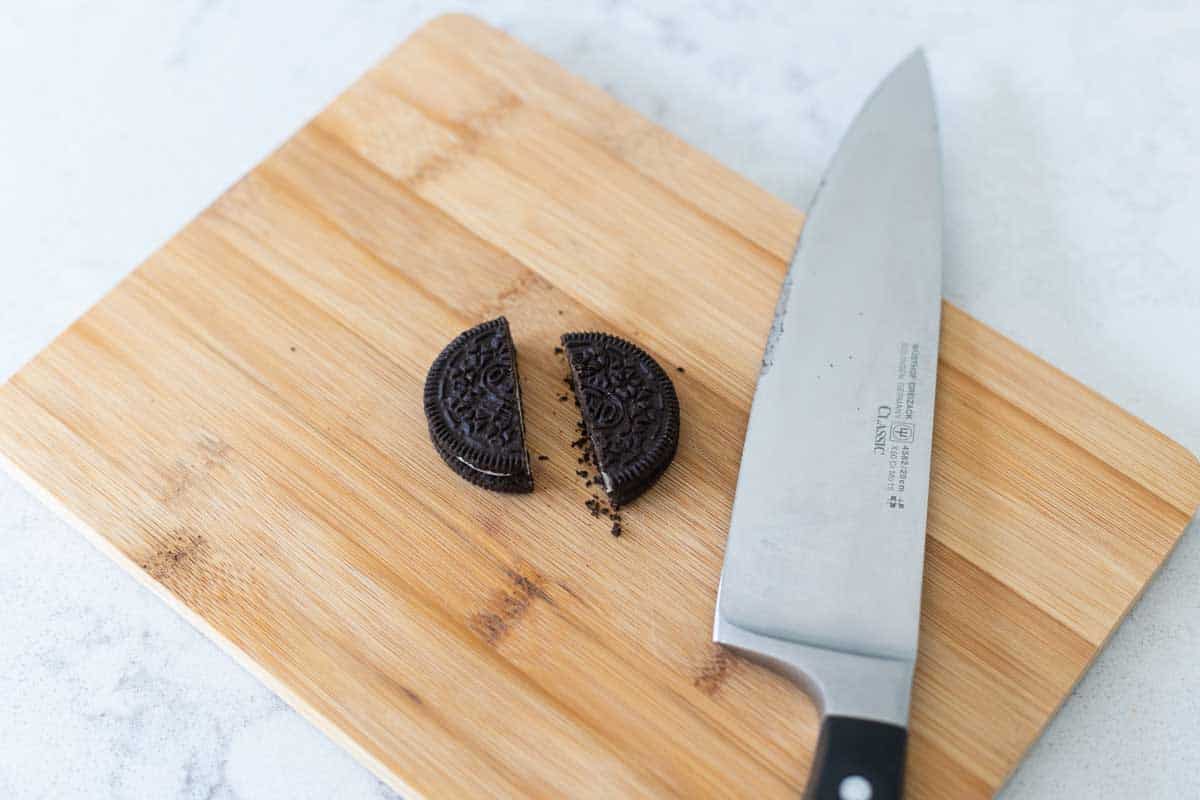 Place one cookie half at the edge of the pie and rotate around like a clock. It should look like this: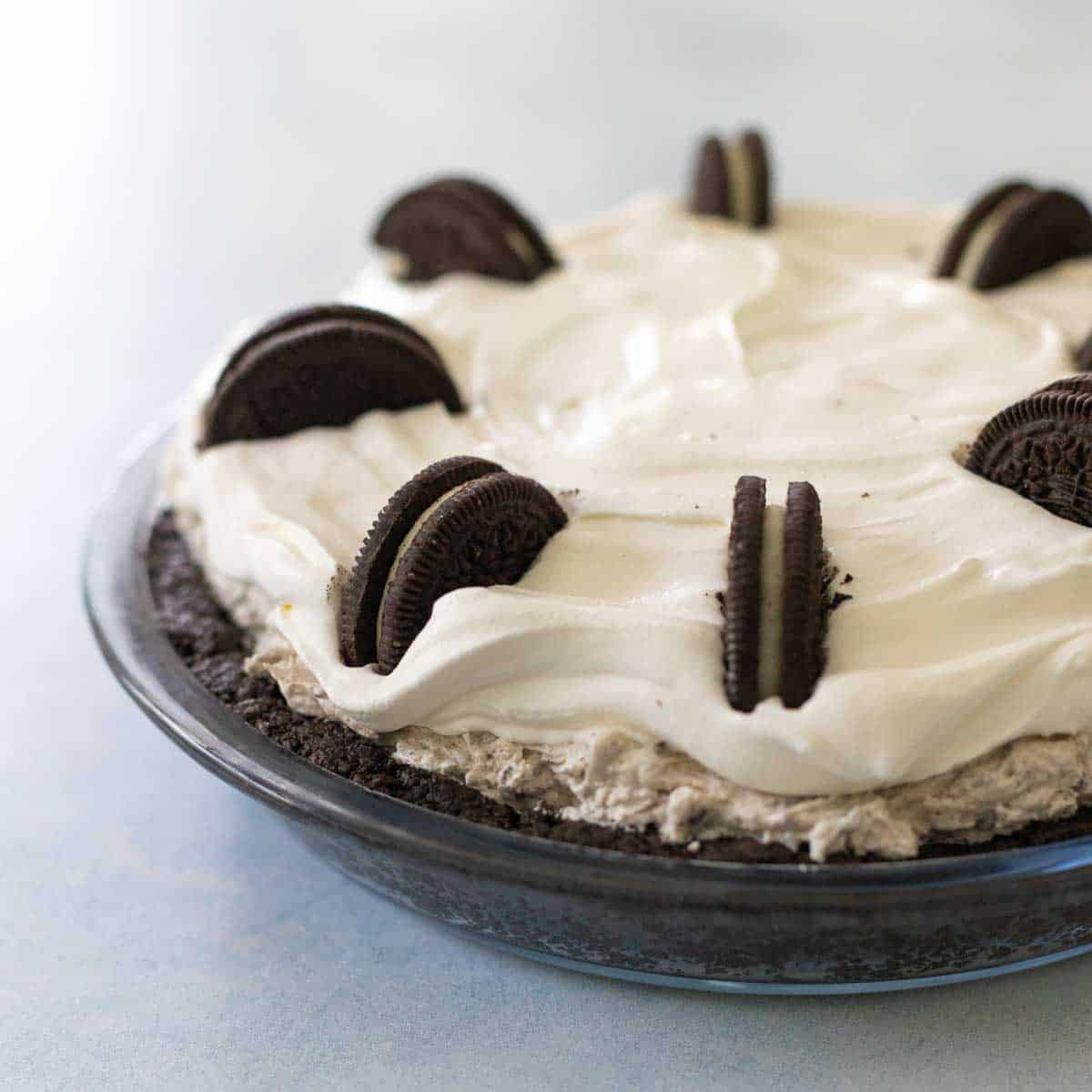 If you don't have enough cookies to make this look work, you could also crush the cookies you do have and just sprinkle the crumbs around the edge of the cream.
Honestly? I think the pie looks super pretty with just a plain white whipped topping, too.
Make Ahead Tips
You can make the entire pie in advance up to 2 days before your party.
Do not try to freeze the pie, it would be hard to thaw it properly and not ruin the top frosting.
You can prep the Oreo cookie crust up to 3 months in advance if you freeze it empty.
Serving Suggestions
This Oreo cream pie is so delicious all by itself, there really is no need to do anything more!
However, if you want to really take this dessert over the top, you could consider:
Drizzle it with chocolate sauce before serving
Add colorful sprinkles for a holiday or party theme
Use chocolate covered Oreos for garnish during the holiday season
Serve with fresh strawberries on the side or use them as garnish on top
Add mini chocolate chips to the Oreo cream layer or as garnish on top
More Oreo Recipes
Oreos are such a delicious ingredient to use in simple desserts. If you love them as much as I do, you won't want to miss these recipes:
More No Bake Desserts
If you love make ahead no bake desserts for special events, you won't want to miss these delicious recipes:
📖 Recipe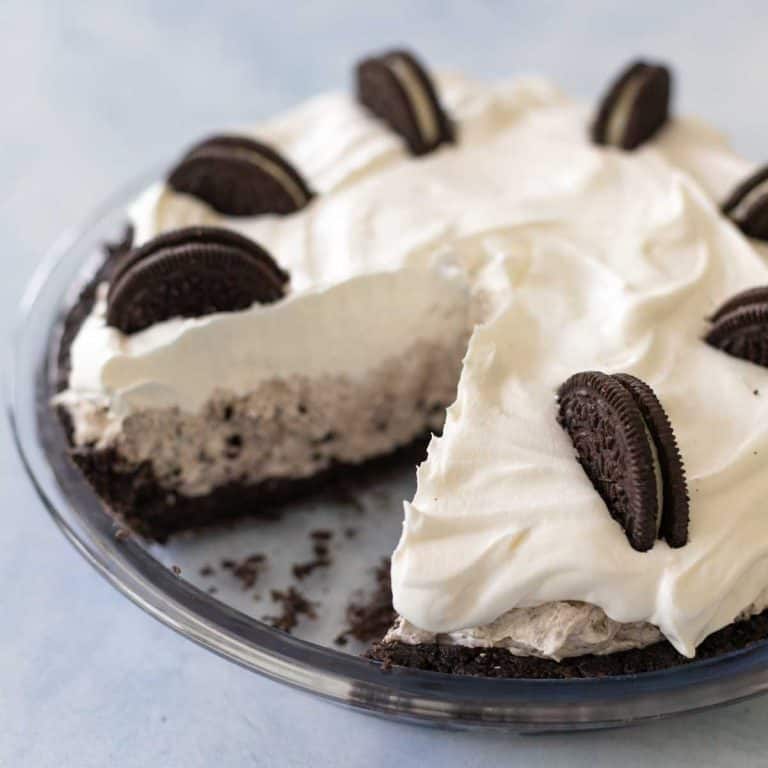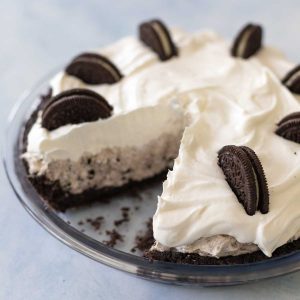 Oreo Cream Pie
This easy no bake OREO cream pie uses up one family-sized package of Double Stuffed Oreos. Cool and creamy and filled with chocolate wafer cookies and vanilla creme filling in the Oreo cookie crust and Oreo cream center, this easy pie is a huge hit with kids.
Ingredients
For the Oreo Cookie Crust
24

Oreo double stuffed cookies

5

tablespoon

butter
For the Oreo Cream Filling
8

Oreo double stuffed cookies

1

(8 oz) brick of cream cheese

¾

cup

powdered sugar

2

(8 oz) containers of whipped topping

like Cool Whip
For the Garnish
4

Oreo double stuffed cookies
Instructions
Prepare the Oreo Cookie Crust
Place 24 Oreo cookies, this should be about 2 rows from the package, into the bowl of a food processor. Pulse until the cookies are finely crumbled. Alternatively, you can crush them by hand in a ziptop baggie and smash them with a mallet or rolling pin.

Transfer the crushed cookies to a medium-sized mixing bowl. Melt the butter and drizzle it into the crumbs. Fluff it all together with a fork until the crumbs are easily coated with butter.

Press the cookie mixture into a 9-inch pie plate. Smooth out the bottom crust and then firmly press it up the sides of the dish. It is helpful to start with a measuring cup to get a perfectly flat bottom crust but you may need to use your fingers for the sides.

Chill the crust in the fridge while you prepare the pie filling.
Prepare the Oreo Cream Filling
You should have 1 row of Oreo cookies left in the package. Reserve 4 cookies for garnishing the top of the pie. Place the remaining cookies, should be about 8 cookies, in the food processor and pulse them until they are fine crumbs.

Place the cream cheese in a large mixing bowl. Add the powdered sugar. Beat them together with a hand mixer on low speed. Once combined, increase the speed to medium-high and beat the cream cheese until fluffy.

Add the cookie crumbs to the cream cheese and mix them in by hand with a spatula. Do not over stir the mixture, you want to see flecks of cookie in the cream cheese.

Fold in just one container of the whipped topping. Spoon the filling into your prepared crust and smooth it out with the spatula.

Use the second container of whipped topping as the top frosting. Spoon it over the filling and spread it out evenly.

Chill the pie for one hour.

Carefully cut the last 4 Oreo cookies in half with a large chef knife. Place one half of a cookie along the outer edge of the pie. See photos in post above for reference. Alternatively, you could crush the remaining cookies and just sprinkle the crumbs over the top or around the perimeter of the pie.
Save This Recipe to Your Recipe Box
Find this delicious recipe next time you visit by saving it to your very own recipe box on my site. All your favorites stored in one easy place!