These easy mint Oreo truffles are a 3-ingredient no bake cookie recipes that is the perfect addition to a holiday cookie tray.
Holiday baking just wouldn't be complete without a tray of mint Oreo truffles made with cream cheese and rolled in melted chocolate chips.
My girls have always loved these no bake Christmas cookies, they are just perfect for beginner bakers or busy holiday hosts who need a quick and easy cookie fast.
Learn how to make the best Oreo truffles ever with my simple tips!
Jump to:
Why This is the Best Recipe
This is one of the very first cookie recipes I ever published on this web site, way back when the Original Peanut was just yay big: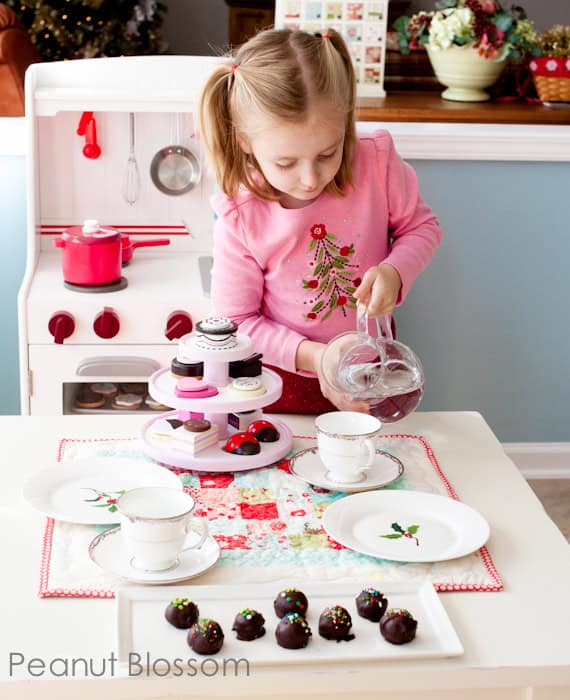 I don't even want to discuss how big she is now, but I hope this adorable holiday tea party picture gets you excited to bake one of her favorite cookies.
She thinks this is the best Oreo truffles recipe because:
Nostalgic Memories: This has been a holiday tradition for almost 20 years.
Just 3 Ingredients: When you're busy buying up practically everything in the store, a budget-friendly cookie recipe like this one is such a relief! And easy to remember, too.
No Bake Cookies: My tiny toddlers were able to help make this by rolling the cookie dough balls but now my teens can do it all by themselves.
Rich and Fudgy: If you're a big chocoholic, this recipe is for you!
3 Ingredients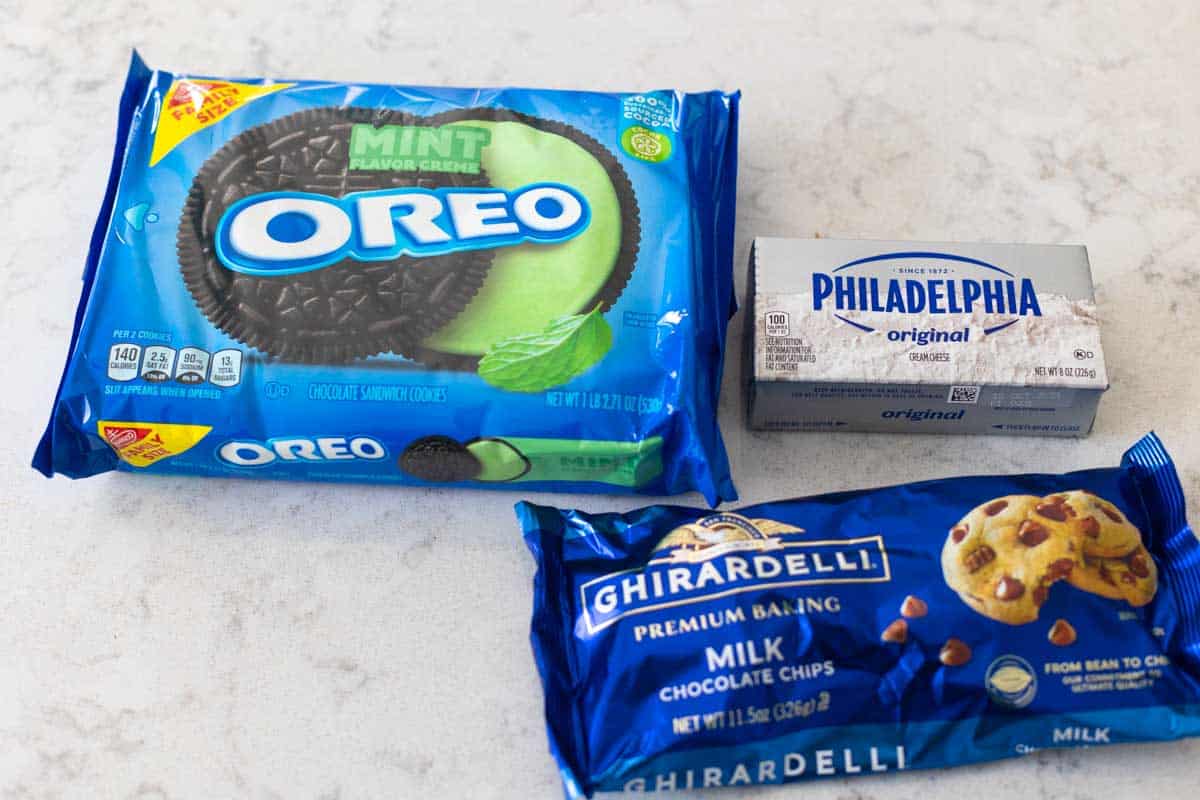 One of the biggest selling points of these delicious Oreo truffles is that they take just 3 ingredients to make:
Oreo Cookies: I always use the mint flavor, I think it gives them a little holiday flair. You could use whatever Oreo cookie flavor floats your boat.
Cream Cheese: I definitely recommend getting full-fat cream cheese. It just holds the truffles together better.
Milk Chocolate Chips: If you prefer dark chocolate, you can buy dark chocolate chips instead. This recipe would also be really pretty with white chocolate chips but I believe they are harder to melt than regular milk chocolate.
Prepare the Cookie Balls Dough
First, you need to prepare the Oreo cookie ball dough so it has a chance to chill in the fridge and firm up.
Add the Oreo cookies to a food processor and pulse them until they form fine crumbs.
You could crush them by hand in a plastic baggie with a kitchen mallet, but the food processor makes very quick work of this recipe.
Add the cream cheese to the food processor and pulse until it has blended in with the cookie crumbs to form a ball.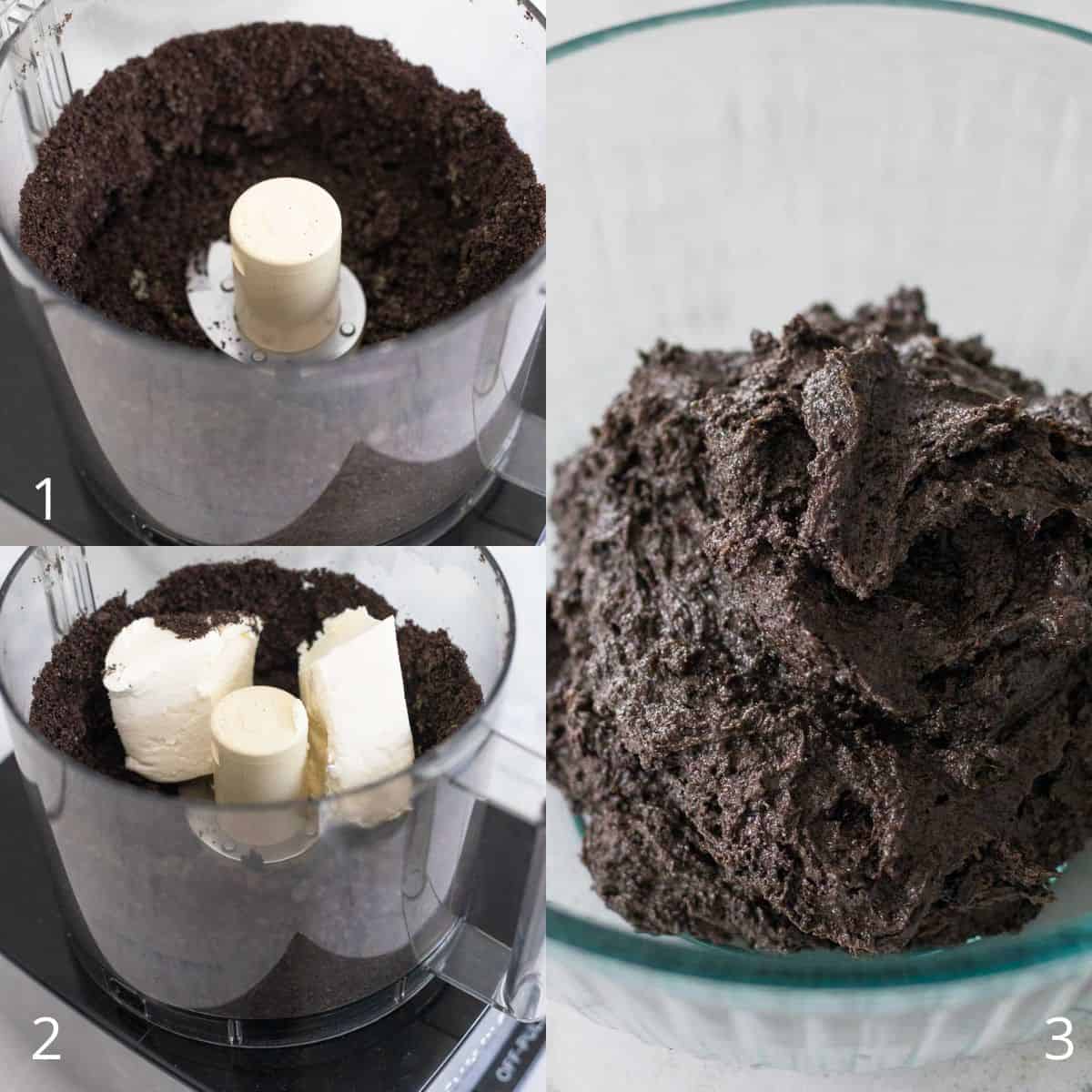 Transfer the ball to a mixing bowl, cover with plastic wrap, and chill in the fridge for at least 15 minutes or up to 24 hours in advance.
Roll the Truffle Balls
It is most helpful to roll all the cookie dough balls BEFORE you melt the chocolate chips.
Then you can keep them chilled in the fridge so they're super cold when they go into the melted chocolate.
Use a small kitchen spoon to scoop a ping-pong ball sized portion of dough and roll it between your hands until smooth.
Repeat and line the cookie balls up on baking sheet lined with parchment or a silicone baking mat so they don't stick to the pan.
Chill while you prepare the melted chocolate.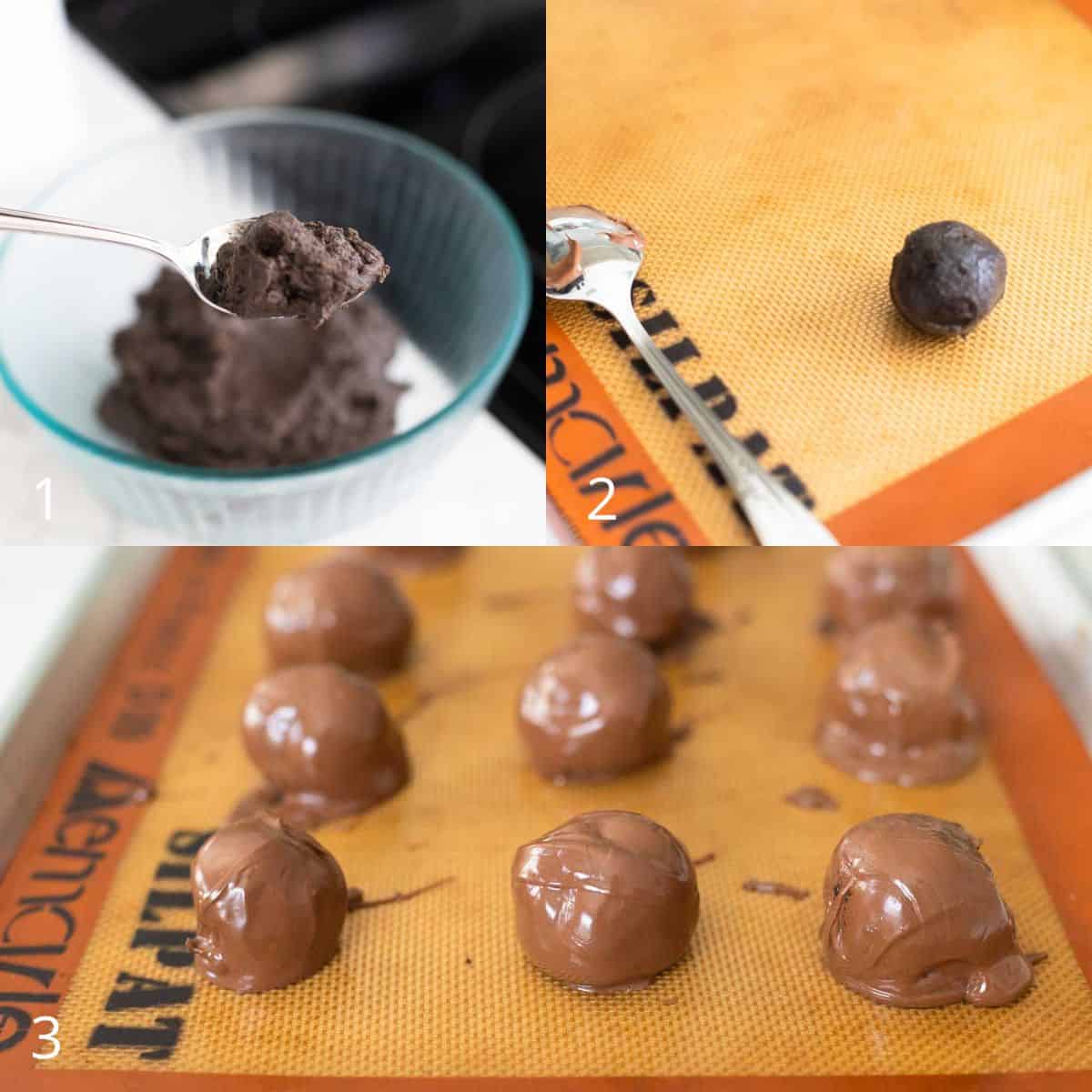 Melt the Chocolate Chips
You could melt the chocolate chips right in the microwave, but I find that the chocolate begins to harden too quickly before I can finish dipping my Oreo truffles.
To buy yourself more time for dipping the cookie balls and to make this less stressful, I suggest you set up a simple double boiler on your stove top.
Place a small pan of water over medium-high heat. Add a larger metal bowl right on top.
Add the chocolate chips to the bowl and let them melt, stirring occasionally to help them along.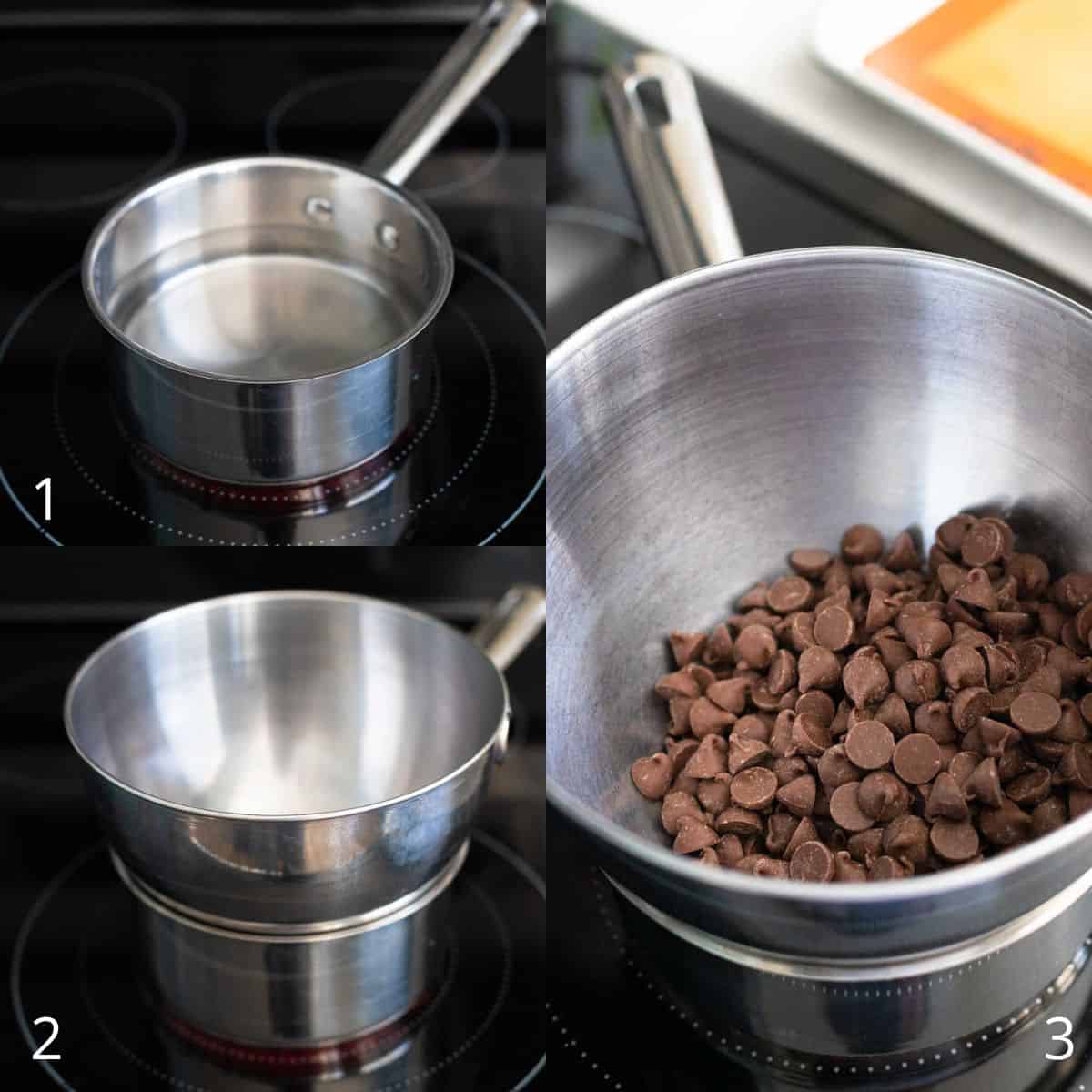 Once the chocolate is mostly melted, stir a little more vigorously to help break up any lasting chocolate chip lumps that may be lingering in the bowl.
Turn the heat down to medium-low and let the simmering water keep your chocolate warm for the final step.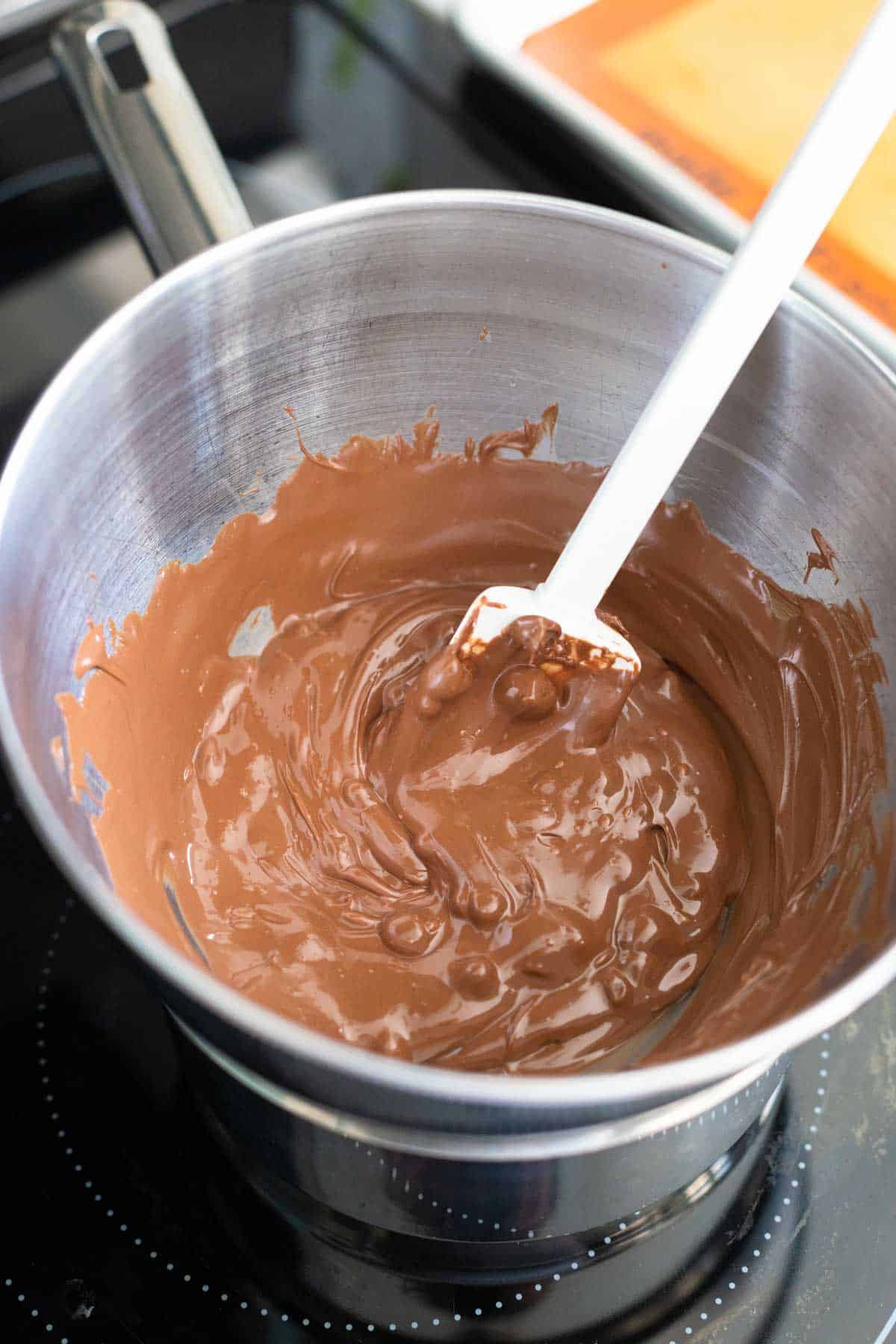 Dip the Truffles
Working one by one, use a pair of spoons to dip and roll each cookie dough ball in the melted chocolate and place them on a lined baking sheet.
If you want to decorate them with sprinkles, be sure to do that while the chocolate is still fresh. Once it hardens, the sprinkles will just bounce off.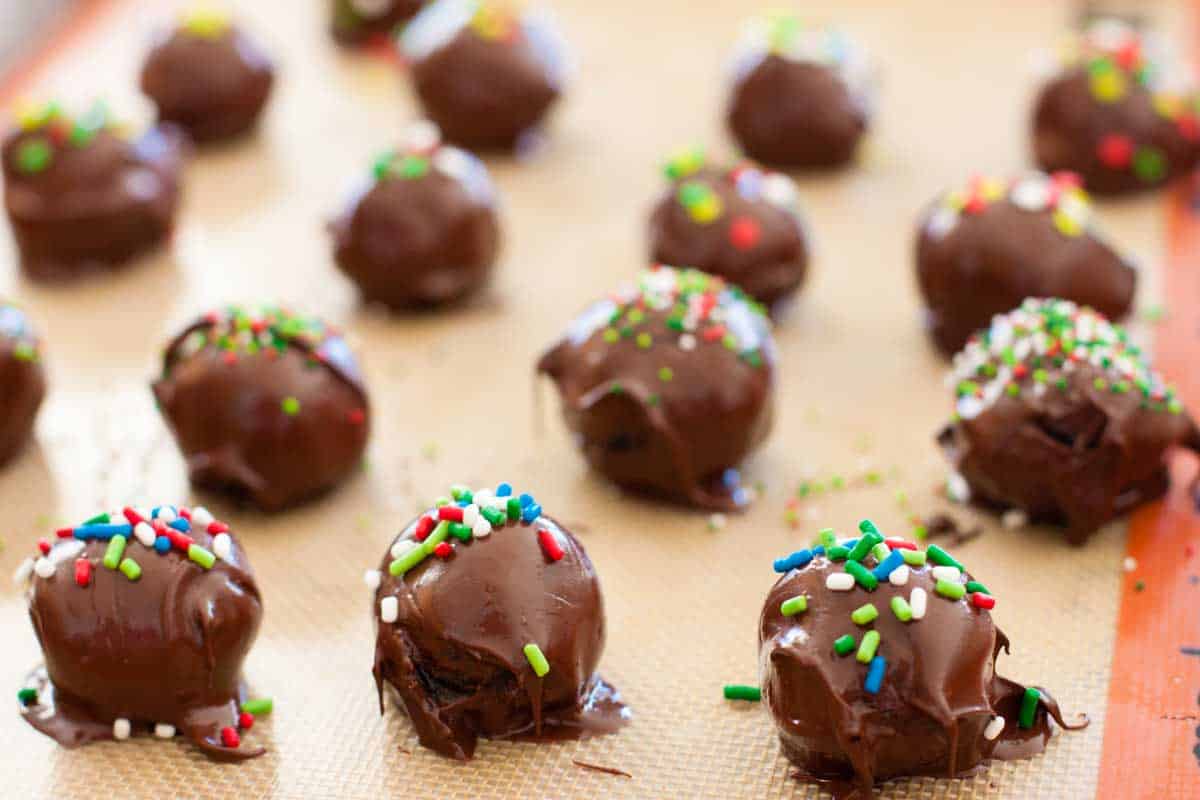 Chill the Truffles
Once the Oreo truffles are finished, place the baking sheet into the fridge for the chocolate to firmly set. This will take at least 1 hour.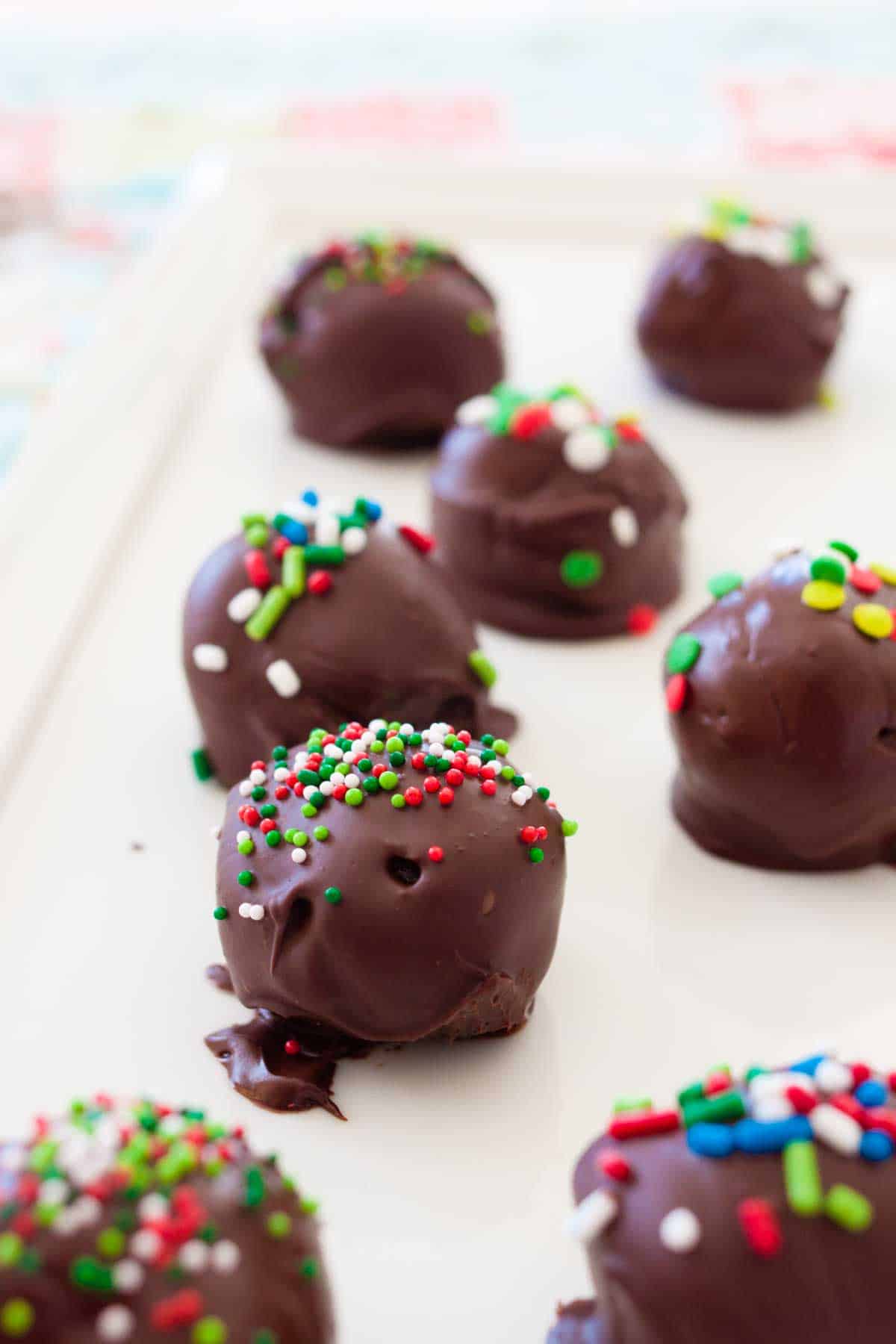 Make Ahead & Storage Tips
During the busy holiday baking season, I love that I can break this recipe up into two stages:
Prepping the Oreo truffle dough and rolling the balls
Melting the chocolate and dipping the truffles
Just be sure to cover the truffle dough with plastic wrap if you do that step the day before dipping in chocolate.
You can assemble the Oreo truffles up to 3 days in advance as long as they are stored in the refrigerator.
Do not try to freeze the truffles, the chocolate and cream cheese will not hold the proper consistency when they thaw.
Serving Suggestions
Chocolate covered Oreo truffles are such a fantastic addition to any festive cookie tray.
It is important to keep them chilled until just before serving.
Do not let the truffles sit out at room temperature for longer than 1 hour.
If you're hosting a party with a cookie tray, it is best to just add a few truffles at a time and refill the platter from the stash in the fridge as they get enjoyed by your family and friends.
This helps to ensure they stay nice and cold and firm. YUM!
More Easy Christmas Cookies
Make your holiday baking simpler this year with a stash of easy Christmas cookies recipes at your fingertips:
More Oreo Recipes
If you love baking with Oreos as much as I do, you won't want to miss these other delicious recipes:
📖 Recipe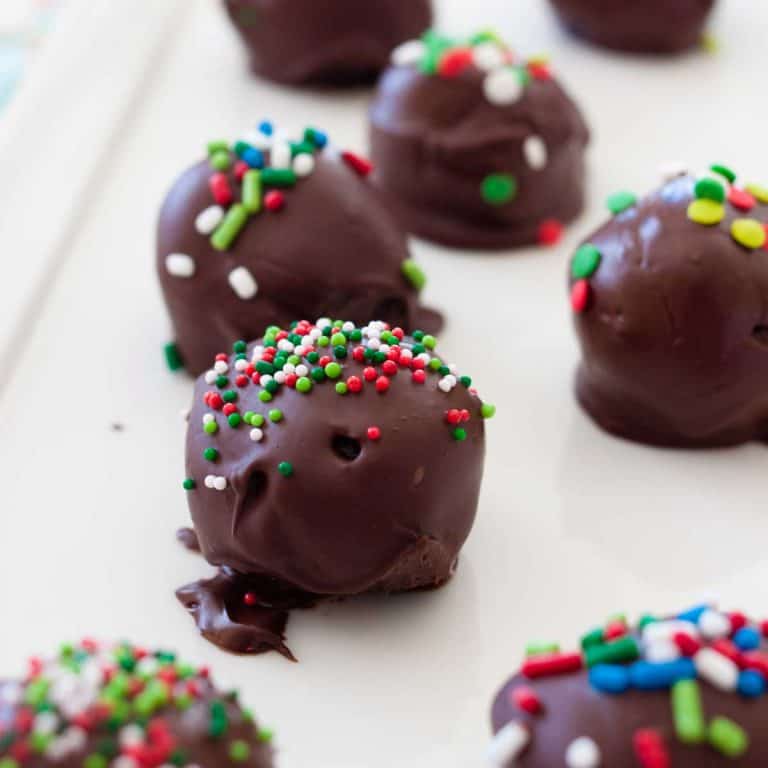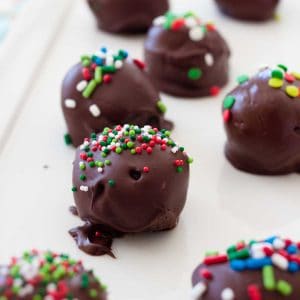 Mint Oreo Truffles
These easy mint Oreo truffle no-bake cookies are perfect for adding to a holiday cookie tray.
Ingredients
1

(1 lb) package mint flavor Oreo cookies

1

(8 oz) block of cream cheese

1

(12 oz) bag of chocolate chips

Optional: Sprinkles for decorating
Instructions
In a food processor crush the Oreos until they are crumbs. Add the cream cheese and process until it forms one large ball. Place the ball in a bowl and refrigerate for at least 15 minutes or up to 24 hours.

Using your hands, pinch off some of the cold dough and roll into balls about 1.25 inch in diameter. (Not too big, not too small.) I laid out all my rolled balls on a cookie sheet lined with a Silpat but you could also use parchment paper. Place back into the fridge to chill while you prepare the chocolate coating.

In a double boiler (I use a metal mixing bowl over a small saucepan of water) gently melt the bag of chocolate chips. Once the chocolate is smooth and creamy, take your chilled dough and roll each ball separately in the chocolate to coat. I used a spoon to help me toss it around and to gently drain the excess before placing right back on the cookie sheet.

If you choose to embellish the Oreo truffles with sprinkles, do it before the chocolate coating hardens too much. They will eventually get firm and hard once cooled.

Stored in the refrigerator they will last for a few days.
Save This Recipe to Your Recipe Box
Find this delicious recipe next time you visit by saving it to your very own recipe box on my site. All your favorites stored in one easy place!