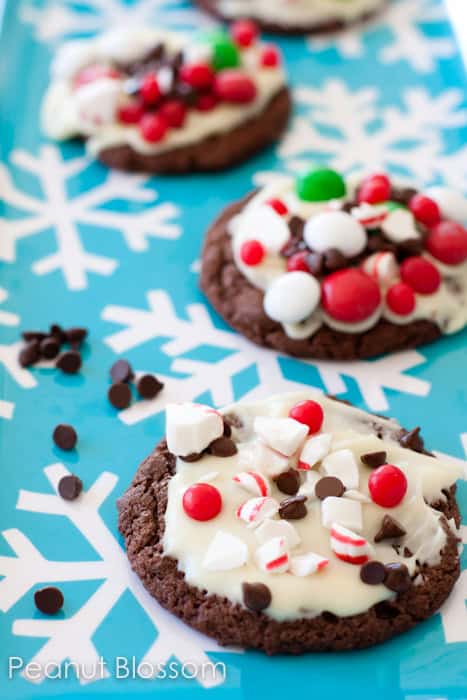 When we bought our new home this summer, I could not wait to get unsettled and use our new kitchen island for a big baking session with the girls. The Peanut knew that is exactly why we picked this house with this kitchen and she's been begging for cookies since the move.
I wanted our first baking session with Little Pea to be special. Normally, just the Peanut is my helper so it was a big deal that she had to share me. I wanted to choose a recipe that would give both girls something important they could do to help but also have something important to do individually so they both felt really involved.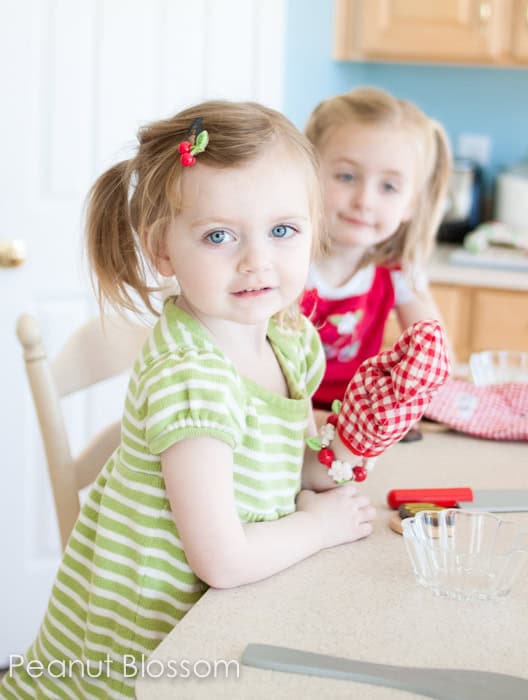 I decided to go with these peppermint candy bark cookies because they combine a cookie dough I know like the back of my hand but allowed for the girls to do some customized decorating on their own.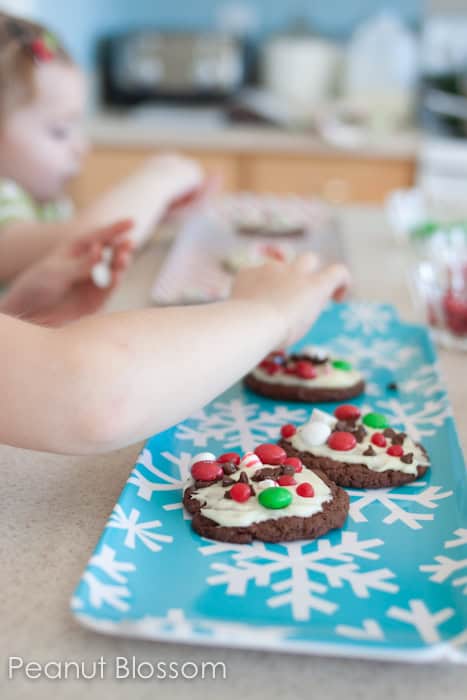 Little Pea was much more interested in eating the bowls full of M&Ms on their own rather than waiting to sprinkle them on top of her cookies: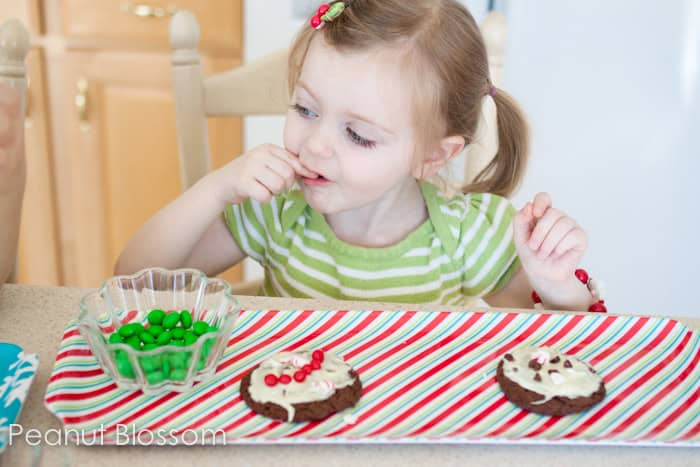 The Peanut decided to copy an idea we saw on Pinterest together and tried to decorate hers like a snowman's face using leftover candy corn from Halloween. I guess it's true that a super cute cookie tastes even better: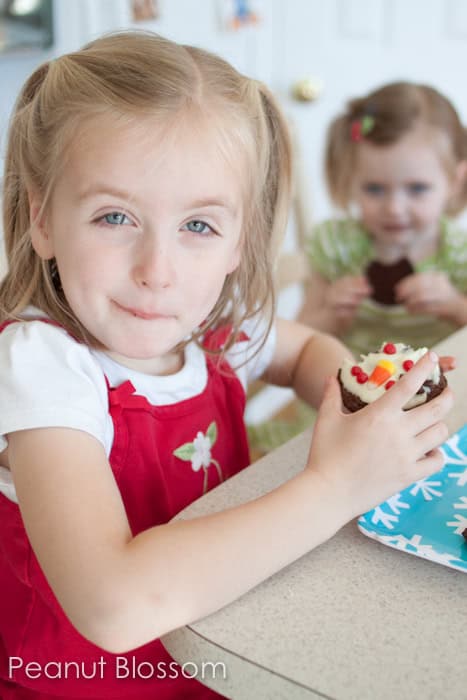 If you'd like to read my tips on how to keep both kids involved in the baking process, please check out my guest post over on Melissa & Doug's blog today. I'm sharing my thoughts on how to keep the baking fun without absolutely destroying your kitchen. This was one of the most successful baking sessions we've ever had and the girls had a blast!

______________________________________________________
Peppermint Candy Bark Chocolate Cookies
recipe adapted from Barefoot Contessa Parties! decoration idea adapted from Annie's Eats
Makes 36-40 cookies
NOTE: Kids tire quickly of decorating cookies. We found that baking 1 cookie sheet was plenty of fun for this one session but I still felt it was worth making the entire batch of dough. I baked 12 cookies for the girls this day and froze the remaining dough already prepared in cookie dough balls. We will enjoy the frozen dough balls with Ande's candies pushed into the dough before baking next time. You could also use peanut butter chunks or other candies of your choice, it's a very versatile dough. If you decide to bake the entire batch, please double the amount of white chocolate that you melt for the topping.
Ingredients
1/2 pound butter at room temperature
1 cup light brown sugar, packed
1 cup granulated sugar
2 tsp pure vanilla extract
2 extra large eggs at room temperature
2/3 cup good unsweetened cocoa
2 cups all-purpose flour
1 tsp baking soda
1 tsp kosher salt
11 oz. white chocolate chips *Please see note above.
Milk
Assorted candies: We used crushed peppermint candies, M&M's, mini-chocolate chips, red hots, and leftover candy corn for snowmen noses
Method
Preheat the oven to 350 degrees.
Cream the butter and two sugars until light and fluffy in the bowl of an electric mixer fitted with the paddle attachment. Add the vanilla, then the eggs one at a time, and mix well. Add the cocoa and mix again. Sift together the flour, baking soda, and salt and add to the chocolate with the mixer on low speed until just combined.
Drop the dough on a baking sheet lined with parchment paper, using a 1 3/4 inch ice cream scoop or a rounded tablespoon. Dampen your hands and flatten the dough slightly. Bake for exactly 15 minutes (the cookies will seem underdone). Remove from the oven and let cool slightly on the pan, then transfer to a wire rack to cool completely.
To prepare the topping & decorate:
In a double boiler, slowly melt the white chocolate chips. You may need to add a splash of milk here or there to keep it from seizing. I added about a tablespoon to mine to keep it the right consistency. With a small frosting spatula or butter knife, spread a nice layer of chocolate on each cookie. Careful to not burn your fingers.
The chocolate will cool quickly so have your children decorate the cookies 1 at a time as you hand them over. Though the chocolate was hot to touch while I spread it on the cookie, my girls had no problems with it. Please just warn your helpers to just sprinkle the decorations and not handle the hot cookies till they've cooled just to be safe.