Easy gingerbread cookies are a classic Christmas cookie to bake with kids but can be delicious any time of year. This crispy outside, soft gingerbread cookie recipe is the best because it holds the cookie cutter shapes so well.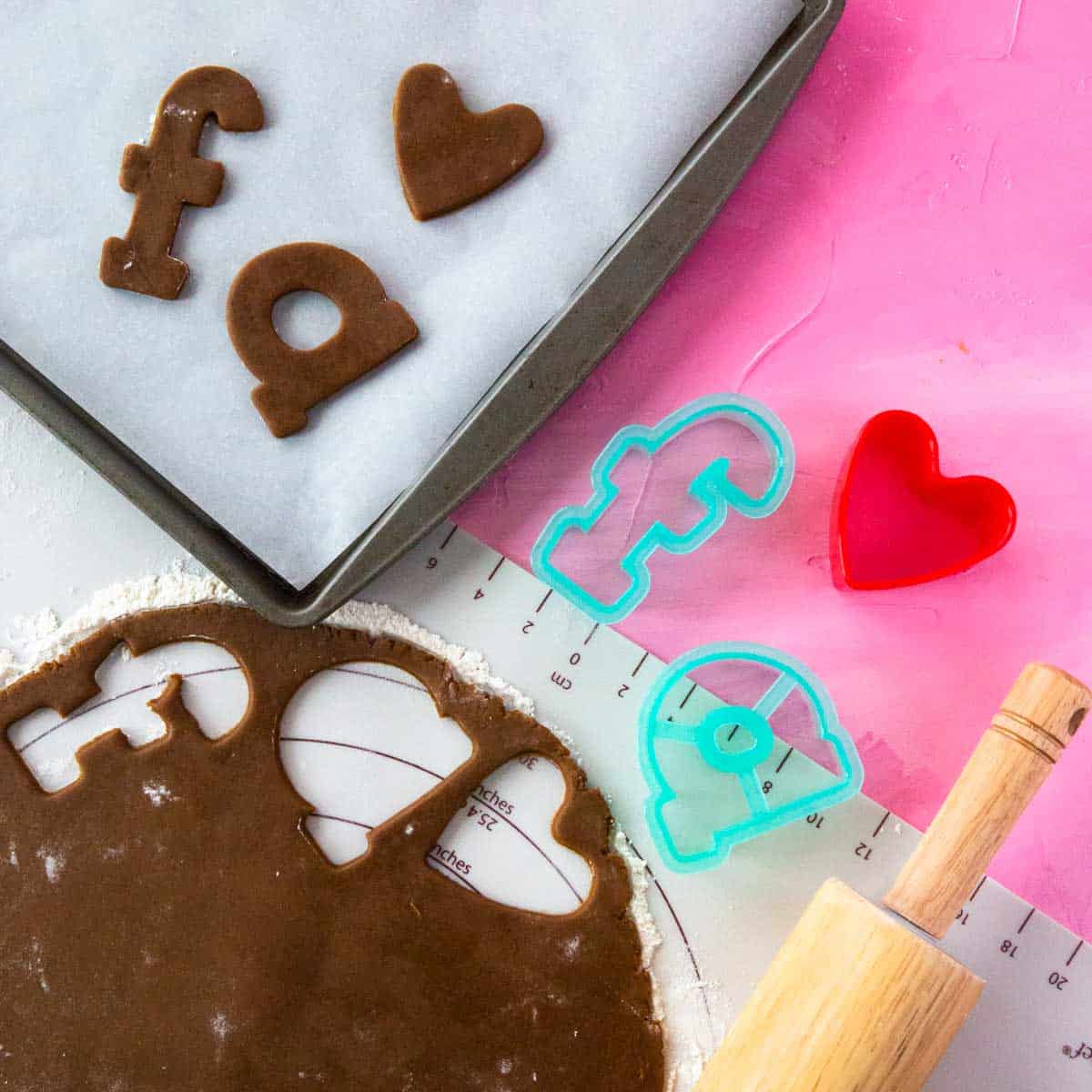 My girls have fallen in love with cookie decorating at the holidays. As much as we love sugar cookies, Christmas just isn't the same without an amazing but easy gingerbread cookie recipe in the routine.
What I love most about gingerbread cookies is that they are absolutely stunning when decorated with just a simple white icing.
Even beginner bakers can make breathtakingly beautiful Christmas cookies with just a little frosting and some sprinkles that take advantage of the gorgeous contrast between the deep color of the gingerbread and the bright white of the icing.
This big batch cookie recipe ensures that your time spent in the kitchen with kids has the greatest impact.
Divide the dough into thirds and follow my instructions for freezing portions of it and you can enjoy easy Christmas baking all season long!
Pair it with one of my favorite easy cookie frostings or even use this easy royal icing to make gorgeous gingerbread cookies for the holiday.
Jump to:
Why This Is the Best Gingerbread Recipe
I had a very specific set of criteria when hunting down the perfect recipe to bake with kids.
I compared dozens of gingerbread cookie recipes and tried to find one that fit these criteria:
All butter, no shortening: I wanted to be able to use what I already keep on hand in the fridge.
Good spice blend: My kids love gingerbread but they don't want them to be too gingery. I wanted something with a nice mix of cinnamon, nutmeg, and vanilla, too.
Easy-to-roll dough: Gingerbread can be super sticky, I needed a dough that the kids could work with fairly well.
Baked cookies hold their shape: There is nothing more disappointing than cutting out a gingerbread cookie with a favorite cookie cutter only to have it turn into a puddle of a mess when baking. This cut-out cookie recipe holds its shape!
This simple gingerbread cookie recipe meets every requirement.
It also makes a huge batch of dough that freezes well and is perfect for making ahead of time.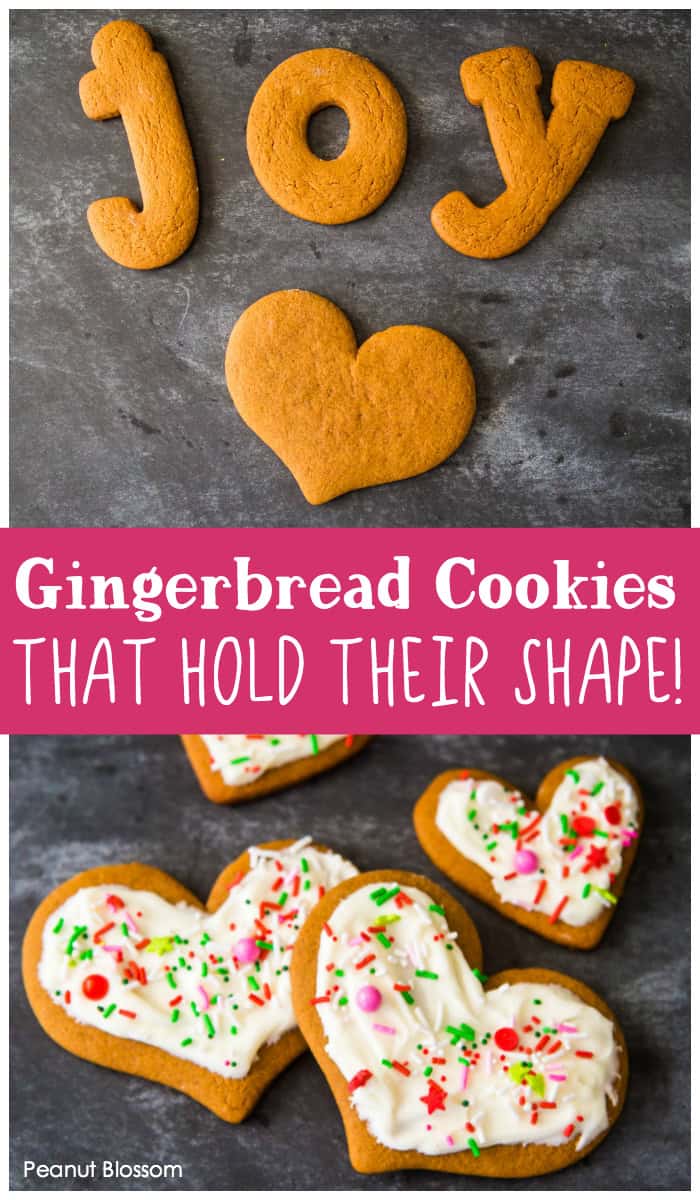 Ingredients
I just love how simple and wholesome the ingredients list is for this homemade cookie recipe. All you need is:
Butter: I usually use Land O'Lakes but I've heard that Trader Joe's butter is amazing, too.
Sugar & Flour
Baking Soda
Eggs
Molasses
Vanilla extract
Dried Spices: ginger, cinnamon, cloves, and nutmeg
Supplies You Need
There are a few important things to be sure you have stocked in your kitchen for baking cut-out gingerbread cookies:
Baking Mat & Rolling Pin
I absolutely love my silicone baking mat for rolling out dough of all kinds. I use it for shaping my homemade breads, rolling out pie crusts, forming pizza dough, and definitely for rolling out sugar cookies.
Baking Pans
I've tested many different baking pans over the years and when it comes to baking cookies, this set has become my absolute favorite. They are lightweight, bake the cookies evenly, and you don't really even need parchment paper because this easy gingerbread cookies recipe will slide right off the pan.
Parchment Paper
Whether or not you need parchment paper to make gingerbread cookies depends on the baking pans you're using. Even when I use my favorite cookie pans, I still line them with parchment paper because it helps keep them clean.
Gingerbread Cookie Cutters
You don't need a huge bin of cookie cutters to enjoy cookie decorating. Just stock up on a couple basic shapes and use your imagination!
I love my circle and heart shapes the most and we've found dozens of ways to use them.
I've found that these are the best gingerbread cookie cutters when you're baking with kids. They have simple shapes that cut and bake perfectly and are super easy to decorate.
Do You Need a Stand Mixer?
I've always loved using my kitchen stand mixer for making this big batch gingerbread cookie dough. The paddle attachment mixes everything perfectly with very little work from me.
However, I know not everyone has the space to store a mixer or the budget to get one. You can actually make this cookie recipe and mix it by hand if you prefer.
How Thick to Roll the Dough
Once the cookie dough has been mixed together and chilled, you'll want to roll it out for cutting on your baking mat.
I like to work with smaller portions of dough at a time so it is easier to roll evenly.
Since this recipe makes such a large batch, the instructions in the recipe card note to divide the gingerbread dough into thirds.
Take just one portion at a time and roll the dough out to a ¼ inch thickness.

Baking Tips for Kids
Any time you bake with kids it is best to break down the tasks so that you're not spending the entire day in the kitchen. Kids can easily get tired, lose patience or interest, and you want to keep the focus on the fun.
Day 1:
Make the gingerbread dough.
Separate it into two or three smaller portions so you're not working with the entire batch all at once. Store the batch you plan to use now in the fridge and place the rest in the freezer for another time.
Day 1 can happen any time from the day before baking up to a whole year before if you follow the tips on freezing the dough listed at the top of this post. Just remember to thaw out the dough you need 24 hours before you plan to do Day 2.
Day 2:
Bake the cookies.
Roll out the dough, cut the cookies, and store them after cooling in an air-tight container.
Day 3:
Decorate the cookies.
If you used a small enough portion of dough, you could combine baking and decorating day into one session. It all depends on the age and attention span of your kids.
My girls can do a lot more all at once now at ages 9 and 12 than they could back when they were 3 and 6.
How to Decorate Gingerbread
Most serious cookie decorators prefer to use Royal Icing for all their cookie work.
We are the farthest thing from "serious" here so I've got three different options for you:
1. Royal Icing: If your kids want to decorate the cookies with very specific patterns and colors, Royal Icing is definitely the way to go.
2. Cookie Glaze: If your kids just want the glossy look of Royal Icing but are content with single-color cookies, I have the best cookie glaze recipe in The Ultimate Kids' Baking Book. You can see what it looks like on the sugar cookie hearts on the cover of the book.
3. Cream Cheese Frosting: If your kids are happy to decorate the cookies with sprinkles and candies, we highly recommend making a batch of cream cheese frosting. Simply spread the frosting on the cookie and let the kids have a blast decorating them.
Want some fun cookie decorating inspiration? Any of these fun sugar cookie decorations would look equally pretty on a gingerbread cookie too: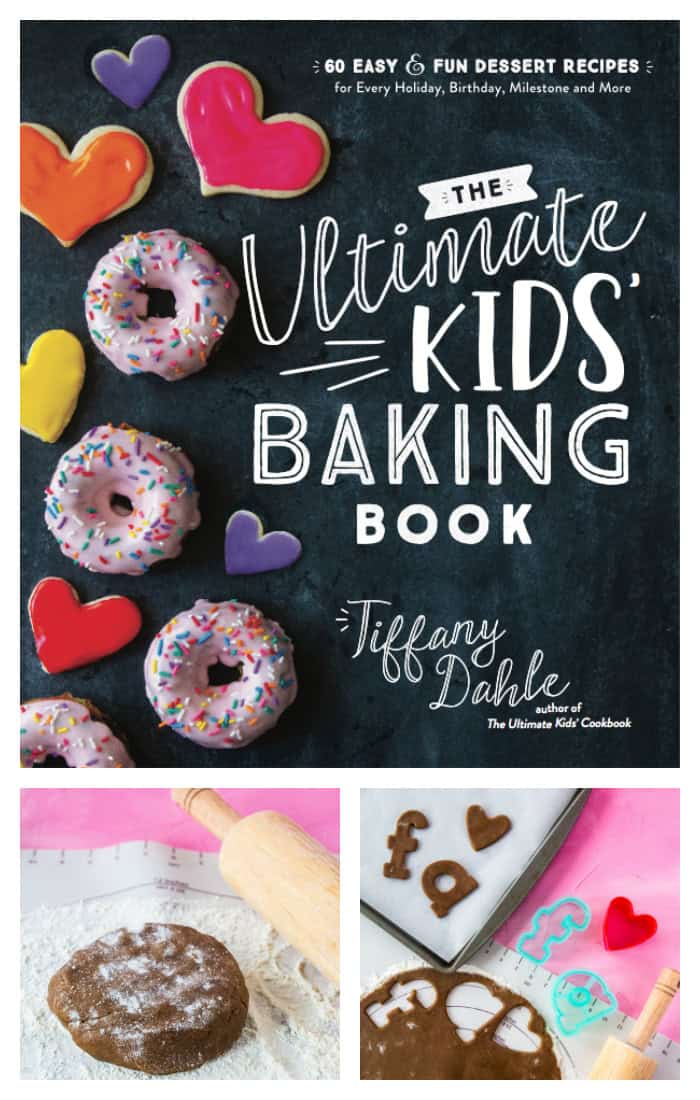 Make Ahead Tips
One of my favorite parts about this cookie dough is how well it freezes and keeps in the fridge. The recipe makes an enormous batch of dough. I highly recommend making the entire recipe and then simply dividing it into two or three portions for later.
You can make the gingerbread dough and then store what you need in the fridge for 3 - 5 days.
If you need more time than that, place the cookie dough in an air-tight container and stash it in your freezer for up to a year.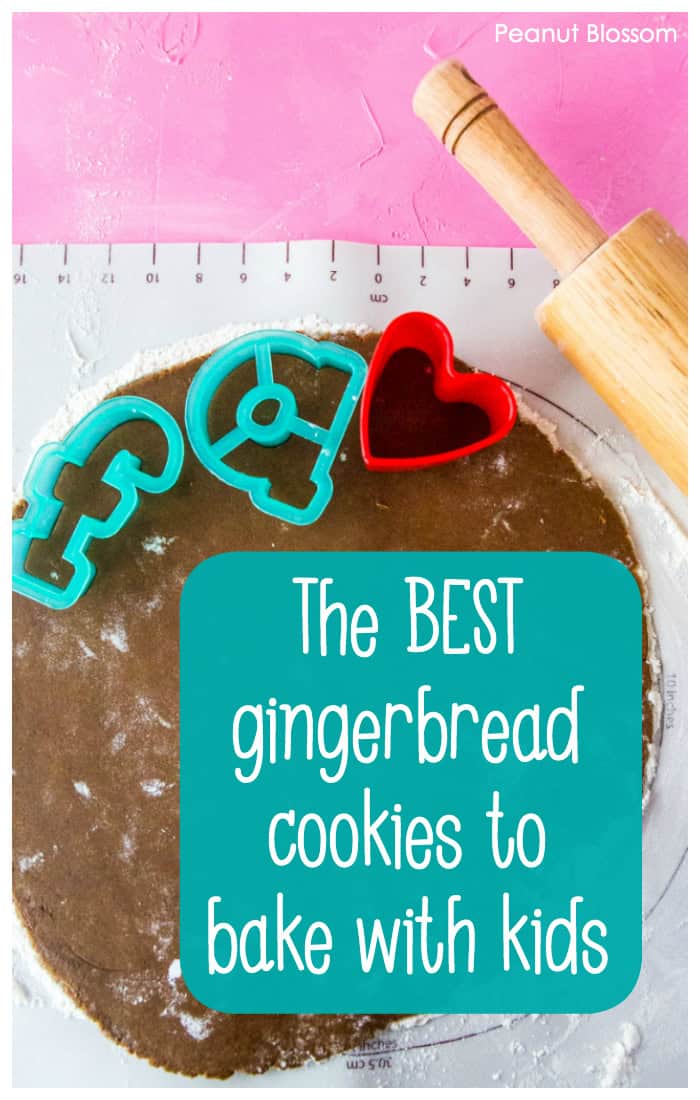 How to Freeze the Cookie Dough
If your dough was frozen, place the sealed container in your refrigerator and let it thaw for 24 hours before using.
You may need to let the dough rest on your counter for an hour before it will be thawed and pliable enough to roll out.
How to Freeze Gingerbread Cookies
If you prefer to bake the cookies in advance, you can absolutely freeze them as well.
Lay the baked gingerbread cookies in single layers separated by sheets of wax paper in a freezer-safe container.
A 9 x 13 storage container works really well because it protects the cookies from getting broken in a crowded freezer, but we have successfully used zip-top freezer bags as well.
Can You Freeze Gingerbread Cookies with Icing?
I have always wondered whether or not you can freeze gingerbread cookies with icing.
I'm still fairly new to the fancy decorated cookie world, so I asked some close friends that have an annual tradition of making elegantly frosted sugar cookies every year.
I was told that if you use Royal Icing and let the cookies completely dry, you can absolutely decorate and then freeze gingerbread cookies with the icing already on them.
Line each single layer with wax paper to help them keep their designs fresh during the thawing process and store them in an air-tight container and you should be all good!
Knowing that you can successfully freeze pre-decorated cookies was the inspiration for my Christmas in July party! How fun is it to take the time to enjoy the cookie decorating process when life is slower and more relaxing and then just enjoy the fruits of your labor during the crazy hectic season that is the end of the year??
📖 Recipe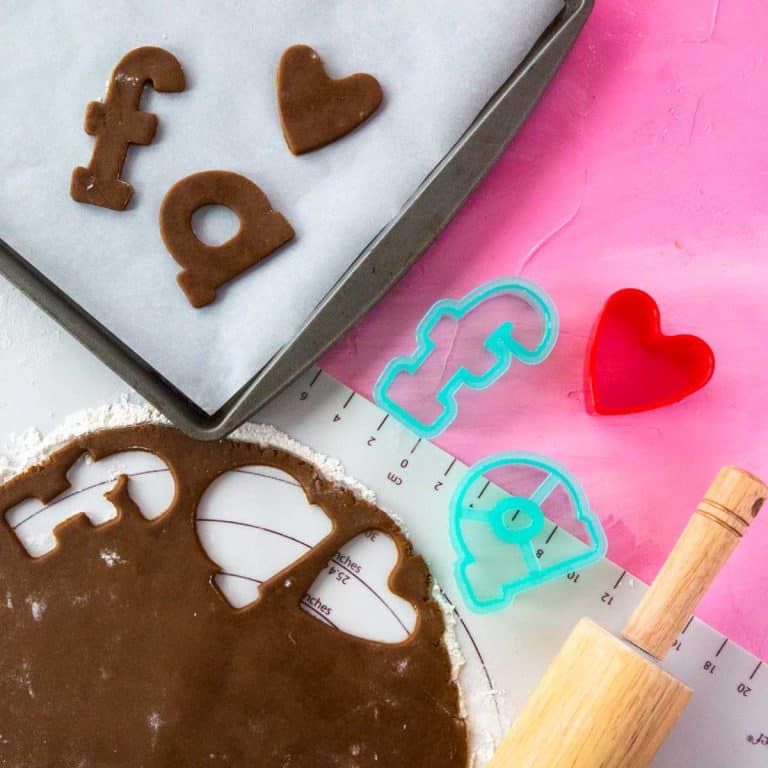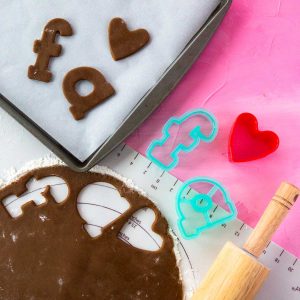 Gingerbread Cookies
These classic gingerbread cookies are just right for baking with kids. The instructions are written for any beginner baker to easily follow, as seen in The Ultimate Kids' Baking Book.
Ingredients
1

cup

(2 sticks) butter

softened

1

cup

sugar

2

large eggs

1 ¼

cups

molasses

1

teaspoon

vanilla extract

5 ½

cups

all-purpose flour

plus more for dusting

1 ½

teaspoon

baking soda

1

teaspoon

salt

2

teaspoon

ground ginger

1

tablespoon

ground cinnamon

1 ½

teaspoon

ground cloves

2

teaspoon

ground nutmeg
Instructions
In your large mixing bowl, combine the butter and sugar and beat with an electric mixer on high speed until light and fluffy. Crack the eggs into a small bowl to check for shells. Add the molasses, eggs and vanilla to the butter mixture and stir them in until light and fluffy.

In a large bowl, combine the flour, baking soda, salt, ginger, cinnamon, cloves and nutmeg. Whisk them together. Add the flour mixture to the butter mixture a little at a time, beating it on medium speed to mix them well.

Divide the dough into 3 smaller portions. Cover each with plastic wrap and chill in the fridge for 1 hour or overnight.

Preheat the oven to 375°F. Set out 2 cookie pans and line them with parchment paper.

Sprinkle some flour onto your working surface and working 1 portion of dough at a time, roll it out to ¼-inch thickness. Cut the cookies to your desired shape, dipping the cutters in flour if they are sticking to the dough. Carefully transfer the cookies to the prepared cookie pans.

Bake for 6 to 7 minutes for medium-size cookies. Adjust the time if your cutters are significantly larger or smaller. Remove from the oven and let the cookies cool on the cookie pans for 5 minutes, then transfer to a wire rack.
Save This Recipe to Your Recipe Box
Find this delicious recipe next time you visit by saving it to your very own recipe box on my site. All your favorites stored in one easy place!