This easy peanut butter blossoms recipe is the perfect classic cookie to bake with kids. They will love rolling the peanut butter balls and topping them with the sweet chocolate Hershey kiss!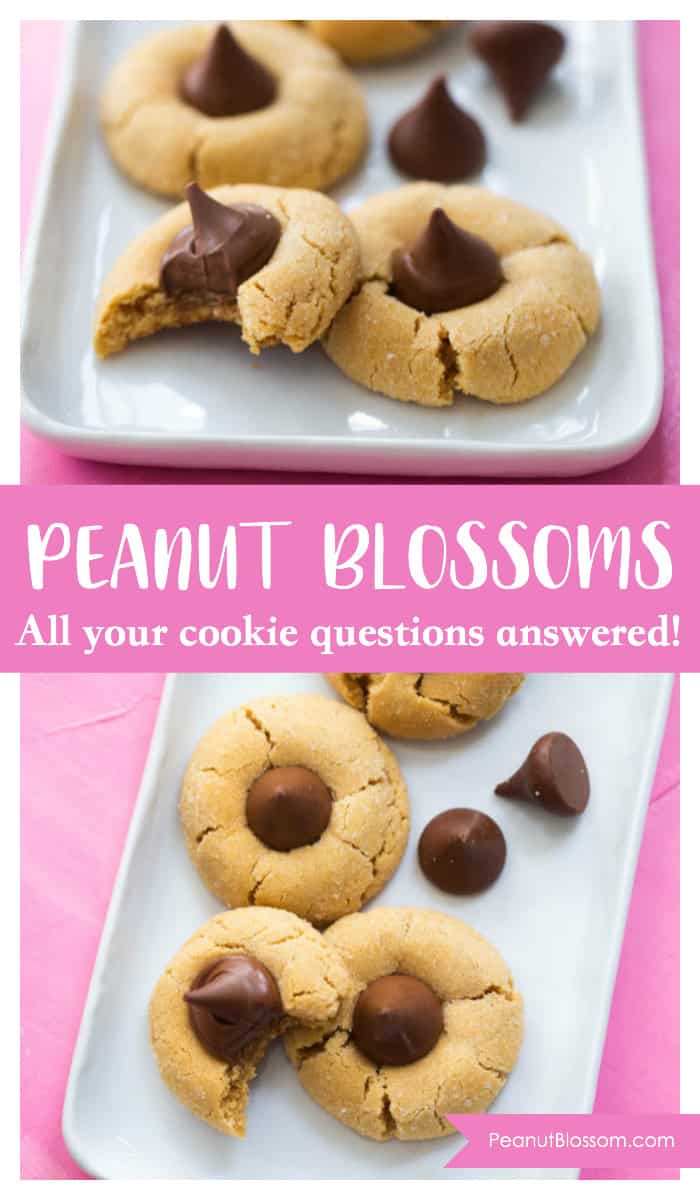 Today I'm celebrating TEN YEARS of blogging with a super special recipe. When I launched Peanut Blossom in 2009, my name had a very sentimental source that had absolutely nothing to do with cookies. You can read all about why this space is called "Peanut Blossom" here if you like.
Over the years, I've shared with you all our favorite family recipes. Many of them also ended up in one or the other of my two cookbooks for kids. In all that time, it never occurred to me to share the one recipe that most readers associate with our name!
It seemed only fitting that on the tenth anniversary of what has become my favorite project of all time I would finally write the single most EPIC, helpful, and informational guide to baking peanut butter blossoms that exists anywhere on the internet.
I took the time to research every question you might ever have about baking the classic Hershey kiss cookie. If I happened to miss something you're wondering, leave me a note in the comments and I will get right on adding the answer!
If you are an expert baker with no questions, you can skip right to the peanut butter blossoms recipe here. I hope you find they are the best cookies you've ever tried.

P.S. Even if you're not looking to bake these right now, you're going to love this recipe so much you should totally pin it for later!! You can grab the pin right here and save it to your favorite baking board!
The ULTIMATE Guide to Baking Peanut Butter Blossoms: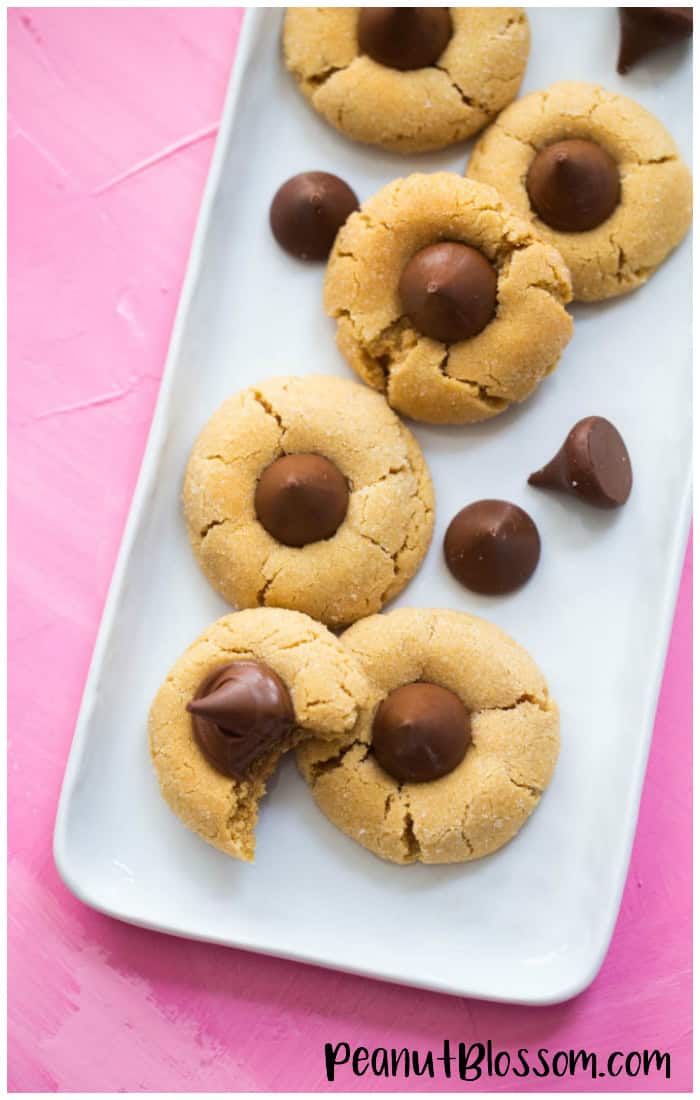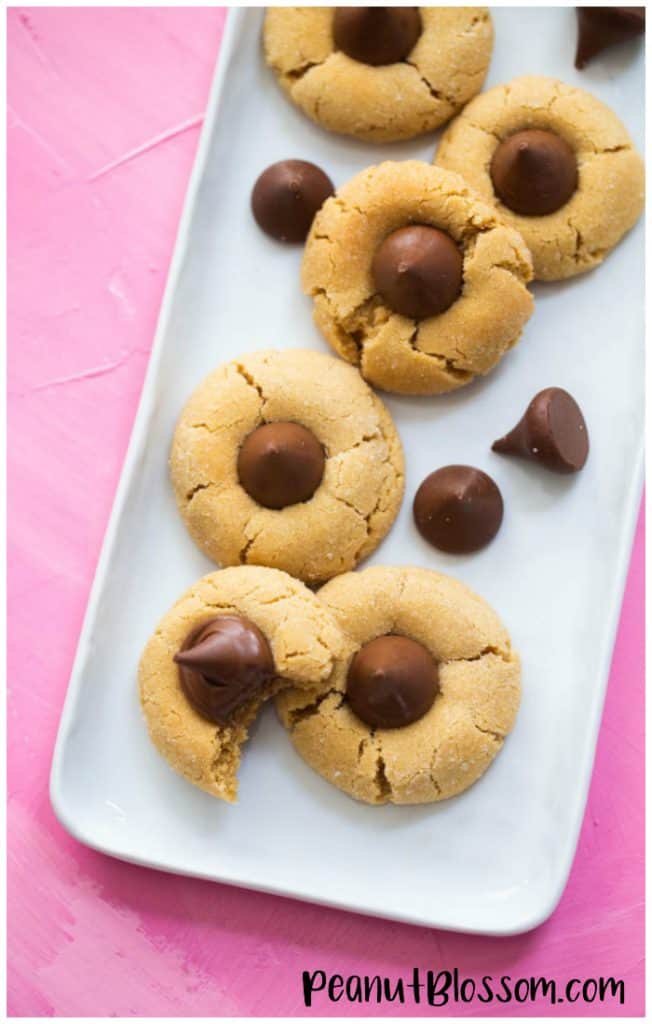 What is a peanut blossom?
If I only had a penny for every time I've heard that question! You've most likely already eaten one but just didn't know the cookie's name. A peanut blossom is a peanut butter cookie that has been rolled in sugar or sprinkles and then baked. A chocolate Hershey kiss candy is pressed into the top while the cookies are still warm and melts just a little to stick to the cookie. They are a classic Christmas cookie and have appeared on countless dessert trays over the years.
How long do peanut butter blossoms last?
Once you've baked the Hershey kiss cookies, they will last 3 - 5 days in an airtight container while still keeping fresh and soft.
Can I make peanut butter kiss cookies ahead of time?
You can make the peanut butter cookie dough 3 - 4 days ahead of when you want to bake the cookies. Store the dough in an air-tight container in the fridge. If you need longer than that, freeze the cookie dough.
Can peanut butter blossom cookies be frozen?
Freezing the fully baked and assembled peanut blossom cookies is not recommended. The chocolate kiss can develop a white film on it when it freezes that is unattractive. It is a better idea to freeze the peanut butter cookie dough itself for 3 - 6 months and then thaw and bake the cookies when you need them.

How do I freeze peanut butter cookie dough?
Roll the cookie dough into cookie balls and place them in an even layer on a cookie sheet. Freeze the cookie dough balls until hardened and then transfer the dough balls to a plastic air-tight container or ziptop baggy. You can bake the frozen cookie balls without thawing, just add 2 - 3 minutes to the total baking time.
Can you use natural peanut butter to make peanut butter blossoms?
Yes, absolutely. We used Skippy Natural peanut butter when testing this recipe and the peanut blossom cookies came out perfectly. Just be sure to stir the peanut butter well if the oils have separated in the jar.
Can you make peanut butter kiss cookies with sun butter if your child has a peanut allergy?
Yes, use an equal amount of sun butter as is called for in the cookie recipe. We've also heard of bakers using Nutella as a peanut butter substitute with great success. This sounds like a totally delicious variation on peanut butter blossoms that we want to try just because!
How can I make easy peanut butter blossom cookies?
Hershey kiss cookies are one of the best-ever semi-homemade cookies to bake with kids. We love using the Betty Crocker peanut butter cookie dough mix pouches that are sold at the grocery store every holiday season. You can see my girls having a blast making these fun semi-homemade Christmas cookies here.

What are some variations for the Hershey kiss in my peanut blossom cookie?
You can play around with the chocolate candy you press into the top of the peanut butter cookie base. Some of our favorite ideas include:
Rolo candies
Heart-shaped Dove chocolates for Valentine's Day
Peppermint candy cane flavored kisses with Nutella replacing the peanut butter
Mini Reese's peanut butter cups
Don't miss our other favorite cookie recipes!
We love to bake with kids, don't miss these other simple treats for your family: