Mexican hot chocolate cookies are a must-have Christmas cookie tray staple. These sweet and spicy cookies will clear your sinuses and satisfy your sweet tooth. Surprise your guests with these tasty cookies on your dessert buffet.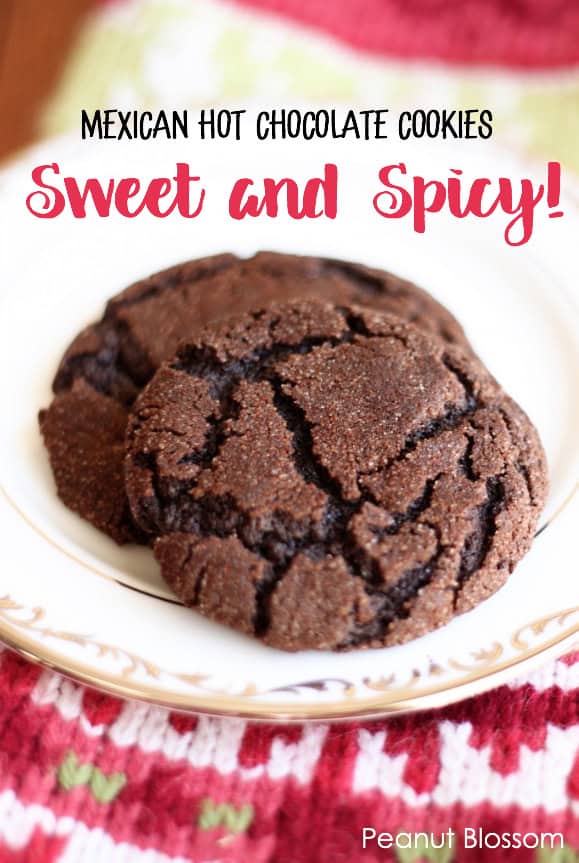 Tonight I'm heading to the second annual cookie exchange the ladies from my playgroup host. We had so much fun last year, people scrambled to rsvp to this year's event. I've been looking at cookie recipes for ages trying to decide what to bring and just couldn't make up my mind.
It seems like everyone brings the same kind of cookies to a cookie exchange -- sugar cookies, lots of chocolate, and usually something with pretzels. I wanted to find something a little more unique but still easy enough to bake for busy moms.
Two friends sampled Martha Stewart's Mexican Hot Chocolate cookies and just raved about them so I took their suggestions and crossed my fingers.
Let's just say those ladies have good taste! The first batch just came out of the oven and I scrambled to my office because I just had to share this recipe. YUM!
What are Mexican hot chocolate cookies?
Mexican hot chocolate cookies look a lot like traditional crackle cookies. The chocolate dough balls are rolled in a mix of sugar, cinnamon, and spicy cayenne pepper before baking. As they spread and bake, the sugar crust leaves large crackles in the surface. The sweet dough goes so well with the spicy seasonings.
A sweet make-ahead Cinco de Mayo dessert recipe:
These Mexican hot chocolate cookies actually make a perfect simple Cinco de Mayo dessert since you can bake them ahead and even freeze them if you need. They are a deliciously sweet and spicy way to end the meal. Don't miss our other favorite Cinco de Mayo recipes here.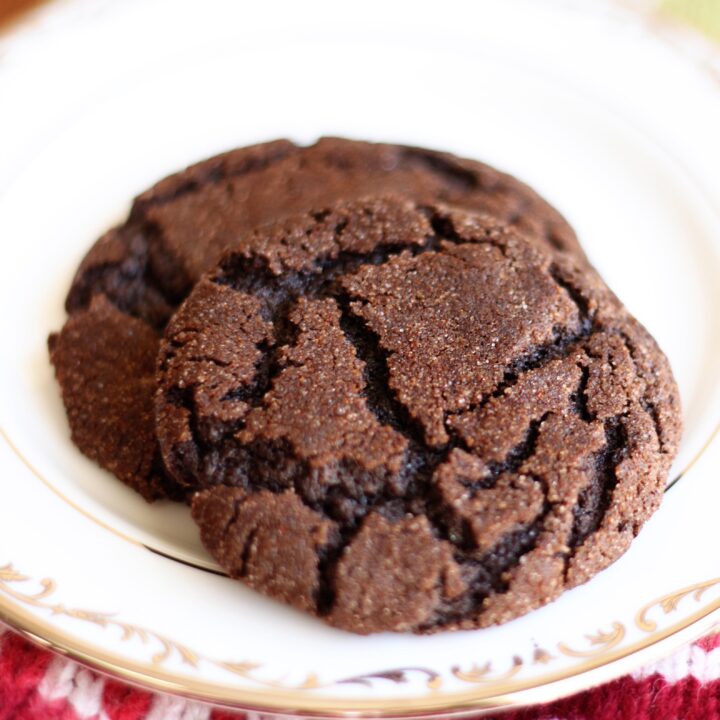 Mexican hot chocolate cookies
These sweet and spicy cookies are an awesome addition to your holiday cookie tray. The kicked-up cayenne powder adds a spicy touch to your sweets.
Ingredients
2 ¼ cups all-purpose flour
½ cup unsweetened cocoa powder
2 tsp cream of tartar
1 tsp baking soda
½ tsp kosher salt
1 cup (2 sticks) unsalted butter, room temperature
1 ½ cups sugar + additional ¼ cup for sugar topping
2 large eggs
2 tsp cinnamon
½ teaspoon cayenne  
Instructions
Preheat oven to 400 degrees, with racks in the upper and lower third of the oven.
In a medium bowl, sift together flour, cocoa powder, cream of tartar, baking soda, and salt. In a large bowl, using an electric mixer, beat butter and 1 ½ cups sugar on medium speed until light and fluffy, about 2 minutes. Scrape down the side of the bowl.
Add the eggs and beat to combine with the butter mixture. With mixer on low, gradually add the flour mixture and beat until the dough is just combined.
In a small bowl, combine remaining ¼ cup sugar, cinnamon, and cayenne powder (if using). Using large tablespoons, form balls of dough and roll in cinnamon-sugar mixture.
Place each dough ball about 3 inches apart on two parchment-lined baking sheets. Bake until the cookies are set in the center and begin to crack, about 10 minutes, rotating sheets halfway through.
Let the cookies cool on sheets on wire racks for 5 minutes, then transfer cookies to racks to cool completely.
Store in an airtight container, up to 1 week.