Crispy chocolate chip walnut cookies have a touch of oatmeal for a delightful chewy texture. This cookie recipe can be frozen into cookie dough balls that can be baked directly from the freezer, perfect for a small batch of cookies in the future.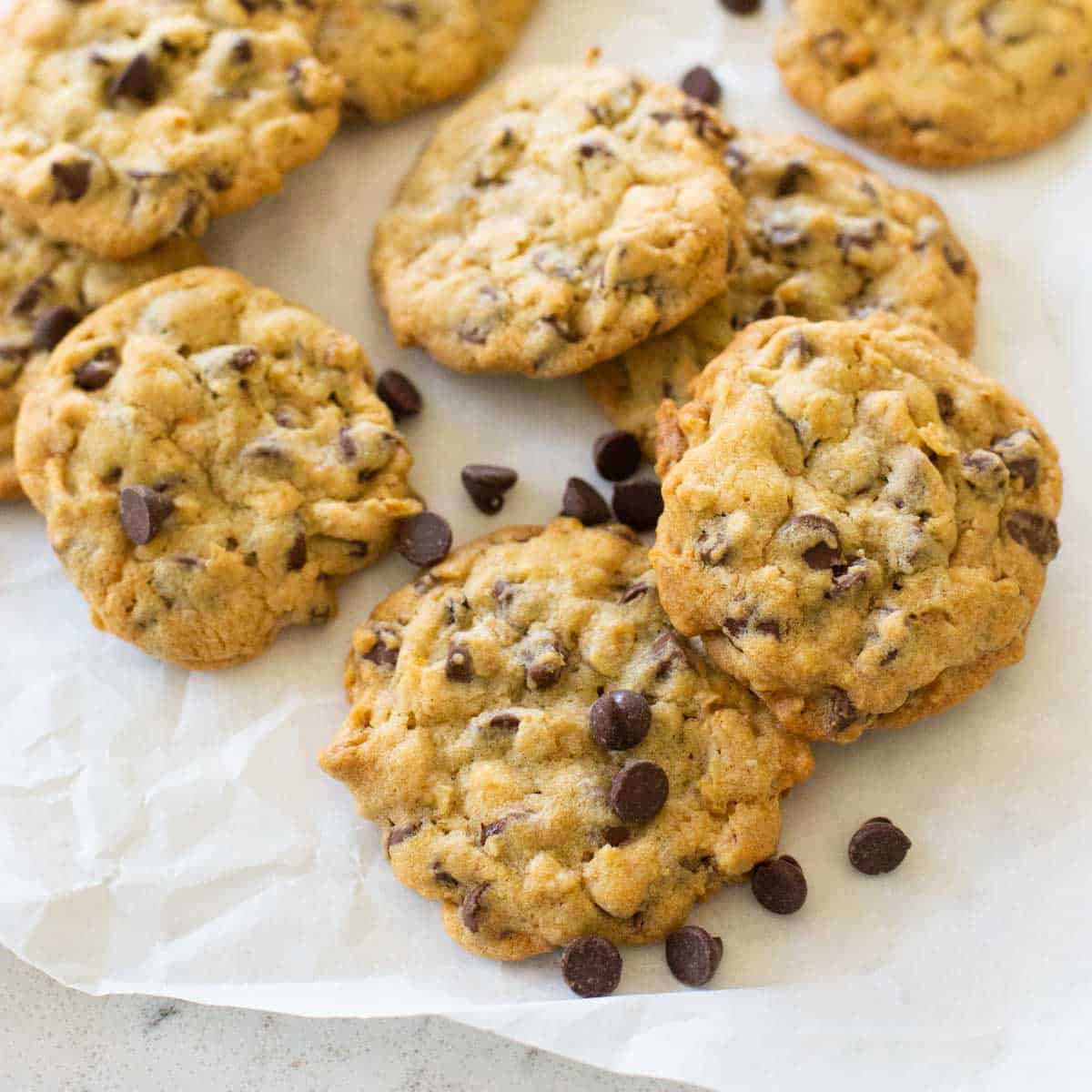 If you had asked me as a kid if I like walnuts in my chocolate chip cookies, it might have been a much different answer than if you asked me today.
I am utterly convinced that these are the best chocolate chip walnut cookies because of the walnuts, not in spite of them.
The walnuts give an amazing texture to these chunky chocolate chip cookies with a touch of oatmeal in the dough.
I also love how the walnuts complement the flavor of the sweet chocolate and brown sugar cookie base.
But the best part of this chocolate chip cookie recipe is how well the raw cookie dough balls freeze and then can be baked directly from frozen.
This lets you make a small batch of chocolate chip cookies whenever you're in the mood!
Jump to:
Why This is the Best Recipe
These amazing chocolate chip walnut cookies are based on the infamous DoubleTree cookie recipe that are so popular in their hotel chain nationwide.
When I tested the recipe on behalf of Taste of Home magazine, my favorite part of the recipe was that I could freeze the cookie dough for easy baking directly from the freezer.
We keep a plastic bag filled with raw chocolate chip cookie dough balls in our freezer and I bake just 6 - 8 cookies at a time when we want a special treat fresh from the oven.
Small Batch Chocolate Chip Cookies
Yes, you could bake the cookies and then freeze the chocolate chip cookies ready to eat.
However, in my opinion it is even more delicious to bake a small batch of chocolate chip cookies fresh so you can enjoy them warm and crispy from the oven when the mood hits.
You could bake just one cookie or an entire pan. It is all up to you!
Ingredients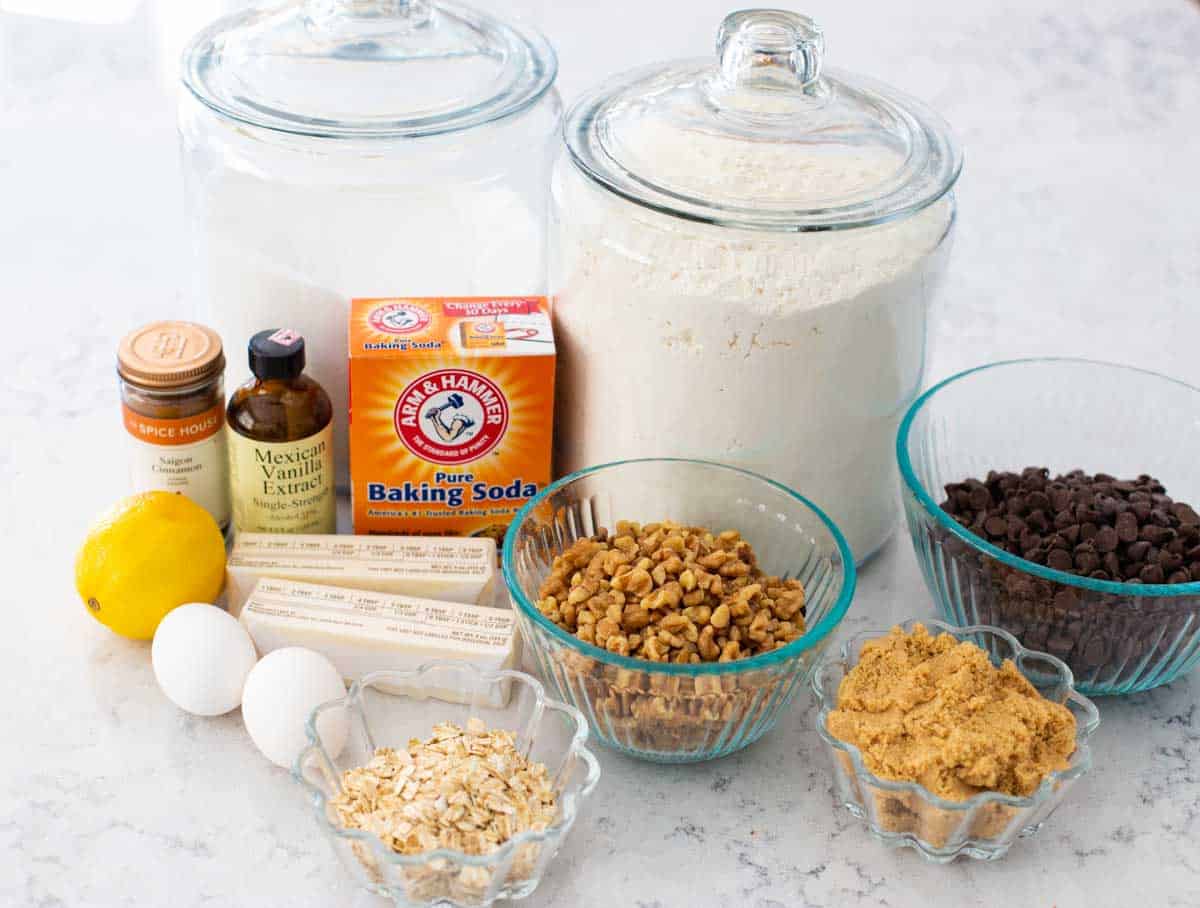 This cookie recipe has a few ingredients that may seem a little fussy on the surface, but I pinkie swear they make the absolute best chocolate chip walnut cookies you have ever had.
To bake them, you'll need:
Chocolate Chips
Chopped Walnuts: I recommend buying a bag of chopped walnuts, but you could chop whole walnuts if you prefer.
Flour
Rolled Oats: These are also called Old Fashioned Oats, not the Instant Oatmeal.
Butter
Sugar
Brown Sugar
Eggs
Vanilla Extract
Baking Soda
Salt
Cinnamon
Lemon: You only need a little of the juice but don't skip this ingredient!! The acid is crucial for the texture of the cookie.
How to Make the Cookie Dough
The secret in making perfect chocolate chip cookies is all in how you mix the cookie dough.
You don't want to overwork it or the cookies will be tough.
Cream the butter and sugars in a stand mixer.
Add the eggs, vanilla, and lemon and mix until just combined.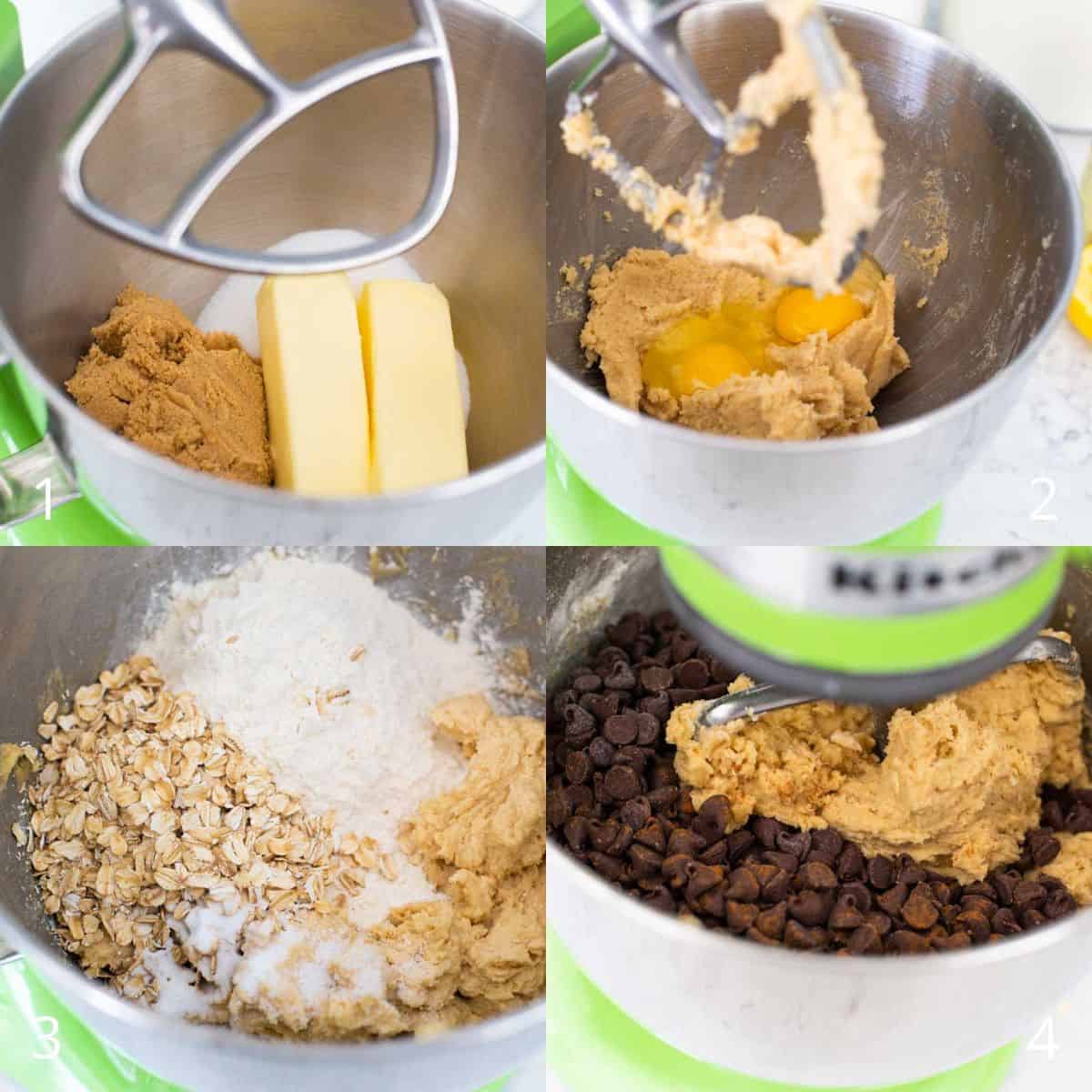 Add the flour, oats, baking soda, salt, and cinnamon. Mix until just combined.
Add the chocolate chips and walnuts and just barely stir them into the cookie dough.
How to Freeze Cookie Balls
To freeze chocolate chip cookie dough for later, I recommend portioning off the cookie balls right away.
This lets you bake just as many cookies as you want at one time without having to defrost the entire batch of dough.
Drop cookie dough balls about 3 tablespoons in size into neat rows on a cookie pan lined with parchment paper.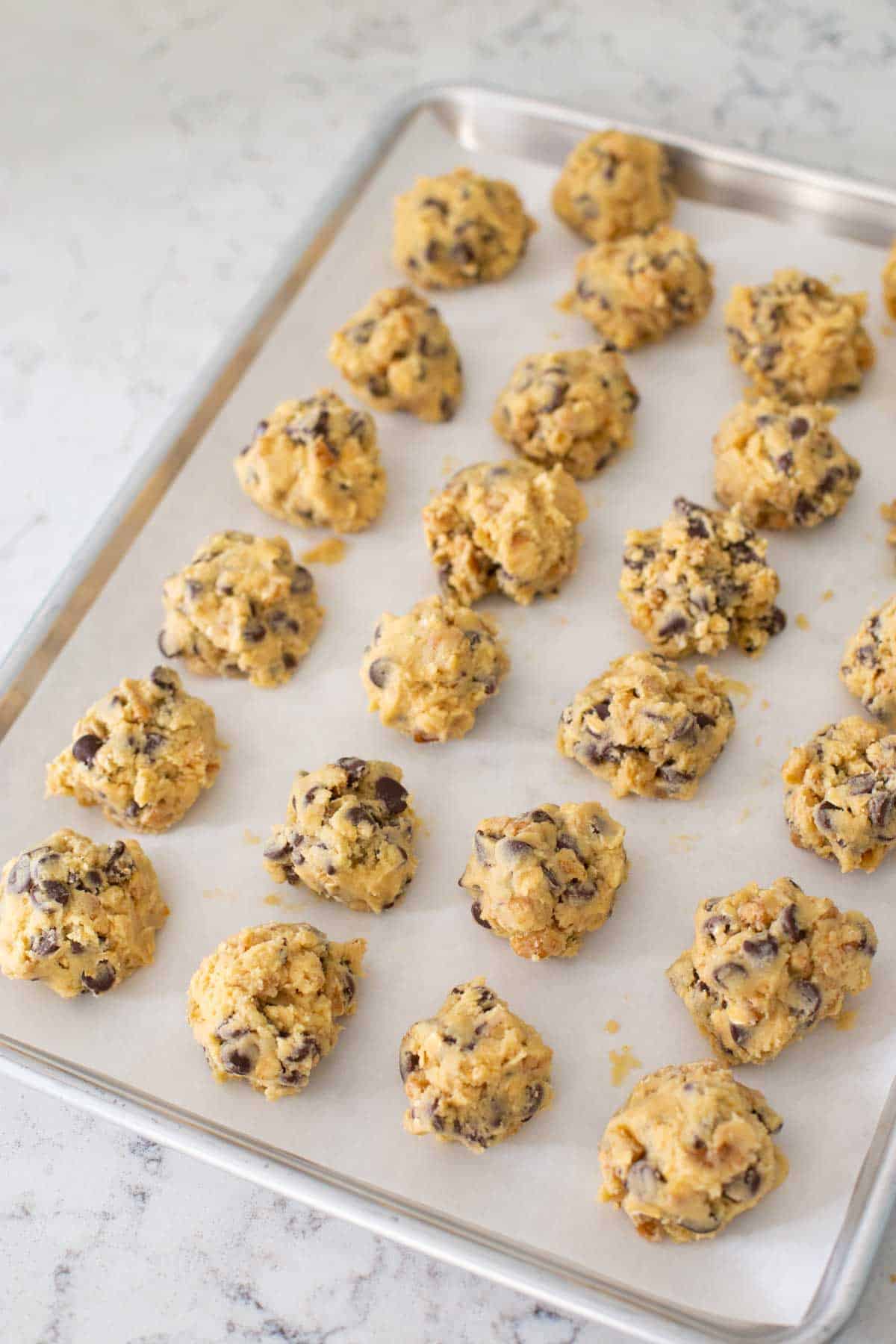 Place the pan in the freezer for 1 hour.
This is called flash freezing. The cookie balls will become hard and will not stick together in long term storage.
Transfer the frozen cookie dough balls to plastic bags marked with the date.
They will keep in the freezer up to a year.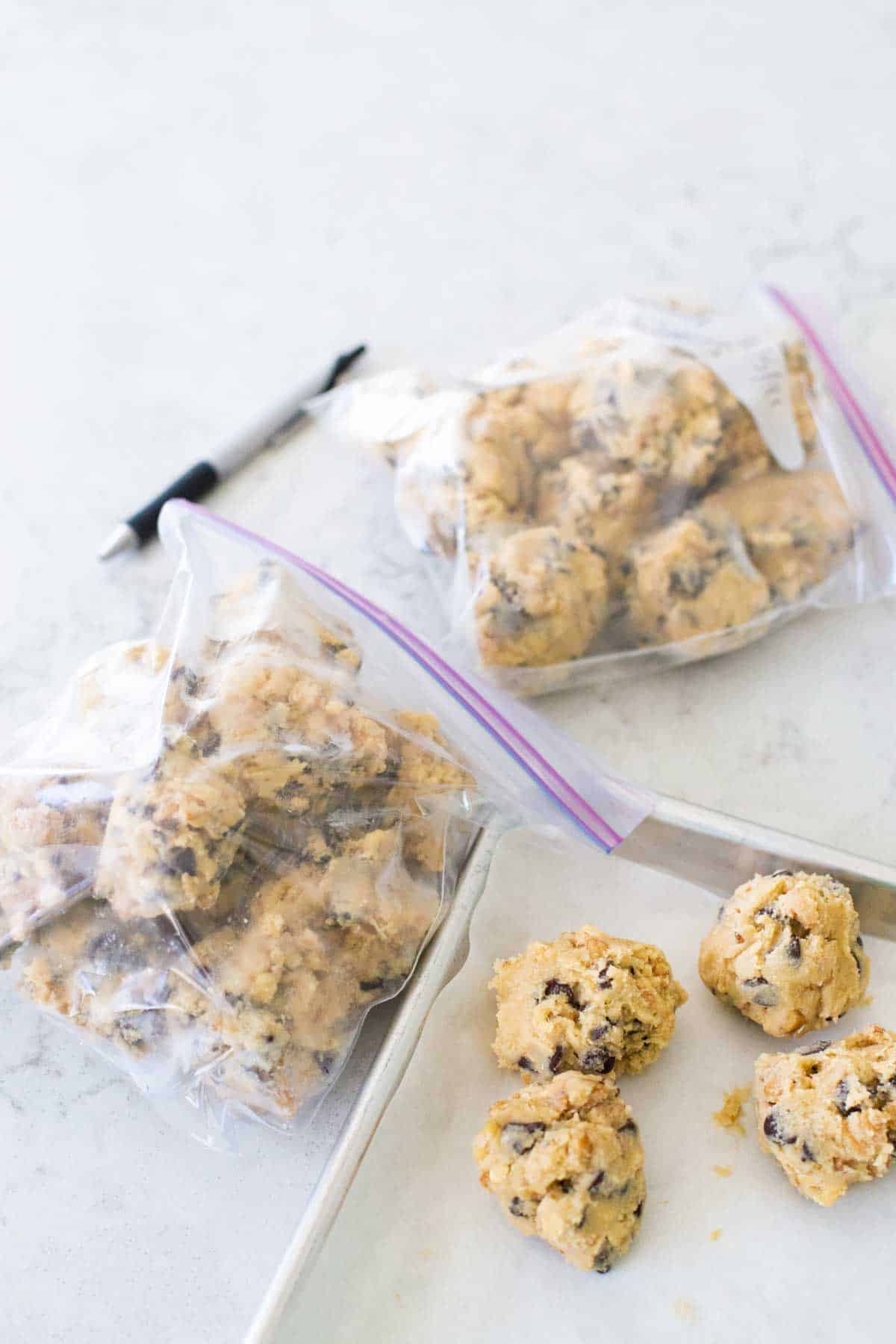 How to Bake Frozen Cookie Dough
Now that you're ready to enjoy your chocolate chip walnut cookies, you can bake just 1 or 2 or a whole pan!
Simple preheat the oven to 300°F.
Bake the frozen cookies on a baking sheet lined with parchment paper for 24 - 25 minutes. There is no need to thaw the dough before you bake.
TOP TIP: Be sure to let the cookies rest on the cookie pan for one hour before you move them or try to eat them.
If you rush it, they may fall apart when you try to pick them up. I promise the texture and flavor are worth the wait!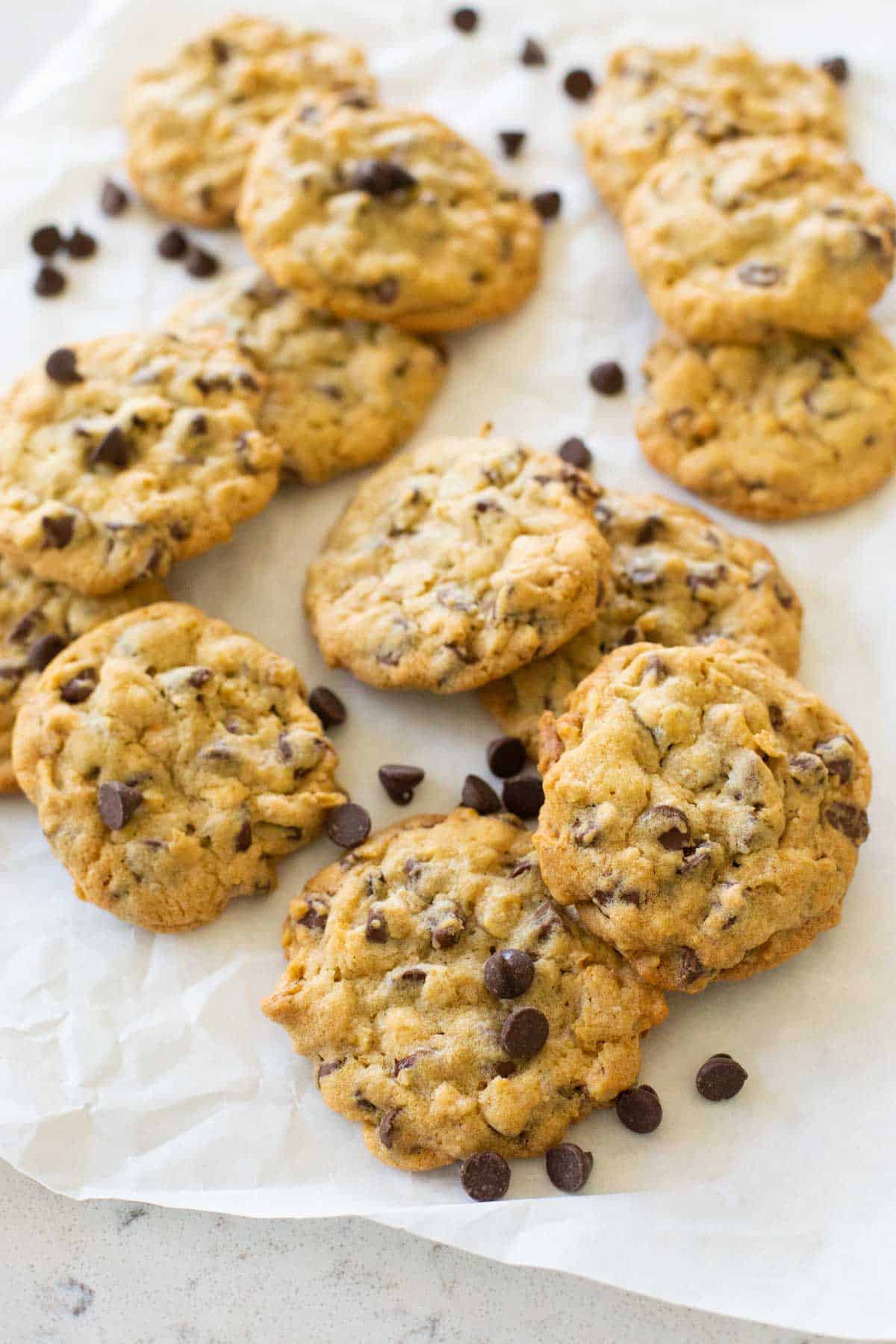 More Freezer-Friendly Cookies
If you prefer to bake your cookies first and then freeze them ready to eat, you will absolutely LOVE my Mexican hot chocolate cookies or my M&M cookies with cornflakes and oats.
My husband insists these chocolate peanut butter chip cookies taste best cold and crispy straight from the freezer.
And these crispy peanut butter sandwich cookies are perfect for the freezer, but don't make the filling until you plan to serve them.