These easy pumpkin butterscotch cookies are the perfect fall treat to bake with your kids.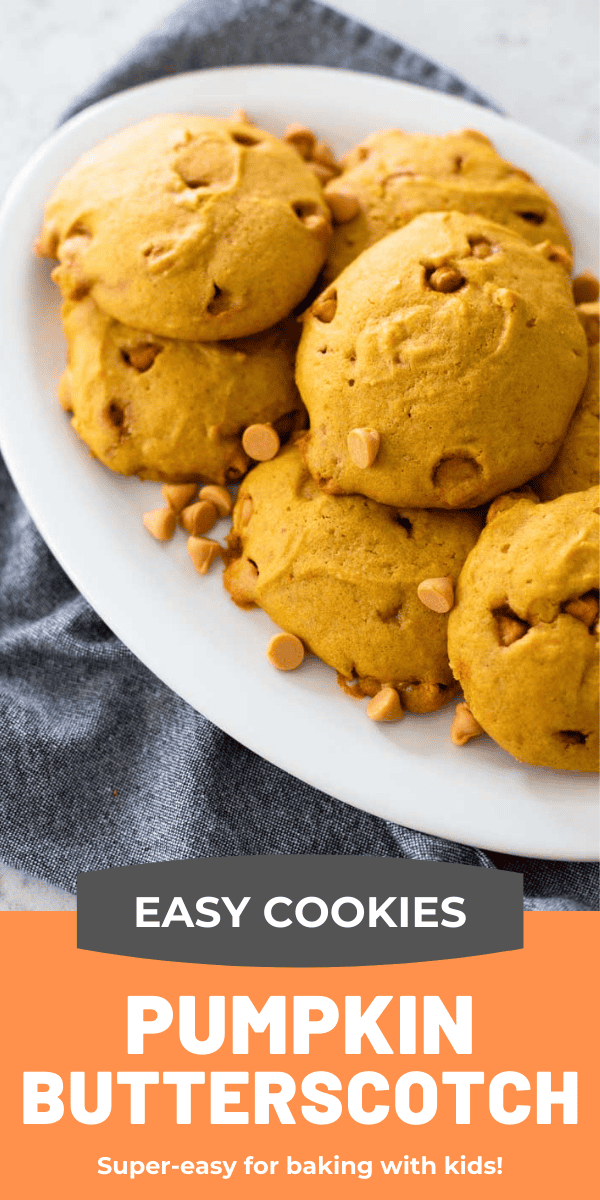 After so many years of sharing our family's adventures with you, I've started to find almost-forgotten golden nuggets deep in my archive.
Last weekend, the Peanut asked if she could bake the pumpkin butterscotch cookies we used to enjoy. I've been so busy with the cookbooks over the last few years, we didn't need any extra goodies laying around and I never got to making them.
I was surprised she remembered them after such a long break. She just assumed the recipe was here on my site and she took the initiative to come and find it. We both started laughing when we discovered how out of date the post is so we worked together to clean things up.
This is truly a family-favorite recipe that my girls have loved helping bake since they were tiny. When I originally published the post in 2014, we had already been baking them for a few years.
They are a perfect easy cookie recipe to bake with your kids, no matter their size. We hope you enjoy them as much as we have!

Our tips for easy pumpkin cookies to bake with your kids: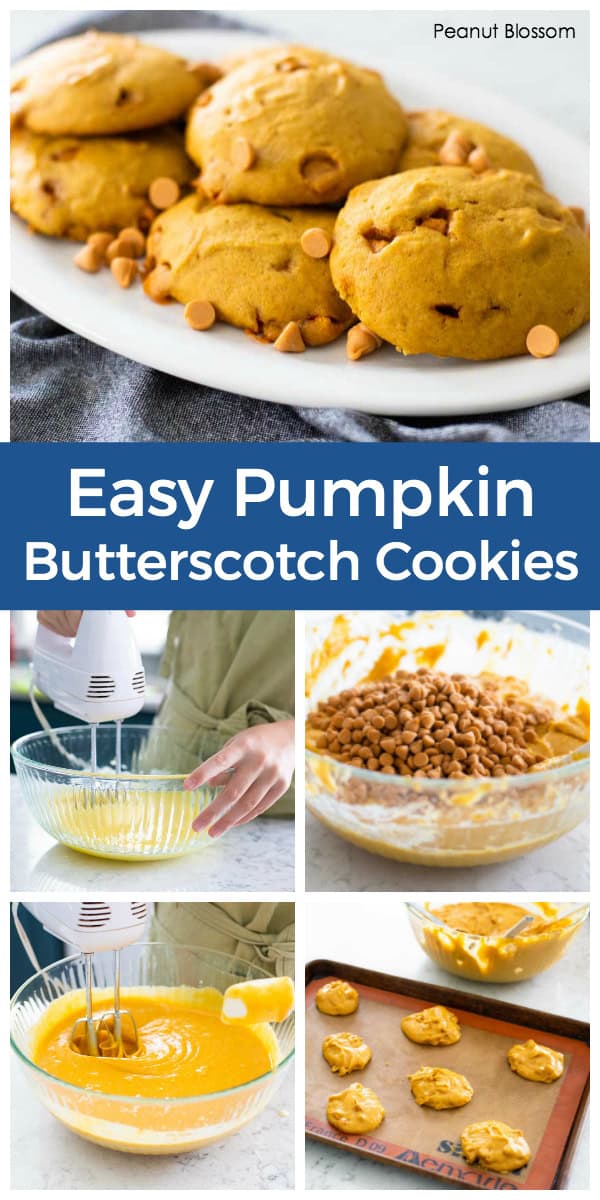 What do these pumpkin cookies taste like and why do my kids love them?
I think the #1 reason these pumpkin cookies are so popular with my kids is that they are like a cross between a muffin and a cake. They have a light and fluffy texture but stick together better than our favorite pumpkin bread recipe does.
To keep them from being too bland, filling them with oodles of butterscotch chips gives them a lovely crunch. Our recipe calls for just a single bag of butterscotch chips, if you really love butterscotch and crunch to your cookie, you might consider adding an additional cup or so of chips to the batter. You'll find the batter gets stretched a little further and you get a few more cookies out of the recipe.
Are these actually easy cookies for kids to bake?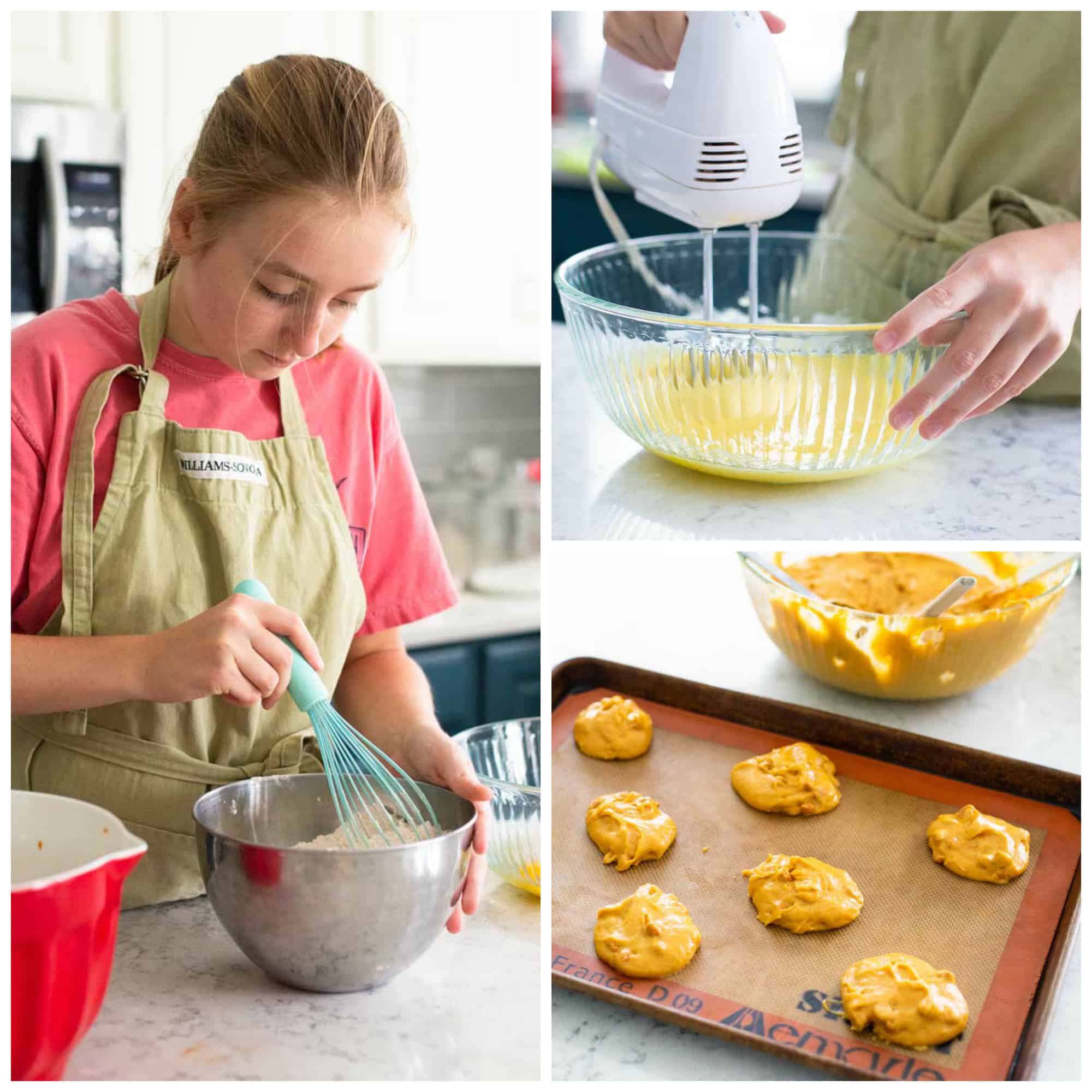 Absolutely. I just sat in the kitchen and took photos while the Peanut made the entire batch by herself. If your child can operate a hand mixer, they can make this recipe easy. Otherwise, with just a little help from you, younger kids would have a ton of fun, too.
To keep the measuring easy, we used an entire can of pumpkin. It's frustrating when you have just a little bit leftover from a recipe. What are you supposed to do with ¾ cup of pumpkin?? We doubled our original recipe to use it all up and take advantage of the full bag of butterscotch chips.
There's no butter to be creamed with sugar in this recipe. Kids will have fun breaking eggs and measuring out the other ingredients. It all just gets mixed together in a big bowl.
Look at the cute photos of my teeny-tiny Little Pea helping me to bake this recipe for Halloween week from our original post: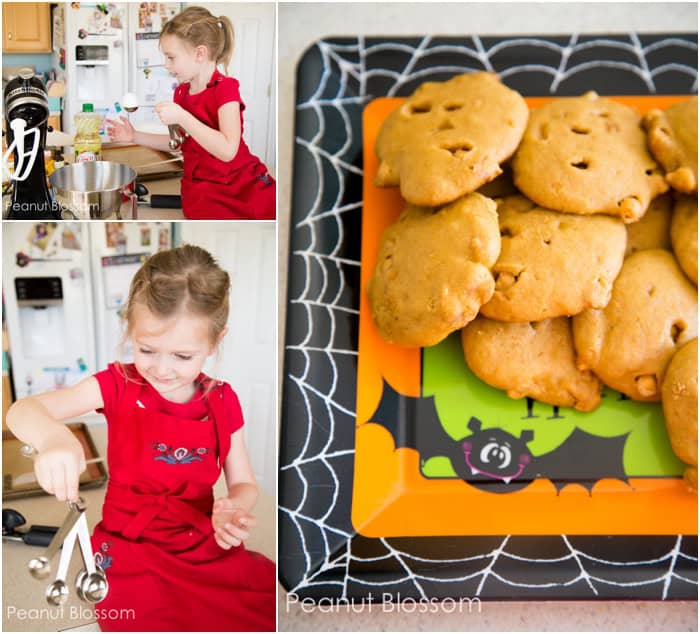 Thoughts from my original post in 2014: "My girls have fallen in love with the easiest pumpkin cookies ever. When Little Pea came to me expressing her disappointment that we didn't "make together" on Sunday, I knew I had to schedule in some one-on-one baking time with my little buddy during our Halloween Week. These cookies are the first thing that came to mind."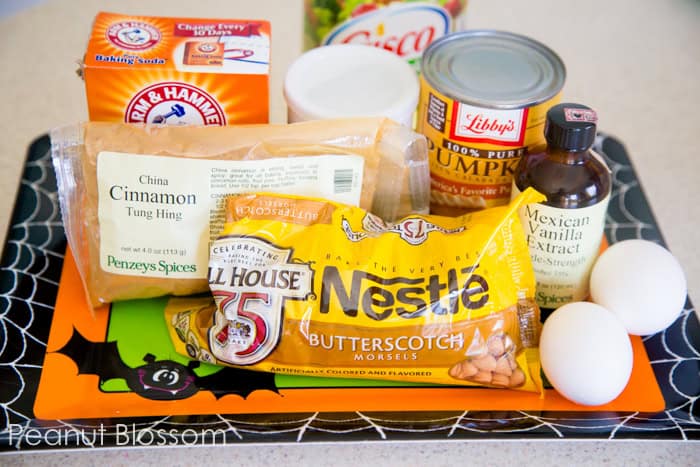 The ingredients are so easy to keep on hand for last-minute baking. It's almost a one-bowl cookie recipe.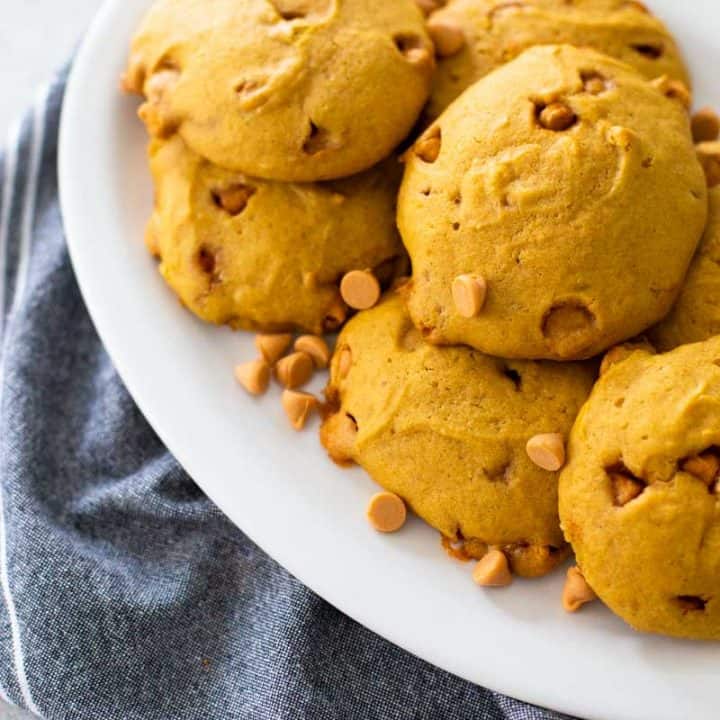 Pumpkin Butterscotch Cookies
These easy pumpkin cookies are filled with sweet butterscotch chips. Kids will love to bake these easy fall treats.
Ingredients
4 cups all-purpose flour
3 tsp baking powder
2 tsp baking soda
1 tsp salt
2 tsp ground cinnamon
4 eggs
2 cups sugar
1 cup canola oil
1 (15 oz.) can pumpkin
2 tsp vanilla extract
1 (11 oz.) bag butterscotch chips
Instructions
Place your oven racks to the top ⅓ and bottom ⅓ positions and preheat to 325 degrees. Line two baking sheets with parchment paper or silicon baking mats.
Whisk together the flour, baking powder, baking soda, salt, and cinnamon in a medium bowl.
In a large bowl, beat the eggs and sugar with a hand mixer until light in color and smooth, about 1 minute. Add the oil, pumpkin, and vanilla to the mixing bowl and beat on low until just blended. Add the flour mixture and blend on medium until everything is incorporated.
Fold in the butterscotch chips by hand with a spatula.
Use a ¼ cup measuring cup to scoop cookie batter into rounds onto the baking sheets. Place them 2 inches apart, 8 cookies per sheet.
Bake 2 pans of cookies at a time for 8 minutes. Rotate the pans inside the oven so they evenly brown and bake for an additional 8 minutes. (16 minutes total per pair of baking sheets.)
Let the cookies cool on the pan for 3 - 5 minutes and then transfer to a wire rack to cool. Do not stack the cookies or they will stick to each other. Cookies will keep stored in an air-tight container for 4 days.