The best cookbooks for kids have real recipes that kids can cook for healthy family dinners and delicious snacks and treats for friends to enjoy. Teach kids to cook with these fantastic children's books.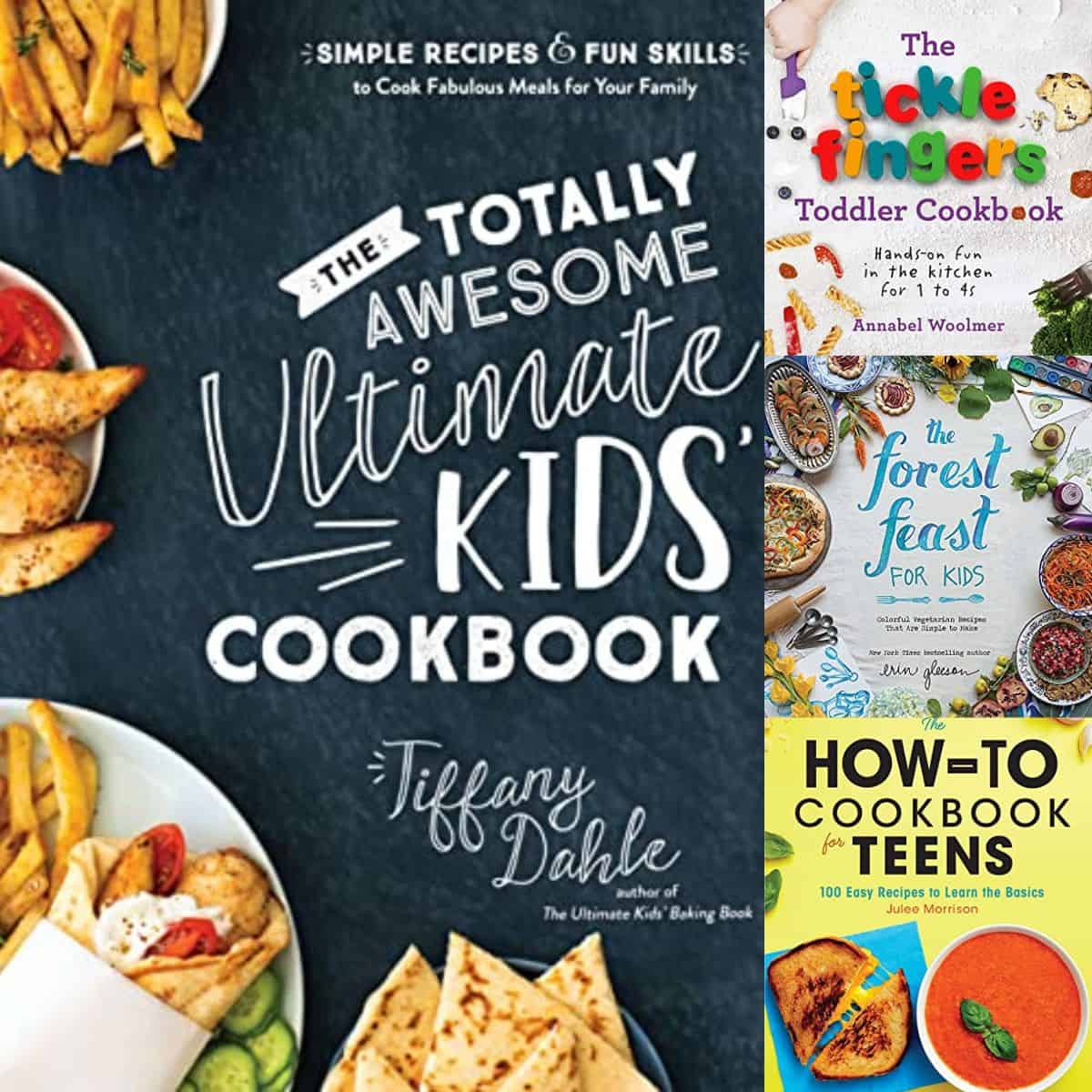 With dozens and dozens of cookbooks for kids on the market, how are you to know which ones are the best for your children?
These kids' cookbooks are perfect for the whole family to enjoy. Not only will your kids learn essential life skills but they'll be making delicious meals everyone in your family will enjoy eating together!
The Two Types of Kid Cookbooks
Cookbooks for kids usually fall into two main categories and are divided by who the actual chef is meant to be:
Kid Cookbooks with Recipes Kids Will Cook Themselves
Family Cookbooks with Kid-Friendly Recipes that Parents Cook
It's a fine line of distinction but if you look carefully, you'll quickly discover that some kid cookbooks aren't actually for kids, they're for the parents wanting to make meals for the family that their kids will enjoy eating.
Often those parents are struggling with picky eaters and are looking for help with more family-friendly recipes.
Cookbooks for kids that are meant for the kids to cook, often fall into two categories, too:
Kid Cookbooks with Food ONLY For Kids
Kid Cookbooks with Food the Parents Will Actually Eat
I don't know about you, but with food prices being what they are right now, our family cannot afford for food to be a toy.
While some kid cookbooks have cute and playful foods the kids might enjoy creating, they aren't always recipes the family will actually enjoy eating at a family dinner.
If we spend the money on groceries to make the dish, it better be something we'll actually want to eat!
Why These Kid Cookbooks Are the Best
After scouring through dozens and dozens of book listings, I firmly believe that these are the best cookbooks for kids because:
Real Food Your Family Will Eat: The books are filled with delicious recipes that create an actual meal your family will enjoy.
Reasonably Healthy: Most of the recipes include real, whole foods that are mostly created from scratch but in a way that is easy for kids to cook.
Kid-Friendly and Playful: The food doesn't have to look like an animal for kids to think making it is fun. These books still make the process of cooking enjoyable for kids.
Helpful Instructions: The true test of a good kid cookbook is how easy the instructions are for a beginner to follow. These books are excellent, not only for kids but for any new chef at any stage of life. Need a little more helping hand than a traditional cookbook for adults? You might be surprised how much YOU enjoy cooking from these books, too.