18 ridiculously easy Halloween recipes for kids to make before Trick or Treating. This is a great way to fill their bellies with a few healthy things before the onslaught of candy!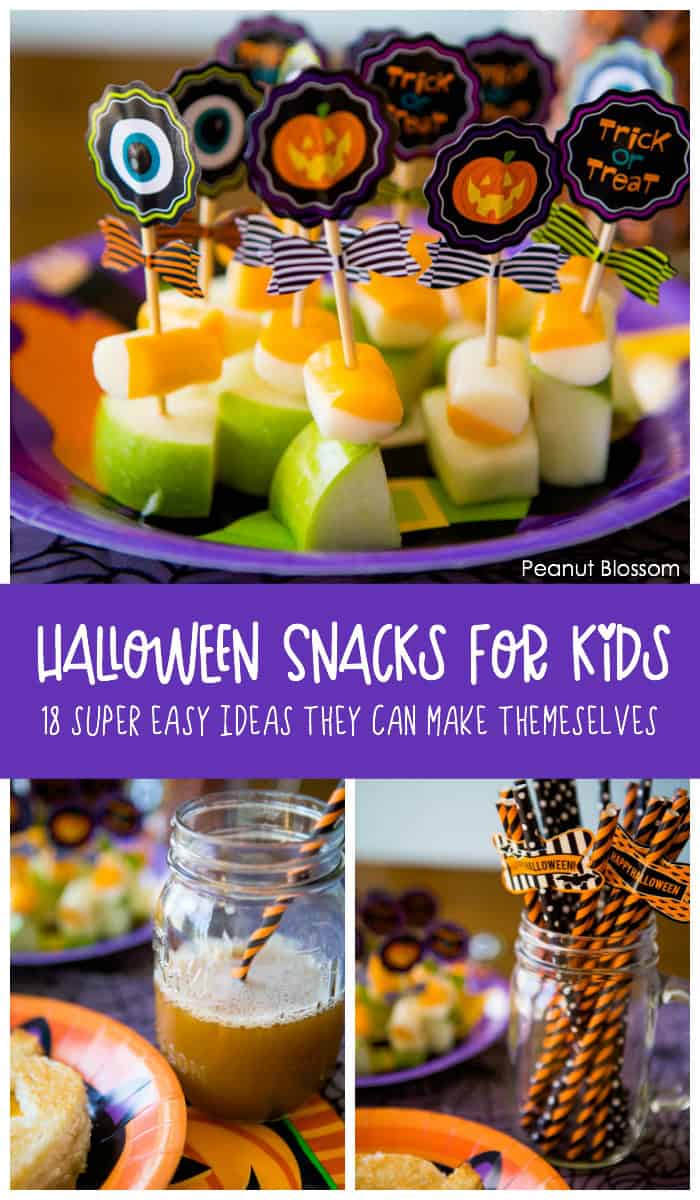 I love to make festive foods for all our holidays. Halloween, with it's focus on all things CANDY, is perhaps the hardest holiday to get the kids to eat any of the real food we've made. Like many of you, I feel so guilty sending them out to Trick or Treat without at least attempting to feed the kids something a little filling and nutritious. But what can possibly compete with the coming sugar hoard??
For our pre-Trick or Treat Feast, I prefer to make simple kid-friendly Halloween recipes that are high on fun and low on effort. I've learned the key to getting the kids to actually eat the healthy snacks is to get the kids involved in making them! If prepping the food feels like part of the party itself, they will gobble it up.
We started our party menu with these adorable and easy apple + cheese kabobs. All you need are:
2 Granny Smith apples
Festive skewers from the party store
Pineapple juice
I set up a work line and gave each girl a job. I cut the apples into chunks and tossed them with a bit of pineapple juice to prevent them from turning brown while the Peanut cut the cheese sticks into chunks and Little Pea assembled the final kabobs.
Once the fruit kabobs were done, we set to work making some spooky grilled cheese sandwiches. I found a sandwich-sized cookie cutter at the local craft store. Just like this one here.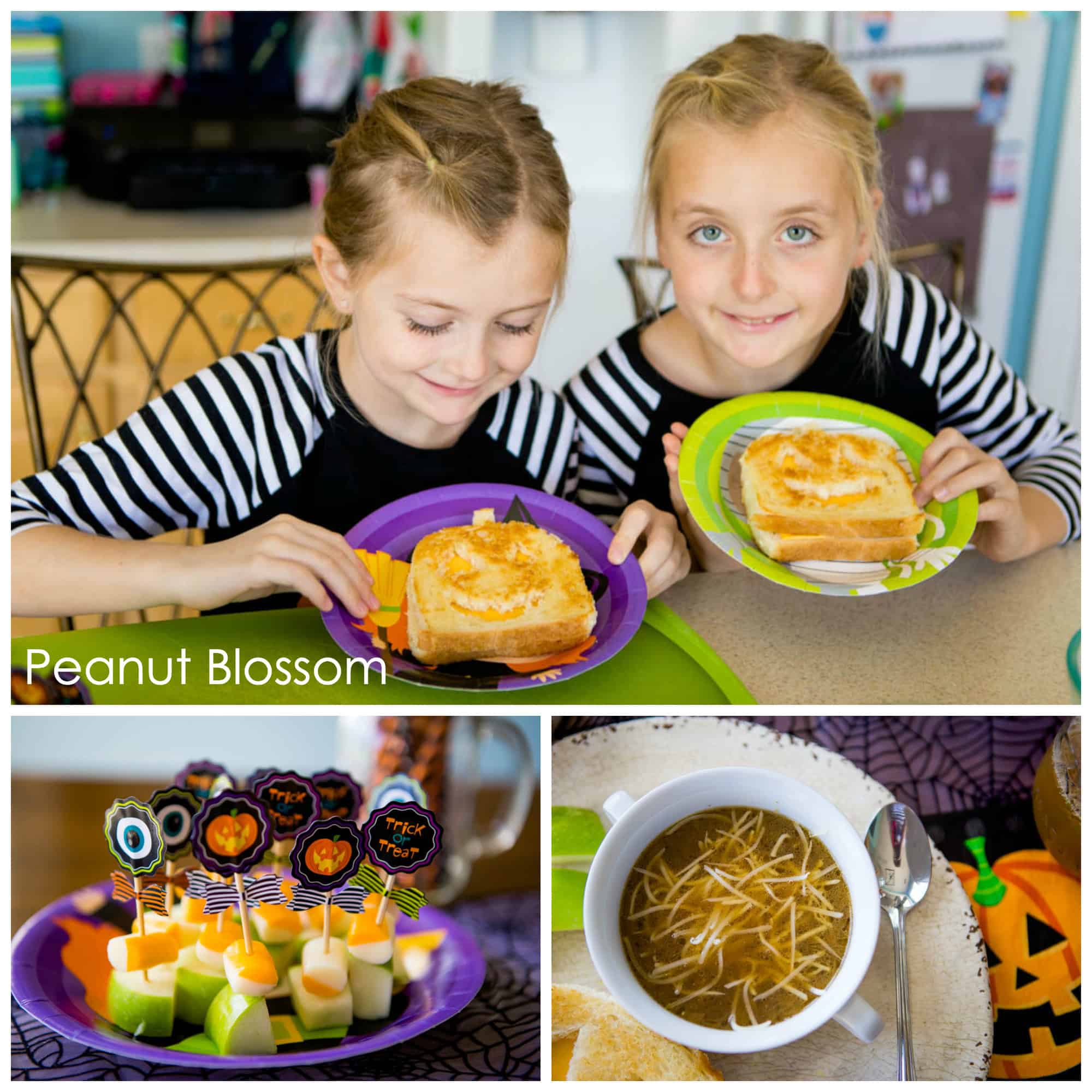 The trick to making this so that the cheese doesn't melt out of the eyes and mouth is to cut 2 slices of bread with the pumpkin shape but just ONE side of the sandwich bread with the face shapes. Butter the face and lay it face down in the griddle pan. Once it is toasted, remove and place the second buttered bread with the Borden American cheese slice side up. Top with the face slice so the cheese melts and sticks both bread slices together.
I griddled the sandwiches but the girls had so much fun creating the faces out of the bread.

It's amazing how taking just a little extra time to cut your food into fancy shapes and using simple party supplies from the craft store can make the easiest food into something special. It doesn't take much to throw a festive little dinner party for your kids.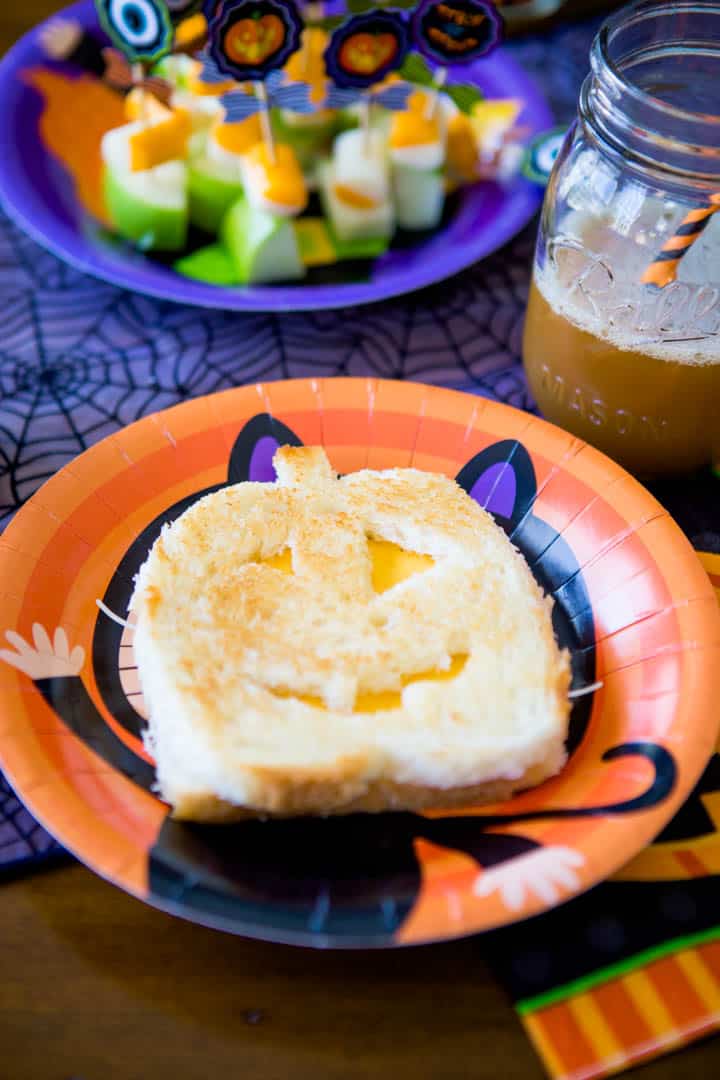 And when you're really in a pinch? You can totally fake it by just using some cute details for your normal dinner! My kids go nuts over paper straws in festive colors, fruit in cupcake wrappers, and cute holiday paper napkins and party plates.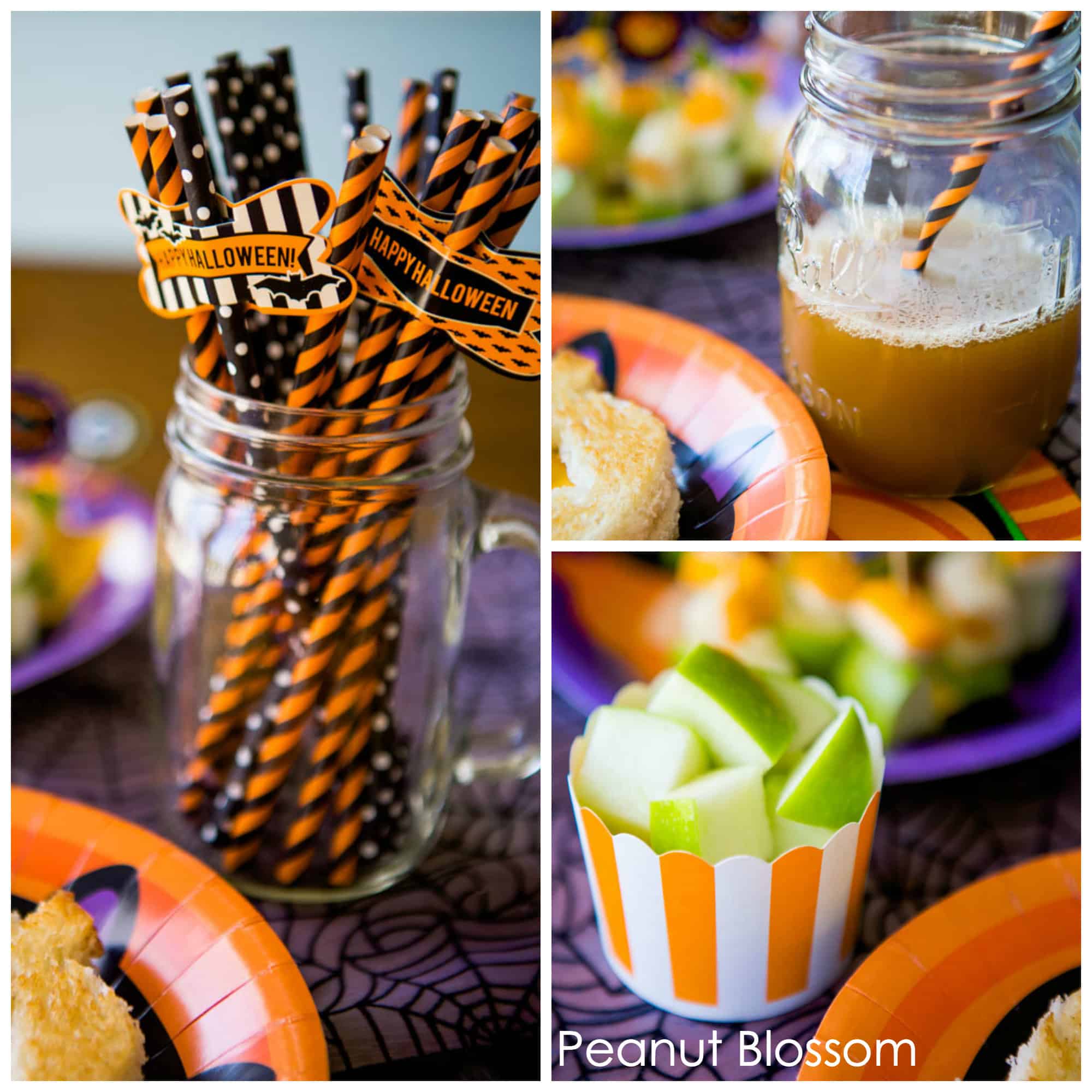 If you need more easy Halloween party recipe ideas, check out the list of suggestions below. Everything includes a healthy protein like Borden cheese or plenty of fruits and vegetables to help you feel better about the copious amounts of candy they'll be getting right after dinner! Ha!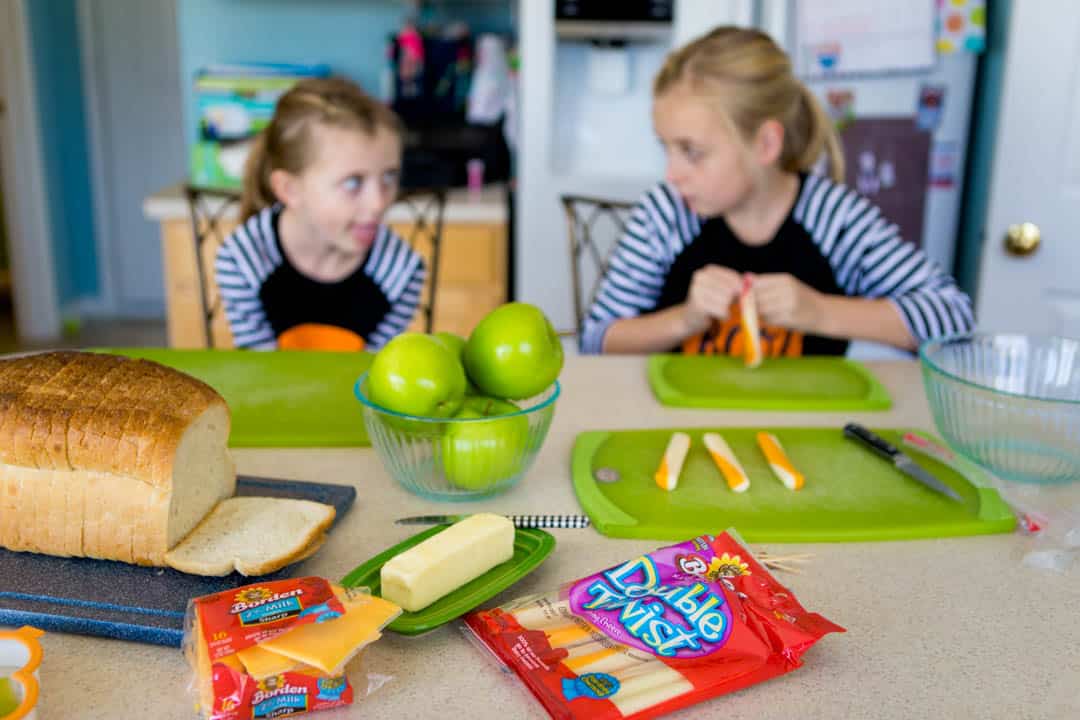 18 ridiculously easy Halloween recipes kids can help make:
Grilled cheese jack o lanterns (featured above)
French onion soup with cheesy toasts (featured above, buy prepared soup or make your own! This recipe was perfect.)
Quesadilla mummies from Kids Activities Blog
Jack-o-lantern Mac & Cheese cups from The Seasoned Mom
Peanut Butter & Jelly Spiders
Mummy muffins from Cooking and Cooking
Monster sandwiches from Setting for Four
Crunchy Mummies from Betty Crocker
Cheesy apple skewers (featured above)
Cheesy spider crackers from La Jolla Mom
Clementine pumpkins from My Fussy Eater
Ghosty cheese sticks from Living Life on the Lane
Silly apple faces from Fork & Beans
Veggie Frankenstein from Feeding Frenzy
Frankenstein fruit & veggies cups from Design Dazzle
Pretzel and cheese broomsticks from One Little Project
Candy Corn fruit cups from Let's Lasso the Moon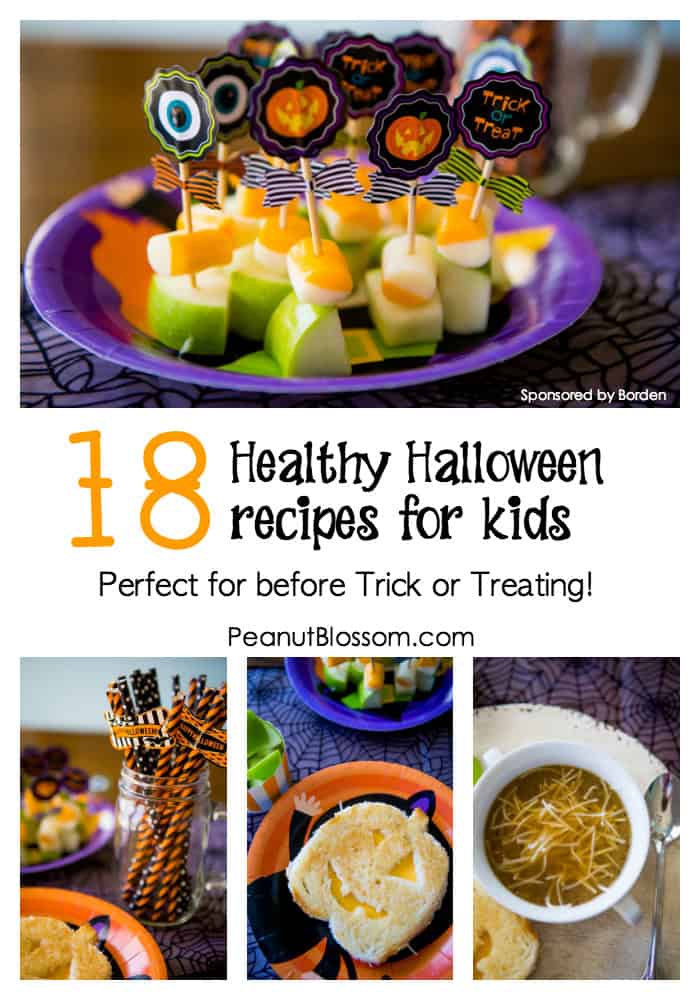 Looking for more easy Halloween recipes for kids?
Don't miss these festive favorites your kids will love to help make!