Need a ridiculous easy snack for your Halloween or fall party? Try this simple chocolate peanut butter pretzels snack mix. It's a fun little treat to make with the kids this fall.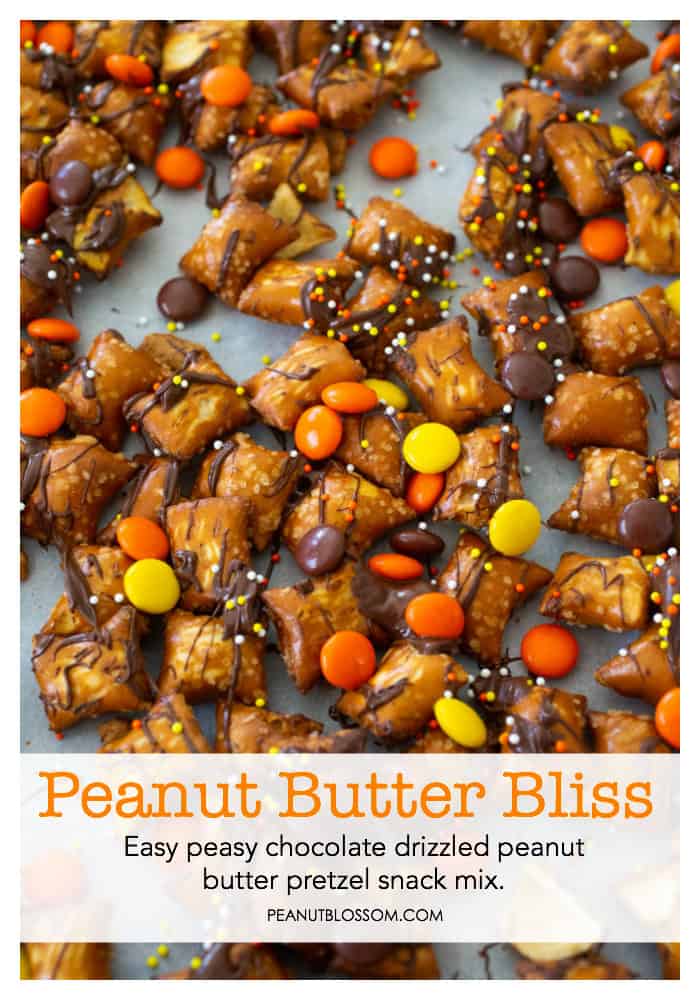 What does your family eat when you watch a movie together at home? Is it always a big bowl of popcorn or do you ever serve up something different?
We're definitely a popcorn family, but I thought it would be fun to surprise the kids with something a little more festive this fall. As part of our fall bucket list, one of our items is to have a Family Movie Party and watch Roald Dahl's The Witches together.
This ridiculously easy treat only involved 3 ingredients and took me less than 5 minutes to pull together. Both girls nearly lost their minds when they saw this fun spin on movie candy + pretzels.
If you need a treat to bring to a Halloween party or Thanksgiving, this would be a perfect one to have in your pocket.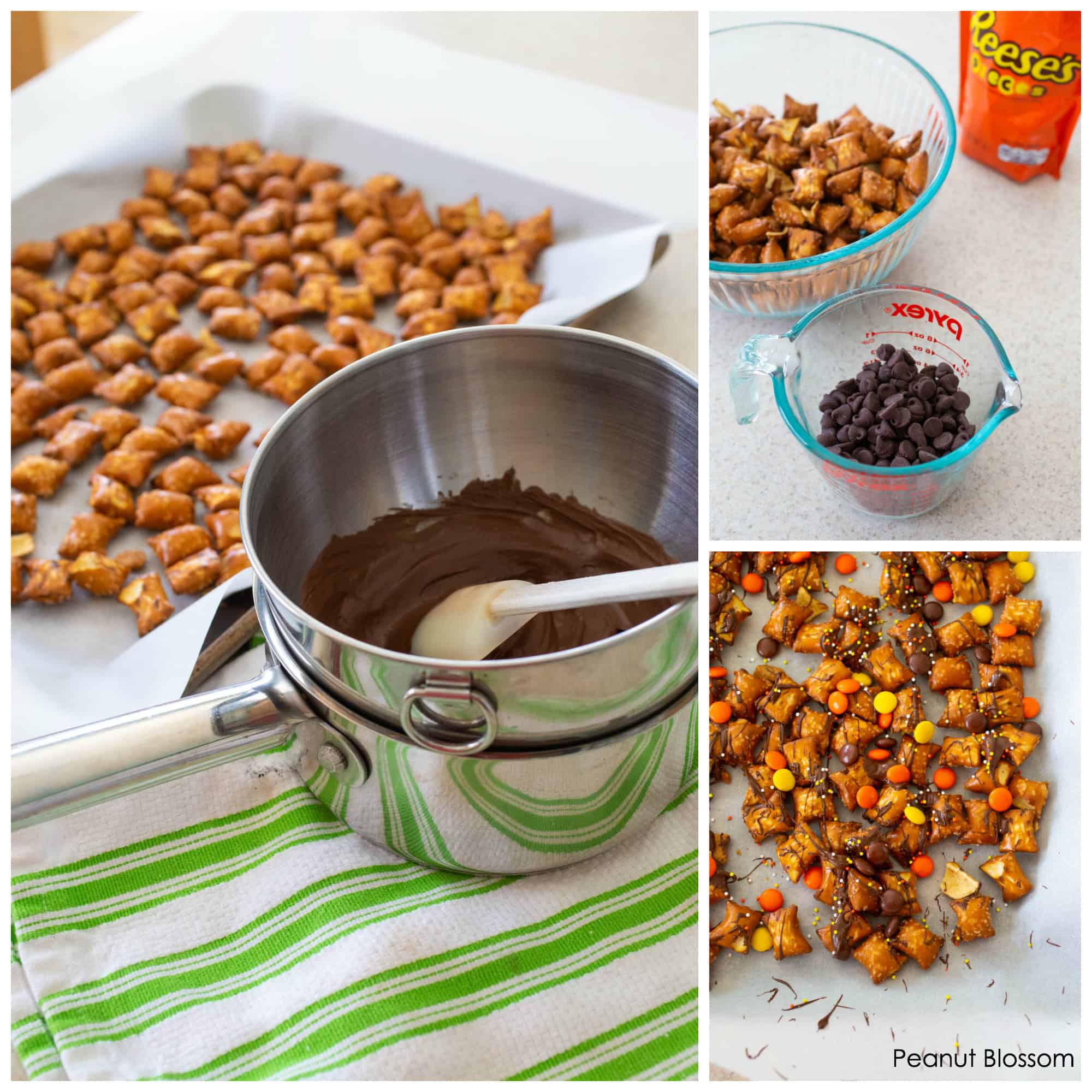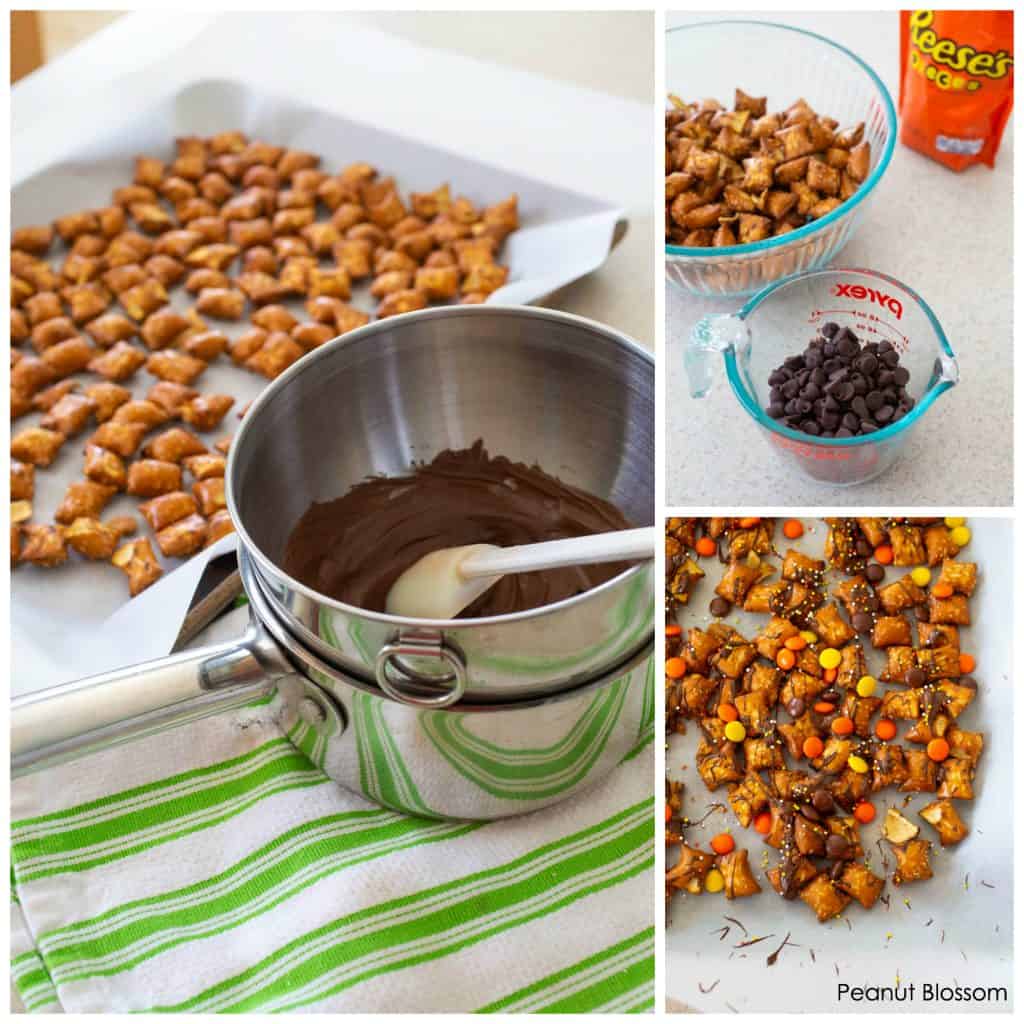 The only trick part to the recipe is melting the chocolate. I tried microwaving the chips but the chocolate seized up on me (became totally firm and un-stirrable.)
I melted the chocolate the old-fashioned way--in a double boiler. I just put one of my metal mixing bowls over a pot of water. Bring the water to a gentle simmer over medium-high heat and stir the chocolate while it melts. Once it is smooth, remove from the heat and drizzle over the pretzels.
I used a fork to flick the chocolate in a drizzle pattern. It made a bit of a mess, so be sure to wear an apron and keep the pretzels on a piece of parchment paper for easy clean up.
More fun Halloween snacks for kids: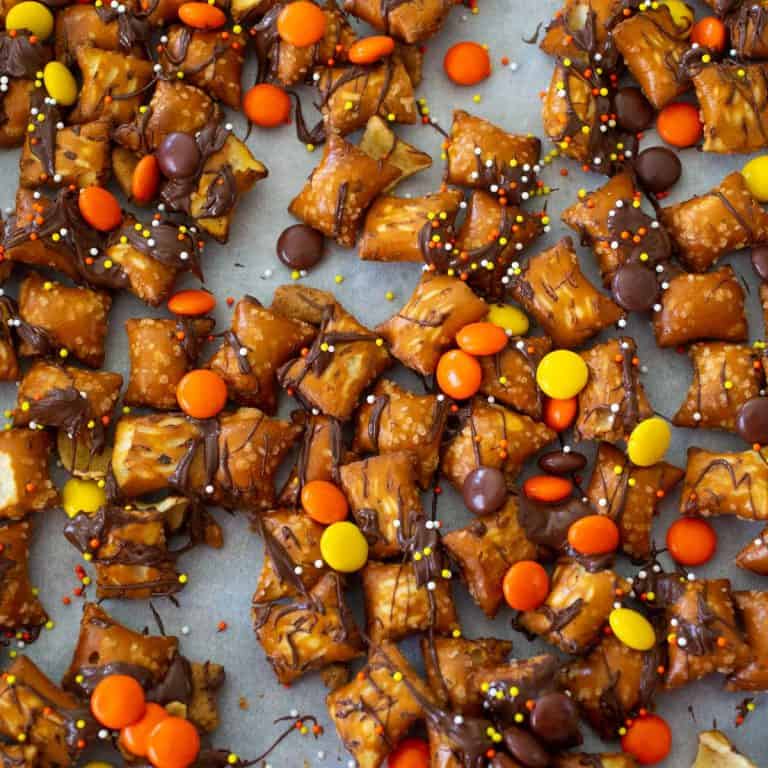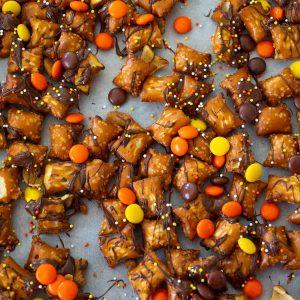 Peanut Butter Pretzel Mix
Elevate your next movie night with these chocolate covered peanut butter pretzel nuggets. This easy party snack mix is a huge hit with kids.
Ingredients
4

cups

peanut butter filled pretzel nuggets

1

cup

chocolate chips

1

cup

Reese's Pieces

Festive sprinkles
Instructions
Spread the peanut butter pretzels in a single layer on a piece of parchment paper or wax paper and set aside.

Carefully melt the chocolate chips in a double boiler. (Or use a metal mixing bowl set over a sauce pot filled with water.) Heat the pot of water over medium-high heat and stir the chocolate until it is smooth and melted.

Use a fork or thin spatula to drizzle and flick the chocolate over the pretzels. Sprinkle the candies and sprinkles over the top and let cool before serving.
Save This Recipe to Your Recipe Box
Find this delicious recipe next time you visit by saving it to your very own recipe box on my site. All your favorites stored in one easy place!