Strawberry lemonade cake is a perfect summer potluck party recipe. Serve this moist and tart pink lemonade cake cold from the fridge or room temperature at your next backyard barbecue.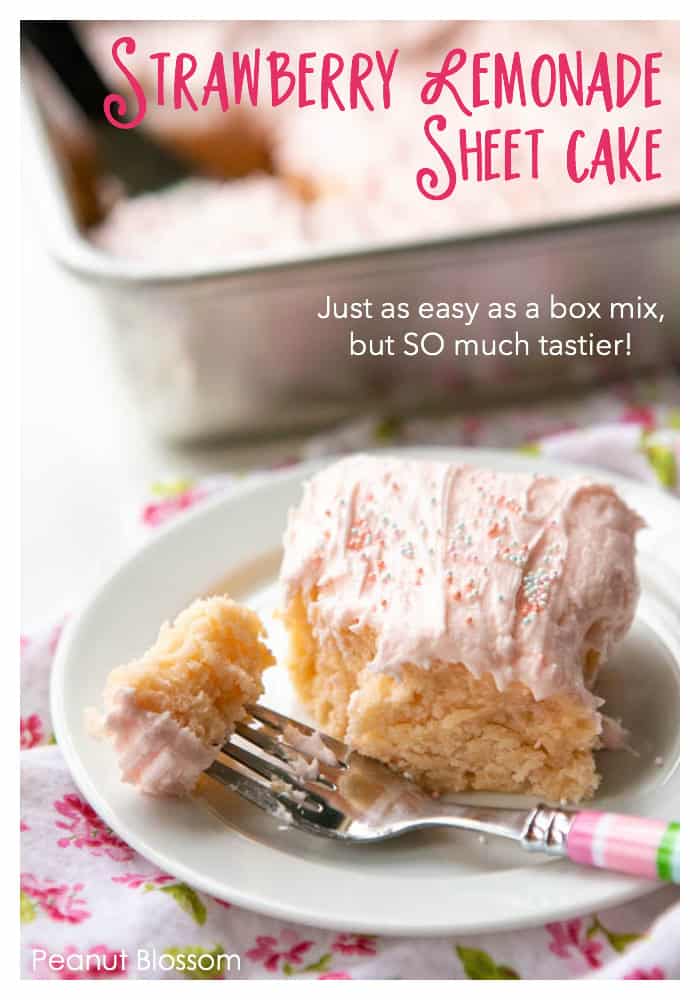 Spring is birthday season in our house. The girls have their birthdays a few weeks apart which makes for a busy season. This year, Little Pea had her First Communion the day before her birthday. Life was crazy and in the chaos, her birthday cake wasn't as delicious as I had hoped it would be.
I had surprised her with a gorgeous funfetti cake that turned out too heavy and too sweet on the inside. She was happy enough, but I felt bad that she was disappointed even a little by her own birthday cake this year.
We finally had a slower, more relaxed weekend so I decided to try a Take 2 on a MUCH more simple cake "just because." My little girl loves strawberry lemonade (or pink lemonade) so I whipped together this easy 9 x 13 sheet cake as a special Friday treat.
As we head into summertime with all it's special events to celebrate, you absolutely need to save this cake recipe. It is the perfect backyard barbecue or potluck party dessert because it is totally portable and only takes a few minutes to make.
Little Pea loved how it tastes just like pink lemonade but what really surprised me was just how much Handyman Tim ended up loving it. We all enjoy our cakes cold right out of the fridge and somehow that just really works well with this strawberry lemonade cake -- it really reminds you of the beverage it is imitating. Cool and refreshing for a hot summer evening but without the worry of melting like ice cream or popsicles.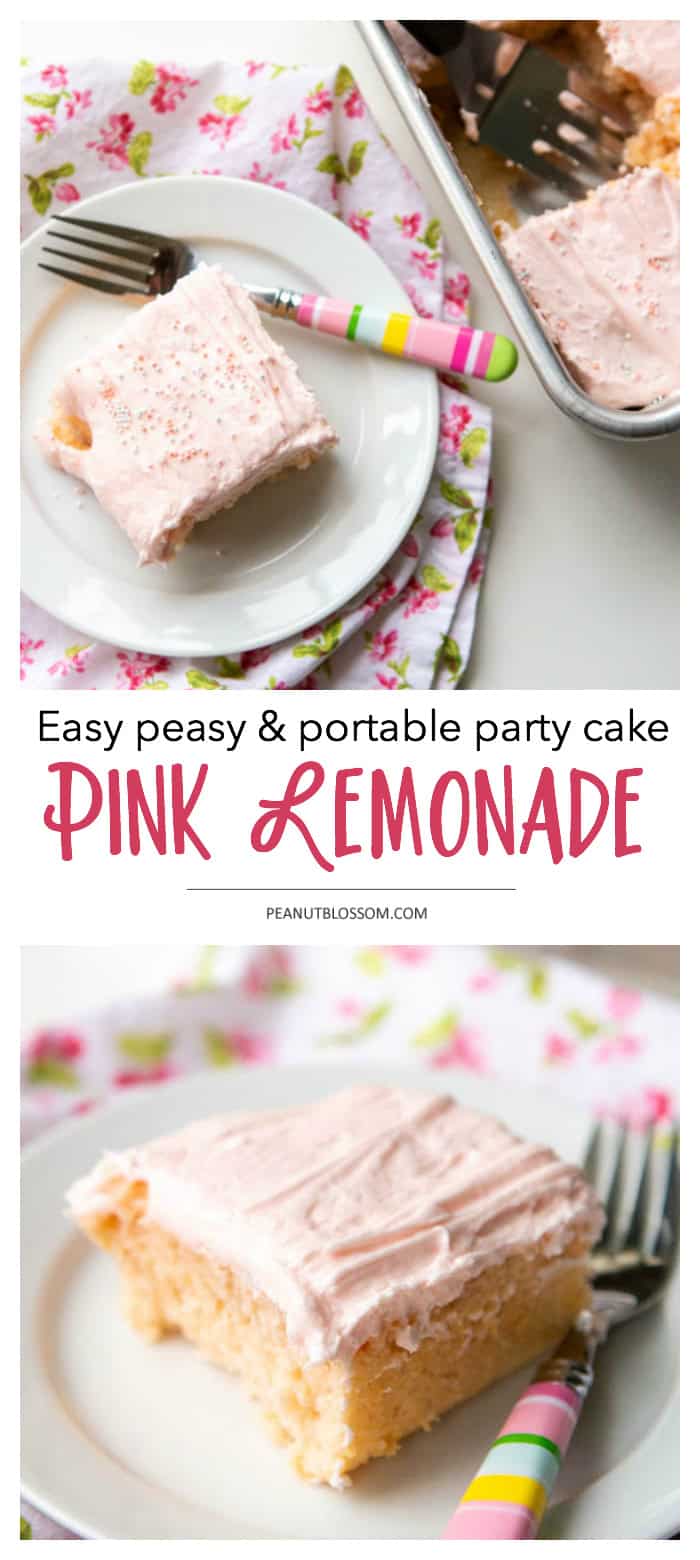 Strawberry lemonade cake: sheet cake or cupcakes?
I made the strawberry lemonade cake into a simple 9 x 13 sheet cake, but you could easily adjust this to be cupcakes. I haven't tested the quantity, but I believe you would get at least 1 dozen cupcakes, possibly up to 2 dozen. If you try it, will you let me know? I'd be happy to adjust the recipe with a note!
Pink lemonade frosting:
There is strawberry lemonade in BOTH the cake and the frosting! The cake has a slightly pink hue to it and the frosting is a lovely light pink. It makes "just enough" frosting, not too much, which is great because my kids don't like cakes that are over frosted. If you plan to frost your cupcakes with a tall generous swirl, you might want to consider doubling the frosting portion of the recipe.
How to garnish a strawberry lemonade cake:
It is so pretty all on it's own, but I decorated the strawberry lemonade cake with a small sprinkle of some pink and blue confetti balls I had in my baking cabinet. They were the perfect festive final touch. You could also garnish with fresh strawberries or even thinly slice lemons if you like.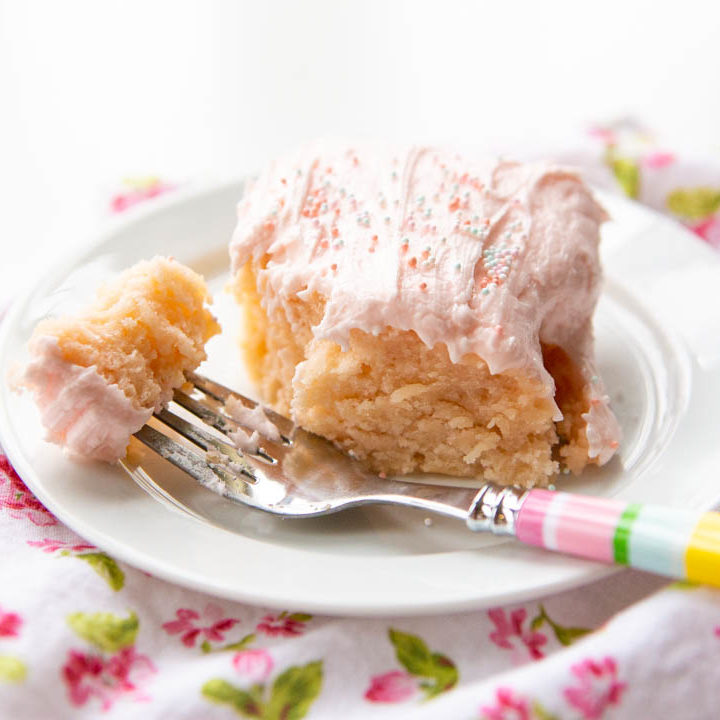 Strawberry Lemonade Cake
Additional Time:
5 minutes
This perfectly portable 9x13 sheet cake is an awesome potluck party dessert. Bright and tart, it is delicious straight out of the fridge ice cold but can be served at room temperature, too.
Ingredients
¾ cup butter, softened
1 ⅔ cup sugar
1 cup milk
2 tsp vanilla extract
1 tsp grated lemon zest
2 ¾ cup flour
½ cup presweetened pink lemonade drink mix (the powder, don't hydrate it.)
3 tsp baking powder
¼ tsp salt
4 egg whites
1 whole egg
For the frosting:
¼ cup pink lemonade drink mix (the powder)
3 tbsp water
½ cup butter, softened
16 oz powdered sugar
1 tbsp heavy cream
Instructions
Preheat the oven to 350 degrees. Grease a 9 x 13 inch baking pan with butter and coat it in flour, set aside.
Cream the butter and sugar together in a large mixing bowl with a hand beater or in the bowl of a stand mixer with the paddle attachment.
Add the milk, vanilla extract, lemon zest to the bowl and mix on low until just combined. Add the flour, lemonade drink powder, baking powder, and salt to the bowl and beat on high for 2 minutes. Add the eggs and egg whites to the bowl and beat on high for an additional 2 minutes. Be sure to scrape the sides of the bowl between steps.
Pour the batter into the prepared pan and spread it evenly with a spoon or spatula. The batter will be slightly thick.
Bake for 35 - 45 minutes until a toothpick inserted in the center comes out clean. Cool completely (for at least one hour) before frosting.
To make the strawberry lemonade frosting:
Combine the ¼ cup lemonade powder with 3 tbsp water and stir until completely dissolved. Set aside.
Beat the butter until smooth. Add the powdered sugar 1 or 2 cups at a time and beat until each addition is combined. Add the lemonade mixture and the heavy cream after a few cups of the powdered sugar have been mixed into the frosting. Continue to add the powdered sugar and beat the frosting until it is light and fluffy. If the frosting gets too thick, you can add more heavy cream a teaspoon at a time until desired consistency has been reached.
More great desserts for summer parties: