Be the mom of the year with this easy backyard sundae bar for kids! Lay out all the healthy (and not so healthy) ice cream toppings your kids will love in an easy-to-clean tray!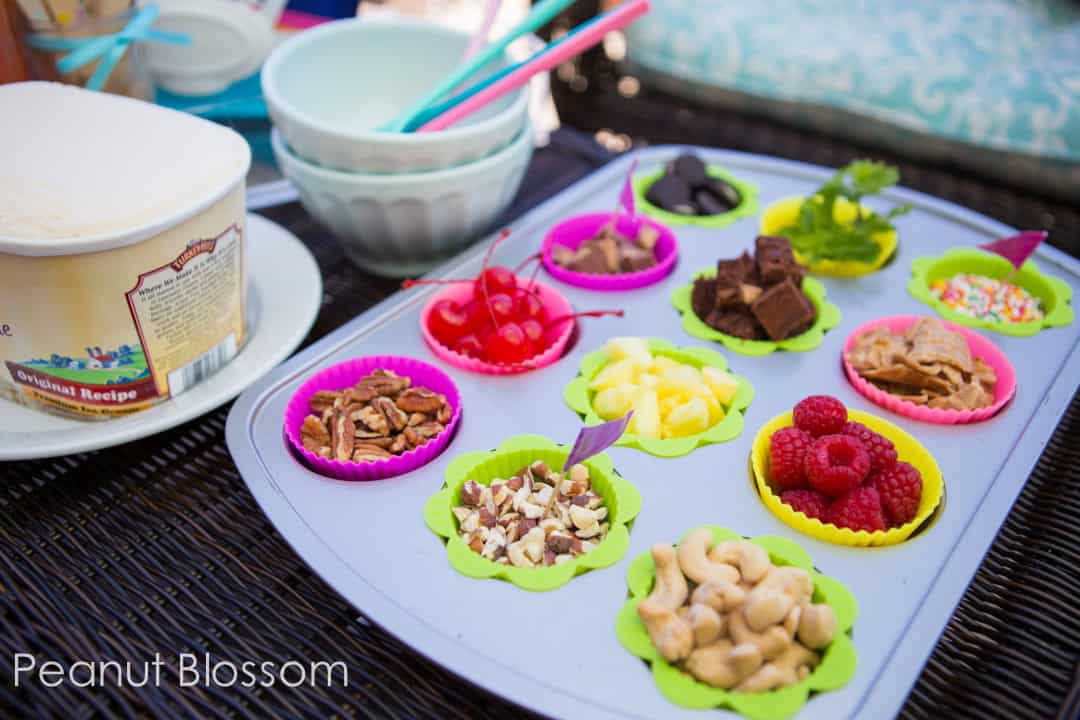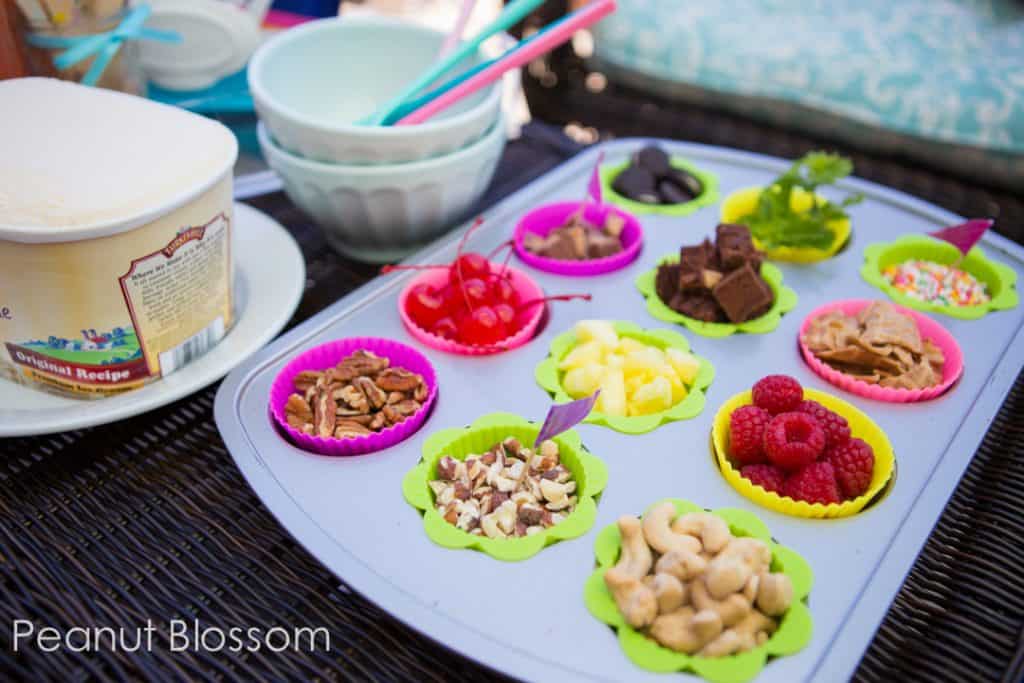 I scream, you scream, we all scream for ice cream! Did you know that July is National Ice Cream Month? Born and raised in the Dairy State, ice cream is by far one of my all time favorite treats.
I drool over those fabulous ice cream sundae bar parties you see all over the place but I never think to do something like that for just my own family. It feels wasteful and expensive to have all those little options available for topping that creamy treat. But the girls and I can never quite agree on which toppings to put in our bowl!
Then I had the perfect idea: Create an ice cream sundae bar that is reusable from week to week over the summer! Invest once in a few key ingredients and then maximize their use over time.
Step 1: Plan it
I made a list (you can find it at the bottom of this post) of ingredients that are:
shelf stable or freezable
able to be served in small portions
are both kid-friendly but fun for the adults, too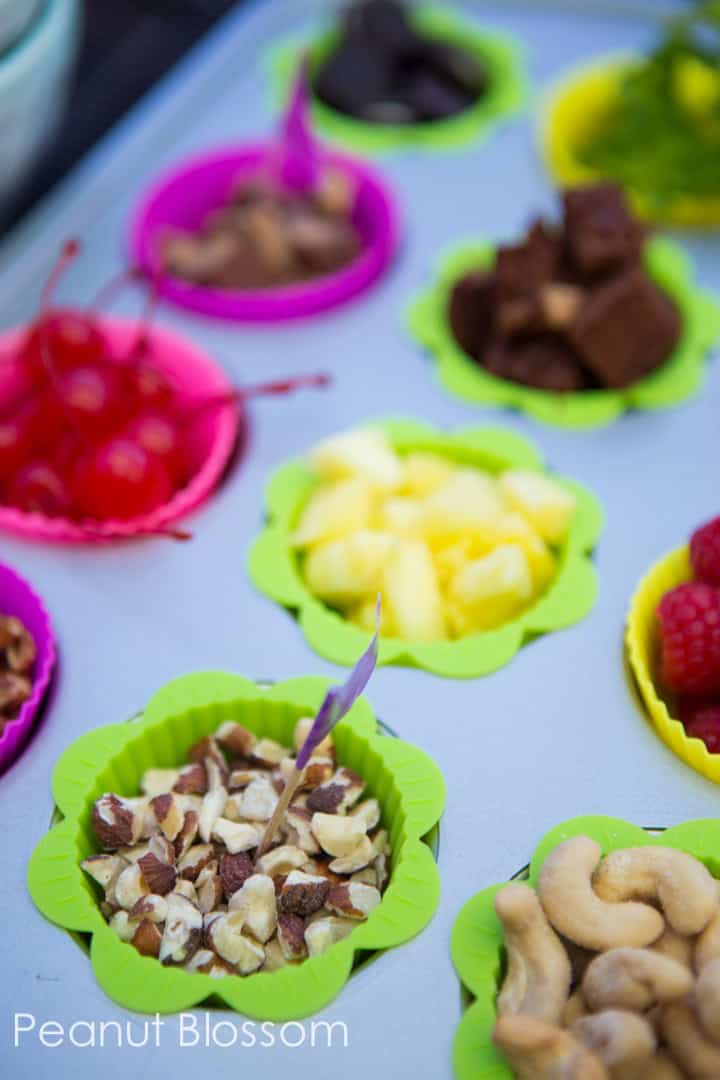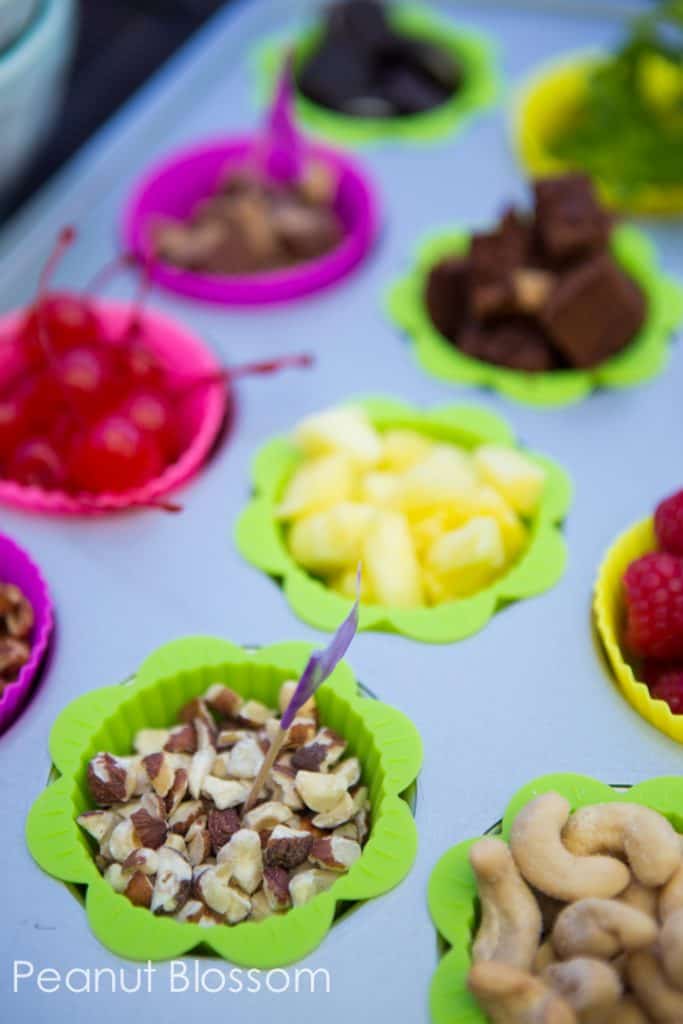 Step 2: Prep it
I carefully chopped and diced JUST enough for what we needed for one round of sundae topping and placed each ingredient in a separate silicone muffin cup placed in a muffin pan. Yes, this makes it easy to carry to the table, but more importantly it's a cinch to pop the cups out of the pan to put the leftover toppings back into the container to store for next time.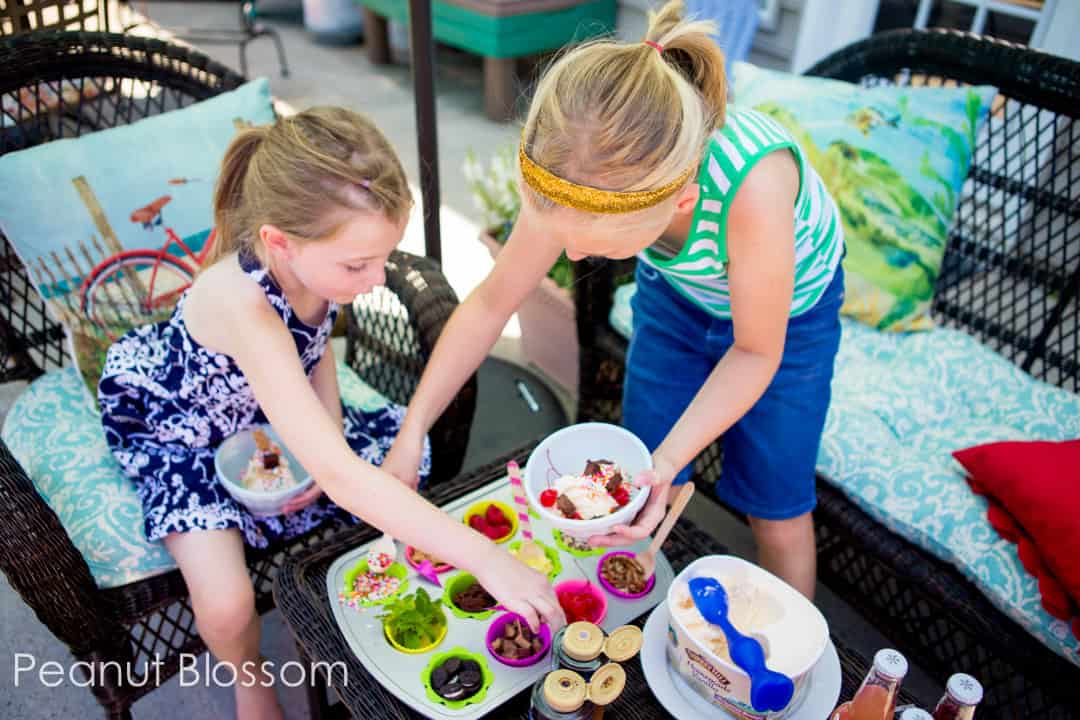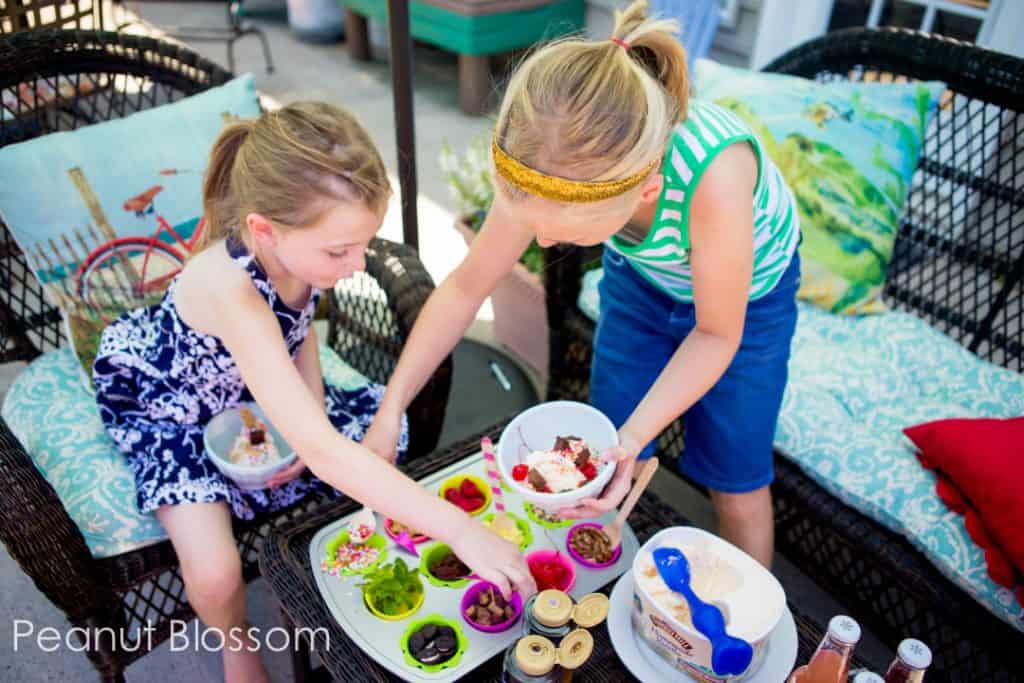 Step 3: Build it
I set the girls to work building their perfect ice cream sundae. I purposely put several cups of fruit and nuts in the tray and minimized the candy options. If left to their own devices, their sundaes would look more like the candy aisle at the grocery store. By selectively filling the tray, I'm encouraging them to try some healthier mix-ins.
For this round, they skipped right over the pineapple, raspberries, pecans, hazelnuts, and cashews for their bowls but when they were done with their treat, they ended up snacking on the fruit and nuts while we sat and chatted. I think next time I'll wean them by filling the cups with even more fruit and less candy.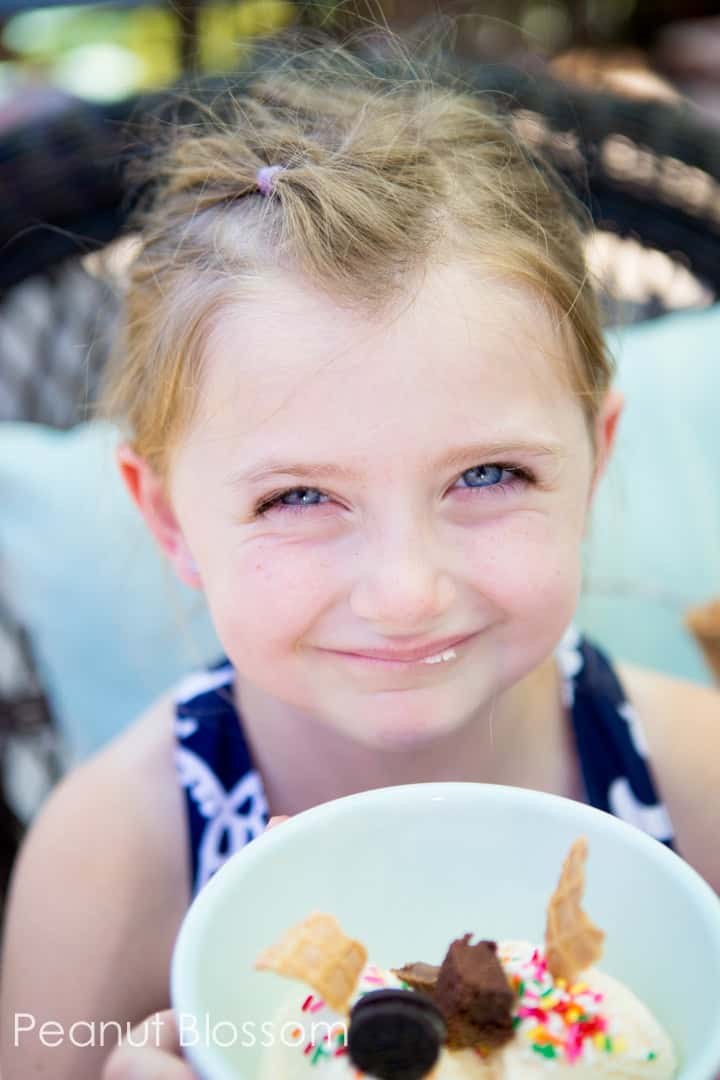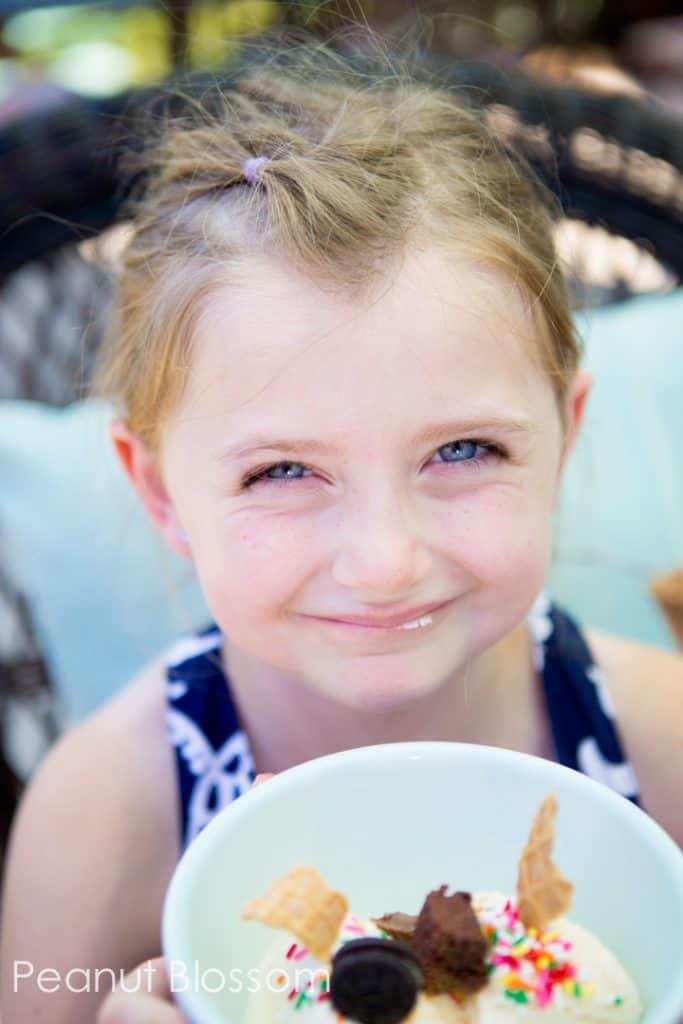 It was so nice just setting out all the mom-approved options and sitting back letting them sprinkle to their hearts' content. Once the cup was empty, that ingredient was gone. Very small portions fit into the muffin cups so it isn't easy to go overboard with their topping.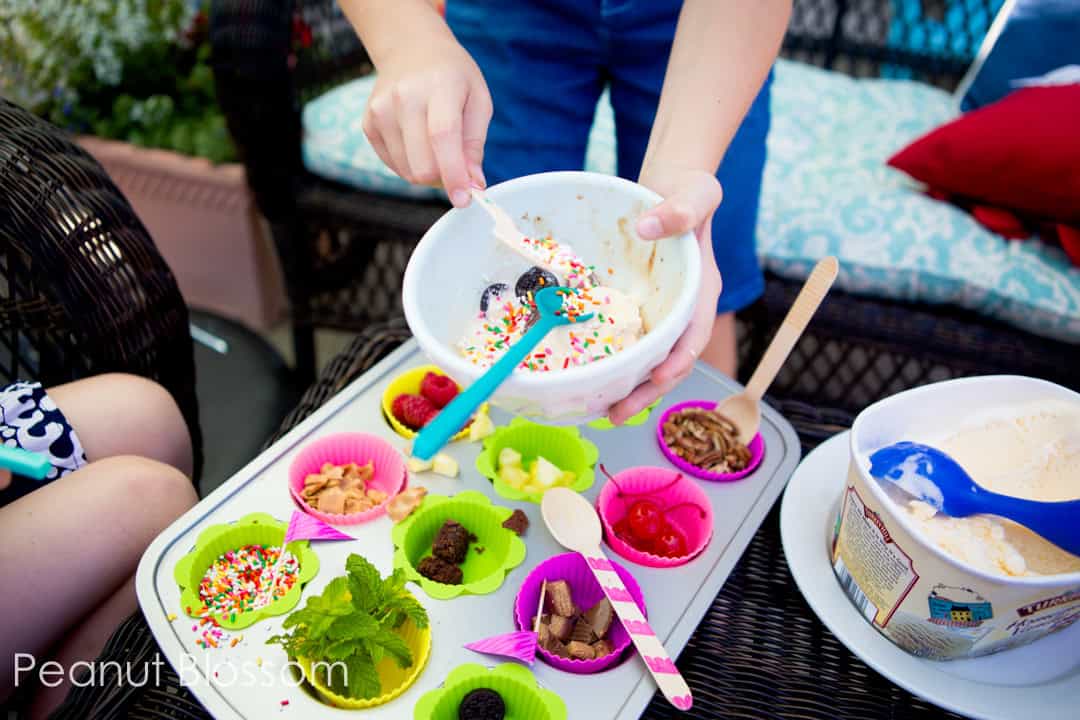 Step 4: Clean up & store for next time!

I put things away in stages. Ice cream went back into the freezer first but we took our time nibbling on the fruit and nuts in the tray. In the process, hands got sticky, faces got messy, and little dribbles fell on dresses.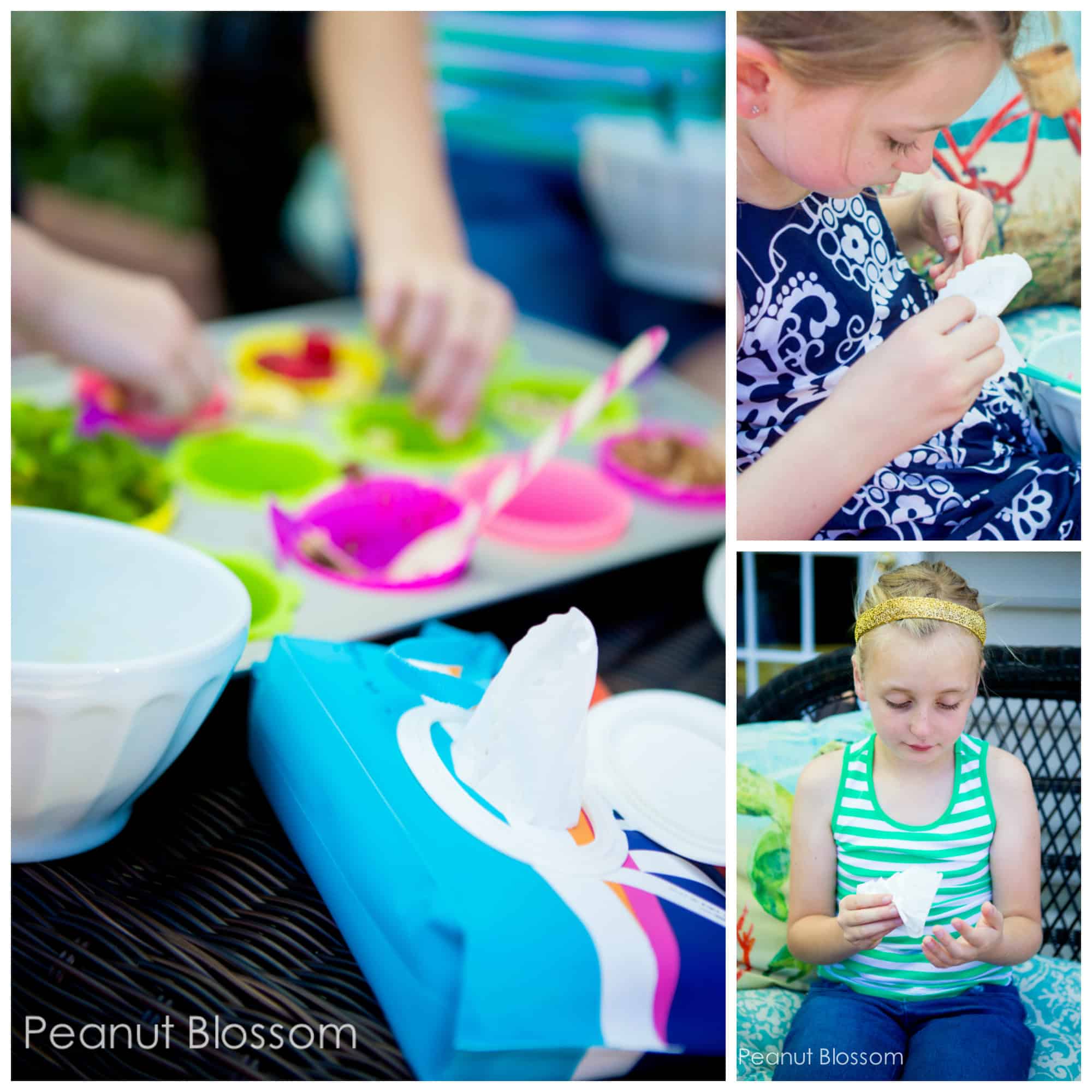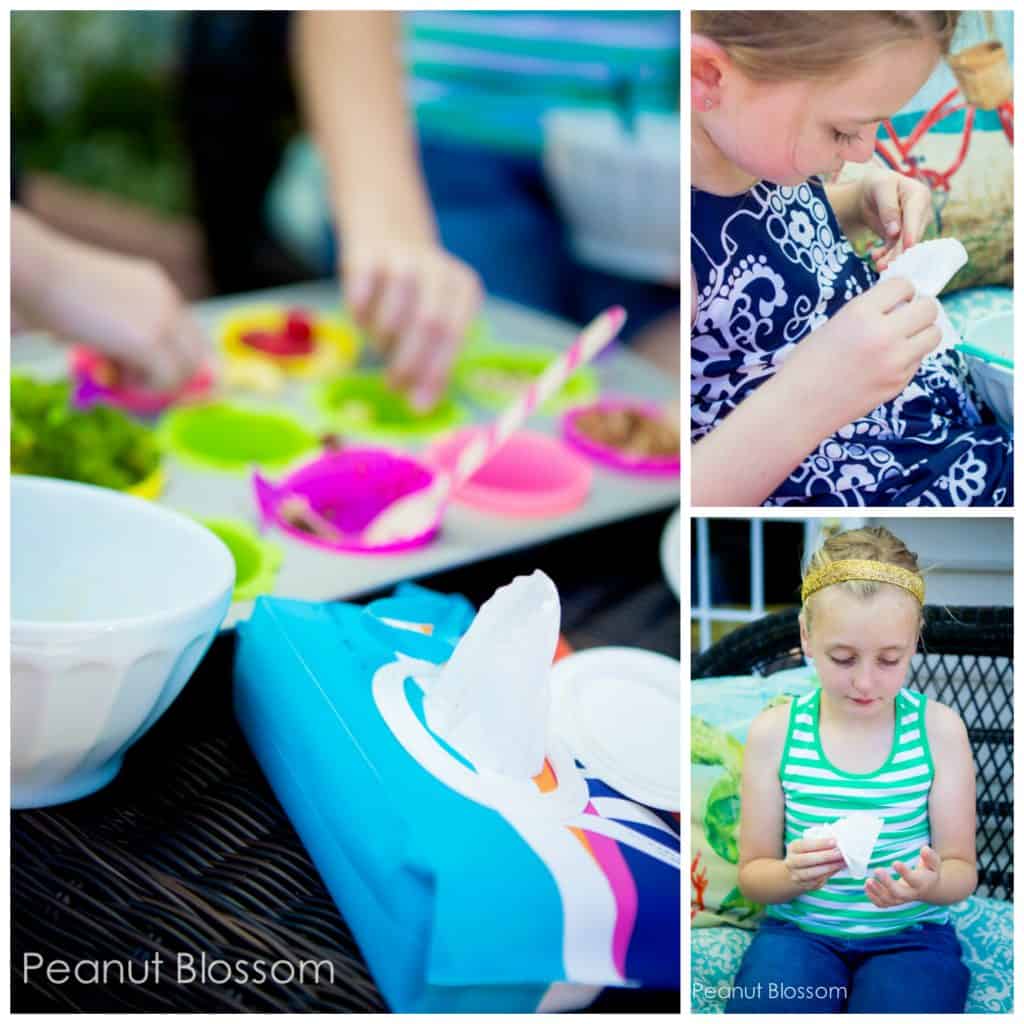 Then I set aside special plastic containers for the other leftover ingredients. I'd never serve our leftovers to guests so I wanted to keep them in a separate "sundae bar stash". The nuts went into their separate pouches, chopped up brownies into the freezer, and sprinkles back into a separate cup. I stored it all together in the same spot in the pantry so the next time the mood strikes, everything will be ready and waiting for us!
Now don't forget to scroll down to see my list of toppings and 20 sundae "recipe" combinations!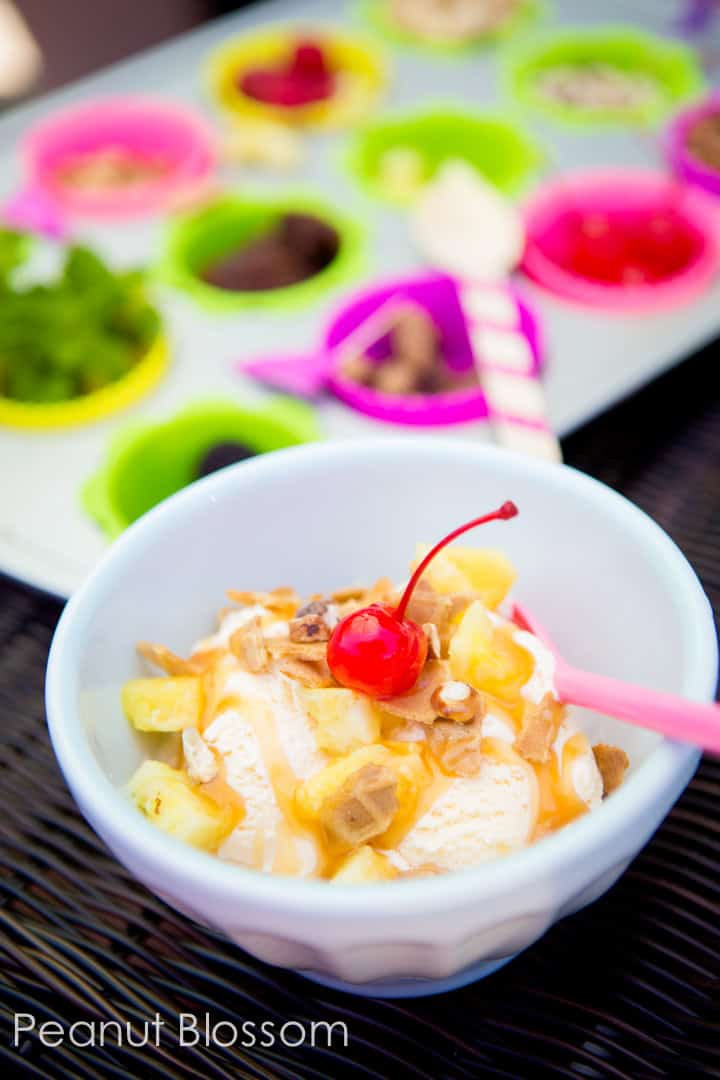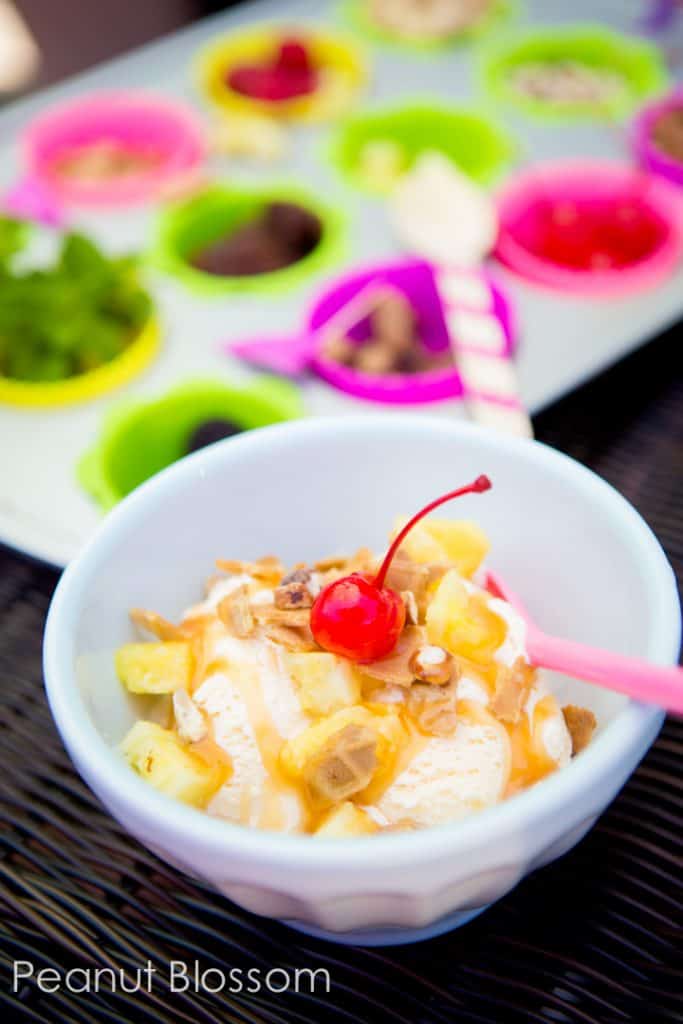 How to build a stash of ice cream sundae bar supplies:
sauces: store in your fridge and heat as desired before using
hot fudge
marshmallow sauce
nuts: store in separate pouches
pistachios
hazelnuts
pecans
cashews
peanuts
slivered almonds
fruits: buy fresh before each sundae party or use canned!
strawberries
pineapple chunks
banana slices
blackberries
sweetened shredded coconut
bakery items: store in air tight plastic pouches or in the freezer! I bought one package of brownies at our grocery store's bakery and plan to use it all summer long from the freezer. You can do the same with cookies, cake chunks, etc.
brownies
pound cake
Mini Oreos
crumbled cone pieces
vanilla wafers
candy bits: I went light on these because I wanted the kids to be more creative
chopped peanut butter cups
chopped dark chocolate bars
garnishes: These all store well in the fridge or pantry except the mint which we grow right on our patio!
cinnamon sugar
whipped cream
maraschino cherries
sprinkles
fresh mint leaves
20 Ice Cream Sundae recipes based on the pantry ingredients above:
Vanilla Ice Cream Base:
Turtle: hot fudge, caramel, salted pecans (my all time favorite!)
Peaches & Cream: peach jam, pound cake, slivered almonds
Cookies & Cream: hot fudge, Oreo
Strawberry Tart: strawberry, pistachios, vanilla wafers
Caramel Cashew: caramel, cashews, crumbled cone pieces
Banana split: marshmallow, bananas, raspberries, blackberries
Upside down pineapple cake: salted caramel, pineapple chunks, pound cake
Churro: salted caramel, pound cake, cinnamon sprinkle
Fruit salad: strawberry sauce, blackberries, pineapple, bananas, coconut, almonds
Southern Belle: peach jam, blackberries, salted pecans, pound cake
Chocolate Ice Cream Base:
S'mores: marshmallow, pecans, crumbled cone pieces
Ballpark: caramel, peanuts, dark chocolate bits
Peanut Butter Bliss: hot fudge, peanut butter cups, peanuts
Chocolate covered strawberry: strawberry sauce, fresh strawberries, chocolate bar, salted pecans
Candy Bar: hot fudge, caramel, pecans, shredded coconut, chocolate bar
Brownie Bliss: marshmallow, brownies, chocolate bar
The Elvis: hot fudge, banana, peanut butter cups
Birthday Cake: hot fudge, pound cake, whipped cream, sprinkles
German Chocolate Cake: hot fudge, walnuts, coconut, brownies
Mudd Pie: hot fudge, Oreos, peanut butter cups, almonds