No bake Butterfinger pie has a tangy cheesecake flavor and a graham cracker crust. It is the perfect spring dessert to bring to Easter brunch. Quick and easy to make and a fun way to use some of everyone's favorite Butterfinger Easter candy!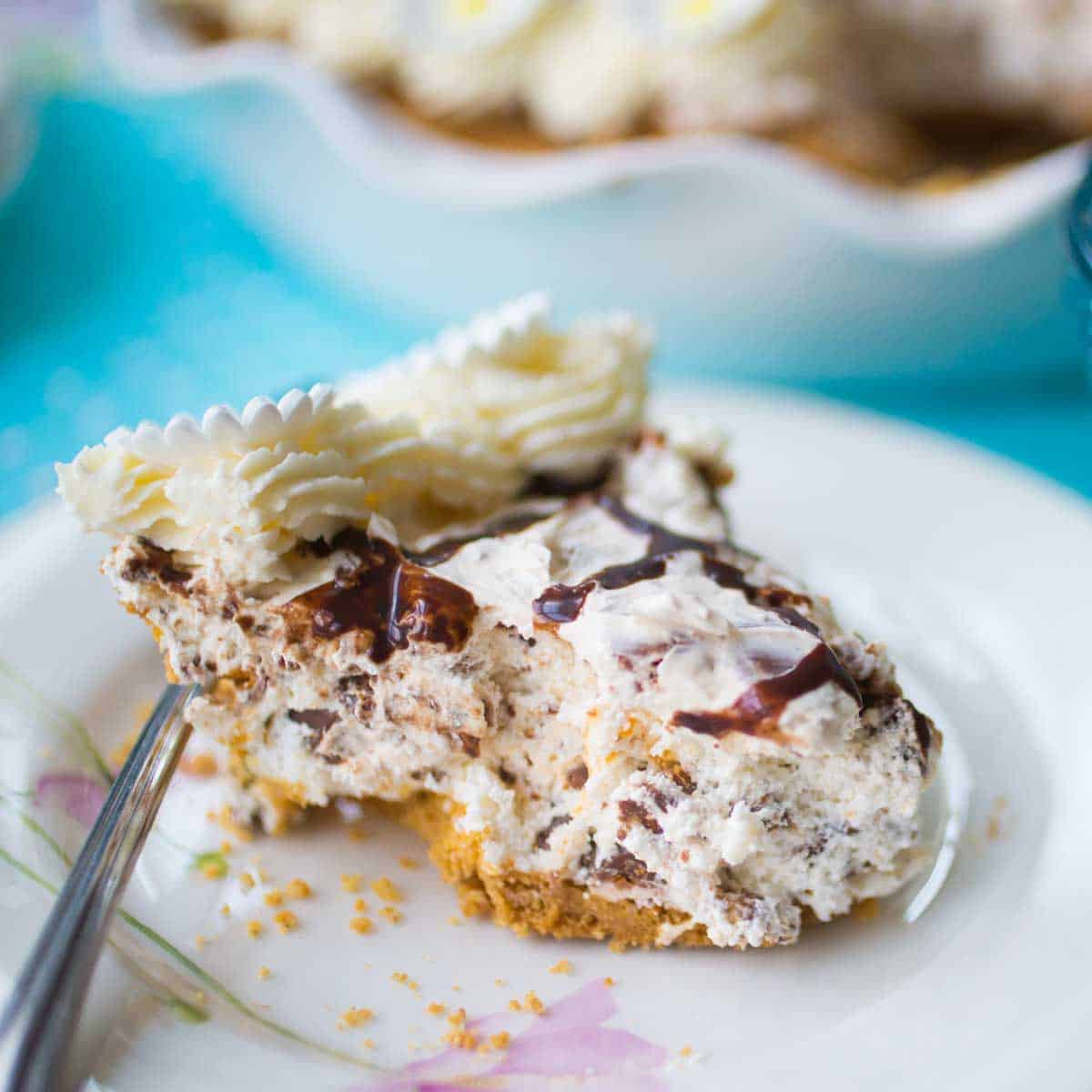 No bake cream pies are such a great Easter dessert because you can make them ahead the day before.
Normally, my go to choice would be my easy lemon torte, but my kids aren't fans of lemon. When it comes to an Easter dessert, all they want is Chocolate Chocolate Chocolate.
I usually shy away from chocolate desserts for Easter since there is enough of that inside of their Easter baskets, but I DO love whipped cream and cheesecake.
So this year I decided to compromise and pulled together a fantastic no-bake Butterfinger cream pie.
This pie is made with a simple graham cracker crust, an easy no bake cheesecake filling and oodles of chopped up Butterfinger candy.
Jump to:
Why This is the Best Recipe
There are so many delicious Easter desserts you could make but I think this is the best Butterfinger pie recipe because:
No Bake: Instant pudding and Cool whip help make the creamy pie filling in a pinch.
Light and Fluffy: The texture of the filling is delicate but has lots of chocolate candy crunch.
Crispy Graham Cracker Crust: The buttery pie crust perfectly accents the creamy filling.
Easy to Decorate: A little chocolate drizzle and a piped whipped cream border are all it takes to finish the pie.
Ingredients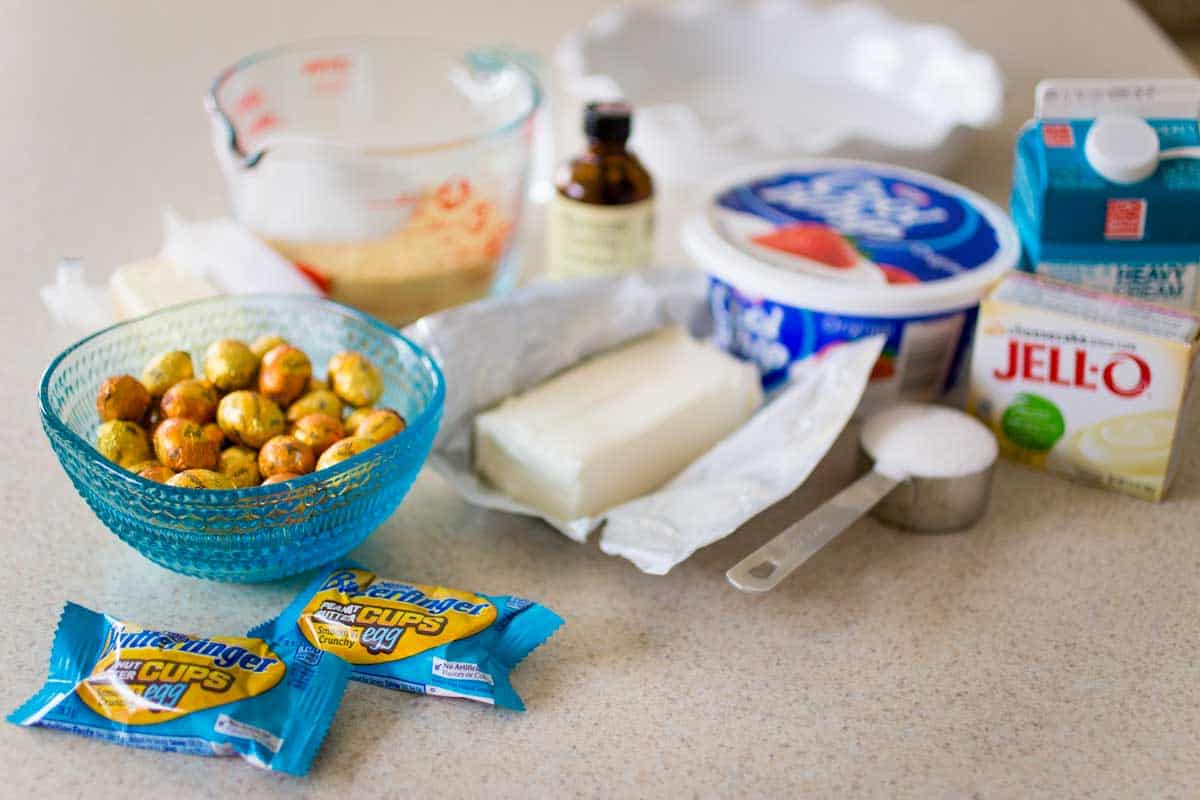 This easy no bake cream pie takes only a few minutes to make and the ingredients are so very easy.
All you need on your shopping list is:
Prepared Graham Cracker Pie Crust: you can buy one from the store or make your own with just graham crackers, sugar, and butter
Cream Cheese
Sugar
Whipped Topping (like Cool Whip)
Vanilla Extract
Butterfinger Egg Candies: Tragedy! This beloved candy has been discontinued. I'm leaving them as an ingredient in case they come back by popular demand. In the meantime, you can substitute 4 Butterfinger candy bars
Optional Extras for Decorating:
To garnish the Butterfinger pie, I used stabilized whip cream, a chocolate drizzle, and candies to form an Easter bunny tail and feet.
You'll need:
Bottle of Chocolate Sauce
Heavy Cream
Box of Cheesecake-Flavored Instant Pudding Mix
Peanut Butter Cup Egg-shaped Candies
Candied Flowers
Make the Graham Cracker Crust
I mixed up a homemade graham cracker crust, but you could easily use a pre-made one from the grocery store too.
Crush the graham crackers until they are fine like sand. Mix them with the sugar and melted butter until evenly dampened.
Press them into the bottom of your pie plate, running them up to form a crust along the sides of the dish like this: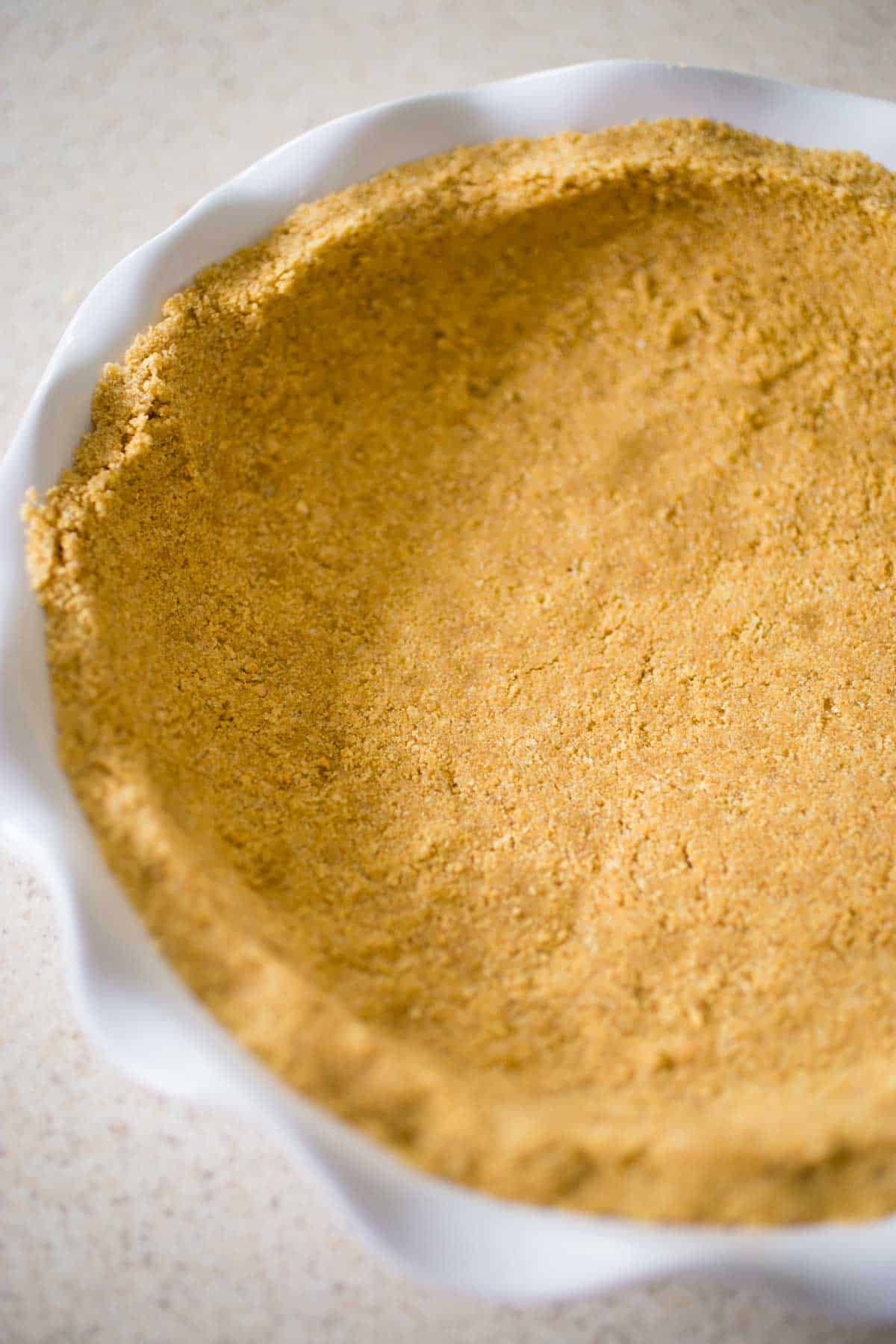 Chop the Butterfinger Candy
I chopped up an entire bag of Butterfinger NestEggs (minus the 3 or 4 that somehow "disappeared" before hitting the cutting board.)
Unless this beloved candy comes back into production, you'll just have to chop up 4 Butterfinger candy bars into smaller pieces.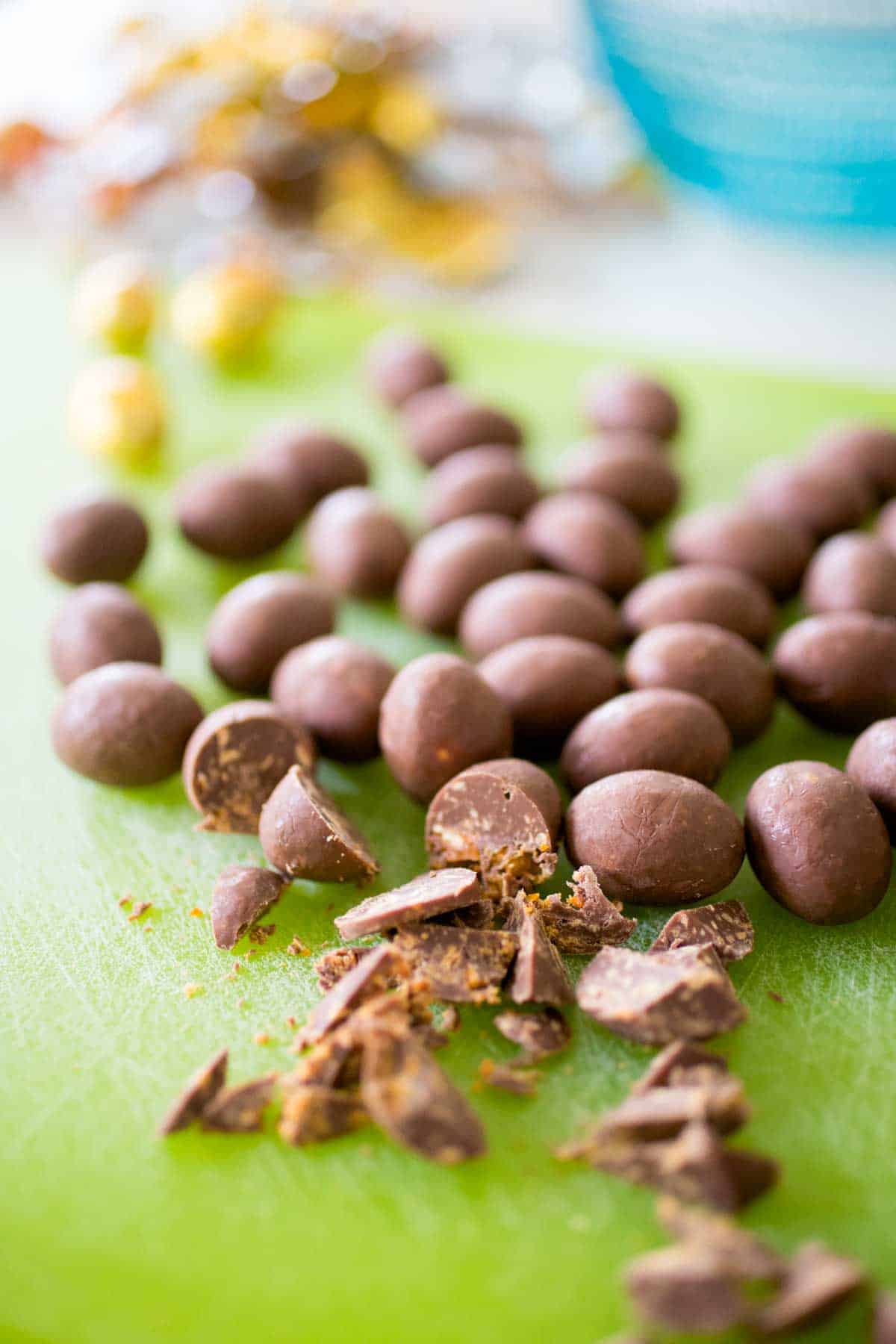 Prepare the No Bake Pie Filling
To keep the dessert from being too rich, I let the Butterfinger candies bring the chocolate and peanut butter and kept the rest of the filling a light vanilla as contrast.
First, in a large mixing bowl beat the softened cream cheese with the sugar until smooth.
Fold in a tub of whipped topping so the pie won't be too dense.
Finally, gently fold in the chopped Butterfinger candies.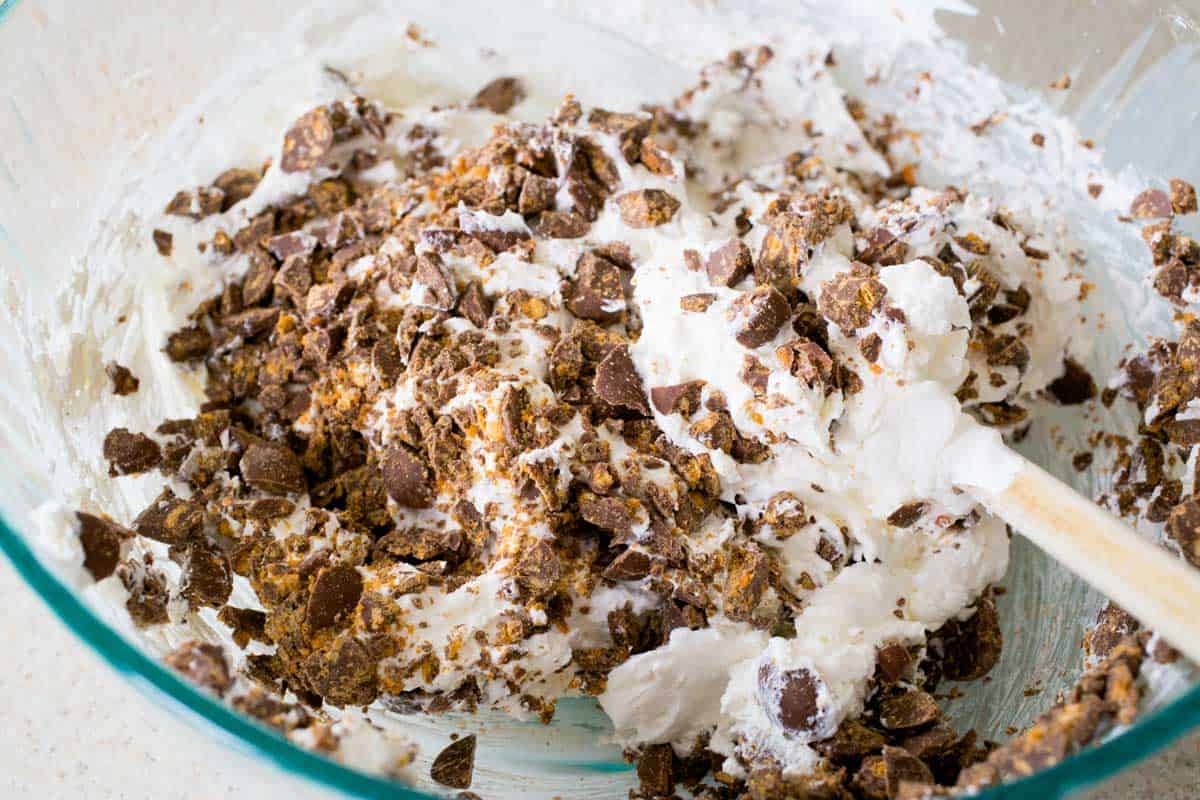 Smooth the Butterfinger pie filling into the prepared graham cracker crust and place in the fridge to chill and set.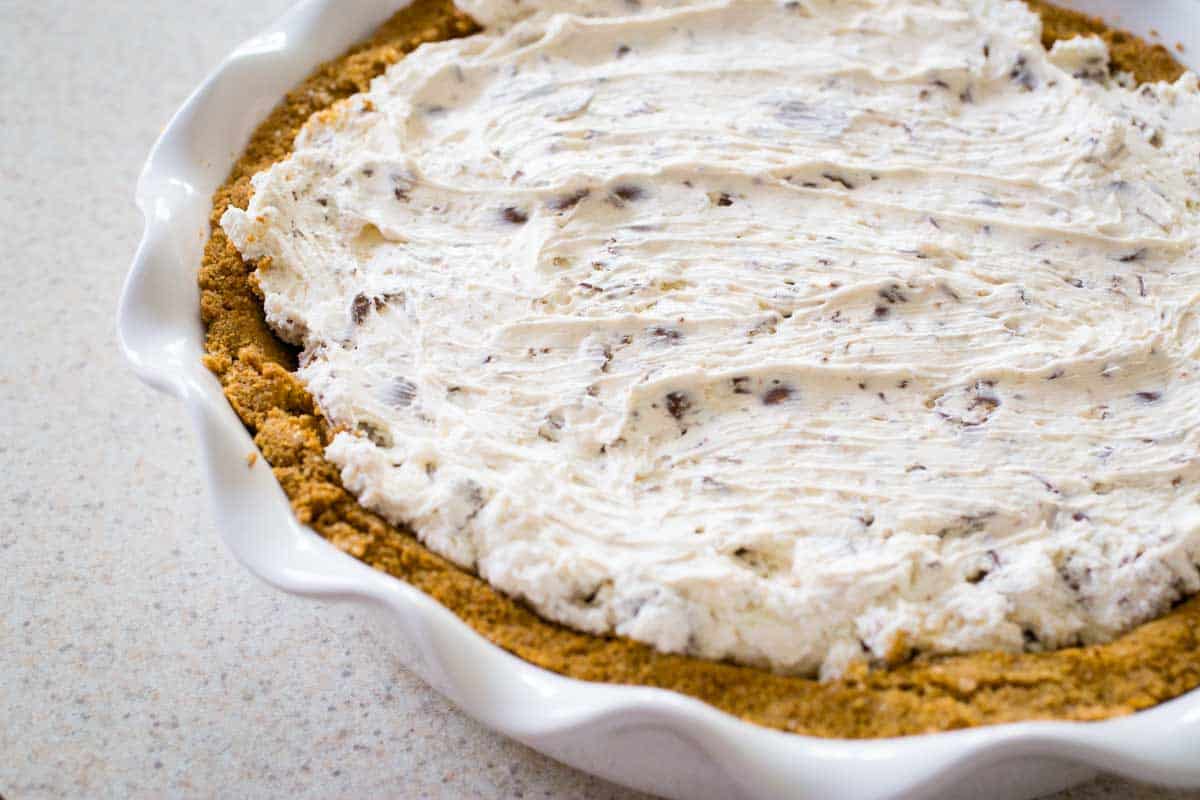 Stabilize the Whipped Cream
When you want to decorate a pie with whipped cream in advance, you need to use a stabilized whipped cream and not just a regular bottle of whipped cream or Cool Whip.
Regular whipped cream will not hold the shape like a stabilized whipped cream will.
Did you know you can mix heavy whipping cream with half a box of instant pudding mix to make a thicker whipped cream that will hold its shape?!
I chose a cheesecake flavor pudding for the white color and complementary flavor for the rest of the pie.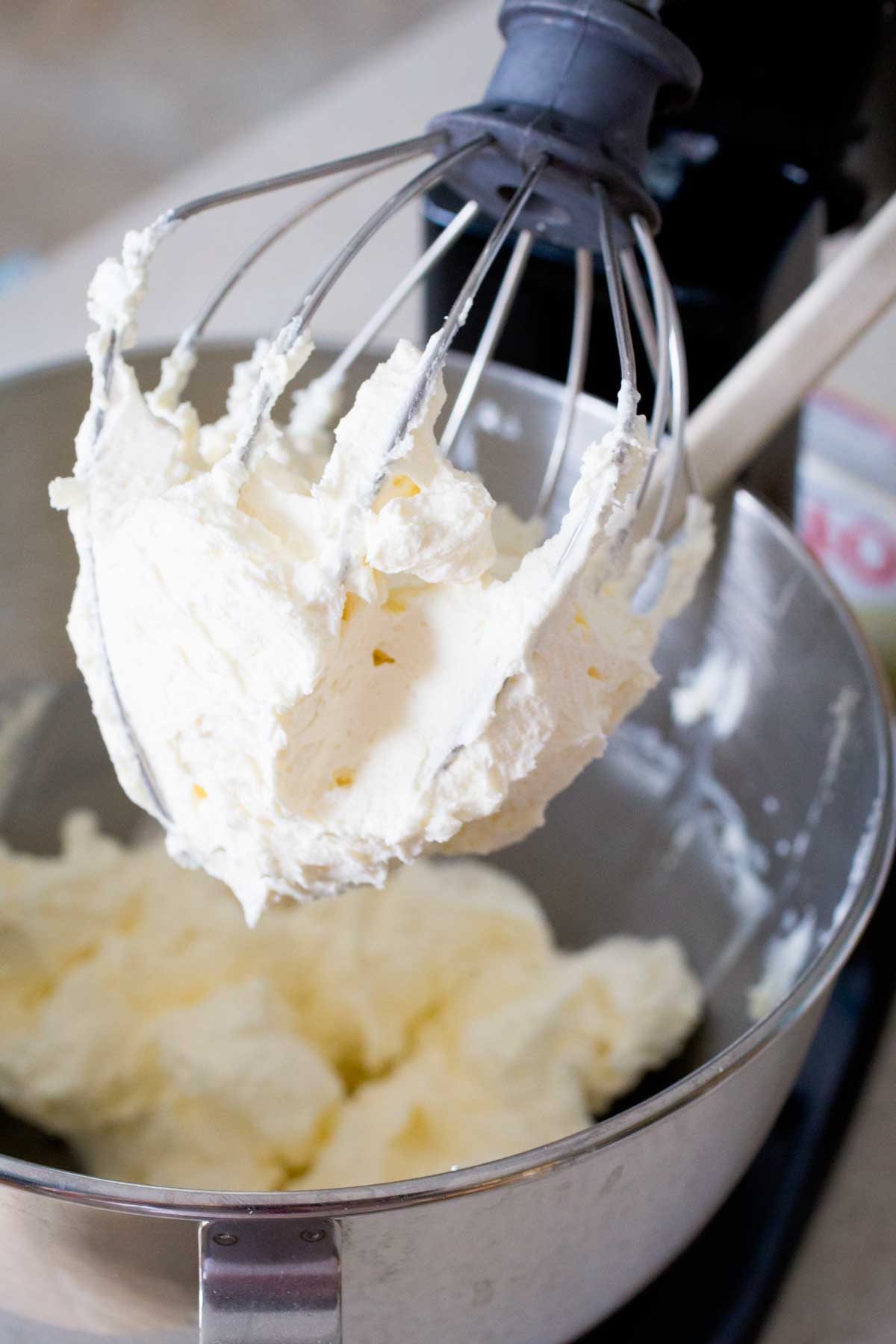 Decorate the Pie for Easter
Since this belongs on our Easter table, I wanted to take the time to really decorate the top with something special.
I decided to use 2 Butterfinger Peanut Butter Cups Eggs on the top as a pair of "bunny feet" and wanted to use whipped cream to make a sweet puffy tail. Unless those candies return to production, you may need to substitute two Reese's Peanut Butter Eggs.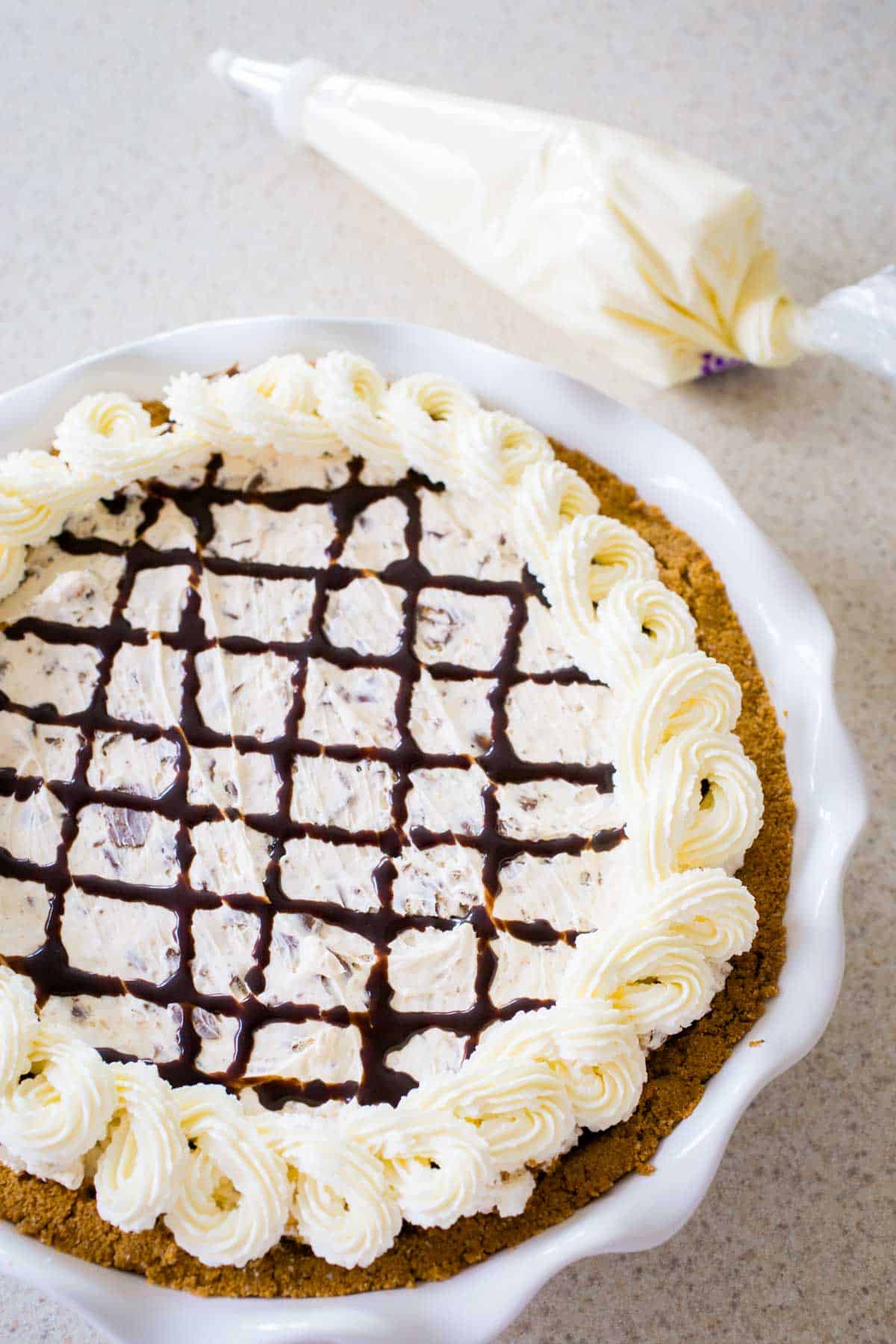 I squeezed a bottled chocolate sauce lattice top over the surface of the pie, spiraled the whipped cream around the edge, dolloped with some daisy candies I found at the grocery store, and added my Butterfinger bunny accent.
Decorating this pretty masterpiece took all of 5 minutes.
The Peanut took one look at it and gasped: "It's SO pretty, don't cut into it yet!"
Make Ahead Tips
The beauty of a no-bake pie like this is that it is meant to be made ahead of time.
You can assemble the pie up to 24 hours in advance and the stabilized whip cream will hold the decoration shape.
Serve chilled!
Serving Suggestions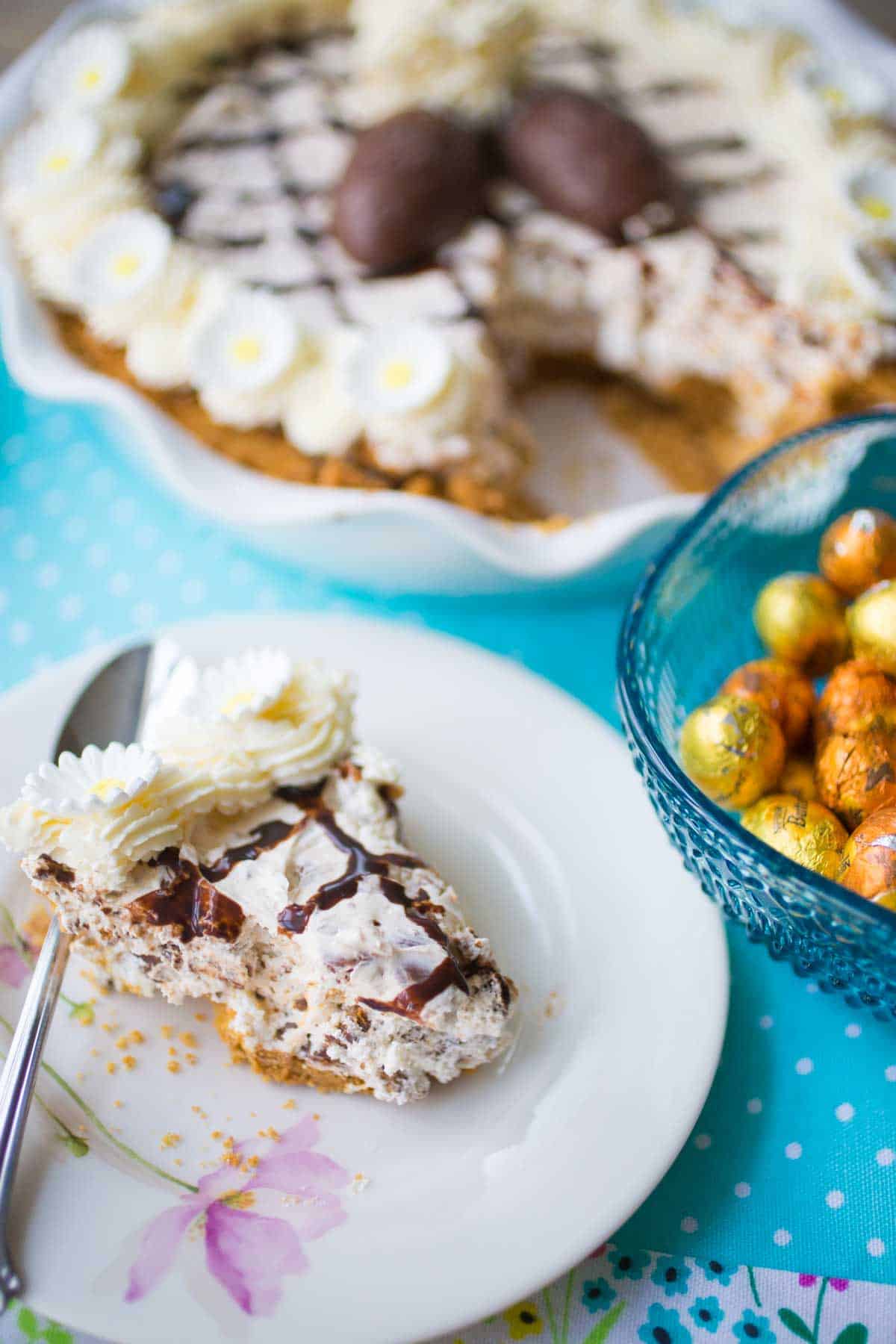 This Butterfinger pie is definitely best served cold. You can have it completely decorated and ready to slice, but store it in the fridge until ready to serve.
For Easter, you could add a few pretty fresh strawberries for garnish if you feel the need, but this was a hit just as is.
📖 Recipe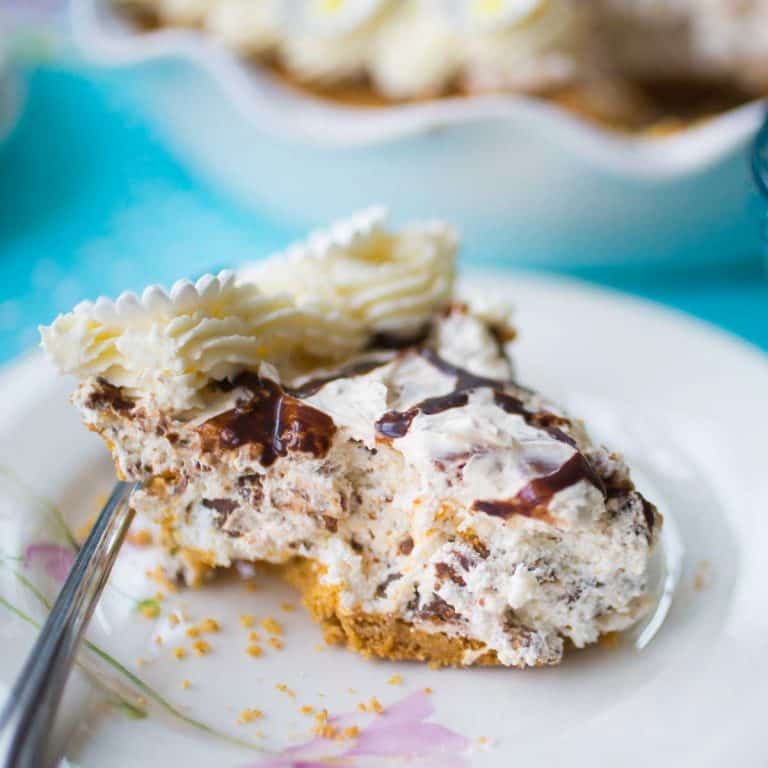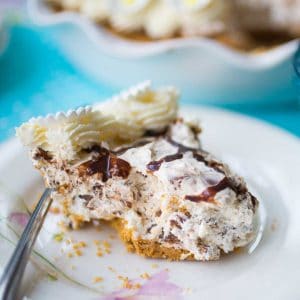 Butterfinger Pie
This deliciously easy no-bake Easter dessert recipe is perfect for making with the kids. Cool and creamy cheesecake filling on a graham cracker crust and oodles of crushed Butterfinger candies.
Ingredients
1

prepared graham cracker crust

(8 oz) brick of cream cheese

softened

¼

sugar

1

tablespoon

vanilla extract

1

tub of whipped topping

Roughly chop 1 package of Butterfinger NestEggs

See Notes
For Garnishing:
1

bottle of chocolate sauce for lattice drizzle

2

cups

heavy whipping cream

½

(3.4 oz) package of cheesecake flavored instant pudding mix

2

Butterfinger Peanut Butter Cups Smooth & Crunchy Eggs

See Notes

1

package of sugar candy flowers
Instructions
In a large bowl, use a hand mixer to beat the softened cream cheese and sugar until light and fluffy. Add the vanilla extract and beat to combine.

Scrape the beater and gently fold in the tub of whipped topping with a large spatula. Gently fold in the chopped Butterfinger candies.

Spread the cream cheese filling evenly into the prepared pie crust.

Pour the 2 cups of whipping cream into the bowl of a stand mixer. Using the whisk attachment, add the ½ box of pudding mix. Whisk on medium-high until stiff peaks form. Transfer the whipped cream into a pastry bag with large tip.

Drizzle a chocolate lattice design over the top. Pipe the whipped cream in a pattern around the edge of the pie.

Place 2 Butterfinger Peanut Butter Cups Smooth & Crunchy Eggs in the middle to be the "Bunny Feet" and pipe a bunny tail with whipped cream. Add candied flowers around the edge.

Chill until ready to serve.
Recipe Notes
Butterfinger Eggs Substitution:
I am so sad to hear that in 2023 Butterfinger discontinued their beloved Butterfinger eggs candy for Easter time. 
If you would still like to make this delicious Butterfinger pie recipe, simply substitute 4 Butterfinger candy bars or 8 oz worth of Butterfinger brand candies.
Save This Recipe to Your Recipe Box
Find this delicious recipe next time you visit by saving it to your very own recipe box on my site. All your favorites stored in one easy place!