Easy cheesecake toppings for a plain cheesecake are a great way to customize your dessert for a party. From fresh fruit toppings like cherry and strawberries to sweet caramel and chocolate cheesecake toppings with salty nuts, all the tips to make a stunning dessert are right here.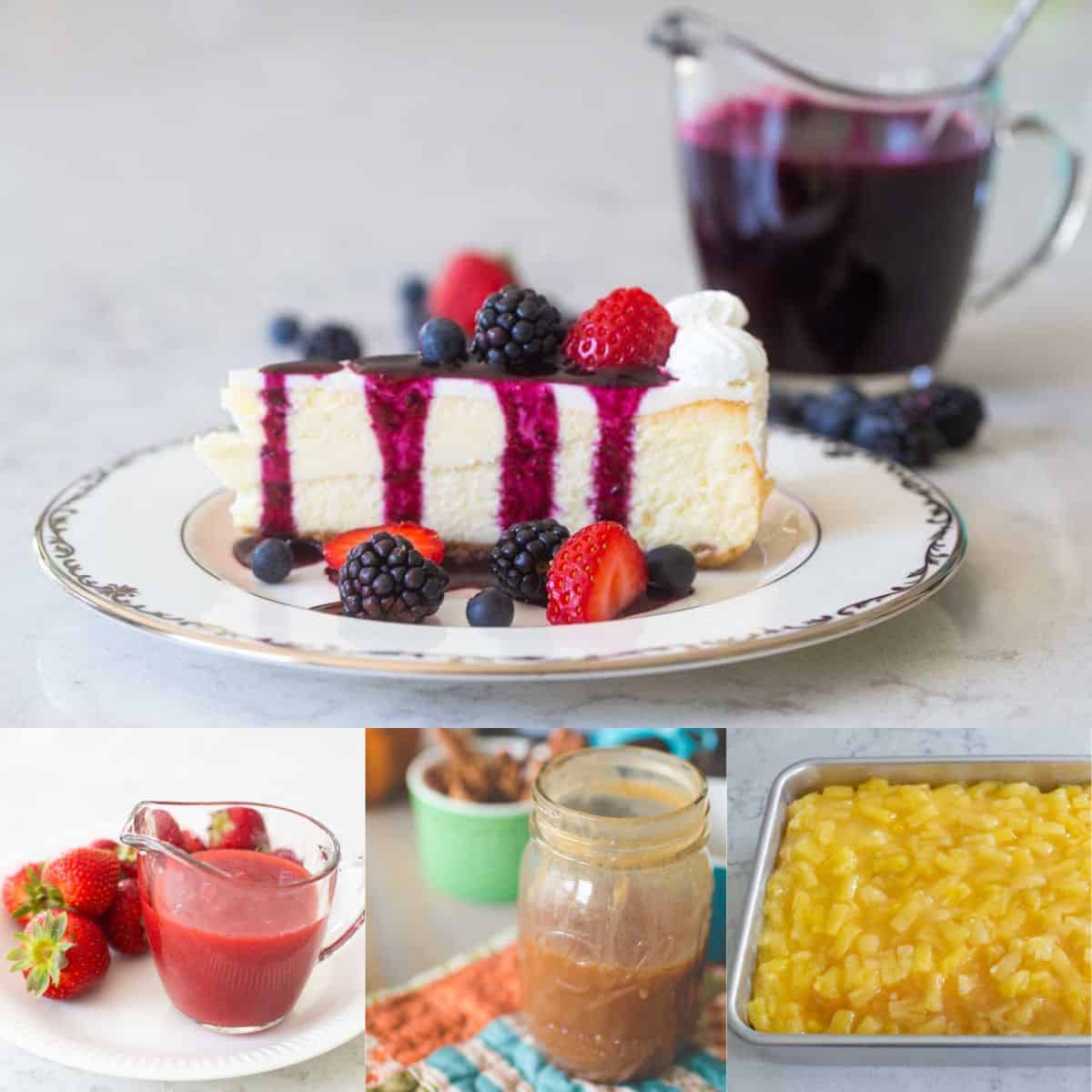 One of the easiest desserts to serve for a party involves grabbing your favorite store bought cheesecake at the grocery store or super store and dressing it up with a fresh cheesecake topping to make it your own.
No matter what kind of cheesecake you buy, adding a fresh made topping over the top or drizzled over each slice is the fastest way to improve the overall flavor and presentation.
Bright colored fresh fruits or sweet and salty toppings like cookies, candies, and nuts, can completely change the cheesecake flavor.
If you're hosting, consider setting up a cheesecake toppings bar and simply let your friends top their own slices!
Jump to:
The Best Store Bought Cheesecake
You can find a plain cheesecake at most grocery and super stores. Sometimes they are in the freezer, sometimes just the refrigerator section.
They're a popular item for exactly this reason: You can turn a plain cheesecake into a variety of desserts just by switching up the cheesecake toppings.
Growing up, my mom always made the Jell-O No Bake Cheesecake and I have a very deep fondness for that treat.
Now as an adult, I personally prefer the Costco plain cheesecake. I've heard amazing things about the Trader Joe's cheesecake and The Cheesecake Factory even has one available at Walmart.
In the end, the best store bought cheesecake is the one you enjoy topped with your favorite custom toppings! Fresh toppings go such a long way in sprucing up a plain cheesecake.
Super Easy Homemade Cheesecake
If you don't want to grab a prepared cheesecake from the store, you could easily make my crescent roll cheesecake in just minutes.
The crispy cinnamon sugar topping pairs well with all the cheesecake toppings listed below.
How to Decorate a Cheesecake
There are three main ways I like to decorate a cheesecake:
Decorate the entire whole cheesecake top with a single topping
Decorate the entire cheesecake top with multiple topping options in sections
Decorate individual slices when serving
For a special holiday or event with a theme, I enjoy doing the whole cheesecake top with one topping.
For a party where you want to offer lots of options, decorating the top with sections of topping options is super fun.
But the easiest way to keep every guest happy is to decorate individual slices and let your friends and family mix and match just what topping they want on their own slice.
If you want to decorate the whole cheesecake, here are some of my favorite styling tricks:
1. Flood the Top of the Cheesecake
Use a thick cheesecake topping like the pineapple filling or lemon curd and spread it evenly over the entire surface of the cheesecake.
Then place it in the fridge to chill and set so it is firm.
Decorate around the perimeter edge of the cheesecake top with dollops of whipped cream. This makes a gorgeous border.
2. Make a Pretty Drizzle
Use thinner cheesecake toppings like the salted caramel sauce to pipe a pretty drizzle pattern over the top of the cake.
Chill and set in the fridge and then decorate the edges with whipped cream dollops.
3. How to Decorate with Nuts
Chopped nuts or whole pecan halves make a beautiful cheesecake topping decoration.
You can press chopped nuts into the outer sides of a cheesecake by hand or sprinkle them in a border around the outer edge of the top.
Consider adding a whole pecan half on each dollop of whipped cream for garnish or you could use the spiced pecans and arrange them in circular patterns over the entire top of the cheesecake.
Make a Cheesecake Toppings Bar
If you're hosting the party in your own home, setting up a cheesecake toppings bar is an awesome dessert idea.
Place the plain cheesecake in the center of the table and then set out a wide variety of options including:
Bowls of Fresh Fruit: Strawberries, blueberries, raspberries, blackberries, kiwi fruit, slices of apple in fall, clementine oranges.
Different Dessert Sauces: See some of my favorites in the list of recipes below.
Crumbled Cookies: Oreos, Nila Wafers, Graham Crackers, etc.
Crumbled Candies: Butterfingers, Snickers, Heath Bars, Reese's Peanut Butter Cups, Mini M&Ms, chocolate chips, etc.
Whipped Cream
Chopped Nuts