Pumpkin spice pecans are an easy spiced pecans recipe to bundle and give as homemade gifts but also make a delicious garnish for Thanksgiving desserts, cheesecakes, and other fall treats.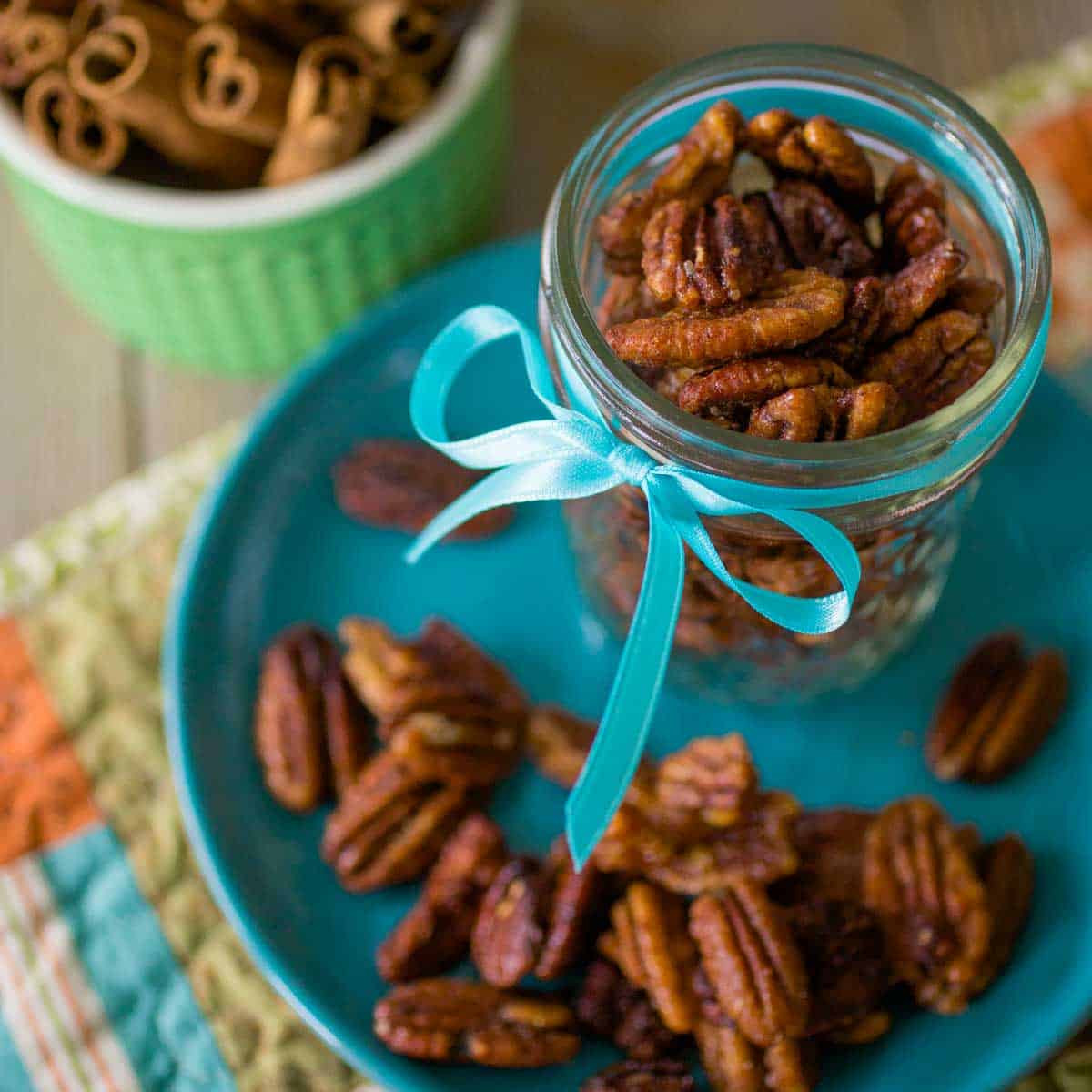 Pumpkin spice is a season, right?
When the world rejoices that the beloved pumpkin spice lattes have returned and the grocery store is overflowing with all things pumpkin, it is time to whip out the recipe for these easy pumpkin spice pecans!
These spiced pecans are super easy to make, last a long time, and are perfect for filling candy dishes during a party or for packaging up as hostess gifts for the holidays.
Make a batch to chop up and sprinkle over Thanksgiving desserts and other fall treats all season long.
Jump to:
Why This is the Best Recipe
I love an easy homemade snack mix for adding to candy bowls at the holidays. I think this is the best pumpkin spice pecans recipe because:
Sweet and Spicy: The pumpkin spice flavor has just a bit of a kick with the dried ginger. It's not a hot spice, but definitely filled with flavor.
Yummy Snack: You can eat the pumpkin spice pecans all by themselves as a delicious snack. I love them with fresh crisp apple slices.
Dessert Topping: Use them whole to garnish a Thanksgiving pie or cheesecake or chop them up to add a bit of crunch to any fall dessert.
Ingredients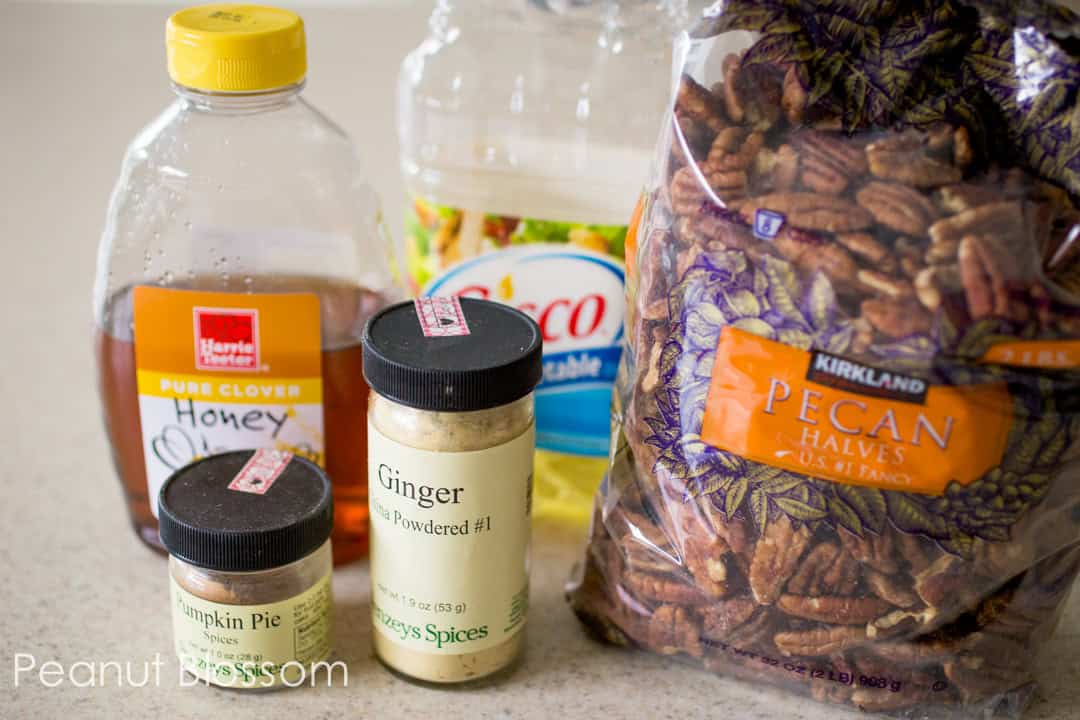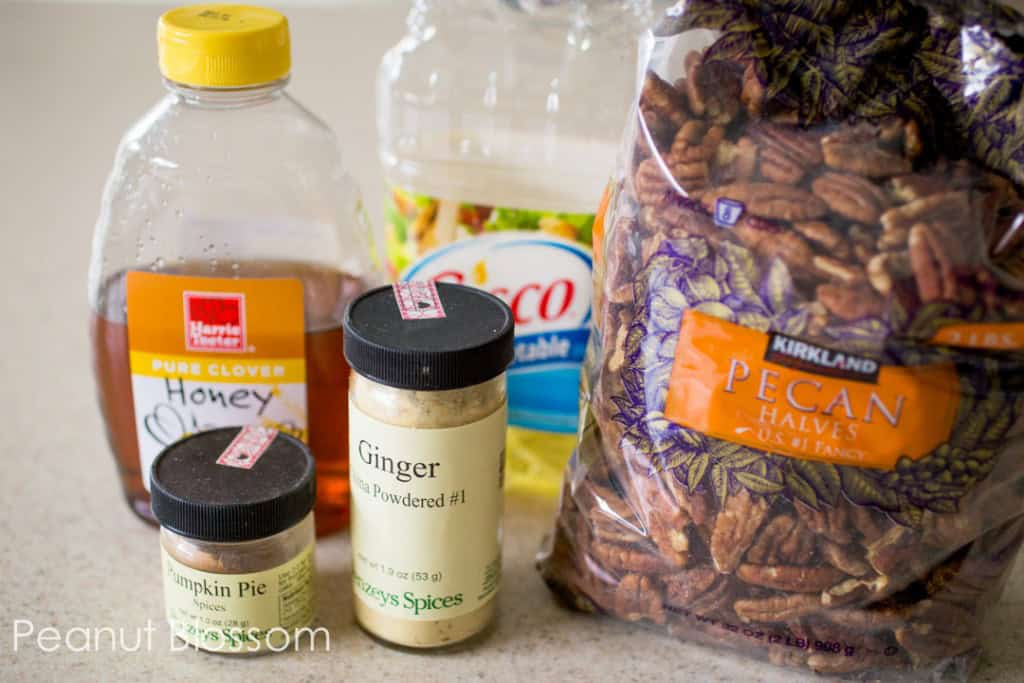 This easy recipe only requires a few key ingredients:
Pecans: I use whole pecan halves, you can buy them cheaper in bulk at a place like Costco
Honey
Sugar
Canola Oil
Pumpkin Pie Spice: there's no pumpkin flavoring in pumpkin pie spice. You are only adding a pre-mixed blend of cinnamon, ginger, nutmeg, cloves, and allspice.
Ground Ginger: Yes, this is in the pumpkin pie spice but by adding more you boost the ginger flavor.
Cinnamon: Same as the ginger, yes this is in the pumpkin pie spice but you are boosting the cinnamon flavor.
Salt
Prepare the Pecans
Set out a large baking sheet.
Combine the sugar, pumpkin pie spice, salt, and ginger in a small bowl.
You will be tossing the pecans in the sauce directly in the pot where you prepare the sauce. Choose one large enough to have room to stir the pecans.
In the pot, bring the water, honey, and oil to a boil.
Add the pecans and cook while stirring until all the liquid has been absorbed.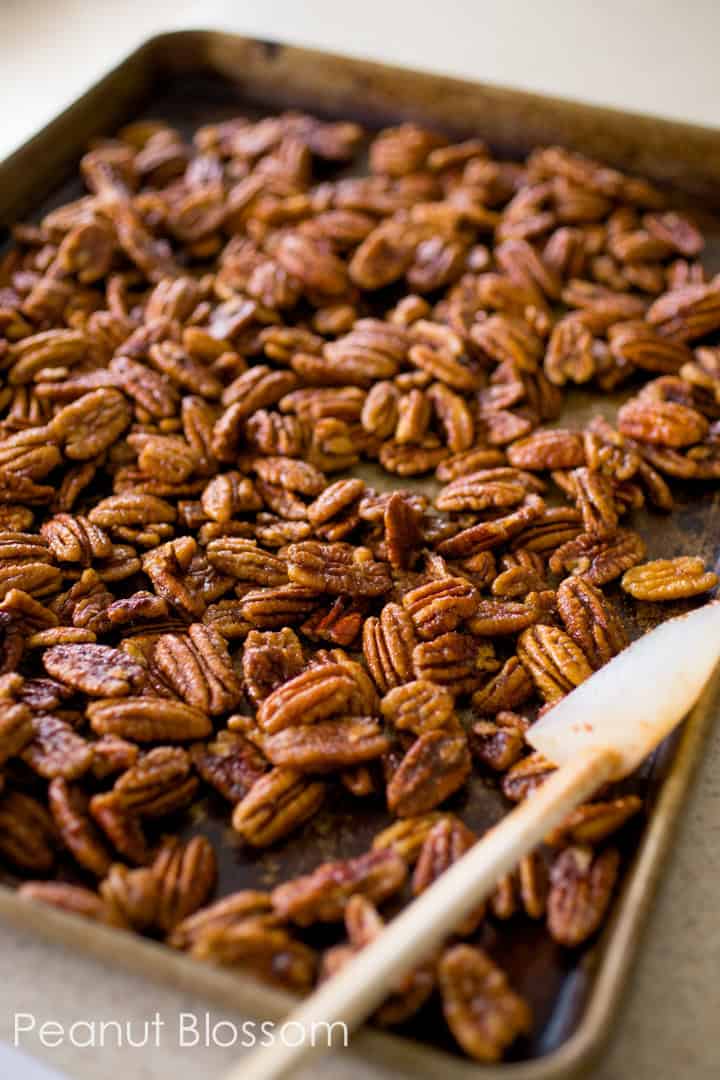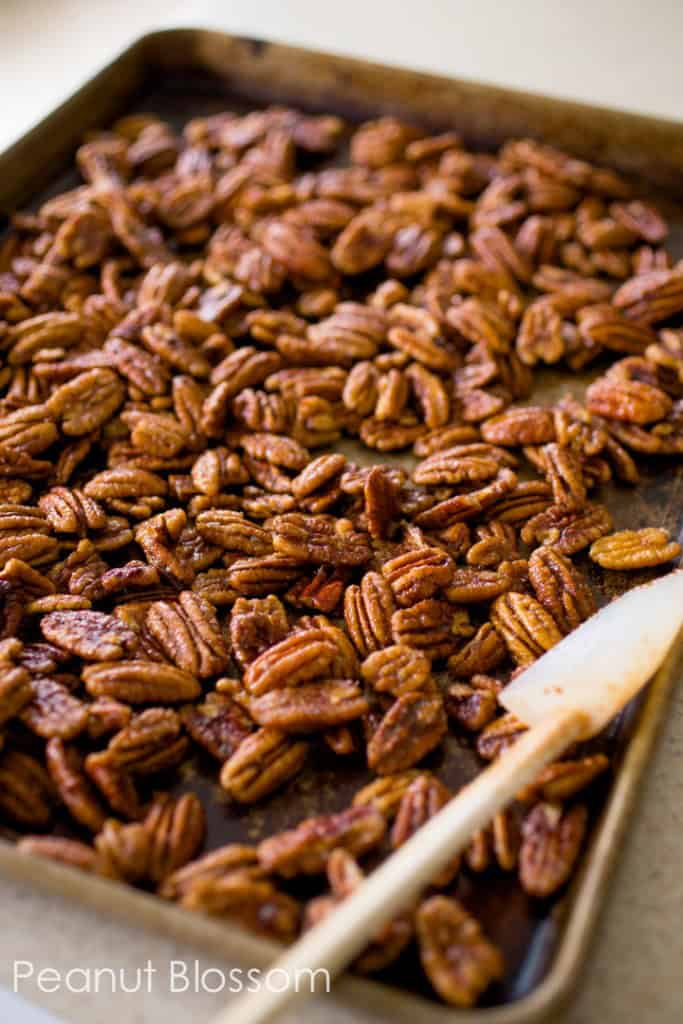 Transfer the pecans to the prepared baking sheet and spread into a single layer.
Sprinkle the pecans with cinnamon.
Baking Instructions
Preheat the oven to 325°F.
Bake the pecans for 15 - 20 minutes or until they are lightly browned.
Stir the pecans every 5 minutes or so to ensure they don't burn.
Storage Tips
Let the pumpkin spice pecans cool completely before you package them up.
Store them in an airtight container for up to 2 weeks.
You can freeze the spiced pecans in an airtight container or bag for up to 3 months.
How to Use Pumpkin Spice Pecans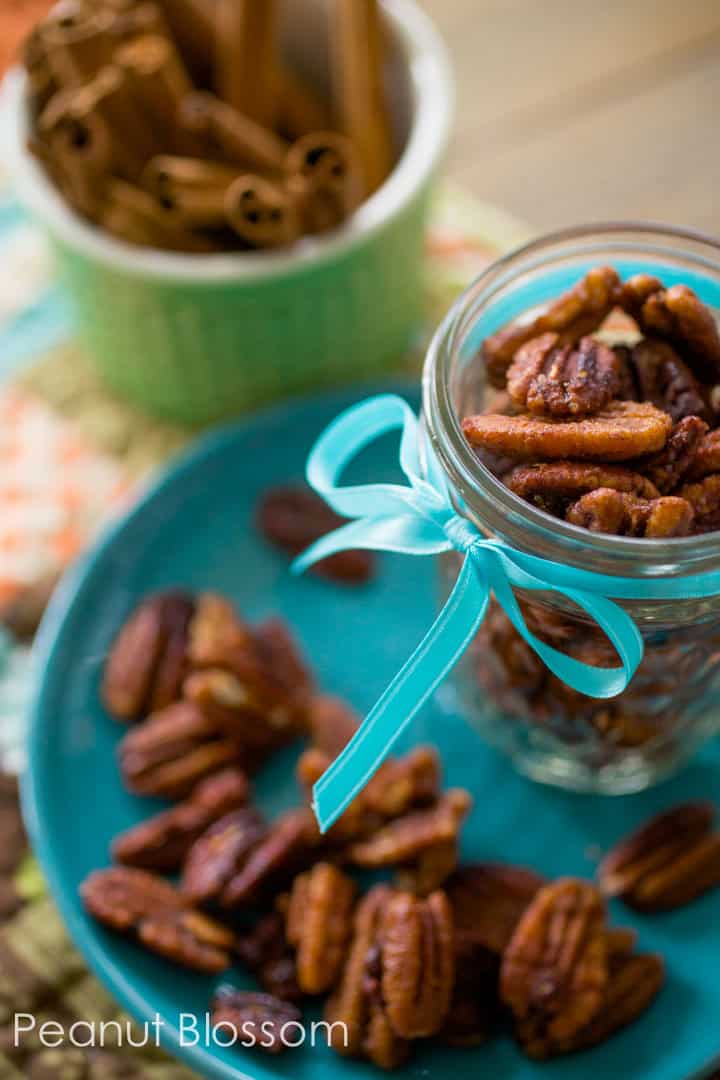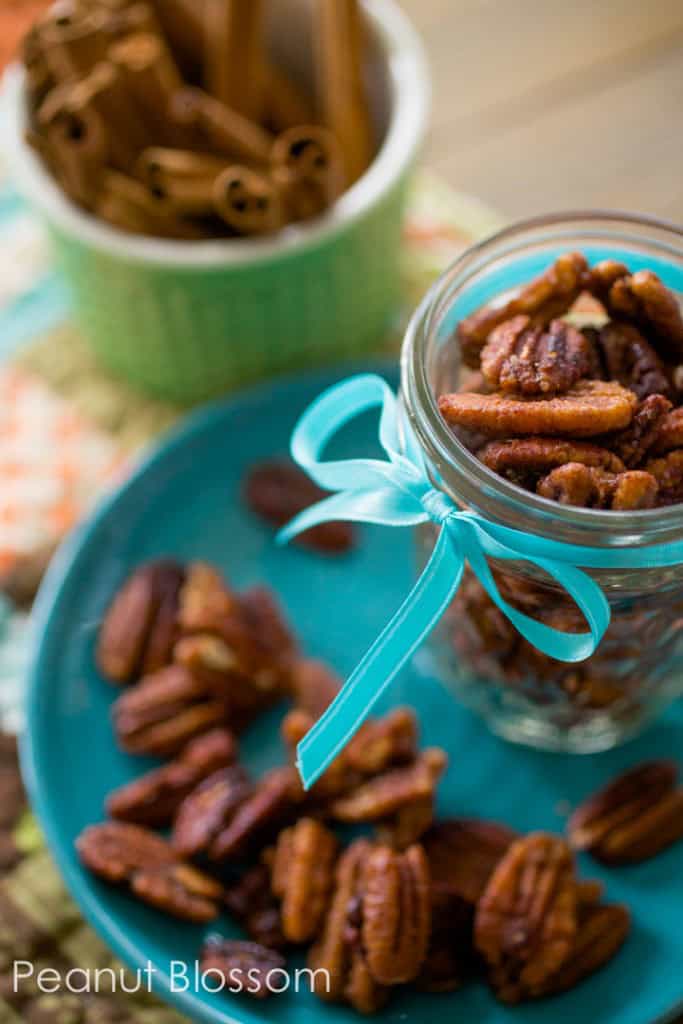 There are so many ways to enjoy pumpkin spice pecans:
Snack Bowl Filler: Add pretty bowls of the spiced pecans to your holiday buffet table or cocktail party drink station.
Healthy Fall Snack: Enjoy a few pumpkin spice pecans with fresh slices of crisp juicy apples.
Fall Salad Topper: Add a few chopped spiced pecans to my apple pear salad.
Cheesecake Topping: Press whole pecans as garnish or chop them and sprinkle over a store bought cheesecake for a crunchy cheesecake topping or to add crunch to my crescent roll cheesecake bars.
Homemade Gift: Add one of the easiest ways to use them of all, simply package them in a pretty jar with a bow for a sweet homemade gift at the holidays.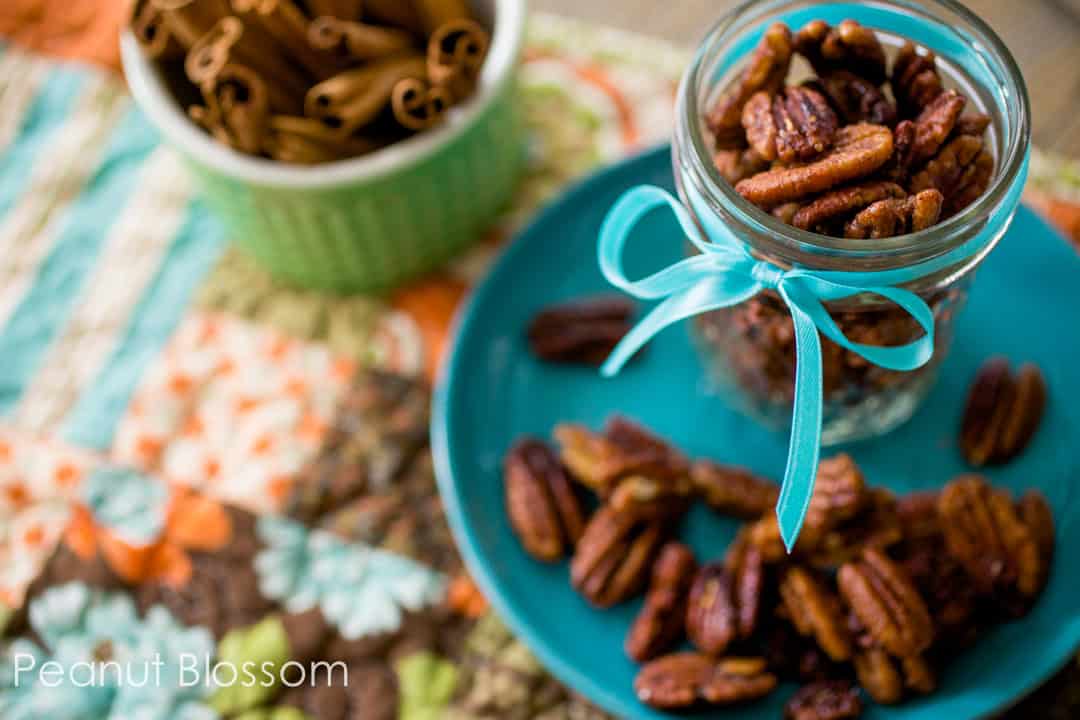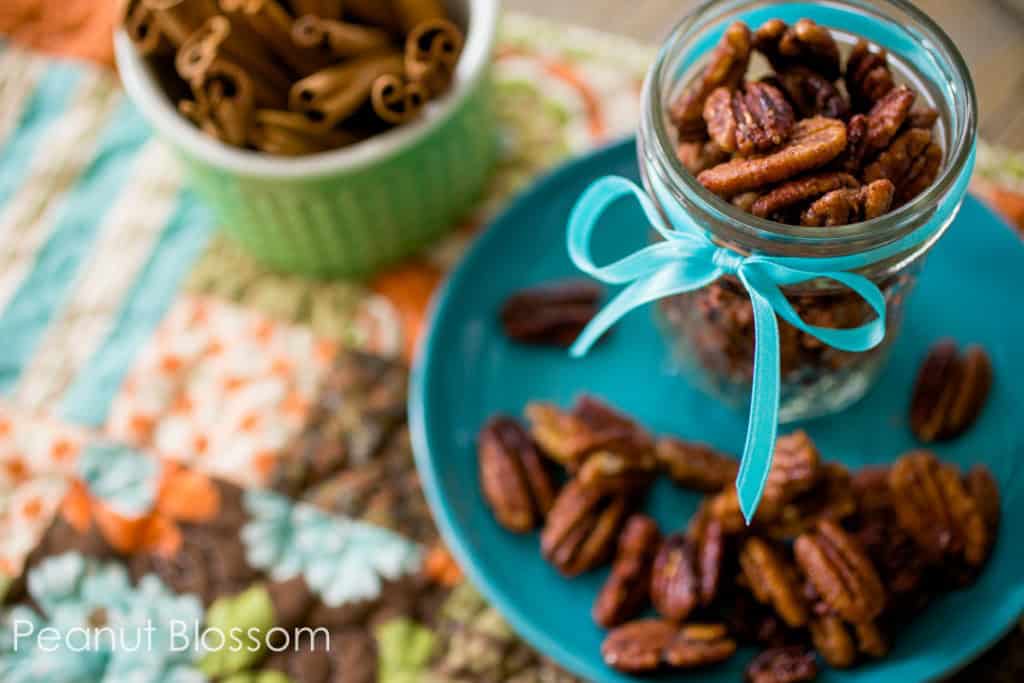 📖 Recipe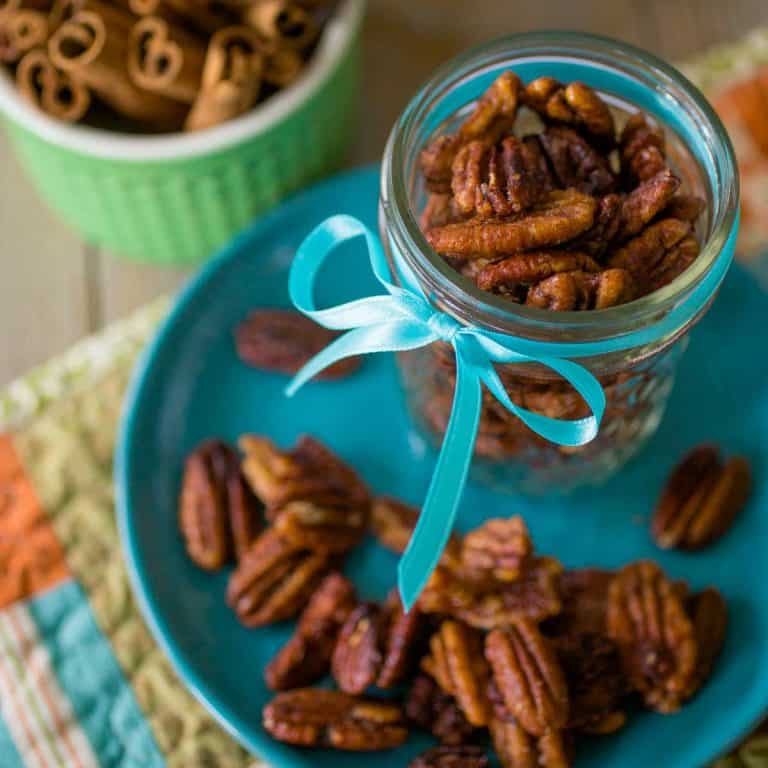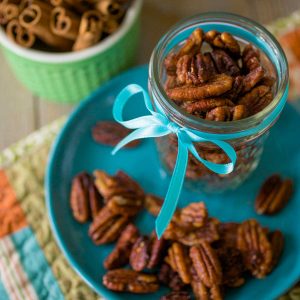 Pumpkin Spice Pecans
Easy pumpkin spiced pecans make a delicious snack mix to set out at a party or for bundling up as an easy homemade gift at the holidays. Chop them up and use them for garnish over cheesecakes and other fall desserts.
Ingredients
2

tablespoon

sugar

1

teaspoon

pumpkin pie spice

½

teaspoon

salt

½

teaspoon

ground ginger

2

tablespoon

water

2

tablespoon

honey

2

teaspoon

canola oil

5

cups

pecan halves

heavy sprinkle of cinnamon sugar or just cinnamon
Instructions
Preheat the oven to 325°F.

In a small bowl, combine the sugar, pie spice, salt and ginger; set aside.

In a large pot, bring the water, honey, and oil to a boil which will happen pretty quickly. Add the pecans and cook while stirring until all liquid is absorbed--about 1-3 minutes.

Immediately sprinkle the reserved sugar mixture and toss to coat.

Transfer the pecans to an ungreased baking sheet and spread into a single layer. Sprinkle with the cinnamon to taste. Bake for 15-20 minutes or until browned, stirring twice.

Cool completely before storing in an airtight container.
Save This Recipe to Your Recipe Box
Find this delicious recipe next time you visit by saving it to your very own recipe box on my site. All your favorites stored in one easy place!