Sweet Chex Mix is a huge hit with families, take a batch on your next road trip or camping trip.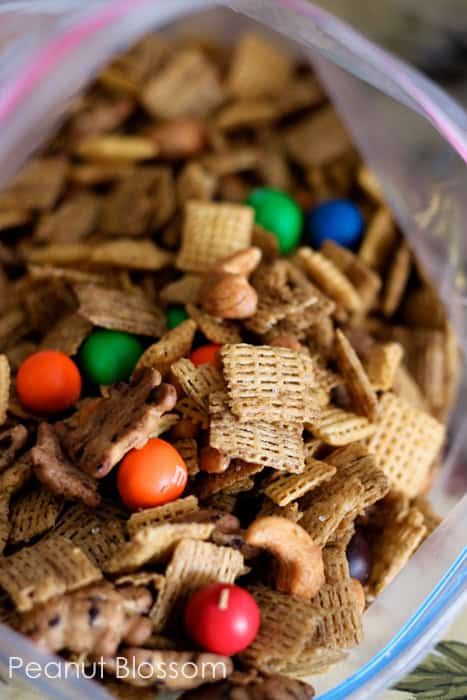 What kind of road trip snacks do you like to bring on the go with your family? For us, it is essential that we have a mix of both salty and sweet munchies for the trip.
When I don't want the kids to overdose on gas station candy, I prep a batch of sweet Chex mix with just the right combo of protein-packed nuts and sweet surprises like peanut M&Ms.
My friend Renee's Grandma has a family-favorite Chex Mix recipe they love to make. She was sweet enough to share it with me right before one of our first big road trips with my tiny girls. Before then, the only Chex Mixes I had ever tried were the traditional savory recipe that comes on the box.
Since then, we've experimented with tons of Chex Mix recipes, but this classic remains a top favorite. When we first made it, I spent the next 5 days eating it for breakfast, lunch, and dinner.
Don't miss our other favorite Chex Mix recipes:
Baking with cereal is such an easy and affordable way to make a special treat for your family. Chex is one of our favorites, but don't miss the Cheerio's bars I'm including, too.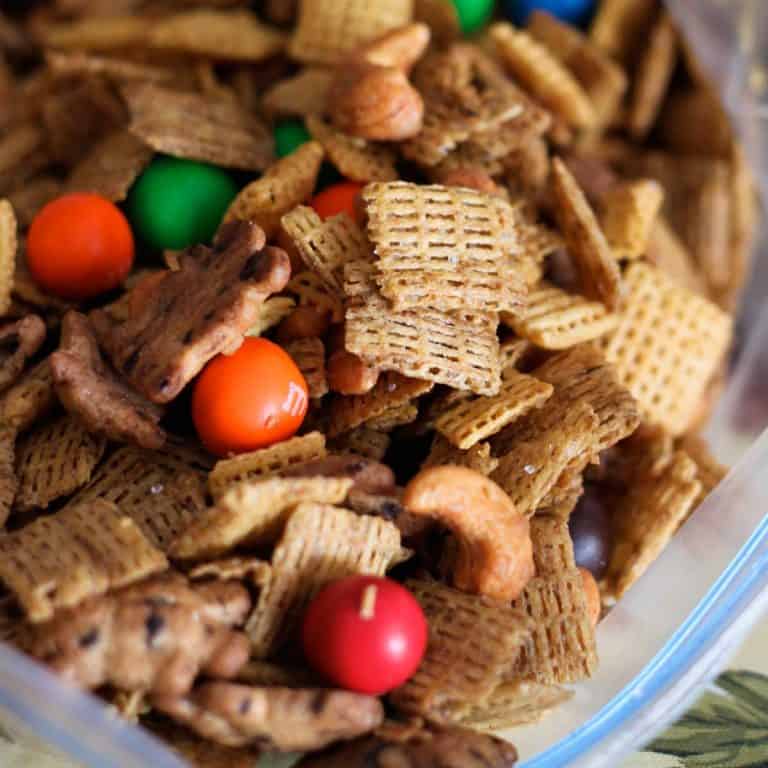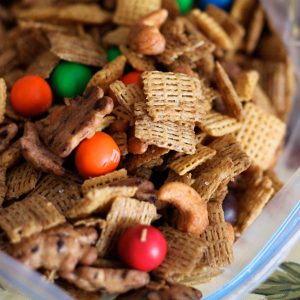 Sweet Chex Mix
This classic Peanut Blossom recipe is originally adapted from my friend Renee's Grandma's Top Secret Salty Chex Mix.
Ingredients
1

(12 oz) box Honey Nut Chex

1

(12 oz) box Cinnamon Chex

1

(10 oz) box of Teddy Grahams

your flavor of choice or combination (I used chocolate chip.)

Broken cinnamon/sugar pita chips or cinnamon raisin bagel chips

I was in a rush and couldn't find these but am convinced they would be the PERFECT addition to the mix.

Honey roasted nuts or regular nuts

I found cashews, yum!

Pretzels

M&M's

I combined these 2 ingredients by using Pretzel M&M's. Have you tried them? Great!

1

cup

(2 sticks) of butter

1

tablespoon

sugar

¼

cup

honey

1

teaspoon

cinnamon

Generous sprinkle of nutmeg
Instructions
Mix cereal, Teddy Grahams, broken chips, nuts and pretzels in a large roasting pan. 

Melt butter, honey, cinnamon, sugar and nutmeg.  Pour over mix.  Stir well, but gently. 

Bake for 2 hours, stirring every 20 minutes.

Cool completely in single layers on cookie sheets. 

Stir in the M&M's before storing in airtight containers.
Save This Recipe to Your Recipe Box
Find this delicious recipe next time you visit by saving it to your very own recipe box on my site. All your favorites stored in one easy place!