Since it was such a last-minute decision to do our big roadtrip last week, I had 1 day to plan and 1 day to execute any kind of cooking/baking/packing/washing that was needed before we left. Under such pressure, what is a girl to do but to call on her favorite foodie friends for advice on what to make!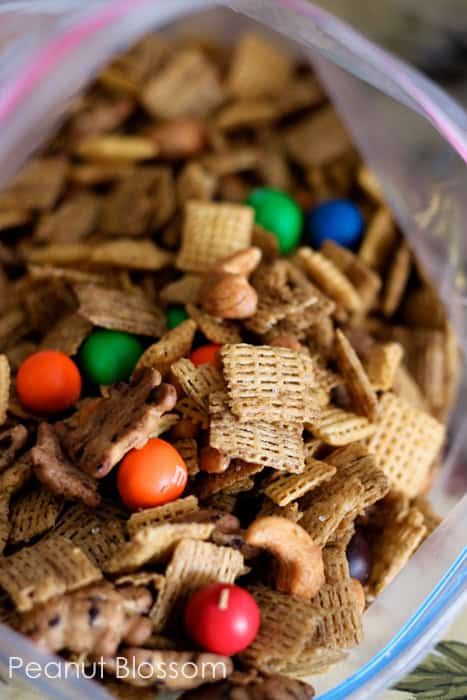 My friend Renee came through and totally saved the day with a Chex Mix recipe she invented all on her very own. A strict recipe-follower such as myself cannot help but be extremely impressed with her creativity. I've had the traditional Chex Mix served at many football and holiday gatherings and I do love the salty/spiciness of it. Renee's mix, on the other hand, is sweet and sounded so different I just had to try it!
I spent the next 5 days eating it for breakfast, lunch, and dinner. The peanut and Handyman Tim just picked out their favorite bits, but I'm smitten with the whole darn thing. Renee kindly allowed me to share this top-secretish recipe with you despite the protests from her husband.
Thanks, Renee!!
________________________________
Renee's Top Secret Sweet Chex Mix
adapted from Renee's Grandma's Top Secret Salty Chex Mix
Ingredients:
1 box Honey Nut Chex
1 box Cinnamon Chex (I had to substitute Cinnamon Life cereal.)
1 box of Teddy Grahams, flavor of choice or combination (I used chocolate chip.)
Broken cinnamon/sugar pita chips or cinnamon raisin bagel chips (I was in a rush and couldn't find these but am convinced they would be the PERFECT addition to the mix.)
Honey roasted nuts or regular nuts (I found cashews, yum!)
Pretzels
M&M's (I combined these 2 ingredients by using Pretzel M&M's. Have you tried them? Great!)
2 sticks of butter
1 tbsp sugar
¼ cup honey
1 tsp cinnamon
Generous sprinkle of nutmeg
Method:
Preheat oven to 250º.  Mix cereal, Teddy Grahams, broken chips, nuts and pretzels in a large roasting pan.  Melt butter, honey, cinnamon, sugar and nutmeg.  Pour over mix.  Stir well, but gently.  Bake for 2 hours, stirring every 20 minutes.
Cool completely in single layers on cookie sheets.  Stir in the M&M's before storing in airtight containers.