Buddy's Chex Mix for Christmas features almost all of the elf food groups! Kids will love helping to bake this maple syrup-coated, candy topped treat. We received the ingredients and recipe from the Chex team at General Mills to sample, all thoughts and opinions are our own.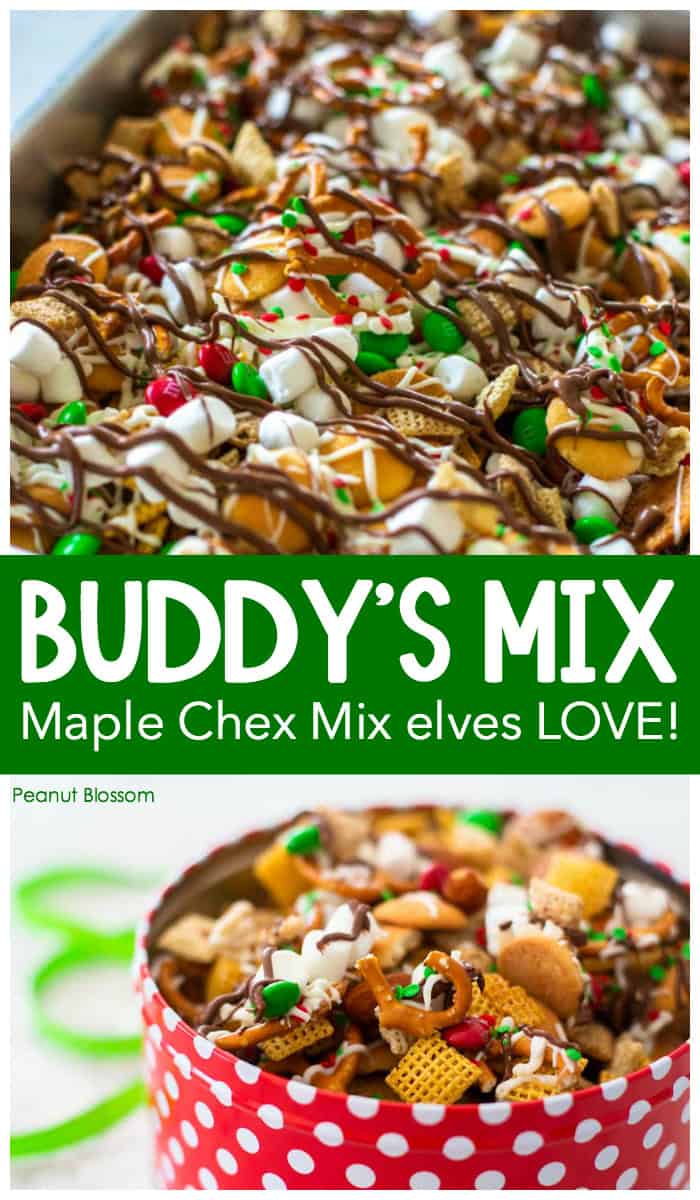 Family movie night during the holiday season is my very favorite way to celebrate. We start streaming the Christmas movies the night before Thanksgiving and they don't stop till New Year's!
The kids both LOVE Elf. Who can blame them? Buddy's antics are such a cheery way to get in the mood for Christmas. When we watched the movie after Thanksgiving dinner this year, it was too fun hearing the kids shout out their favorite quotes as the movie played.
We are all officially going to be answering the phone, "Buddy the Elf, what's your favorite color?!" for the rest of the month.
To honor our good friend Buddy, I thought this Elf-inspired Chex Mix was the funniest thing this side of the North Pole. It features almost all of the elf food groups: candy, candy cane-colored M&Ms, and syrup. We left the candy corn out this time, but if you wanted to be truly authentic, feel free to toss it in, too!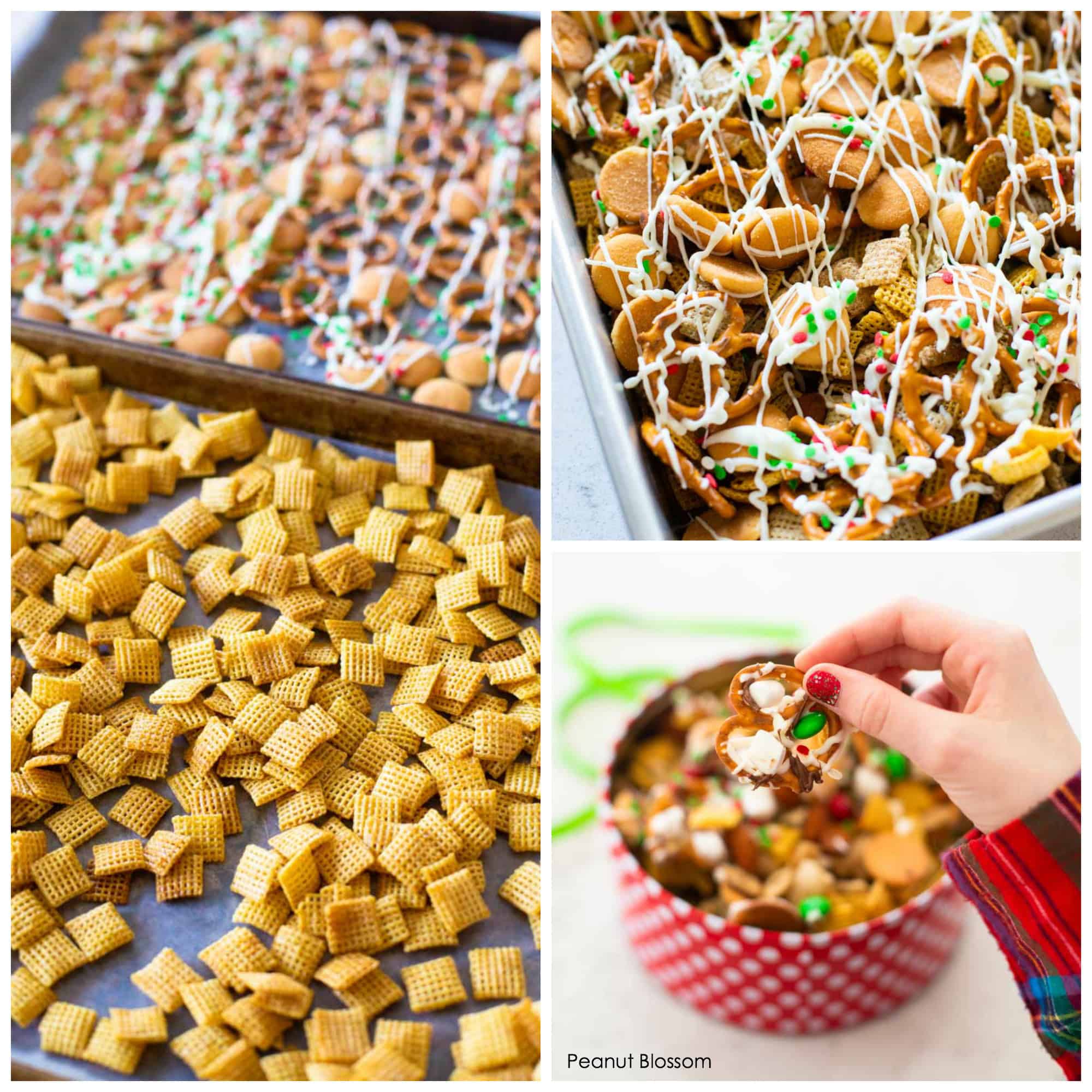 How to make Buddy's Chex Mix for Christmas:
This is a no-bake Chex Mix that is super easy for the kids to help make. It has a few more steps than a standard Chex Mix might, but it is totally worth it for the presentation. I've streamlined it a little bit from the original version the Chex team sent me to help make it go even faster.
Step 1: Coat the Corn Chex in maple syrup and butter
This is honestly my very favorite part of the entire snack mix. I want to play around with this base for more recipes next year, but for now it is the heart of Buddy's Mix.
You microwave Corn Chex with maple syrup and butter for a few minutes, tossing to coat. The Peanut was worried she wouldn't like the maple part, but she was pleasantly surprised to find it tastes like the best kind of crunchy pancakes ever.
Step 2: Drizzle white chocolate over the Chex Mix
Spread out pretzels and Nila wafer cookies into a single layer. Then you microwave a little white chocolate and drizzle it over everything. You need the white chocolate to help make the red and green sprinkles stick!
Step 3: Layer it all together and drizzle with chocolate
You combine the Chex cereal with almonds, pretzels and cookies, top with marshmallows and M&M candies, and then add the finishing touch. Melt a little bit more of regular semi-sweet chocolate to drizzle over the top.
You could easily skip the chocolate topping at the end, but our girls loved seeing a mix of both chocolates scattered throughout the servings of Christmas Chex Mix.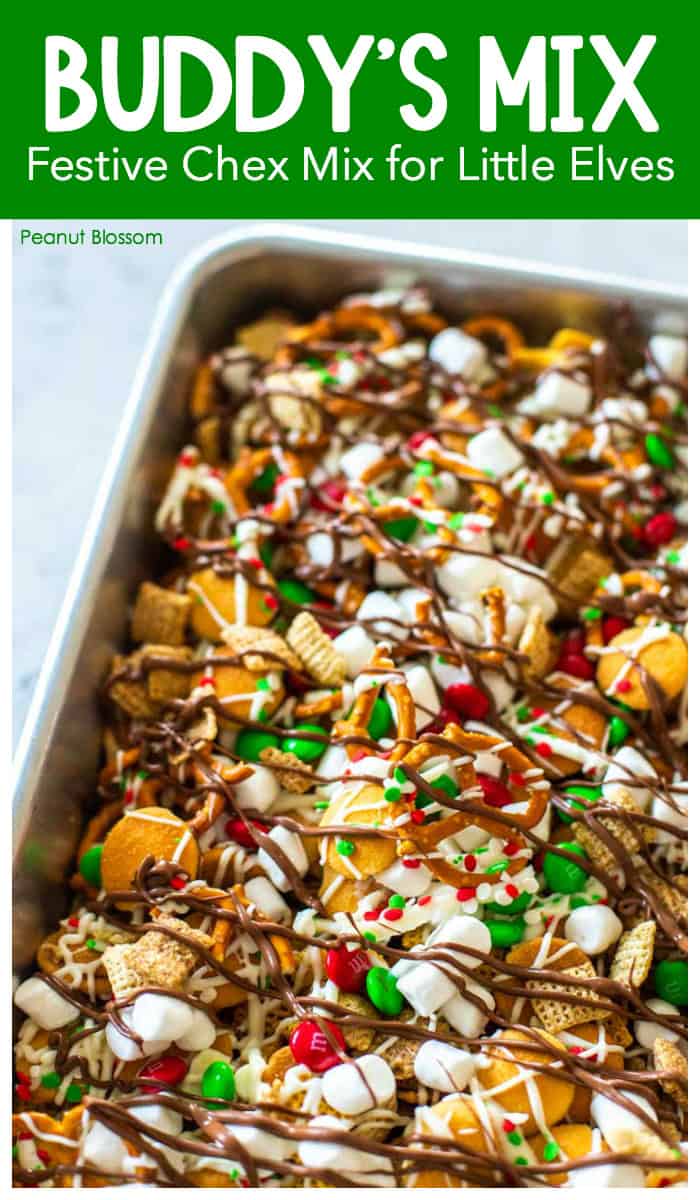 When to enjoy Buddy's Chex Mix for Christmas:
There are so many occasions for you to enjoy this sweet Chex mix during the holiday season! Here are some of our favorite ideas:
Movie night: You can snack on the mix during Christmas movie night. Play our favorite Christmas movie Bingo game and use your M&M candies for Bingo placeholders! Get your free Hallmark Christmas Movie Bingo card here.
Snack in the car while watching Christmas lights: Pack to-go bags and let the kids nibble while you do a light drive. Listen to our favorite festive Christmas music while you go.
Reading break: Snuggle up with some of our favorite Christmas books for YOU and let the kids enjoy some of their own reading. Entice them all to the living room with the Chex mix to nibble on while you read.
📖 Recipe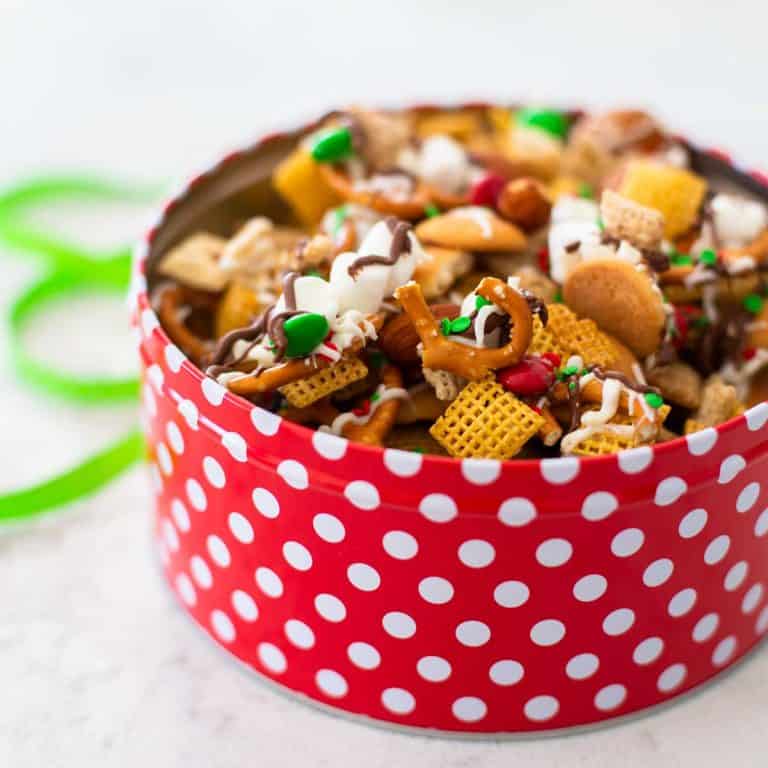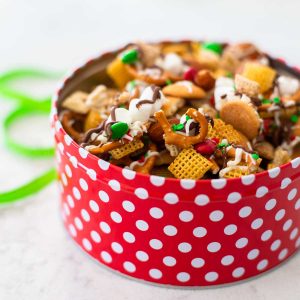 Buddy's Chex Mix for Christmas
This delicious Chex Mix for Christmas is Buddy the Elf's very favorite! Maple-syrup coated Chex is tossed with marshmallows, candies, and almonds for a treat any elf will love.
Ingredients
4

cups

Corn Chex

1

tablespoon

butter

¼

cup

maple syrup

1.5

cups

Nila wafer cookies

1.5

cups

pretzels

⅔

cup

white chocolate chips

Red & green sprinkles

2

cups

Cinnamon Chex

½

cup

almonds

½

cup

marshmallows

½

cup

M&M candies

⅓

cup

semi-sweet chocolate chips
Instructions
Set out two large cookie sheets and line them with wax paper.

Place the Corn Chex into a large microwave-safe mixing bowl. In a small microwave-safe bowl, melt the butter. Stir in the maple syrup. Pour over the Chex cereal and stir to coat. Heat the cereal on high for 3 - 4 minutes, stirring after every 1-minute mark to completely coat the cereal. (Watch so it doesn't burn! Our microwave only needed 3 minutes.) Spread the cereal in an even layer on one of the prepared cookie sheets.

Spread the pretzels and Nila wafer cookies in a single layer on the second cookie sheet.

Place the white chocolate chips in a microwave-safe bowl. Heat for 30 seconds and then stir. Heat for an additional 15 seconds and stir vigorously to completely melt. Transfer the melted chocolate to a zip-top plastic baggie. Snip a tiny corner off the bag and pipe half of the chocolate into a pretty drizzle all over the pretzels and cookies and the other half over the cereal. Sprinkle immediately with the sprinkles. Let cool, about 20 min.

Stir together the Corn Chex with the Cinnamon Chex and almonds and place in a pretty container. Gently break up the pretzels and cookies and scatter over the top of the cereal mix. Top with the marshmallows and M&M candies

Place the semi-sweet chocolate chips into a microwave-safe bowl and heat for 30 seconds. Stir and then heat for an additional 15 seconds. Repeat until just melted. Transfer to a plastic baggie, snip the corner, and pipe over the top of the Chex mix. Let cool and harden completely before serving, about 20 min.
Save This Recipe to Your Recipe Box
Find this delicious recipe next time you visit by saving it to your very own recipe box on my site. All your favorites stored in one easy place!
Looking for more great Christmas recipes to bake with your kids?
We love to bake together during the holidays. Here are some of our favorites: