Use this FREE printable Hallmark Christmas Movie Bingo Game to host an adorable family movie party this Christmas season. Perfect entertainment for Christmas Eve with grandma & grandpa, too!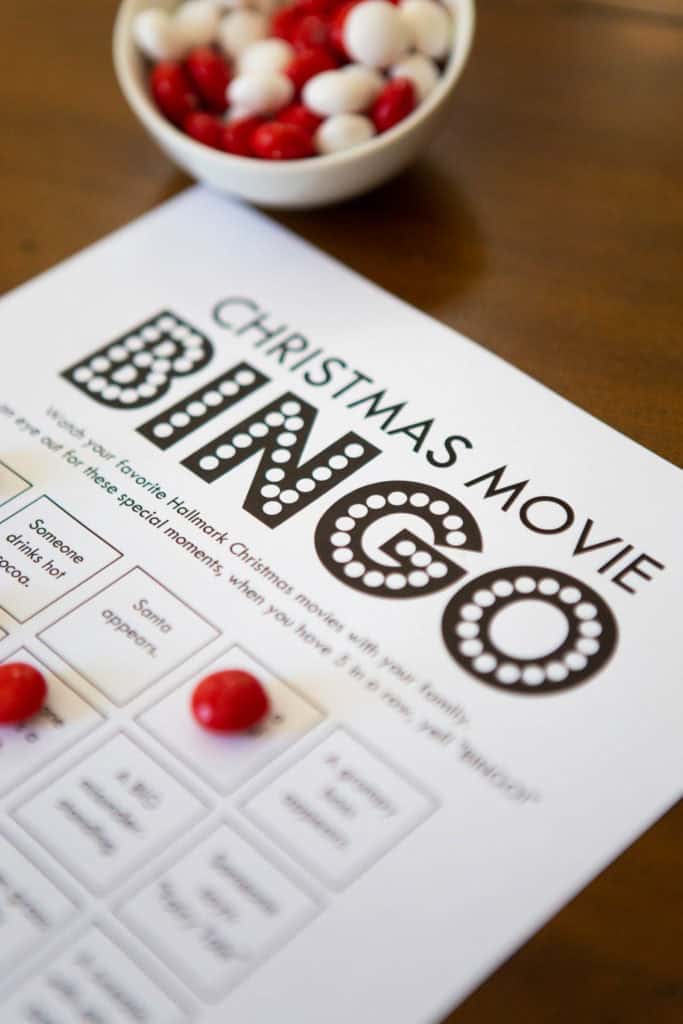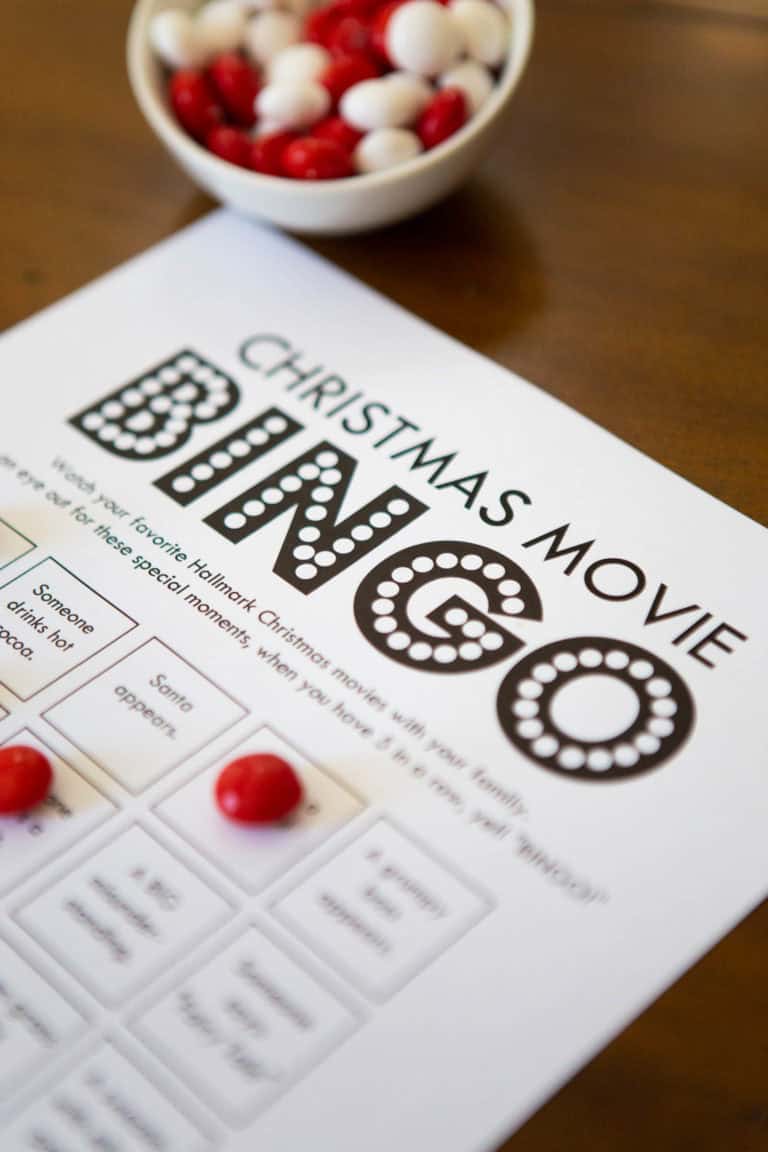 For a number of years, I noticed friends getting all excited about the Hallmark Christmas Movies line-up and quite frankly rolled my eyes. I love Christmas just as much as the next mistletoe fairy but the over-the-top cheeseball vibe I got from the Hallmark movies was just too much.
Says the woman who never actually watched one.
And then I finally watched one.
Cue the Christmas music and hand me an ugly sweater. My heart melted and I gladly guzzled the eggnog-spiked Kool-aid.
Ladies, I fell hook line and sinker in love with these darling, way-over-predictable plot line, eye candy movies.
One cold and drizzly December day (I'm in the south, snow isn't so much a thing here), I had a stew in the dutch oven and my family and I were cooped up at home for the day. I set out a huge 1000 piece Christmas puzzle for the kids and me to work on and decided to give the Hallmark Channel a go to just play in the background.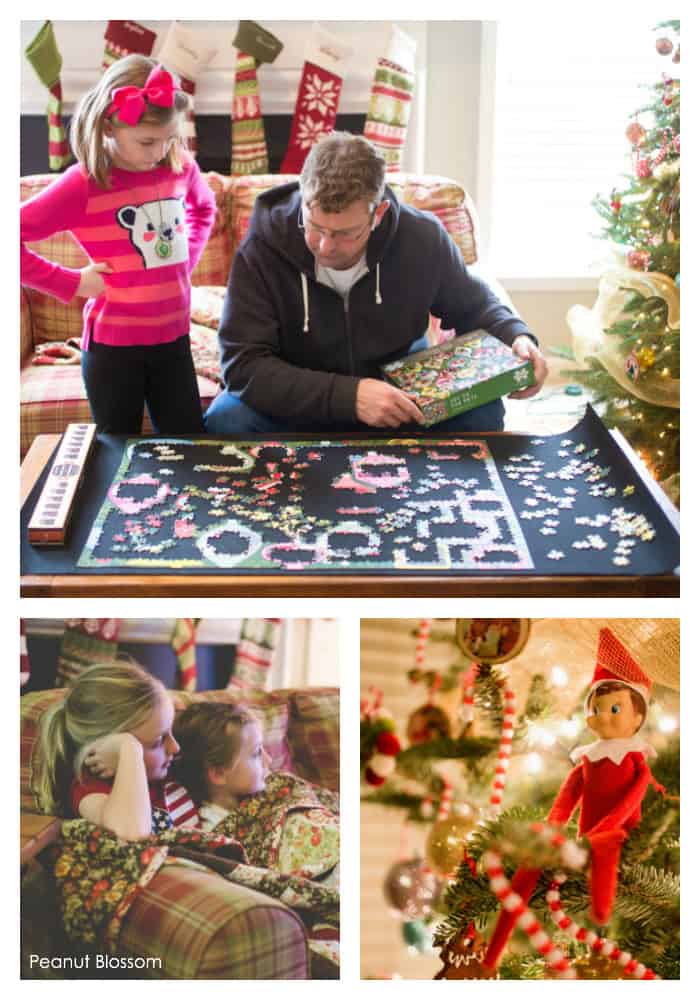 By the end of the day our entire family had watched 5 of the Hallmark Christmas movies, finished that puzzle and the Hallmark Channel played on . . .
My youngest was calling out educated guesses about what would happen next in the plot with remarkable accuracy.
My husband was laughing over comments like, "Oh here he comes -- the hero in a sweater with elbow patches. I bet his mom passed away last year and his heart needs healing."
I don't know what kind of addictive crack they manage to put into those movies, but I've been looking forward to the coming season ALL YEAR!
Last year I was just a newbie, this year I'm PREPARED.
My kids don't need convincing to watch Christmas movies with me, but I couldn't resist adding a little extra fun to the experience with these FREE Hallmark Christmas Movie Bingo Cards.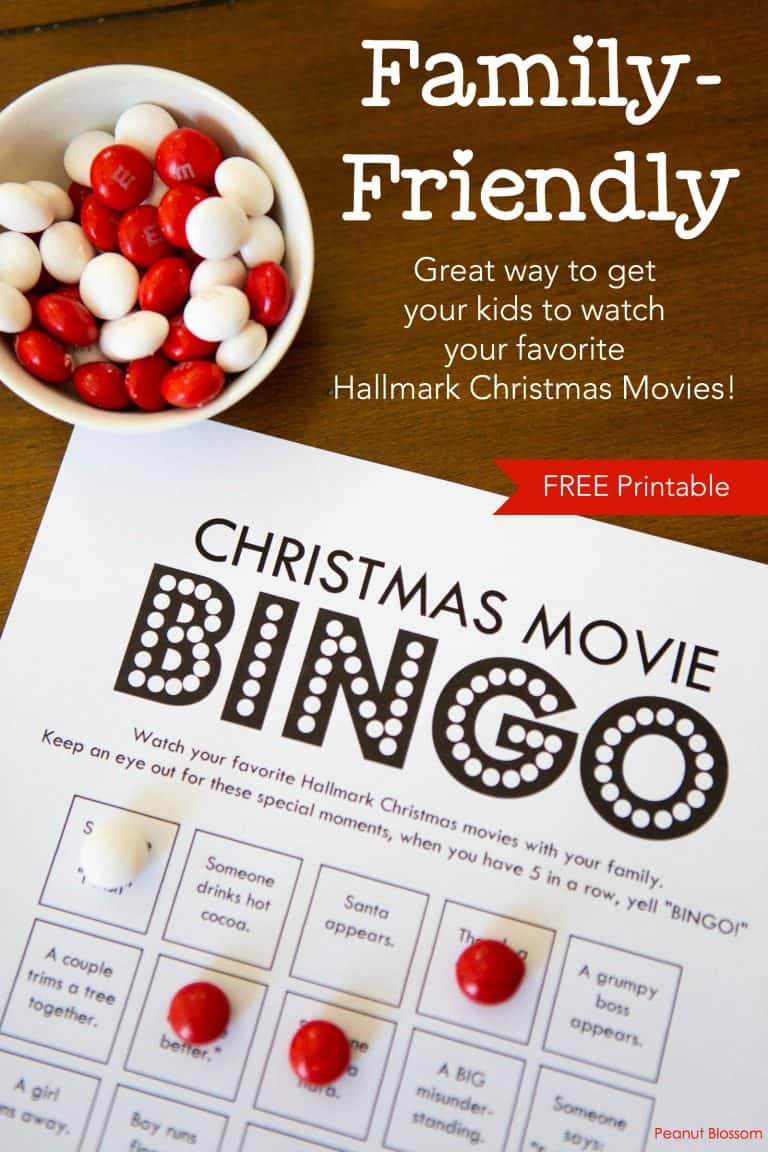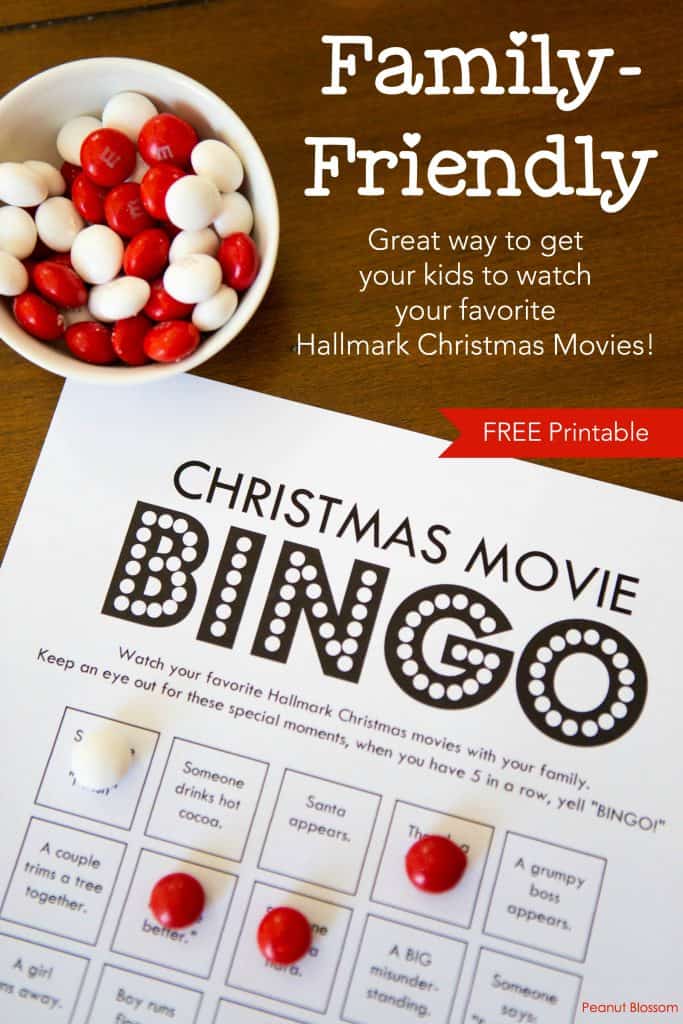 Believe it or not, my HUSBAND helped write these! We were laughing so hard together at the end of our movie marathon last year, we quickly wrote down all the moments that had to appear on the cards. I've kept that handwritten list in my notebook all year, just waiting for this moment.
The game features amazingly hysterical and predictable plot points like:
A couple trims a tree together
Someone drinks hot cocoa
Santa appears
There's a BIG misunderstanding
Someone says "Just like mom made."
Someone wears a tiara.
The bingo cards come as a set of 25 sheets--no two are exactly alike! You can print off just as many as you need or let your family double up on the cards.
I highly recommend using our favorite red and white M&M Peppermint flavored candies for your bingo markers but Hershey kisses, popcorn, pennies, or tiny jingle bells would be super fun, too!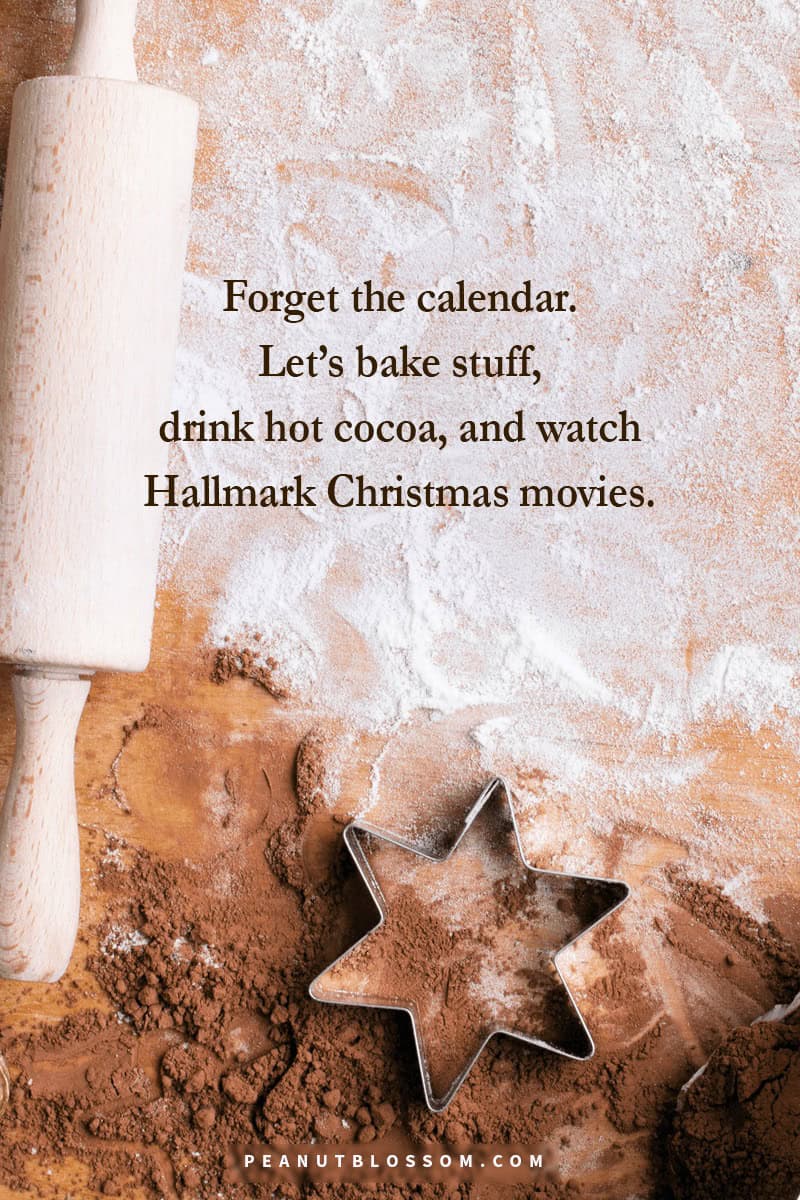 Which Christmas movies are playing on the Hallmark Channel this year?
Check out the full season line-up on the Hallmark Channel's guide right here.
What are the best Hallmark Christmas movies to watch with kids?
I'm still new and haven't seen too many, but I LOVED this article on Southern Living about the viewer's top favorites. I'm adding them to my watchlist now!
What if I don't have access to the Hallmark Channel?
This playful Christmas movie bingo game would probably work with any romantic Christmas movie you want to watch. Love Actually is one of my very favorites.
Are Hallmark Christmas movies appropriate for children?
I had no problems with my girls (ages 7 & 10) watching with me last year. They are very family friendly but skew towards entertaining the adults in the room more than kids, like the difference between a romance vs. a cartoon. There is some kissing and romantic flirting, some adult problems the characters encounter, but nothing that made me rush for the remote.
My children wouldn't ask me to turn this on for them to watch alone but it is holiday television content I feel 100% comfortable watching while they are in the room.
Is this Hallmark Christmas movie bingo game appropriate for kids?
100% YES. My husband and I wrote the game a little tongue in cheek but there is nothing inappropriate for kids here. In fact, the game would be perfect for Christmas Eve fun for the whole family! Print a few cards off and get grandma and grandpa in on it, too.
I want to make my own custom bingo game, how did you make the cards?
I found this adorable template over on Etsy. I wrote each of the square content sayings myself. I flattened the file to share with you to respect the original seller's work. If you'd like to purchase a customizable version to make your own, shop her store right here.
Fun Christmas cookies for your Hallmark Christmas movie marathon: