These blueberry lemon muddy buddies (or blueberry lemon puppy chow, however you choose to call it) are one of our all-time favorite muddy buddies flavors.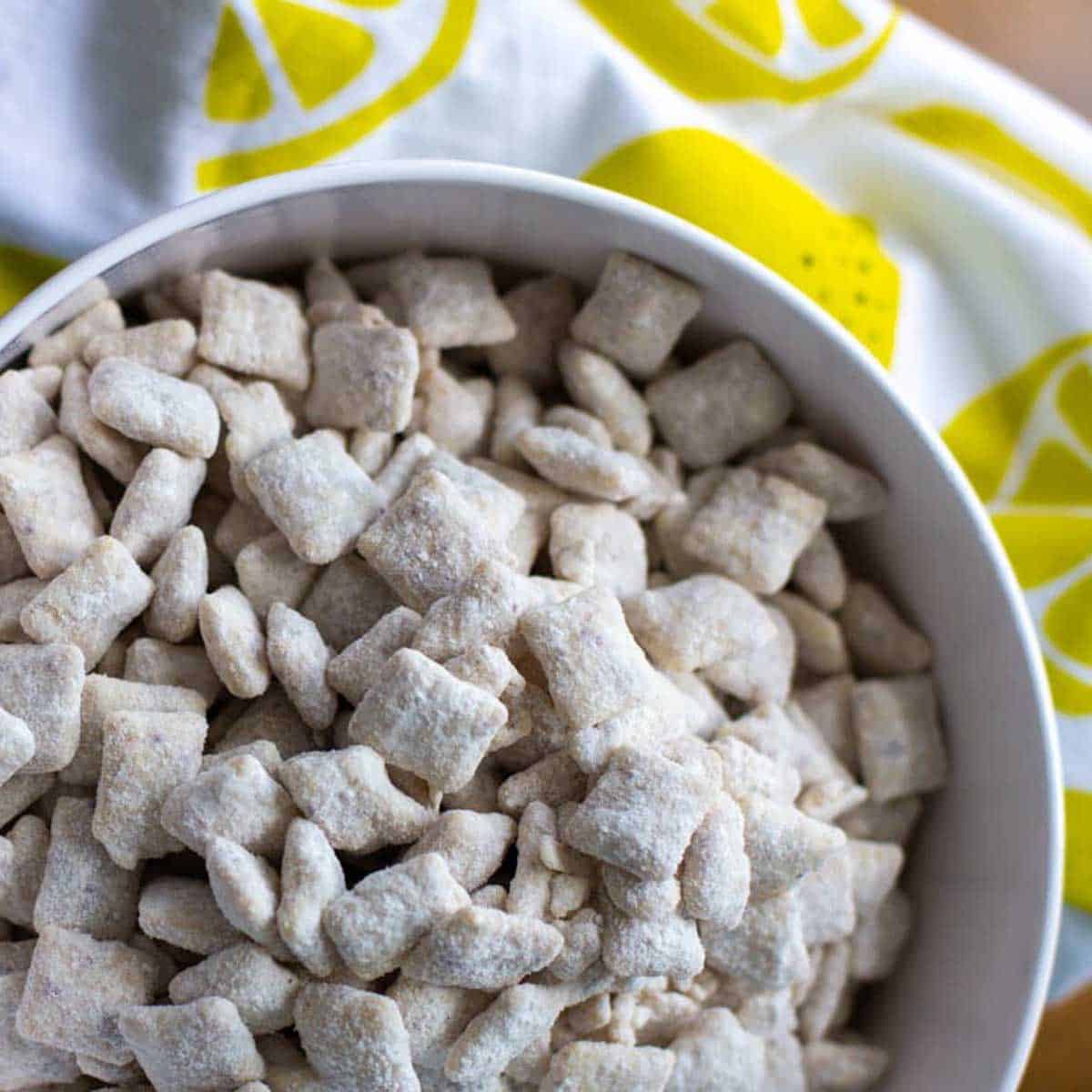 A few weeks ago we were invited to an impromptu backyard grill out by a family at our church. They told us they had everything covered for dinner, but like a good guest I didn't want to show up empty handed. I had the ingredients for blueberry lemon muddy buddies sitting on my counter thanks to a recent goody package from General Mills.
I know how utterly addictive this particular muddy buddies recipe is so I didn't want to make it just for us or I knew I'd eat it all by myself!
The party was the perfect excuse to finally shake them together.
Jump to:
Why This Recipe Is the Best
This is the perfect last-minute dessert recipe to keep around for entertaining emergencies.
With cooling time, the recipe is ready to serve in 30 minutes but it only takes 2 minutes to make.
Even better, it uses up an entire box of blueberry flavored Chex cereal so you don't have a random bit of cereal remaining afterwards.
Our new friends raved about the blueberry lemon muddy buddies flavor, it was an unexpected treat compared to the more traditional chocolate puppy chow treat served during the holidays.
I loved that they won't melt in the summer heat.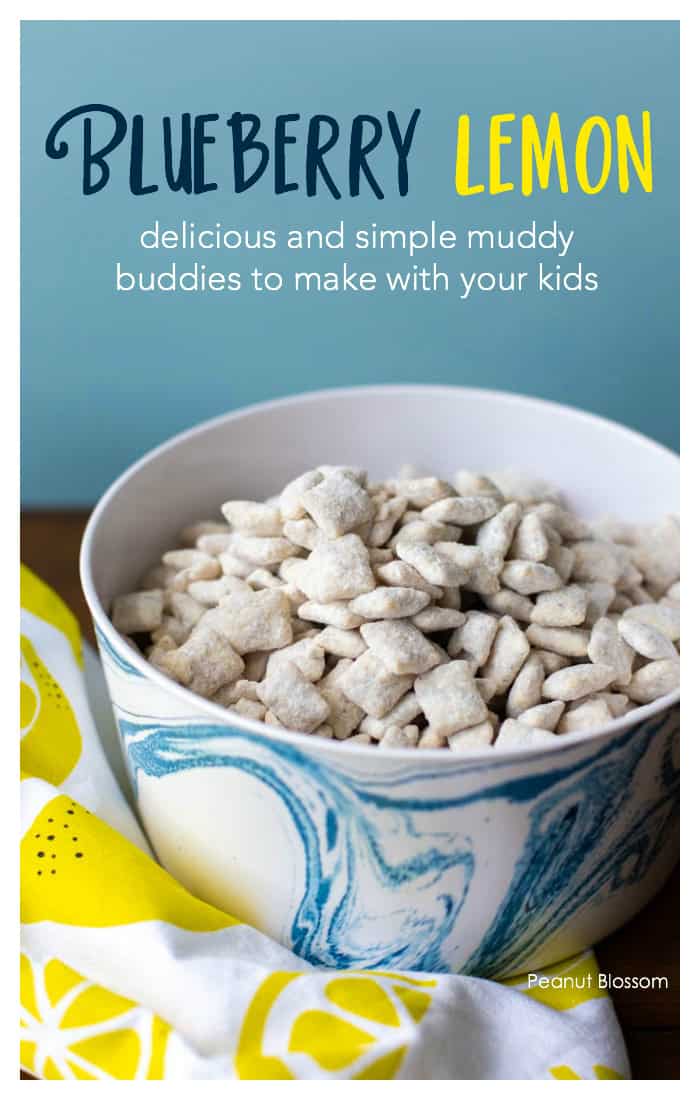 Ingredients
How easy is this shopping list??
Blueberry flavored Chex cereal
Vanilla baking chips
Butter
A lemon
Powdered sugar
Is It Muddy Buddies or Puppy Chow?
When you take Chex cereal, coat it in chocolate (or white chocolate as in this case) and toss it in powdered sugar, you have a treat that can be called either muddy buddies or puppy chow.
Sometimes there are other treats added to the mix like chocolate candies, sprinkles, or savory things like nuts or pretzels.
I personally love just how simple this particular muddy buddies recipe is.
Can Kids Make This?
Any muddy buddies flavor would be a perfect simple treat for the kids to learn how to make by themselves. It is an especially great no-bake recipe for kids.
If they can melt butter and chocolate chips in a microwave safe bowl, then they can handle this dessert recipe.
They will have a ton of fun pouring in the powdered sugar and shaking everything up to coat in a zip top baggie.
Puppy chow is a great recipe for kids who want to be playful with flavor mixing, too. Though these blueberry lemon muddy buddies are great all by themselves, kids could have fun mixing in dried blueberries and silvered almonds or chopped pecans to make more of a sweet Chex mix of their own.
More Easy Party Treats
Love easy snack mixes? You're sure to love these popular recipes:
📖 Recipe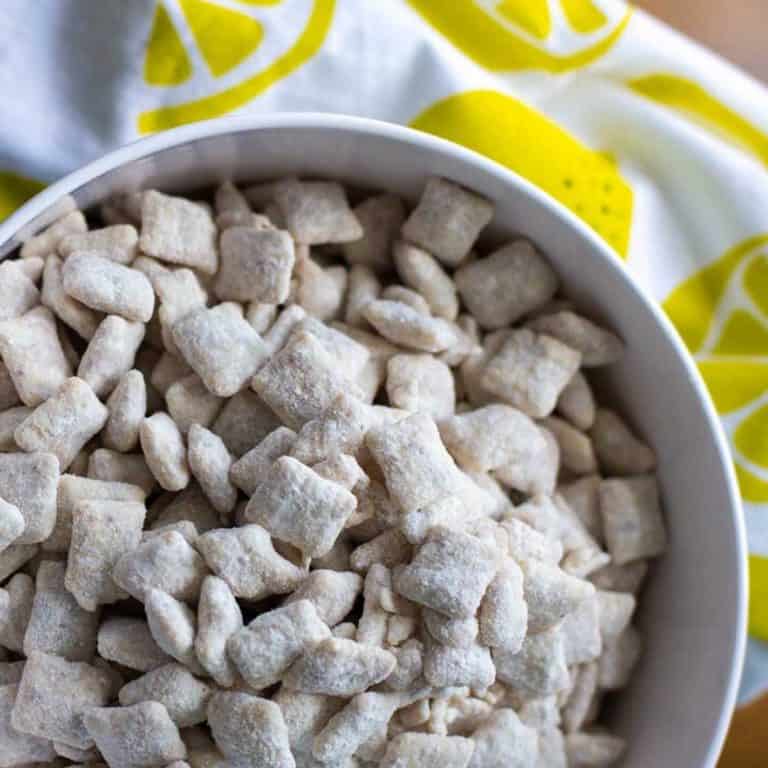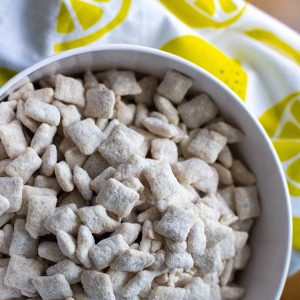 Blueberry Lemon Muddy Buddies
This sweet Chex muddy buddies recipe is the perfect party dessert to bring to a potluck. The blueberry, lemon, and white chocolate muddy buddy flavor is a fun surprise for summertime gatherings.
Ingredients
1

(12 oz) box Chex blueberry flavored cereal

1 ¼

cups

white vanilla baking chips

2

tablespoon

butter

4

teaspoon

grated lemon zest

2

tablespoon

fresh lemon juice

2

cups

powdered sugar
Instructions
Place the blueberry flavored Chex into a large bowl.

In a smaller microwave-safe bowl, microwave the baking chips, butter, lemon peel and juice uncovered for a total of 1 minute and 30 seconds on High. Be sure to stop every 30 seconds to stir so the chips don't overcook and burn. Once everything is smooth and melted, pour it over the Chex and stir until it is evenly coated.

Pour the Chex into a large gallon zip top bag and add the powdered sugar. Seal the bag and gently toss the cereal to coat. Spread the Chex out on a sheet of parchment or waxed paper to cool for about 30 minutes. Store in an airtight container.
Save This Recipe to Your Recipe Box
Find this delicious recipe next time you visit by saving it to your very own recipe box on my site. All your favorites stored in one easy place!