This overnight French toast bake recipe has a sweet and salty pecan praline topping with a splash of bourbon. It is the perfect Easter brunch recipe or Christmas morning breakfast for families.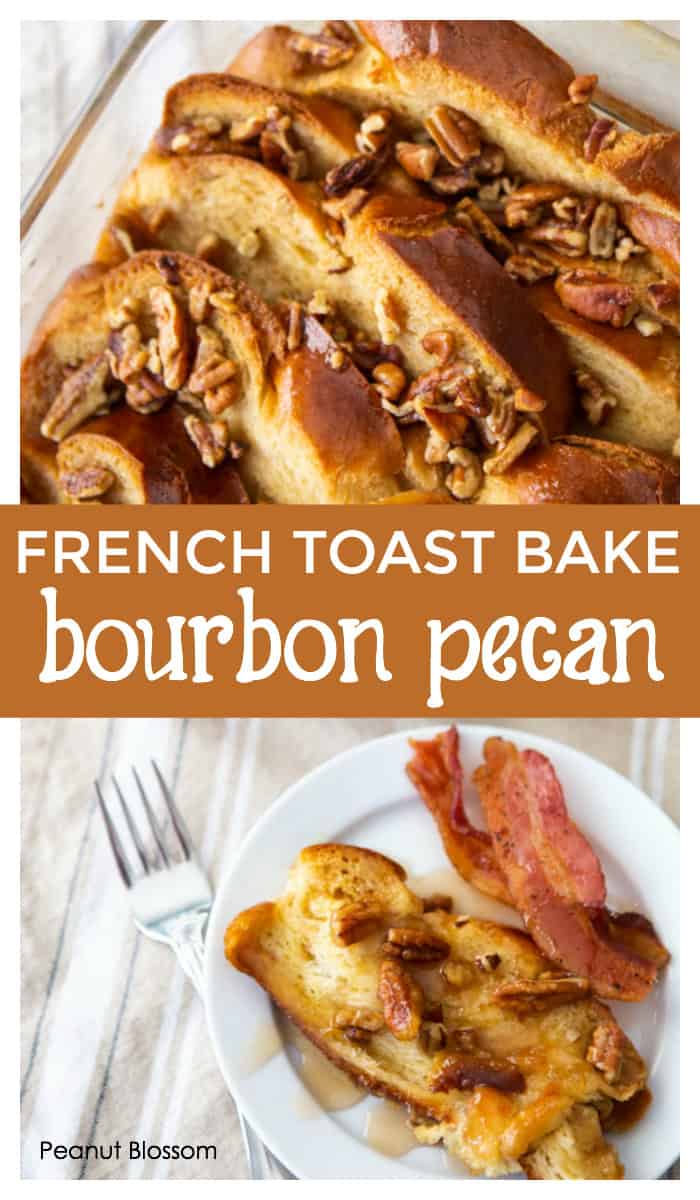 Do you give up something for Lent? Most people give up chocolate or soda for Lent but this year my husband chose to abandon his beloved bourbon for 40 days.
While I was meal planning for Easter Sunday, I thought it would be absolutely hysterical to include bourbon as part of his breakfast so that he could literally break his Lenten fast first thing on Easter morning. Since a little nip of bourbon in a cup would be frowned upon at the family table, slipping some into the French toast bake was just the right way to go!
We were just a few bites into our breakfast when Tim asked me if I was going to share this recipe on the site. I told him I'd likely make it again another time to take pictures.
He stopped mid-bite and said:
"The light is perfect now, there's still half a pan. You need to take the picture Right Now so you can share it."
If that isn't high praise for the recipe, I don't know what is!
If you've never done an overnight French toast bake recipe before, I've got lots of tips for your success. But if you'd like to just skip to the recipe, you can see the bourbon pecan French toast recipe right here.
And bonus! Since I think overnight French toast bakes are just perfect for celebrating holidays because you can make them ahead of time, I found 14 delicious and easy flavor variations for French toast. No matter what you are celebrating, you're sure to find a flavor that fits perfectly right here.

Does the overnight French toast bake get too soggy?
This was my kids' first concern about overnight French toast bake. They are used to my griddled French toast that is crispy on both sides. When they saw me assembling the French toast casserole the night before and pouring the eggs and milk all over it, they worried that it would all turn to mush by morning.
If you use good quality bread that is sliced into thicker half-inch slices, this French toast bake does not get soggy. I used one and half loaves of challah bread from Trader Joe's and sliced them myself. (Are you a Trader Joe's fan, too? Be sure to check out some of our favorite Trader Joe's products here.)
The bottom of the casserole becomes soft and fluffy while the top has plenty of crunch from the pecans and praline topping.

What if we don't want bourbon in our overnight French toast?
When you're baking for a family with kids, a huge concern can be about adding bourbon to the French toast bake. There is just 2 tbsp in the entire casserole and another 2 tbsp in the praline topping.
The flavor of the bourbon definitely comes through, but the alcohol cooks off in the oven. The praline topping is slightly boiled before pouring it over the top which also reduces the alcohol. BUT if you have an allergy or someone who is especially sensitive to alcohol, I would definitely skip adding it altogether.
You can simply skip adding the bourbon or you can replace it with 2 tsp of vanilla extract or whatever other liqueur your family might prefer. I actually think Grand Marnier would be amazing here, too.
How should I bake the overnight French toast casserole?
I was concerned about putting the French toast bake directly into the oven cold from the fridge. I was very relieved to discover that it still bakes nice and evenly. The center got piping hot and the pecans didn't burn on the top. This makes it a fantastic holiday breakfast because you can just pop it in the oven 45 minutes before you're ready to eat.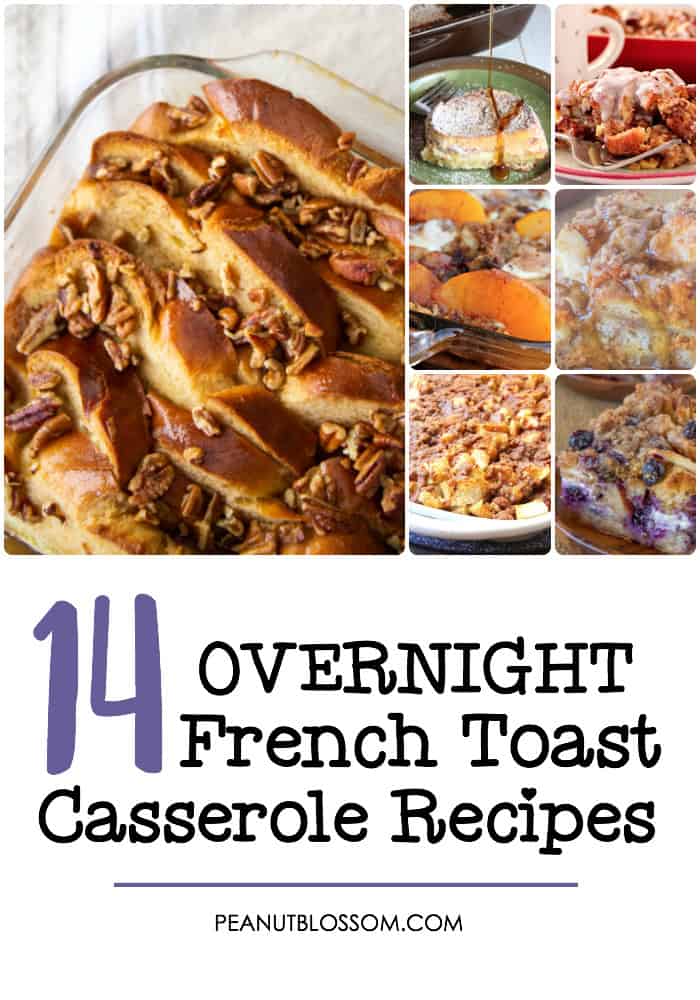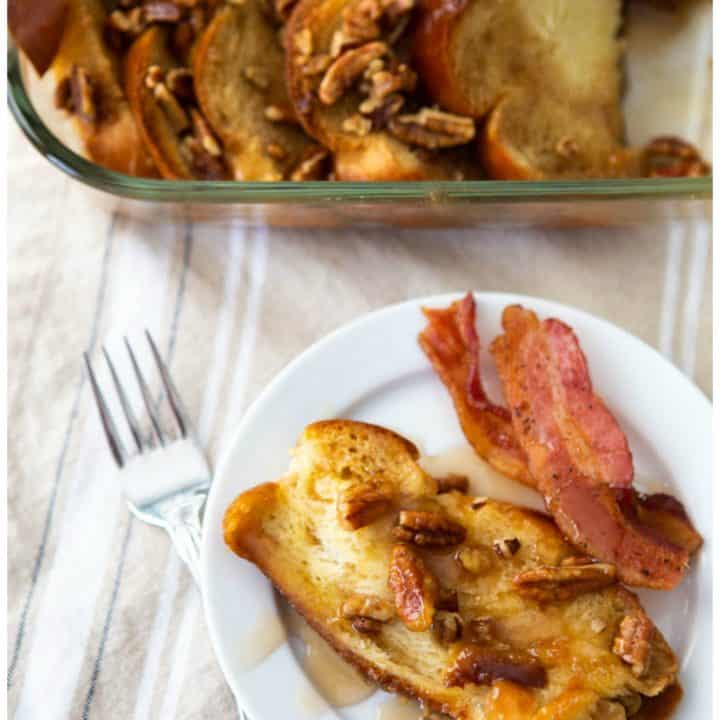 Bourbon Pecan French Toast Bake
Total Time:
1 hour
5 minutes
This sweet and salty bourbon pecan French toast bake is the perfect overnight breakfast to prep before a holiday. Serve it with peppery bacon.
Ingredients
For the french toast
5 eggs
1 ⅓ cup half and half
2 tbsp sugar
1 tsp vanilla
4 tbsp bourbon
¼ tsp salt
1 ½ pound thickly cut (½-inch) challah bread slices
For the praline topping:
1 stick of butter (8 tbsp)
¾ cup brown sugar
2 tbsp light corn syrup
2 tbsp bourbon
½ cup chopped pecans
Instructions
The night before you want to serve this French toast:
Butter a 9x13 baking dish.
Whisk together the eggs, half-and-half, sugar, vanilla, bourbon, and salt in a large bowl. Make sure the eggs are well incorporated into the mixture.
Dip each slice of challah bread into the egg mixture. Let the excess liquid drain off and lay it into the casserole dish at a slightly up-right angle. You are not trying to lay them flat in the dish, they should overlap up against each other slightly.
Keep adding slices to the dish until the bottom is completely covered with bread. You may have to readjust some of the slices to make sure there aren't any big holes in the casserole. Pour the remaining egg mixture evenly over the top of the bread slices. Cover the dish with plastic wrap and let it chill in the fridge overnight.
The morning you want to serve your French toast bake:
Preheat the oven to 350 degrees with an oven rack positioned in the center of the oven. Set the casserole on the counter while you prepare the praline topping.
In a small saucepan, melt the butter over medium heat. Add the brown sugar, corn syrup, and bourbon and whisk them in until smooth. Bring the mixture to a slight simmer. When the praline starts to bubble, add the pecans and stir them in to heat through for 30 seconds. Spoon the topping evenly over the casserole and then cover with aluminum foil.
Bake the French toast for 25 minutes. Uncover the dish and continue to bake for an additional 20 minutes or until the casserole is slightly bubbling and the top is golden brown. Be careful that the pecans don't burn, it can happen quickly at the end.
Let the French toast bake cool for 10 minutes before serving. This will help the praline to firm up a little and prevent hot boiling sugar burns when you gobble it up.
Baked French toast recipe flavor variations:
A sweet overnight French toast bake is the perfect holiday breakfast since you can make it ahead of time. Whether you're celebrating Valentine's, Easter brunch, Mother's Day, Back to School, or Christmas breakfast, you'll find a fun seasonal baked French toast recipe here: