This fluffy French toast recipe is made with challah bread, or one of my easy substitutions, and flavored with cinnamon, vanilla, and nutmeg. Serve the fresh crispy slices family-style and all warm at the same time with this easy trick!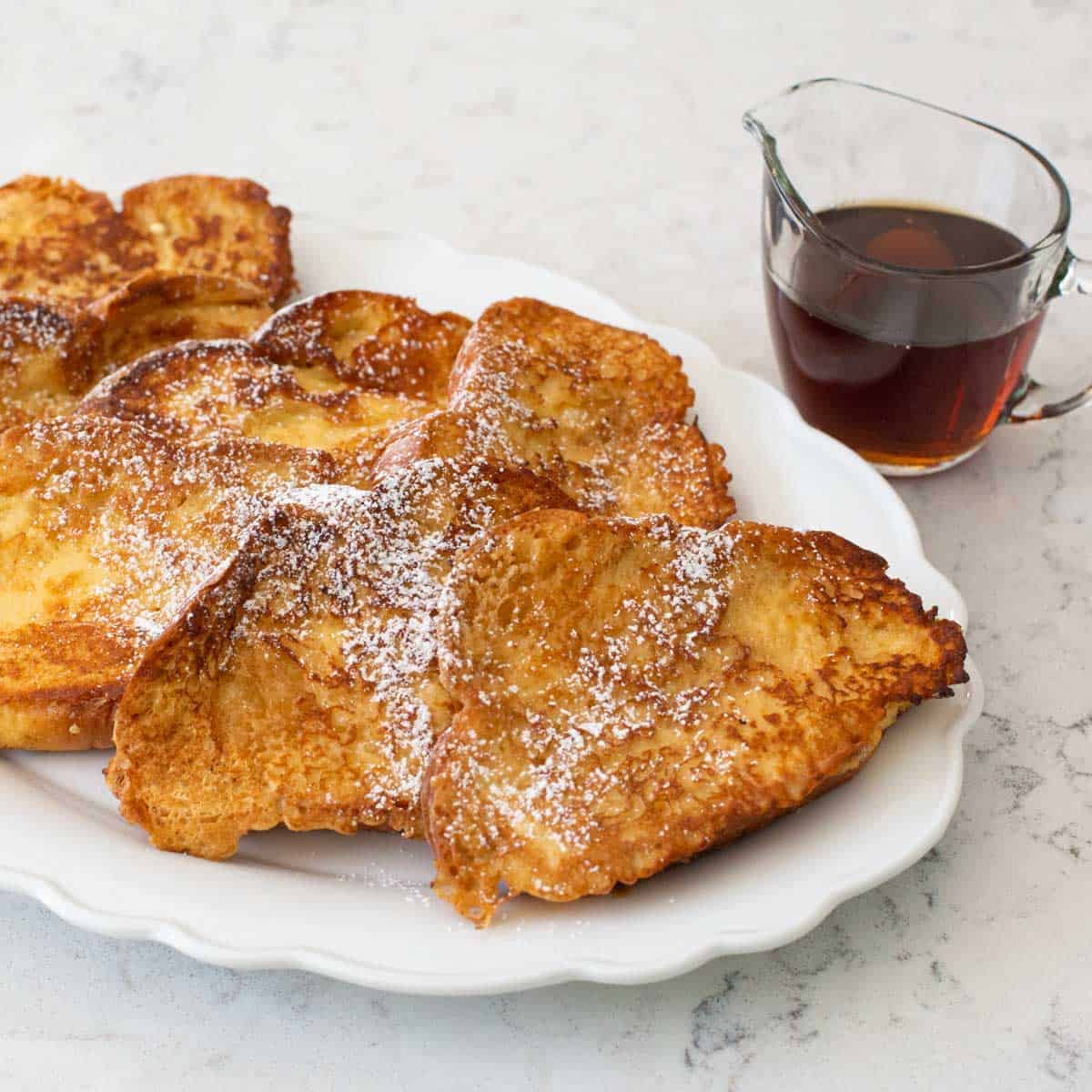 French toast has been my favorite breakfast restaurant dish since I was a little kid.
I love big, thick, fluffy French toast slices with a crispy outer coating to soak up a pat of butter.
This easy recipe is one of the first things I learned how to make as a newlywed over 20 years ago. We've made countless batches of French toast as a family throughout the years and my husband swears it is tastier than any restaurant version he's tried.
The best thing about this recipe is that I can use the leftovers for equally delicious breakfasts for a couple days in a row.
I just pop the leftover slices in my toaster to heat them up and give them a little toasty crunch and we're ready to go.
It makes Monday morning just that little bit nicer having a Sunday breakfast to start your week with no dirty pans to wash!
Jump to:
Why This is the Best Recipe
I have perfected this recipe over countless breakfasts over 20 years!
This is the best French toast recipe because:
The Best Bread: While I believe that challah bread makes the best French toast ever, it isn't always easy to find. I've tested a few of the best alternatives, be sure to check my notes below.
The Best French Toast Batter: My French toast batter recipe is the best because it is just slightly sweet, clings so well to the slices of bread, and makes the most amazing crispy-crunchy coating to each griddled slice.
Family-Style Serving Prep: You can make the ENTIRE batch of French toast all in one session and keep everything warm in the oven so you can serve it family-style at the breakfast table. No short-order cooks here.
Leftovers Reheat Great: Use my tricks for storing anything left over in the fridge and you can easily reheat it over the next few days and it will taste even better than when it was made fresh.
Ingredients
To make the best fluffy French toast, you need to be a little particular about the ingredients you use but nothing on this list should be too difficult to find:
Slightly-Stale Challah Bread: I buy a fresh loaf from our grocery store bakery 2 - 3 days in advance of when I want to make the recipe. Using slightly-stale bread helps it hold up to the batter better. If you can't find challah, be sure to read my notes on the bread below.
Eggs
Milk: I use 2% milk for all my cooking. Fat free milk would work but you may want to add 1 tablespoon of melted butter to the batter for richness. Whole milk would be amazing.
Vanilla
Cinnamon & Nutmeg
Sugar
Flour
Butter
The Best Bread for French Toast
My recipe calls for a slightly stale loaf of Challah bread.
Challah bread is a light egg-based braided bread and makes absolutely perfect French Toast.
I'm able to find challah at my normal grocery in the bakery department but it often sells out early. You may need to ask your baker.
When I spot it, I buy it and just stash the loaf in my freezer so I have it ready when we want French toast. Simply thaw the loaf overnight on the counter, it's ok if it gets a little stale in the process.
Challah Bread Substitutions
If you can't find Challah, you have several options:
Make Your Own: You can make a homemade bread machine challah loaf. Make this easy recipe a few days in advance and let it get stale.
Hawaiian Bread: This slightly-sweet bread is flavored with pineapple juice and has a lovely fluffy texture. Look for the large round loaves. You may need to cut the loaf in half and then cut each half into slices in order to avoid too-long slices.
Brioche Bread: If you can find a loaf of brioche, it has a similar fluffy texture to challah.
Italian Bread: My homemade Italian bread recipe also has a fluffy texture but it is less sweet than challah or brioche.
French Toast Batter Recipe
This easy French toast batter is amazingly delicious and makes the perfect French toast crust.
I prepare the batter in a 9 x 13-inch baking dish so that I can more easily dip the bread slices.
Whisk together the eggs and milk. Add the vanilla, cinnamon, and nutmeg and whisk together.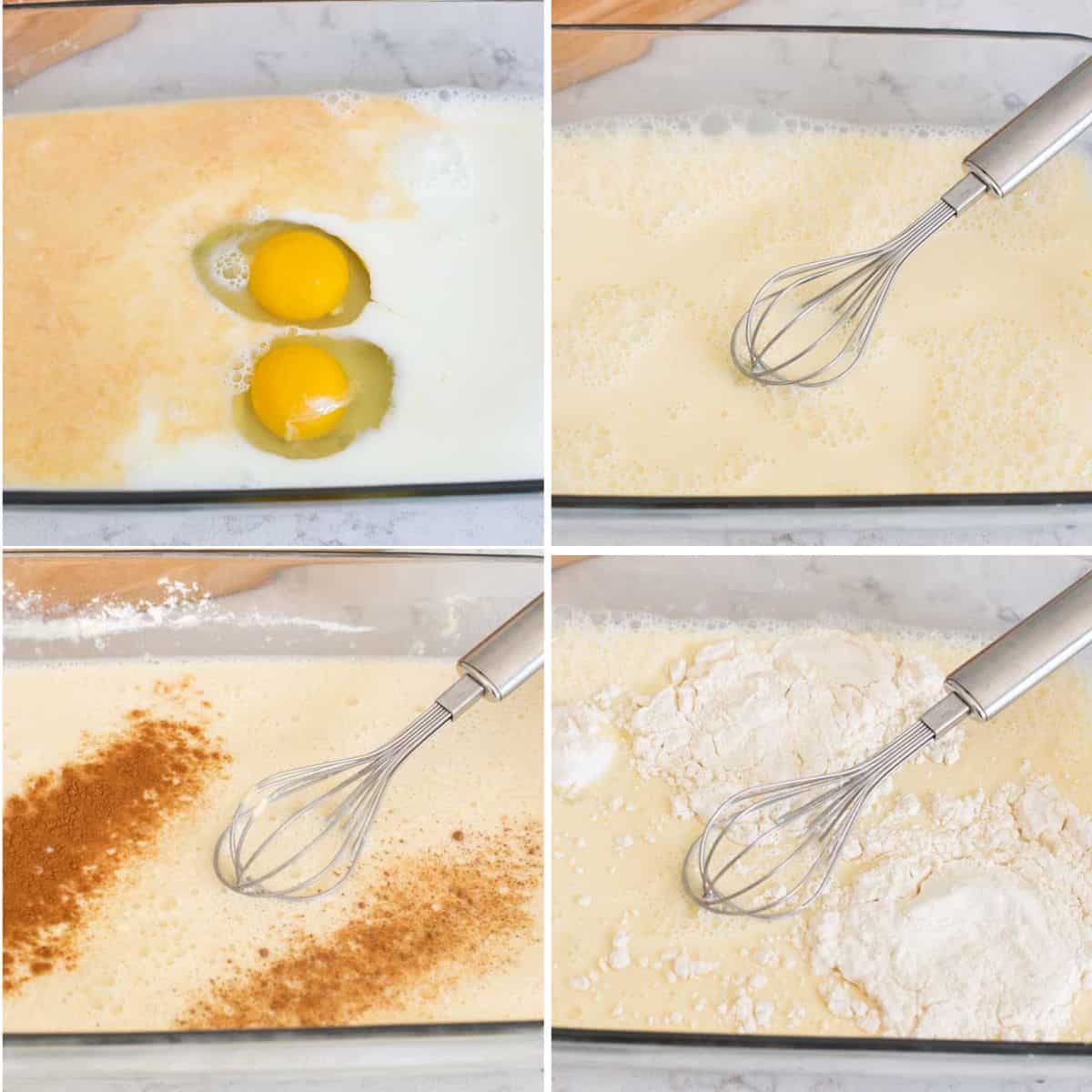 Add the flour, sugar, and salt and whisk them to combine.
The batter will feel thick and a little lumpy but you should be able to whisk it to a smooth consistency in just a minute.
Set Up an Assembly Line
To keep your kitchen neat, prepare a simple assembly line:
Preheat the oven to 225°F and place a large baking sheet on the center rack. You'll keep everything warm here as you griddle each batch.
Place a large skillet on a burner over medium-high heat. Melt two tablespoons of butter in it.
Place the batter dish right next to the pan.
Place the sliced bread with additional butter next to the batter.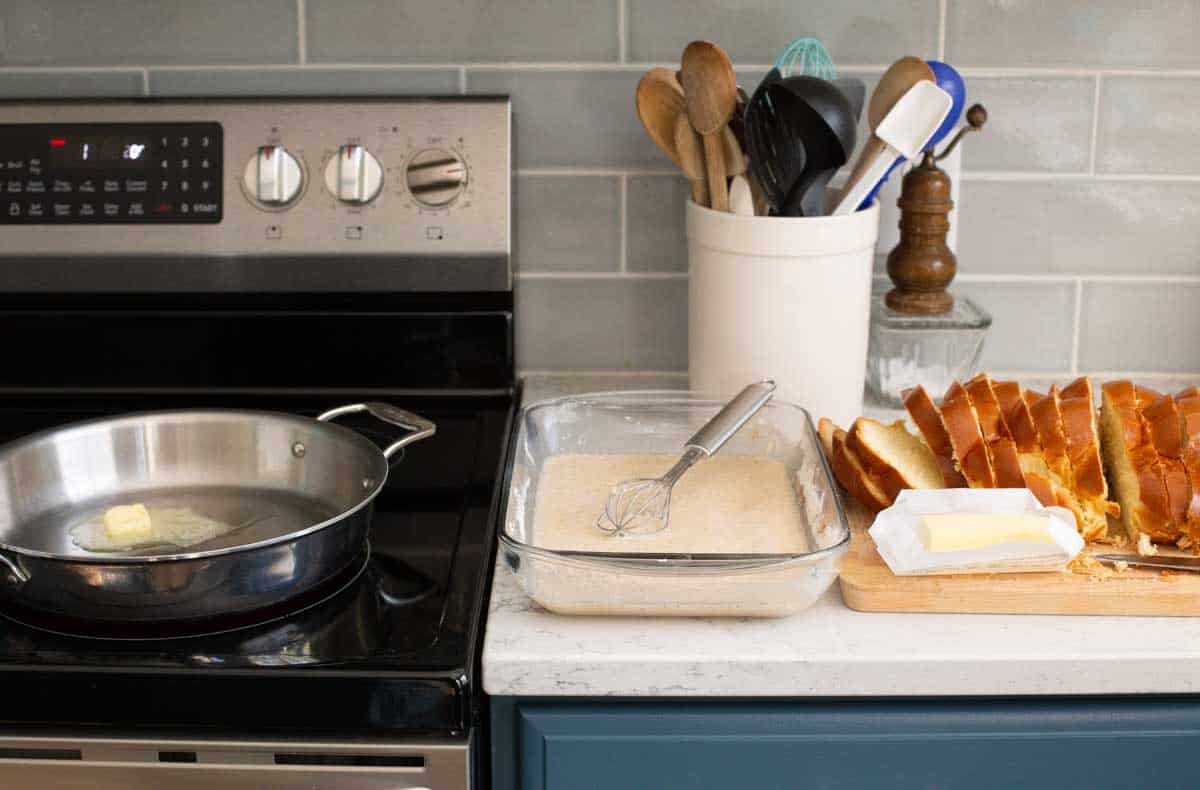 Dip and Griddle the Bread
You'll know your skillet is ready to go when the butter has not only melted but is starting to fizz and bubble like this: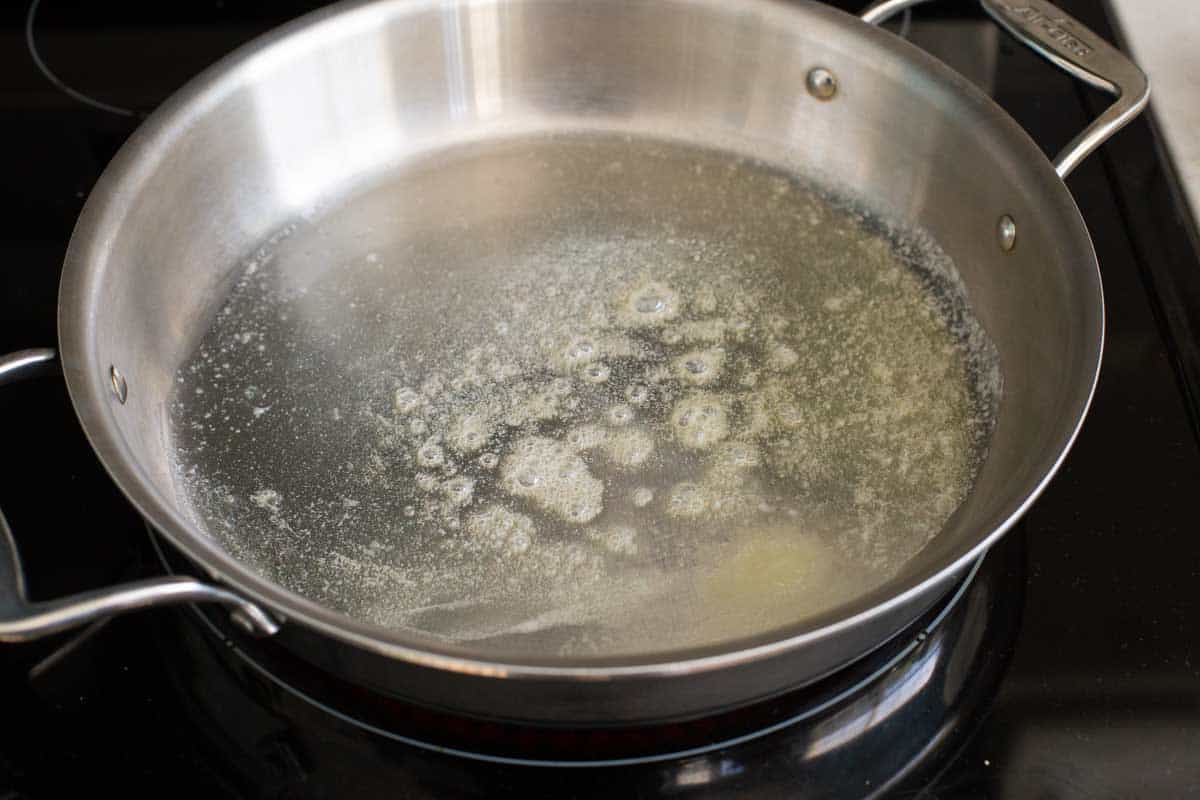 The recommended breads for this recipe are fairly delicate and they will fall apart if left in the batter too long.
Do not soak the bread slices, you need to just quickly dip them on one side, flip and dip the other side, and then let the excess drain off back into the batter dish.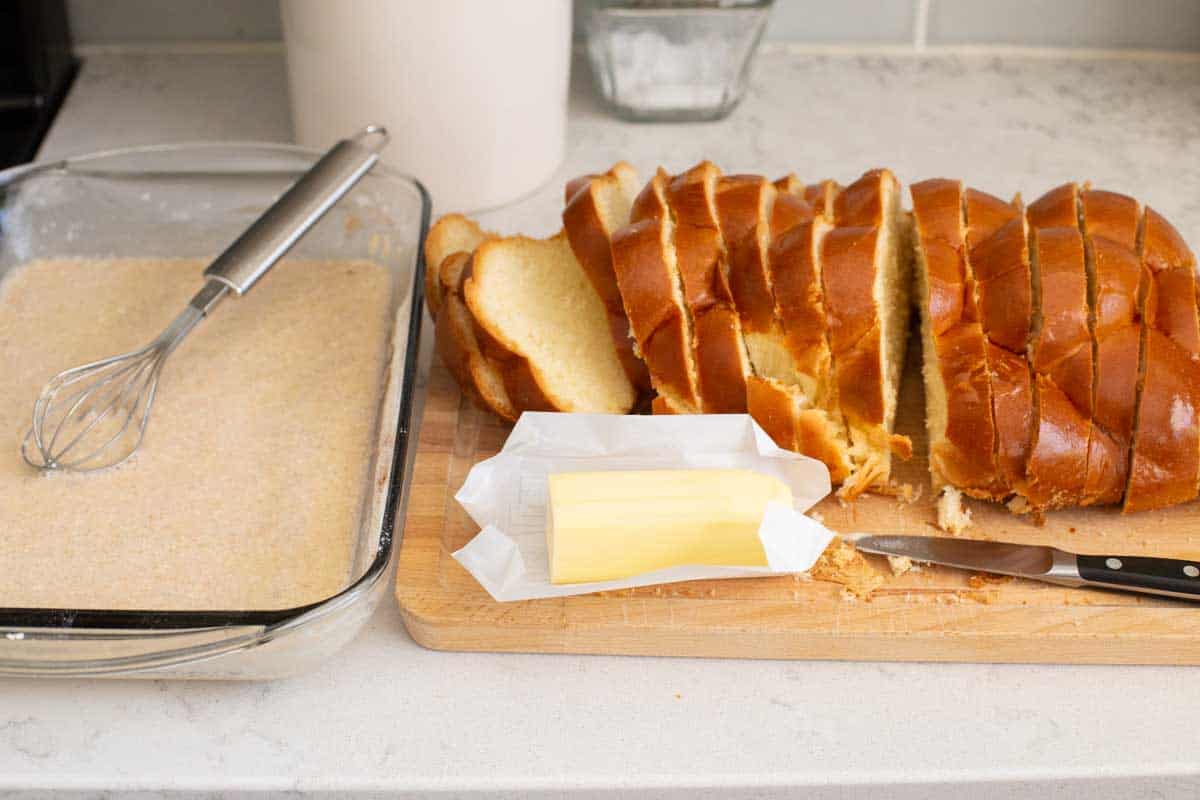 Place the dipped bread into the skillet to cook for 2 - 3 minutes on the first side.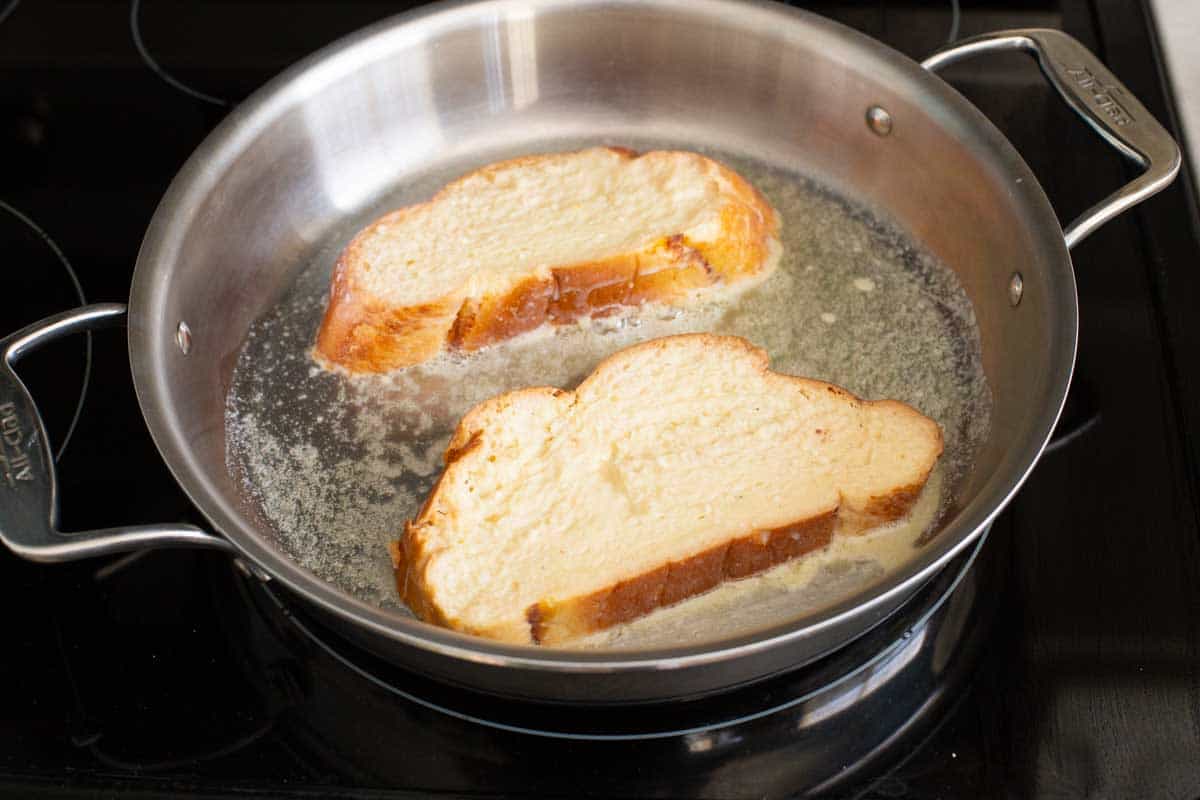 Turn the bread over and cook for another 1 - 2 minutes on the other side.
The first batch of bread tends to take longer to griddle than the subsequent batches of bread slices.
If you find the bread browning too quickly, turn the heat down to medium.
Transfer the griddled French toast to your baking sheet in the oven to keep warm.
Add 1 tablespoon additional butter to the skillet before adding more bread.
TOP TIP: Do not crowd your pan! The bread should be in a single layer with breathing room between each slice.
How to Serve Family-Style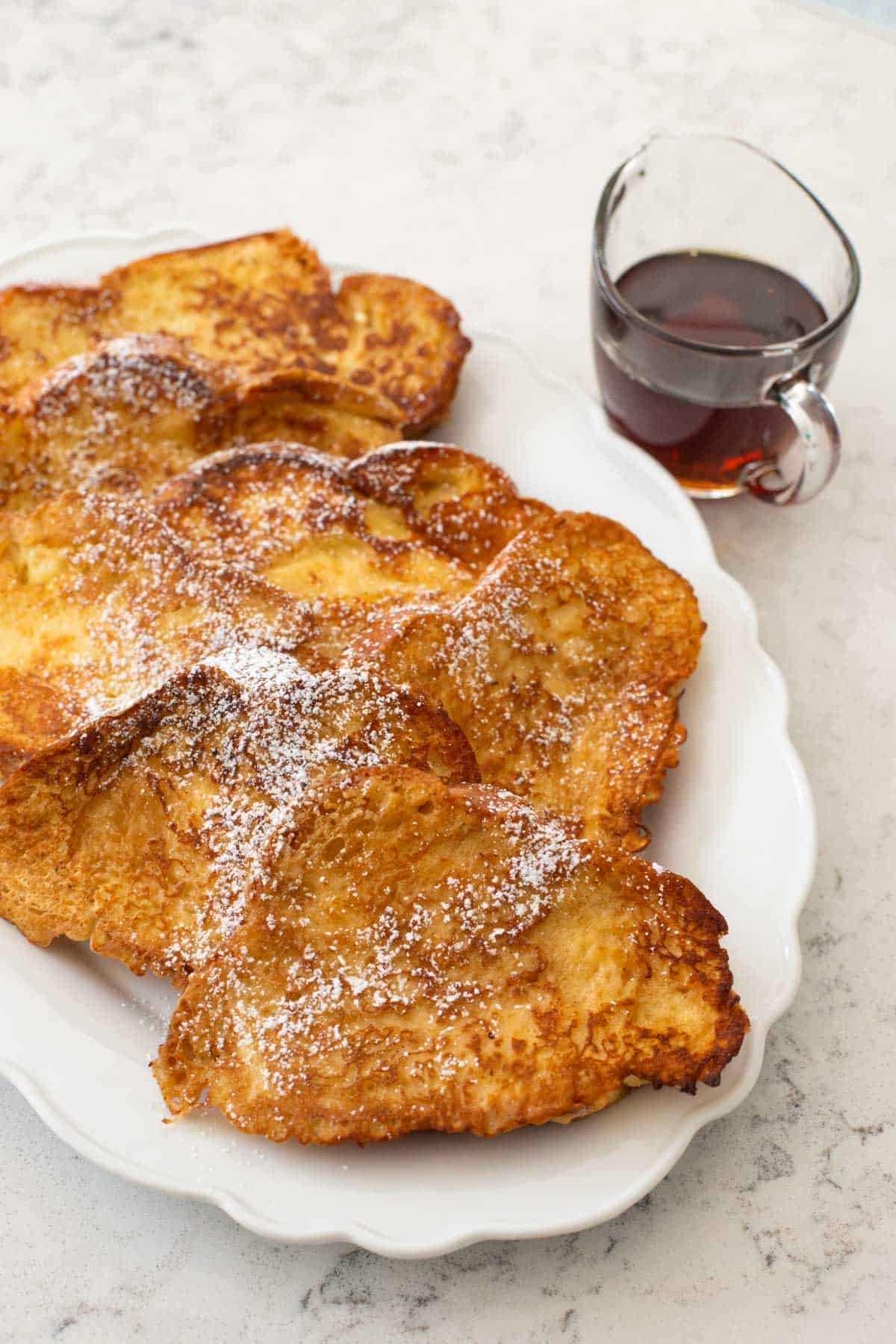 The French toast can be kept warm in the oven for 30 minutes or so. After that, it may begin to dry out a little.
Serve the fluffy French toast on a large platter sprinkled with powder sugar for a pretty presentation.
While I love maple syrup drizzled over the top, one of my easy freezer jam recipes pair so well with this recipe! The strawberry freezer jam is my favorite, it practically melts into a syrup over the hot toast.
If you love bacon with French toast, I recommend baking my peppered bacon before you start the French toast, it can easily be kept warm on a separate pan in the oven while you prepare the bread.
Leftover Storage Tips
If you have any French toast left after brunch, you can store the slices between waxed paper in a plastic baggie or container in the fridge.
The paper helps prevent the bread from sticking together.
To reheat the French toast, simply pop the slices into the toaster!
The heat from the toaster will ensure the outside edges get nice and crispy but the center remains warm and fluffy.
You could freeze the prepared French toast between waxed paper in a freezer storage bag for up to 12 months. Simply thaw in the fridge overnight and toast in the toaster.
More Breakfast Recipes
If you love this French toast recipe, you will also love these delicious family-friendly breakfast ideas:
📖 Recipe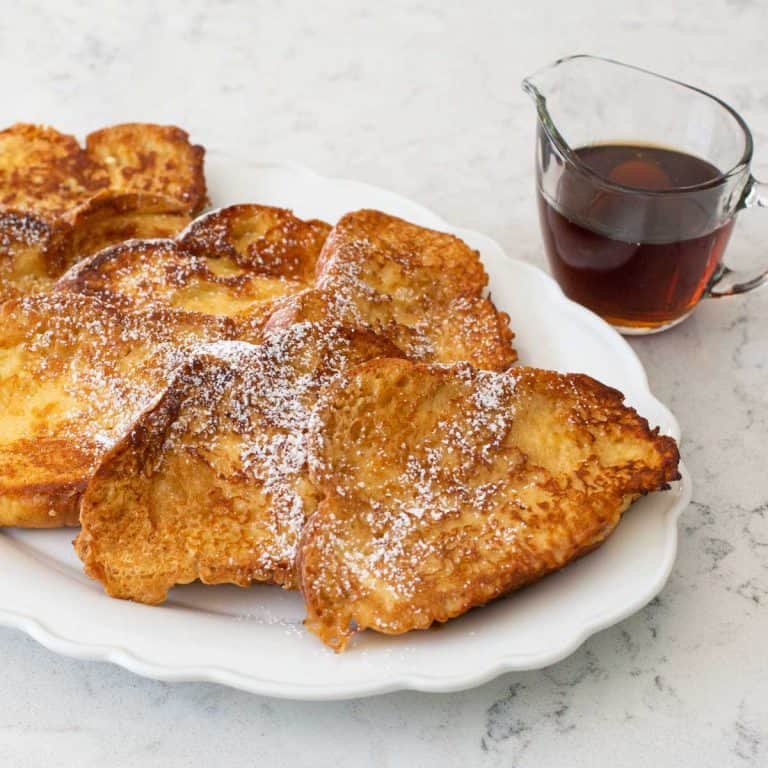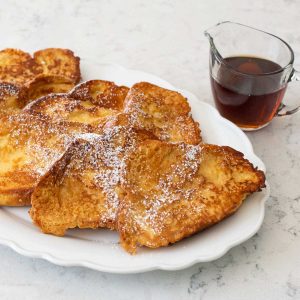 French Toast
This crispy French toast is perfect for serving family style. Keep the entire batch warm in the oven until you're ready to serve. The rich vanilla custard batter makes the sweetest, most delicious French toast ever.
Ingredients
1 ½

cup

milk

2

eggs

1

tablespoon

vanilla extract

Sprinkle of Cinnamon

Pinch

of Nutmeg

¼

cup

sugar

⅔

cup

all-purpose flour

½

teaspoon

salt

10 - 15

slices

of challah bread *See alternatives in notes

8

tablespoons

(1 stick) butter
Instructions
Preheat the oven to 225°F and place a large baking sheet on the center rack. You will keep the french toast warm here while you finish the batch.

In a 9 x 13-inch dish, add the milk and eggs. Whisk them together until smooth. Add the vanilla, cinnamon, and nutmeg and whisk to combine.

Add the sugar, flour, and salt to the batter and whisk them in until smooth.

Set up your assembly line: Place a non-stick pan over a burner set to medium-high heat. Place the pan of batter near the pan and the sliced bread next to the batter.

Add 2 tablespoons of butter to the pan. Once it has melted and started to bubble, quickly dip one side of one piece of bread into the batter, quickly flip it and dip the other side of the bread. Let the excess drain off and place it into the melted butter in the pan.

Repeat with 1 - 2 more pieces of bread, being very careful to not overcrowd the pan. Let the bread cook for 2 - 3 minutes and then flip and cook for an additional 1 - 2 minutes. Both sides should be golden brown.

Transfer the griddled french toast to the prepared pan in the oven to keep warm.

Repeat the dipping and griddling until all the bread has been cooked. You will need to add another 1 tablespoon of butter to the pan before adding each next round of dipped bread slices. If the french toast starts to brown too quickly, reduce the heat to medium.

Keep the entire batch of french toast warm in the oven until you are ready to serve, up to 30 minutes or so.

Store completely cooled leftovers between sheets of waxed paper to prevent sticking in an airtight container or baggie in the fridge. Reheat the slices in the toaster for crispy edges.
Recipe Notes
The Best Bread to Use
Challah bread makes amazing french toast because the texture holds up so well to the batter and griddling in butter. It is delicately sweet and takes on the flavors of the cinnamon and vanilla so well.
If you can't find challah at the grocery store, you can make it at home with this challah bread machine recipe.
If you don't want to make it at home, you can substitute:
A large loaf of Hawaiian bread
A loaf of brioche bread
A soft Italian bread
Save This Recipe to Your Recipe Box
Find this delicious recipe next time you visit by saving it to your very own recipe box on my site. All your favorites stored in one easy place!