This pretty red and green apple pear salad is perfect for serving as a festive Christmas salad or Thanksgiving salad during the holiday season. Studded with sweet dried cranberries and savory toasted almonds, it is a wonderful complement to the rich holiday foods on your table.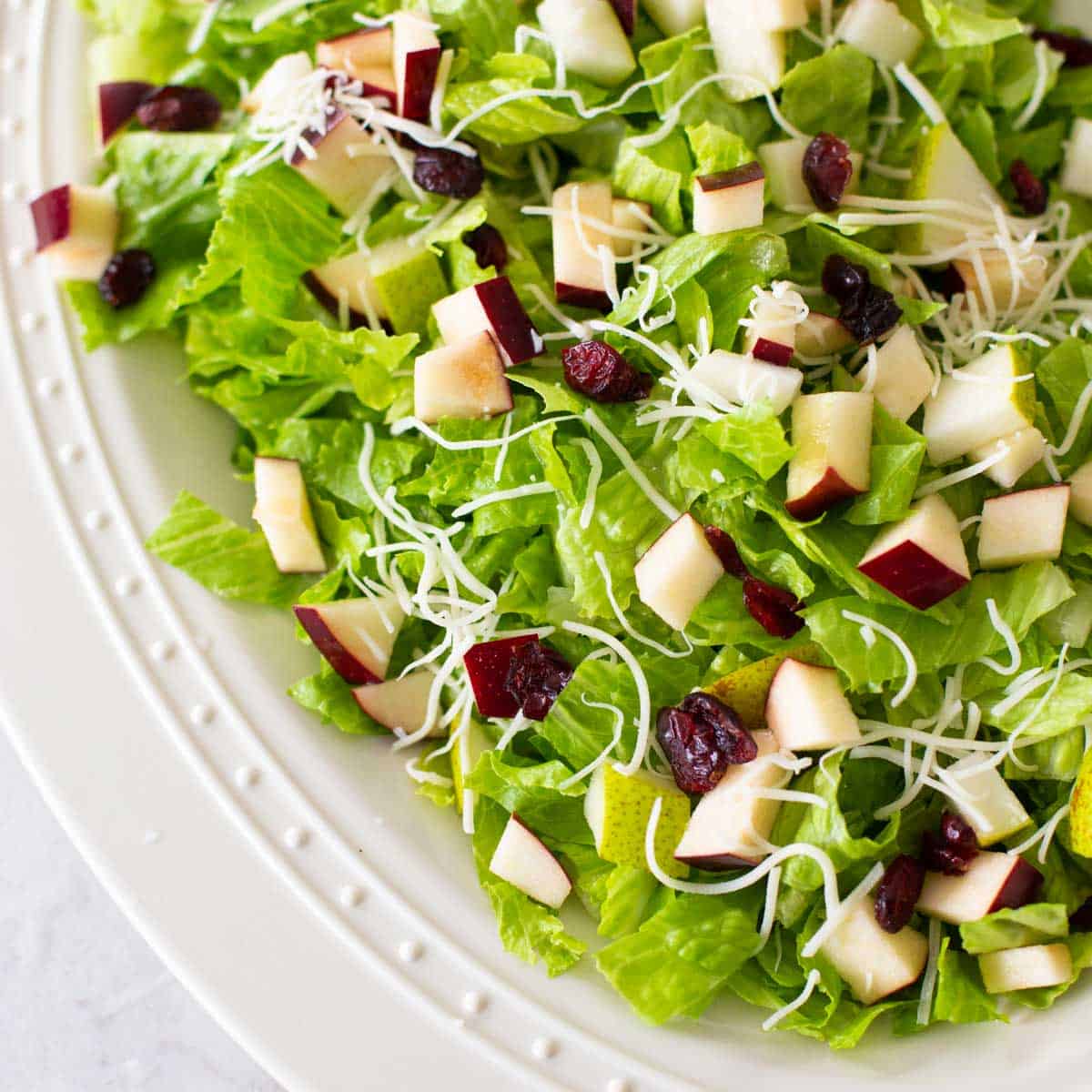 So much focus is spent on the main dish for your holiday dinner, but with just a tiny bit of preparation you can serve a lovely holiday salad to go with your Thanksgiving or Christmas feast.
This crisp and juicy apple pear salad is one of my favorites because it uses sweet dried cranberries with crispy toasted almonds and a lovely light mustard vinaigrette to dress it all.
There are several easy substitutions you could make to the ingredients to make this salad your very own dish and it complements a wide variety of traditional holiday meals.
Jump to:
Ingredients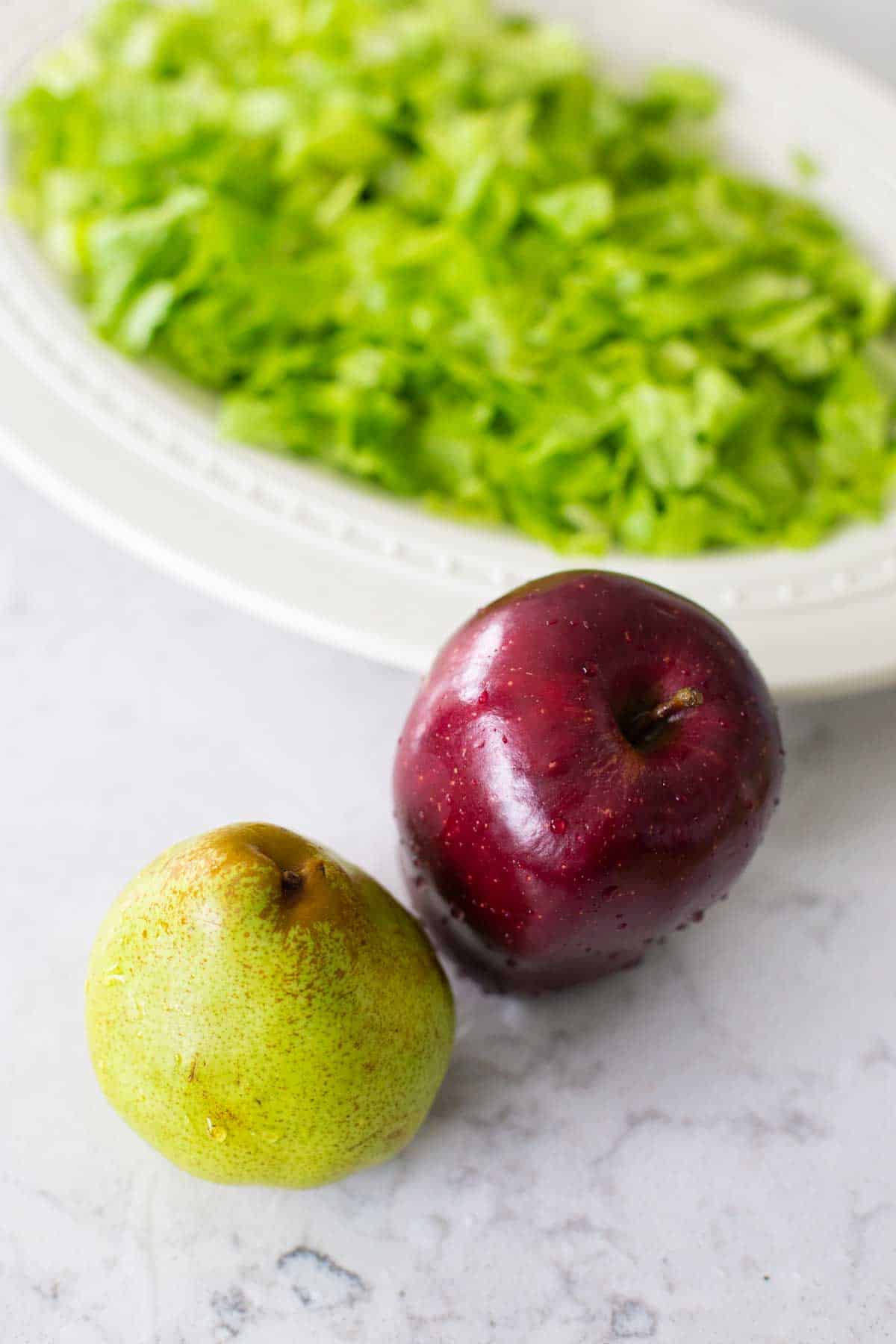 This flexible salad recipe can truly be tweaked to be your own but the classic base ingredients include:
Romaine Lettuce: Crispy, crunchy, and full of flavor.
Red Apples
Green Pears
Shredded Parmesan
Toasted Almonds
Dried Cranberries
Mustard Vinaigrette: You could use store bought prepared dressing or make my easy homemade mustard vinaigrette.
Don't miss the list of easy variations at the bottom of the post.
Keep the Fruit Crisp
Most holiday salads tend to sit out on a buffet table for a while during the meal.
In order to keep your fresh apples and pears crisp and presentable, you'll want to dice them and toss them in a bit of fresh lemon juice before adding them to your salad.
This will prevent them from turning brown in the air as they sit and keep them deliciously crispy.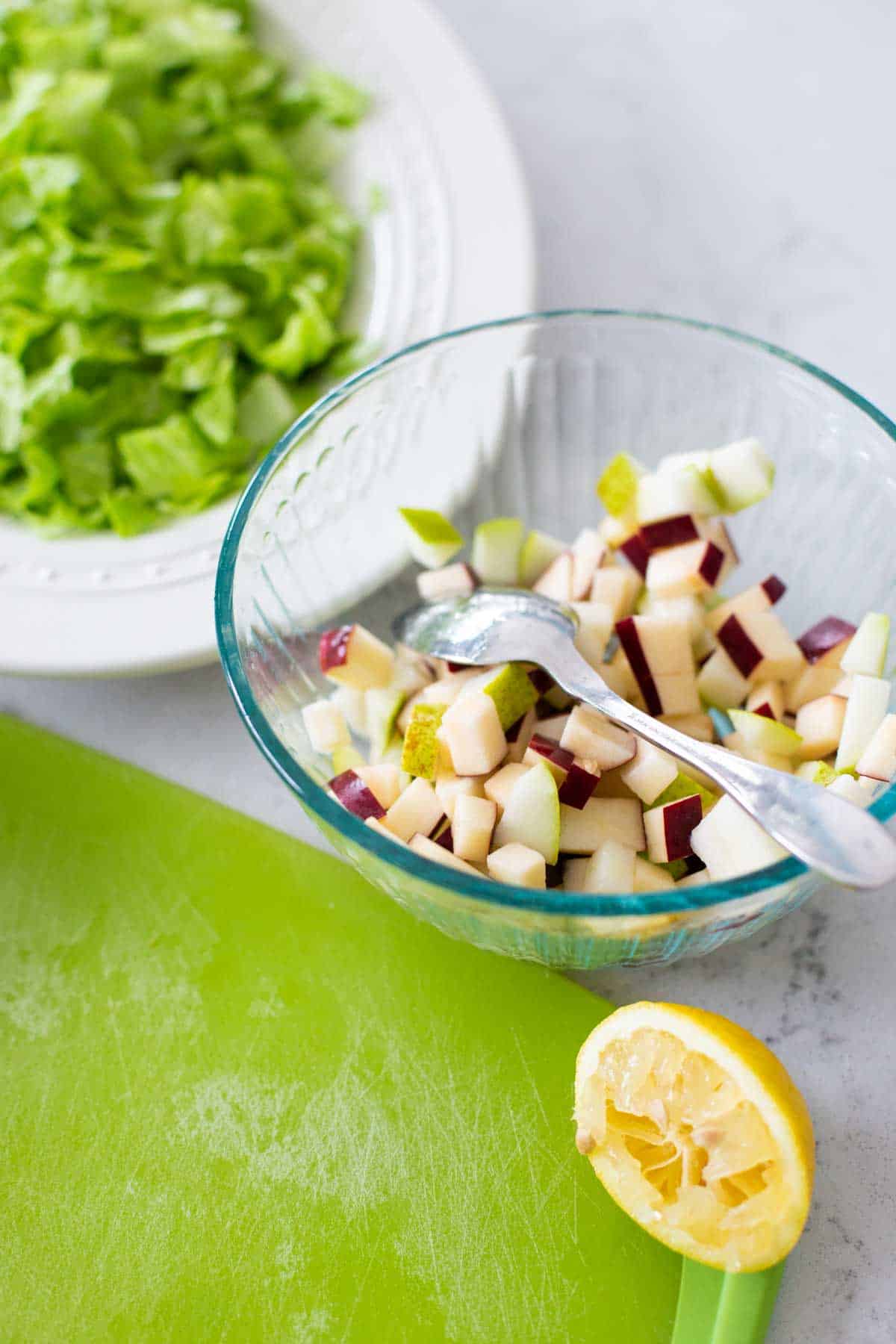 Build the Salad
To build the salad, lay a bed of prepared romaine lettuce on your serving platter.
Sprinkle the prepared apple and pear over the top.
Scatter the parmesan cheese, cranberries, and almonds over the top and you're ready to serve with the dressing on the side.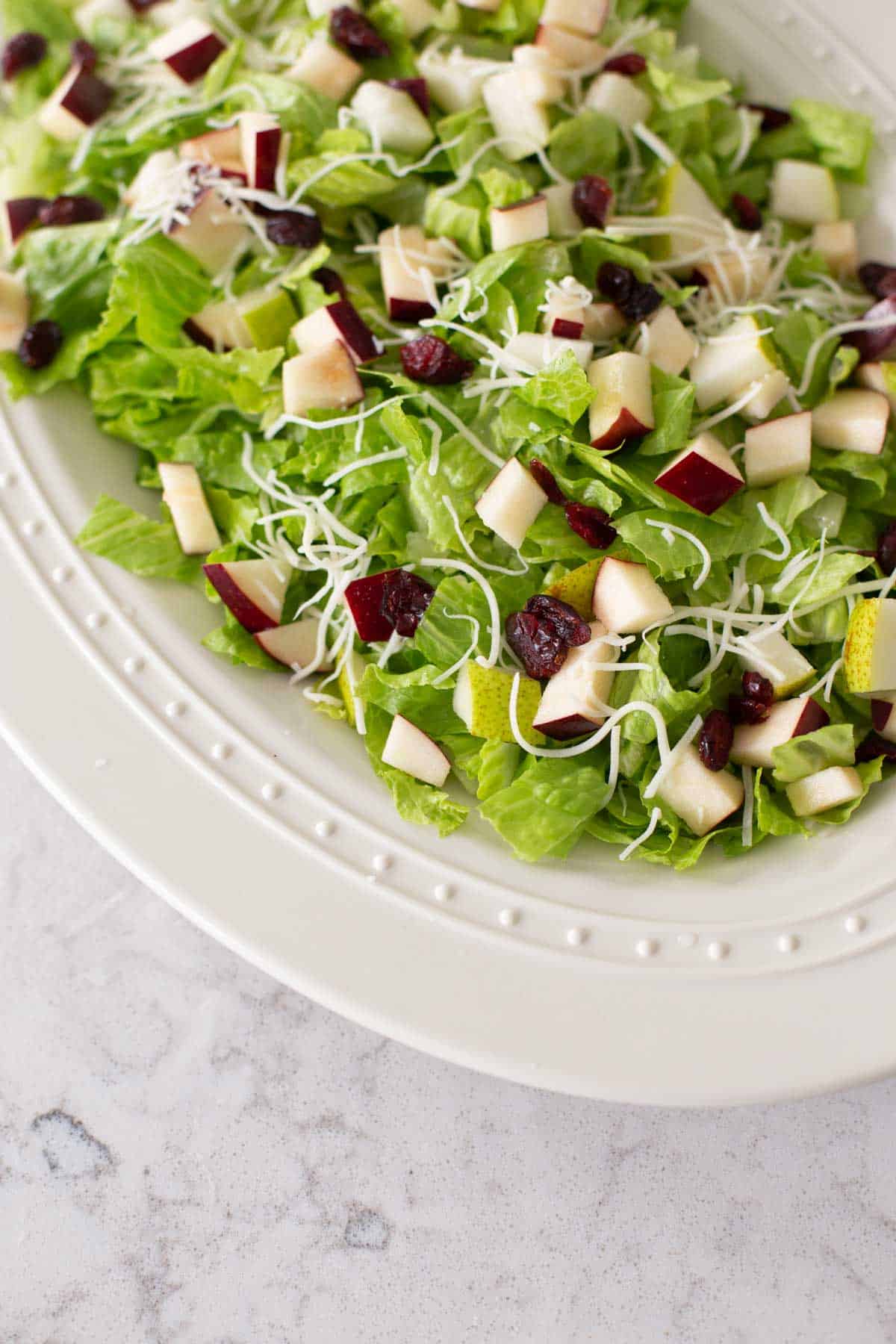 If you prefer to serve your holiday salad already tossed in salad dressing, you could add all the ingredients to a large salad bowl and toss it yourself before serving.
I generally prefer to serve the dressing separately so my guests can add as much or as little salad dressing as they prefer to their own plates.
Serving Suggestions
This apple pear salad would make such a wonderful complement to an easy holiday dinner that included:
Variations
If you want to tweak this salad, there are several easy swaps you could make to the main list of ingredients:
Lettuce: If you prefer, you could use spinach, arugula, or iceberg lettuce.
Cheese: You could substitute feta or blue cheese crumbles for the shredded parmesan.
Fruit: You could substitute a green apple for the pear or add mandarin oranges.
Nuts: You could substitute chopped pecans or walnuts or skip the nuts altogether for a nut-free salad.
Dressing: You could use a lemon parmesan vinaigrette or a raspberry vinaigrette if you prefer.
Make Ahead Tips
You can prep this salad up to 24 hours in advance for a holiday meal.
Simply wash and chop the lettuce. Store it in an airtight container separate from the other ingredients.
You could chop the pear and apple, toss them in lemon juice, and keep them in an airtight container in the fridge.
Toast the almonds in advance and just keep them in an airtight container at room temperature.
Then build the salad just before serving.