This elegant and easy prep-ahead dinner is perfect for a holiday meal. Serve it for Christmas Eve or any special fall meal. Tender and juicy pork tenderloins are stuffed with a creamy blue cheese and cranberry filling, tied and roasted. Slice and serve with a sweet potato side dish.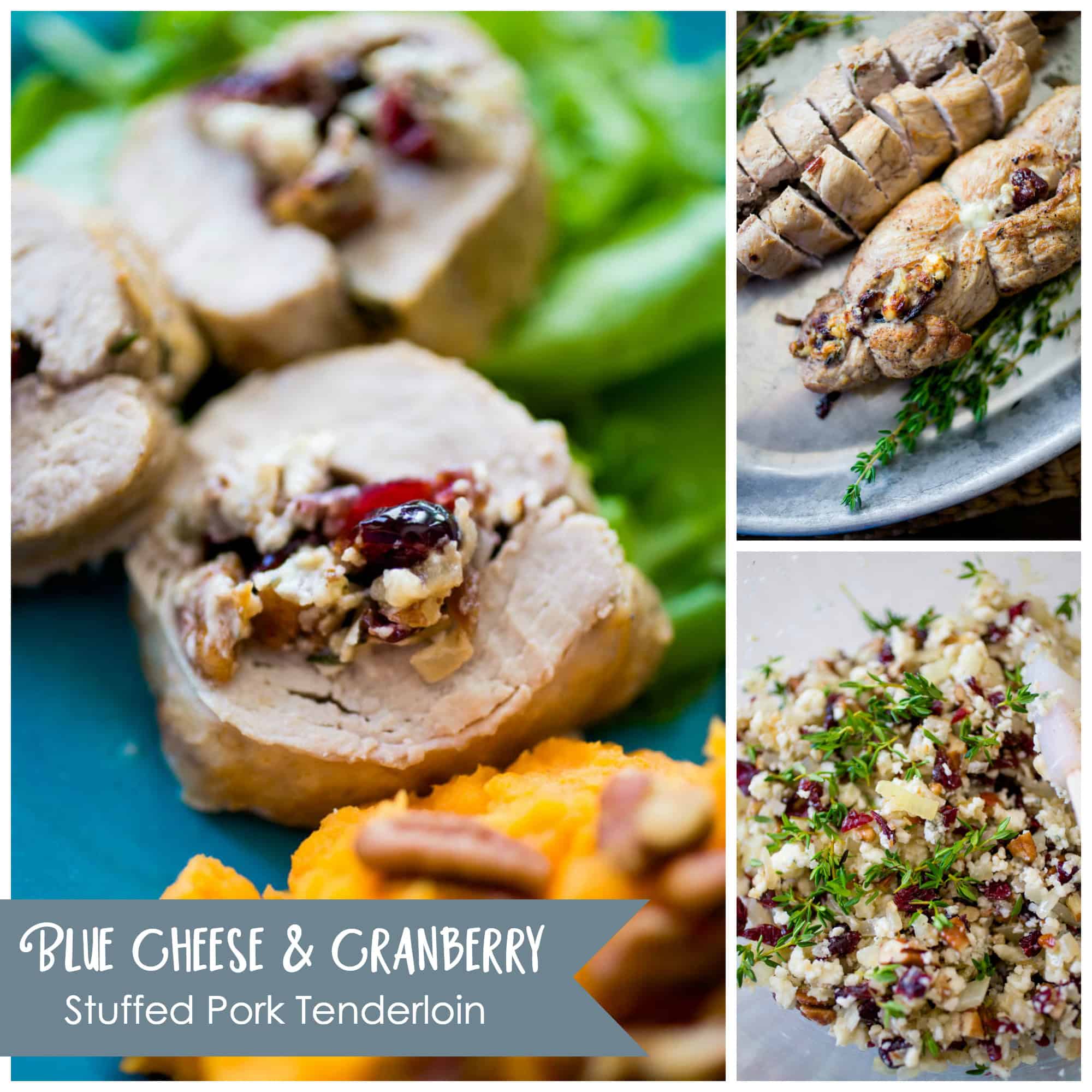 Fall is the season of pork! After a long run of grilled chicken dinners during the summer, our family loves to mix things up with yummy fall comfort foods: pulled pork in the slow cooker, pork chops with cinnamon apples, and pork tenderloin every which way we can think of it. Pork has always been Handyman Tim's favorite meat, so I'm always looking for new ways to serve it.
With Christmas quickly approaching and family coming in to town, I love to have simple weeknight dinner recipes ready to go that are still festive enough for the holidays. Before we have a house full of guests, I thought I'd try out a new blue cheese and cranberry stuffed pork tenderloin with mashed sweet potatoes and a simple salad. It was a huge hit with my family so I know our guests will love it, too.
The ingredient list is so easy and you can keep just about everything on hand: pecans, crumbled blue cheese, dried cranberries, onion & garlic, a Smithfield Prime Fresh Pork Tenderloin, and a bunch of fresh thyme.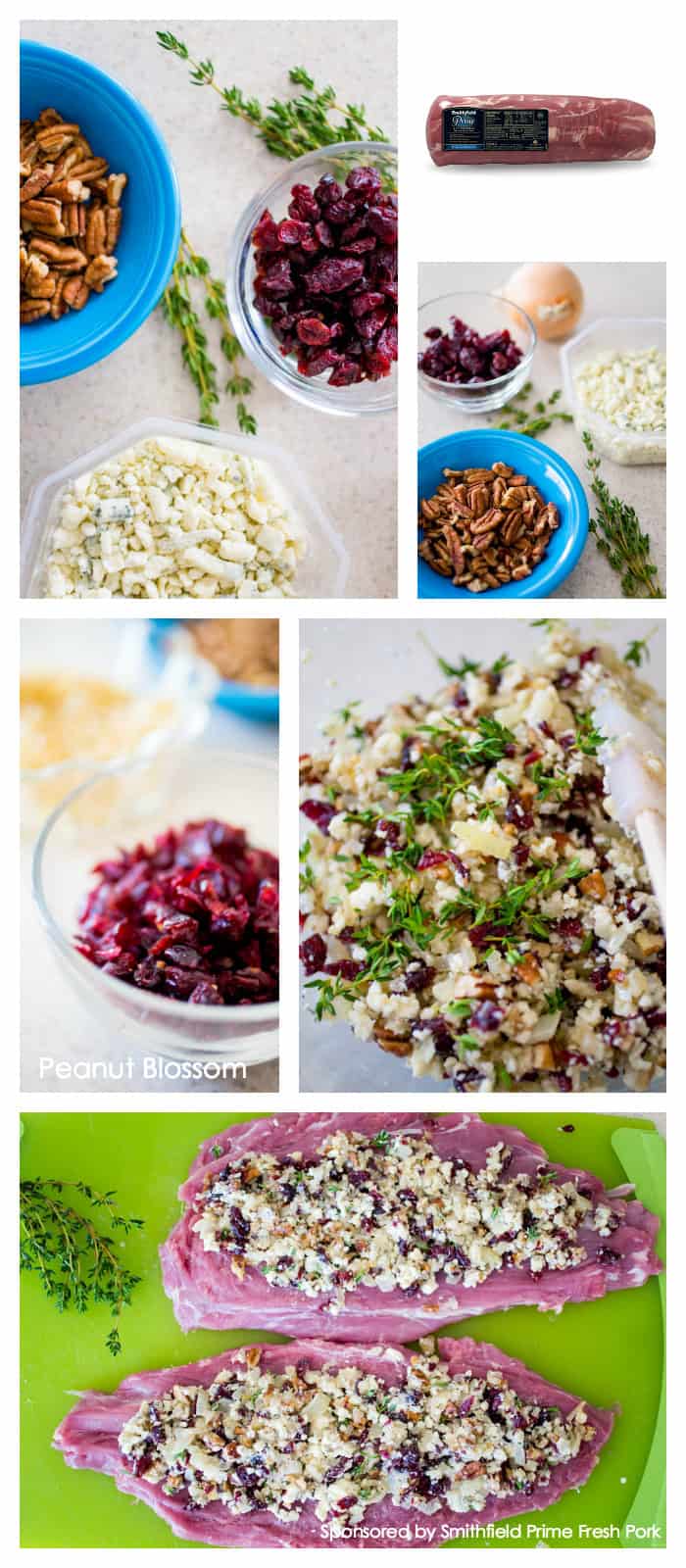 The filling comes together quickly. I prepped the pork by butterflying it length-wise. Cut a long slit along the length of the tenderloin leaving about a quarter of an inch so you can open it like a book. I used a meat mallet to pound the pork tenderloin thin so the tender meat would cook evenly.
I'm not a big fan of the pre-marinated flavors of pork tenderloin our local grocery store carries, and I love hunting down a plain version so we can spice it up to our own tastes.

The tender pork pairs so well with the creamy blue cheese and tangy cranberries. The pecans give it a nice salty crunch. While the dish baked in the oven, I prepared a simple green salad and heated up prepared mashed sweet potatoes to keep everything easy for the weeknight I served it.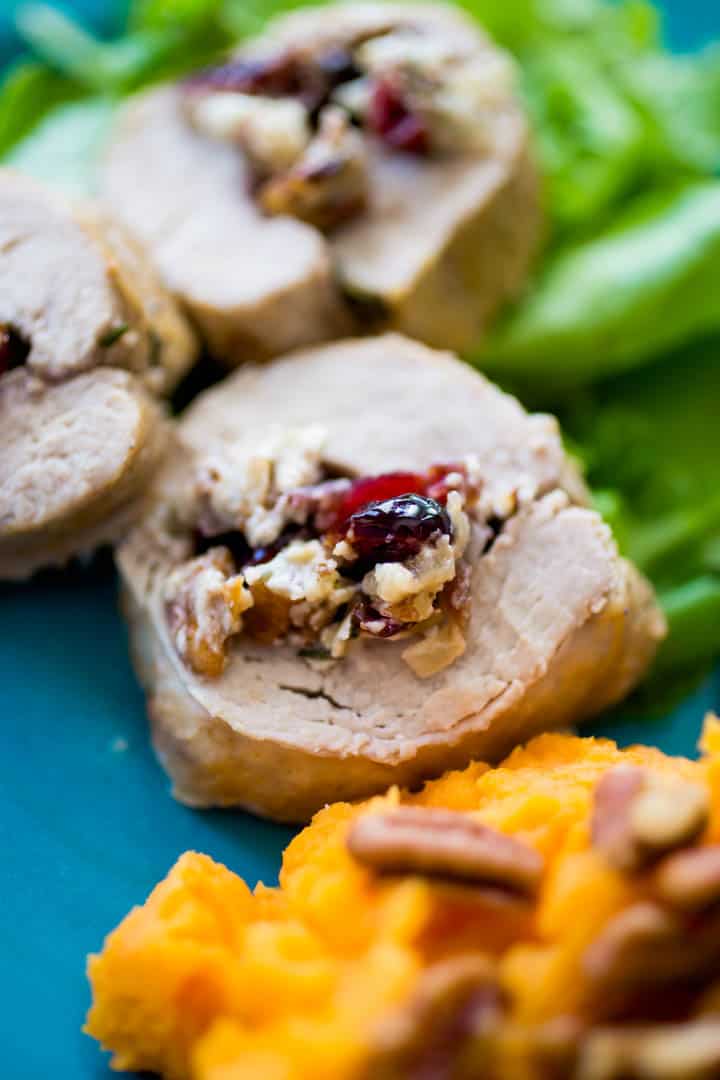 If you wanted to go really fancy, you could serve it alongside my favorite sweet potato side dish. I often have a prepared pan of them in our freezer after splitting half of the Thanksgiving batch for later!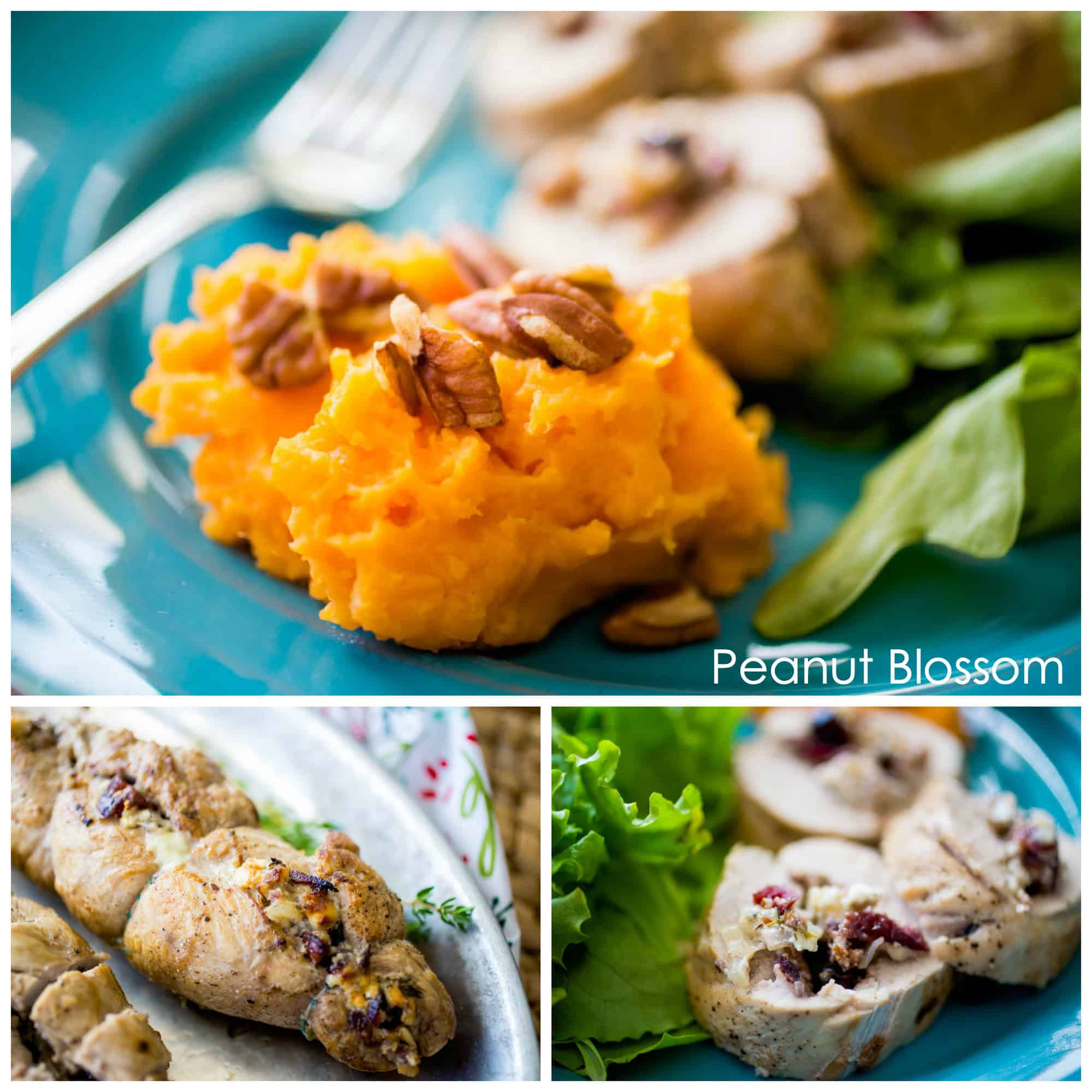 If you know your evening is going to be super crazy, you can easily prep this recipe ahead of time. Just make the filling, stuff the pork tenderloins, and have them ready to go in your fridge. Simply sauté and bake when dinnertime comes. Having my holiday dinner entree already prepared means I've got more time to spend with our guests and my family.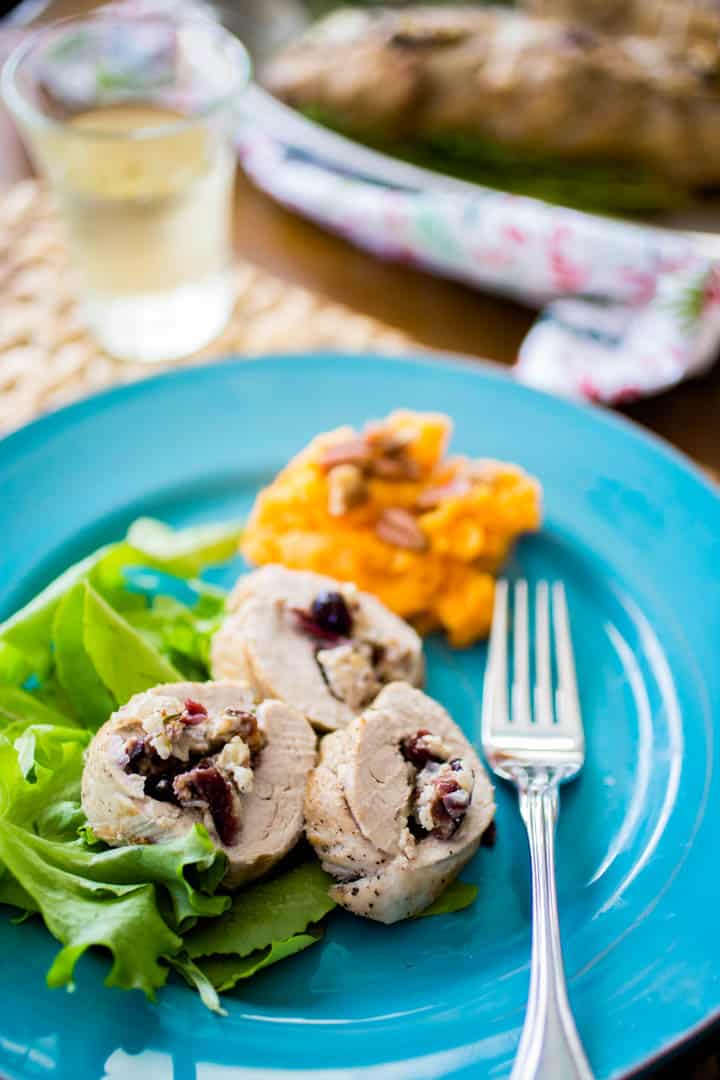 📖 Recipe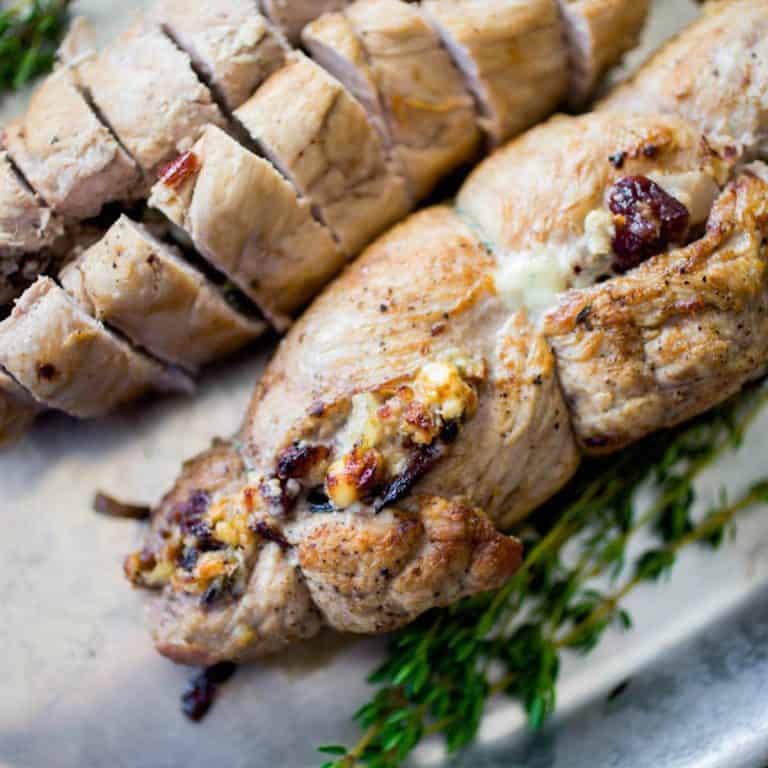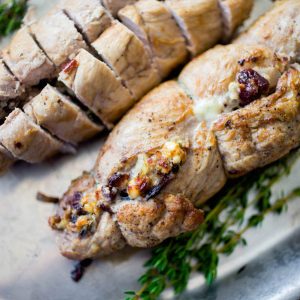 Blue Cheese and Cranberry Stuffed Pork Tenderloins
This elegant stuffed pork tenderloin recipe is perfect for fall entertaining. You can prep the dish ahead of time and simply bake it before serving.
Ingredients
2

tablespoon

butter

1

small onion

chopped

2

pork tenderloins

1 package usually has 2 loins inside

1

clove

garlic

minced

¼

cup

chopped pecans

¼

cup

chopped dried cranberries

1

cup

blue cheese crumbles

Several sprigs of fresh thyme or 1 teaspoon dried thyme

Salt & Pepper

2

tablespoon

vegetable oil
Instructions
Preheat the oven to 400°F. In a small saucepan, melt the butter and then saute' the onions and garlic until softened. Set aside to cool.

Prepare the pork tenderloin by splitting it lengthwise leaving a ¼ inch connecting piece. Open the pork like a book and pound flat with a mallet so the meat is even. Set aside.

In a medium bowl, toss and combine the onion mixture with the blue cheese, cranberries, pecans, and thyme. Spread half of the mix on each prepared tenderloin. Carefully roll the pork and tie closed with cooking twine. Season the outside of the tenderloins with salt & pepper.

In a large saute' pan, heat the vegetable oil over medium-high heat. Add each tenderloin and brown on all sides, about 1-2 minutes per side. Place the tenderloins on a baking sheet and bake for 20 minutes or until the pork registers 160°F at it's thickest part.

Remove from oven and tent with foil for 5 minutes to let the pork rest before slicing.
Save This Recipe to Your Recipe Box
Find this delicious recipe next time you visit by saving it to your very own recipe box on my site. All your favorites stored in one easy place!
.