Oven roasted pork loin with green peppercorn sauce is fancy enough to serve for your holiday feast but easy enough to make for a weeknight dinner. We love this as a Christmas Eve dinner or for a main dish at Easter brunch.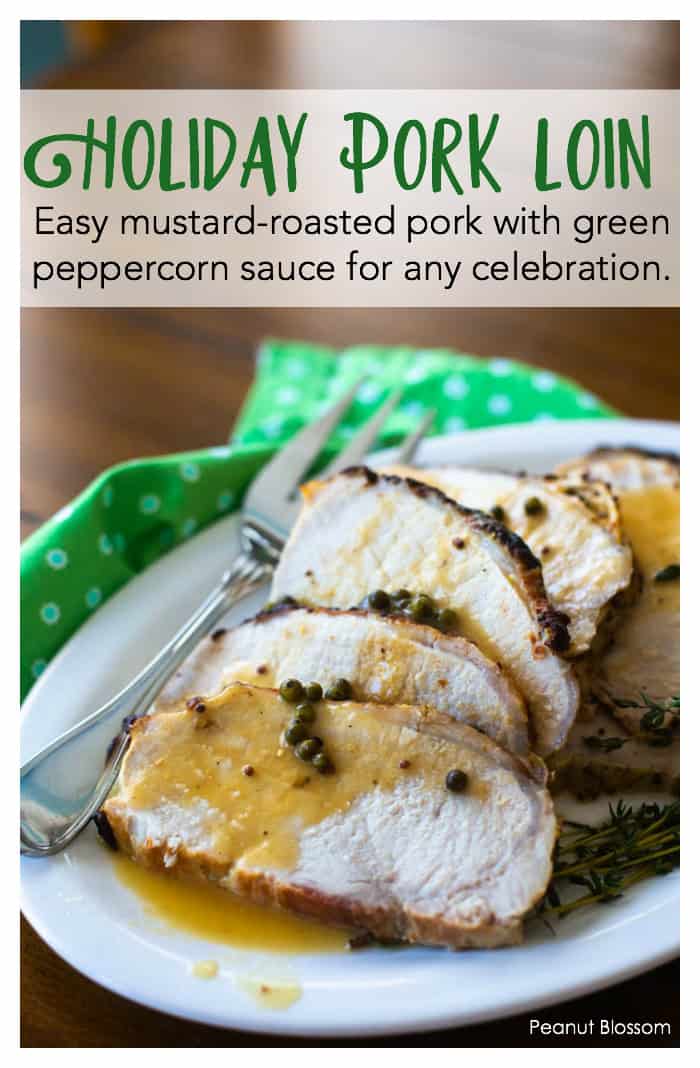 If you're looking for a new holiday recipe for your Easter or Christmas dinner beyond the traditional holiday ham, you need this tender and delicious oven roasted pork loin with green peppercorn sauce.
I was never that big of a fan of pork loin. When it is overcooked it can be dry and chewy. Often it isn't seasoned well so it can also be fairly tasteless. Then I discovered this crazy easy method for oven roasting the pork loin with just a few ingredients.
The dish is mostly hands-off and the resulting pork is moist, flavorful, and so tender. You can easily make it a day in advance if you follow my reheating tricks below.
The entire family gobbled this one up on an average weeknight. As long as you've got the time for the roasting, this meal is so easy you truly could make it any night of the year. For really crazy weeks, you could cook it on Sunday evening and have an amazing meal on Monday night to start your week off right!

How to make oven roasted pork loin:
The key to cooking oven roasted pork loin is to use an oven-proof saute pan that is just big enough to hold the pork loin. I used a 2.5 pound pork loin for our dish, but you can scale this up or down to meet your family's needs.
We'll mix together olive oil, two kinds of mustard, and some seasoning to spread over the top of the pork loin before you put it in the oven. I also insert an oven-safe probe thermometer to make sure the pork doesn't get overcooked. When it registers 145 degrees on the thermometer, I take the pork roast out of the oven and let it rest for 20 minutes so the juices can redistribute throughout the pork loin before cutting.
The probe thermometer has saved many a roast over the years. I can't do an oven roasted pork loin properly without it. The model I use has a temperature alarm that goes off right when the pork is perfect. You can get a probe thermometer for under $15 right here.

What is the best sauce for pork?
I think having a savory and delicious sauce for the pork loin is an absolutely essential element to the meal. The first time I ever remember truly loving pork loin was with this easy green peppercorn sauce.
Your oven roasted pork loin has now dripped all kinds of goodness into your saute pan over the last hour+. Once you move the pork loin to a cutting board to rest, use all those flavorful drippings and add white wine, chicken stock, and a few other things to make a simple green peppercorn sauce to go with it. The peppercorn sauce is thinner than gravy so it isn't as heavy. It's just a light and tasty way to accent the delicious pork loin slices.
If you serve mashed potatoes or even roasted potatoes with the dish, the green peppercorn sauce would be totally delicious drizzled over those as well.
Can you make this recipe ahead of time?
Surprisingly, Yes!! You can absolutely make the oven roasted pork loin and the green peppercorn sauce up to a day ahead. This makes it a perfect dish to serve when you are entertaining or hosting Easter or Christmas at your house. You can do all the work ahead of time, and just reheat it when you're ready to serve.
Be sure to store the pork and the green peppercorn sauce separately in the fridge in airtight containers.
How do you reheat the pork loin and sauce?
Reheating the oven roasted pork loin and sauce is easy peasy as long as you follow these tricks:
After you've roasted the pork, be sure to let it rest the full 20 minutes and then slice it thinly.
Store the pork slices in one container and the green peppercorn sauce in a second separate container.
Let the container of pork rest on the counter and come closer to room temperature while you reheat the sauce.
In a large saucepan, gently reheat the green peppercorn sauce over medium-low heat. If the sauce has gotten too thick overnight, you can add a splash of chicken stock and whisk it in.
Once the green peppercorn sauce is just barely bubbling, lay the slices of pork into the sauce to warm through. I turned the slices over once to make sure they were heating evenly. I never let the sauce get too hot. You're not trying to cook the pork any more, just gently heat it all the way through.
This is a far superior way to reheat the pork than attempting to microwave it where it will get chewy or drying it out in the oven.
Looking for more holiday recipes?
This oven roasted pork is an excellent Easter or Christmas recipe. Be sure to check out some of our other favorite holiday dinner ideas: