Oven roasted pork loin with green peppercorn sauce is fancy enough to serve for your holiday feast but easy enough to make for a weeknight dinner. We love this as a Christmas Eve dinner or for a main dish at Easter brunch.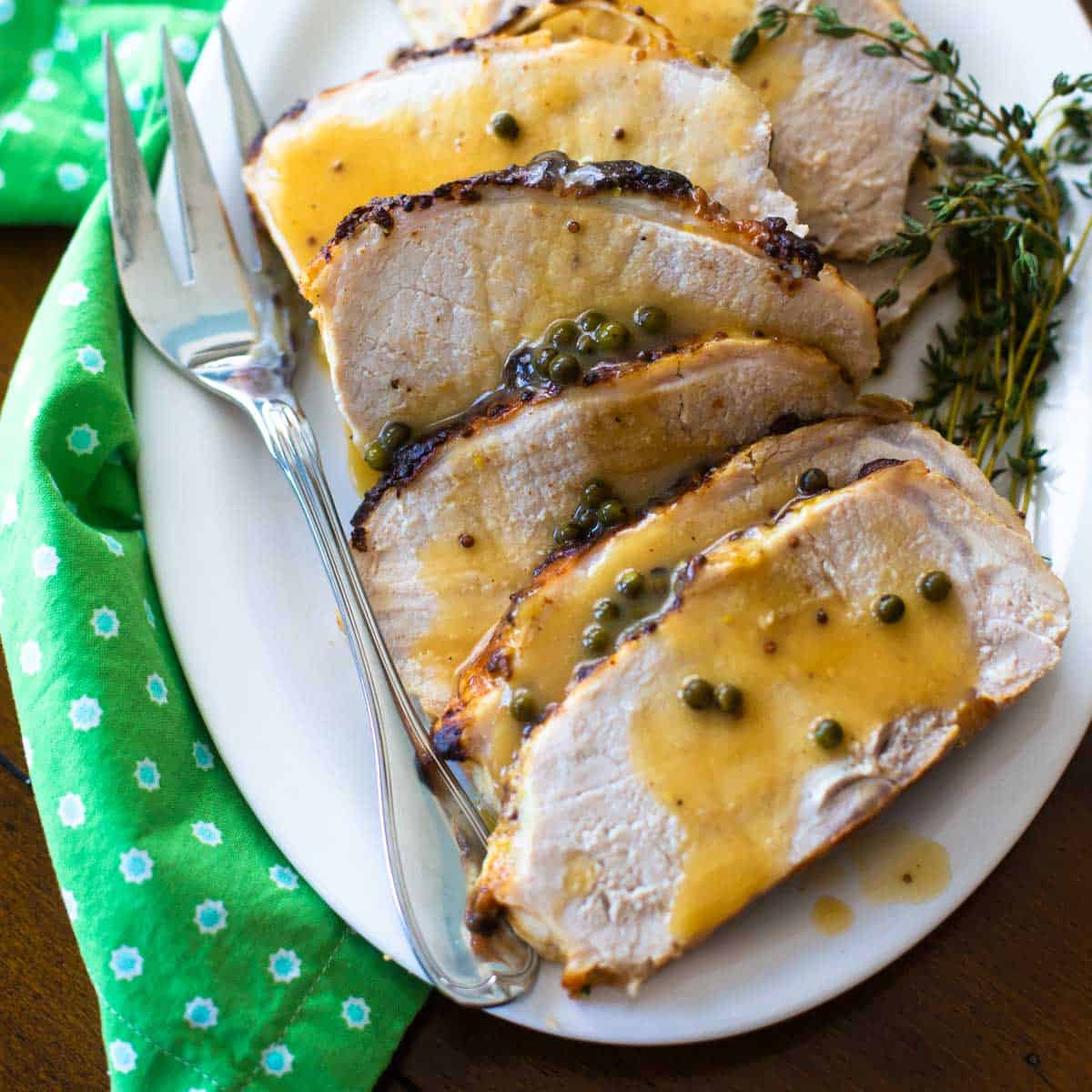 If you're looking for a new holiday recipe for your Easter or Christmas dinner beyond the traditional holiday ham, you need this tender and delicious oven roasted pork loin with green peppercorn sauce.
I was never that big of a fan of pork loin. When it is overcooked it can be dry and chewy. Often it isn't seasoned well so it can also be fairly tasteless. Then I discovered this crazy easy method for oven roasting the pork loin with just a few ingredients.
The dish is mostly hands-off and the resulting pork is moist, flavorful, and so tender. You can easily make it a day in advance if you follow my reheating tricks below.
The entire family gobbled this one up on an average weeknight. As long as you've got the time for the roasting, this meal is so easy you truly could make it any night of the year. For really crazy weeks, you could cook it on Sunday evening and have an amazing meal on Monday night to start your week off right!
Jump to:
Why This is the Best Recipe
If you're looking for a unique holiday roast to serve instead of the more traditional turkey or ham, this oven roasted pork loin is a perfect choice because:
Light and Lean: It is a light cut of meat with very little fat. A perfect choice if you're avoiding red meat for the holiday dinner.
Budget-Friendly: Pork is so much more affordable than beef but is still tender and delicious.
Make-Ahead Friendly: Save time during the dinner party and enjoy your family and friends. You can make this ahead of time and gently reheat it before serving.
Filled with Flavor: Do not miss the delicious peppercorn sauce recipe at the end. It helps to reheat the meat and adds so much flavor to the meal.
Ingredients
This oven roasted pork loin only needs a few simple ingredients:
Boneless Pork Loin
Olive Oil
Dijon Mustard
Whole Grain Mustard
Dried Fennel Seeds
Kosher Salt and Pepper
To make the amazing peppercorn sauce, you will also need:
Butter
Flour
White Wine
Chicken Stock
Dijon Mustard
Whole Grain Mustard
Green Peppercorns in Brine
For full instructions and quantities of the ingredients, see the printable recipe card below.
How to Make Oven Roasted Pork Loin
The key to cooking oven roasted pork loin is to use an oven-proof saute pan that is just big enough to hold the pork loin.
I used a 2.5 pound pork loin for our dish, but you can scale this up or down to meet your family's needs.
We'll mix together olive oil, two kinds of mustard, and some seasoning to spread over the top of the pork loin before you put it in the oven.
I also insert an oven-safe probe thermometer to make sure the pork doesn't get overcooked.
When it registers 145°F on the thermometer, I take the pork roast out of the oven and let it rest for 20 minutes so the juices can redistribute throughout the pork loin before cutting.
The probe thermometer has saved many a roast over the years. I can't do an oven roasted pork loin properly without it.
The model I use has a temperature alarm that goes off right when the pork is perfect. You can get a probe thermometer for under $15 right here.
You can learn how to make a smoked pork loin on your Traeger, too!

The Best Sauce for Pork
I think having a savory and delicious sauce for the pork loin is an absolutely essential element to the meal.
The first time I ever remember truly loving pork loin was with this easy green peppercorn sauce.
Your oven roasted pork loin has now dripped all kinds of goodness into your saute pan over the last hour+.
Once you move the pork loin to a cutting board to rest, use all those flavorful drippings and add white wine, chicken stock, and a few other things to make a simple green peppercorn sauce to go with it.
The peppercorn sauce is thinner than gravy so it isn't as heavy. It's just a light and tasty way to accent the delicious pork loin slices.
If you serve mashed potatoes or even roasted potatoes with the dish, the green peppercorn sauce would be totally delicious drizzled over those as well.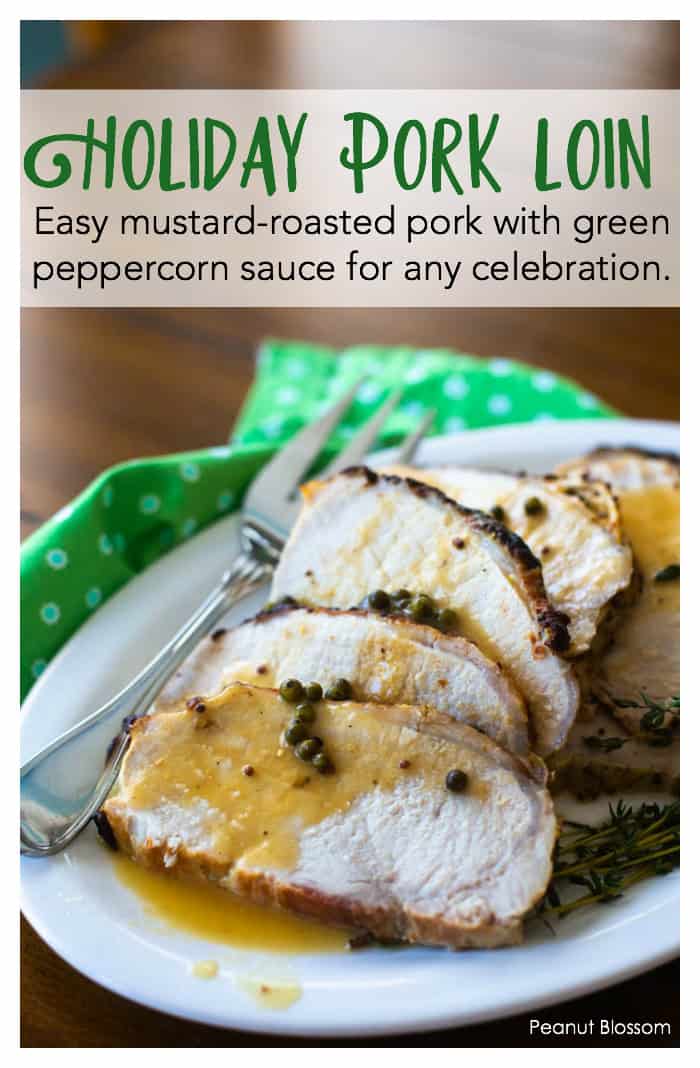 Make Ahead Tips
You can absolutely make the oven roasted pork loin and the green peppercorn sauce up to a day ahead.
This makes it a perfect dish to serve when you are entertaining or hosting Easter or Christmas at your house.
You can do all the work ahead of time, and just reheat it when you're ready to serve.
Be sure to store the pork and the green peppercorn sauce separately in the fridge in airtight containers.
How to Reheat the Pork Loin and Sauce
Reheating the oven roasted pork loin and sauce is easy peasy as long as you follow these tricks:
After you've roasted the pork, be sure to let it rest the full 20 minutes and then slice it thinly.
Store the pork slices in one container and the green peppercorn sauce in a second separate container.
Let the container of pork rest on the counter and come closer to room temperature while you reheat the sauce.
In a large saucepan, gently reheat the green peppercorn sauce over medium-low heat. If the sauce has gotten too thick overnight, you can add a splash of chicken stock and whisk it in.
Once the green peppercorn sauce is just barely bubbling, lay the slices of pork into the sauce to warm through. I turned the slices over once to make sure they were heating evenly. I never let the sauce get too hot. You're not trying to cook the pork any more, just gently heat it all the way through.
This is a far superior way to reheat the pork than attempting to microwave it where it will get chewy or drying it out in the oven.
However, if you have leftover pork loin, you may just want to use it in my easy Cuban sliders recipe for a whole new dinner on a different night!
Serving Suggestions
For a delicious and elegant meal, here are a few side dishes I think you'll really love pairing with this dish.
Mashed potatoes will be perfect with a drizzle of the peppercorn sauce instead of gravy.
If you prefer your potatoes crispy, my oven roasted mini potatoes are an elegant choice.
This easy wild rice pilaf is loaded with tender veggies and adds a dash of color to the plate.
In the fall, my make ahead sweet potato casserole would be a delicately sweet and crispy addition to the meal.
More Easy Holiday Main Dishes
Looking for more make-ahead or easy holiday main dishes?
Here are a few of our current family favorites:
📖 Recipe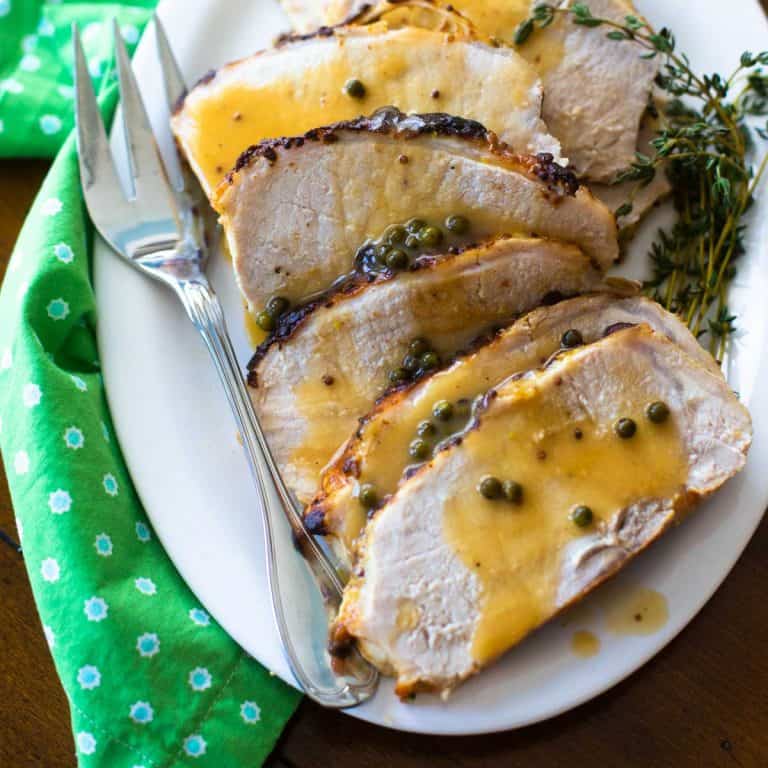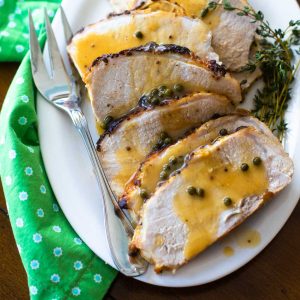 Oven Roasted Pork Loin with Easy Green Peppercorn Sauce
This make-ahead oven roasted pork loin with green peppercorn sauce is the perfect holiday recipe but is easy enough to do for an average weeknight!
Ingredients
For the pork loin:
1

(2.5 pound) boneless pork loin

2

tablespoon

olive oil

1

tablespoon

Dijon mustard

1

tablespoon

whole-grain mustard

1

teaspoon

fennel seeds

1

teaspoon

kosher salt

1

teaspoon

ground black pepper
For the green peppercorn sauce:
3

tablespoon

butter

only if there isn't enough fat in the saute pan

3

tablespoon

all-purpose flour

1

cup

white wine

3

cups

chicken stock

1

teaspoon

Dijon mustard

1

teaspoon

whole grain mustard

1

(3.5 oz) container of green peppercorns in brine

drained
Instructions
Preheat the oven to 400°F. Place the pork loin on your counter and let it come to room temperature for 30 minutes while the oven preheats.

Spray an ovenproof saute pan with a light spritz of cooking oil. Place the pork loin with the fat side up in the pan. 

Combine the olive oil, mustards, fennel seed, and salt & pepper in a small bowl. Spoon them evenly over the top of the pork loin. Insert a probe thermometer into the center of the pork and set the temperature alarm for 145 degrees.

Place the saute pan in the oven and roast the pork until it reaches 145 degrees. Generally, this takes 20 - 25 minutes per pound.

Once the pork is at the proper temperature, remove the pan from the oven. Transfer the pork loin to a cutting board and cover it loosely with a tent of aluminum foil. 
Prepare the green peppercorn sauce:
There should be some drippings in the pan. Pour out anything more than ¼ cup of the drippings. If there's not much in the pan, just leave everything as is and add 3 - 4 tablespoon of butter. Melt the butter over medium heat.

Add the flour to the pan and whisk it into the fat until it is bubbling and lightly golden. Pour in the wine and use it to deglaze the pan. The wine will help release all the dark bits left behind by the pork.

Add the chicken stock, the mustards, and the drained peppercorns to the pan. Whisk everything together and bring to a gentle boil. Reduce the heat to medium-low and continue to whisk until the sauce has thickened and slightly reduced, about 10 - 15 minutes. Take a taste of the sauce and add salt and pepper as needed.

Serve the pork with the sauce drizzled over the top. 
If making ahead: store the pork and sauce separately up to 1 day.
Save This Recipe to Your Recipe Box
Find this delicious recipe next time you visit by saving it to your very own recipe box on my site. All your favorites stored in one easy place!