What do you do with leftover pork? When there's not enough of it to enjoy on its own, you need go-to easy leftover pork recipes so nothing goes to waste. This comfort food classic is a huge hit with kids and is freezer friendly.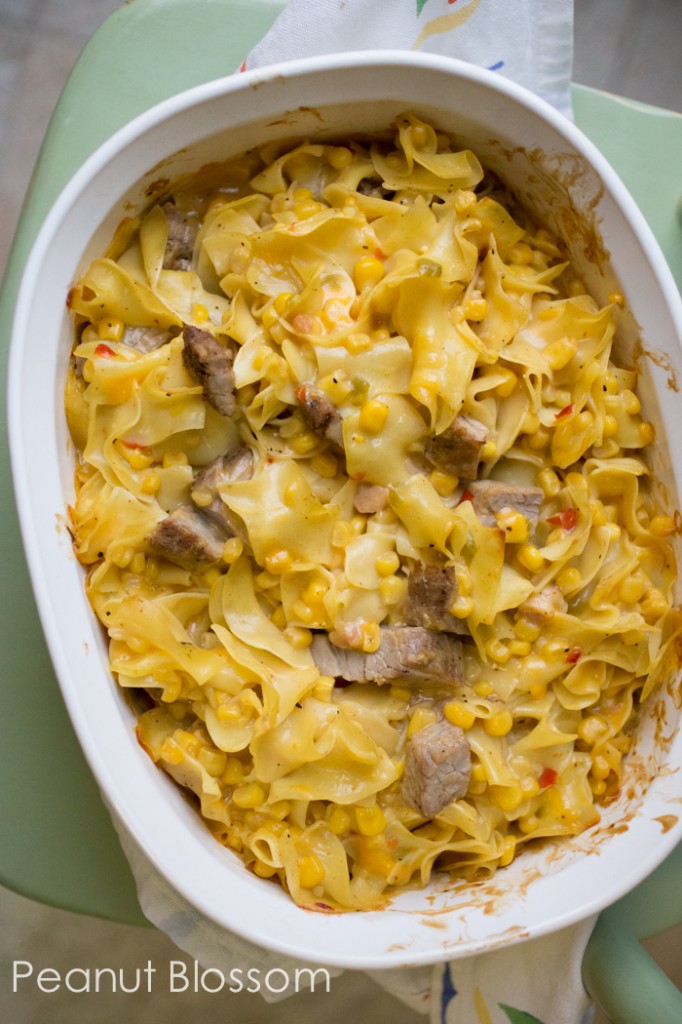 All my friends make fun of me for having a recipe in my repertoire with this silly of a name but this is one of my all-time favorite comfort foods. My mom made it for us often when we were little. This recipe must be older than dirt, I have no idea where it came from in the first place but it is a staple at our house because:
it uses up pork leftovers well
has mostly pantry ingredients so I can make it in a pinch
works well in the freezer as a prepared casserole or as leftovers
Generally, I try to cook with all-natural ingredients and a minimum of canned/prepared/boxed items. This is where I make my big exception. I think this is the only time I ever use canned cream of chicken soup.
This was my big "fancy meal" for New Year's Eve. I felt guilty serving it to the family but I was tired and not feeling the spirit of the holiday. As Handyman Tim dug into his plate, he looked up and completely unprompted said,
"This is one of your top 3 recipes."
High praise, believe me.
So, it may not be the absolute healthiest dish on earth, but apparently it is very picky-eater friendly. Just ask Tim.
I've learned the key to the dish is the pork itself. I make a pork roast specifically with this casserole in mind. Because of that important step, I'm sharing two recipes: one for the pork itself and one for the casserole. You can get the roast pork recipe right here. Enjoy!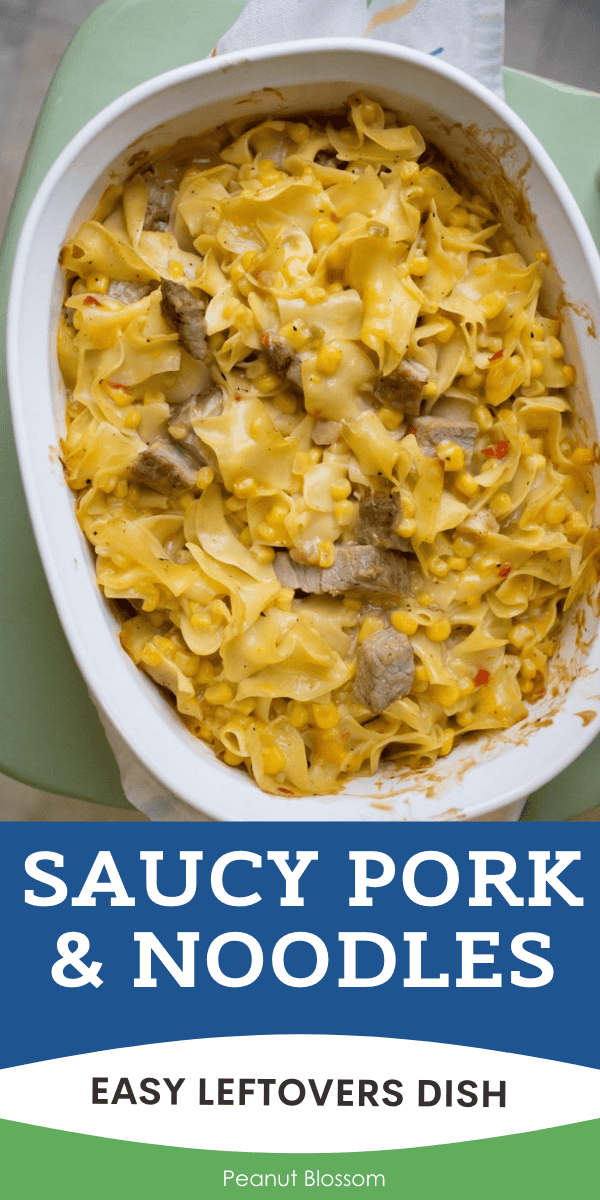 The best way to use up leftover pork: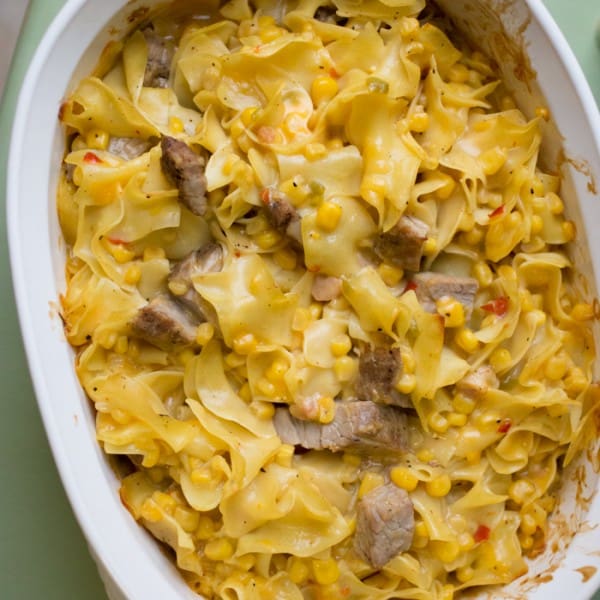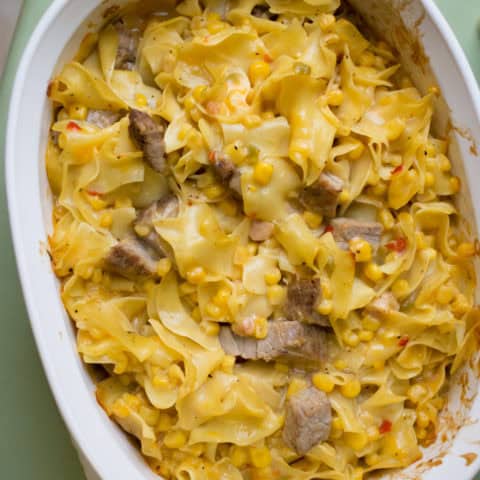 Saucy Pork and Noodle Bake
Kid-friendly comfort food at it's best! Cheesy noodles mixed with corn and leftover pork, it's the perfect casserole to make ahead and keep prepped in your freezer. This recipe is older than dirt, provided by my mom!
Ingredients
1 package of wavy egg noodles (try to find the slightly thinner ones vs. the big fat wide ones.)
2 cans of cream of chicken soup
2 cans of Mexicorn (the kind mixed with chopped red and green peppers)
1 cup of shredded cheddar cheese
2 cups of bite-sized leftover pork
fresh cracked pepper to taste
Instructions
Boil the noodles for half of the time recommended on the package, drain and rinse them to stop them from overcooking.
Add the cans of soup, corn, and cheese to a large bowl and stir to combine. NOTE: Don't drain the corn, you want that extra liquid for cooking. Gently fold in the noodles and pork so you don't crush the noodles.
Pour the noodle mixture into a casserole dish that has been prepared with cooking spray. At this stage, you can either freeze the casserole or proceed to cook.
Preheat oven to 375 degrees. Bake covered for 20 minutes. Remove the cover and carefully stir the dish up a little to make sure the center gets piping hot. Continue to bake for another 20-25 minutes uncovered. The top should crisp up just a bit and the whole thing should be bubbling and warm.
Notes
If you're feeling fancy, you can also add slightly sautéed onions to the mix before baking. For Handyman Tim's sake, I generally leave them out. My mom adds them and they are delicious.