What do you do with leftover pork? When there's not enough of it to enjoy on its own, you need go-to easy leftover pork recipes like this delicious saucy pork and noodle bake so nothing goes to waste. This comfort food classic is a huge hit with kids and is freezer friendly.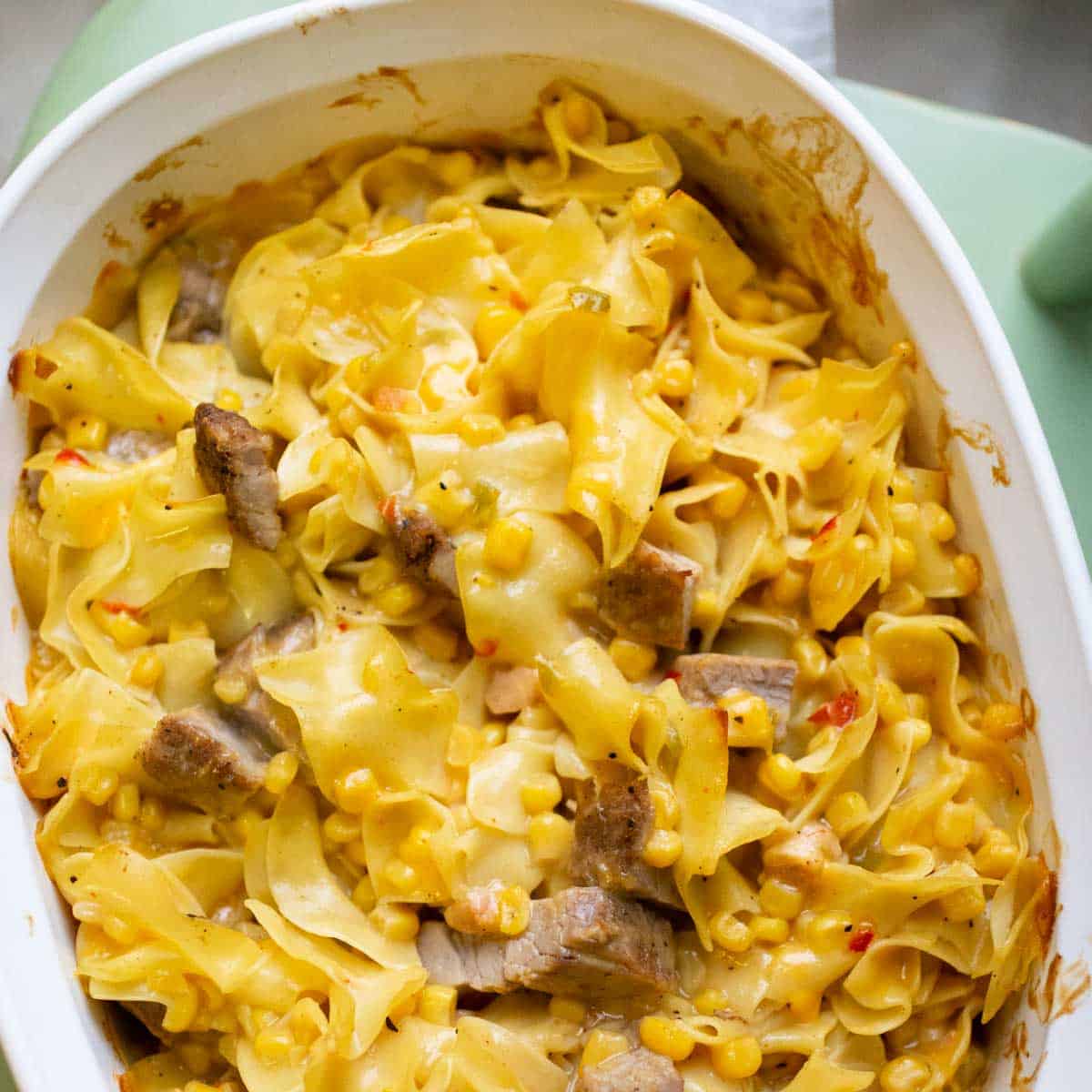 All my friends make fun of me for having a recipe in my repertoire with this silly of a name but this is one of my all-time favorite comfort foods.
My mom made it for us often when we were little. This recipe is so old, I have no idea where it came from in the first place, but it is a staple at our house because:
it uses up pork leftovers well
has mostly pantry ingredients so I can make it in a pinch
works well in the freezer as a prepared casserole or as leftovers
Generally, I try to cook with all-natural ingredients and a minimum of canned/prepared/boxed items. This is where I make my big exception. I think this is one of the only times I ever use canned cream of chicken soup.
As I served it one evening, my husband dug into his plate, looked up and completely unprompted said,
"This is one of your top 3 recipes."
High praise, believe me.
So, it may not be the absolute healthiest dish on earth, but apparently it is very picky-eater friendly. Just ask Tim.
Jump to:
Ingredients
The ingredients for the casserole couldn't be easier: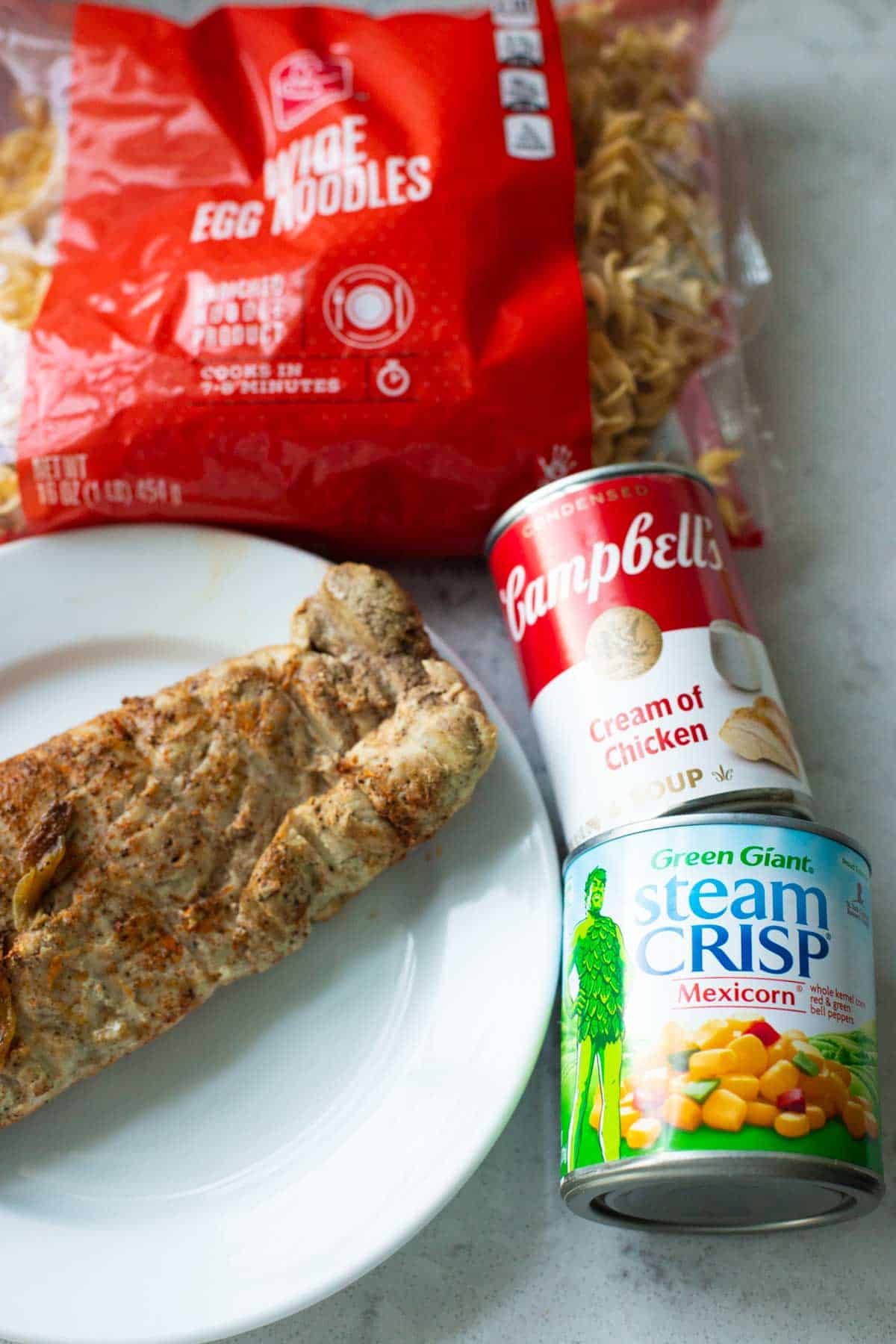 First, you'll need about 2 cups of leftover pork. You can honestly use whatever cooked pork you have on hand.
It can be seasoned or not, depending on the pork you use you can have a fun new variation for the final dish.
I love using roasted Smithfield pork tenderloins that have been previously been cooked seasoned with a spicy barbecue rub but I've also had great luck with these delicious pork recipes, too:
Then you'll also need to add:
Wavy egg noodles: I've used both No Yolks and traditional egg noodles with great success.
Condensed chicken soup: You can use any brand, the Health Choice variety, or even make homemade condensed chicken soup if you prefer.
Shredded cheddar cheese: I love how well a block of cheddar that has been grated melts, but the point of this recipe is to be easy. I use pre-shredded cheese from a bag all the time and it works great.
Canned Mexicorn: This ingredient can be tricky to find, it's the corn that has diced peppers mixed in. If you can only find regular canned corn, you might want to also add a little diced red bell pepper.
Fresh Onion: This is an optional ingredient. I love to dice up half of an onion and saute it in a little olive oil before adding it to the sauce mixture. It adds flavor to the whole dish but can be omitted for picky eaters or sensitivities.
How to Assemble the Casserole
First, cut the cooked pork into bite-sized chunks. These can be as large or small as your family prefers, but mine are often about ½-inch or so.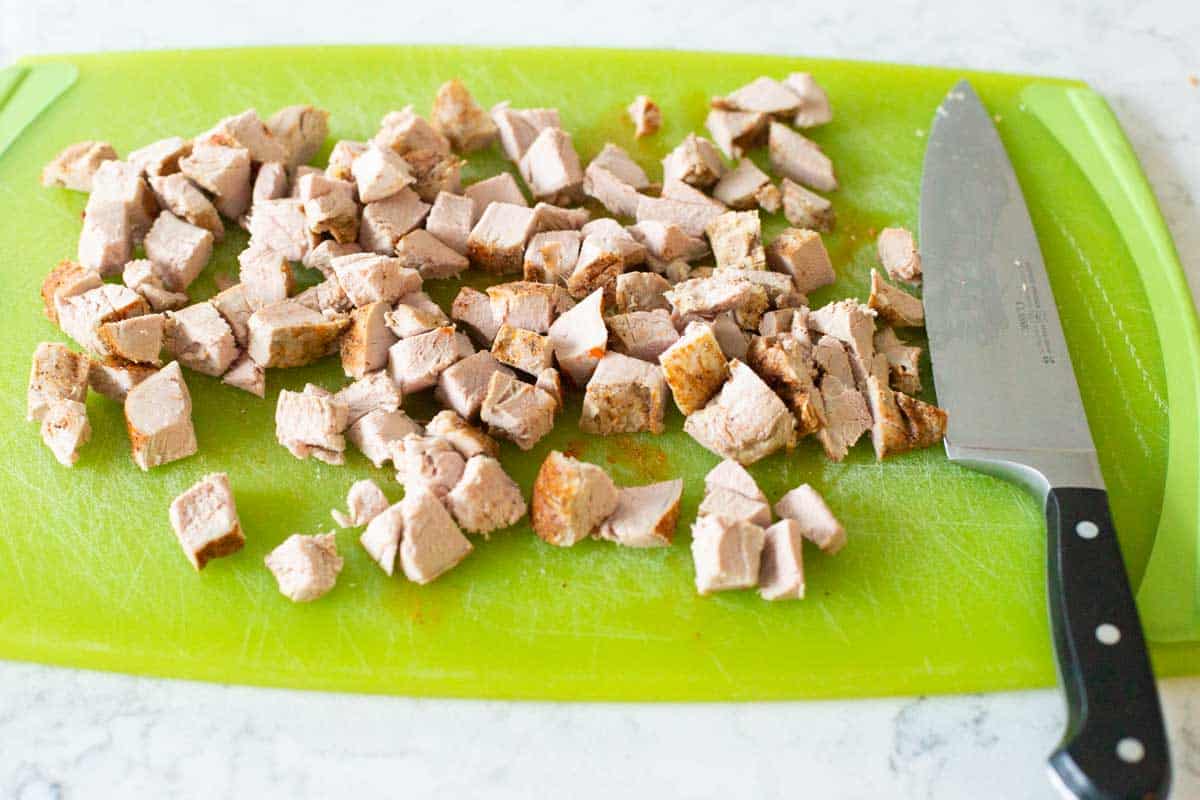 Set a large pot of water over high heat and bring it to a boil. Cook the egg noodles for half of the time listed on the package, often it will be just 3 - 4 minutes.
Drain the pasta and quickly rinse it with cold water to stop the cooking. This helps ensure the pasta keeps its shape in the baked casserole and will give your meal a wonderful texture.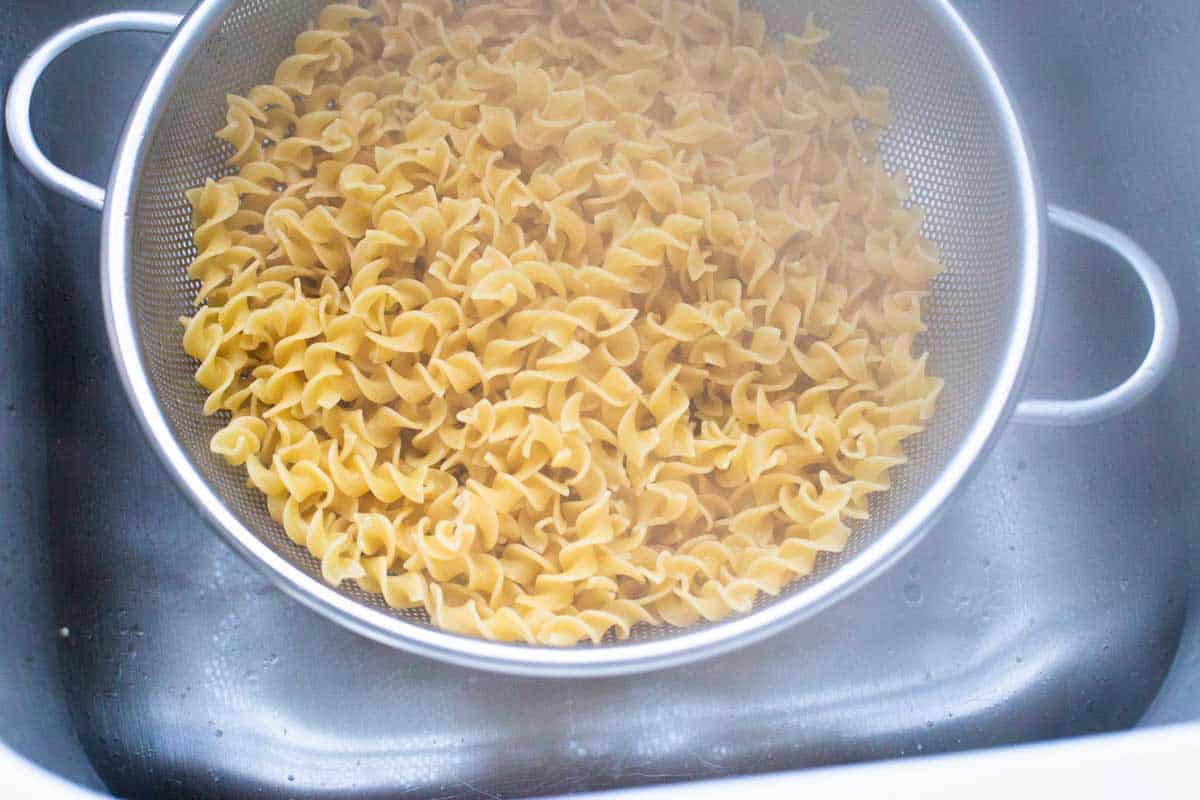 In a large mixing bowl, add the chicken soup, Mexicorn, shredded cheddar, cut pork, and onions if using.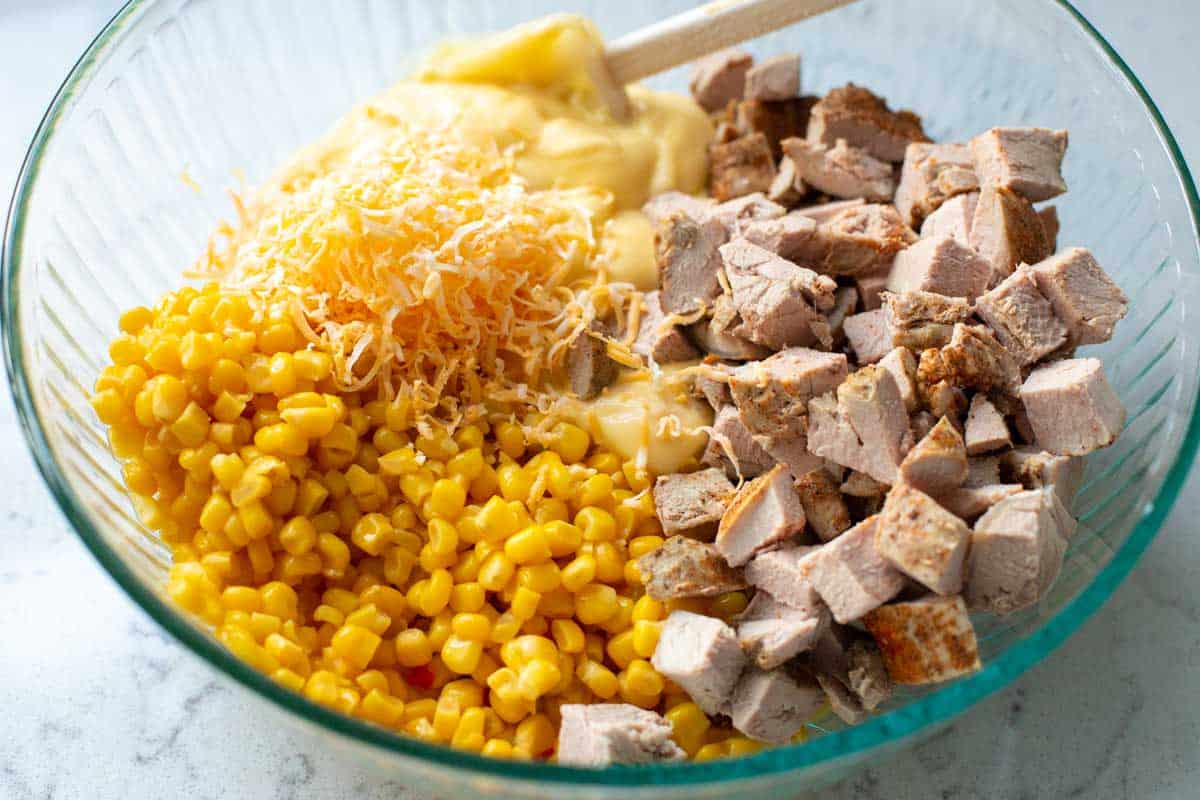 Stir everything together until it is evenly combined before adding the delicate pasta.
Add the noodles to the mixing bowl and gently fold them in until everything is evenly coated.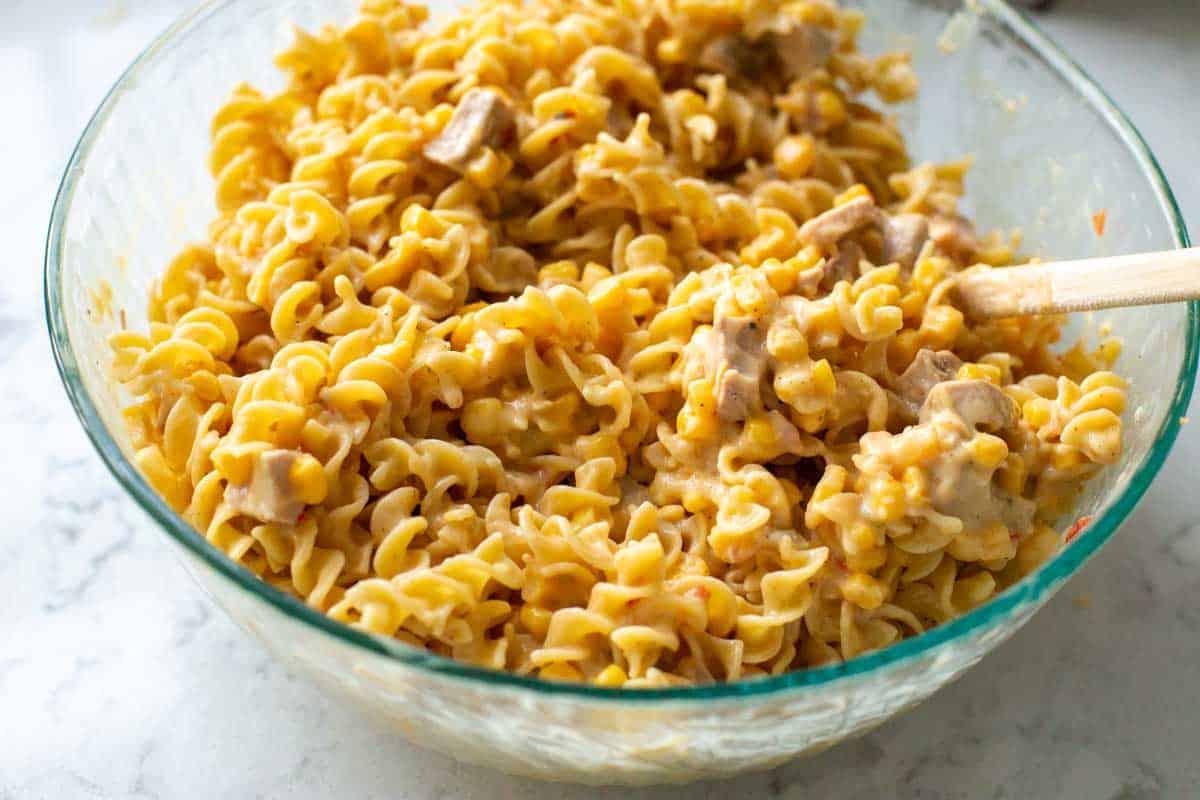 Spray your casserole dish with cooking spray and then pour the prepared casserole into the baking pan.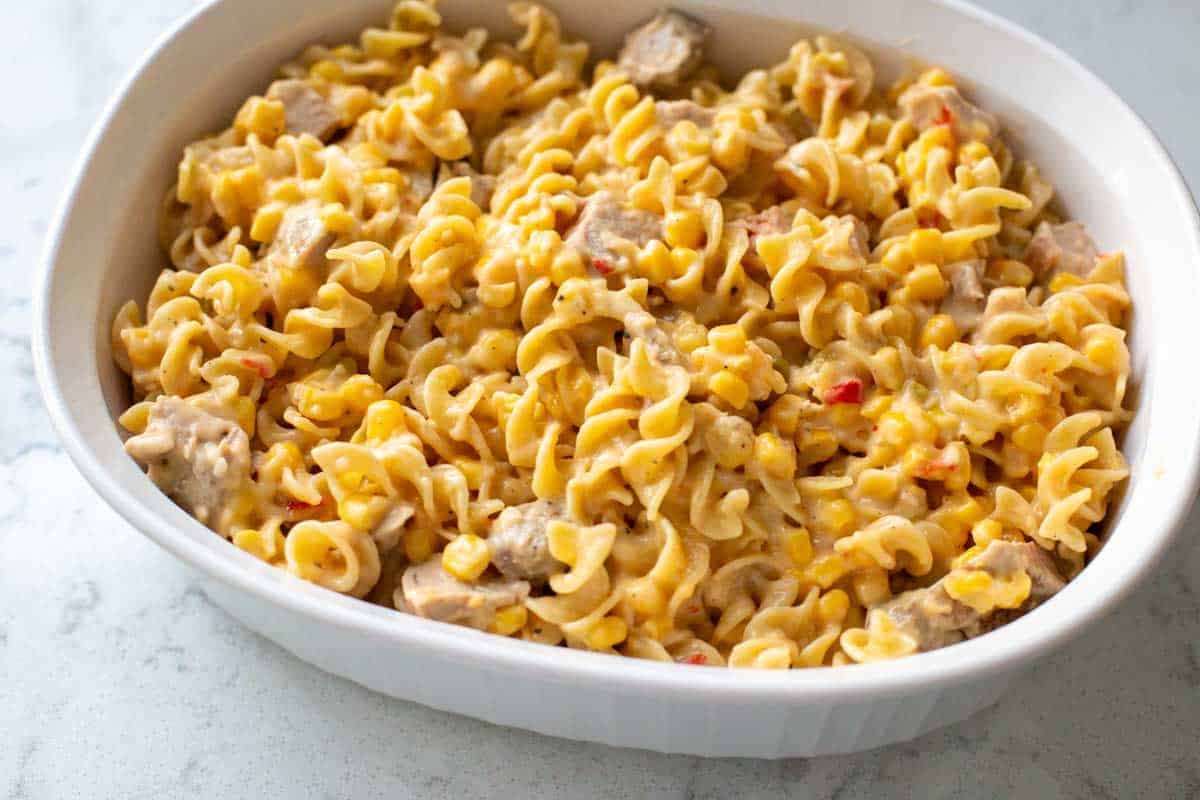 I often use a deep 2.5-quart baking dish like the one that comes in this handy bakeware set. I love that it has a matching glass lid to keep it covered for the first part of baking.
However, the recipe makes so much, I often have a little bit extra to fill an additional 1.5-quart baking dish like the round pan from that set as well.
So you can try to fit everything into a very large 3-quart dish, separate it into 2 2-quart pans.
Make Ahead & Freezer Tips
This pork casserole freezes wonderfully. You have a few options for freezing that are important to note:
Freeze & Thaw: This method is great if you prefer to freeze it in whatever plastic storage containers you have. It's a great way to save space in a smaller freezer. Simply store it in your container and thaw in the fridge overnight. Transfer to an oven-safe baking dish and bake as directed.
Freeze & Bake: If you want to bake directly from the freezer, store it in a freezer-friendly baking dish or aluminum baking pan and wrap tightly with foil. Add extra time to the covered baking portion of the baking instructions. Don't uncover the casserole until you can easily stir it from the center out. The time will depend on how deep your baking dish is.
Bake & Freeze: If you prefer to just bake the dish now and freeze it ready to eat, it heats up in the microwave wonderfully. We often freeze our baked leftovers for comforting lunches in the winter.
How to Bake the Casserole
Preheat the oven to 375°F.
Bake the casserole with a lid or covered in aluminum foil for 20 minutes.
Uncover the baking dish, stir the casserole from the center to help it heat evenly.
Bake for an additional 20 - 25 minutes or until it is bubbling hot and slightly toasted and golden brown on top.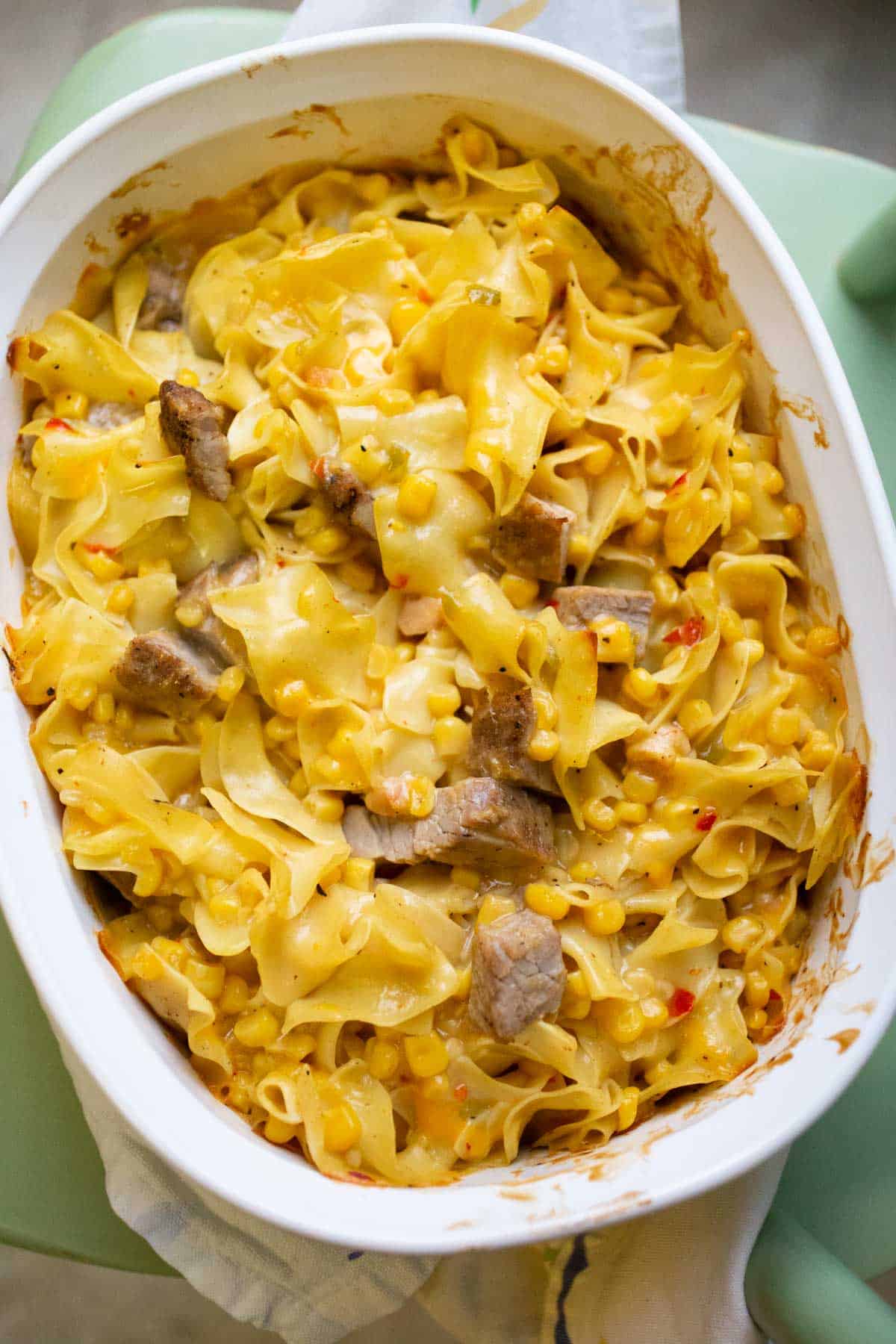 More Freezer-Friendly Dinners
Love to make ahead easy dinners for your family?
These are some of my other favorite freezer-friendly casseroles.
📖 Recipe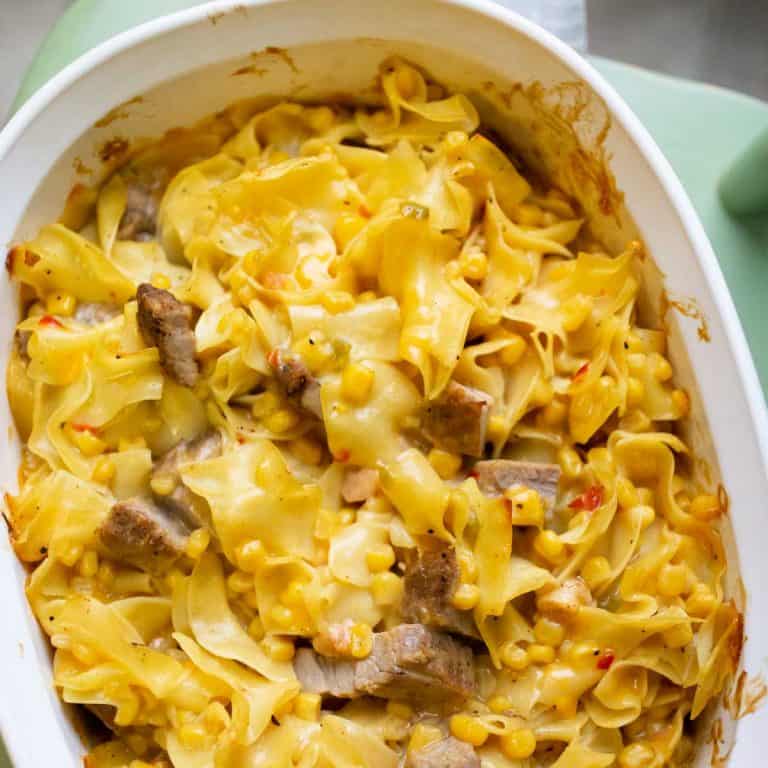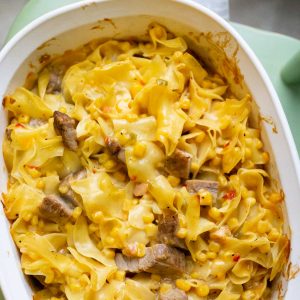 Saucy Pork and Noodle Bake
Kid-friendly comfort food at it's best! Cheesy noodles mixed with corn and leftover pork, it's the perfect casserole to make ahead and keep prepped in your freezer. This recipe is older than dirt, provided by my mom!
Ingredients
1

(12 oz) bag of wavy egg noodles

try to find the slightly thinner ones vs. the big fat wide ones.

2

(10.75 oz) cans of cream of chicken soup

2

(15 oz) cans of Mexicorn

the kind mixed with chopped red and green peppers

1

cup

shredded cheddar cheese

2

cups

leftover pork

cut into bite-sized pieces (from pork chops, pork tenderloin, or pork roast)

Fresh cracked pepper to taste

OPTIONAL: ½ yellow onion, diced + 1 tablespoon olive oil
Instructions
Bring a large pot of water to a boil with a pinch of salt. Cook the noodles for half of the time recommended on the package. Drain and rinse them to stop them from overcooking. This helps keep the pasta firm in the baked casserole.

In a large mixing bowl, add both cans of soup, the cans of corn with their juices, the shredded cheese, and the diced pork and stir to combine.

OPTIONAL: If you want to add onions to the casserole, heat the olive oil in a small saute pan for a minute and cook the diced onions until softened and translucent, about 3 - 4 minutes. Stir them into the soup mixture.

Gently fold in the cooked noodles to the sauce mixture so you don't crush them. 

Pour the noodle mixture into a casserole dish that has been prepared with cooking spray.

Preheat the oven to 375°F.

Bake the covered casserole for 20 minutes.

Remove the cover and carefully stir the dish a little to make sure the center gets piping hot. Continue to bake for another 20-25 minutes uncovered. The top should crisp up just a bit and the whole thing should be bubbling and warm.
Recipe Notes
Make-Ahead Tips
If you would like to prepare this dish ahead of time, it freezes perfectly. Assemble the dish as instructed, pour the casserole into a freezer-friendly storage container or casserole dish and wrap with aluminum foil.
To bake the frozen casserole, you can:
1. Thaw in the fridge overnight, transfer to a casserole dish for baking, and bake as directed. Great choice if you prefer to use a plastic storage container.
2. Bake directly from frozen but add additional time while it is covered. Time will vary depending on how deep your baking dish is. Don't uncover the casserole until you can easily stir it from the middle. This option is a great choice if you freeze it in an aluminum baking pan.
Save This Recipe to Your Recipe Box
Find this delicious recipe next time you visit by saving it to your very own recipe box on my site. All your favorites stored in one easy place!