This Dump and Go Chicken Tetrazzini Casserole is perfect for when you're cooking for just one or two people. You can divide the batch up into several mini-casseroles to quickly stock your freezer. Less waste, more variety!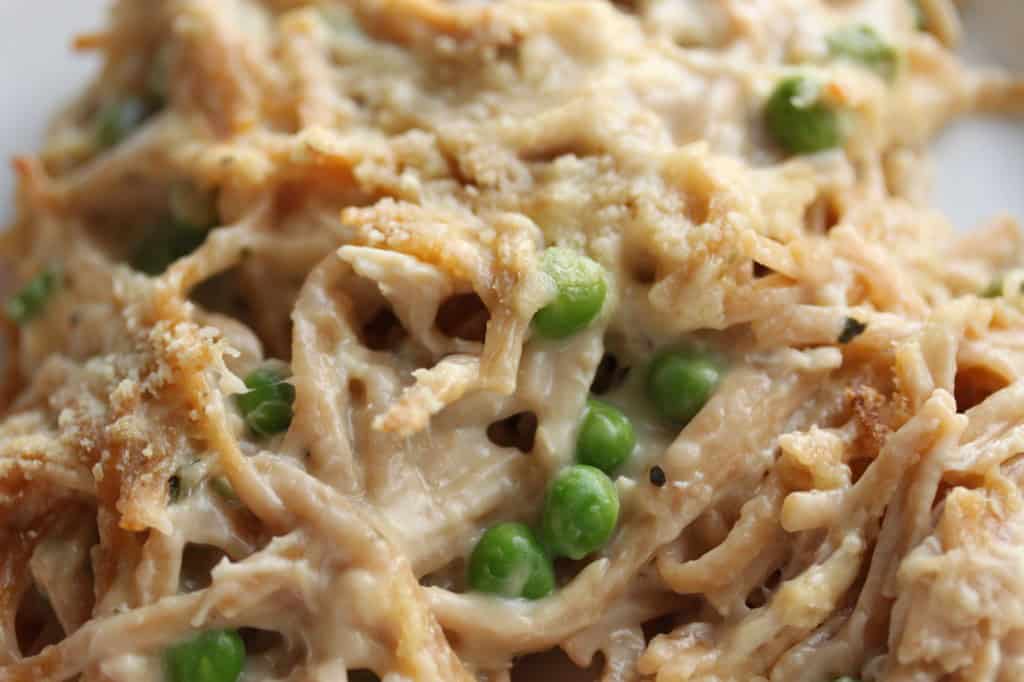 The Peanut and I have been facing many dinners for two while Handyman Tim continues to travel. I love making casseroles, but there's nothing worse than having to eat the same one, night after night, until it is gone. A traditional 9×13 is just too much for the two of us.
In order to give myself the convenience of casserole cooking (as well as the comfort food satisfaction) I decided to make "mini casseroles" last week. I stocked up on 8×8 pans from the grocery store and made a few casseroles to split between the smaller pans. An 8×8 is just the right size for us to eat 2 dinners in a row and then it is gone. If Handyman Tim is home the 8×8 would be enough for 1 dinner and leftovers for lunch the next day, so it is still a very useful size for us.
The first casserole I tried this with is my friend Mary Beth's recipe. I might be remembering that it is actually a mutual friend's recipe first, but who's counting. The point is it is one of the mommy meals we had delivered after Little Pea was born. It brought us comfort then, it brings up comfort now. Yum!
I know that traditional tetrazzini features mushrooms, but you know the rules in our house — NO MUSHROOMS. So, this is our modified version of the classic.
_______________________________________
Dump and Go Chicken Tetrazzini Casserole to quickly stock your freezer
Print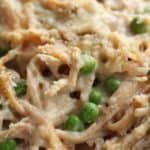 Chicken Tetrazzini Casserole
---
Description
A "mommy meals" staple (a.k.a. perfect for bringing to a family in need of dinner! Get 30 more meal train recipes here.) This rich and creamy chicken tetrazzini casserole is a big hit with kids.
---
Scale
Ingredients
1

16 oz package of spaghetti (I broke the noodles into

2

inch pieces before boiling to make it easier for the kids to eat.)

3 cup

s chopped cooked chicken or

1

rotisserie chicken, shredded

1 cup

parmesan cheese

1

can cream of chicken soup

1

16 oz jar of Alfredo sauce (Or a batch of this homemade Alfredo sauce here.)

3/4 cup

chicken broth

1 cup

frozen peas

1/4 tsp

pepper

1 tsp

Penzeys Pasta Sprinkle (I couldn't help myself from Penzey-ing it up for you!)
---
Instructions
1. Preheat the oven to 350.
2. Boil the pasta for 2 – 3 minutes less than the package instructions call for. Drain and rinse the pasta and set aside.
3. While the pasta is cooking, stir together the chicken, 1/2 cup parmesan cheese, the cream of chicken soup, Alfredo sauce, and the chicken broth.
4. Fold the pasta into the chicken & sauce mixture. Add the peas and stir to combine.
5. Spoon the casserole mixture into a lightly greased 9×13 baking dish. (Or split it into 2 8×8's like I did!) Sprinkle with remaining parmesan cheese. Bake at 350 degrees for 35 minutes or until bubbly.
---
Notes
I froze one 8×8 pan before baking. When you're ready to bake a frozen casserole, defrost it in the fridge overnight and pop it in the oven at dinner time. You could also just bake from frozen if you keep it covered in the oven and bake it longer.
Category:

Casseroles

Cuisine:

Italian-American