This Dump and Go Chicken Tetrazzini Casserole is perfect for when you're cooking for just one or two people. You can divide the batch up into several mini-casseroles to quickly stock your freezer. Less waste, more variety!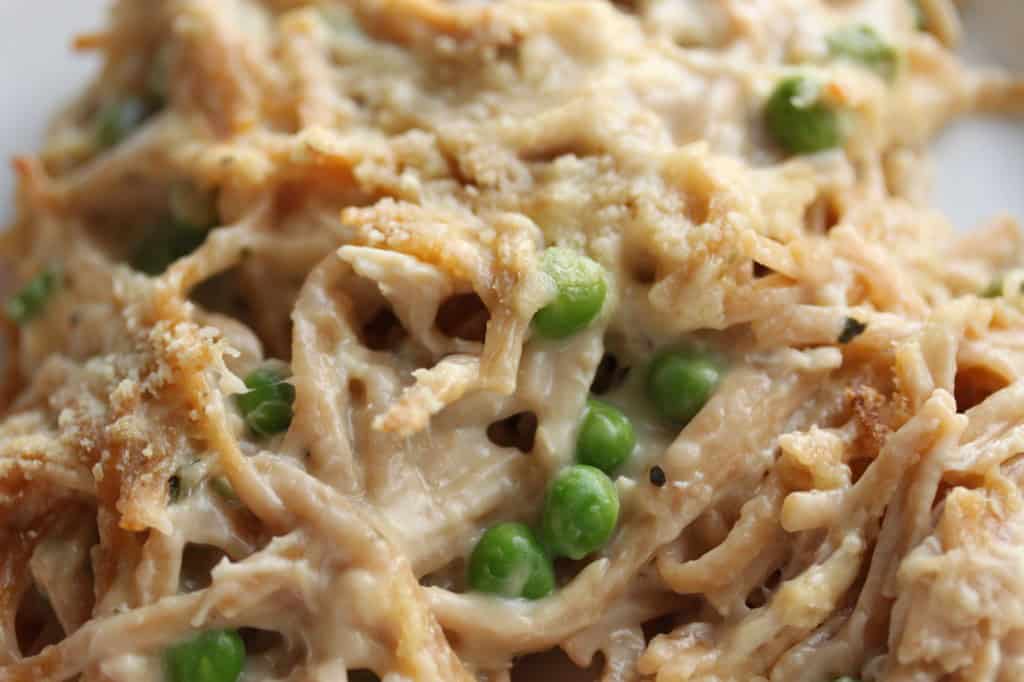 The Peanut and I have been facing many dinners for two while Handyman Tim continues to travel. I love making casseroles, but there's nothing worse than having to eat the same one, night after night, until it is gone. A traditional 9x13 is just too much for the two of us.
In order to give myself the convenience of casserole cooking (as well as the comfort food satisfaction) I decided to make "mini casseroles" last week. I stocked up on 8x8 pans from the grocery store and made a few casseroles to split between the smaller pans. An 8x8 is just the right size for us to eat 2 dinners in a row and then it is gone. If Handyman Tim is home the 8x8 would be enough for 1 dinner and leftovers for lunch the next day, so it is still a very useful size for us.
The first casserole I tried this with is my friend Mary Beth's recipe. I might be remembering that it is actually a mutual friend's recipe first, but who's counting. The point is it is one of the mommy meals we had delivered after Little Pea was born. It brought us comfort then, it brings up comfort now. Yum!
I know that traditional tetrazzini features mushrooms, but you know the rules in our house -- NO MUSHROOMS. So, this is our modified version of the classic.
_______________________________________
Dump and Go Chicken Tetrazzini Casserole to quickly stock your freezer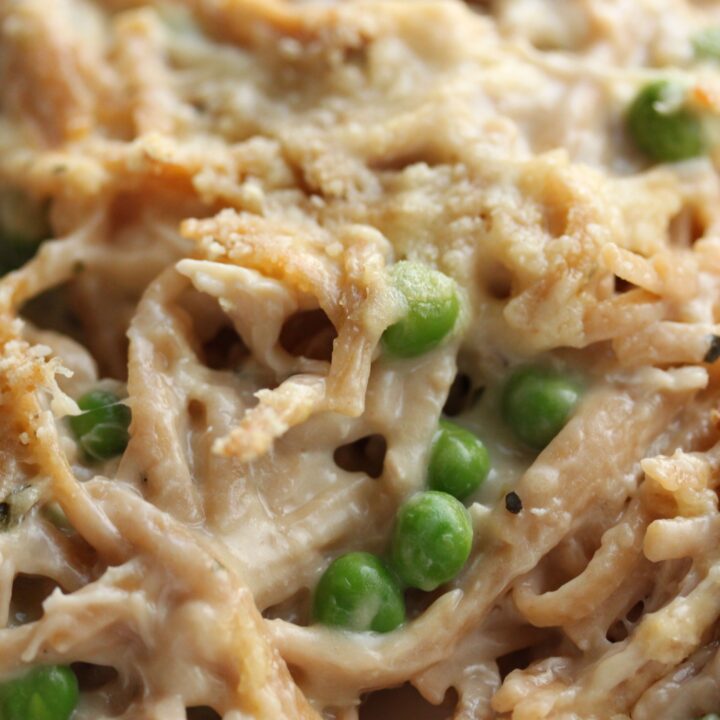 Chicken Tetrazzini Casserole
A "mommy meals" staple (a.k.a. perfect for bringing to a family in need of dinner! Get 30 more meal train recipes here.) This rich and creamy chicken tetrazzini casserole is a big hit with kids.
Ingredients
1 (16 oz) box of spaghetti, noodles broken in half
3 cups cooked chicken, chopped (We love using rotisserie chicken)
1 cup grated parmesan cheese
1 can cream of chicken soup
1 (16 oz) jar of prepared Alfredo sauce
¾ cup chicken broth
1 tsp Italian seasoning
¼ tsp pepper
1 cup frozen peas
Instructions
Preheat the oven to 350°F and place a large pot of water to boil over HIGH heat.
Boil the pasta for 2 - 3 minutes less than the lowest time listed on the package. This will keep it firmer so your casserole doesn't turn to mush. Drain the pasta and set it aside.
Meanwhile, stir together the cooked chicken, ½ parmesan cheese, the can of soup, Alfredo sauce, chicken broth, Italian seasoning, and pepper.
Fold the pasta into the chicken and sauce. Add the peas and stir to combine.
Spoon the casserole filling into a lightly greased 9 x 13 inch backing dish. Or you can split it into two 8 x 8 inch pans so you can bake one now and freeze one for later.
Sprinkle the remaining paremsan over the top and bake for 35 minutes or until bubbly.
Notes
FREEZER MEAL TIPS:
Store the prepared casserole covered in aluminum foil in your freezer. To prepare it, you can choose:
1. Let it thaw overnight in the fridge and then bake as directed.
2. Bake directly from frozen: Keep the casserole lightly covered in foil for the first 15 - 20 minutes and add an additional 10 - 20 minutes to the total baking time. The mixture should be hot and bubbly.