This Dump and Go Chicken Tetrazzini Casserole is perfect for when you're cooking for just one or two people. You can divide the batch up into several mini-casseroles to quickly stock your freezer. Less waste, more variety!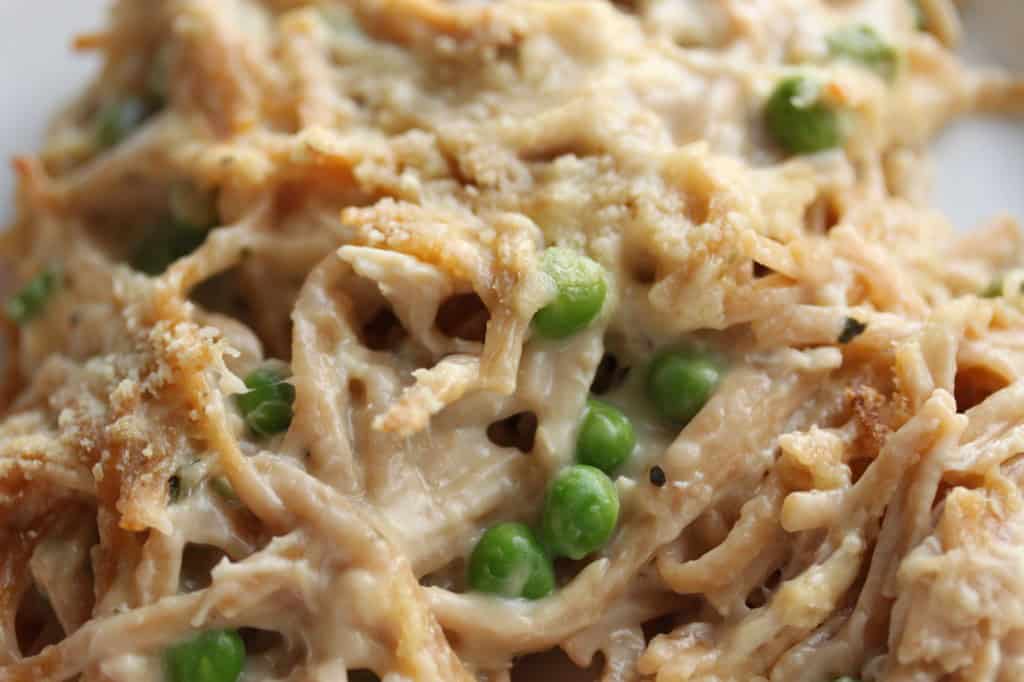 The Peanut and I have been facing many dinners for two while Handyman Tim continues to travel. I love making casseroles, but there's nothing worse than having to eat the same one, night after night, until it is gone. A traditional 9x13 is just too much for the two of us.
In order to give myself the convenience of casserole cooking (as well as the comfort food satisfaction) I decided to make "mini casseroles" last week. I stocked up on 8x8 pans from the grocery store and made a few casseroles to split between the smaller pans. An 8x8 is just the right size for us to eat 2 dinners in a row and then it is gone. If Handyman Tim is home the 8x8 would be enough for 1 dinner and leftovers for lunch the next day, so it is still a very useful size for us.
The first casserole I tried this with is my friend Mary Beth's recipe. I might be remembering that it is actually a mutual friend's recipe first, but who's counting. The point is it is one of the mommy meals we had delivered after Little Pea was born. It brought us comfort then, it brings up comfort now. Yum!
I know that traditional tetrazzini features mushrooms, but you know the rules in our house -- NO MUSHROOMS. So, this is our modified version of the classic.
_______________________________________
Dump and Go Chicken Tetrazzini Casserole to quickly stock your freezer
[tasty-recipe id="14411"]