This easy pineapple filling for cakes or tarts is made with canned pineapple in just minutes. Pair it with a coconut cake mix and cream cheese frosting for a deliciously easy coconut cake with pineapple filling!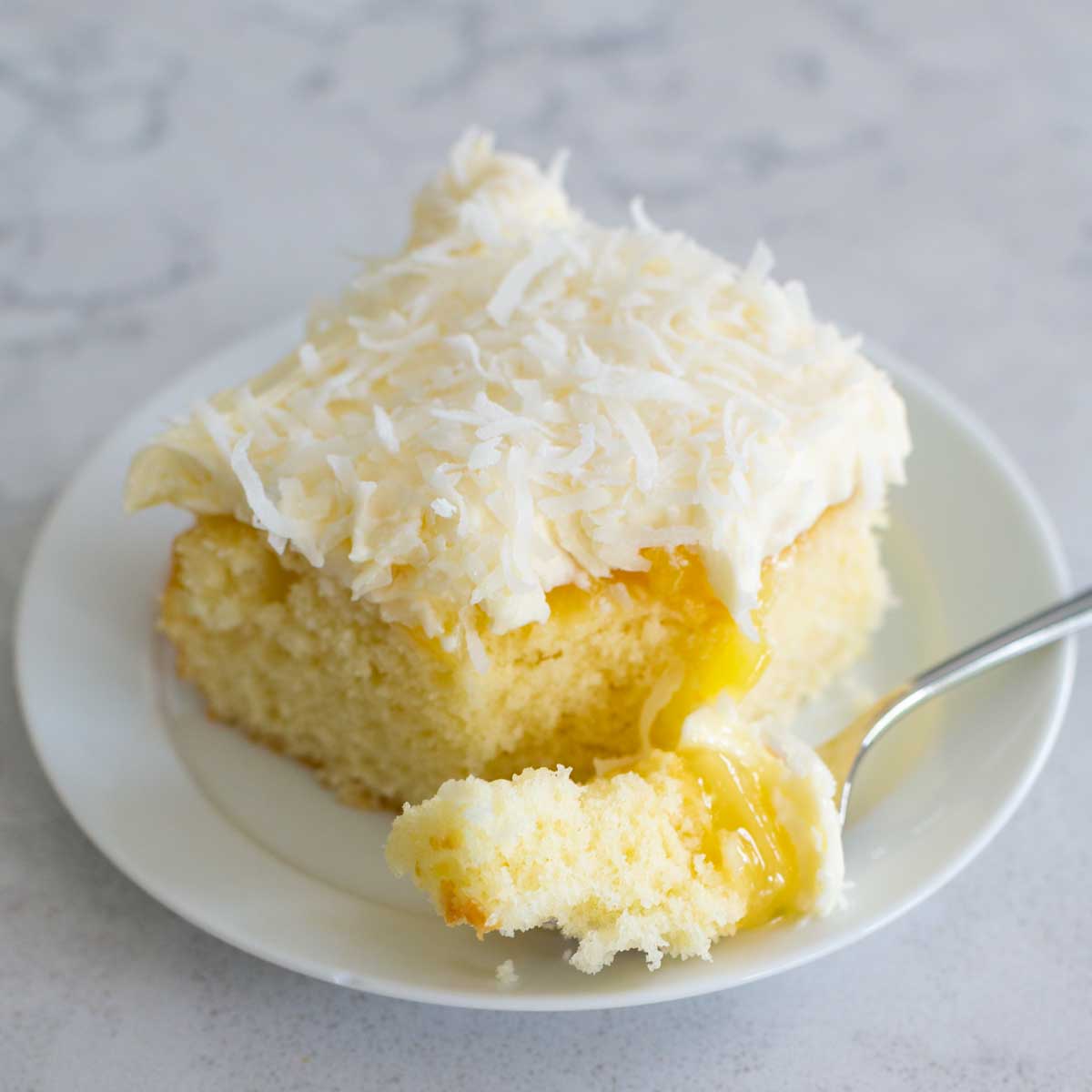 Here's a secret: I actually really love using boxed cake mixes for birthday cakes and special celebrations.
As long as the frosting is made from scratch, no one can tell the difference!
My other great secret is to add a homemade filling to spice things up a bit.
This super easy pineapple filling is perfect for adding to a boxed cake mix cake with homemade cream cheese frosting and shredded coconut.
Jump to:
Why This is the Best Recipe
With just 3 ingredients and 5 minutes of your time, you can have a rich and juicy pineapple filling that adds a burst of fresh fruit flavor to your layer cake or sheet cake.
My recipe is the best because it uses canned pineapple tidbits instead of crushed pineapple. The tidbits shape has a much better texture and will give your cake a lovely taste of pineapple in every bite.
Ingredients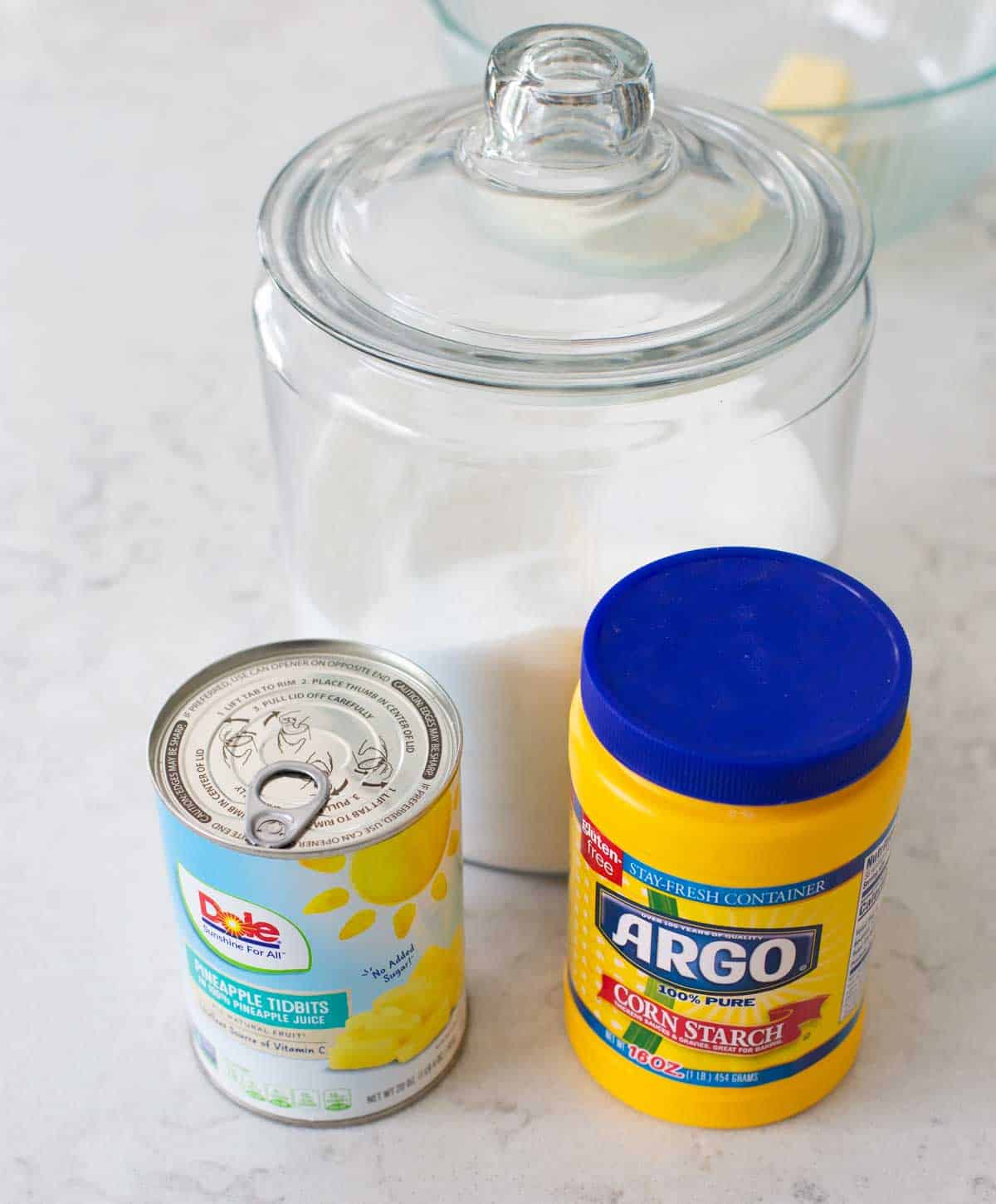 You only need these 3 ingredients to make homemade pineapple filling:
Canned Pineapple Tidbits: SO much better than crushed pineapple.
Sugar
Cornstarch
That's it! Easy peasy.
How to Make It
To make the pineapple filling, simply add all 3 ingredients to a small saucepan and stir them together.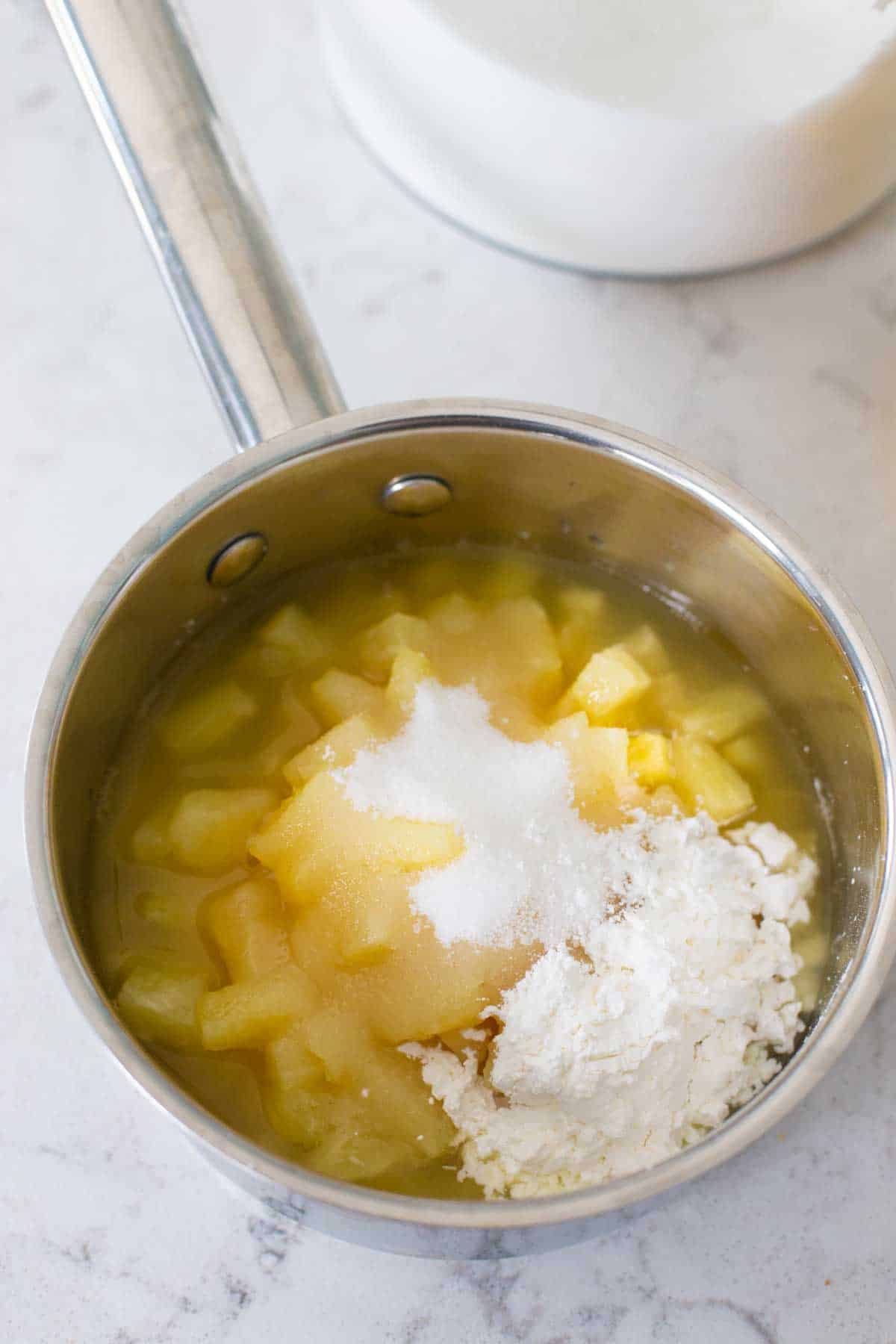 Place the saucepan over medium-high heat and stir it as it cooks.
When the pineapple juices come to a boil, cook for just 2 minutes longer or until it thickens.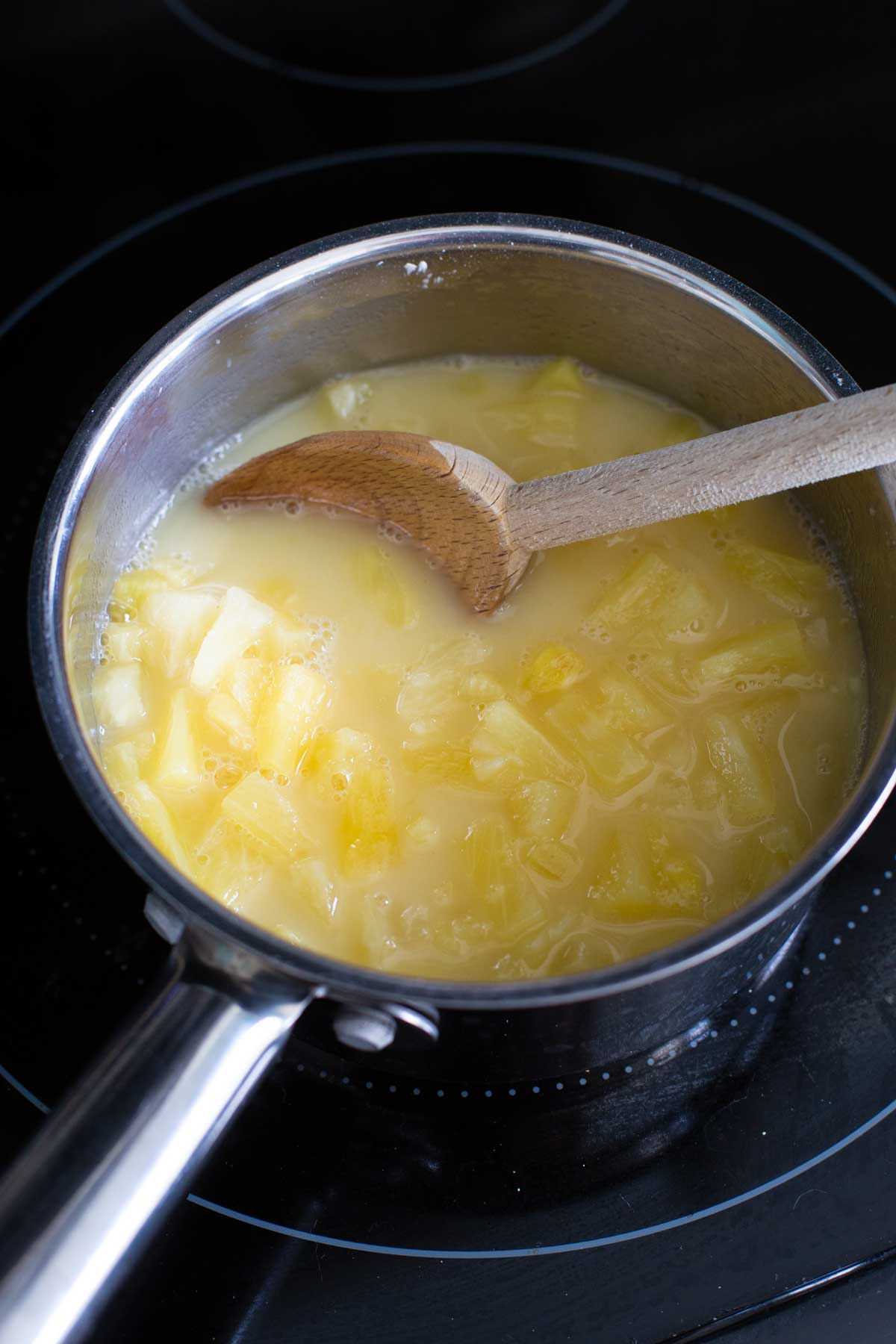 Transfer the pineapple filling to a clean mixing bowl to let it cool before using on a cake.
At this point, the pineapple is nice and softened and is easy to break up a bit with a spoon or food chopper tool right in the bowl.
I hand crushed my pineapple tidbits just a little so that the chunks of pineapple were just a bit smaller but there was still a nice bite of pineapple in my cake.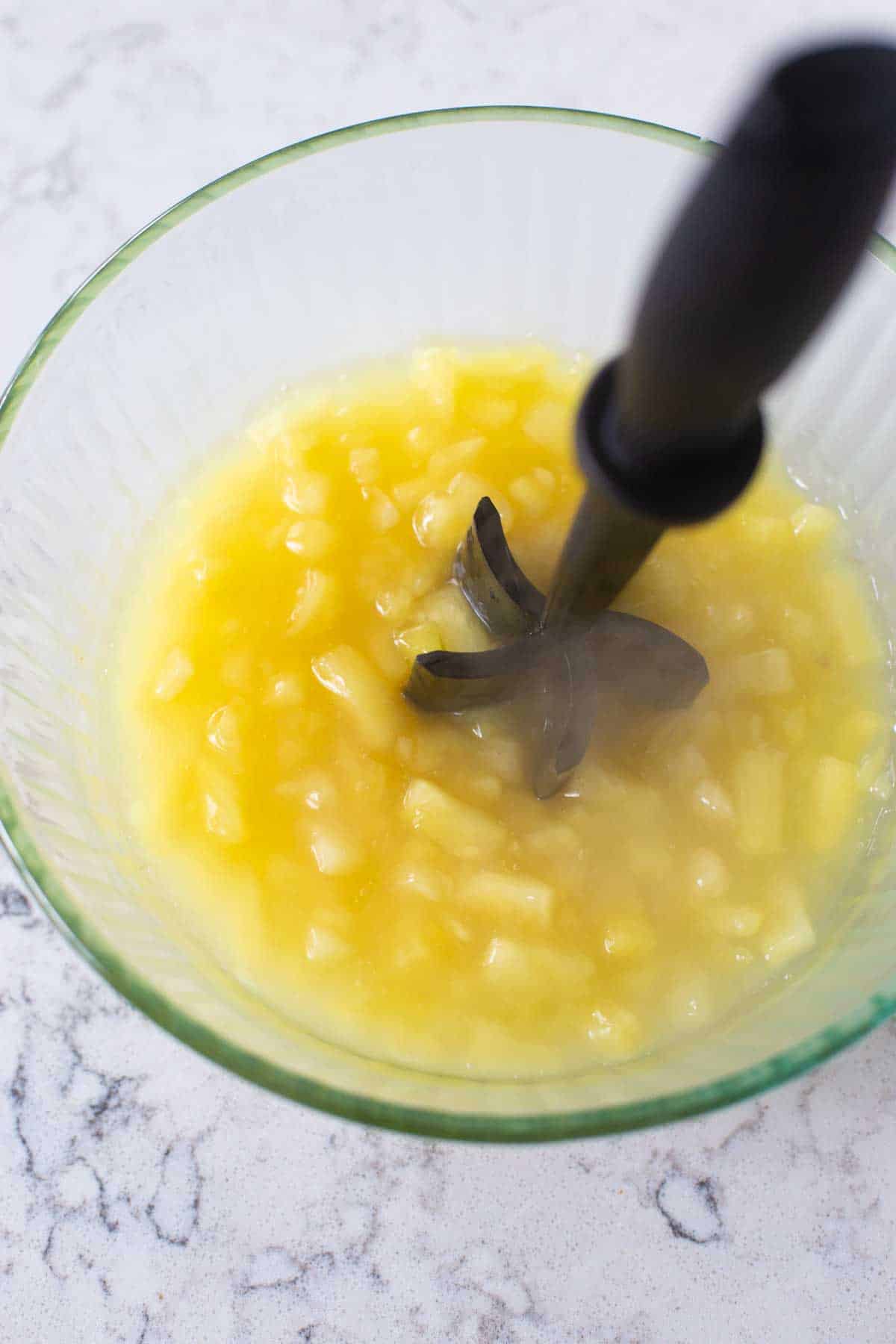 How to Use the Filling on a Cake
Be sure to completely cool the pineapple filling before trying to spread it on a layer cake or sheet cake.
You can still use it in a 9 x 13-inch sheet cake with cream cheese frosting if you spread the filling evenly over the cake like this: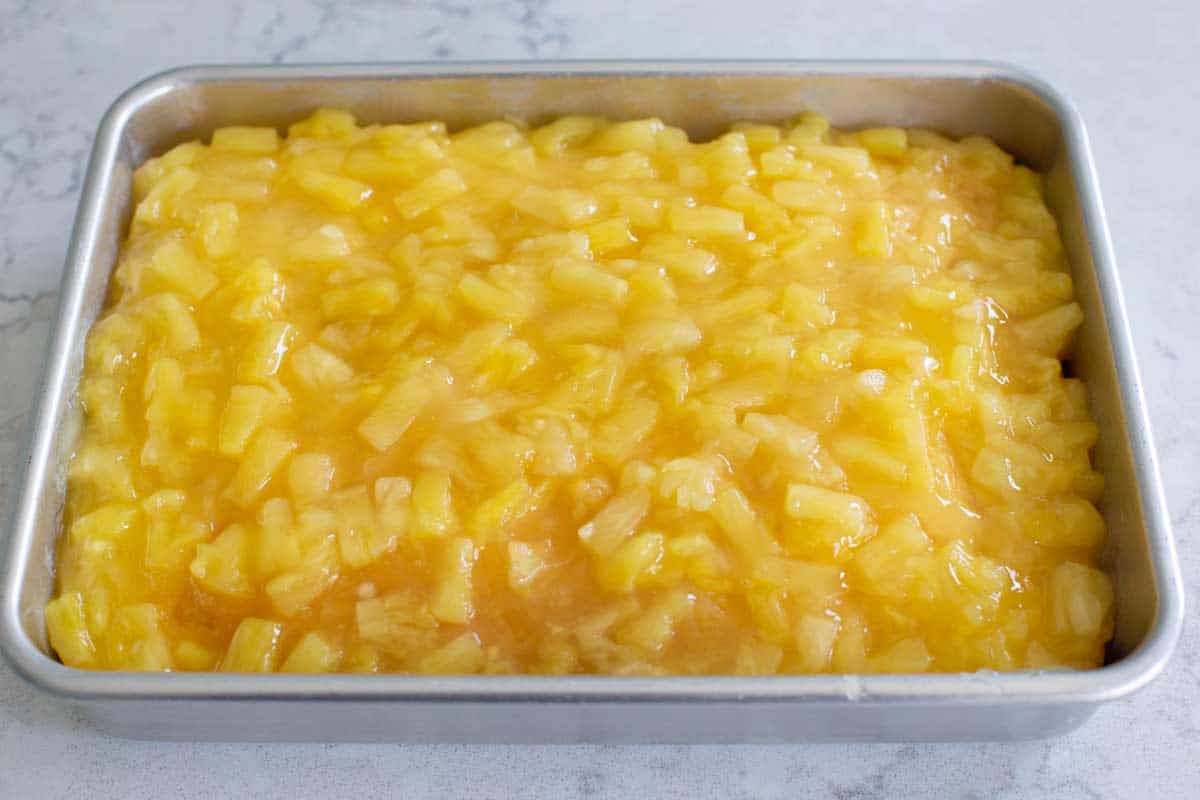 Then put the cake pan in the freezer for one hour. This will help stabilize the pineapple filling layer.
Drop large spoonfuls of cream cheese frosting over the top of the chilled cake and then carefully spread them evenly over the top.
I added shredded coconut over the frosting layer for a delicious pineapple coconut cake that tasted amazing chilled in the fridge.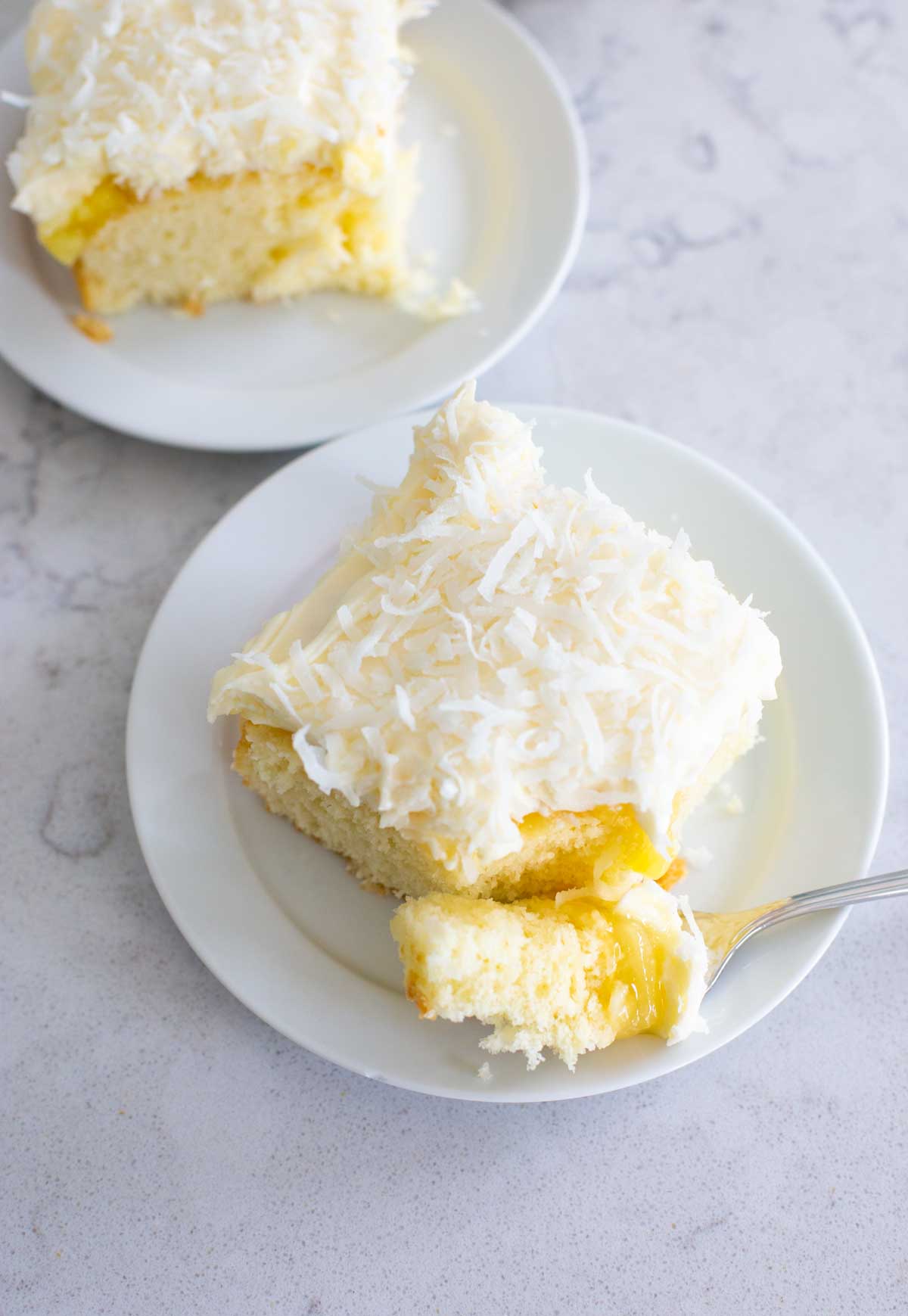 Pineapple Cheesecake Variation
This method would also work great with a store bought cheesecake.
Spoon this pineapple cheesecake topping over the entire top of the cheesecake.
You could frost it with Cool Whip and toasted coconut.
More Canned Pineapple Recipes
Looking for more easy ways to use canned pineapple?
You'll love my pineapple marshmallow salad or pistachio fluff for a no bake dessert.
The creamy pina colada fruit dip is a delicious treat for a party, too!
📖 Recipe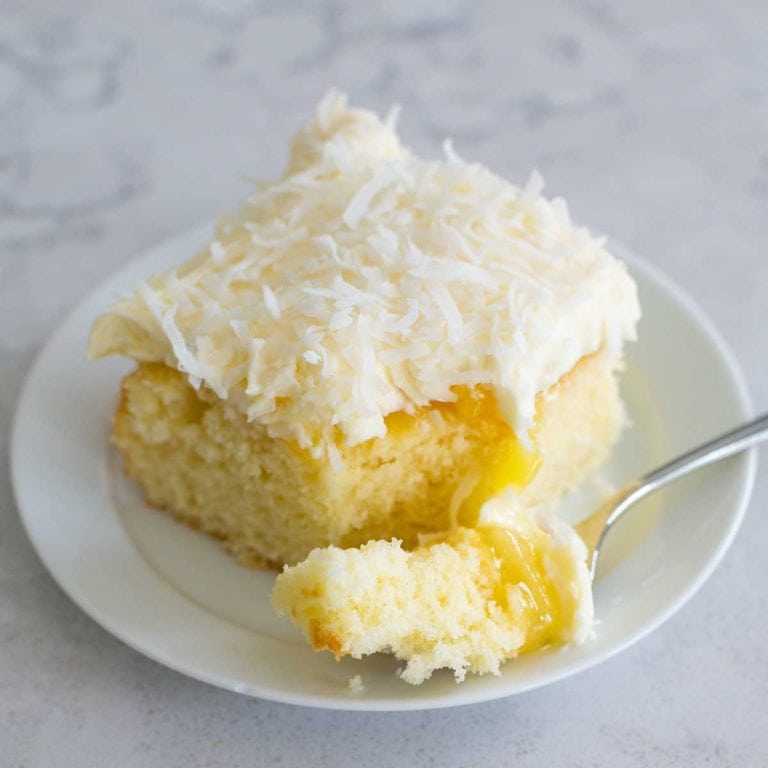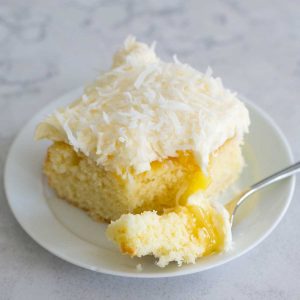 Pineapple Filling
This easy pineapple filling recipe uses canned pineapple tidbits for a burst of pineapple flavor in a rich and decadent cake. Pair with a boxed coconut cake mix and cream cheese frosting for a simple dessert.
Ingredients
1

(20 oz) can of pineapple tidbits

½

cup

sugar

2

tablespoons

cornstarch
Instructions
Add the entire contents of the canned pineapple to a small saucepan. Add the sugar and cornstarch and stir everything together.

Cook over medium-high heat until the juices begin to boil. Cook for 2 minutes longer or until thickened.

Transfer the pineapple filling to a mixing bowl and use a spoon or chopping tool to roughly break up the pineapple chunks a bit.

Cool the filling completely before adding to a cake.
Recipe Notes
To Use the Filling on a Sheetcake:
If you want to add the pineapple filling to a sheet cake in a 9 x 13-inch pan and add frosting over the filling, spread the completely cooled pineapple mixture evenly over the sheetcake and freeze for 1 hour.
This helps the pineapple mixture stabilize so that you can easily drop large spoonfuls of frosting over the filling and spread it into an even layer without mixing it into the pineapple.
Save This Recipe to Your Recipe Box
Find this delicious recipe next time you visit by saving it to your very own recipe box on my site. All your favorites stored in one easy place!