Chase away dreary days with this sweet and creamy piña colada fruit dip. Add it to a dessert board with fresh pineapple, fresh strawberries, and thin & crispy gingersnap cookies for dunking.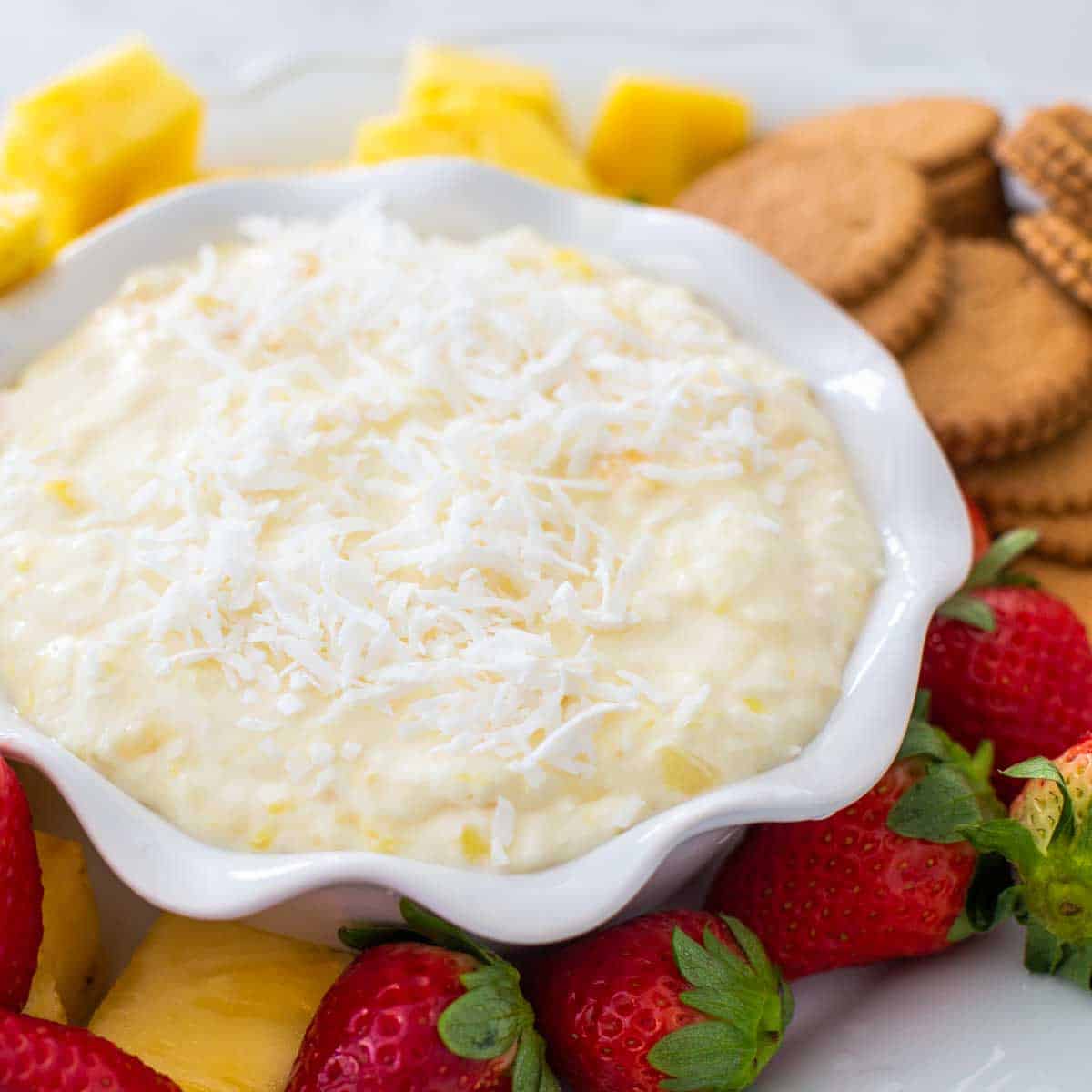 If I say: "Tropical Getaway," do you suddenly have visions of a reclining chair with a bright-colored umbrella and a cabana boy bringing you piña coladas by the pool?
No, just me then?
Back when Tim and I could actually get away on real vacations to fancy tropical places, a piña colada was most definitely my drink of choice for lounging with a good book in the sunshine.
It's been far too long since we had a vacation like that, but there's no reason to not channel that feeling right here at home every once in a while, right?
This super-easy piña colada fruit dip has just 4 ingredients and is one of the most perfect make-ahead appetizers for any party you're hosting. Simply blend everything together with a mixer and let it chill in the fridge till it is time to serve.
Jump to:
Ingredients
This deliciously sweet and creamy fruit dip is perfect because it has just 4 ingredients!
Cream cheese
Marshmallow fluff
Crushed pineapple
Shredded coconut
Make Ahead and Serving Tips
Make the fruit dip ahead of time:
The texture of the fruit dip is at its best when it has had a chance to firm up in the fridge. Make this dip at least 3 hours before you plan to serve it, the day before is even better.
Top the dip with extra coconut:
For a pretty presentation, top the dip with additional coconut that you sprinkle on just before serving. For extra visual appeal, consider gently toasting the shredded coconut by baking it on a cookie sheet at 325°F for 5 minutes.
Serve with fresh fruit:
Cut some fresh chunks of pineapple and bright, juicy strawberries for dunking in your fruit dip. You could also add grapes or freshly peeled clementines to the platter if desired.
Include a spicy cookie on the platter:
Super-thin and crisp gingersnap cookies make a delicious pair with the sweet and creamy piña colada flavors. If you can't find them in the store, consider baking your own cookie dunkers with our favorite gingerbread cookie recipe here. The texture of the gingerbread cookie would be hearty enough to hold up to all your dunking needs.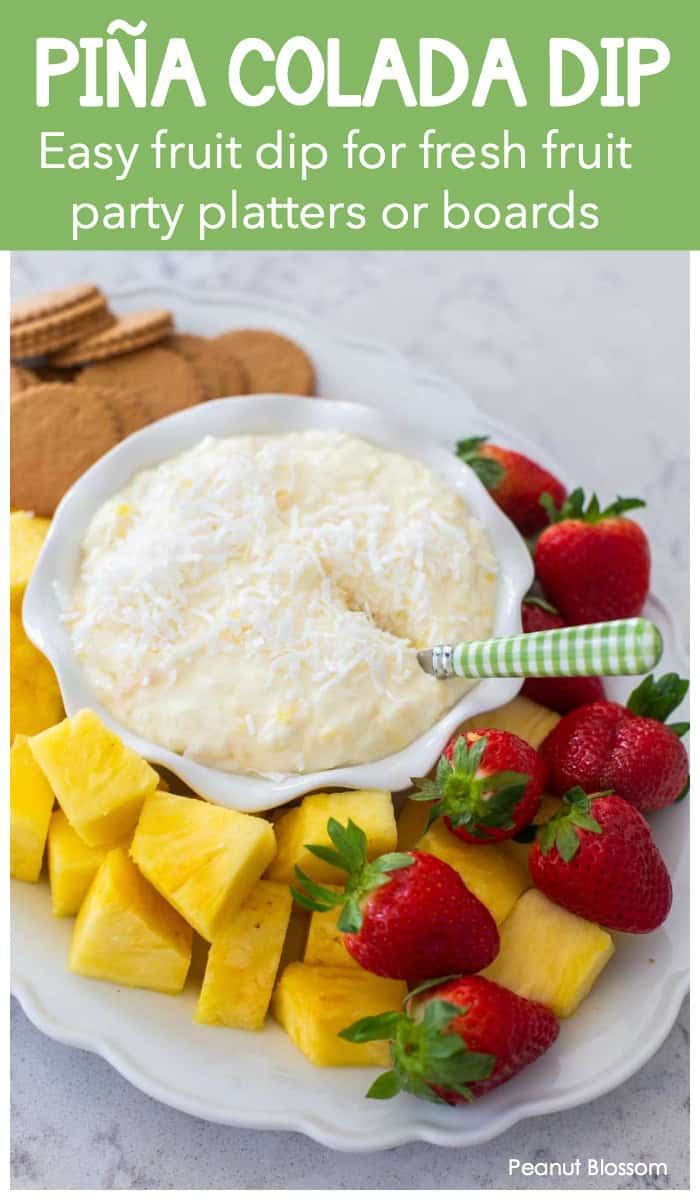 Events to Serve It For
I originally made a batch of this piña colada dip for the Peanut's Pirate-themed birthday party. We went with all tropical-themed party treats for the menu and it was a huge hit with the adults that came.
Your guests would also love it at any of these special occasions:
Book club meetings
A summer BBQ party
Last day of school party for the neighborhood
Baby showers
Wedding showers
Engagement parties
More Party Recipes
Need more ideas for fresh fruit dips or easy party appetizers? Don't miss these popular favorites: